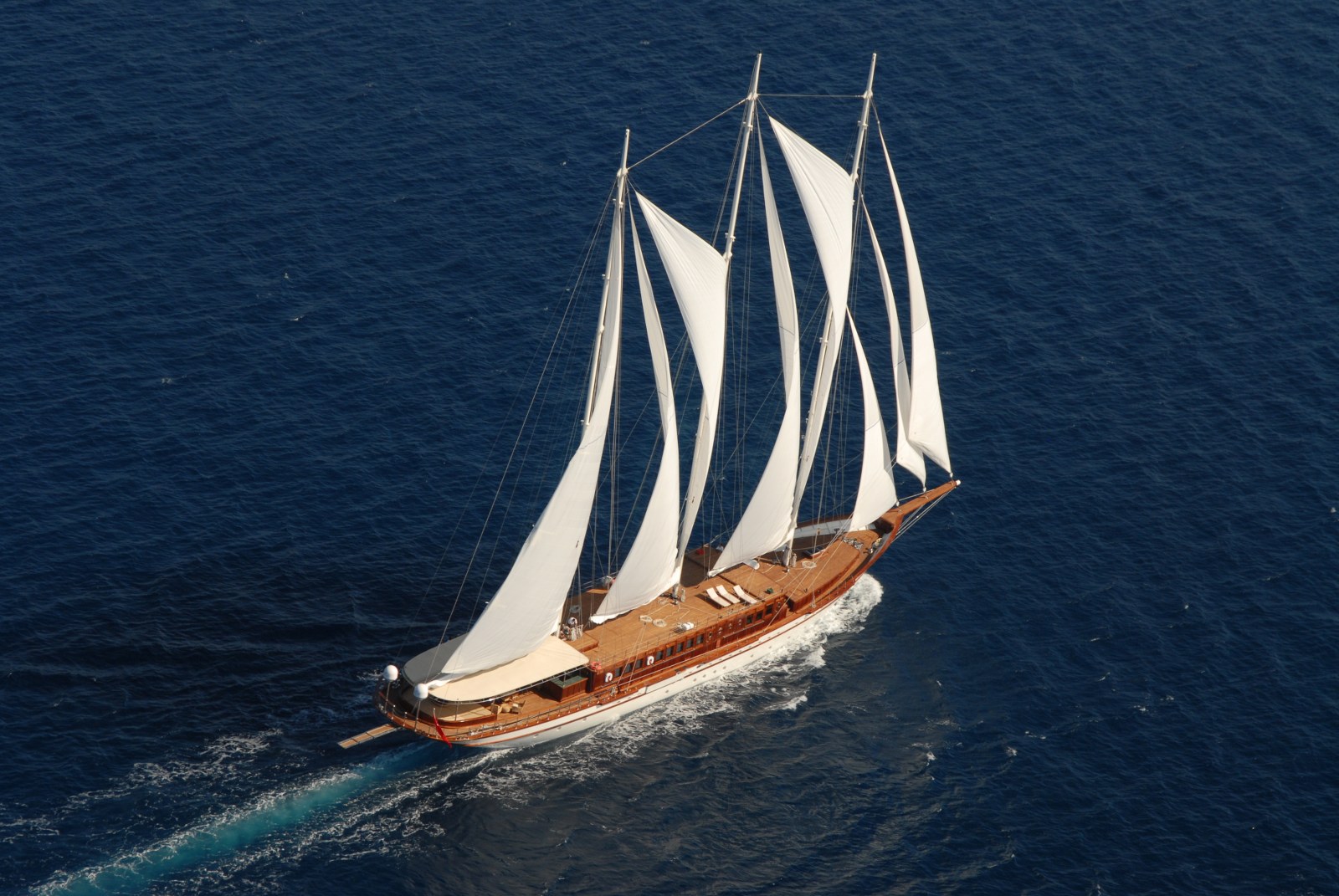 Turkey boasts a stunning coastline of treasures to discover while on a blue cruise holiday. As an impressive historical destination, filled with ancient wonders from past civilizations, one of the best ways to realize this amazing coastal landscape is no other than on board a traditional gulet. It's a matter of experiencing the culture, the traditions, the ancient sites, cuisine and more, in the Eastern Mediterranean country where gulets and blue cruises together, originated.
Hiring a gulet privately will offer you many luxurious reasons in comparison to booking a cabin charter. While the destinations you will see will remain the same on a shared cruise, there is more freedom in the luxuries when you choose to explore on a private charter.
Luxury gulet cruises are a personalized holiday style. These private cruises are custom tailored to suit you and your guests' interests. Not one gulet holiday will be the same as the next. The differences can vary from the boat you are on, the crew, to the itinerary and time of year you travel – more importantly is the boat.
If you have never been on board a Turkish gulet, then it may interest you to know that it isn't like cruising on a bareboat or other type of fiber sailing yacht. There is a large overall difference – and it's not only because of the type of vessel it is, but rather the whole feeling.
Gulets come in many different sizes, generally the most popular sizes range from 25 to 36 meters in length. Any size smaller may not pass the same 'feelings'. Gulets also vary in design and decor, as well as comfort levels and standards – a choice made by the builders, designers and owners during and after construction.
Gulets are grand vessels – grand being when that 'feeling' starts to kick in. Some first impressions remind individuals an image from a fairytale story. It did for me. These alluring boats portray attractive silhouettes in the waters of the Mediterranean – especially in the morning when the waters are still and the early morning sun shines on the varnished mahogany.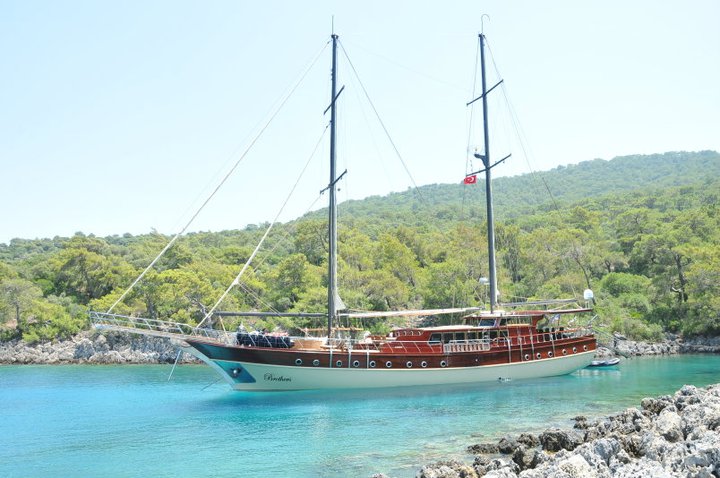 The fact that gulets are handcrafted by expert craftsmen, from various woods such as mahogany and teak; render a very classic and authentic characteristic of the Turkish culture. Although there are countless luxurious reasons for a blue cruise holiday on board a private gulet; here are 6 good reasons why, for starters.
Luxury Reason No. 1
Private. An obvious reason, but definitely on the list of why's. Shared cruises are great if you are looking to mingle and meet new people, on a budget, prefer to be on your own or as a couple, or prefer not to gather a group together.
Alternatively hiring a private gulet charter may prove better overall – especially if you are travelling with children since most cabin charters will not allow children under the age of 12 on board. It is also a special way to spend that close quality time among other family members or friends.
The privacy is not only based on just having guests you know on board, but also the option of establishing privacy levels with the crew. It may seem that going private would increase the costs. However this is not true in all private blue cruises. The more in your group, the more times you divide the costs, the less it calculates to, per person.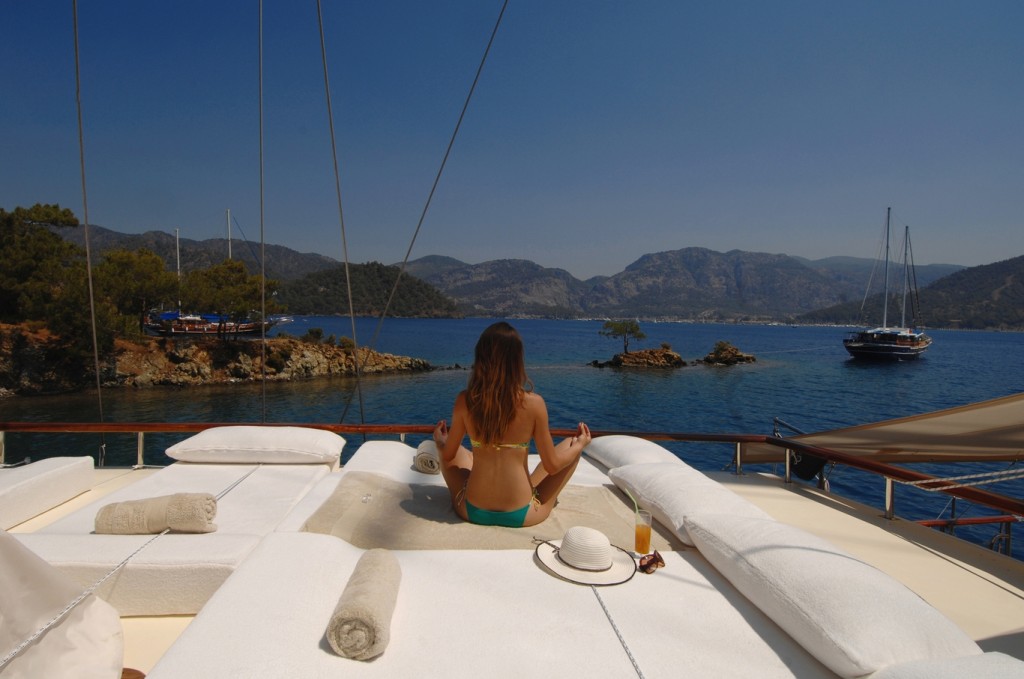 Luxury Reason No. 2
Choice. If you are hiring a private gulet, you have hundreds to choose from. Whereas with cabin charters only a limited selection of gulets are available and sometimes not in the standards of your preference.
Luxury Reason No. 3
Route & Itinerary. Due to the fact that it is based on shared accommodation on one boat, all cabin charters offer set routes and itineraries. You cannot alter these routes. On the other hand, with private gulet charters, routes may be flexible. There are certain terms included in the charter price; such as maximum 4 hours of fuel per day. However if there is an extendible budget range, with the exception of weather and sea conditions, the itinerary is where and when you want to be, for as long or as short as you like.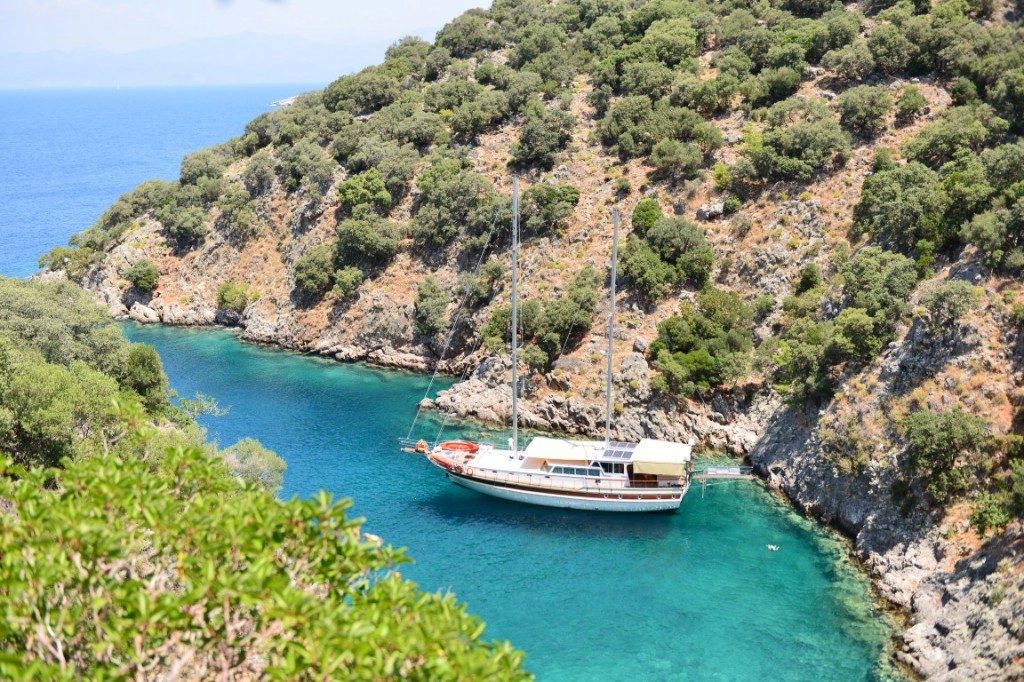 Luxury Reason No. 4
Food and Beverage Selection. Shared gulet cruises have a set menu (with the exception of issues such as allergies). Mosti if not all shared gulet cruises, it is mandatory to purchase the drinks from the bar at the prices listed on board.
Contrary to this, private charters offer choice in menus. Changes to the dishes and other food items based on you and your guest's preferences may be made. Bringing your own drinks and alcoholic beverages is allowed and there is no service fee.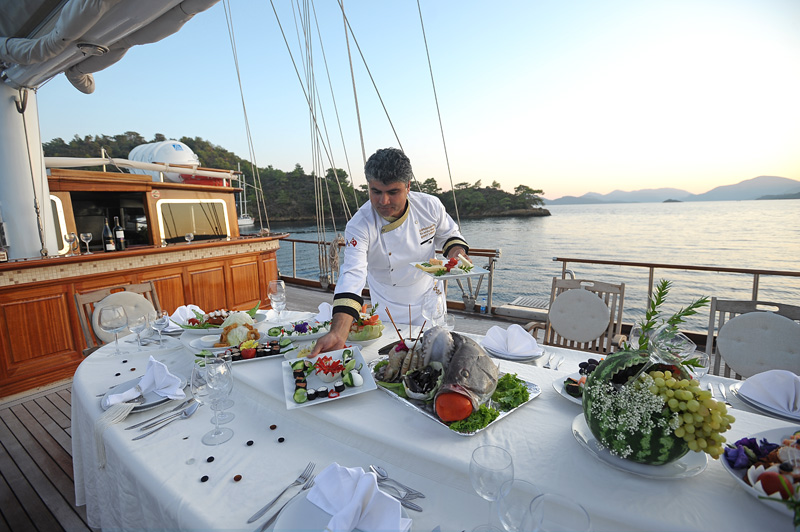 Luxury Reason No. 5
Activities. Since you are on a set route and pre-established itinerary, you are restricted to when and where to do land excursions and water sports. Whereas when you go private, as the time is yours, there is freedom to enjoy these activities at your own leisure in areas authorized and most suitable, as per the regulations and your captain.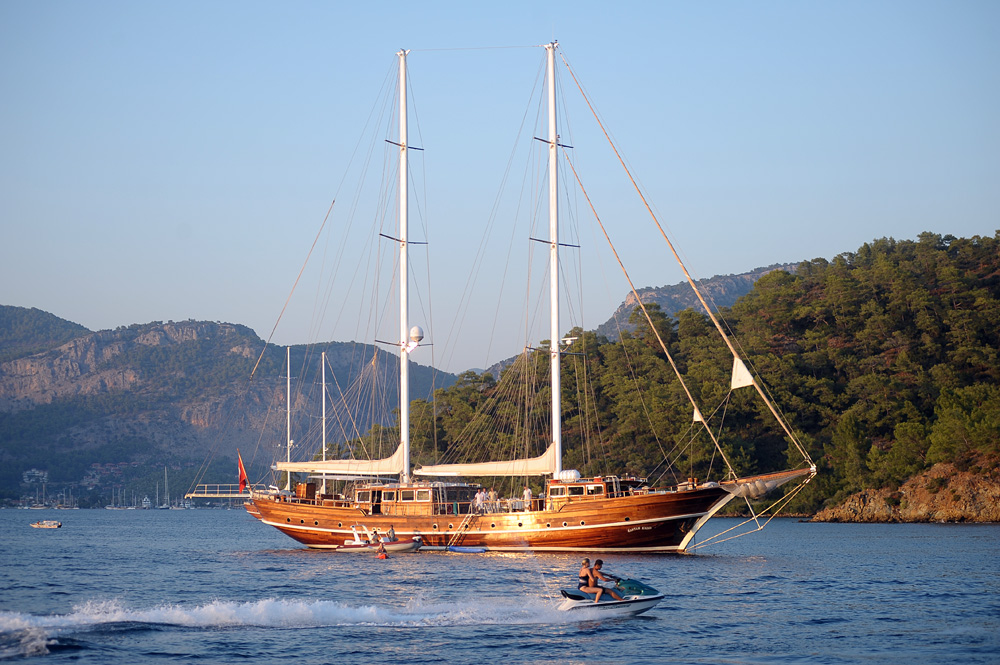 Luxury Reason No. 6
Date of Travel. All cabin charters are scheduled gulet cruises and operate on certain dates. Sometimes if the boat is too vacant, these cruises may have the chance of being cancelled.
Private gulet holidays may be booked on dates that are suitable to your travel plans – with a good majority of charter gulets. There are some restrictions which are based on the time of year and the current bookings on your preferred gulet.
In summary, a blue cruise is not a blue cruise without a beautiful Turkish gulet. Choice and luxury is a luxury.
Have you been on a shared or private gulet holiday before? If yes, how was your experience? If not, but interested, which one would you choose?