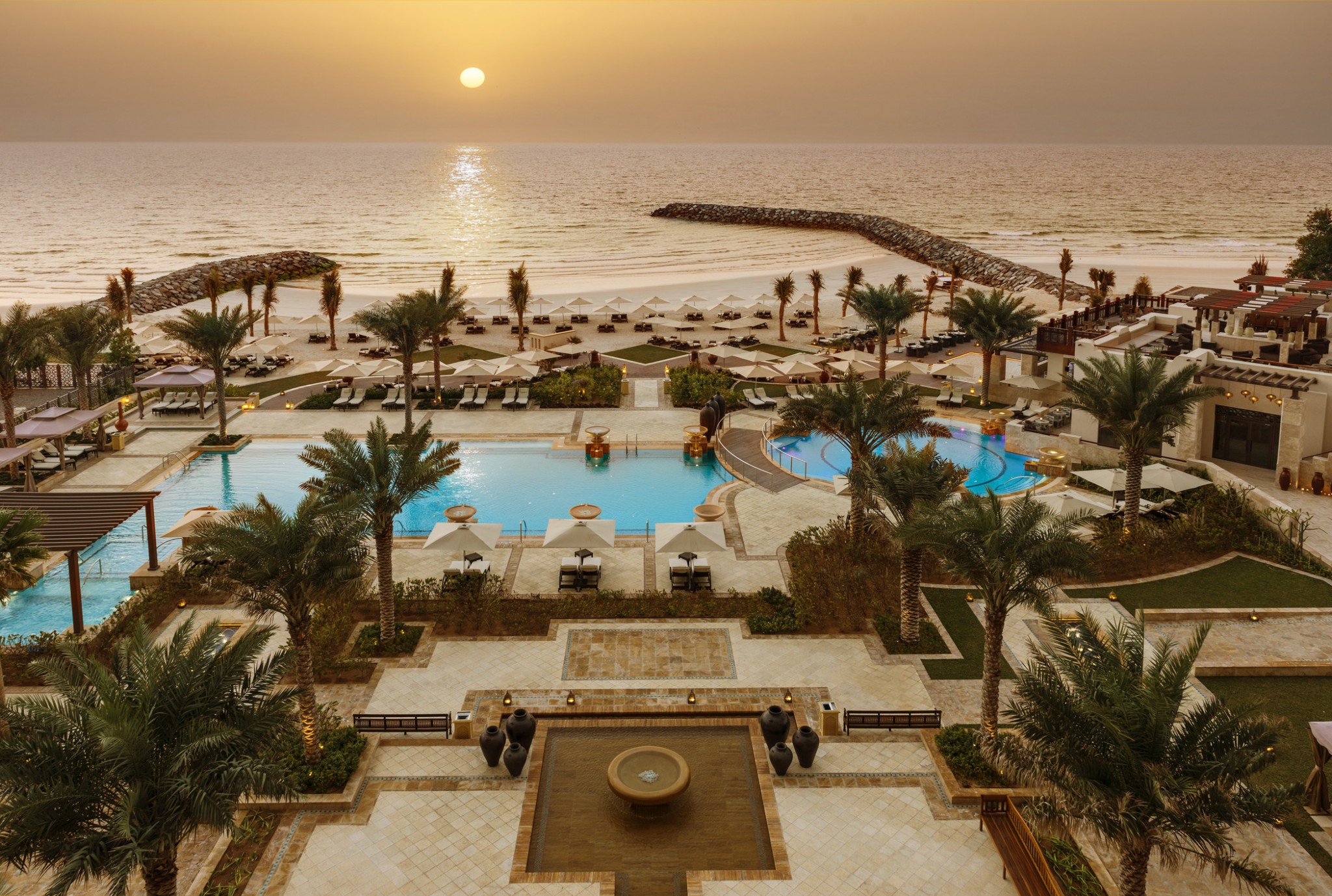 the lux score
81
the lux score explained
Service 9
Rooms 8
Food & Beverage 7
Ambience 7
Attention to Detail 8
Generosity & Value 9
Wow / Hip Factor 8
Facilities 8
Location 8
Fit to Promise 9
Ajman Saray is a beachside resort one hour drive away from Dubai. It is a great weekend destination for the locals and a fantastic place for international holiday makers looking for a quiet resort away from the hustle and bustle of the big city.
The resort borrows its name from the Emirate itself as it is located in Ajman, one of the 7 emirates in UAE.
Getting to the resort is easy – hotel will arrange transport to pick you up from the airport or any other Dubai location. If you avoid peak hour traffic (8-10am and 4-7pm) it shouldn't take you more than an hour to get to the resort.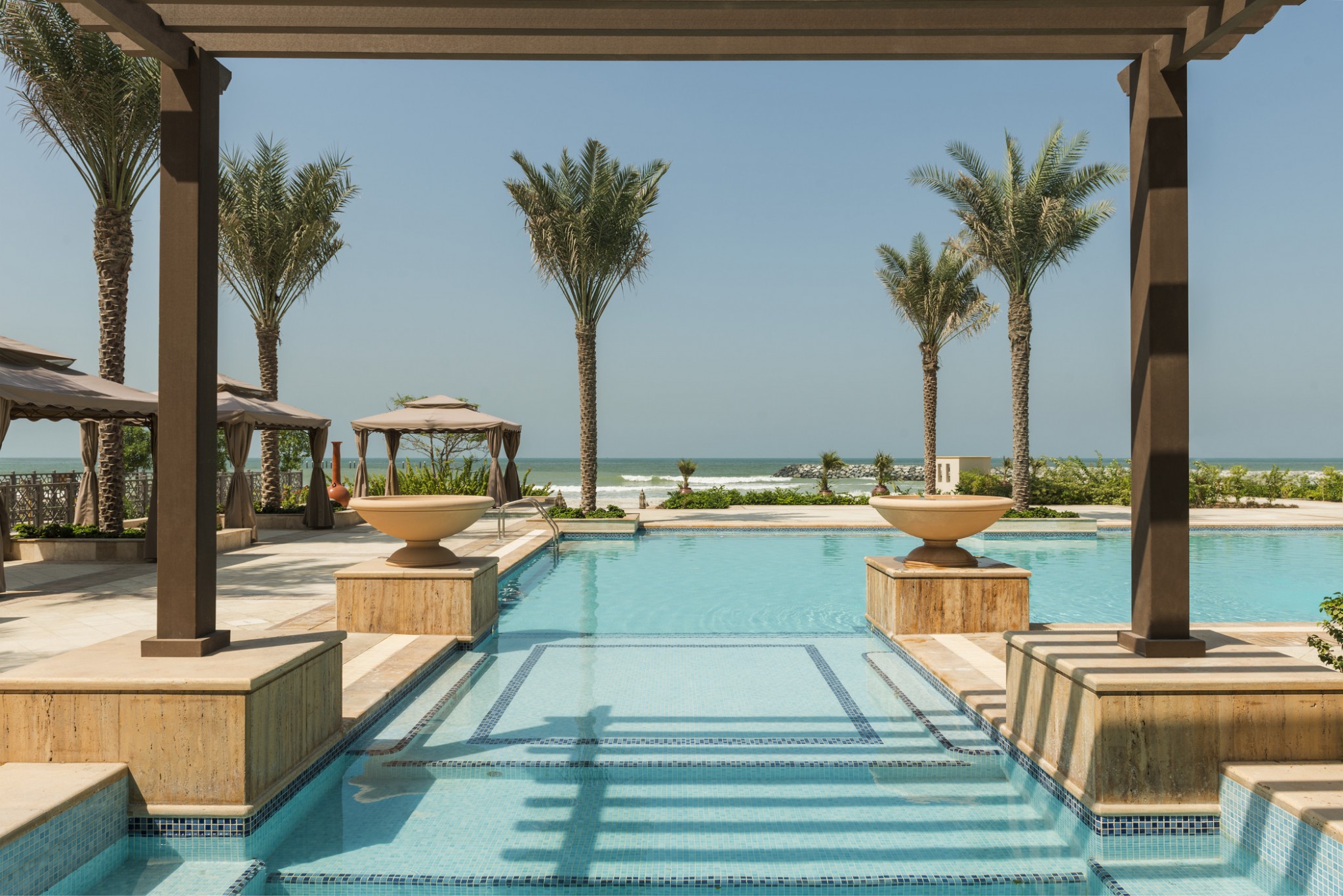 Accommodation
Ajman Saray has welcomed its first guests only a year ago and is one of the latest additions to the Starwood Luxury Collection. Ajman Saray features a lot of Arabic themes in the interior design of the hotel. I love their clever use of Middle Eastern lanterns in the rooms and traditional patterns used to decorate balcony railings, carpets and bed throws. Ajman Saray is unmistakably Arabic and I love it!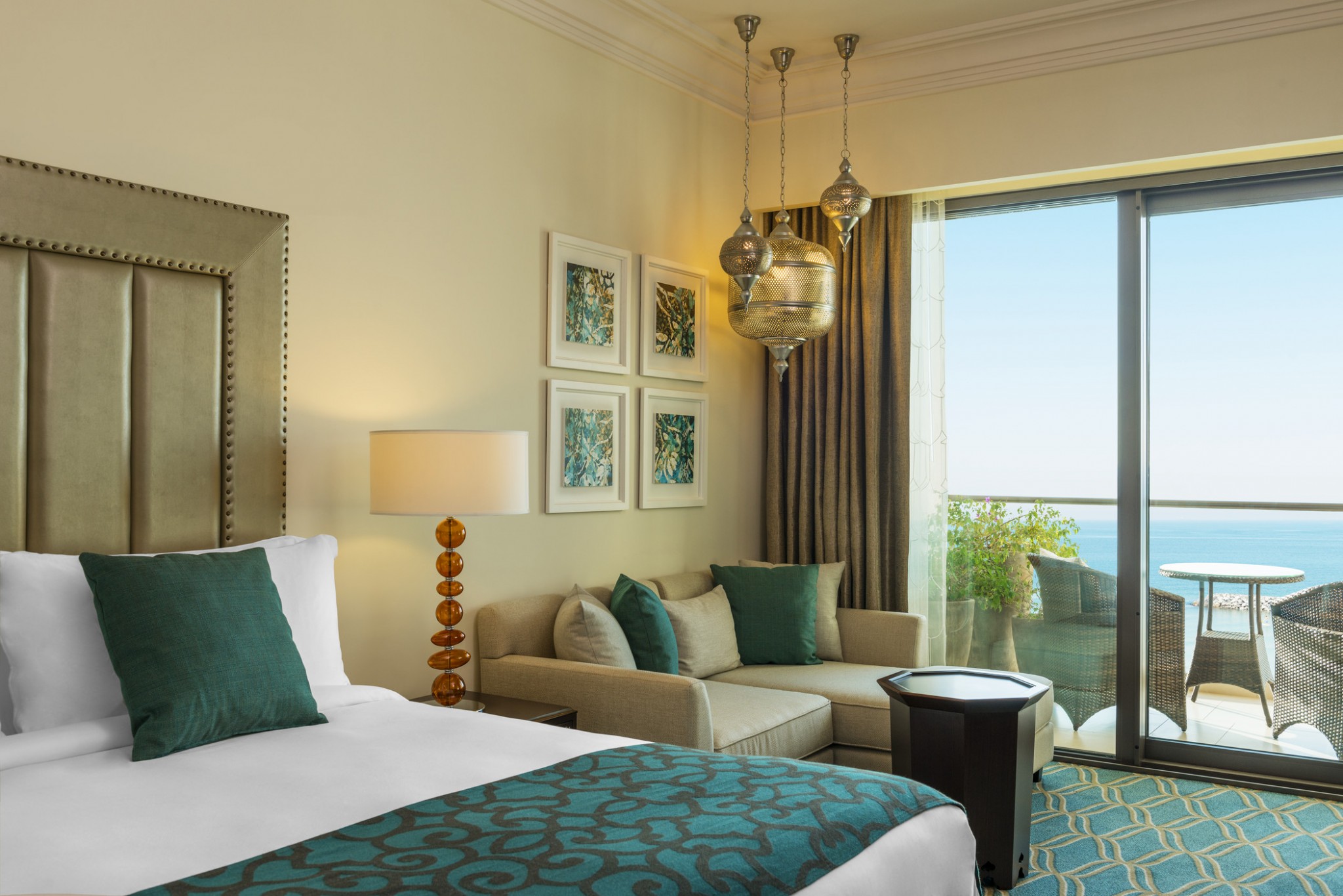 Many of the spacious rooms feature fantastic ocean views, private balconies, comfortable seating areas and bathrooms with double vanities.
We had a pleasure of staying in an Al Dana Suite, an opulent 80 square meter escape. We loved starting our days with a morning espresso (perfectly brewed by our own Nespresso machine) on a large terrace, slowly sipping the coffee while admiring turquoise waters of the Arabic sea glisting in the sun in front of us.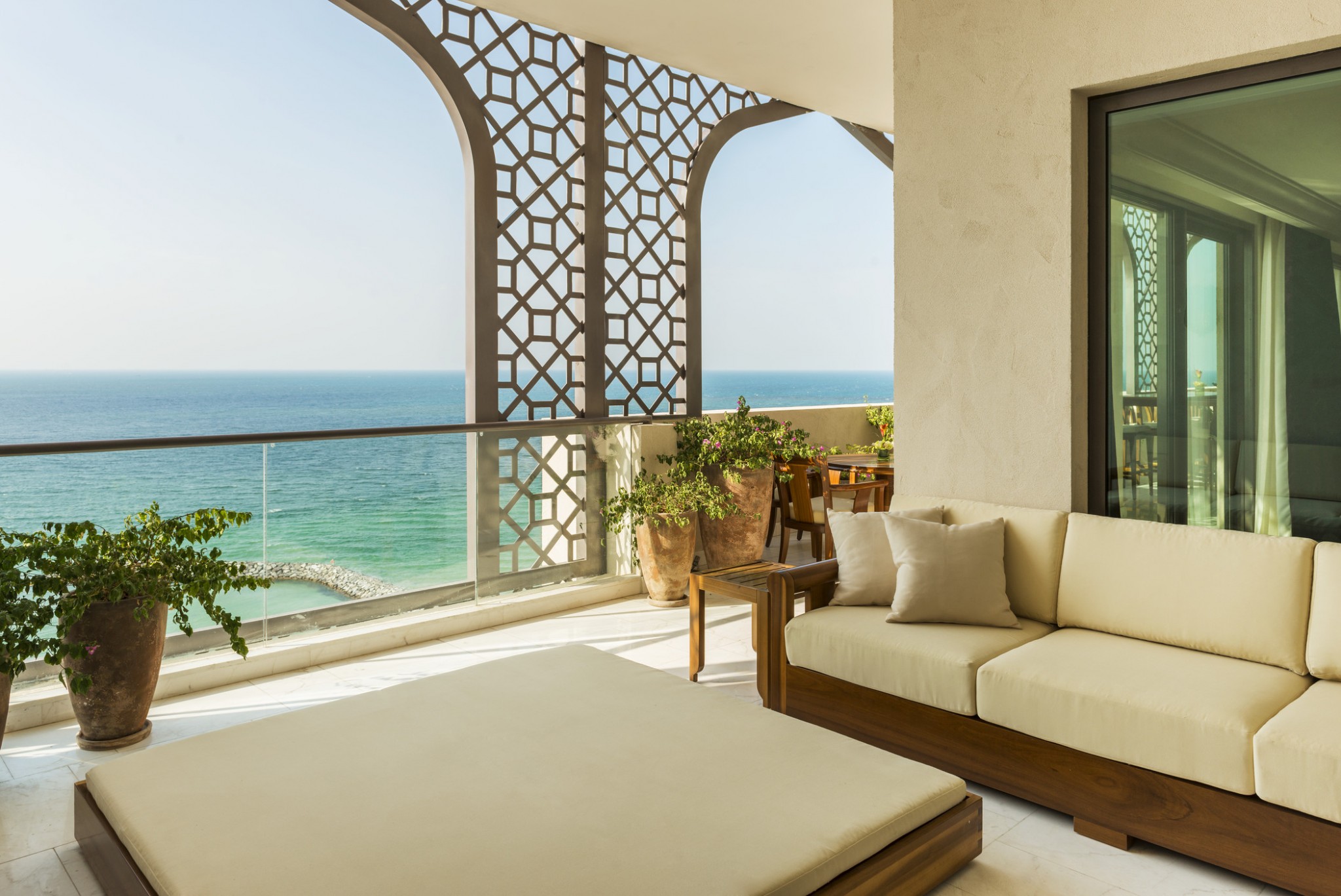 The bedroom is a sanctuary of relaxation with an impossibly comfortable bed topper and cloud soft doona and pillows.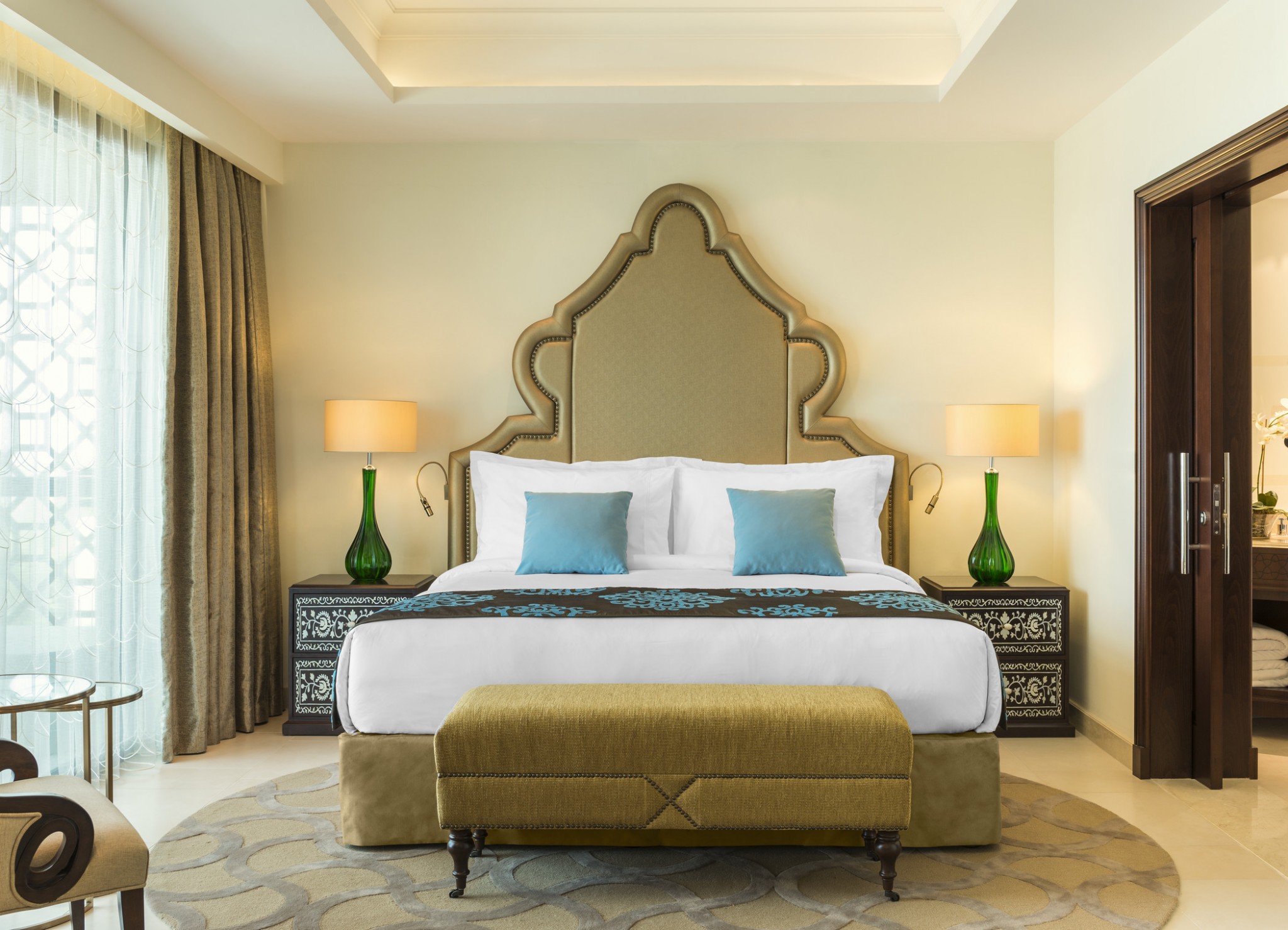 Main bathroom with marble accents has a separate shower, double vanities and an elegant bath as a centerpiece.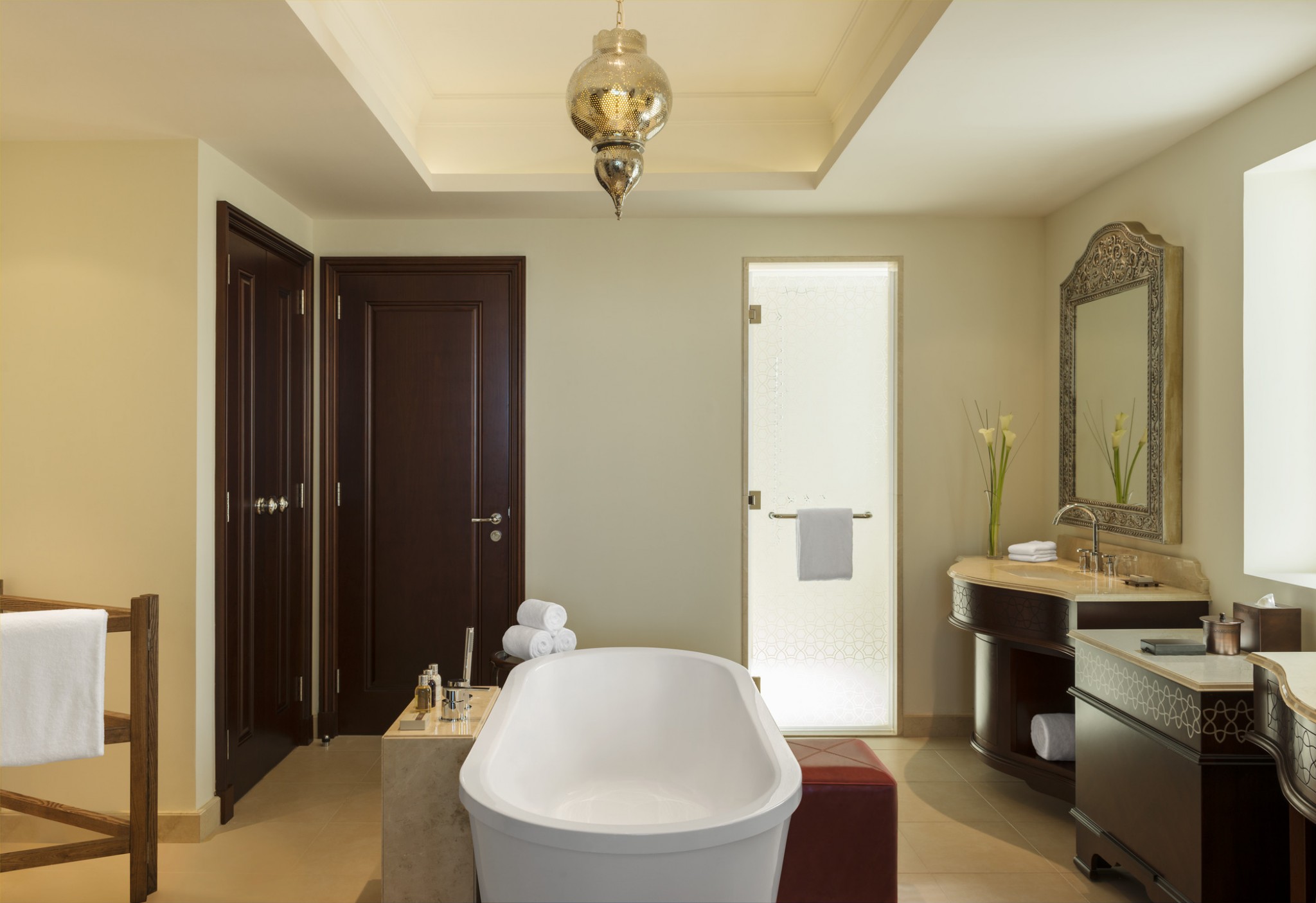 The living room provides lavish lounges (perfect for a child to sleep on), a dining table and an executive desk if you need to send a few emails back home. All set up in a refined Arabian ambiance, both understated and elegant.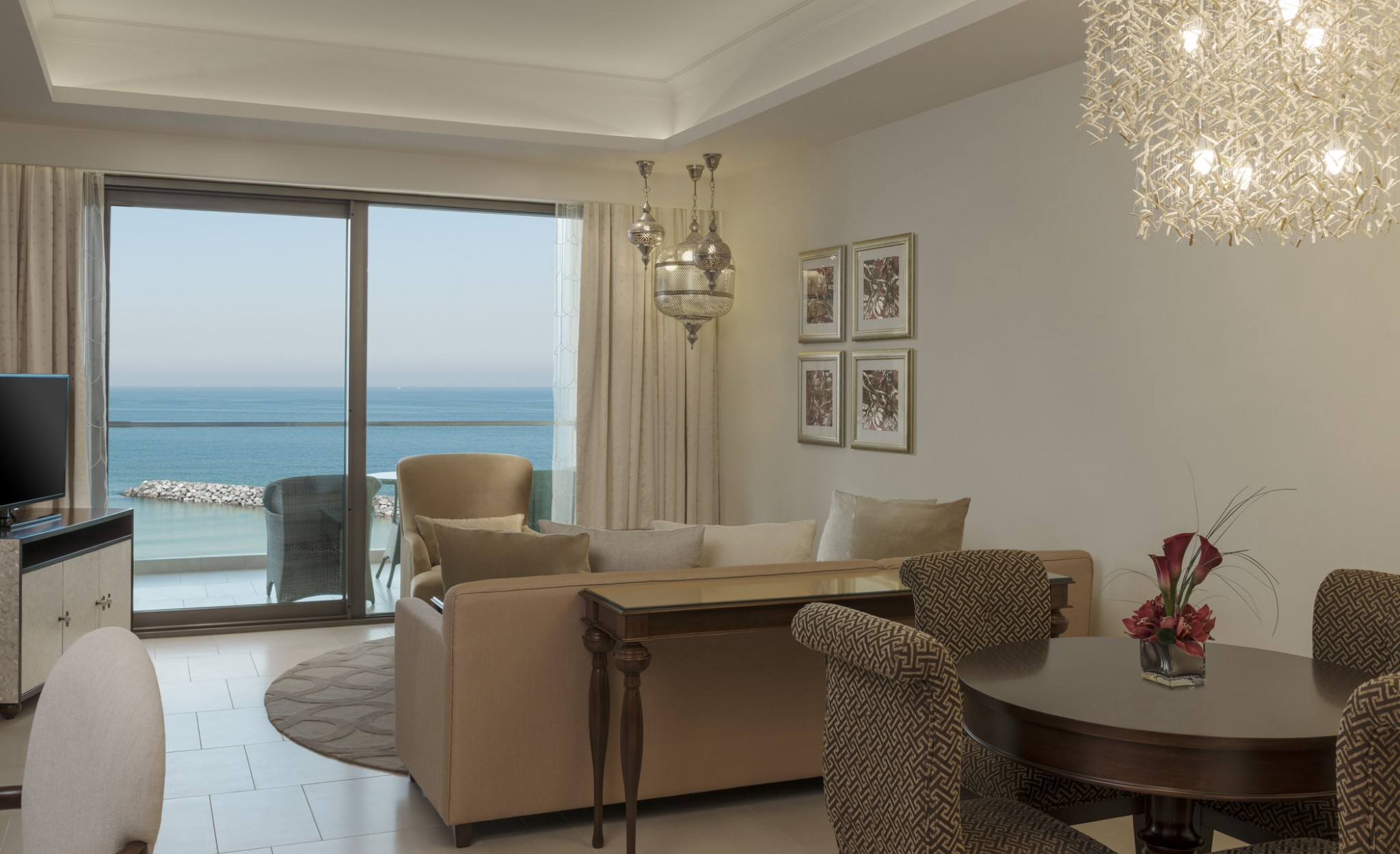 Facilities
Ajman Saray has a fantastic white sand beach, large resort swimming pool, kids club and gym. Gym is well equipped with cardio and weights equipment and wasn't busy at all during our stay.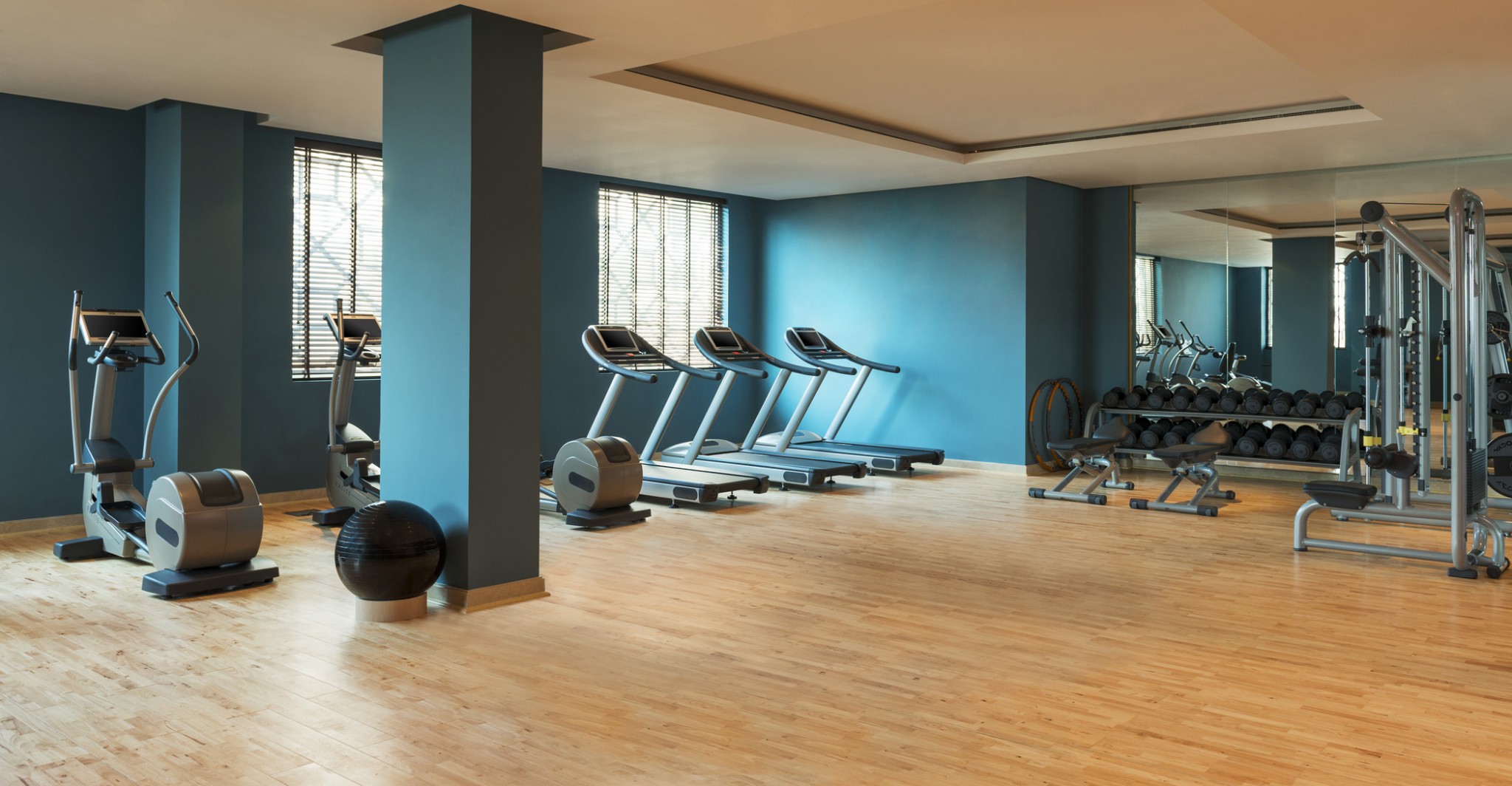 Kids club is catering to the younger guests, aged between 4-7 years old with art & craft sessions and movies.
The beach and the pool have ample lounge chairs and umbrellas, we never saw guests lining up to find a chair. Beach hut is well stocked with complimentary water, ample towels and a little book library.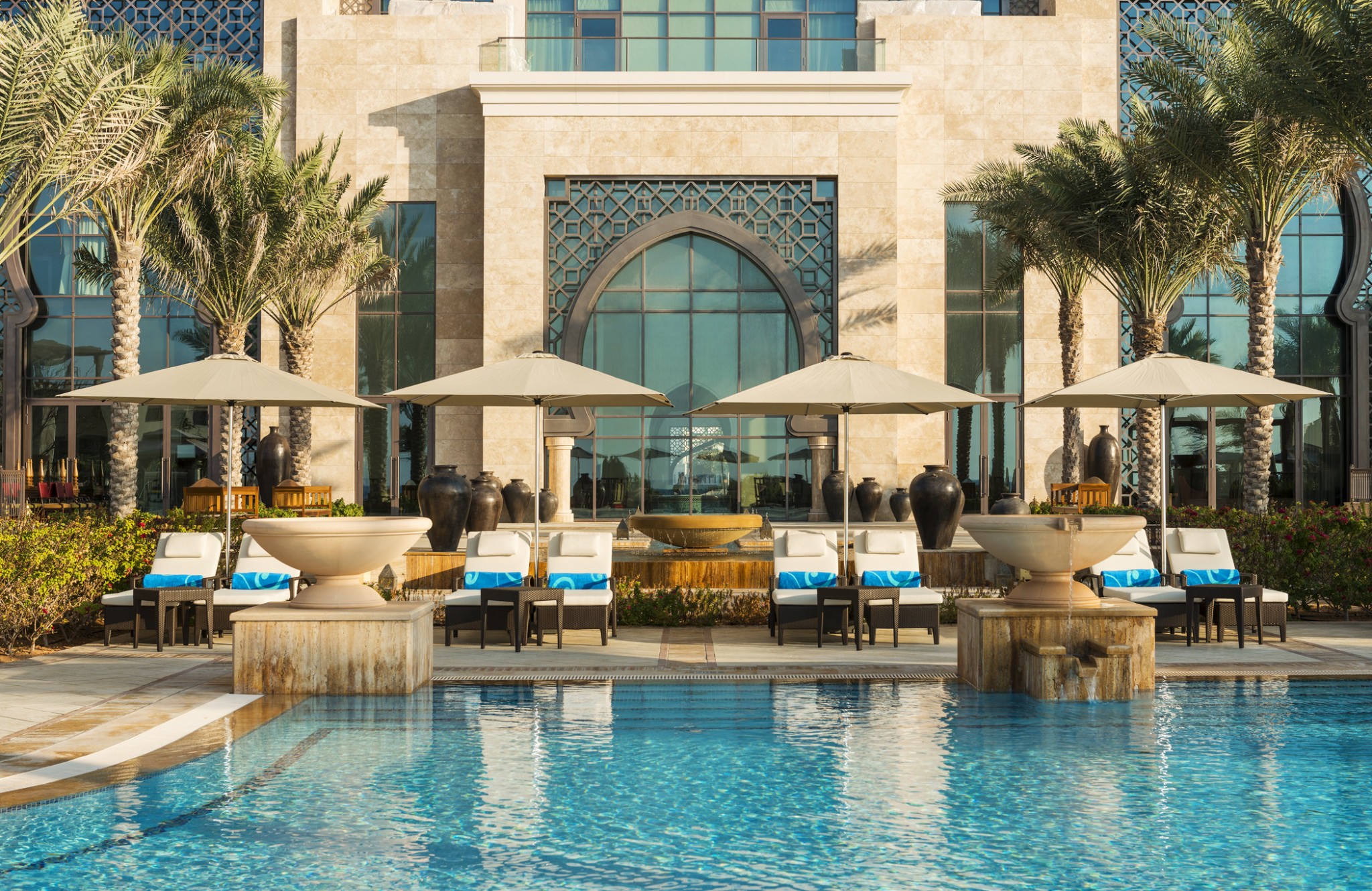 If you want a little break from the beach, Ajman Saray offers its guests a shuttle bus service to Dubai Mall every day. Dubai Mall is the largest shopping centre in the world and will keep you entertained for hours.
Dining
Breakfast is served in the main restaurant and features a traditional Arabic spread with international favourites like eggs, pancakes and fruit. Outdoor setting is wonderful – it makes guests linger just a little longer over the first meal of the day.
Lunch is best enjoyed at the beachside restaurant Bab Al Bahr – excellent food (a mix of Mediterranean and local dishes) accompanied on request with a glass of French bubbly or Italian prosecco. If your lunch continues into the late afternoon (ours did on most days), proceed straight to the terrace for some Turkish coffee and flavoured shisha.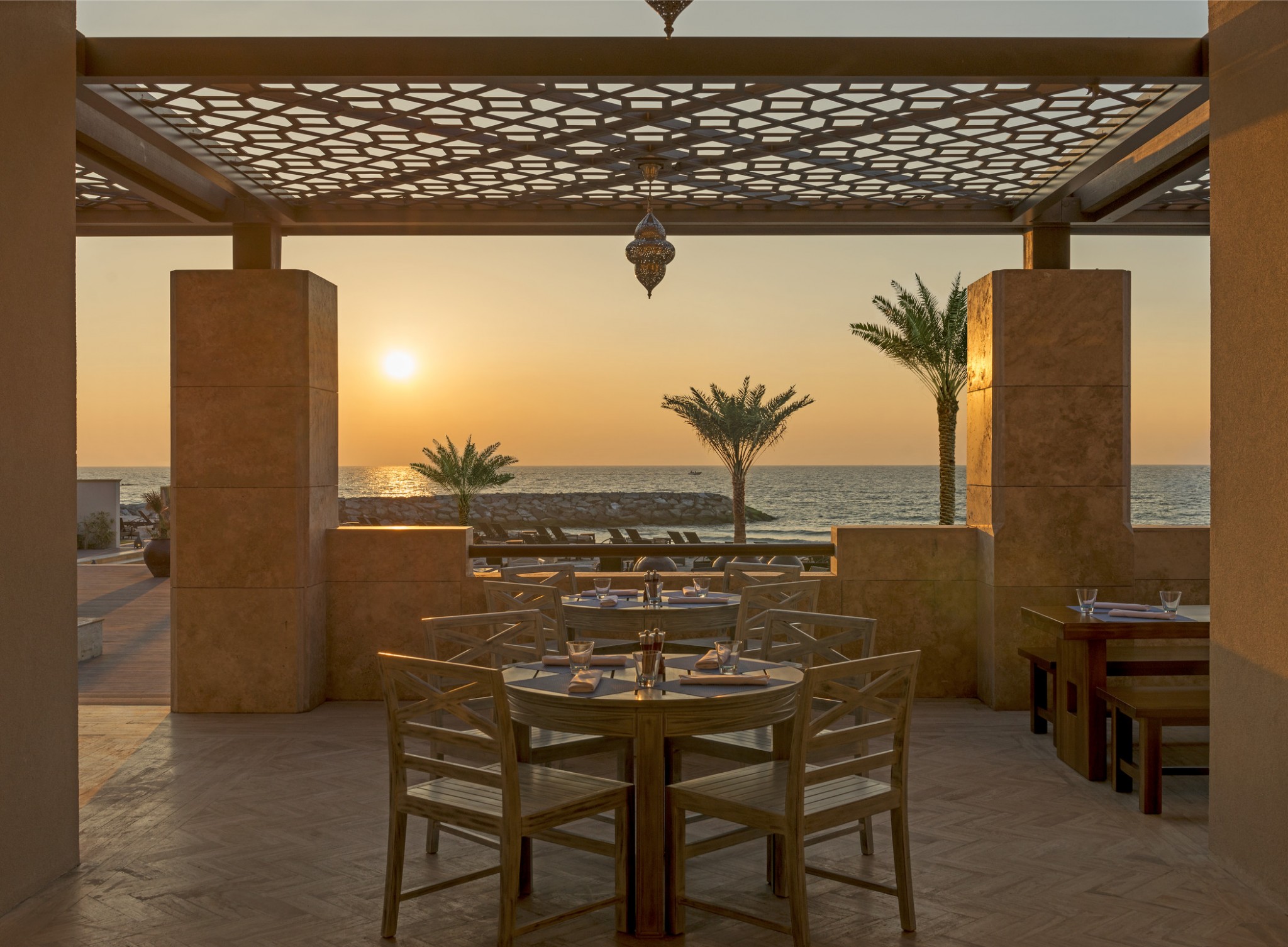 Days seems to go too quickly at Ajman Saray. They say that happens when people are having a great time!
At dinner time guests have a choice of two fantastic restaurants – Safi Seafood on the poolside terrace or Lebanese restaurant Mehjana, set up in a traditional Arabic courtyard setting.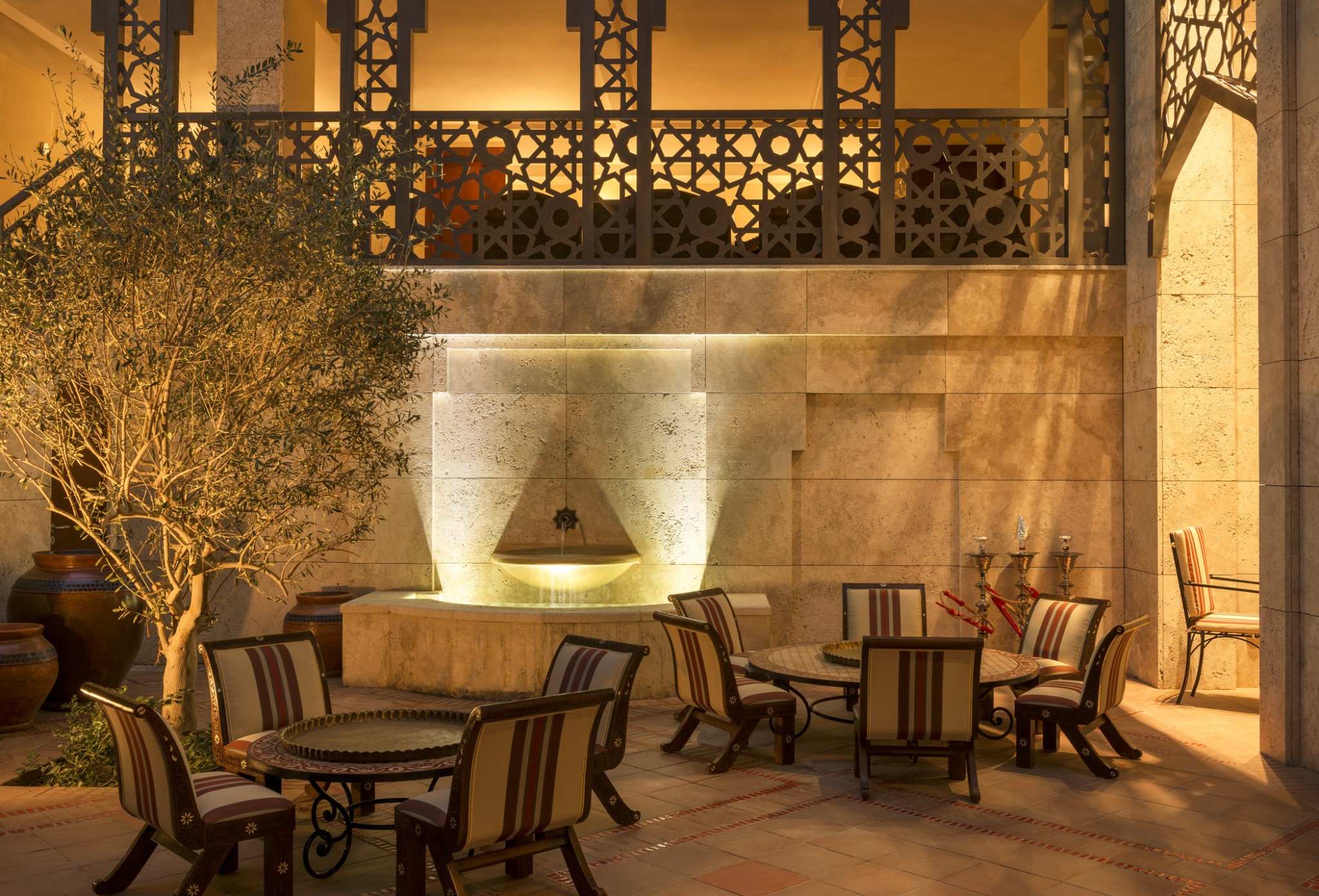 I love the whole Arabic experience, so Mehjana was our restaurant of choice. The setting is very romantic – dimmed lights, lanterns and candles set the mood for the night. Lebanese food is quiet rich but 'oh so tasty'. The chef is extremely friendly, and chances are, he will come out to greet you at some point during dinner. He offered to put together a small degustation dinner for us and it was sensational. Cold and hot messes, followed by mouthwatering meat plates (some meal was cooked for over 12 hours to achieve a delightful tenderness) and to finish up, Lebanese sweets with Arabic millefoglie! 'Must visit' restaurant and our absolute favourite!
Goco Spa
Goco Spa offers beautiful seaview couples relaxation suites and a hammam facility as its highlight.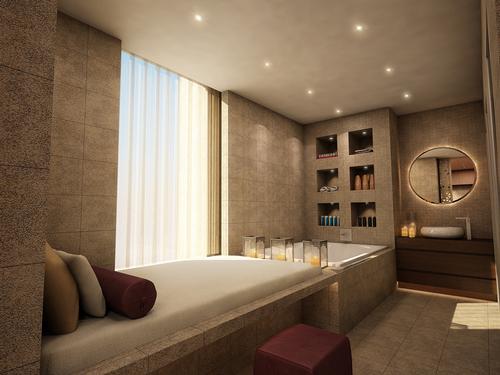 I chose to try a hammam treatment and even though it is very hot (you are lying on a hot marble table in a steam room and being washed and scrubbed by a professional hammam therapist) I felt utterly relaxed afterwards.
If you haven't tried hammam before – try it last thing at night before bed. Just ask the therapist to make the room a little less steamy for your first treatment and take contact lenses out (if you wear them), as they could damage your eyes in a really hot steam room).
For those who prefer a little taxing treatments, there is a good selection of facials, scrubs and massages to choose from, so every spa lover will surely be pleased.
The Lux Traveller Loves
Beautiful quiet beachside location, nice contrast to overly busy Dubai
New and elegant accommodation, especially in the suites
Very family friendly
Great spa with hammam facilities and romantic couples suites
Romantic Lebanese restaurant with top chef and a great selection of local delicacies
Reasonable prices in comparison to Dubai beach hotels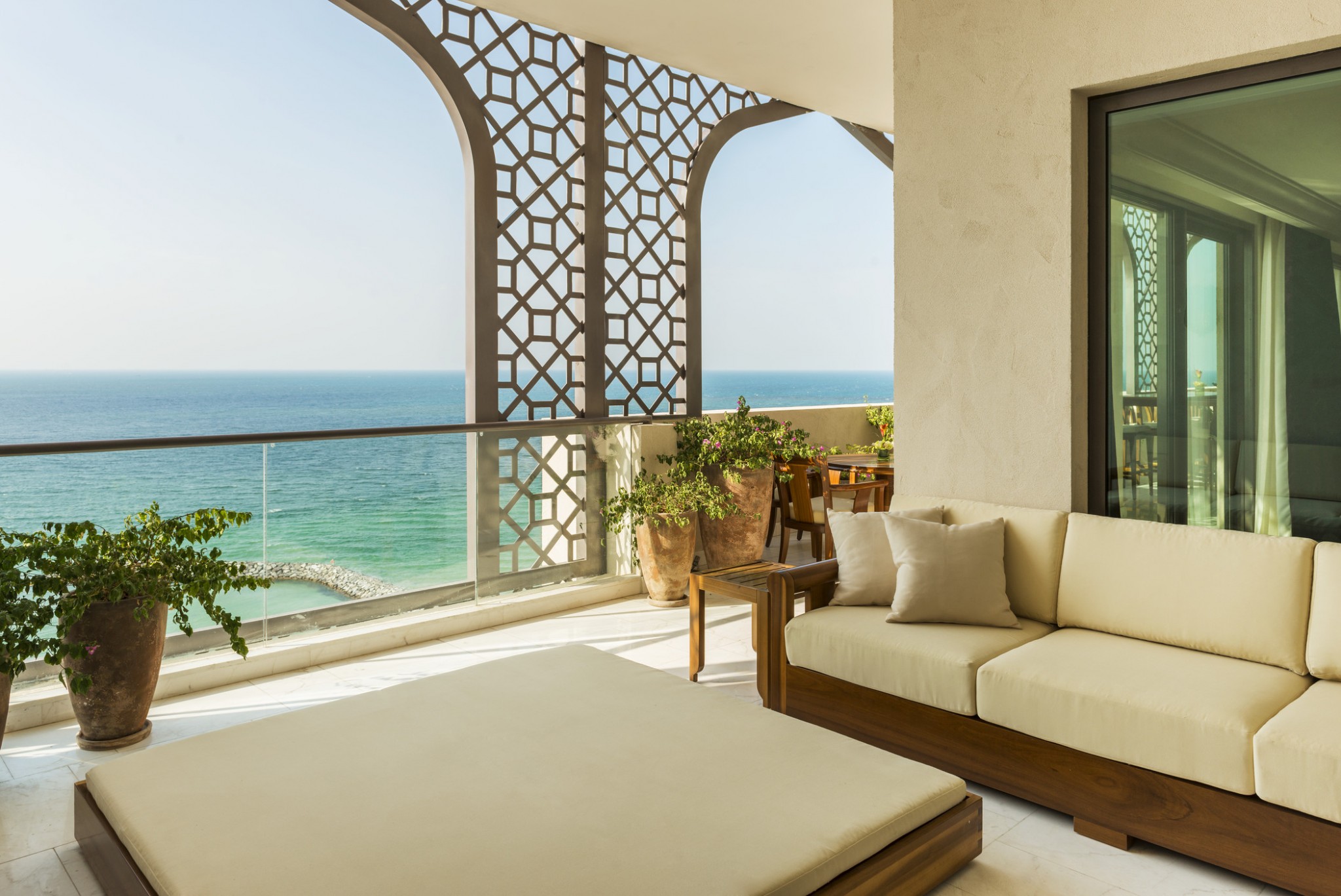 Splitting Hairs
If you are at Ajman Saray for a long time, you might want a little more action – it would be nice for the hotel to introduce some activities like stand up paddle boards, yoga classes or tennis.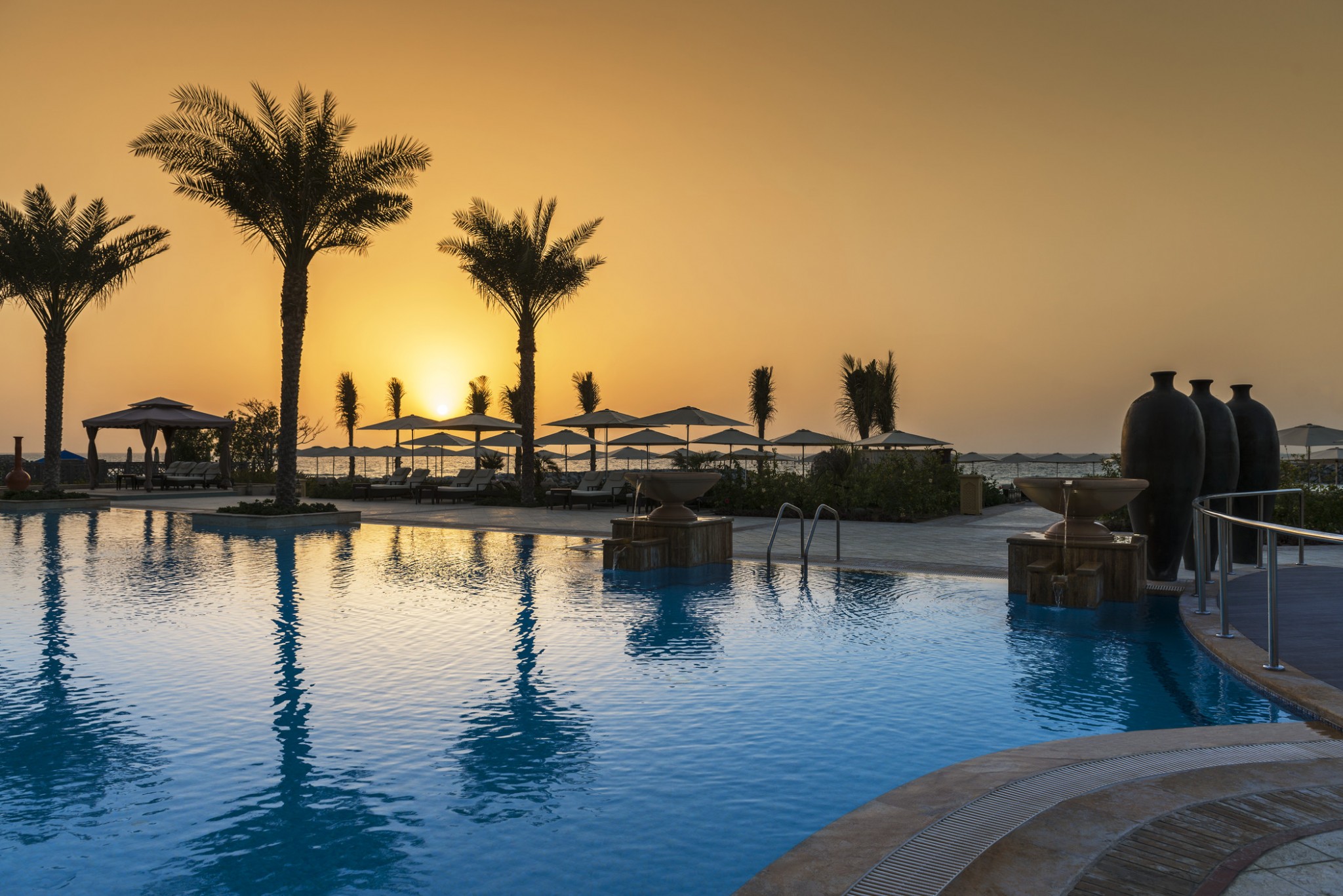 All In All
Fantastic lazy days at Ajman Saray go approximately like this: day starts from a gym session and breakfast, continues on the beach and at Bab Al Bahr with a long lunch and shisha and a glass of champagne to watch the sunset later, relaxation in our beautiful suite, gourmet dinner in a romantic setting. Does life get any better than this?