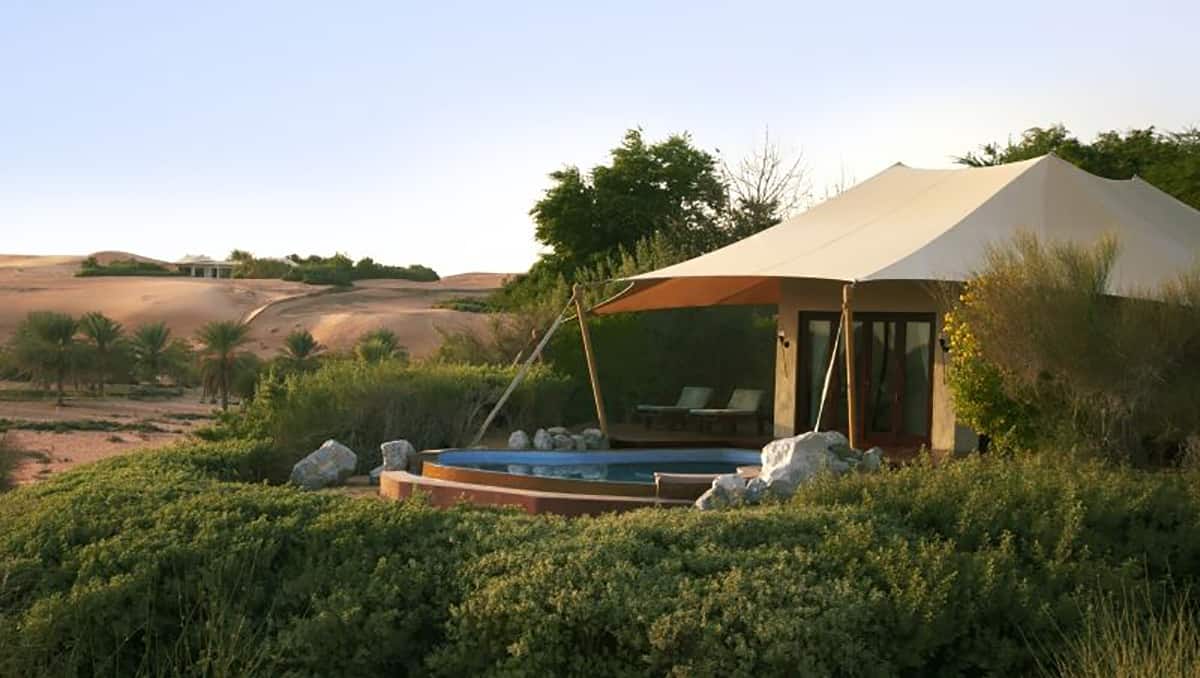 the lux score
93
the lux score explained
Service 10
Rooms 8
Food & Beverage 9
Ambience 10
Attention to Detail 9
Generosity & Value 8
Wow / Hip Factor 10
Facilities 9
Location 10
Fit to Promise 10
This gorgeous resort is very unique, nature friendly and luxurious. It is a Must visit on your luxury trip to Dubai.
When you arrive here (the journey from Dubai takes approximately 1 hr) you feel immediately relaxed and priviledged to find yourself in this oasis set in the middle of the Arabian desert.
The arrival is an experience in itself. At the boom gate (about 500 m from the resort's entrance) a security guard has to tick your name off the list – only hotel guests are allowed on the territory to keep the resort very exclusive. The rates start from $1500 per night and include all meals and 2 activities per day.
At the time of my visit there were only another 10 couples at the resort. No children are allowed, so the resort is very relaxing and peaceful.
The Setting – spectacular views of the desert are all around you. Seeing that Al Maha is situated in the conservation area the nature at the resort is amazing. Oryx and gazelle are everywhere and often you would find them on your villa's private deck having a rest or having a sip of water out of your pool. Nothing like I have ever seen before. Being so close to something so beautiful is a truly special experience.
Accommodation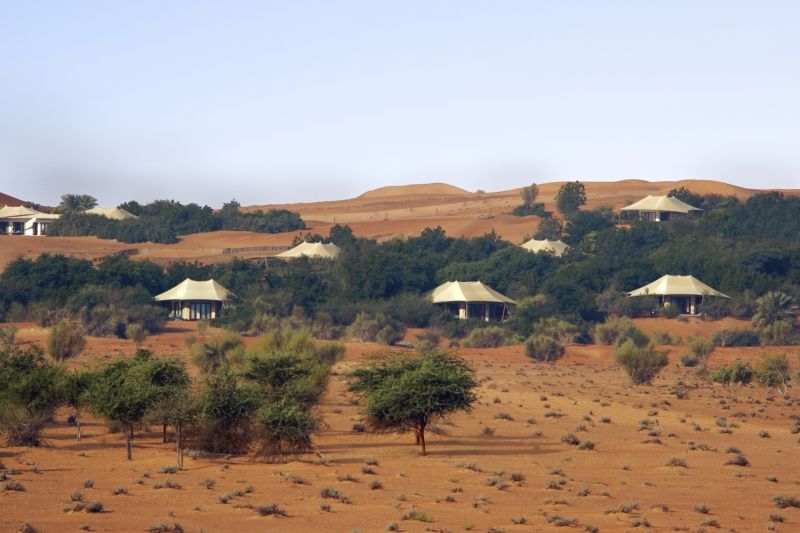 Al Maha is an all villa resort. Every villa is stand alone and very private. Each villa has a living room and a swimming pool. There is a lot of space between the villas and no one can look into your bungalow. Excellent set up for a romantic getaway.
We stayed in the Royal Villa which had 2 large full size bedrooms with sitting room, 2 huge bathrooms, living room, kitchenette with Nespresso machines and a beautiful pool.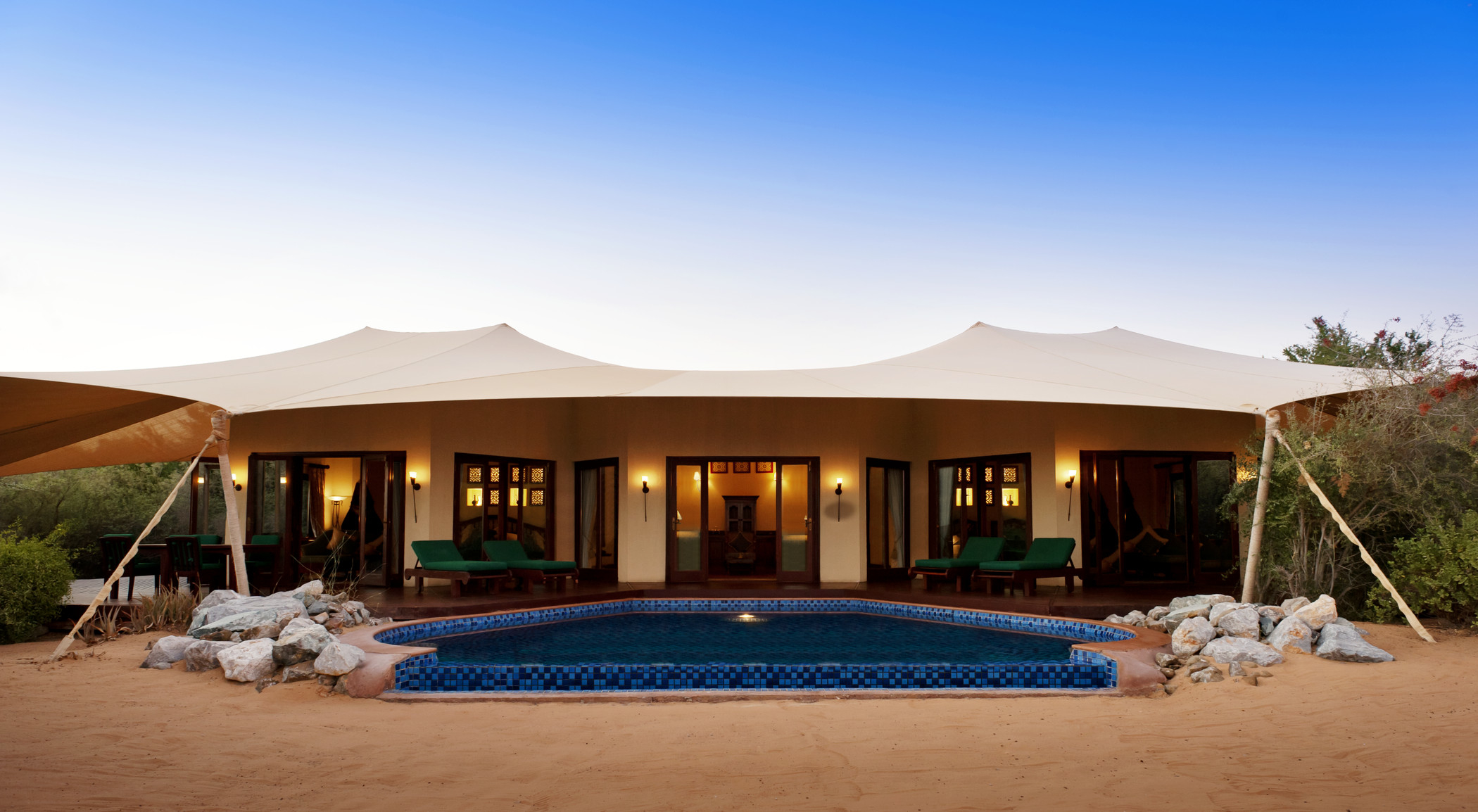 Bedouin suites have only one bedroom and a smaller pool but they are still very comfortable for a couple.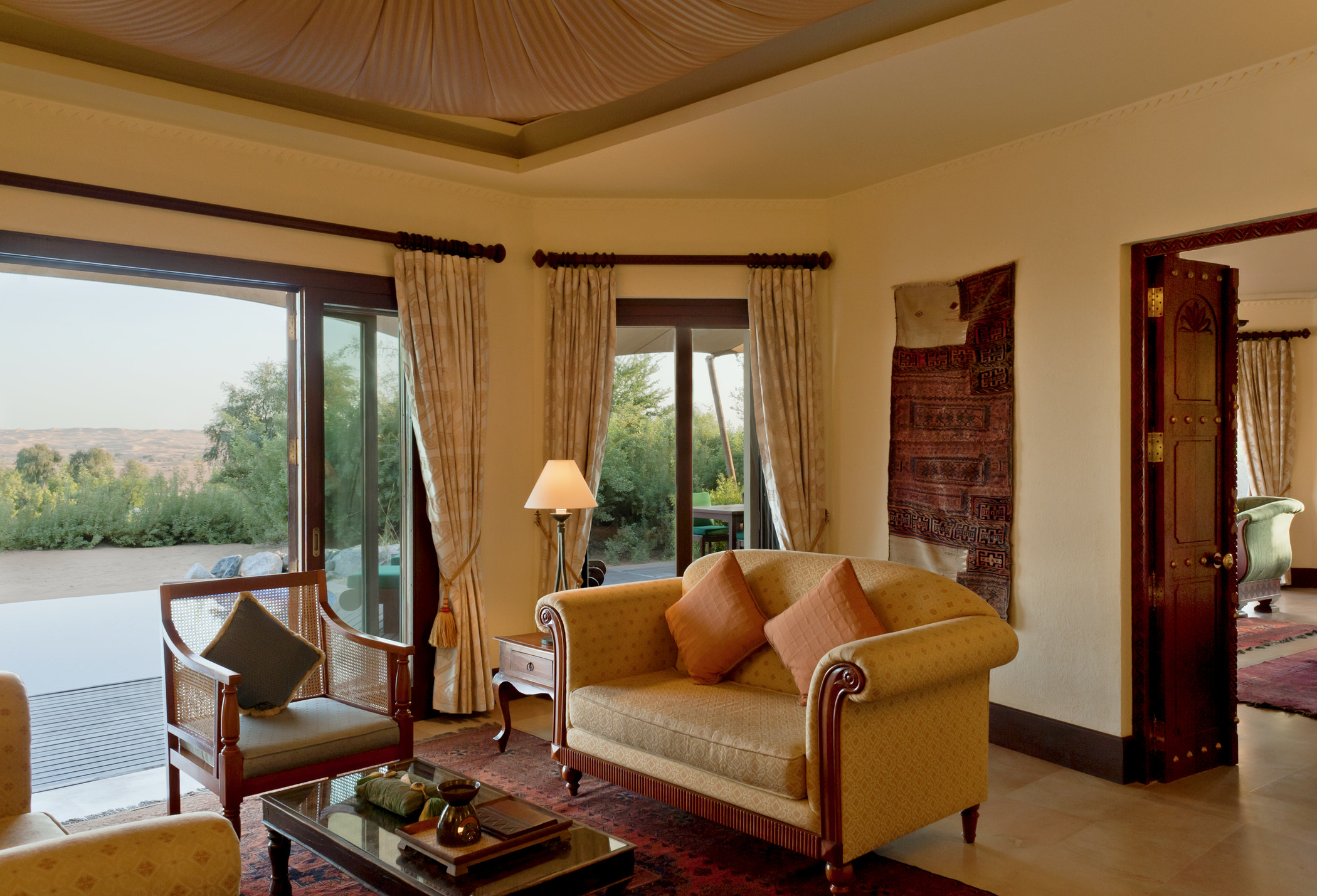 Dining – all meals at the resort are included in the rate and the food is excellent. All meals are served in the hotel's main restaurant, which overlooks the desert and the natural oasis that hotel is proud to have on its territory.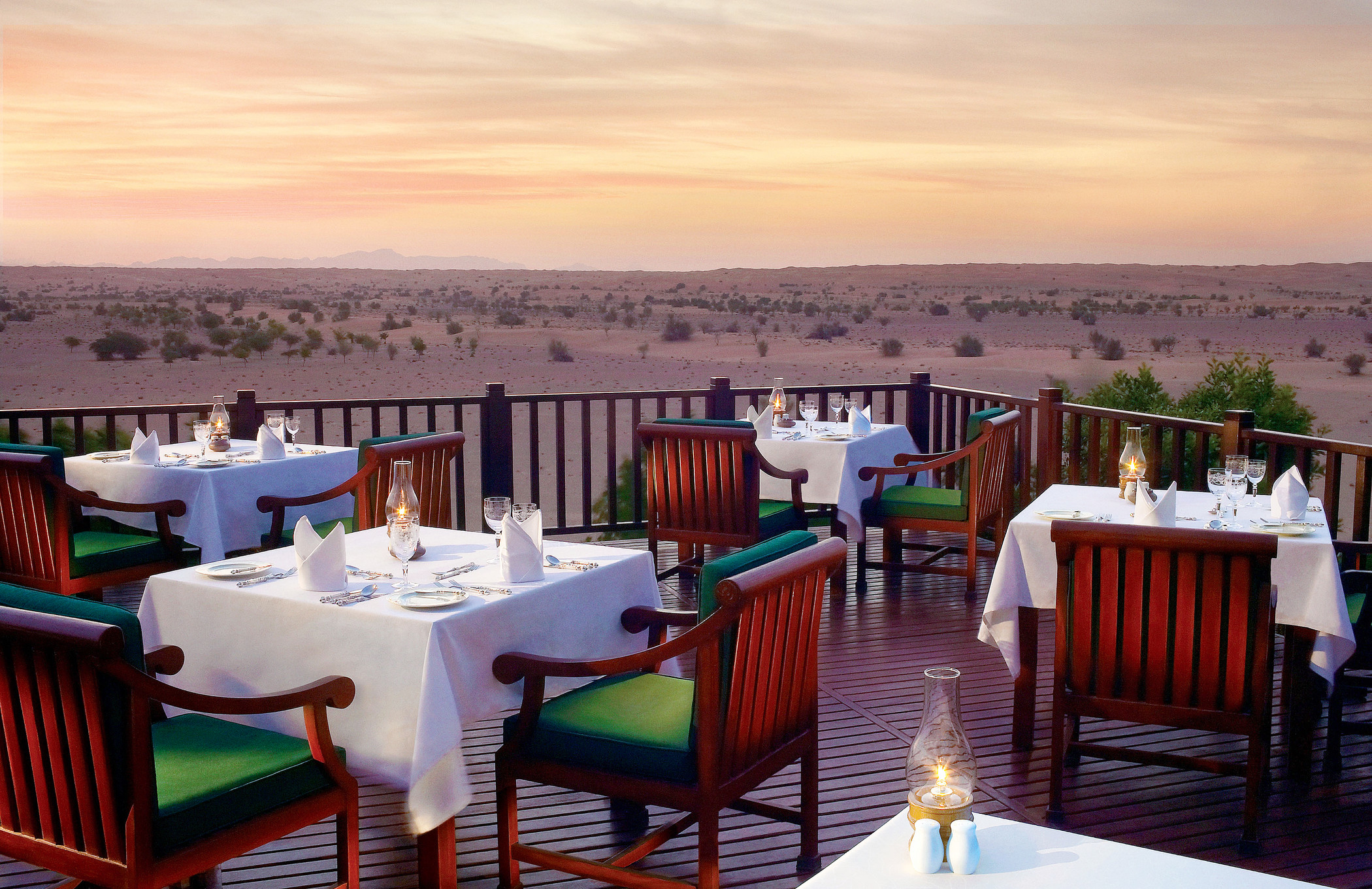 Breakfast – small buffet is complemented by a good selection of the cooked meals from the a-la cart menu. The views from the restaurant are so breathtaking you will hardly be able to concentrate on your food.
Lunch – a la cart menu for every taste and you can order as many dishes as you like. You will hardly go hungry at this resort, more likely to put on a little weight as the staff try so hard to please and all meals were divine.
Dinner – Spectacular setting. The tables were immaculately set up with the most beautiful plates and cutlery I have seen in the hotels lately. Candles light and stars in the Arabian sky will set the mood for the most memorable romantic dinner. The desert gets very cold at night but not to worry, the staff here will provide warm throws for you to feel warm and comfortable.
Activities – all guests have a choice of two activities per day. You have a choice of archery, falconry, desert 4WD trip (dune bashing), horse riding (only for experienced riders 4y+), camel riding and more.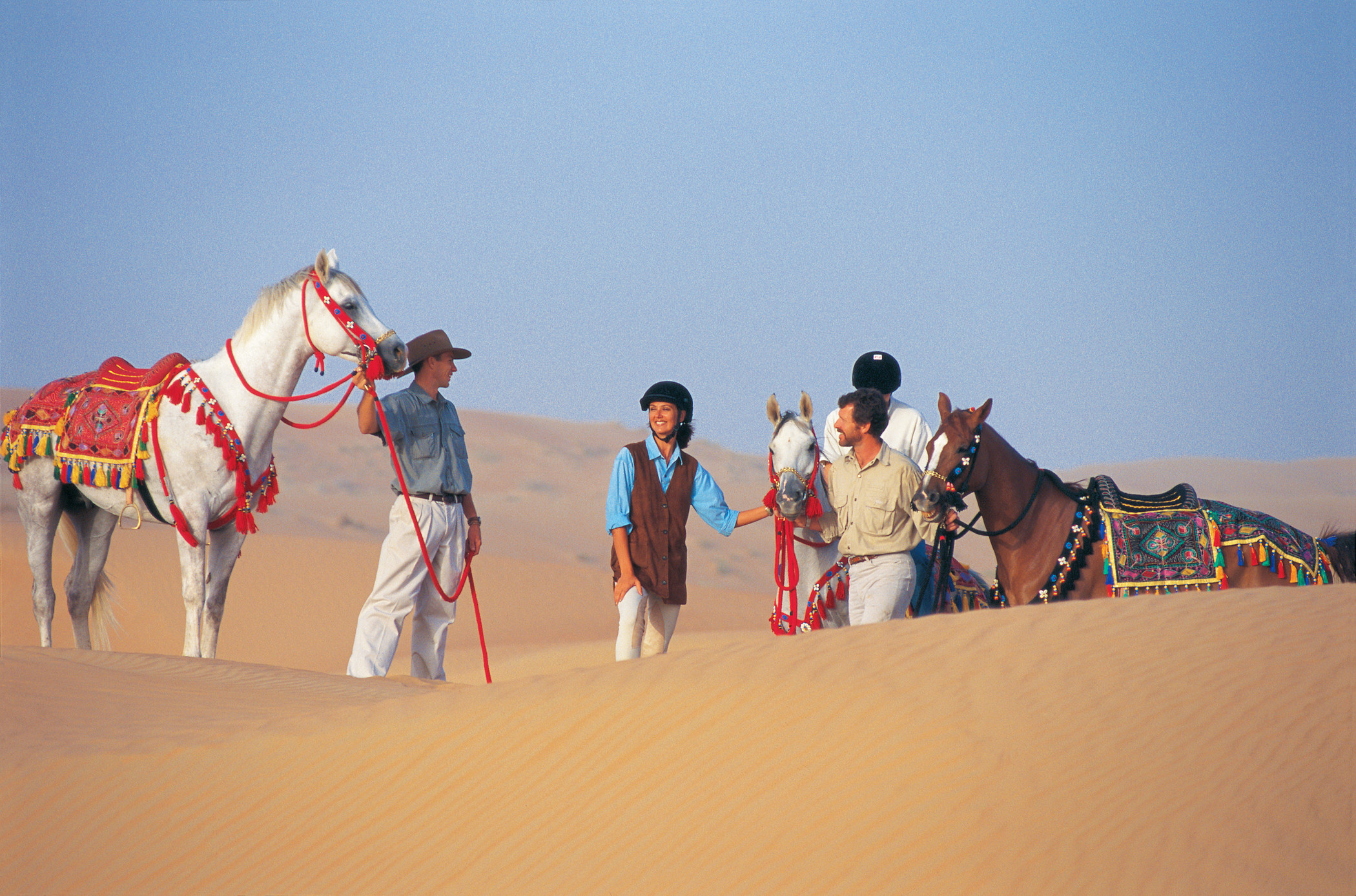 Camel riding is a really gorgeous way to experience the sunset. You take off at 5.30pm on the back of a very clean (not smelly in any way – I was worried about that) beautifully presented camel off into the sunset. After 20 min of riding through the desert we have arrived to a beautiful location in the sand dunes where the staff have set up a champaign table wih fruit and dates. After a few photographs in this spectacular setting everyone has settled in on the top of their private sand dune bar with a glass of champaign to watch the most amazing sunset. The sun looks huge and red  – a scene to remember for ever.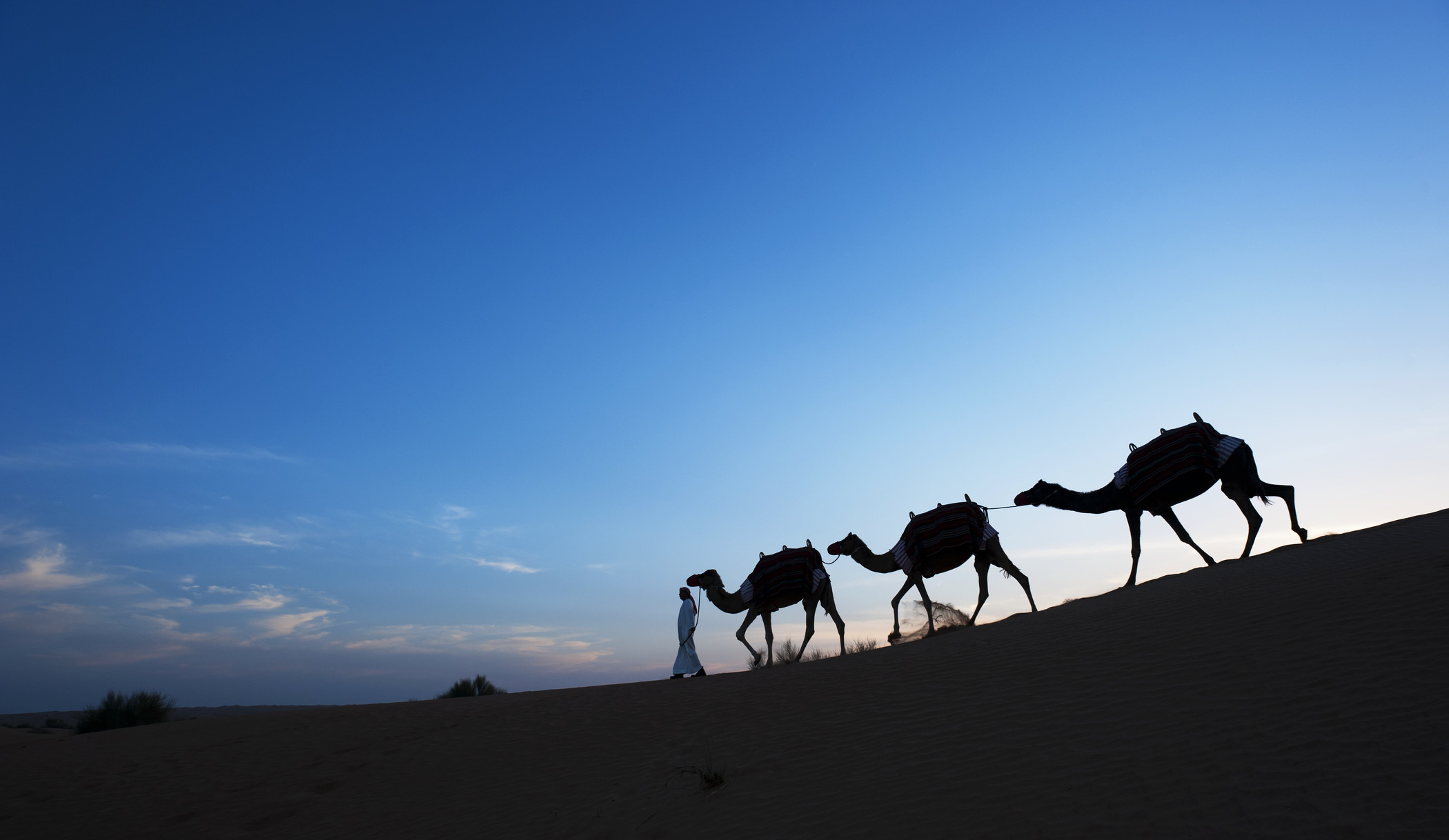 The Spa
Timeless Spa offers really nice treatments, some are unique to this spa. Try their signature facial, performed with warm pink crystals, thermal mask and all natural Shidashi products.
Spa facilities are nothing very special but the treatments are great and the highlight are treatment rooms that look out on the hotel's only grass patch with Oryx feeding right in front of your room. Not a scene you'll find in many other places around the world.
Any faults? I really couldn't find any apart from a small hiccup with the Starwood points. 4 weeks later I still haven't seen them in my SPG account. Apart from that – perfect stay!
Check in and check out was quick and prompt, the villas are beautiful (if only a little tired), the food is divine and the activities are interesting. A couple of nights here is an excellent way to break up your stay in Dubai.
I would've loved to bring my kids here but the resort values guests' relaxation and the serenity so highly that we would have to wait till little ones turn 10.