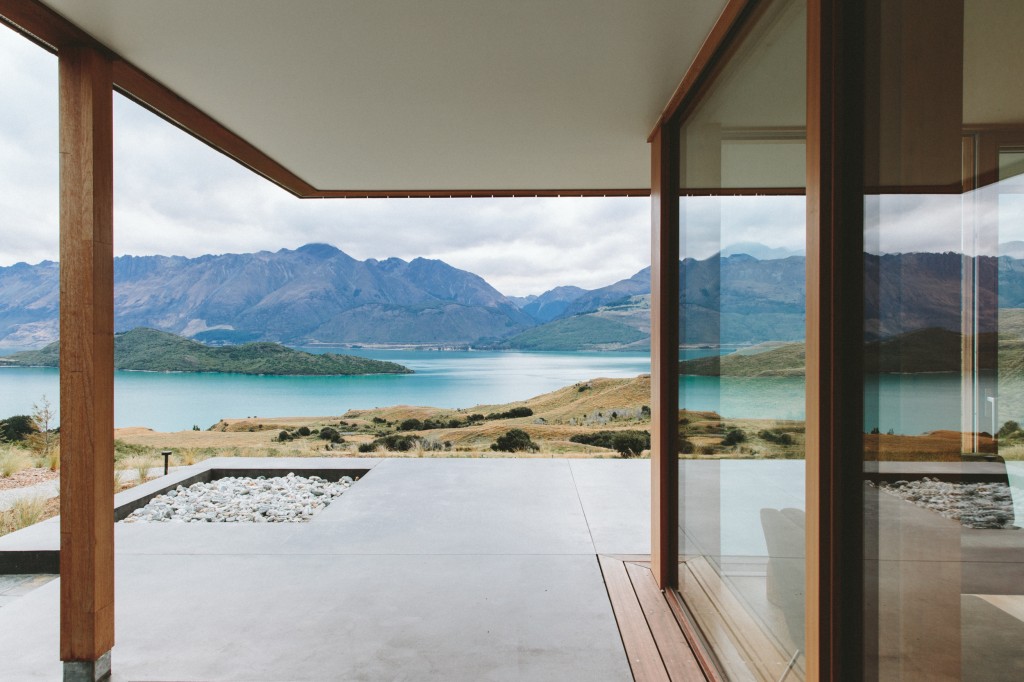 Aro Ha is a modern day health retreat located 45 minutes drive from Queenstown in New Zealand's picturesque South Island.
This brand new extravagant venture is a brain child of two amazing minds – Chris Madison, US hedge fund founder slash billionaire and Damian Chaparro, yoga guru from celebrity health retreat, The Ashram in California. About 5 years ago these brilliant entrepreneurs got together in Switzerland to discuss a possibility of going into health retreat business together. They wanted to create a retreat that will encompass spiritual, physical and mental health and be spectacular in every way.
Well, after visiting Aro Ha in September this year I have to admit that their dreams have come true. Today, Chris, 45, looks not a day older than 35 – his skin glows and his eyes sparkle, he is fit, healthy and successful not only in business but in his family life and overall wellbeing. Damian, super fit yogi and simply an inspirational man is living a dream, waking up every day to a magical view of Queenstown lakes and mountains and dedicating his working hours to enriching other people's lives with purpose and mindfulness.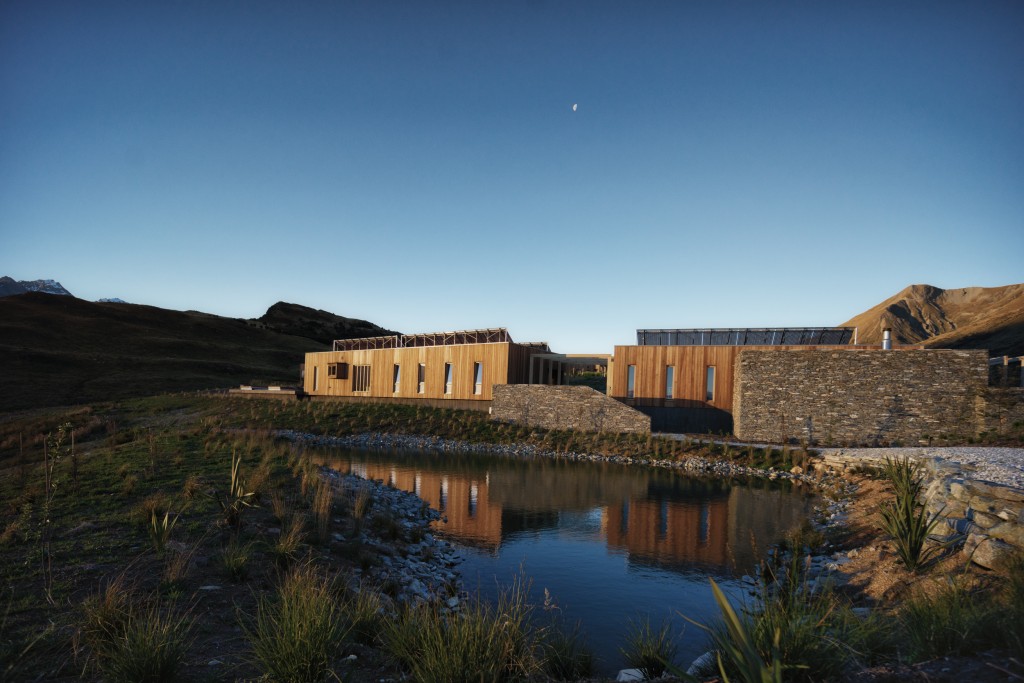 The rest of the team in Aro Ha is brilliant too. You need good people to create a life changing experience for your guests.
Team comprises of our yoga guru, Damian, brilliant ultra health conscious chef Rani (he is mad about 'fermenting' and 'activating' – more about that later), 3 guides who accompany you on walks, 3 massage therapists (yes, all guests get a deep tissue full body massage every day) and last but not least Paula, the manager in charge of the retreat. Paula is the nurturing soul of Aro Ha – she looks out for the guests in the motherly way, get you medicines if you are sick, vitamins to boost your immune system, organizes your entertainment before or after the retreat, makes sure everyone gets picked up in comfort and on time – Paula makes things happen.
I joined Aro Ha on a 4 night, 5 day retreat, Wednesday afternoon to Sunday lunch. In my personal life I was going through a stressful patch, so even the timing of the retreat was perfect. Spiritually I was looking forward to finding enlightenment and physically, strengthening my immune system. Aro Ha helped me find peace inside, gave me a boost of fresh thinking and re-taught me how to nurture myself.
They say you can't give love to anyone if you don't love yourself. Going to Aro Ha is that little bit of love you can give yourself as a present, dedicate 4 days just to you – to your body and soul.
My Diary in Aro Ha
Day 1 – Wednesday, Arrival day
Paula has arranged for us to be picked up at Queenstown airport on arrival. We (myself and 2 other guests) got to the retreat without a delay in a comfortable air conditioned Mercedes van. On arrival we were offered a plate of healthy avocado snacks, a cup of organic tea and an introduction chat at the retreat's guest lounge – welcoming space decorated with soft lounges, rugs and a log fire.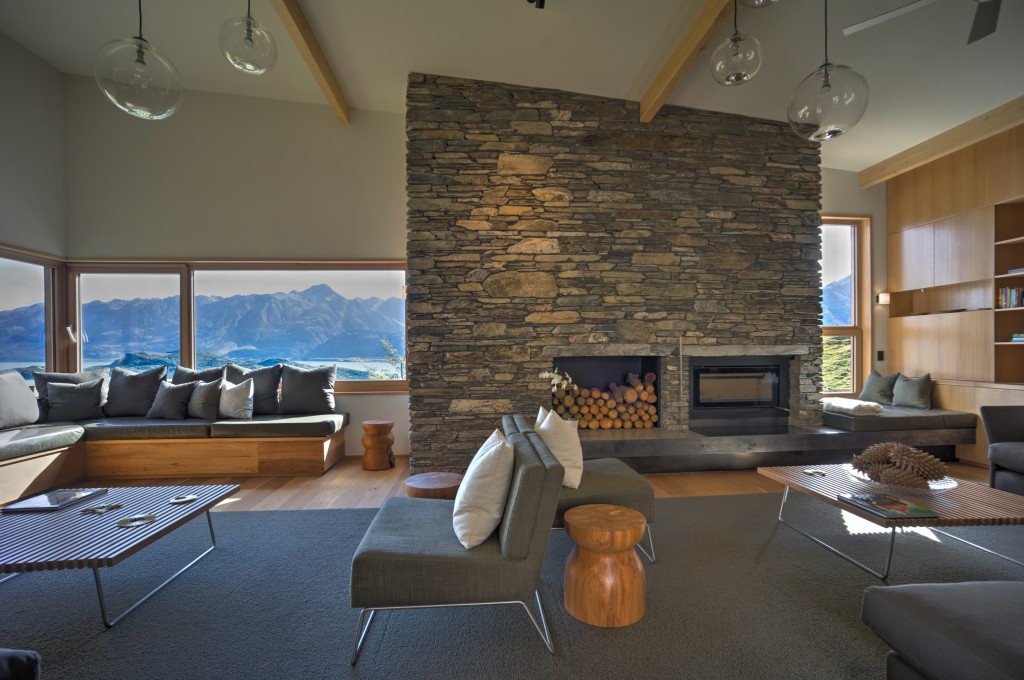 We often talk about the 'wow' factor of the places we visit. In Aro Ha 'wow factor' doesn't leave you for the whole 5 days you are there. The scenery around the resort is that breathtaking! And every building is very cleverly designed to maximize the views. Even the sauna has a big window looking out onto the lake. Who would've thought that having a sauna could be a spiritual experience.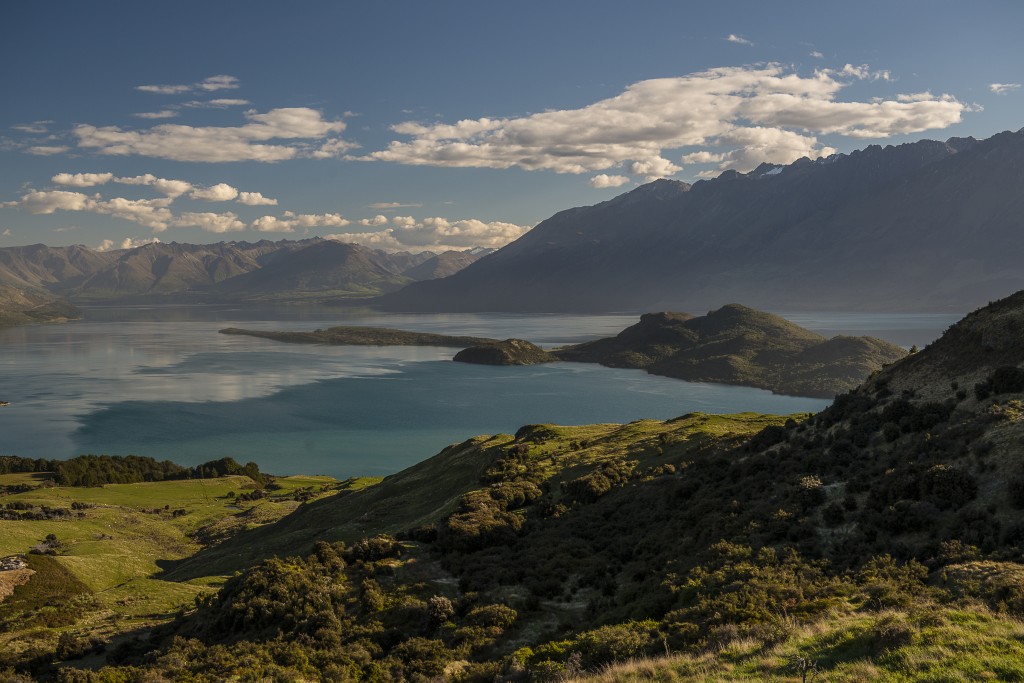 Accommodation
Accomodation in Aro Ha comprises of 16 pavilions, each has 2 rooms side by side and a shared bathroom and a tea station in the middle. But seeing that Aro Ha tries to keep each group to under 15 people we all had a duplex to ourselves.
Most rooms are identical – they are new, bright and feature a lot of light wood and light colours. They are decorated in very minimal style. Small luxuries I found in the room were a soft cashmere blanket, crispy high quality sheets, fluffy white towels and organic toiletries in the bathroom.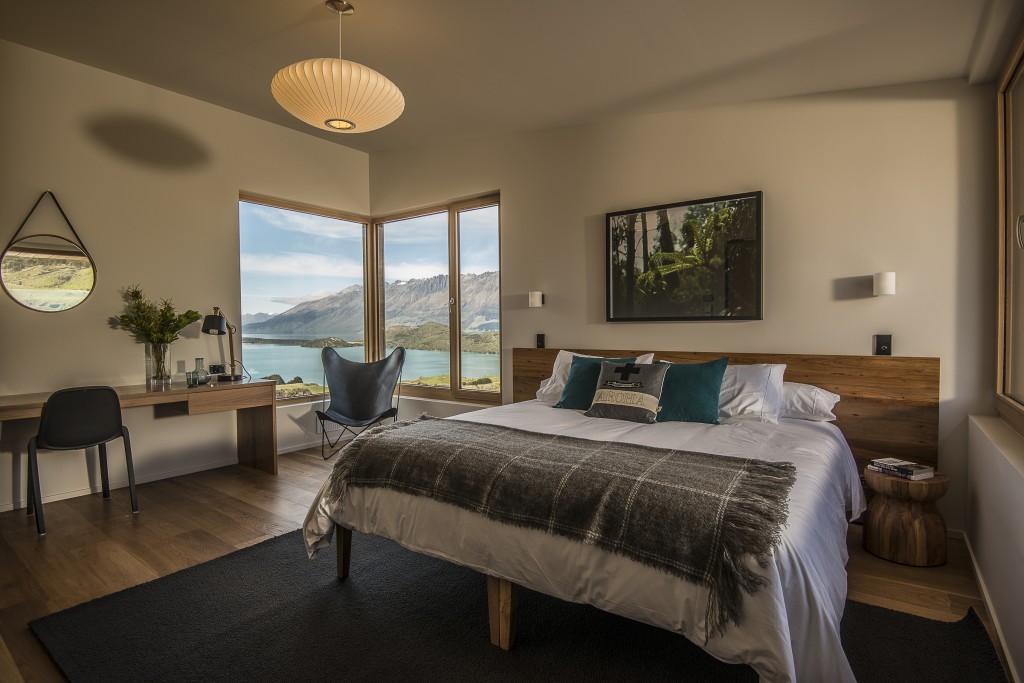 I have conducted a thorough search for a mini bar, alas, there wasn't one so don't hope for a hidden supply of chocolate and soft drinks on this trip.
What I did find though was an interesting looking digital panel on the wall with room controls and schedule for the day. Little did I know that this panel is going to be my alarm for the next 4 days that will come alive with a loud noise at 6.45am every morning.
Once settled in the room, I got changed and went off to an afternoon yoga. It was a gentle Vinyasa style, perfect way to stretch after a flight.
Straight after yoga we were invited to the dining room to experience our first meal at the resort.
Dining
All meals are enjoyed at a communal table so guests can interact with each other and with staff, make friends, ask questions and settle in the program in a family style. We had a fabulous group – 3 guys and 5 ladies, all fit and healthy, I'd say with an average age of 40 between all of us (a mix of 25-55 year olds).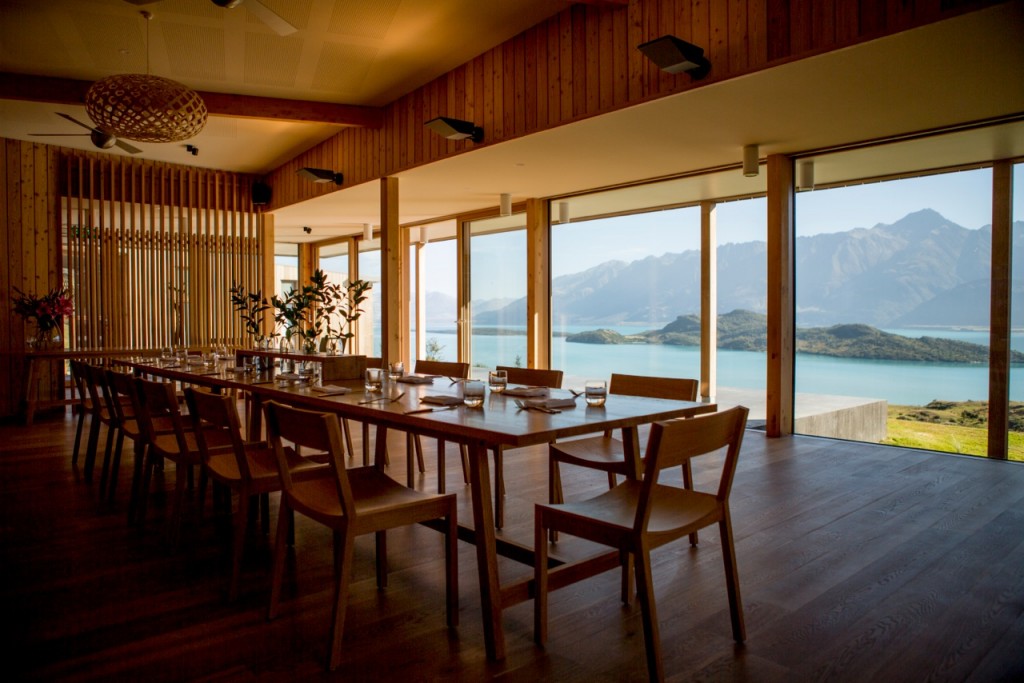 Dinner, just like all meals in Aro Ha, was very visually pleasing – a mix of many colours and textures, achieved by combining a variety of spices, herbs and flowers.
On the first night we had raw sushi with a variety of vegetables inside. Instead of rice, Rani (the cook) used raw cauliflower and activated almonds.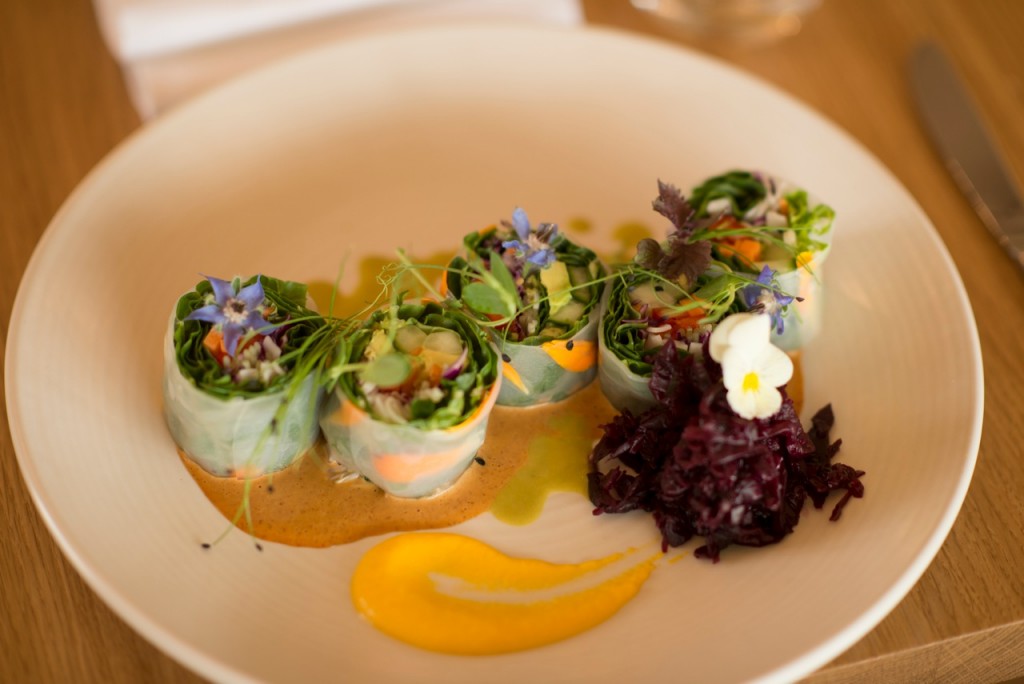 Aro Ha follows a paleo-vegan diet – no grains, no coffee, no alcohol, no meat or fish, no gluten, no sugar. For most of us it is a huge change and for me it took some getting used to. Portions are also quite small, so if you are used to bigger meals you'll have to let the retreat leader know.
Weight loss is one of the reasons people come to Aro Ha and if it is one of your goals, you'll need to stick to the original portions. I have to say that small meals shock you in the beginning but your body gets used to it very quickly and chances are by Day 2 you will fill full for most of the day. The food at Aro Ha is so nutrient rich that our bodies don't seem to need large quantities of it – the theory of 'less is more' truly applies here.
However, a warning, you will have cravings – on a first night I found a small Italian chocolate stashed in my handbag and was the happiest person in the world when I popped it in my mouth that night. Even though I have to admit to feeling a little guilty.
After dinner – a group chat in the lounge followed by the spa / sauna therapies in the spa pavilion.
Spa Pavilion
Spa pavilion has a number of massage rooms, dry Finish sauna and a cool infrared sauna, an outdoor hot tub and icy cold plunge pool. Damian recommends to alternate Finish sauna with jumping into a freezing cold pool 4-5 times in a row to strengthen your immune system. Well, I left that for the very brave men, preferring the comfort of warm indoor relaxation lounge and a glass of lemon water. It was minus 2 outside – did he really think we could do it??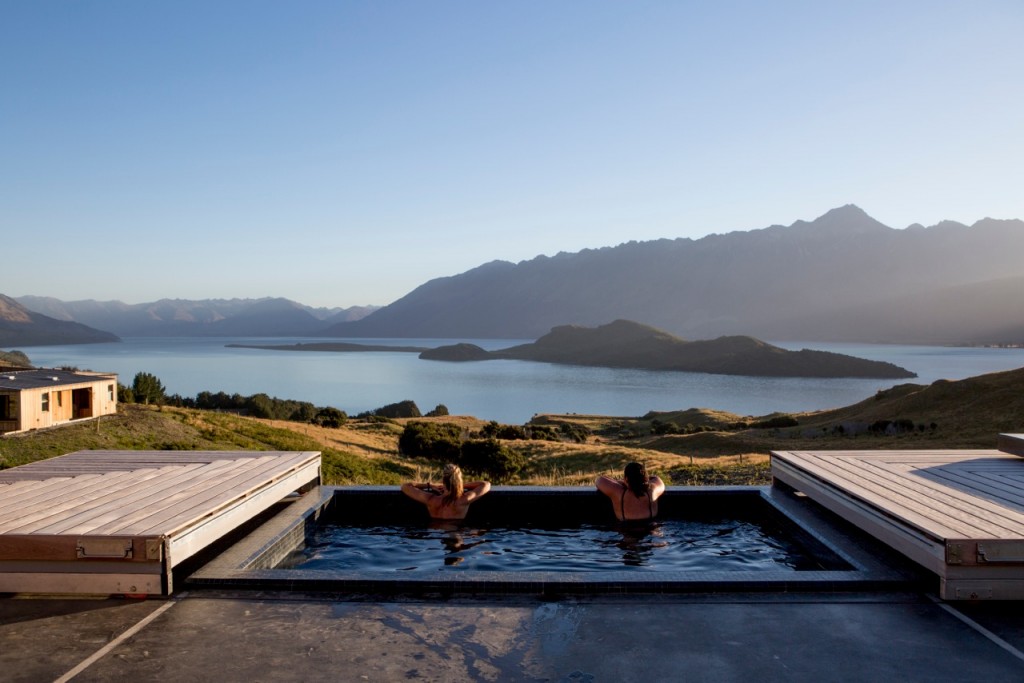 After the sauna a cup of tea and pajamas was all I could master. Even 3 hour time difference didn't stop me from going to bed early. My journey to the land of healthy and stress-free was well on the way!
Day 2 – Thursday – Settling In Day
Day 2 to Day 4 program is identical and looks like this:
6.45 am Wake up call
7 – 8am Morning energizing yoga
8 – 9am Breakfast
9am -1pm Hike
1.30- 2.30pm Lunch
2.30 -4pm Relaxation time or massage
4-5pm Cooking class or massage
5-6pm Strength training / massage
6-7pm Evening relaxation yoga
7-8pm Dinner
8-9pm Group discussions / Presentation by Damien
9pm – Onwards Spa pavilion / Bed time
6.45 am alarm through the intercom was by no means my idea of a relaxing morning, but I have to say that the yoga that followed was. What a wonderful way to start a day by stretching, breathing and meditating.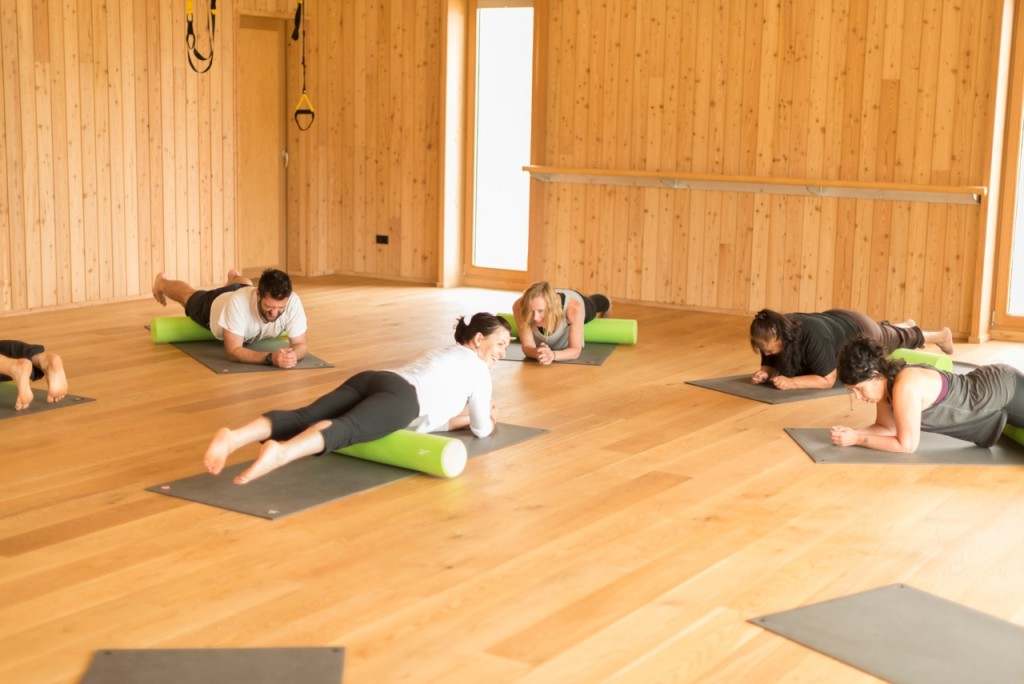 After Yoga – breakfast. The meals are usually served by the time the previous activity is finished but this time we found only a small smoothie on the table in front of us. 'A smoothie' you'd say? Nice start to breakfast, but where is the rest?? Voilà, that was all! No doubt nutritious, but so small.
Once the super smoothie was finished (about 30 seconds for me) we got ready for our daily hike. Every day's hike is in a different location. On Thursday it was a fairly gentle up hill, down hill bush walk. The hikes normally take 3-3.5 hours and vary in intensity from 5 to 10 on a scale from 1 to 10.
I love walking and have enjoyed every hike – they are a great way to mentally relax while working out your body.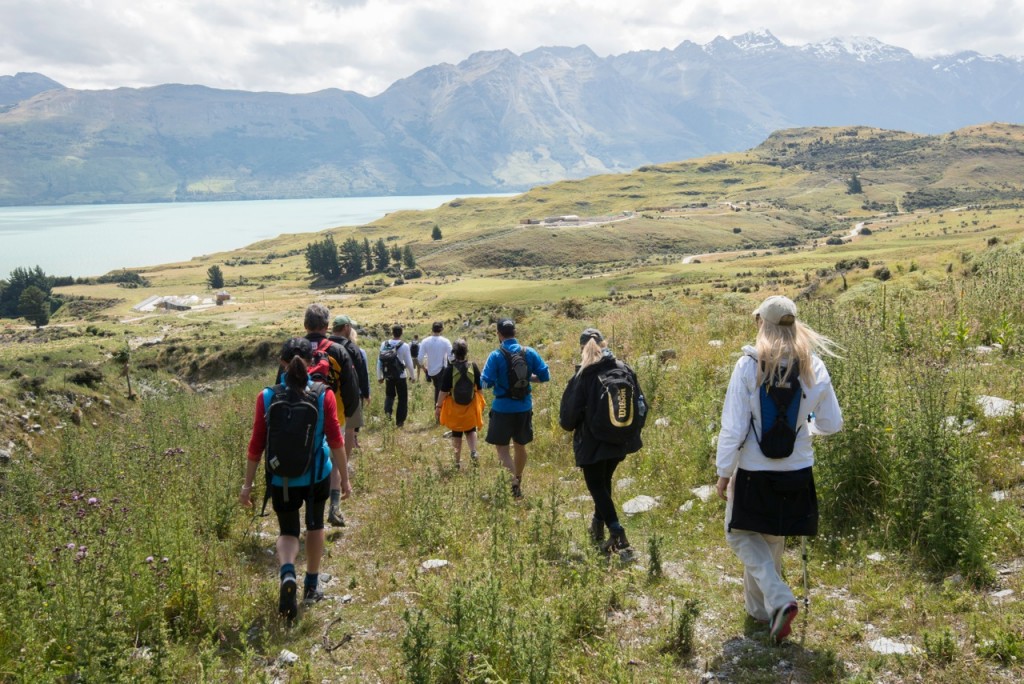 Healthy lunch afterwards had gluten free bread with avocado and salad (I have to say it was the nicest gluten free bread I tried).
And after lunch my favourite part – relaxation time, followed by a full body massage. All masseurs in Aro Ha are first class professionals and my massage left we floating on a white fluffy cloud of happiness. That day I skipped strength training (Pilates class) and went straight onto relaxation yoga and dinner.
By Day 2 I was already feeling not as stressed but not fully relaxed either. Even though Aro Ha recommends to switch off your phones and laptops for the time you are in the retreat I couldn't possibly fathom disconnecting from the outside world so completely and was constantly trying to find reception (alas, there wasn't any) and check my emails (there is wifi in the rooms).
Day 3 – Friday – Day Of Change
On Day 3 we pretty much had the same program as the day before, the only difference was the hike intensity – 9 out of 10, spectacular hike to the top of the mountain but man, it was hard.
Oh, and another difference was that I dreamed about 'normal' food a lot more than the day before – meat and potatoes, bread and chocolate were constantly on my mind. May be because of the constant food thoughts (ha-ha) by the time the afternoon came I realized that I am no longer thinking about the issues I left at home. I had a clear mind and was ready to open myself to the world and embrace it. And guess what – for most of the day my laptop was left behind on the desk in the room and I had no inkling to check the emails… I was starting to relax.
Day 4 – Saturday – Mindful Day
During our hike today we had 40 minutes of mindful walking. If you haven't experienced mindfulness before it is a modern mix of psychological research and ancient meditation technics.
Mindful walking is walking in silence, without music, observing the nature and your own body, your breathing, your heart beat. It gives you a deeper appreciation of the world around you and within you.
We also experienced mindful eating – eating with your eyes closed, chewing very slowly, appreciating every mouthful. When you eat this way you can truly appreciate a burst and depth of flavors in every bite. We practiced it at lunch and enjoyed it. Who would've thought that a simple prune could be a feast for the senses.
Now that I am back at home I try to come back to mindful eating often. It is a little luxury I allow myself during a busy day. I would get a fruit salad and take 10 minutes to savour every piece of fruit with their exotic, juicy and wonderful flavours.
Today was also a special day because Rani showed us how to make chocolate and we got to lick the spoons, literally. You see, by Day 4 we were getting really desperate (ha-ha).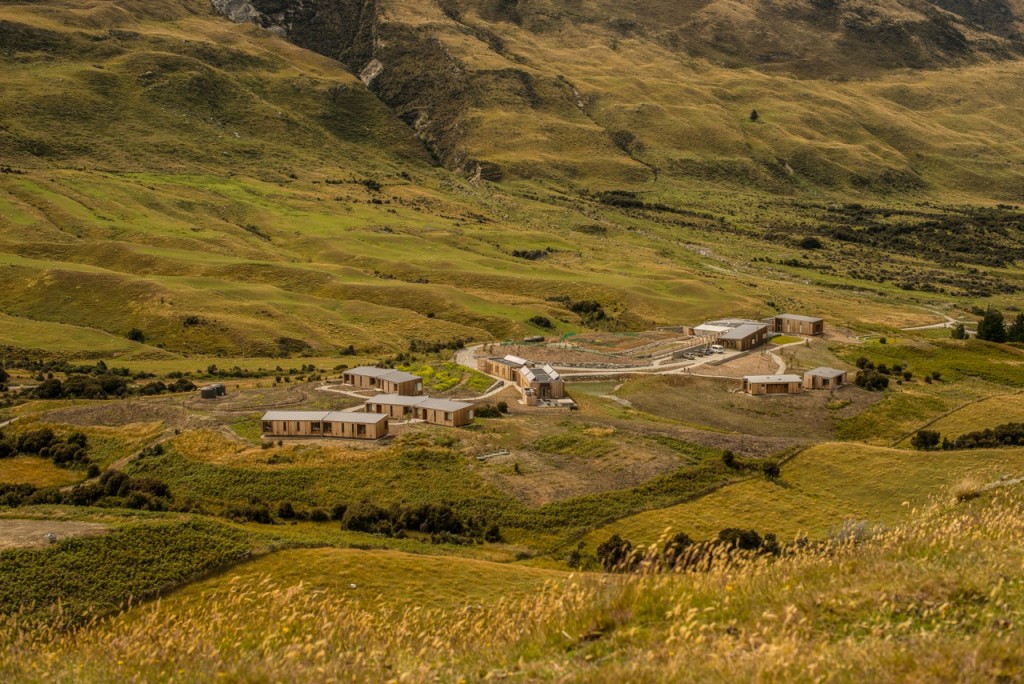 Day 5 – Sunday – Bitter-sweet Day
Day 5 was sweet because we were finally allowed to eat the chocolates we made yesterday, yay!
But it was also a little bitter, as we had to say good-bye to the new friends we made at Aro Ha. After the morning hike and before lunch we were all packed and ready to go back to our lives.
How did we feel? What did we learn? What did we gain? And what did we leave behind?
Everyone's journey was different and experience very individual even though we all went through the same program.
For me – I lost 2 kilos but more importantly shed a ton of worries. Not that they have gone away, but I felt like I was better equipped to deal with them.
I made friends with a couple of like-minded people.
I was reminded of how important it is to reward our mind and body for the hard work they do for us every day. Even 10 minutes a day could make a difference to your quality of life – it could be yoga, mindfulness or meditation.
Splitting Hairs?
Paleo vegan diet is definitely not for everyone but for four days only why not try it. I have to admit though that the first thing I ate on Sunday afternoon on Queenstown ski slopes was a juicy burger. Burger has never tasted that good before!
Who would benefit from visiting Aro Ha?
A busy mother, a stressed business person, anyone looking for a fresh start, weight loss or health kick. Aro-Ha recommends experiencing the program alone for the first time (without the partners) to help you fully relax and switch off from every day life.
Is Aro Ha a luxury retreat?
Yes, 100%. It is brand new, luxuriously appointed, has excellent knowledgeable staff and is located in one of the most picturesque locations in the world.
Cost
Five-day/four-night retreat is $NZ4550 ($4265) ; seven-day/six-night retreat is $NZ6250 per person.
All In All – would I recommend Aro-Ha to my friends and readers? Absolutely, experience it all least once and see if this type of program is for you. I think that most of us could benefit greatly from it.