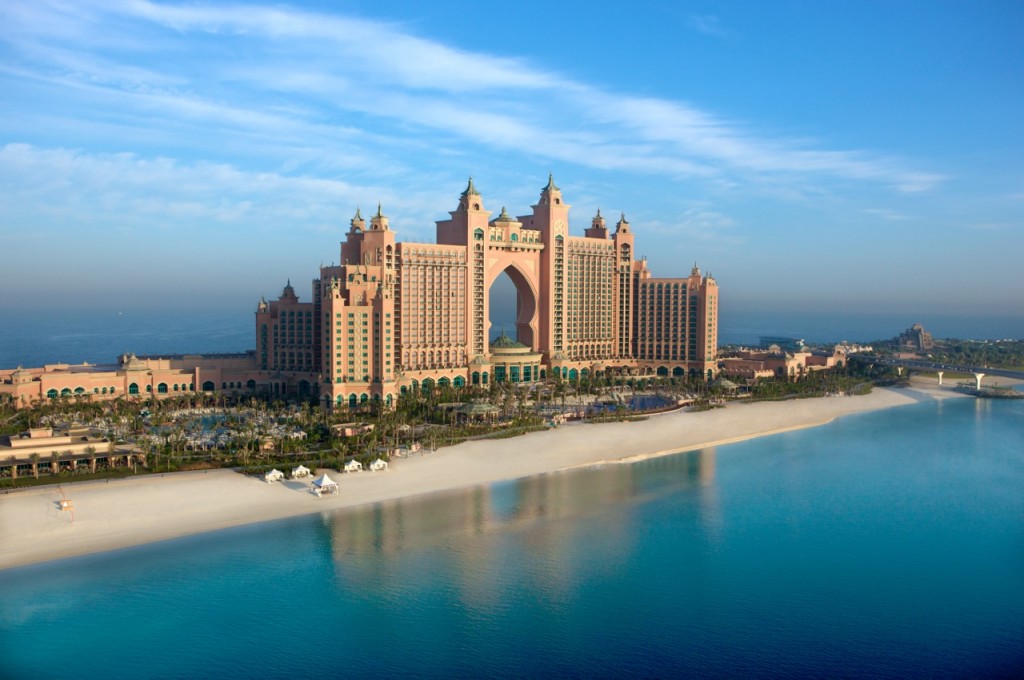 the lux score
84
the lux score explained
Service 8
Rooms 7
Food & Beverage 9
Ambience 8
Attention to Detail 8
Generosity & Value 8
Wow / Hip Factor 8
Facilities 10
Location 9
Fit to Promise 9
Atlantis is an iconic hotel in Dubai. The resort is set up as a huge theme park, a heaven for young and young at heart.
Iconic pink building is an impressive structure in the centre of the Palm Jumeirah, famous development in the Persian gulf that looks like a palm from the air.
My children were so excited to visit Atlantis, they were counting days to our visit. We spent time in the theme park last year but to be able to stay here and have access to all the attractions every day was a dream come true.
Arrival
We arrived to the hotel by taxi and were straight away escorted to the VIP check in area as we have booked a suite. Atlantis is a huge hotel, with over 1500 rooms, so any personalized attention one could receive really helps. Otherwise the experience could feel a little impersonal.
The check-in in the lounge was swift and after 15 minutes we were escorted to the suite.
Accommodation
Atlantis offers many different types of rooms and suites. Rooms are all generous 45-47 sq meters and only vary in the outlook. None of the rooms have been recently renovated so we opted for a suite. Even though they are 'older' in style, they are really spacious.
We stayed in the Executive Club Suite, a very spacious one bedroom suite overlooking the resort and the sea.
Executive Suite Living room in Atlantis The Palm, Dubai UAE
The suite appeared a little aged, it hasn't been updated with plush furniture or luxurious finishes but its size, 101 sq meters, was a winning point for us as a family. There was space for all of us – for children and adults alike.
Living room featured an L-shaped sofa and once joined with a single bed provided comfortable bedding for 2 children. Master bedroom is spacious and private, bathroom features a large double bath as a centerpiece of the room, a separate shower and a walk in wardrobe.
Executive suite bedroom in Atlantis The Palm, Dubai UAE
There is also a little balcony with chairs to enjoy the sparkling Dubai coastline, dining table for in-room dining and a guest powder room. All in all – a fantastic, very spacious suite, perfect for families, but it will benefit greatly from an update in the near future.
Lovely view from our Executive Suite in Atlantis The Palm, Dubai UAE
For guests looking for an ultimate experience Atlantis offer a number of specialty suites, some located underwater. Oh, don't worry – you don't need to scuba dive to get to your front door! Floor to ceiling bedroom windows look out onto the amazing Ambassador Lagoon aquarium and create an illusion of being beneath the sea. Some say that staying in this suite would be the ultimate honeymoon moment. We agree, it is certainly a unique, once in a life time experience.
However underwater 'suite life' doesn't come cheap, the rate starts from USD $8,000+ per night.
Even though the style of accommodation is very important to us, Atlantis is not the hotel we visited for the luxury of its rooms. Guests come to stay in Atlantis to enjoy the amazing facilities it has on offer.
Facilities
Atlantis is a giant playground for the young and young at heart.
It has a theme park – Aquaventure waterpark, the best theme park we have ever visited and Dolphin Bay – a wonderful dolphin habitat where guests have an opportunity to get close and personal with these beautiful animals.
There is also an amazing aquarium – The Lost Chambers and a dive centre.
A little about the waterpark and the dolphin bay.
I am by no means a theme park / water park aficionado – but even I have to acknowledge that Aquaventure is by far the best waterpark I have ever been to. It is exceptionally well organized – there are no queues, no waiting time, always a supply of rings, very pleasant staff and excellent payment system – just scan your bracelet for all snacks, drinks and photos to be charged to your room. A really pleasant day out for families – hassle free and fun for all! Rides vary from very mild to absolutely thrilling – choose from a lazy river fun, wave pool or for a mazimum adrenalin shot try the Tower of Neptune, with 10 out 10 thrill factor.
Dolphin Bay is no different in how well organized it is. Book in advance as it is very popular. Guests can choose from a few different packages – just pat and play in the shallow water – perfect for young children, swim with the dolphin – for good swimmers or Royal swim – the best option where you can experience all of the above as well as enjoy the thrill of a dorsal fin tow from your new gorgeous friend. Dolphin bay is a wonderful adventure – a must try for the whole family!
If you book Atlantis for a week you probably won't run out of fun and exciting things to do at the resort.
Other activities to be enjoyed by the adults – a spa that offers not only traditional massages, facials, pedicures and other relaxing and nourishing treatments but also offers the services of a fully licensed plastic surgeon with Botox, fillers and other cosmetic services. So you could come back from your holiday not only well rested but also looking a few years younger.
For those who prefer to achieve youthful looks by working hard there is an excellent gym with personal trainers and latest Technogym equipment and tennis courts with coaching available on demand.
For the children – there is a wonderful, huge kids club for the youngsters from 3 to 12 and a teen club for those a little older 13-18 years old. Both clubs are available at additional fee (about $50 per 3-4 hour session per child) but they seemed to be a hit with our little ones.
Dining
Breakfast are very simple and are served in 2 large buffet restaurants. Seeing that hotel has to cater for up to 2,400 people every morning the selection of food is fairly basic as is the service. I would suggest the Imperial Lounge setting for a more personalized experience.
As most guests in the hotel are families the majority of the restaurants offer simple international cuisine like pizzas, pastas, salads, burgers and other family favourites.
However we were pleasantly surprised to find the best romantic restaurant in Dubai located in the Atlantis too.
Ossiano, the fine dining restaurant in an amazing aquarium setting is our new favourite in Dubai. It has won 'Best Restaurant' at the Middle East Hotel awards last year and it certainly deserves the title.
Being a Lux Traveller who thoroughly enjoys gourmet dining and fine champagne, I am quite hard to impress. But Ossiano not only impressed me but firmly established itself as the best restaurant in Dubai.
It has everything one would need for an unforgettable romantic evening – silver service that is polished yet very warm, a selection of black caviar for every taste and budget, the most amazing seafood that looks exceptional and just melts in your mouth, an impressive wine and champagne list. It is stylish, sophisticated and exceptional in every way and 65,000 marine animals as your view provides an unforgettable setting.
Other restaurants worth a mention are famous Nobu, Japanese celebrity chef restaurant (however it is only an indoor venue) and Levantine – a wonderful Lebanese al fresco restaurant with entertainment and exceptional Middle Eastern food. Highly recommend it for both romantic couples and families.
The Lux Traveller Loves
There is no better place to take your children for a unforgettable holiday. Atlantis will ensure that your vacation is packed with uber cool activities that you won't find anywhere else in Dubai.
Hugs and kisses with the dolphins – my personal first! Very sweet encounter.
World's best organized theme park – Aquaventure
The best fine dining restaurant in Dubai – Ossiano, a must try even if you are not staying in the hotel.
The Lux Traveller Didn't Like
The accommodation needs an update. The price for a suite goes up to $2,000 per night and for that sort of money we do expect a little more.
The pools are packed with little children and the cleanliness of the pools was very questionable. We saw a couple of nappies in the water which staff made no effort to clear.
Even though Atlantis has a beach it is not the best beach in Dubai – not the cleanest water and rough sand. However neither of the above have effected our holiday in any way.
All In All
Atlantis is an iconic property definitely worth visiting. It is a must try for all families travelling to Dubai.
Our advise is to stay in the Atlantis for 3-4 days to enjoy all the amazing activities it has to offer – waterpark and the dolphins, fine dining restaurants, kids club activities and possibly try a more secluded and luxurious resort for another few days for a different Dubai experience.
For more tips on Dubai see our other articles.