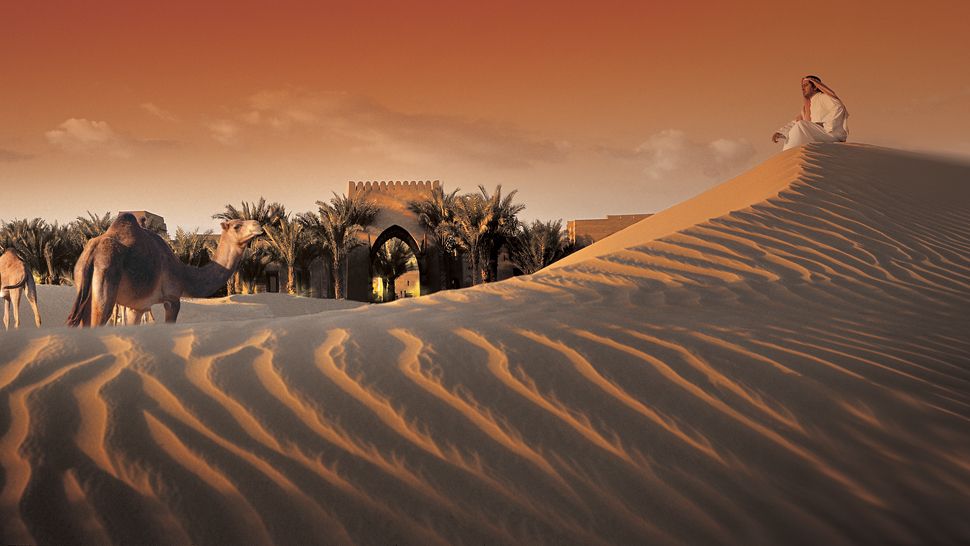 the lux score
89
the lux score explained
Service 9
Rooms 8
Food & Beverage 9
Ambience 9
Attention to Detail 9
Generosity & Value 9
Wow / Hip Factor 9
Facilities 9
Location 8
Fit to Promise 10
I wanted to visit this resort for the last couple of years. I heard so many good things about it – I was told that it is an amazing fun for children and adults alike. This year we finally got to experience it.
Location
Bab Al Shams is in very easy reach from Dubai, only 40 min drive.
The positive of this location is its proximity to the city. The negative is that being so close you don't get a feeling of complete seclusion and the sky is not quite as black and the stars don't shine as brightly as in the true middle of the desert.
Arrival
Bab Al Shams has organized a luxury 8-seater to pick us up from Dubai and greeted us warmly on arrival. We booked only one night, thinking that it would be plenty of time for a desert experience yet once the time has come to leave we wished we were staying longer. We suggest at least 2 night stay to truly appreciate everything Bab Al Shams has to offer.
We arrived in the evening, about 7pm, just before dinner and my little son, as luck would have it, has already fallen asleep in the car for the night. Bab Al Shams has promptly organized a babysitter for us on a minute's notice. So the rest of the family could enjoy a fantastic evening out while the little one got settled in his comfy bed.
Rooms and Suites
Bab Al Shams rooms and suites are designed in a distinctly Arabic style. They are a little dark, and very cozy, warm, with accents of colour achieved by clever decorations like Arabic throws, rugs and glass lanterns and wall murals.
The rooms feature heavy traditional fabrics, artifacts, beautiful solid wood furniture like treasure chests and bed carved out of wood. Our beautiful suite had a romantic four poster bed, cute little living room with Arabic lounges, a terrace with the views of the desert and a cute little Arabic bathroom with sunken bath tub for two tucked into a sandstone alcove. The suite isn't ultra modern or ultra luxurious but is exudes a feel of fairytale setting. We truly felt like we are a part of 1001 Nights. Wonderful setting!
The only difference between room categories is the size. And we honestly think that any room you book you'll enjoy. If travelling with children book either 2 rooms or a suite (little children can be easily accommodated in the living room).
Dining
Al Hadheerah
Dining in Bab Al Shams is a real highlight. Dinner restaurant Al Hadheerah is amazing. Another magic place for the whole family to enjoy.
Al Hadeerah is set in the desert and themed as a traditional Arabic village. You enter the restaurant through the colourful market stalls that sell everything from carpets and pottery to nuts and spices, and follow the path to the Middle Eastern buffet stalls that follow the theme of village stalls. Each offers different local delicacies – slow roasted lamb, cooked under the ground for 8 hours, delicious chicken cooked to perfection to local recipe, soups, salads, kebabs and everything else you could possibly desire.
Once you had a chance to look over all the amazing food you get settled at your table. Some are set in front of the stage, others – in cozy alcoves on the lounges with a multitude of colourful cushions.
A selection of Arabic mezzes get served at your table while the mains and deserts guests choose from the buffet.
The food is spectacular however it isn't the only highlight of the night.
The show that accompanies dinner is spectacular. Al Hadheerah put on a dazzling display that includes a dazzling Tanoura dancer, Arabic singers, camel caravan horse show and a falconry display.
The night in Al Hadeerah is romantic and entertaining, a wonderful night under the stars to be enjoyed by all to the sounds of a live band.
Al Sarab Rooftop Lounge
The other wonderful lounge / restaurant we got to try on this visit was Al Sarab Rooftop Lounge.
It is a very popular venue for late afternoon drinks. Once the sun starts going down and activities in the resort are subsiding for the day the guests start gathering at the lounge to watch a sunset, enjoy lazy couple of hours before dinner on the comfortable cushioned lounges with a mesmersing view of the sand dunes.
A glass of champagne and shisha is many guests' favourite way to enjoy the sunset hours.
Al Sarab also serves a mouthwatering selection of Arabian delicacies so if you are not in the mood to move to one of the other restaurants you could just enjoy another beautiful night under the star in Al Sarab with a selection of hot and cold mezzes.
Breakfast
Breakfast at Bab Al Shams was quite traditional for this part of the world. It had the usual fruit selection, egg station, cheeses and vegetables. It wasn't anything spectacular but was quite sufficient. My only advice is to come to breakfast earlier rather than later as it gets very hot outside in the summer months. By 9am the outdoor area is super hot and the food seems to attract quite a lot of flies.
Facilities
Bab Al Shams has a spectacular large pool that look over the sand dunes. There is no shortage of comfortable lounges and umbrellas for lazing around the pool on the hot days.
There is a kids club but it really is just a small room with a few baby toys so I won't rely on it for your children's entertainment. Our children spend the whole day swimming with us which was a lovely way to pend a couple of days – doing fun activities, swimming and family bonding.
Most activities that resort offer start at the cooler afternoon hours, from 4-5pm. There is archery, set up on a perfectly manicured green lawn (amazing how they manage to keep the grass so green and luscious in the middle of the desert); falconry and camel rides. We had a fantastic little ride through the desert, a favourite with the kids. The ride last only for a few minutes but is fun and free.
Satori Spa
The spa has 4 treatment rooms and didn't seem to be busy during the day. We tried a massage and a hair treatment. Both were performed by a male therapist. Massage was of a reasonable standard while the hair treatment was really rough. It is supposed to be a very gentle nurturing treatment but unfortunately wasn't done as such. I would suggest to have a massage at the spa but save all your other spa experiences for a spa in the city where truly skilled therapist could assist with more complicated treatments.
The Lux Traveller Loves
We love Bab Al Shams and highly recommend it to fellows luxury travellers. Dinner and a show at Al Hadheerah was dazzling and we highly recommend it to anyone on a holiday in Dubai even if you are not staying at the resort.
The service was very helpful and warm. The setting – magical. Fantastic resort! A must visit!
Splitting Hairs
The location is very handy (close to Dubai) but it also is a small drawback as you can still see the city lights and don't get a complete immersion in the desert feeling like you would in some more remote desert resorts like Al Maha.
Breakfast could also be slightly improved to bring it a sensational 5 star Dubai standard.
All In All
A fantastic resort in a very easy to get to location. We'd love to return here on our next trip to Dubai. A night in Al Hadheerah was a true highlight of our trip to Dubai. They make wonderful photographs throughout the night and we have them displayed all over the house.
The days by the pool amongst mesmerizing sand dunes were also memorable and very enjoyable. It is a great resort for friends, couples and families alike and we highly recommend it for a couple of nights' stay.