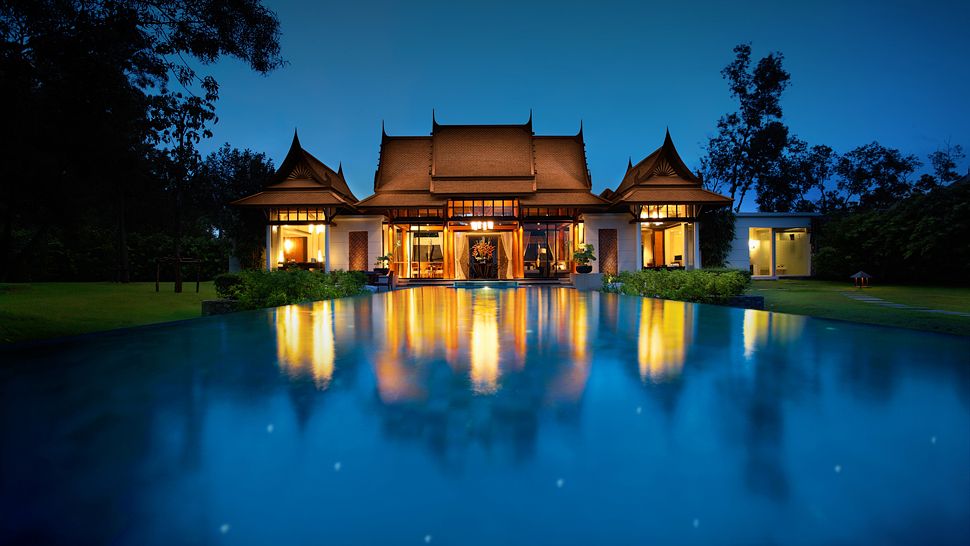 the lux score
89
the lux score explained
Service 9
Rooms 7
Food & Beverage 10
Ambience 9
Attention to Detail 8
Generosity & Value 10
Wow / Hip Factor 8
Facilities 9
Location 9
Fit to Promise 10
Banyan Tree is one of our favourite hotel brands even though we have only been to two – Banyan Tree Bali and Banyan Tree Phuket. They are very different properties yet share the same unmistakable Asian flavour and endless hospitality.
Banyan Tree Phuket is a huge resort located in the Laguna complex on the West Coast of Phuket island. West coast is known for its beautiful long white sand beaches and clear green water.
Laguna complex is home to 5 luxury hotels and a golf course – all connected by a cute little boat going around the lagoon during the day.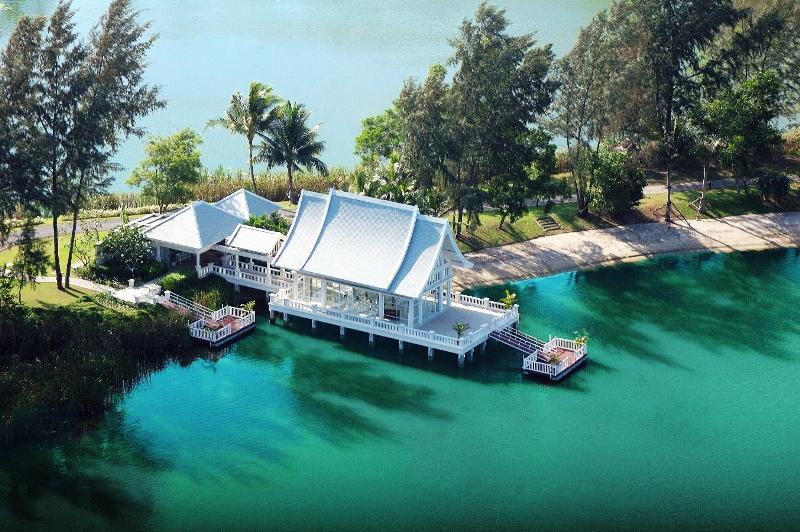 3 Resorts In One
Banyan Tree has a large territory best explored by bike; hotel provides them to all guests on request. There are 3 resorts under one umbrella – adults only Spa Sanctuaty, Doublepool Villas and Banyan Tree Phuket, the main resort.
Banyan Tree Spa Sanctuary is a boutique all-villa resort designed for couples – villas are infused with spa elements and promote inner calm and peace. The bedroom is surrounded by a beautiful lily pond, giving guests an impression of waking up amongst the serene water garden. 11 meter pool turns your villa into a personal romantic sanctuary. Unlimited in-villa yoga lessons are included in the rate as well as a massage once a day per couple. Heaven!
Doublepool Villas By Banyan Tree are the ultimate in luxury accommodation in Phuket. 1,300 square meter villas feature stunning 15-meter private pools, often facing the lagoon, luxurious bedrooms surrounded by water, high ceilings, spacious living room, outdoor cabanas, lush tropical gardens, sleek Asian inspired furniture and the latest in technological gadgets.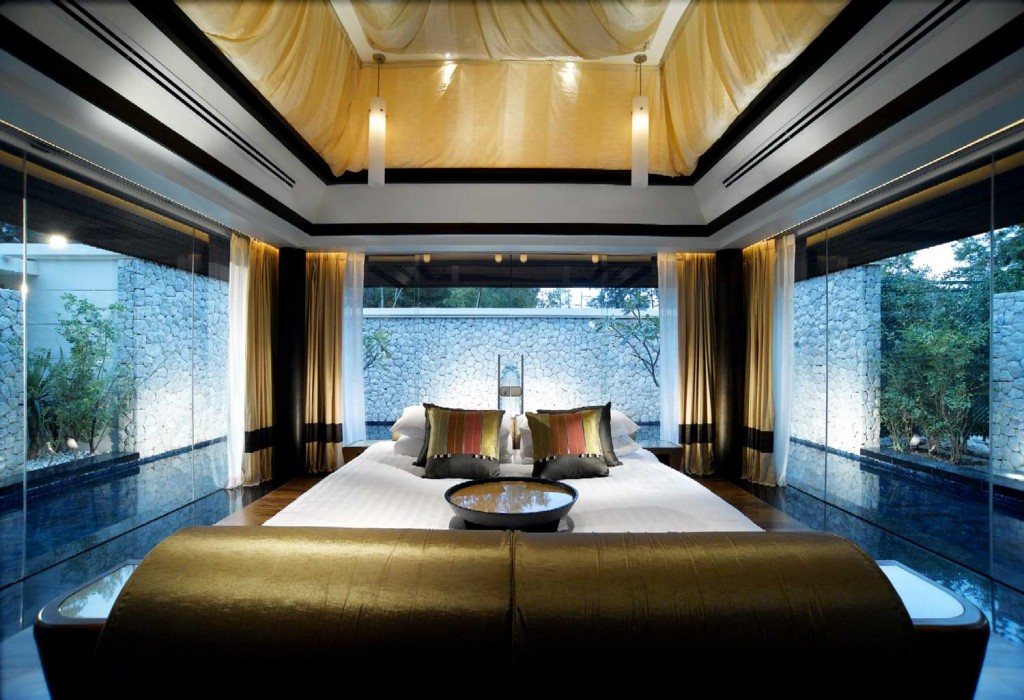 You would be hard pressed to find more amazing villas on the island.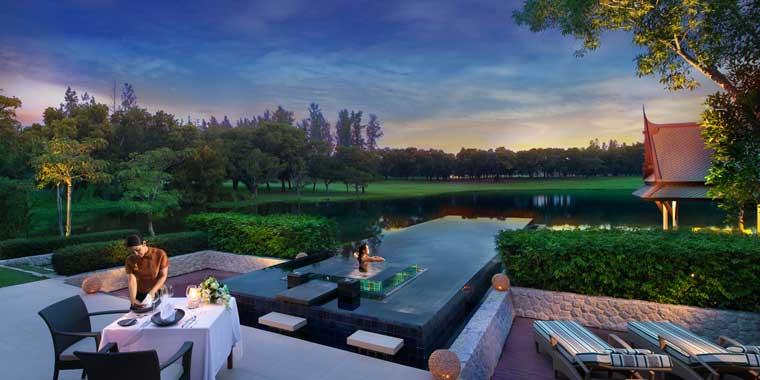 Accommodation
We stayed in the third resort perfectly suited for families – Banyan Tree Phuket.
This resort is a collection of 121 villas (studios, one- and two-bedroom), most with long private pools (only entry category, 32 Deluxe villas, don't have a pool but feature an outdoor spa instead).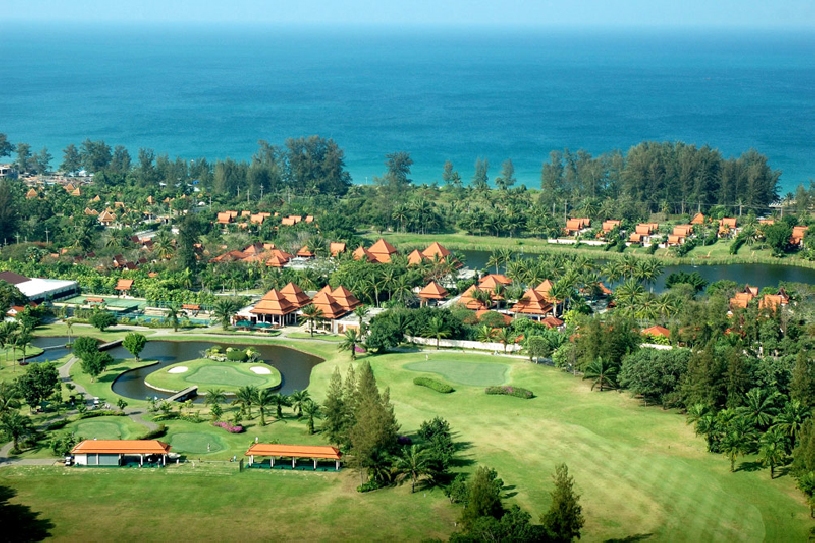 Some of the villas have been recently renovated and featured newer, more modern furniture; others are furnished in a traditional Thai style but are equally warm and welcoming.
We stayed in a Deluxe Two Bedroom Pool Villa – crème de le crème of the resort.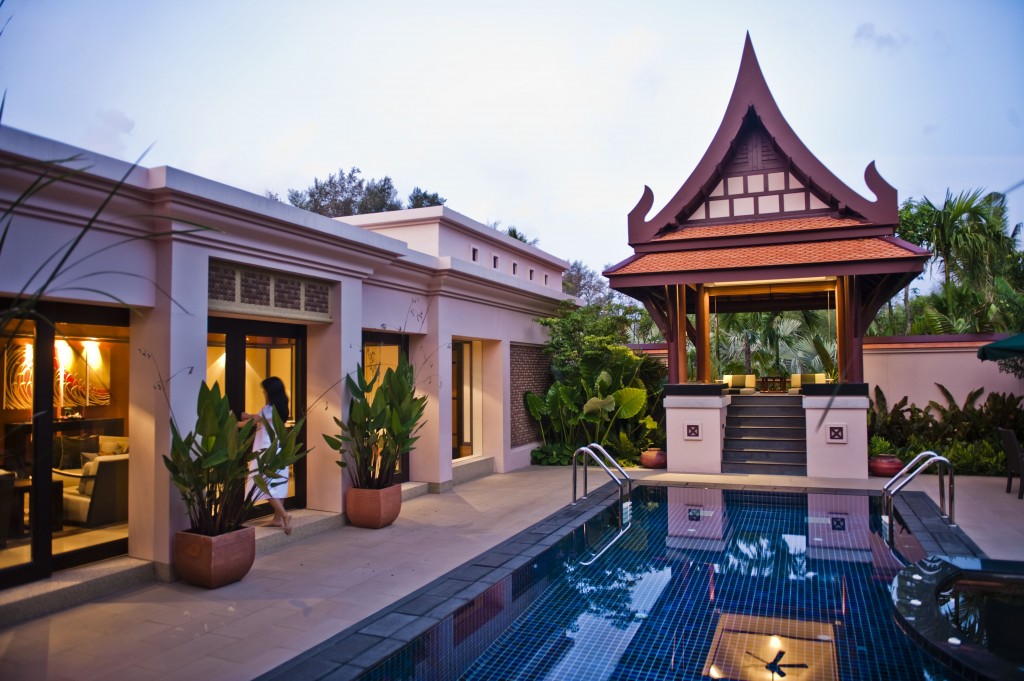 380 square meters of tastefully designed space was our sanctuary of serenity in Phuket. Lazy days by our private 9 meter pool, in-villa BBQs, home theatre system and outdoor audio system created a perfect family retreat for us.
Master bedroom is large and opens onto the stunning blue sparkling pool; oversized en-suite features a love bath for two, double vanities, indoor and outdoor showers. Second bedroom with twin beds and another en-suite is perfect for children, while a separate TV / study room came in handy for catching up on my writing while kids were in the pool.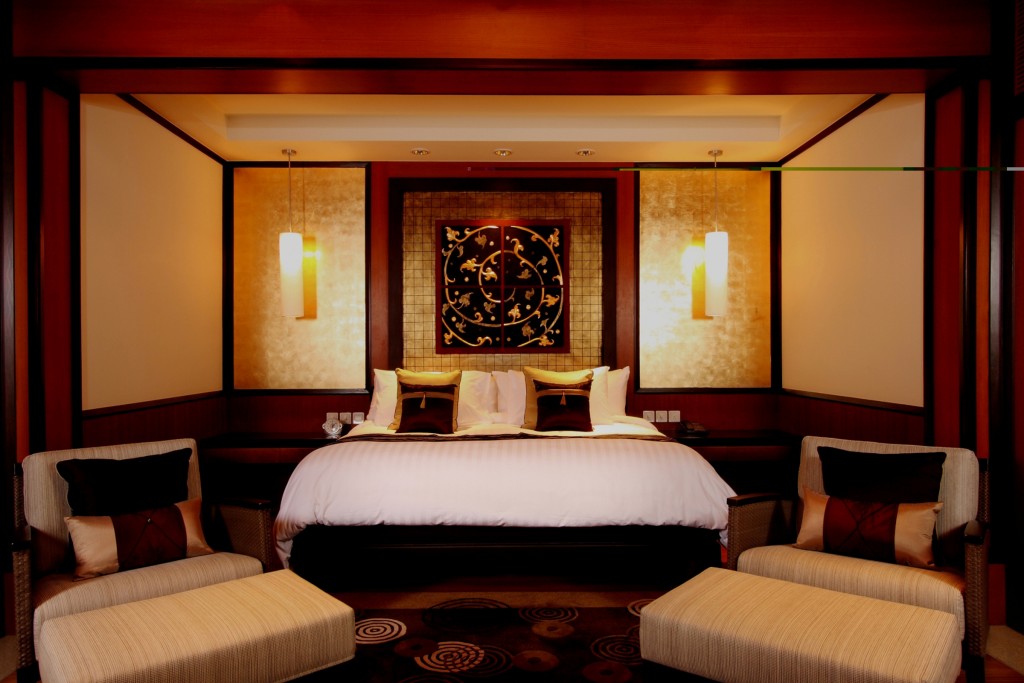 Tropical garden was a perfect setting for our in-villa poolside BBQs.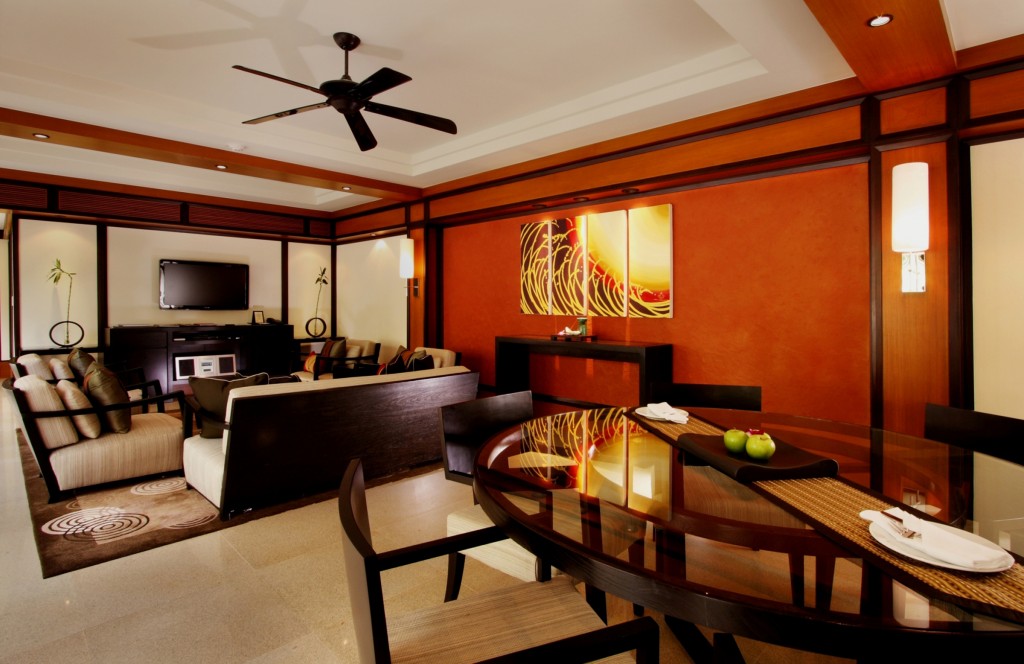 Facilities
All three Banyan Tree resorts share the same facilities. Every day there is a selection of complimentary fitness activities for guests – yoga, pilates or strength training. There is a gym, lap pool and tennis courts for those who like their exercise a little more intense.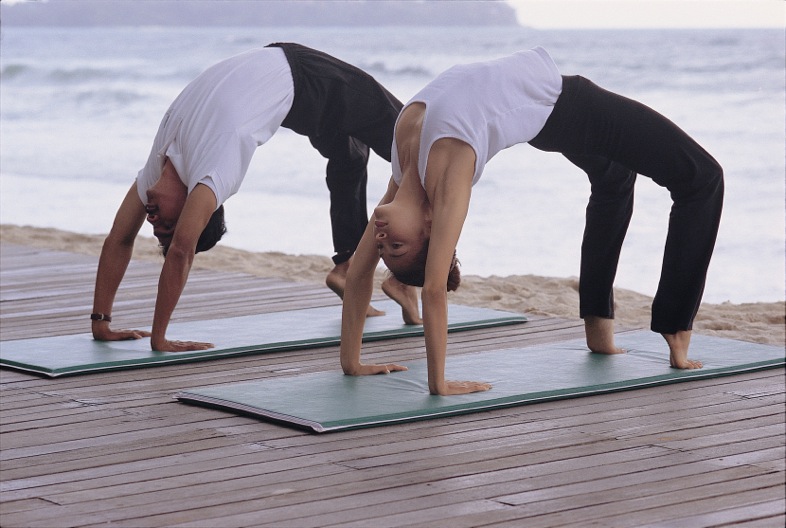 As resort territory is large all guests are invited to use the bikes to move around – we didn't try them but it seemed like a fun way to travel.
Resort's 40 meter lagoon pool in a wonderful place for families to relax if you feel a little more social. We found that most couples kept to themselves at Banyan Tree while families utilised the lagoon pool.

Banyan Tree doesn't seem to have a private beach as such; they provide beach mats and towels at a section of the beach across the road from the resort. We much preferred catching a shuttle bus to their sister property Angsana; they have a proper long beach with comfortable deck chairs, beachside pool and beach club with DJ and oversized cabanas.
Banyan Tree guests have free access to the beach and it is well worth the short trip!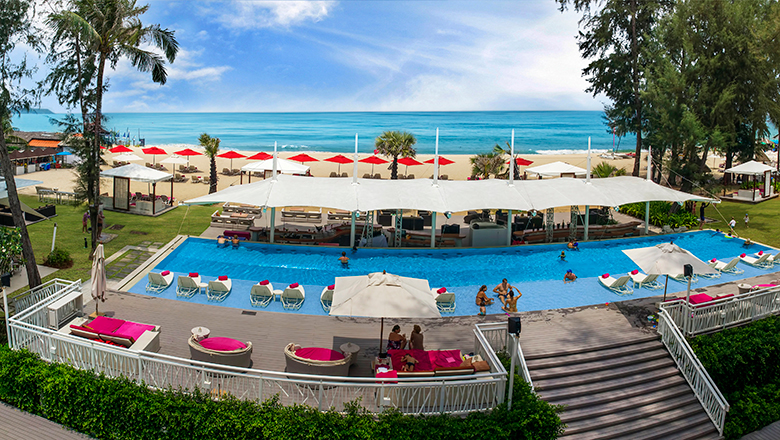 Banyan Tree Spa
Banyan Tree properties around the world are known for wonderful spa packages and this spa is no exception. It has won multiple awards and is proud to use only highly skilled therapists. All treatments take place in stand alone pavilions with indoor / outdoor showers and romantic double baths.
Many treatments are complimented by the finest Ayurvedic oils and herbs from India to refresh your mind and detoxify your body.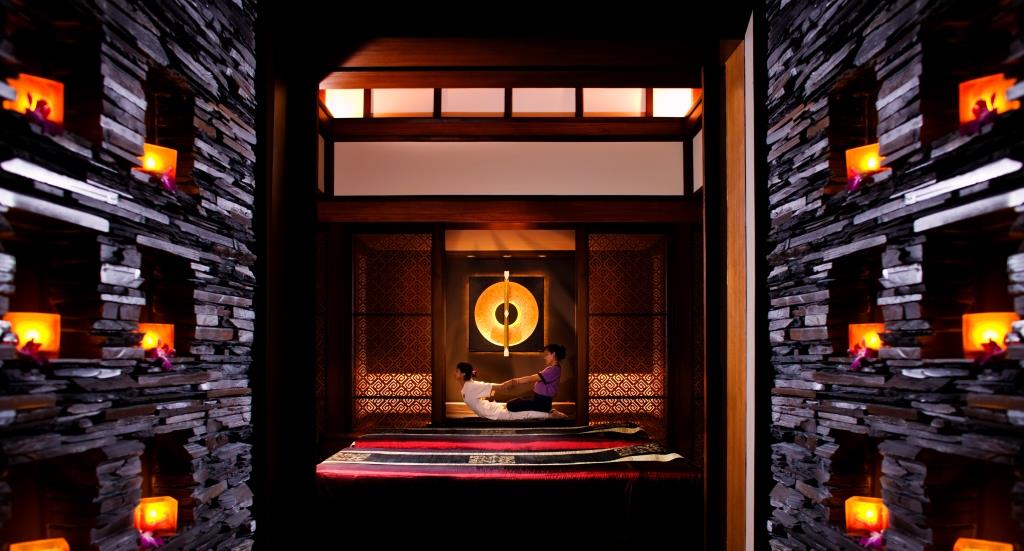 Dining
Dining at Banyan Tree was another highlight of our trip. Every single restaurant is fantastic!
Watercourt serves breakfast, lunch and dinner either in an air-conditioned restaurant or on a shady outdoor terrace. Breakfast is one of our favourites in Phuket – it has a huge spread of Asian and Western delicacies, free flowing champagne, mineral water, freshly made juices and smoothies.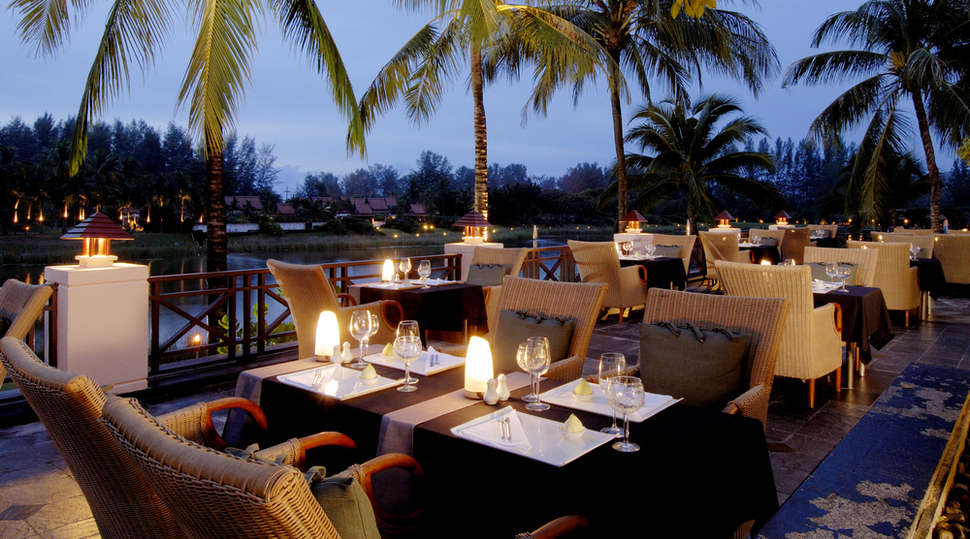 For lunch we tried a poolside café and a Japanese restaurant Tamarind. The food at Tamarind is divine – light and flavoursome, perfect for hot tropical weather. Their specials – grilled Wagyu beef and delicate salmon belly' are mouthwatering.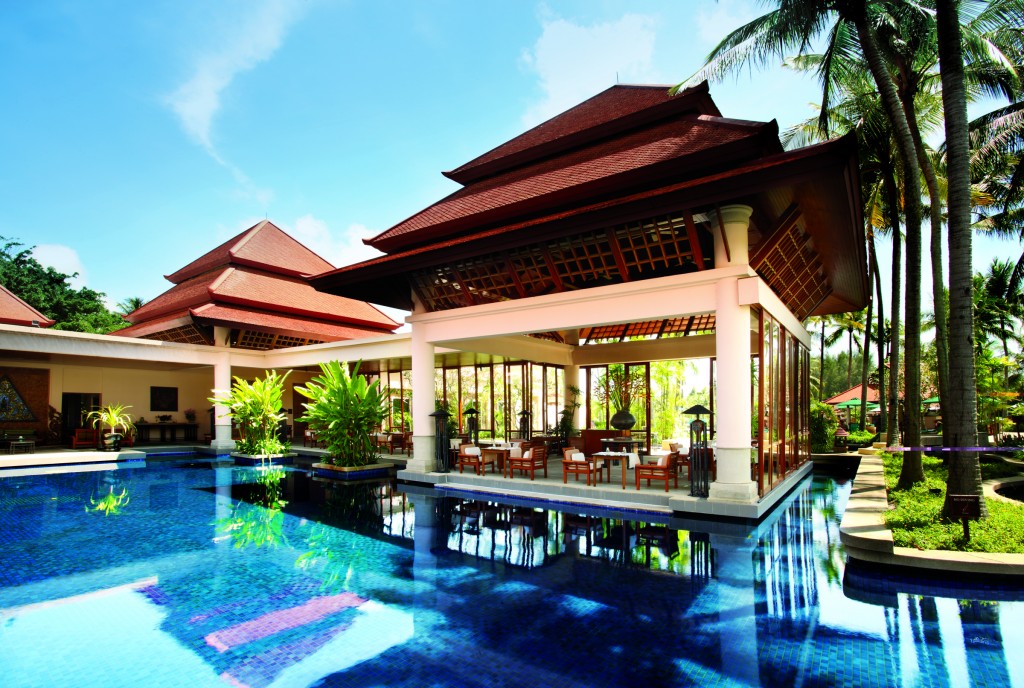 Poolside café serves family friendly favourites like burgers and chips but if you are like me, and prefer a light healthy lunch, opt for a Thai papaya salad complimented by a coconut ice cream for desert.
For dinner there are so many options to choose from – every night of the week there is a themed buffet in one of the resort's restaurants – it could be seafood one night, Italian the next and authentic Thai on a third night. Thai buffet was a stand out with a selection of the most delectable curries, soups and salads, most prepared fresh right in front of you. I never had such divine Thai food in my life – sensational! The buffet is set up as a cute local village in an intimate atmosphere with lots of cooking stations. It feels much more like a gourmet fine dining experience rather than a traditional buffet.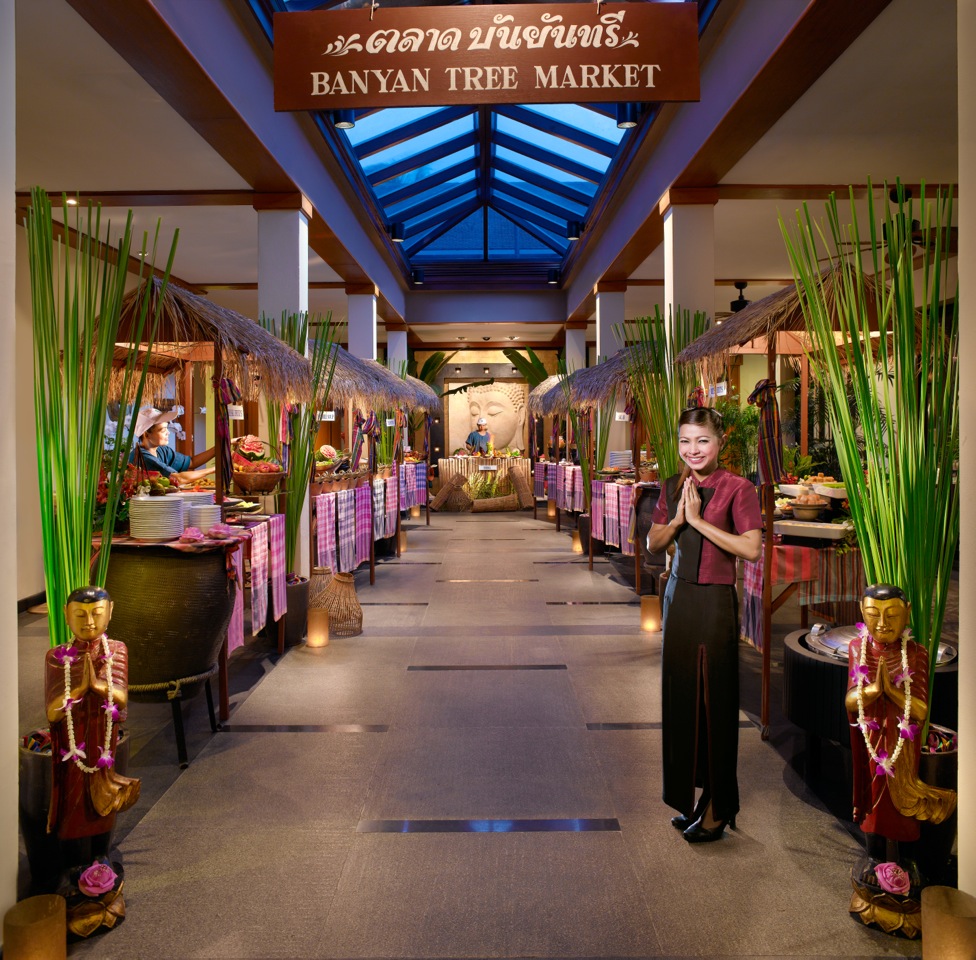 Another 'must try' dining experience is an in-villa BBQ. Your personal chef will set up an outdoor dining table by the pool with candles and white table cloth and will cook the freshest seafood and gourmet meats on a BBQ next to you. That, combined with a selection of local salads, a bottle of champagne, fresh fruit and ice cream for desert have left a lasting expression on us. It was one of the most memorable and romantic nights of our trip.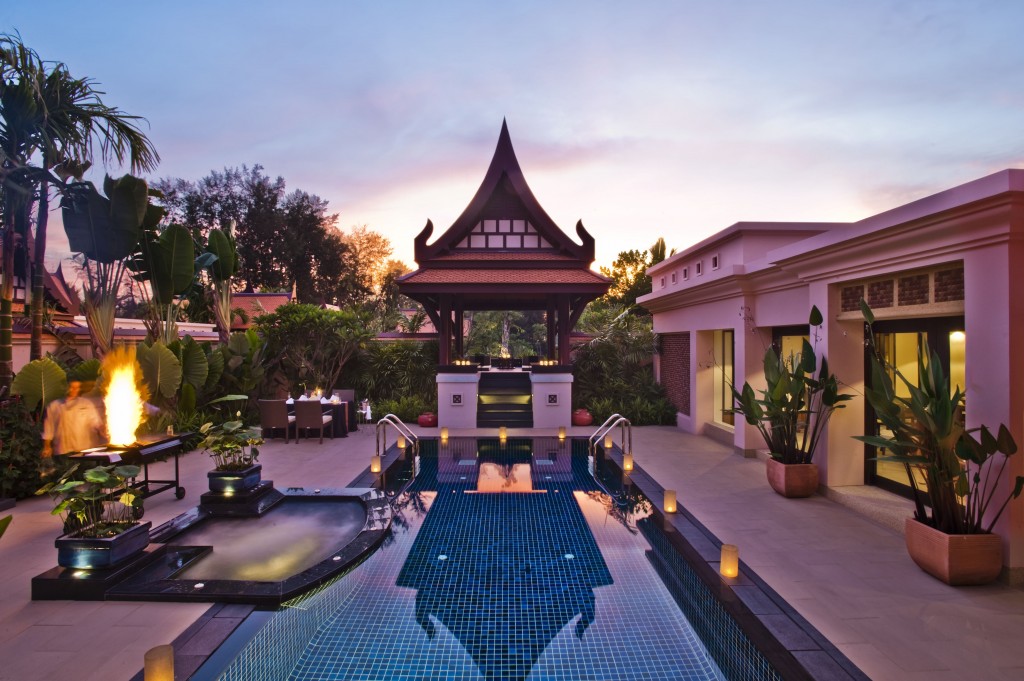 Kids at Banyan Tree
Kids are welcome at Banyan Tree Resort and Double Pool Villas. There are some organized activities for the kids during the day but we found that kids preferred to just play at the resort pool, spend time in the villa with us or play on the beach. Banyan Tree is an excellent resort for family bonding!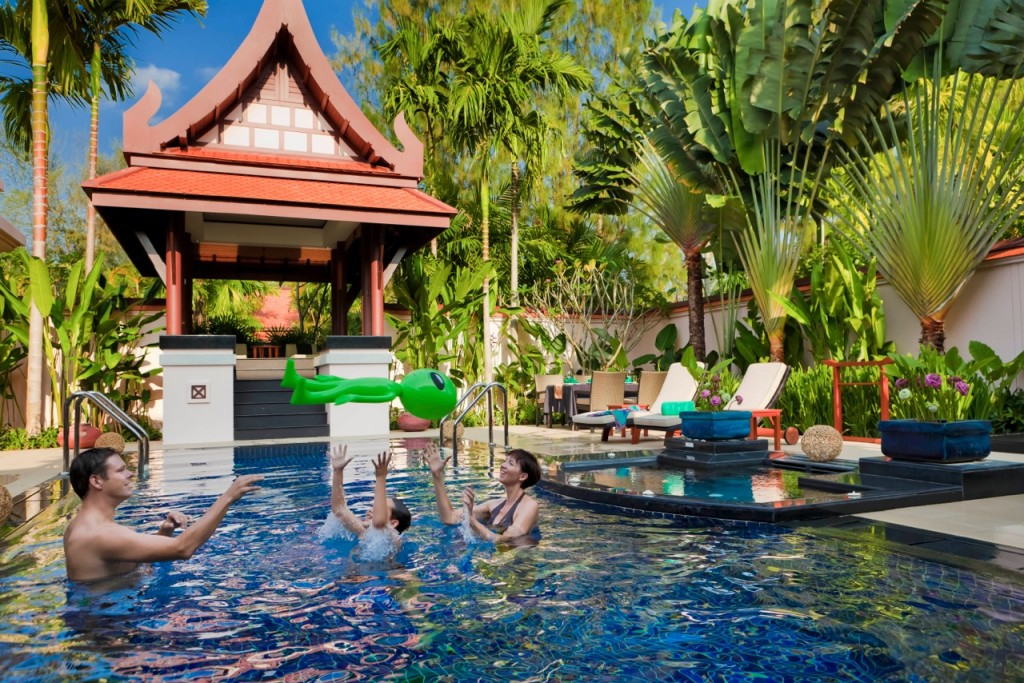 The Lux Traveller Loves
Deluxe Two Bedroom Pool villas are sensational – highly recommend them; true home away from home, modern, spacious and luxurious
The best hotel dining experience in Phuket (every restaurant impressed us to no end)
Due to the location and size of the resort there is a lot to do for the active guests
Very reasonable prices
Splitting Hairs
Entry level villas might not provide the same experience so try to book at least a pool villa to get the maximum value and joy from your stay
Because of the layout of the resort villas don't have sea views often expected in Phuket luxury resorts; villas are designed around the internal pool courtyard
Even the best villas are duplexes, adjacent to another villa next door. It didn't seems to be a problem until guys next door decided to have an all night loud party and kept us awake for half a night. Request for a villa with no neighbours if possible.
All In All
I highly recommend this resort to families and couples alike. A combination of excellent dining, fun activities, authentic spa and spacious accommodation make this resort a 'must visit' for 2015!