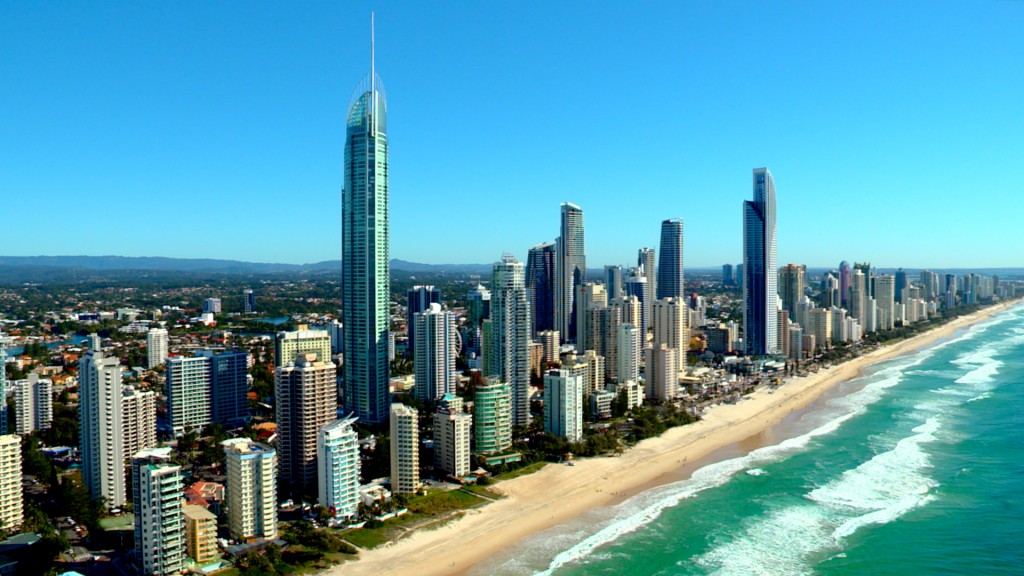 Gold Coast is a forever popular destination for Australian families and for a good reason. It has a multitude of family friendly hotels, things to do, beautiful long beaches, very mild climate, good food and a variety of theme parks for the young and young at heart.
The Lux Traveller had a pleasure to visit Gold Coast in January 2015 and we have put a list of some of our favourite things to do and places to stay.
Our Favourite Hotels:
Palazzo Versace
Palazzo Versace is the most glamorous hotel on the Gold Coast. It is located near Main beach, across the road from a white sand beach and near Marina Mirage shopping centre.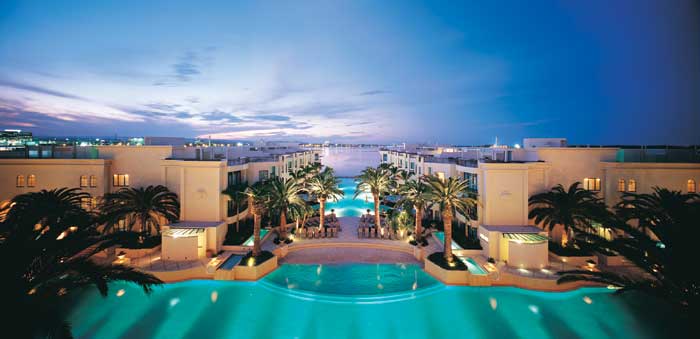 Unmistakable Versace styling is present in every detail of the hotel. Starting from the chic colourful upholstery to drinking glasses, pool towels and toiletries is branded with Versace logo.
Grand marble lobby makes an impression from the minute you walk into the Palazzo. There is no Gold Coast riff raff here, quite the opposite, you'll find yourself surrounded by well heeled glam crowd who look glamorous at all times of the day.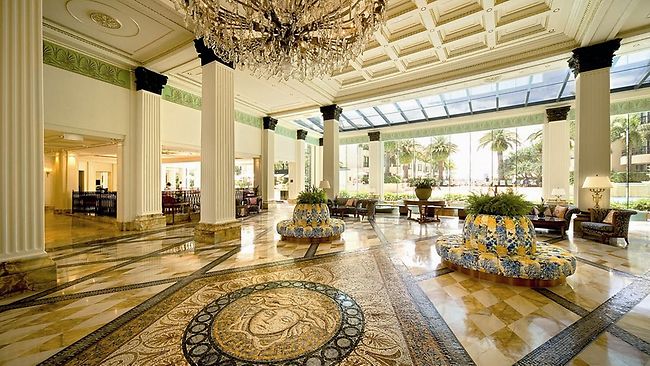 Versace rooms are surprisingly family friendly. They have fold out sofas that can easily accommodate 2 kids next to the main bed or for those parents who value their privacy hotel offers interconnecting rooms. Even though Versace is 15 years old the rooms don't look aged. Designed in a classical style they have maintained their classy feel. They are rather small for families though, so we would definitely recommend an interconnecting scenario.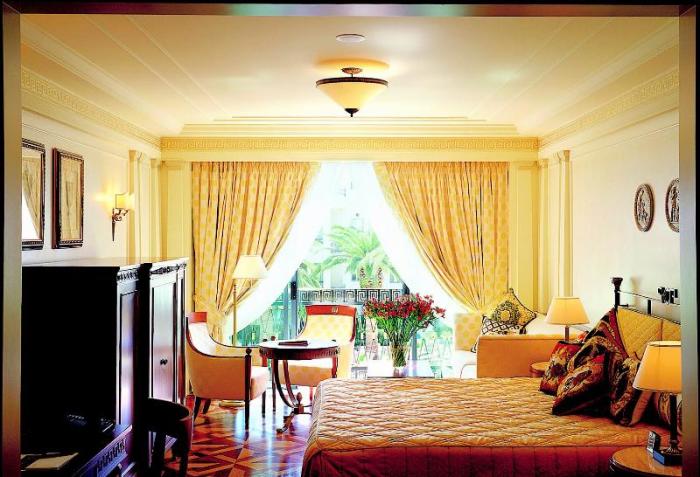 The highlight of our stay was Versace Cabana experience, a very popular day package starting from $150. Those who book the cabana get to spend the day in style by the pool with a bottle of champagne and light refreshments. Given that during school holidays in summer there are no pool seats available since about 7am, cabana offering is very attractive.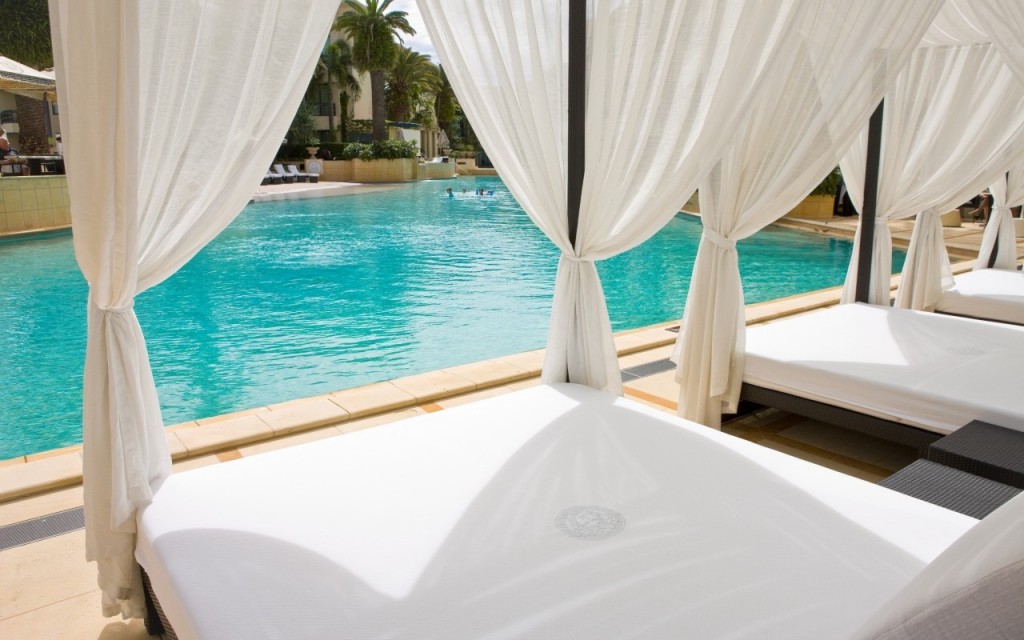 Palazzo Versace restaurants are also amongst the best on the Gold Coast and do cater for children.
Rates start from $450 per night for a standard room with no view.
94 Seaworld Drive, Main Beach QLD 4217
(07) 5509 8000
Marriott Gold Coast
Marriot is another good family option on the Gold Coast. It is not near as glamorous as Palazzo Versace but has some good points that win many families over.
Location – right in Surfers Paradise, walking distance to the beach (5 min), main shopping mall (15 min), supermarkets, cafes and shops.
The highlight of this hotel is a large lagoon pool with tropical fish – a perfect place for young guests to learn snorkelling. A lazy river and a water slide also occupy kids for hours on end and poolside cabanas provide a comfortable setting for the adults to relax. Cabanas are chargeable and need to be booked in advance.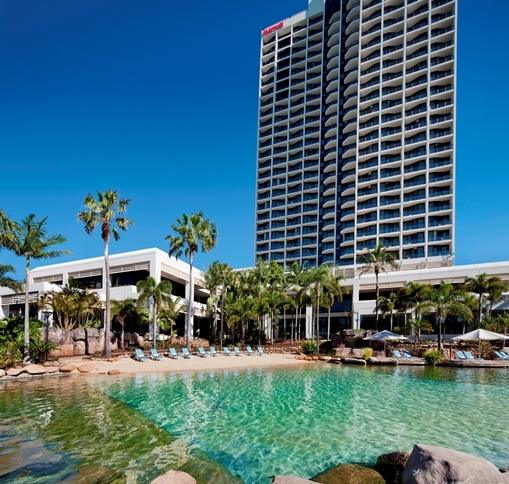 Marriott has a kids club (open during Australian school holidays), a very child friendly Benihana teppanyaki restaurant (a dinner and a show) and a famous seafood buffet that attracts young guests with a chocolate fountain and a large lolly / ice-cream desert table.
In terms of accommodation there are a lot of options for families to choose from – simple interconnecting room, junior suites with roll away bed option or one bedroom suites for those who prefer to have a little more room. Rooms, and especially bathrooms, do require an update though.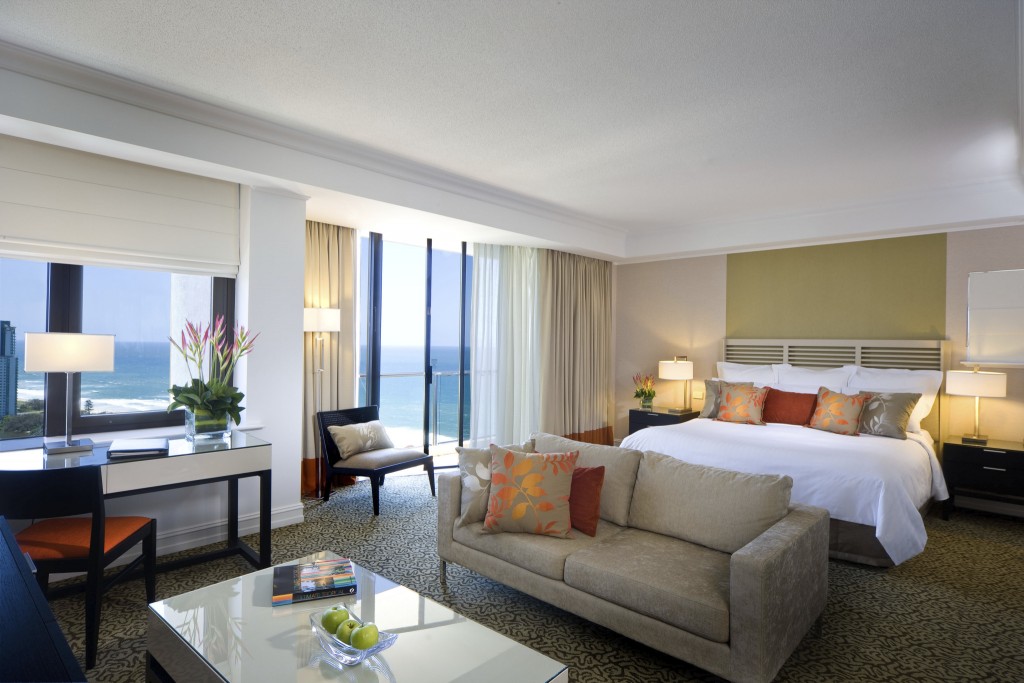 Rates start from $300 per night for a standard room.
158 Ferny Avenue
Surfers Paradise QLD
(07) 5592 9800
Our Favourite Restaurants:
There are so many cafes and restaurants to choose from on the Gold Coast that it makes it a little different to narrow down the choice. But here are our top 3.
Fine Dining – Room 81 at Sofitel Broadbeach
Young English chef Sam Moore has brought creativity and flair to this cosy fine dining establishment in the heart of Broadbeach. This is a must try restaurant for a special occasion. Sam's Yabbie tails and Waguy beef are QLD famous and prestigious chef's hat award proves that The Lux Traveller has a good taste.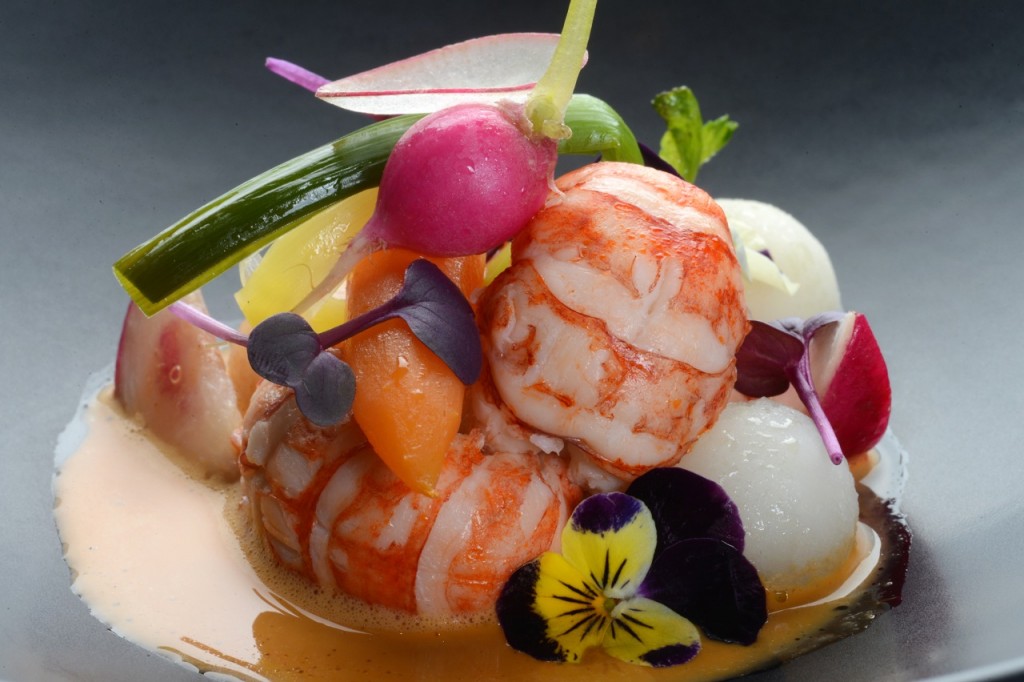 The Oasis, 81 Surf Parade, Broadbeach QLD 4218
(07) 5592 2250
Best Pasta In An Elegant Setting – Chill On Tedder
This Main beach restaurant is a local establishment. It has been here for more than 9 years and their Crab Pasta is a signature dish that has been on the menu for as long as I can remember. It is probably the most delicious, 'melt in your mouth' pasta I have ever tasted. And that means a lot from someone who spends months in Italy every year! Accompany this divine dish by a couple of designer entrees like foiux gras and poached prawns and a bottle of champagne and you have a wonderful dinner out!
The restaurant is family friendly and an al fresco candle lit setting under the trees in quite romantic in the evening hours.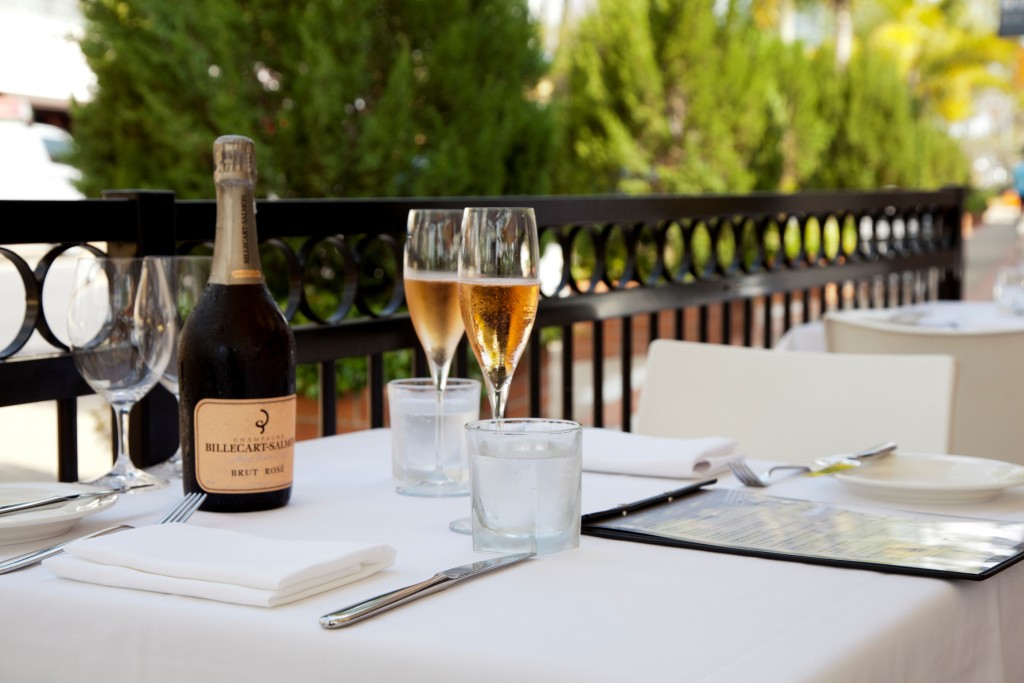 Prices start from $20 for entrees and $30 for mains.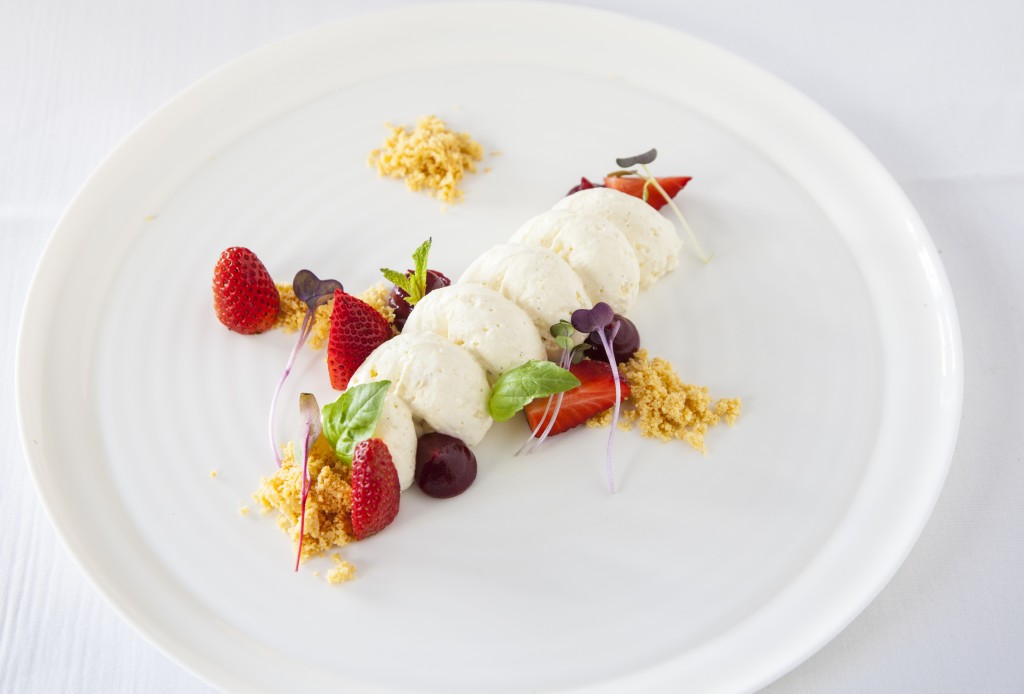 26 Tedder avenue, Main Beach QLD 4217
(07) 5528 0388
Koi Broadbeach
This restaurant is always busy and happening, even on week nights and during the school term. So try to book ahead to avoid disappointment.
It is located on a main street in Broadbeach, has a good vibe, friendly service and good simple food.
It is a brilliant all rounder and our family favourite for casual breakfast or an easy dinner.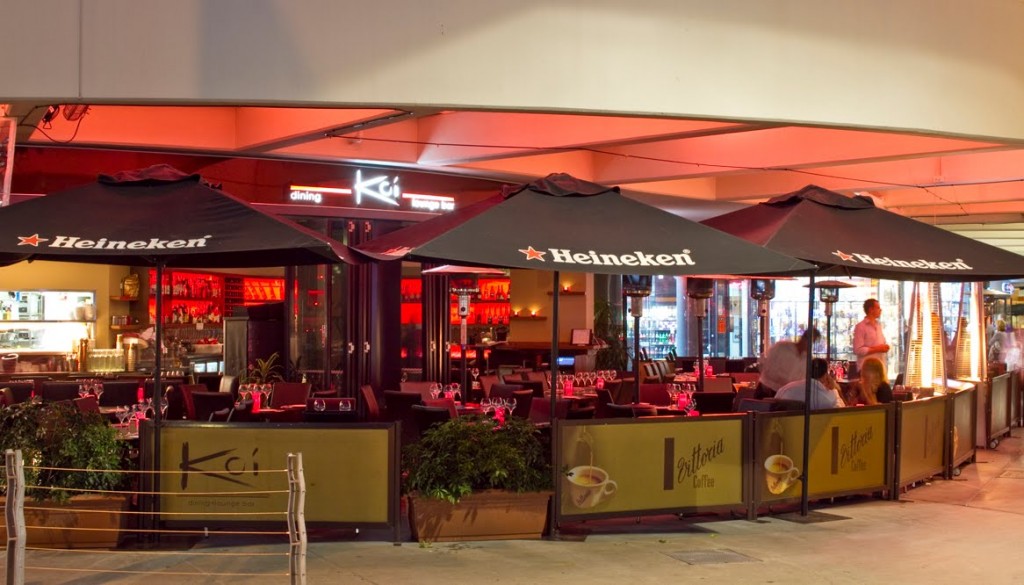 93 Surf Parade, Broadbeach QLD 4218
(07) 5570 3060
Things to Do
Seaworld & Dolphin Experience
Gold Coast is famous for its theme parks but seeing that they haven't introduced Express or VIP passes in any of them apart from Seaworld (allows you to skip the lines and enjoy more rides), Seaworld is our park of choice.
Unlike others it is also conveniently located near Main Beach and Palazzo Versace (10 min walk) and it offers Express passes (we never had to wait longer than 5-10 min for a ride) and VIP Dolphin Experience. You can have a swim or a family pat with the gorgeous resident dolphins. It was a real highlight for the kids and utterly enjoyable for the adults.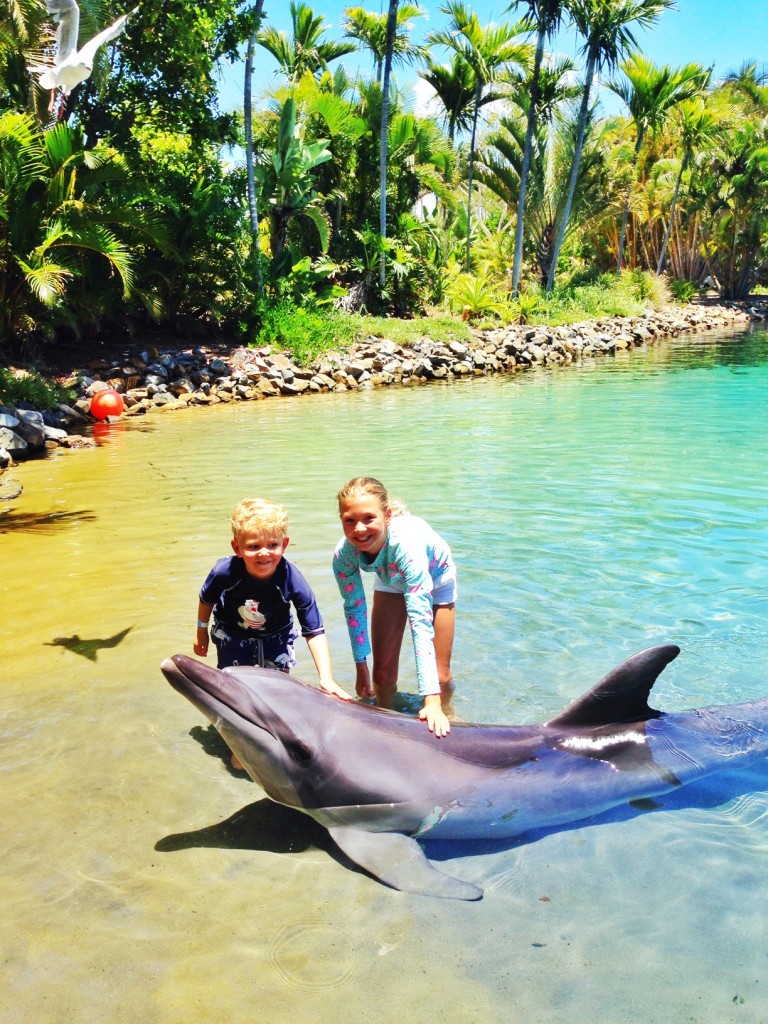 Highly recommend it!
Sea World Dr, Main Beach QLD 4217
(07) 5588 2222
Beaches & Surfing
Gold Coast has stunning white sand surf beaches that go on for miles. A long morning or an afternoon walk once the heat has settled is priceless. You'll find people jogging, swimming, catching waves or even meditating at any time of the day here. Magical!
For those who love the water and are feeling adventurous we would recommend surfing lessons. There is a very well established surf school in Surfers Paradise 'Go Ride A Wave' and they will take you through the basics and will make sure you can stand up on the board within a couple of lessons.
www.gorideawave.com.au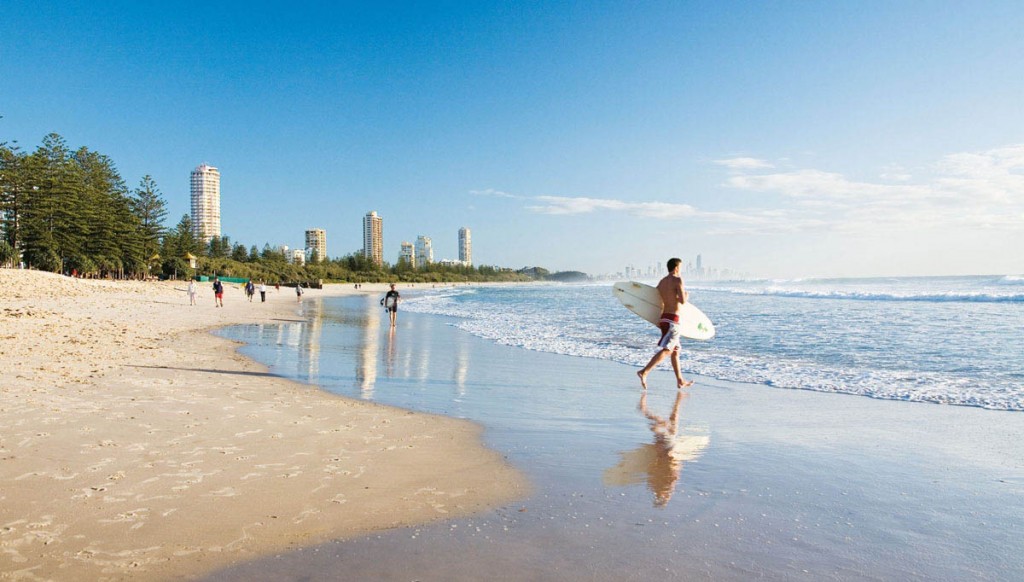 Gold Coast is a wonderful destination for an easy and fun family holiday! Enjoy and let us know if we can help you with more advice.
Spa Experiences
The best spa we have found on the Gold Coast is Aurora Spa in Palazzo Versace. The spa is located in a beautiful hotel, on lower ground floor, with an indoor mosaic pool and spa, comfortable relaxation area and candlelit treatment rooms.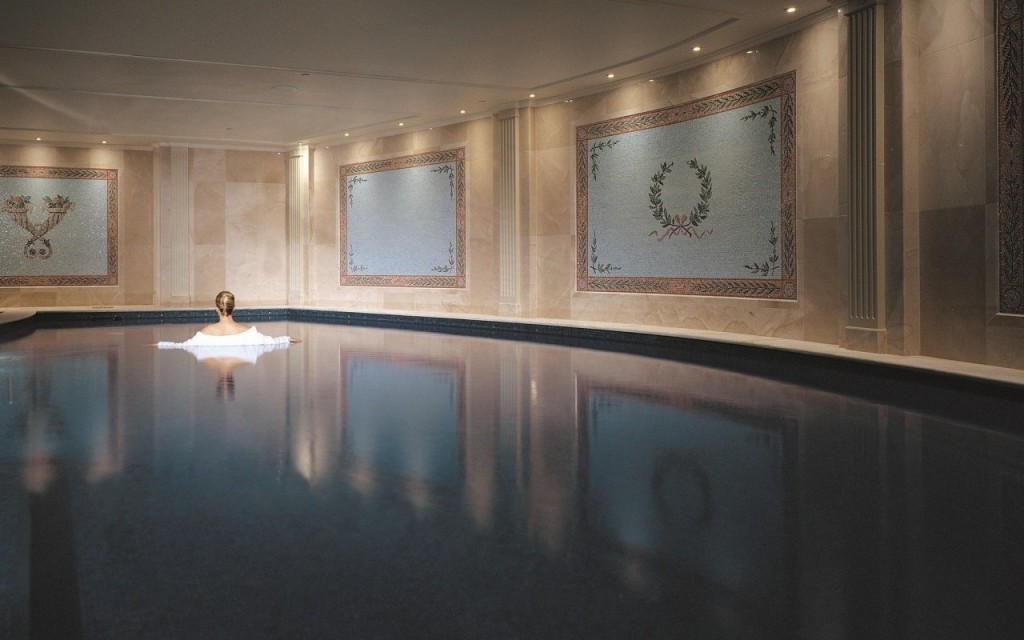 Unfortunately I only had the time to experience a one hour facial which was utterly relaxing and did make my skin look more hydrated for the afternoon. I would've liked to try all the tempting packages and special treatments on the spa menu. If you have the time, try the Signature private steam room treatment combined with a massage or a facial. Aurora spa also offers couple's therapies so bring your partner with you for a romantic bonding experience.
All Aurora Spa products are use a high concentration of high quality active botanical ingredients to ensure the therapeutic effect on the skin. So consider getting one of their products as a memento. I have their hand wash & hand cream and both are really lovely.  Enjoy!