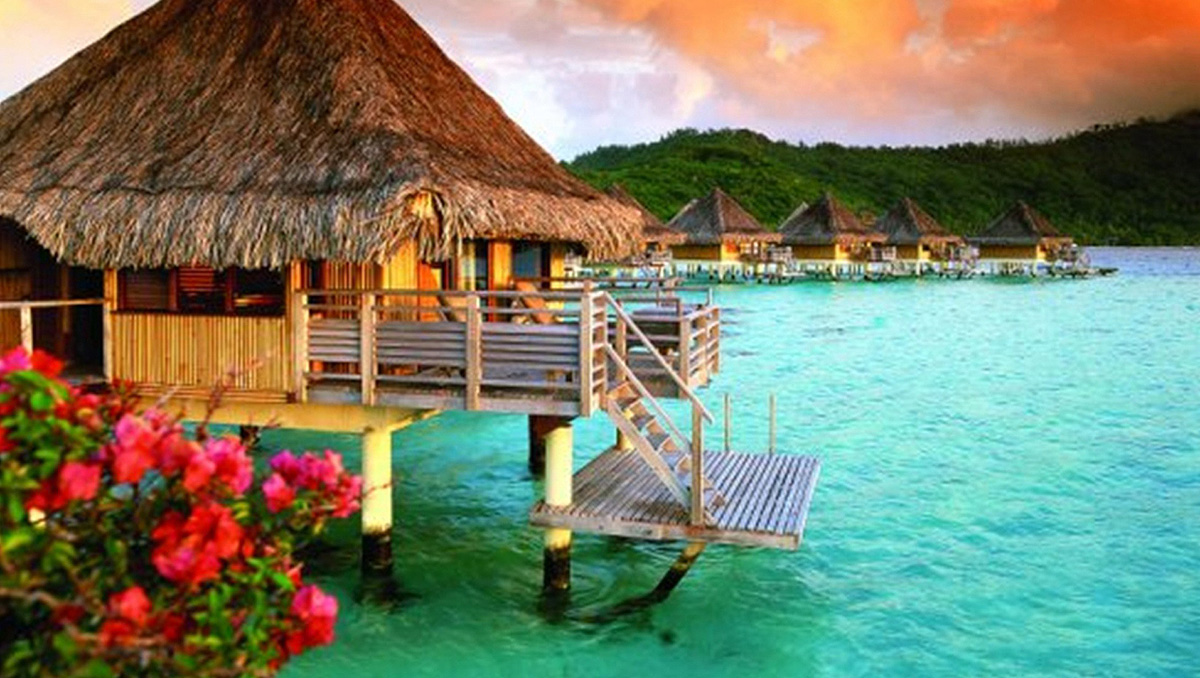 Hilton Bora Bora is a Top Honeymoon Destination! It is a very special resort. The scenery here is breathtaking and the resort is top notch luxurious.
Resort's best feature is its deluxe overwater villas – they are one of the most spacious in French Polynesia.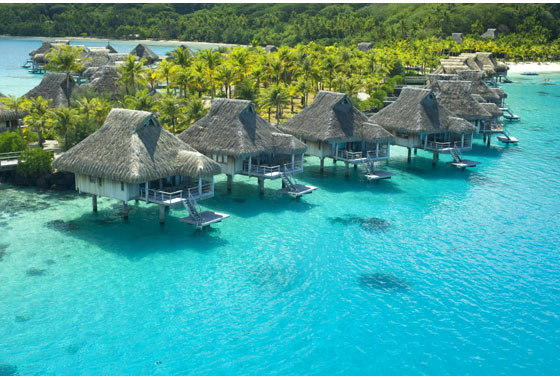 Each Deluxe Overwater Villa is comprised of a large separate living room, spacious bedroom with a romantic four poster bed. You can watch Bora Bora's vast array of exotic marine life float past the glass floor beneath your feet or luxuriate in the elegant, italian marble bathroom.
Deluxe Villas are located on the best stretch of the lagoon, where the water is deep blue and begs you to dive in off your balcony. For the holiday fit, ocean infront of your villa is perfect for laps without scratching your feet or tummy on the coral. If swimming is important to you double check with the resort the exact lagoon location of your villa. Some areas are very shallow and would be a definite let down.
Rooms & Suites 
Most of the accommodation options are Villas however there is one small hotel room building. Staying in it is not for The Lux Traveller! It is the most basic option and somewhat out of keeping in such a beautiful place.
Garden Villas are also not recommended as they feel dark and have no views.
Personally, I think if you made an effort to come to this divine resort, the overwater bungalows are a must! They are the essence of a Bora Bora honeymoon, filled with sun kissed dreams and romance.
Presidential Overwater Villa requires a special mention (image enclosed). This villa is probably the most luxurious one we have seen to date. It is 300m² 2-storey villa that offers 2 bedrooms, 3 bathrooms, 2 Dressing Rooms, a spacious living room, private swimming pool, a private sun deck, a well-being room and an outdoor living area offering a Jacuzzi, sun deck, and gazebo. Upper floor: Indulge in a massage, relax in the sauna, stretch out on the sofa or refresh your senses in the spacious bathroom in the Presidential Suite's 50 m²/376sq.ft well-being room. Alternatively unwind in the 48m²/1054sq.ft outdoor living area offering a Jacuzzi, sun deck, day bed, a bar area and Mini Bar and deck chairs and a table. If only the best will do this villa is for you! It is very unique and truly the BEST!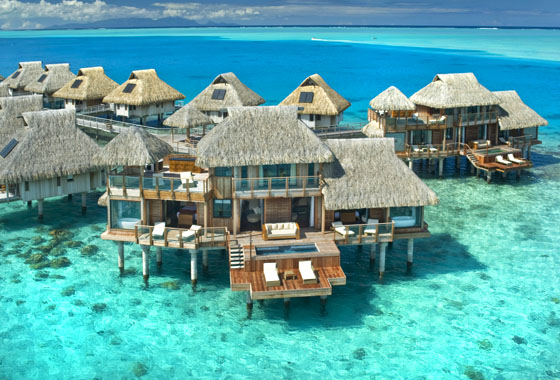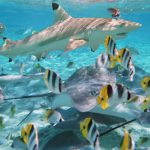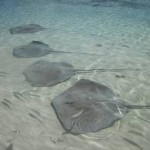 Marine Life   
Marine Life in Bora Bora is just as unique as the setting. Where else could you go diving or snorkeling with 5m lemon sharks, swim with baby reef sharks or be kissed by loveable stingrays. Amazing! 

The Spa – perched on top of a hillside with stunning views. Treatments are nice but very expensive.
Breakfast and dinner – Food is the only let down at this resort. In fact, it is so bad that on some night all I ordered was steamed vegetables as I couldn't bring myself to eat anything else offered on the menu. This was a real disappointment but excellent for loosing weight on holiday 🙂
Service – Friendly. They know how to treat honeymooners as that is the majority of their clientele. Most of the couples we met were from the United States.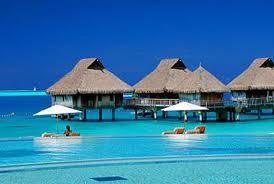 Atmosphere – elegant, quiet and luxurious. Hardly anyone was at the pool during the day as most guests prefer to enjoy the privacy of their own villas and the turquoise lagoon around them.
Transfer to / from the airport – You arrive in luxury. The only way to reach the resort is by boat and does Hilton aims to impress! The Hilton transfer is not a transfer, its a huge motor boat that you might share only with another couple of two. Royal treatment!
All in all – would we recommend this hotel for a romantic trip? Absolutely! It is a holiday to remember.
Amazing bungalows, beautiful lagoon and unbelievable marine life unique to this part of the world more than make up for the ordinary food at the resort.
Tip – the only other hotel in Bora Bora that is comparable (but more expensive) to the Hilton is St Regis Bora Bora. It is another good option to have a look at.
All other resorts have much smaller rooms and the lagoon is not as nice.
Another tip – request a villa in the deep end of the lagoon – it is more beautiful and much more usable.
Enjoy your own personal paradise!