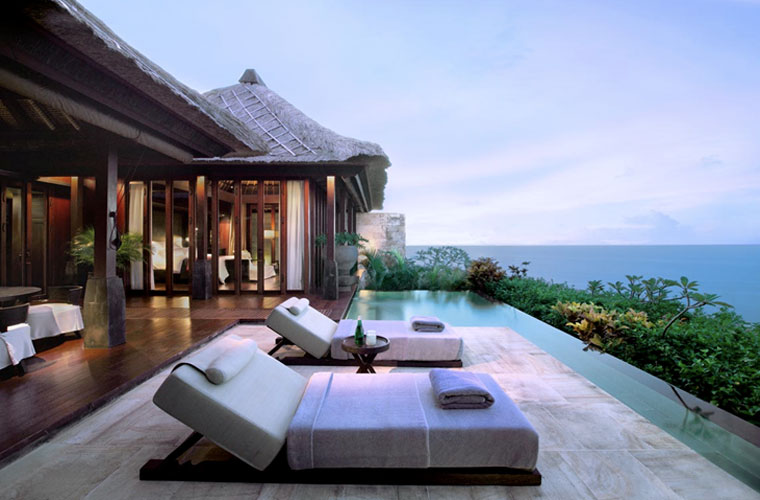 the lux score
89
the lux score explained
Service 10
Rooms 8
Food & Beverage 10
Ambience 7
Attention to Detail 10
Generosity & Value 8
Wow / Hip Factor 8
Facilities 8
Location 10
Fit to Promise 10
The Bulgari Resort Bali is a glamorous and romantic hideaway perched 150m above the sea level in the southern part of Bali, Uluwatu. It is a stunningly picturesque area, the essence of unspoiled nature and breathtaking beauty that is Bali.
It is no surprise that Uluwatu is home to the most exclusive villa hotels on the island.
The famous jewelry brand has 3 exclusive hotels in their portfolio – Bali, Milan and London and all three are a must visit for any discerning Lux Traveller. Bulgari brand represents quintessential luxury and Bulgari Resort Bali is a proof of it.
The Resort is very well established, it has been around for over 8 years.
It features 59 villas, all with ocean views. The design of the villas magically blends traditional Balinese charm, modern luxuries and unmistakable Italian flavor. We love the local materials like hand cut volcanic stone and Javanese mahogany used to create the elegant interiors alongside the latest technological gadgets and European amenities.
Arrival & Accommodation
We arrived at The Bulgari Resort around 6pm and after a swift check-in were escorted to our villa.
We stayed in a one bedroom Ocean View Villa which is absolutely perfect for a romantic couple.  The villa features a bedroom with a view and a large bathroom full of Bulgari amenities, my favourite.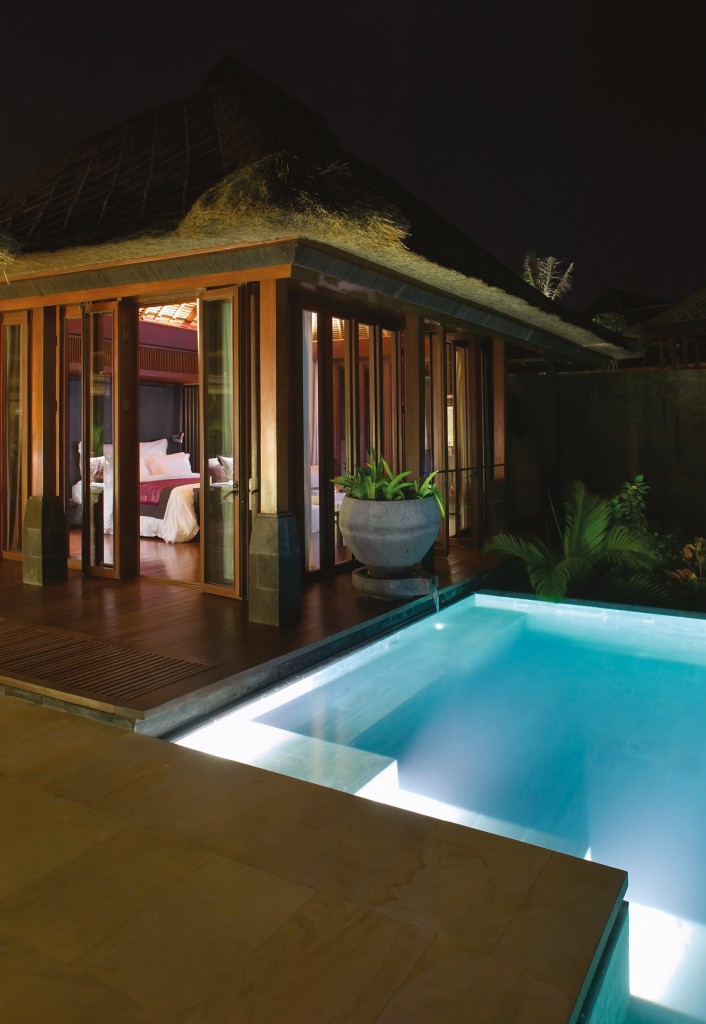 The living area is outdoors and looks out onto the plunge pool and Indian Ocean. A peaceful setting, perfect for a quiet holiday or honeymoon.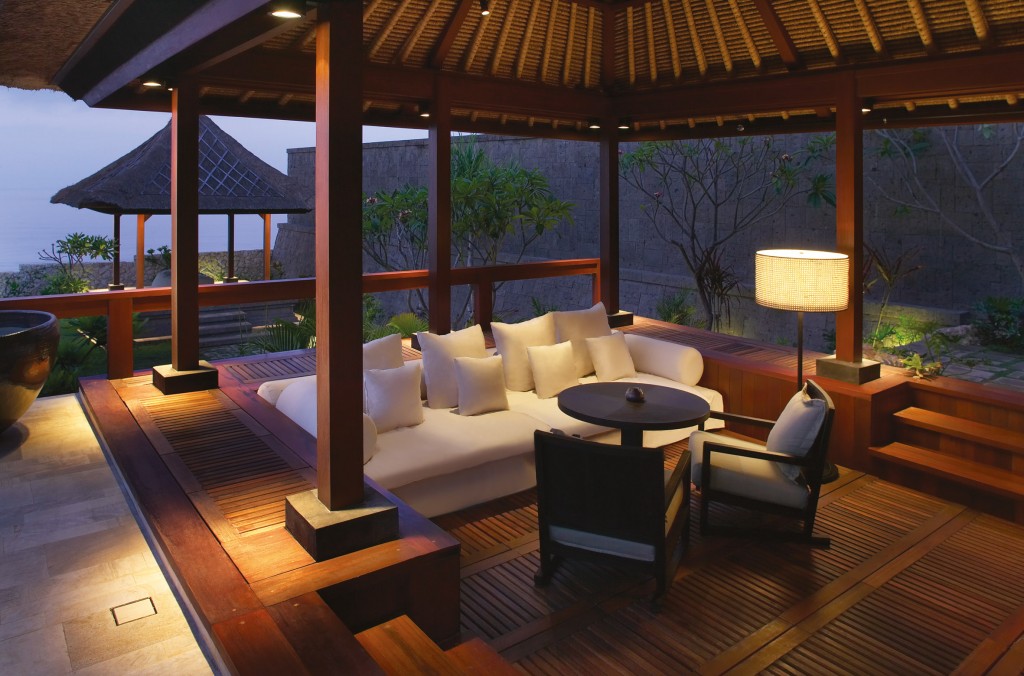 The focus of the design is on outdoor living, even the rain shower is positioned outdoors.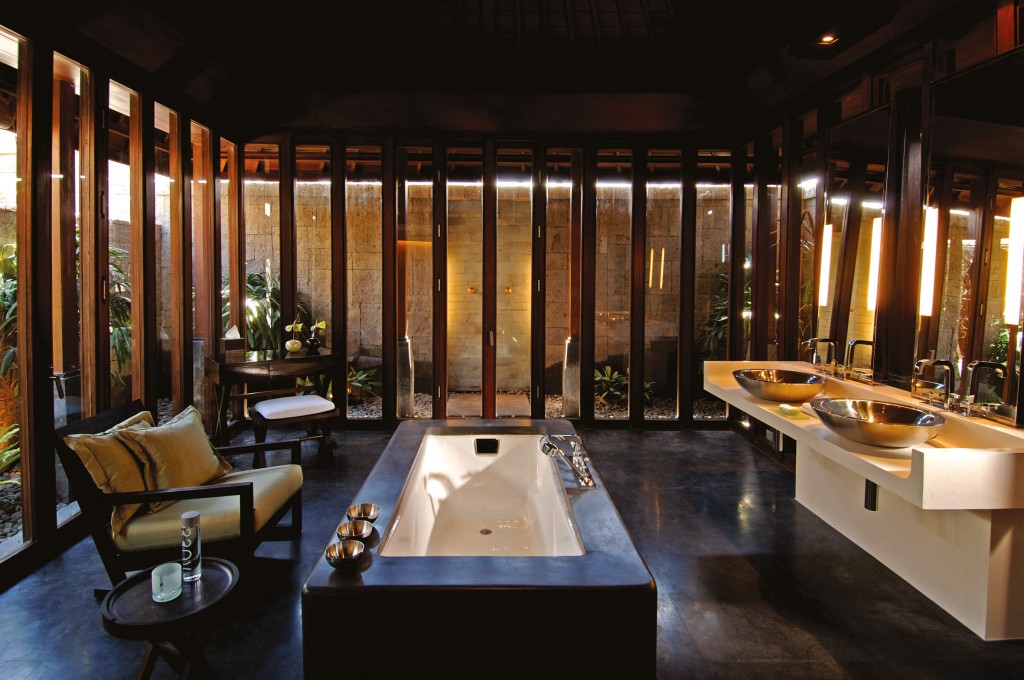 While One Bedroom villas are perfect for a romantic couple they are not big enough to accommodate families.
If you chose Bulgari for a family holiday you might like to opt for one of the three 2-Bedroom Villas. They are very similar in design to the one we have experienced just with an extra bedroom pavilion and an indoor living area.
For The Lux Travellers who always choose the best of the best – do splash on the ultra exclusive Bulgari Villa that spans over 1,300 square meters and features two spacious bedrooms, living room with its own bar, dining room, cinema, kitchen, a spa treatment room and 'a cherry on top' the 20-meter pool and an extensive terrace.
This would be a perfect wedding villa or a private party venue.
Dining
On our first evening at the resort we were invited to experience Il Ristorante, a wonderful fine dining restaurant in a romantic candlelit setting.
Little did I know that this restaurant is awarded as BEST HOTEL RESTAURANT IN THE WORLD by International Food & Beverage Forum, BEST TOP 10 GREAT HOTEL RESTAURANT 2011 by Villeroy & Boch Award and ASIA'S TOP 500 FINEST RESTAURANTS by The Miele Guide 2013.
It is famous in Bali and for a very good reason. Il Ristorante represents everything a perfect romantic evening should be – divine atmosphere, sensational food prepared with a lot of love, fine wines that perfectly complement elegant dishes and silver service.
The restaurant is situated in an al fresco bale with a view of a beautifully designed tiered lake and Indian Ocean as a background. Candle light, exquisitely set tables, soft Italian music and silver service just add to the atmosphere of exclusivity and luxury.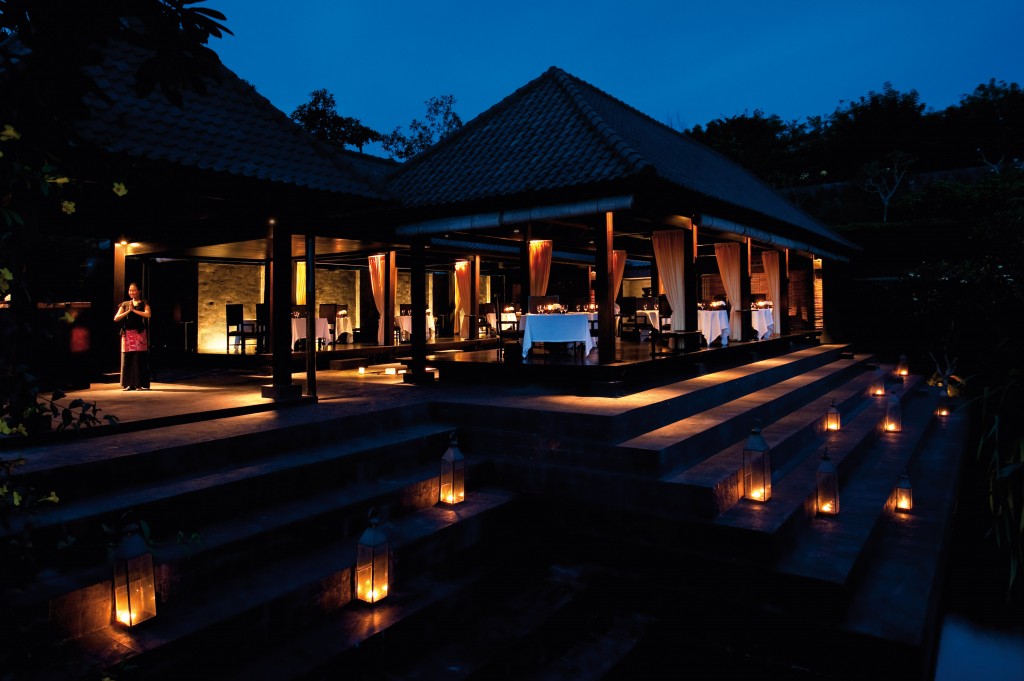 The menu is designed by Chef Maurizio Bombini, originally from Puglia, and is unmistakably Italian. However it offers a modern twist on the old favourites.
The guests are offered a choice of either 6 course or 9 course degustation menus and all dishes are served with matching wines. You could also order a la carte but we would highly recommend trying the chef's favourites that are lovingly combined into the above menus.
We had a beautiful, truly memorable dinner at Il Ristorante. In our view it is the best restaurant in Bali and we highly recommend it to you even if you are not staying at the resort.
Breakfast
Breakfast is also beautiful at Bulgari. Guests have a choice of enjoying an outdoor cliffside terrace or staying cool in the air-conditioned restaurant.
We always chose the fresh air and have thoroughly enjoyed sipping our freshly squeezed juices on the terrace with nothing but the deep blue in our view.
We found the buffet to be a little basic but the chef was more than happy to prepare anything else we asked off the menu, be it a plate of fresh mango or French crepes with Nutella.
Facilities
Bulgari Resort has a beautiful long private beach that can be reached by a steep inclinator.
Rocks and waves make swimming at the beach dangerous but a long morning walk on the water's edge is absolutely wonderful. The beach runs for miles and you can walk for as long as you like.
Beach Club offers a few comfortable deck chairs and a cafe that offers fresh seafood served with a dash ocean breeze.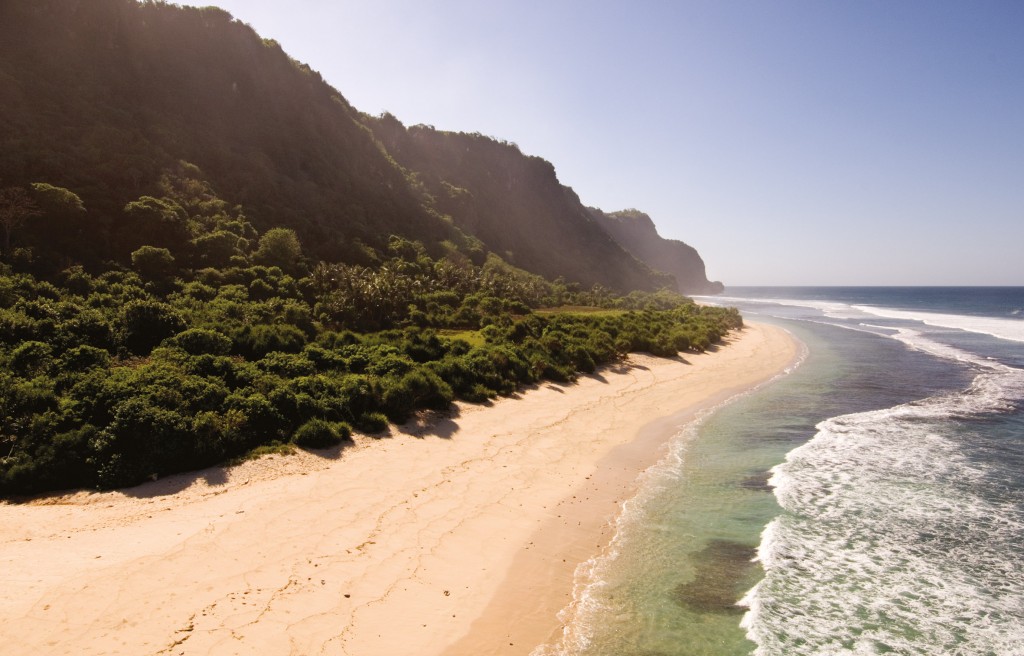 Bulgari Spa
The spa is located in a series of pavilions, some with ocean views. There is a small spa pool for the guests to enjoy a dip after a treatment and an outoor relaxation area.
The Spa's menu is designed to offer a series of complete treatments that integrate Asian and European approaches. The must try specials include hot stone and four hand massage. I tried the four hand massage for 90 min and have thoroughly enjoyed this indulgent experience.
Main pool is beautiful, deep and offers spectacular views. We expected to find more guests by the pool (as villa pools are very small), but we often were the only people there.
Bulgari resort, more so than other hotels we visited in Bali, is a true honeymoon destination and couples seem to keep to themselves. We hardly saw anyone around the resort apart from breakfast and dinner time.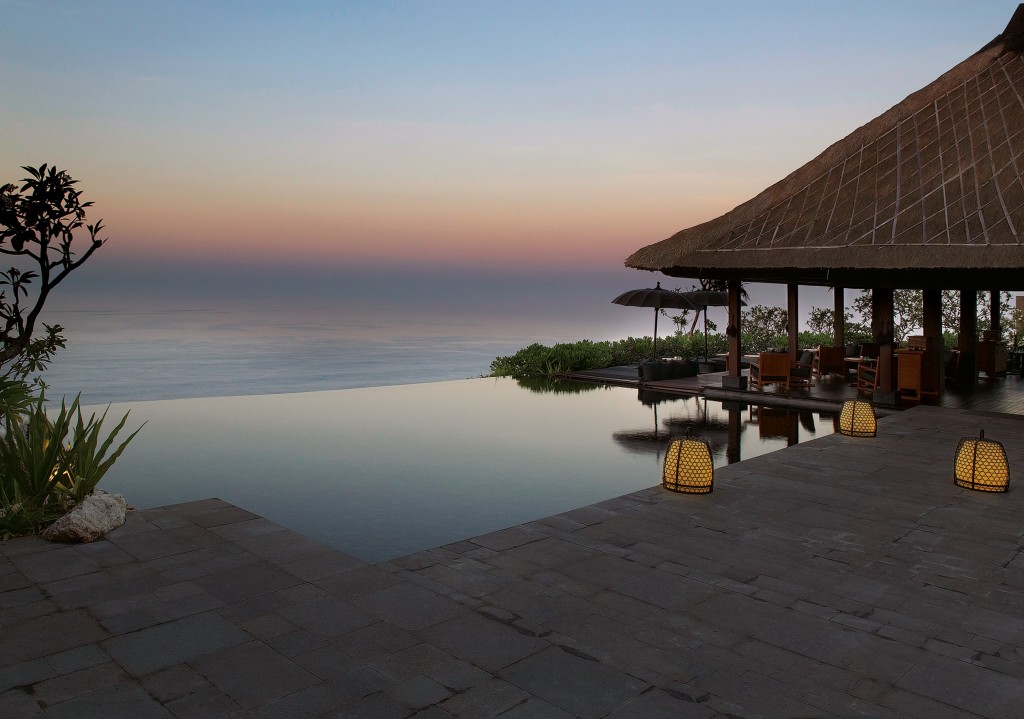 The Lux Traveller Loves
We love the Bulgari brand – it represents quality and luxury and Bulgari Resort Bali is a beautiful quintessence of both.
Ocean views from all villas
Beautiful main pool (even though a little more atmosphere would be nice)
Il Ristorante – our new favourite in Bali
Bulgari toiletries in the bathrooms
The Lux Traveller Doesn't Like
It would be nice if villas had indoor living rooms and bigger pools
A little more atmosphere around the mail pool would add to a glamorous vibe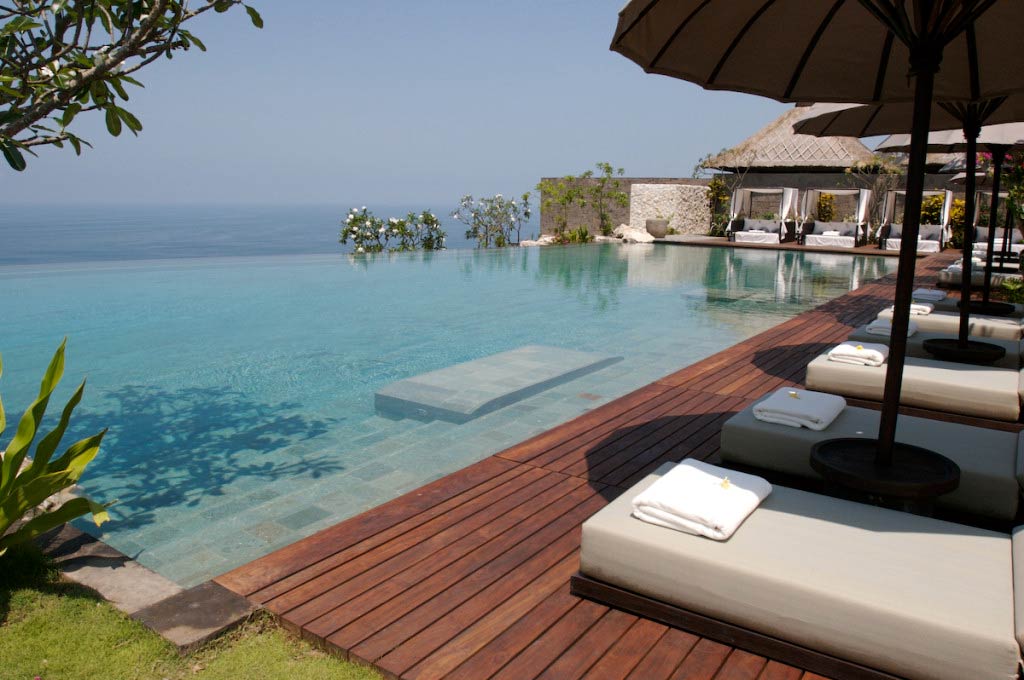 All In All
Staying in Bulgari Hotels and Resorts is a must try for any Lux Traveller. Bulgari Bali is a perfect honeymoon / romantic couple destination.
If you are a family you might want to mix up your stay in Bali between a quiet resort like Bulgari and a more family oriented hotel like The Legian.