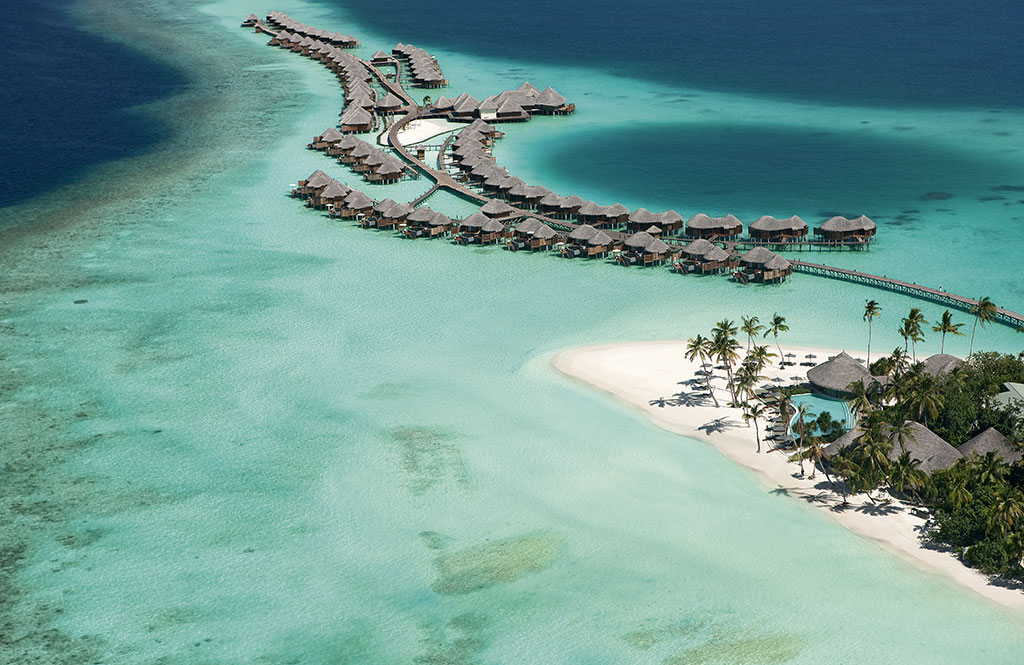 the lux score
99
the lux score explained
Service 10
Rooms 10
Food & Beverage 9
Ambience 10
Attention to Detail 10
Generosity & Value 10
Wow / Hip Factor 10
Facilities 10
Location 10
Fit to Promise 10
The Lux Traveller is looking for the true luxury in the Maldives. We have reviewed a number of the most luxurious resorts in this beautiful part of the world and Halaveli is one of our favourites. This island markets itself as a 6 star resort and in our view it definitely deserves it!
About The Resort
Constance Halaveli is a tiny island in the Indian Ocean. It can be reached by a scenic sea plane flight from Male, a 30 min journey. Sea planes operate only during the day time so make sure to plan your trip well and combine your stay in Halaveli with either an overnight stay at a resort close to Male or possibly split your Maldivian holiday between 2 resort experiences – a few days in a resort close to Male and a few days in Halaveli.
Halaveli island has so much to offer its guests, yet you can walk around the whole perimeter in 10-15 minutes. The resort has 86 villas in total – some on the beach and some overwater.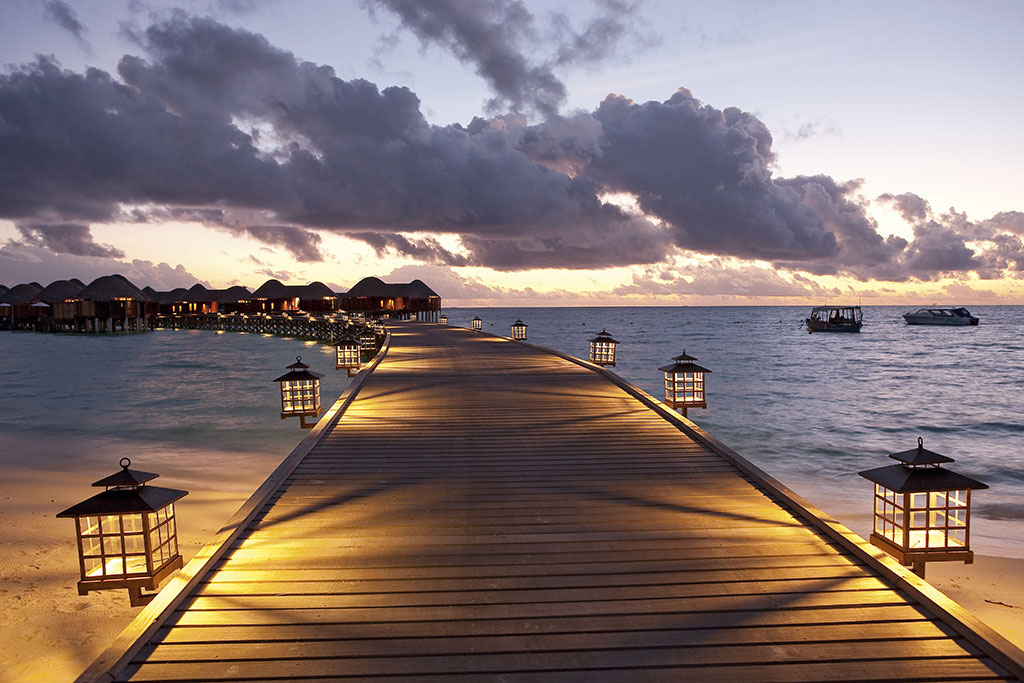 The resort has been built only a few years ago – it looks and feels brand new and very luxurious.  Halaveli's style it true barefoot luxury, my favourite way to spend a holiday. When we arrived to Maldives we saw a catch line on one of the ads 'the luxury of being yourself' – such a simple thing yet so true. How often can be completely let go of the pressures of the modern life, commitments & responsibilities, let our hair down, through away the shoes and just be ourselves. If the above is your idea of true luxury and relaxation Constance will be a perfect resort for your vacation.
Accommodation
Halaveli has a wonderful selection of different villas – each category is perfect in its own way. All villas have pools which is quite rare in the Maldives and sets Halaveli above others.
Beach villas are furnished in a chic beach style with the latest technological features – Apple TV with endless selection of free movies for children and adults, Nespresso coffee machine, Ipod docks, etc.
Outdoor bathrooms feature double vanities, rain showers, double bath and a centerpiece of the garden – beautiful black slate pool. Guests can choose to either have a swimming pool at the front of the villa (with a view onto the turquoise lagoon) or at the back in complete privacy (our choice).
Beach villas are an excellent choice for couples who love to feel sand under their feet.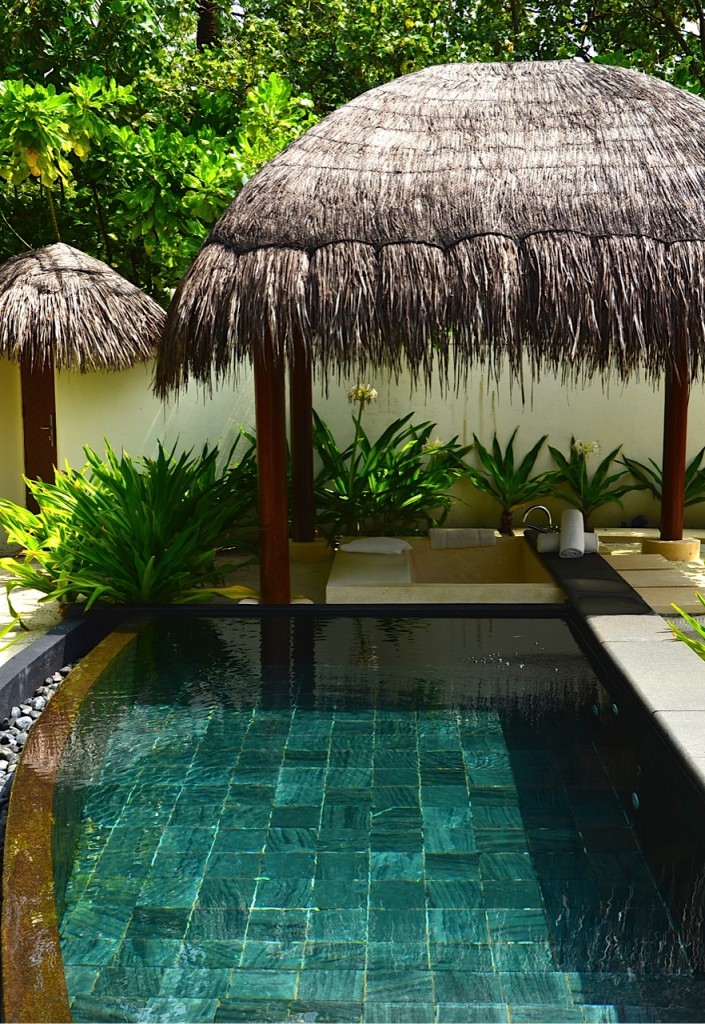 Family Beach villas (our choice for the stay) are exactly the same as standard beach villas but they also have a tiny kids room with 2 bunk beds. It is a very small room but our little kids loved it – it was another adventure and they couldn't wait to decide who would sleep on the more exciting top bunk.
Water Villas are surprisingly resort's lead-in category, simply because they are smaller internally. They are brand new and absolutely stunning. A must experience for first time visitors to the Maldives.  Each water villa has a beautifully furnished bedroom and living area, as well as a spacious deck with a private plunge pool.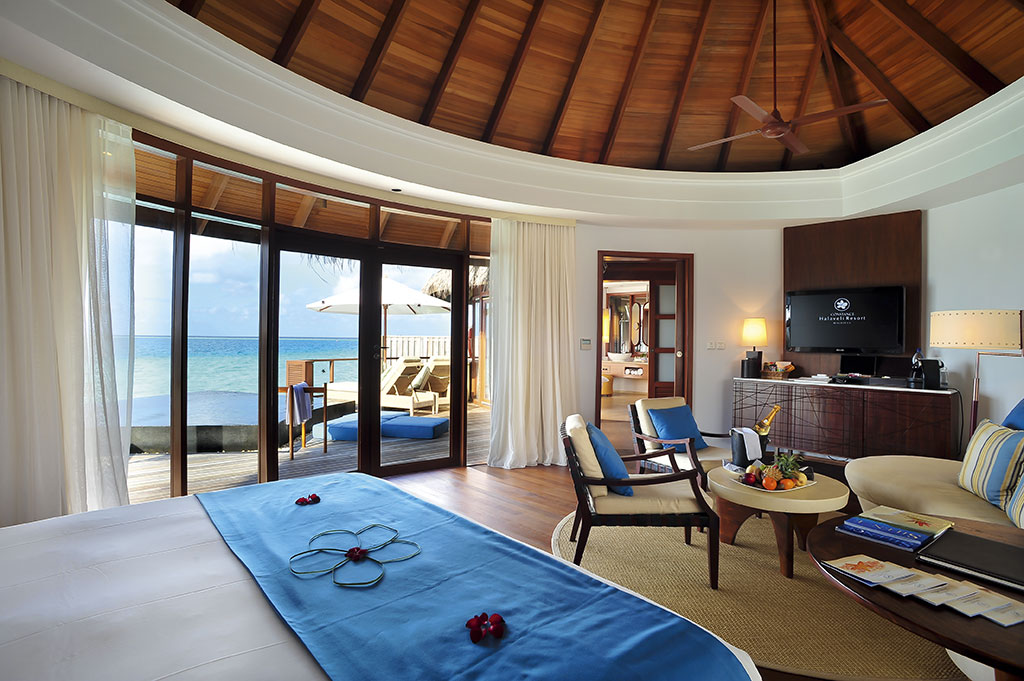 Watching sunset in your own infinity pool on the deck of your villa or hopping into a crystal clear warm water first thing in the morning from your own deck – priceless!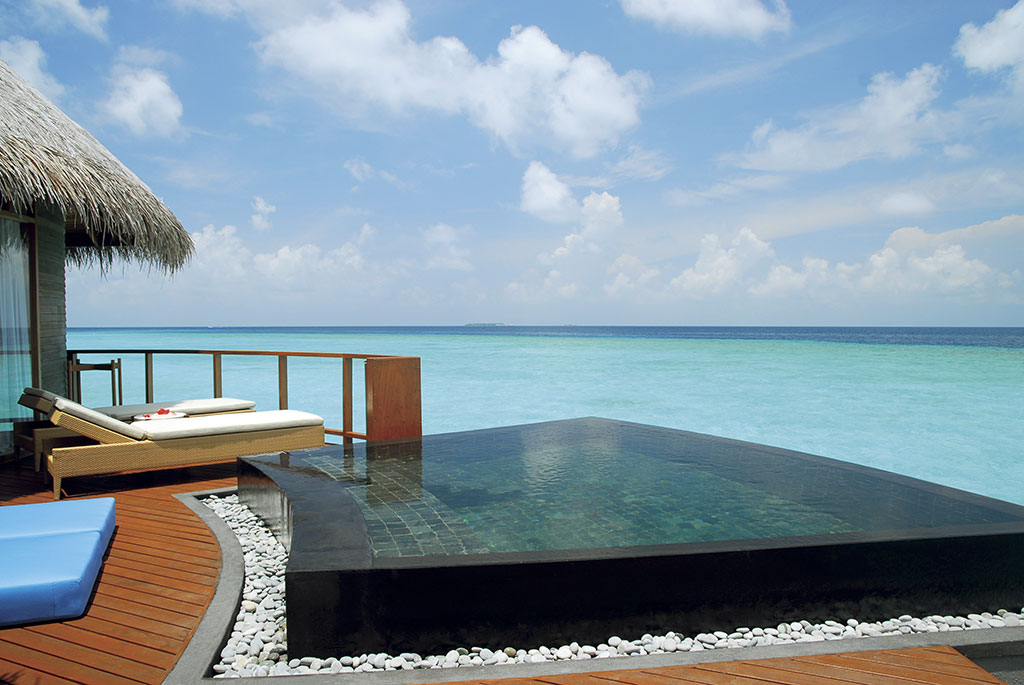 Other accommodation the resort offers is double story family villas – perfect for a family with teenagers or a couple who'd like a little more space (upstairs living room can be converted into a second bedroom or remain as a living room. And of course, there is one Presidential Villa with 2 bedrooms and a larger pool.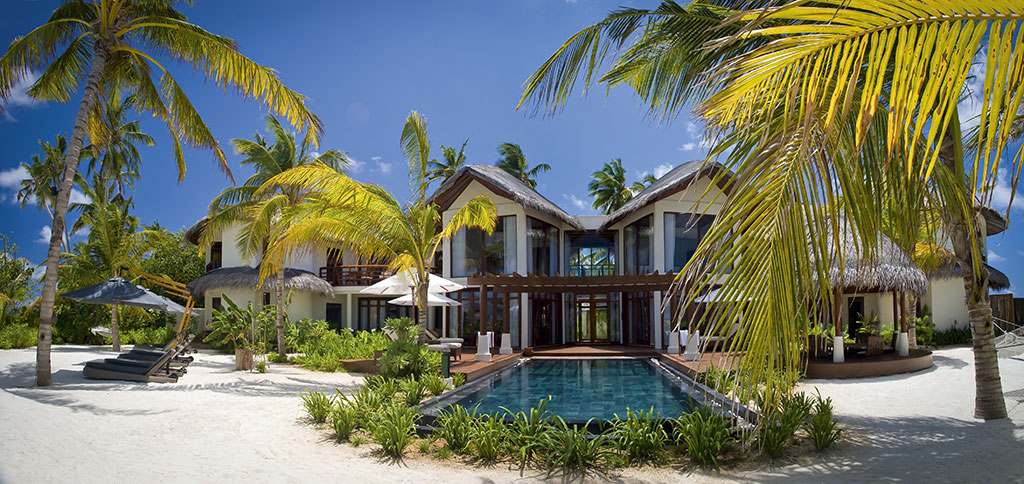 No matter which villa you'll choose, it will be a wonderful holiday!
Dining 
Breakfast at Halaveli is excellent. It is served in the main buffet restaurant and has an excellent selection of fresh fruit, yogurts, salads, nuts as well as all the usual hot dishes you'd expect in a 5 star hotel. Freshly squeezed juice is served on request as well as any other fancy fruit that might not be on the buffet.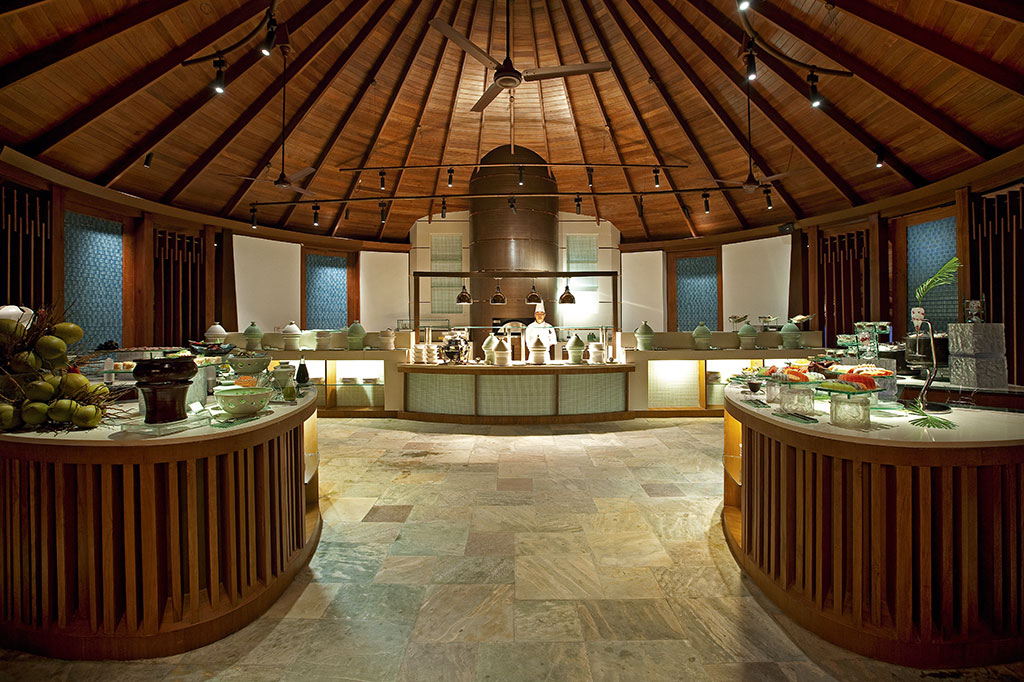 For dinner there are 3 options – main buffet restaurant that offers themed nights on most evenings – Indian, Maldivian, Italian and others. And 2 gourmet restaurants – overwater Jing (modern Asian) and beach grill – Meeru. Jing is a romantic, quiet restaurant with an excellent wine cellar and the best lobster ever. Highly recommended!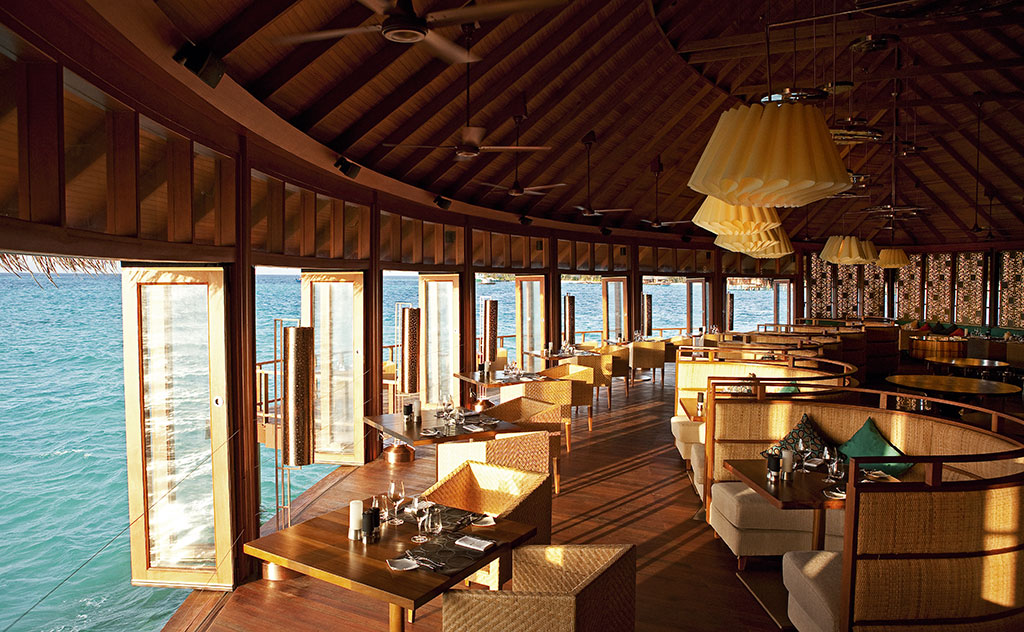 When it is warm and not windy Meeru organises beautiful beachside BBQs – they are unique and romantic, a dining experience under the stars.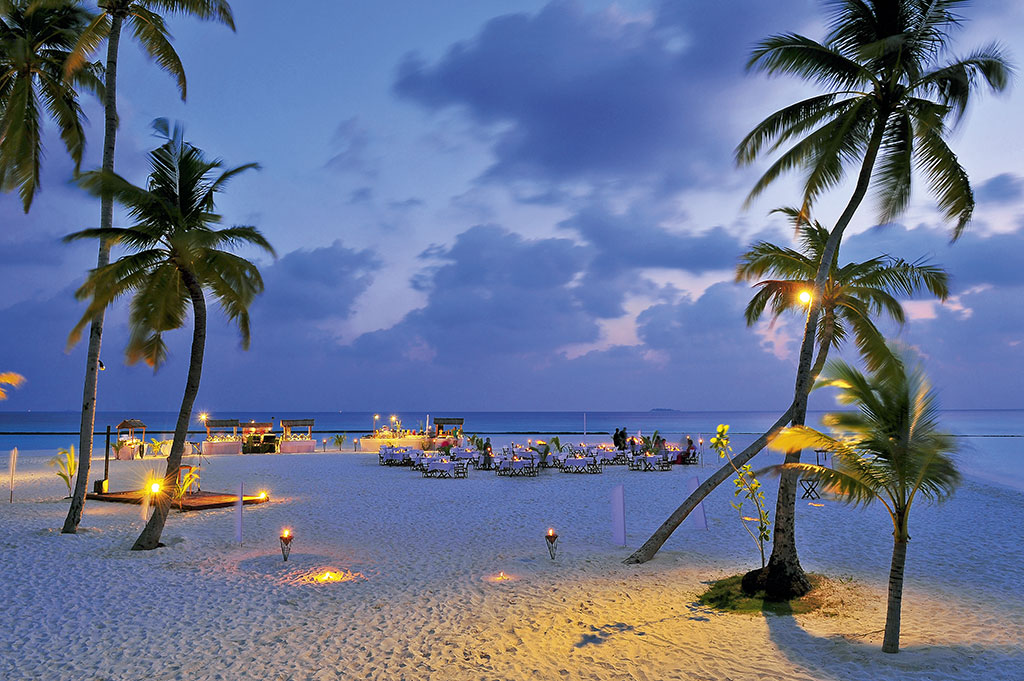 The service is excellent is all restaurants – very attentive and prompt. Kids are treated with great love and care – we always felt looked after and welcome.
Facilities
Halaveli caters for both – guests who want to do absolutely nothing and for guests who love a lot of action. We seemed to be the later ones during our stay and here is how we occupied ourselves:
9am  – Private Yoga lesson at the overwater Yoga pavilion run by a very professional yoga master from India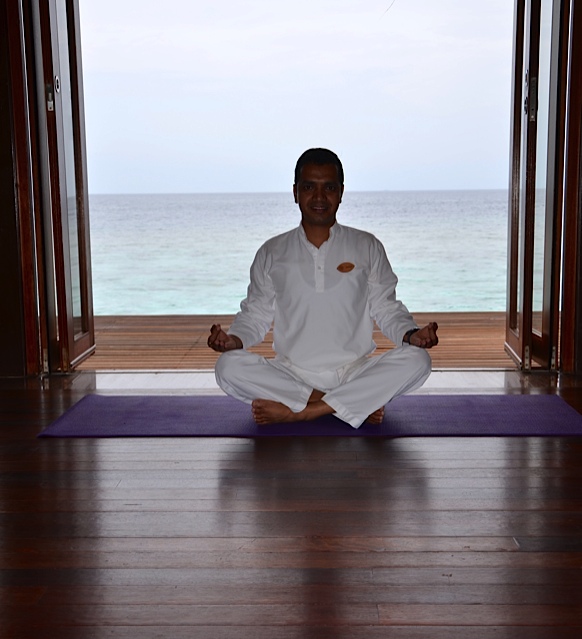 10am – Breakfast with the kids
12pm – Waterski lessons for the whole family or a snorkelling safari
We did a Turtle safari and it was THE BEST snorkeling we have ever had. Sea life at Ari Atoll is amazing – we swam with huge turtles & had a chance to pat them. Another 'once in a lifetime' experience. We also saw a lot of beautiful coral and fish but turtles were certainly a highlight.
5pm – Dolphin cruise / Spa treatment
7.30pm – Themed dinner
Other activities to enjoy are private tennis lessons, diving trips, complimentary non-motorised motor sports, fishing.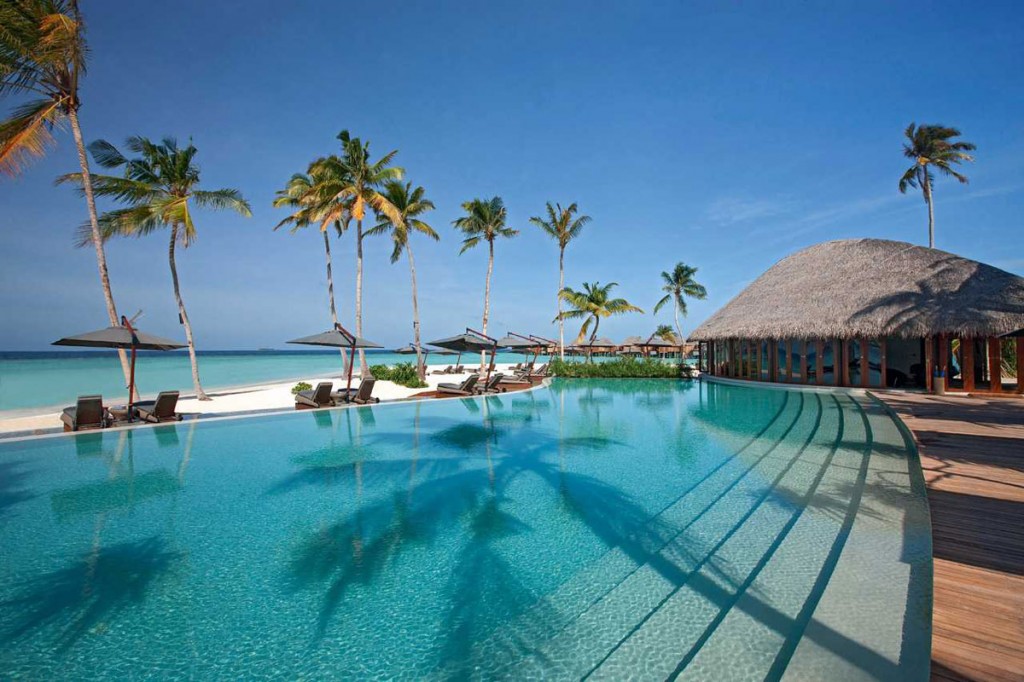 Halaveli Spa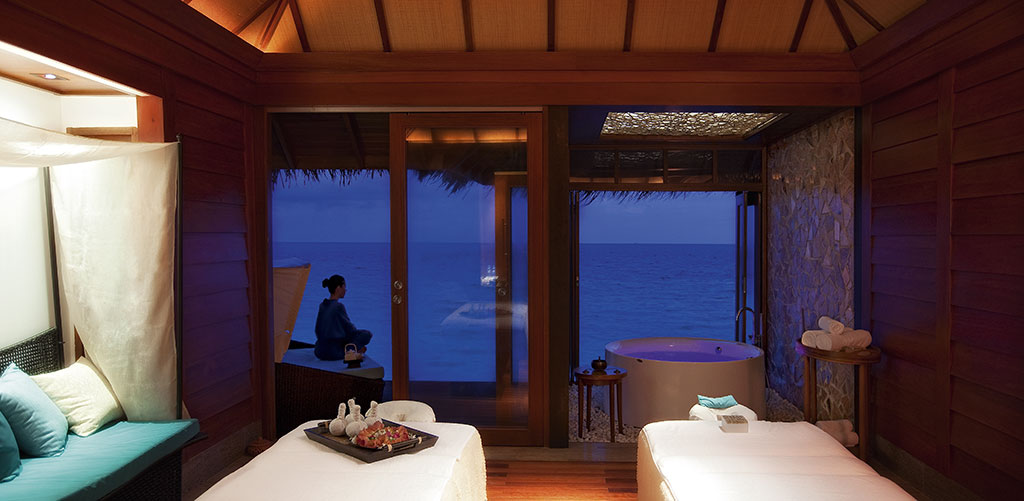 Halaveli is a true wellness retreat.  This tiny island in the Indian Ocean will heal your body, mind and soul, replenish your positive energy and restore your inner peace.
The spa has a strong focus on inner health and wellness. It offers a full range of ancient healing like meditation, yoga, reiki , Ayurveda as well as modern treatments like massages, facials, body scrubs and wraps. Of course there is a strong focus on couples' treatments too.
Spa is located in a series of overwater bungalows, magical setting. You and your partner can relax in a complete privacy in a rose scented bath followed by  a massage for two. The relaxation suite is set up in a separate pavilion with wet edge hot & cold pools, sauna and steam rooms and of course huge day beds with unbeatable views of the turquoise water splashing gently below you. A spa experience to remember and cherish. All couples treatments are designed to bring you and our loved one closer together.
Kids Club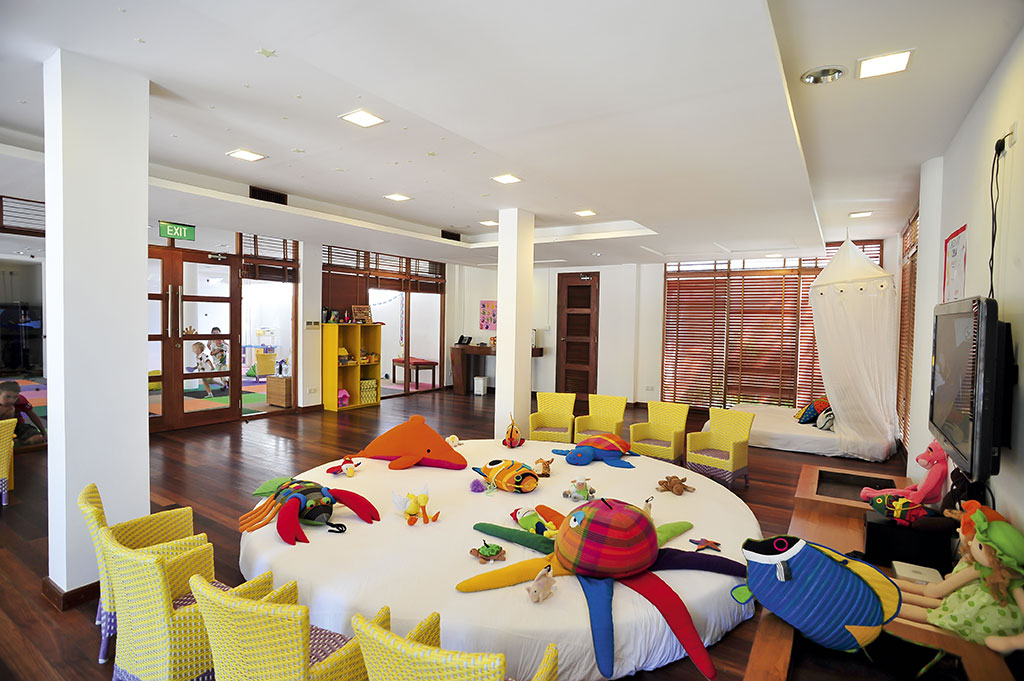 Last, but not least. Our 2 little kids, 9 and 3yo, couldn't wait to rush off to the kids club every morning. The staff in the kids club is beautifully accommodating and very engaging. There were not many other children on the island during our stay but the staff entertained both of our kids with age appropriate activities. 9yo loved art & craft, while 3yo preferred more active games like building sand castles and catching crabs.
Kids club is a great addition to an already child friendly resort.
The Lux Traveller Loves:
Private pools in all villas – absolute luxury in the Maldives
Modern & luxurious design of the villas – no expense spared
Kids loved the bunk beds in the family villa – unexpected surprise
The best service ever throughout the resort, starting from a very hospitable and professional GM, Dominik, to all staff in the spa, restaurants, kids club & housekeeping.
Strong wellness focus of the resort
Unique resort residents – sharks & sting rays! 5 gorgeous sting rays come to the beach to play on most nights. They are beautiful and very friendly – one of them has let us pat him a few times – another super special Maldivian experience.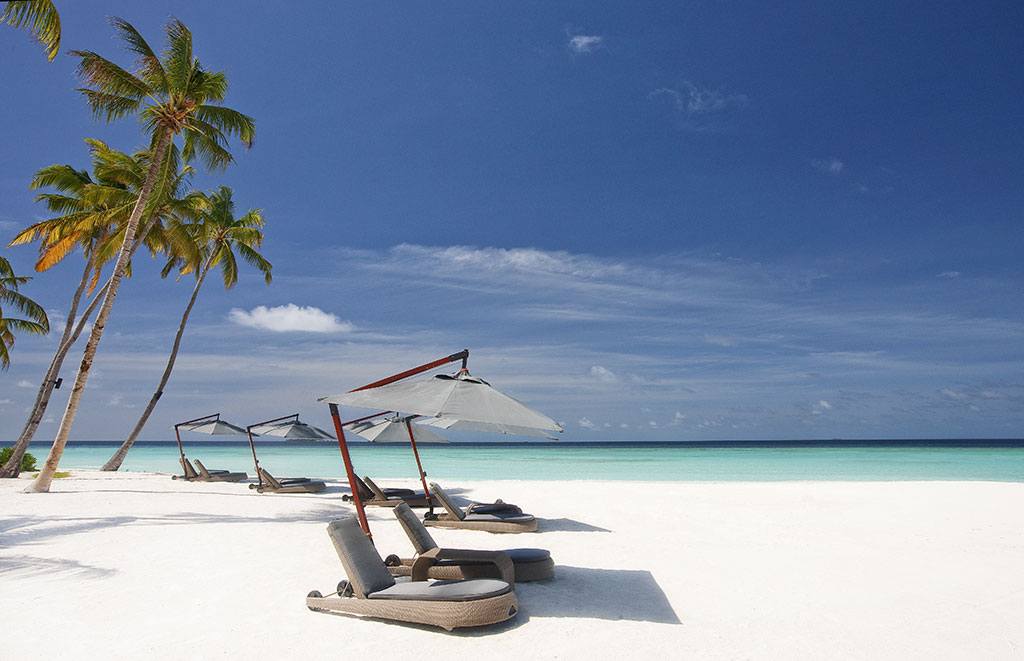 Splitting Hairs:
Halaveli is absolutely perfect and deserves its 6 star rating. Halaveli's GM, Dominik, is doing an excellent job and we can't recommend this resort highly enough.
The only small suggestion we could make is that selection of wines by the glass is a little limited and could benefit from a change.
The Lux Traveller recommends this resort for romantic getaways, honeymoon trips, family holidays and weddings.
To book go to: http://halaveli.constancehotels.com