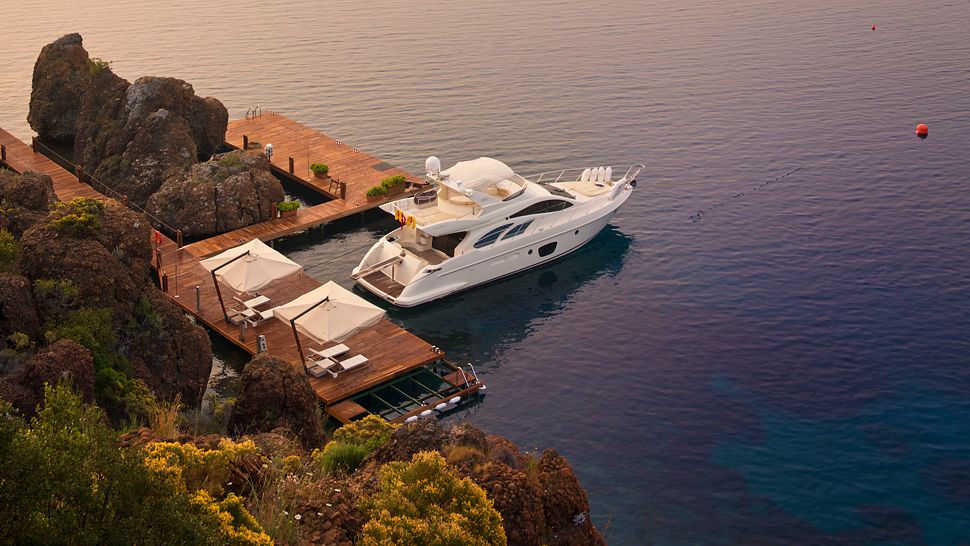 the lux score
99
the lux score explained
Service 10
Rooms 9
Food & Beverage 10
Ambience 10
Attention to Detail 10
Generosity & Value 10
Wow / Hip Factor 10
Facilities 10
Location 10
Fit to Promise 10
D-Hotel Maris is a real gem! It is hidden amongst green hills and secluded bays 15 min from Marmaris, Turkey. We weren't sure what D-Hotel was going to be like as their website doesn't give too much away. We were hoping for a nice sea side weekend and were not at all prepared for what we found! A huge surprise – D-Hotel Maris is an absolutely amazing resort that puts most of the other 5 star resorts in Turkey (possibly in the world) to shame.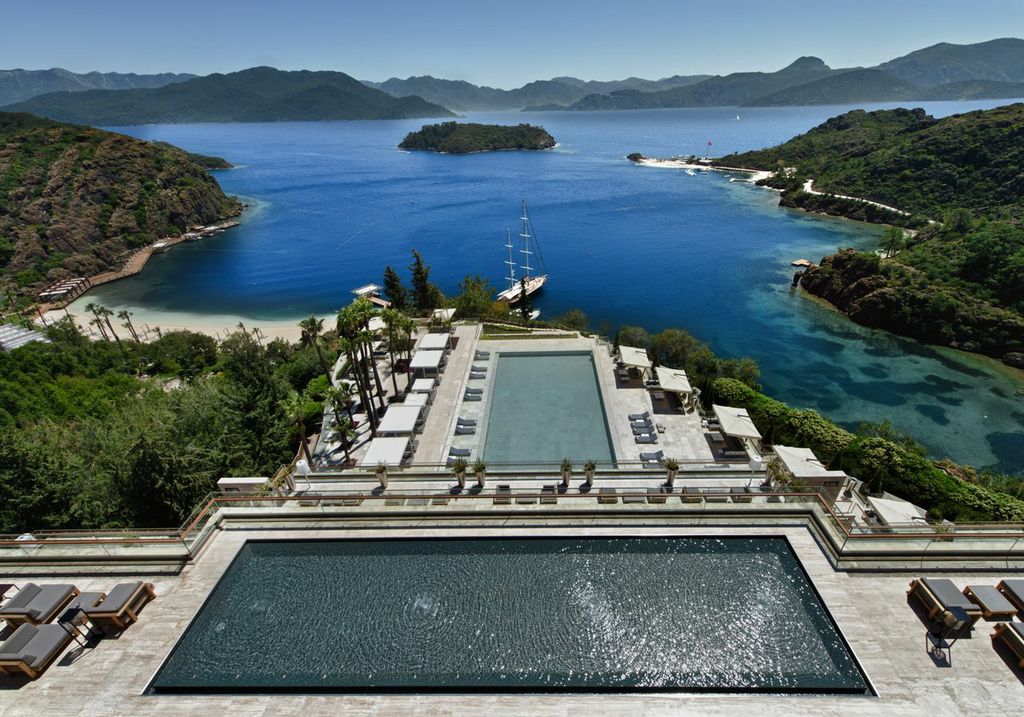 Firstly – The setting. It is beyond heavenly. D-Hotel Maris occupies a huge territory in the national park. Brand new resort with multiple levels showcases a number of pools, bars and restaurants and 5 breathtakingly beautiful beaches.
Once you arrive in D-Hotel Maris you'll never want to leave – the resort has everything you could possibly want on a holiday and more.
Arrival – Was very welcoming! We were greeted by a couple of friendly faces who knew our names. We have arrived by a private car, but if you prefer to arrive in the ultimate style D-Hotel Maris will arrange a transfer for you by a private helicopter! That's one way to make an entrance!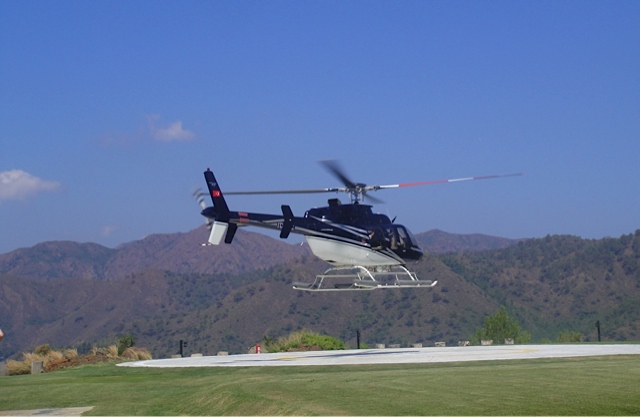 From the second we walked in the hotel we were amazed by the beauty and elegance around us. The lobby is very impressive with floor to ceiling windows that open onto a spectacular bay.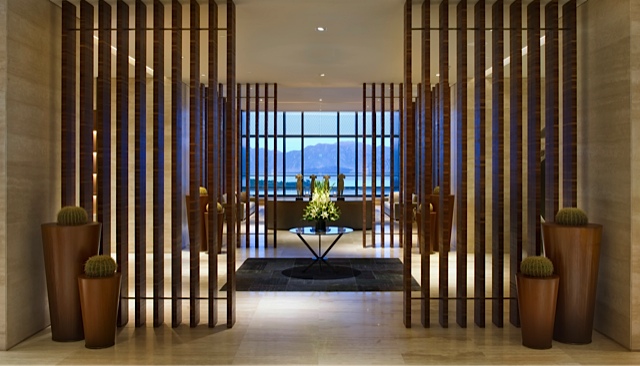 The hotel looks and feels new (full renovations were competed only 2 years ago). During the renovation no expense was spared – you'll be impressed by the stunning finishes, elegant design features, abundance of natural stone and tasteful wood panelling.
D-Hotel Maris is the epitome of luxury and good taste.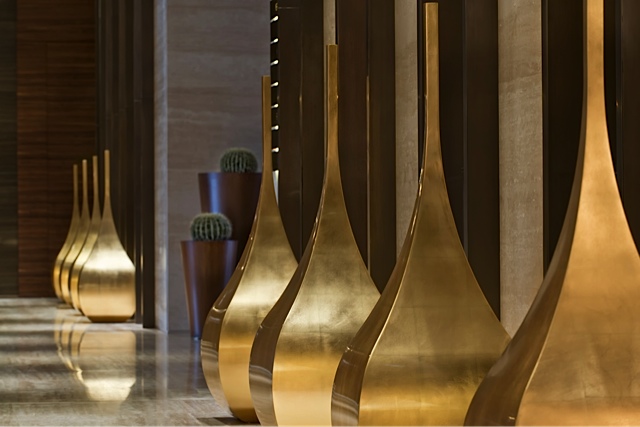 We stayed in a Sea View Suite with the most spectacular views of the sea and nearby beaches.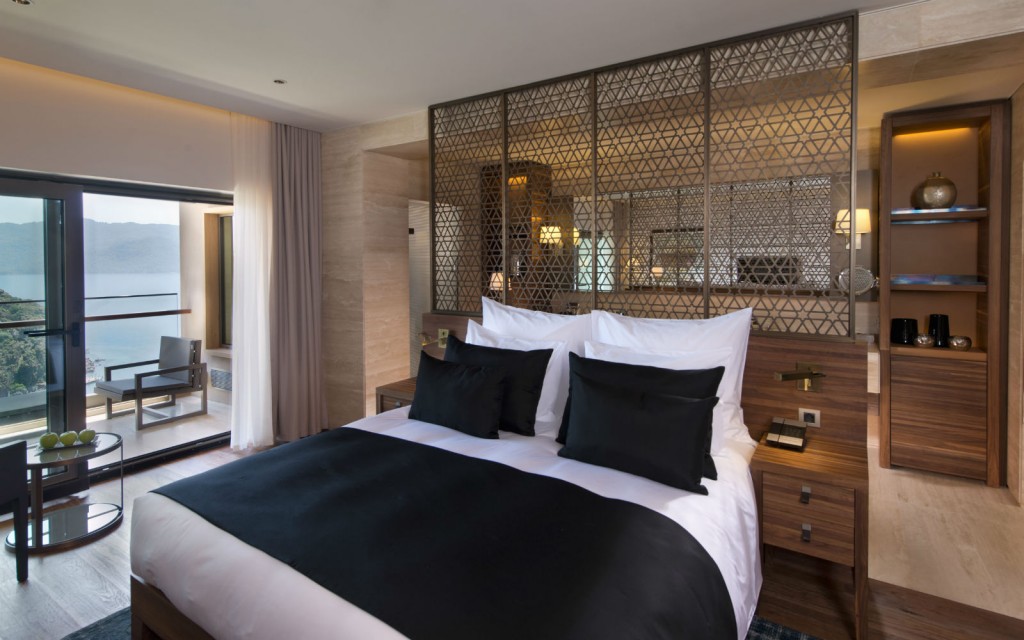 Needless to say the suite is beautiful, probably better suited for a couple who appreciate finer things in life rather than a family. Our daughter's bed took all the free space in the living room, hence making the atmosphere in the suite a little less luxurious.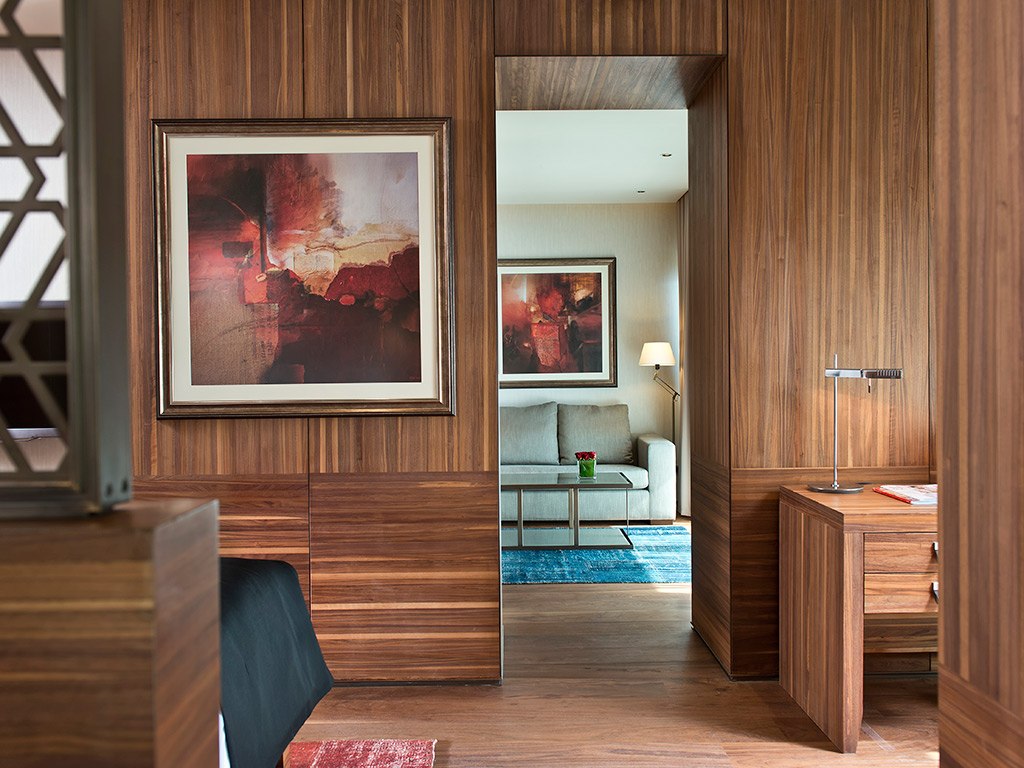 The sofa was too small for an 8yo to sleep on so I would suggest 2 rooms rather than a suite for a family with kids – you'll have more room, 2 bathrooms and more privacy.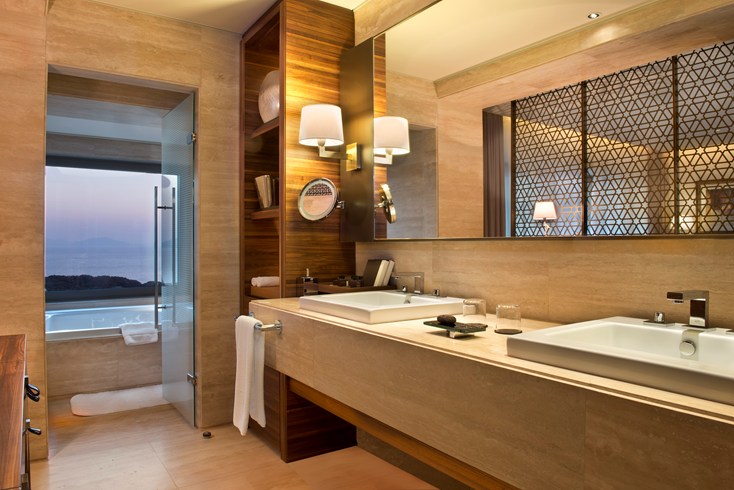 A special touch in the suites – a beautiful big bath in its own alcove with a view. Peaceful and romantic!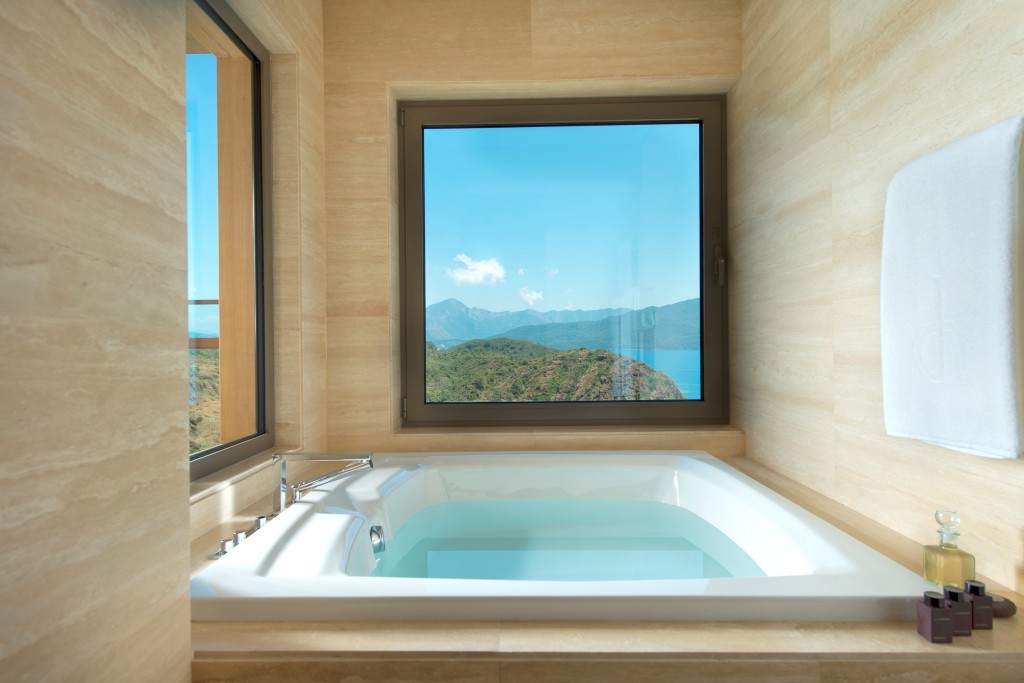 Of course having a beautiful suite is always nice but you probably didn't come all the way to Marmaris just for that. So let's explore the great outdoors.
D-Hotel has 5 amazing beaches, each one better than the other. Resort has imported 250,000 tons of  white sand from Egypt to make their beaches look picture perfect – and they do. They look just as beautiful as any beach you'll find in the Maldives (often considered the best in the world).
The sea is crystal clear, turquoise in colour. The beaches are all themed. Just to mention a few:
Silence beach is the most picturesque and my personal favourite – stylish white cabanas and total silence – only books, sun, gentle waves and your loved one in the cabana next to you – Heaven!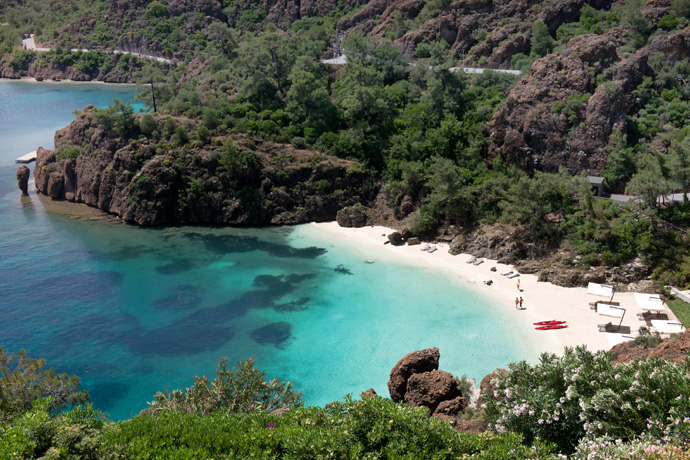 Executive beach (only for suite guests) – has private cabanas with funky music & Jacuzzi tubs – very posh.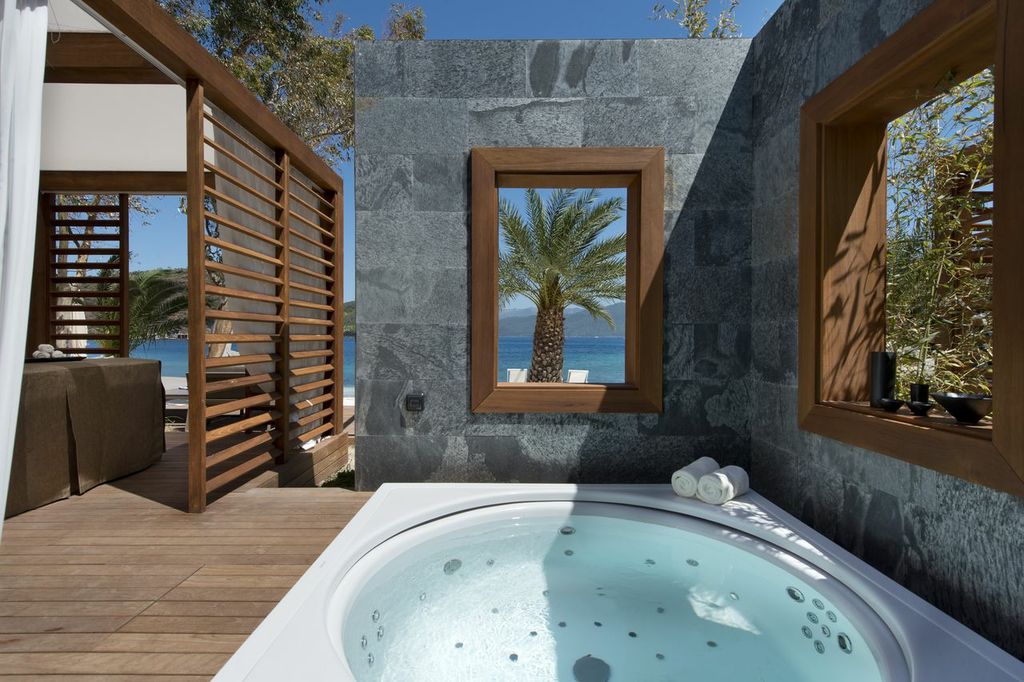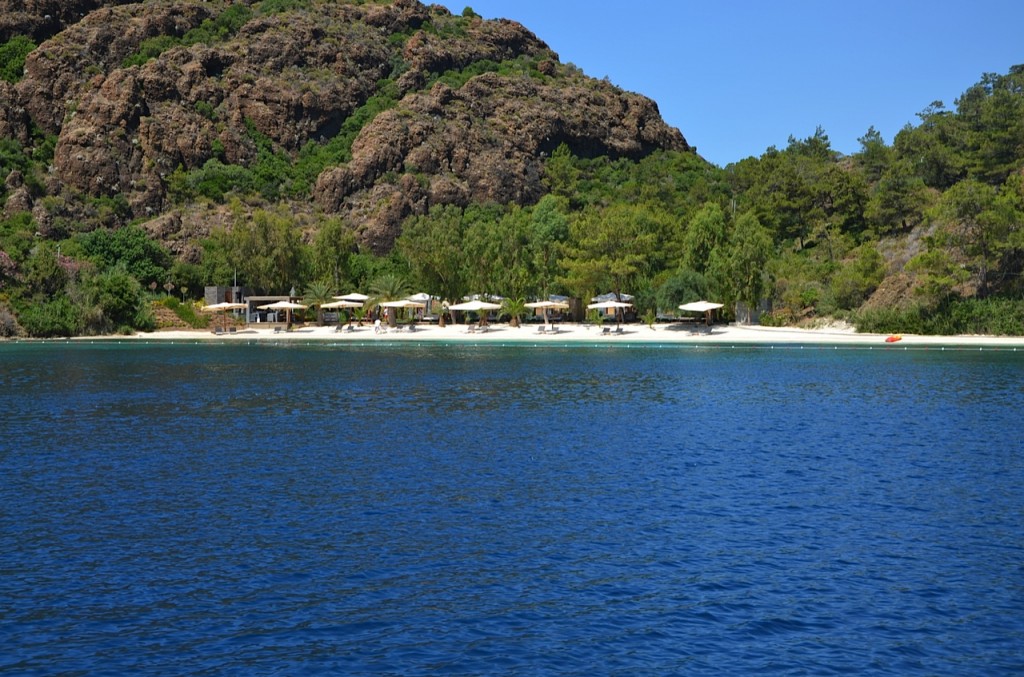 Coliseum beach is designed in a shape of a Colosseum and you can choose to chill on the white sand facing the hotel or on the deck cabana with the uninterrupted view of the sea.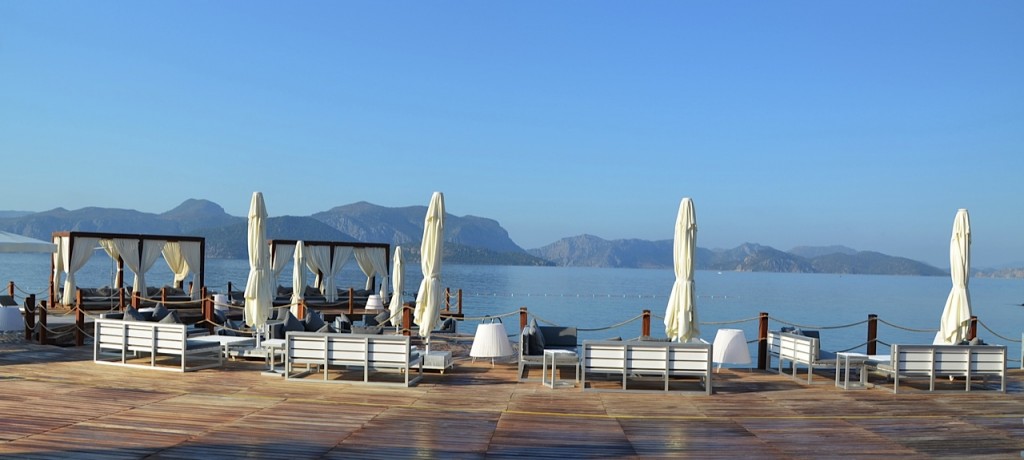 At night this beach turns into a beach bar and disco.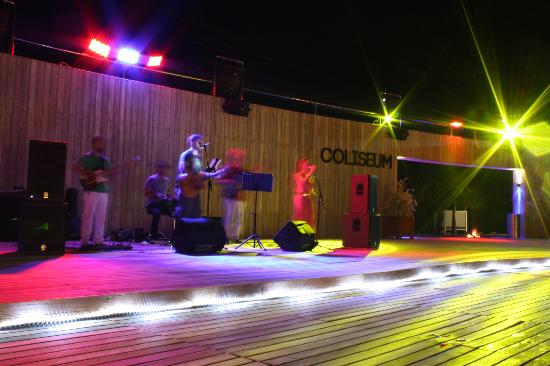 Main Family beach has the largest swimming area and is the most lively. It is next to all the restaurants so it makes it the most popular. We hardly saw anyone else at the other beaches while family beach was always busy.
Must mention – D-Hotel welcomes children of ages 8 and over. Unfortunately no babies are allowed so please keep it mind when planning a vacation.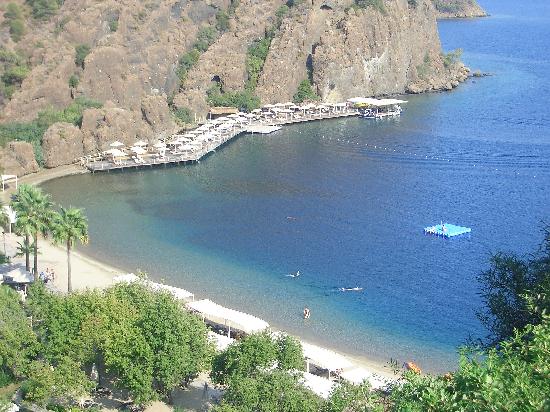 The jewels in the hotel's crown are 3 stunning luxury boats. They can be hired for a day trip (which is what we did), overnight or even for a week. Captain would be delighted to design a customised itinerary for you.
We spent the day on a Sunseeker 48 and felt very special to be cruising the bay in style – swimming at secluded beaches, indulging on fresh fruit and champagne on the boat's comfortable deck.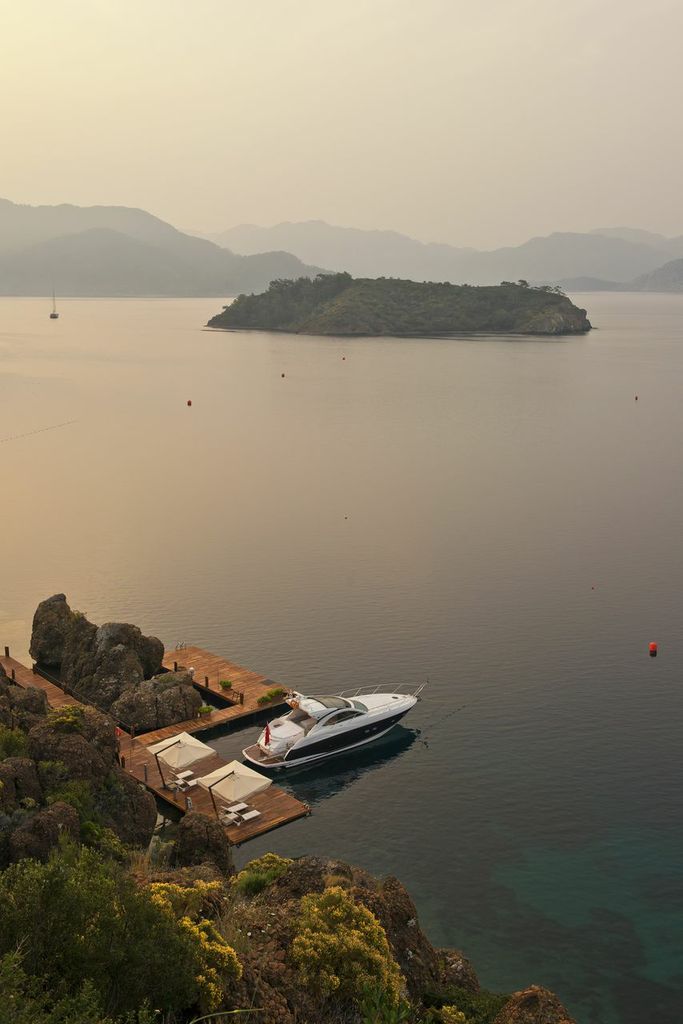 Highly recommended for a family day of fun or for a romantic treat with your loved one. Sunseeker 48 has 2 bedrooms.  Master bedroom is very comfortable with large windows just above the water level – anyone for a snooze?
We were also very privileged to tour the hotel's Gulet 'Pasa', a 100 ft luxury sailing yacht. In fact, this Gulet is more like a house on the water.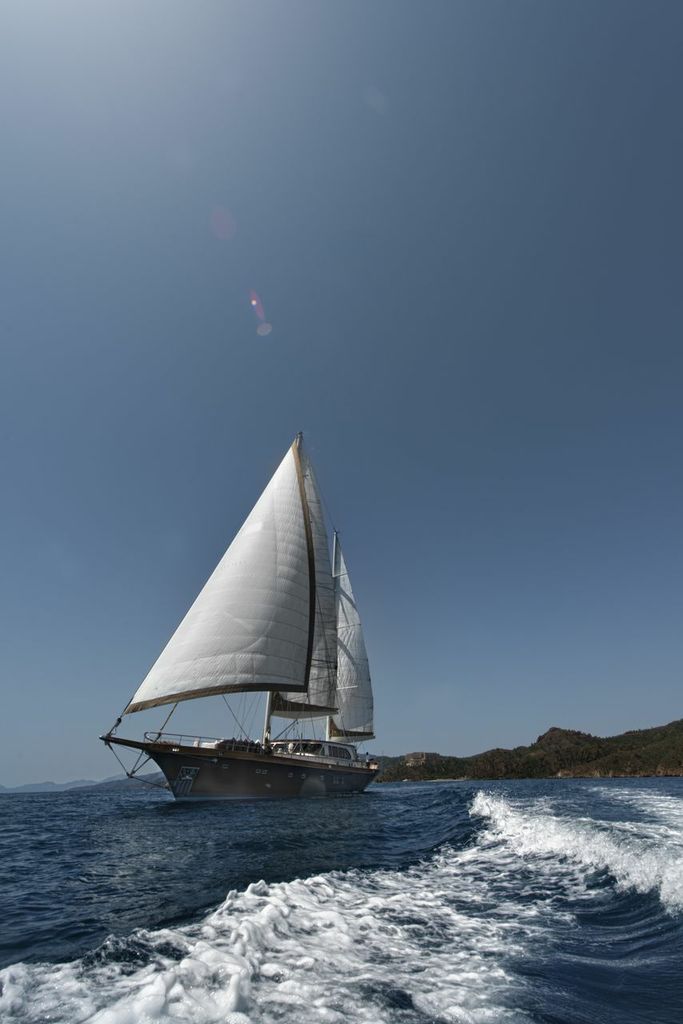 It has 4 huge bedrooms with on-suites, all so tasteful, you feel like you are in a luxury home not on the boat – this divine yacht is a real home away from home.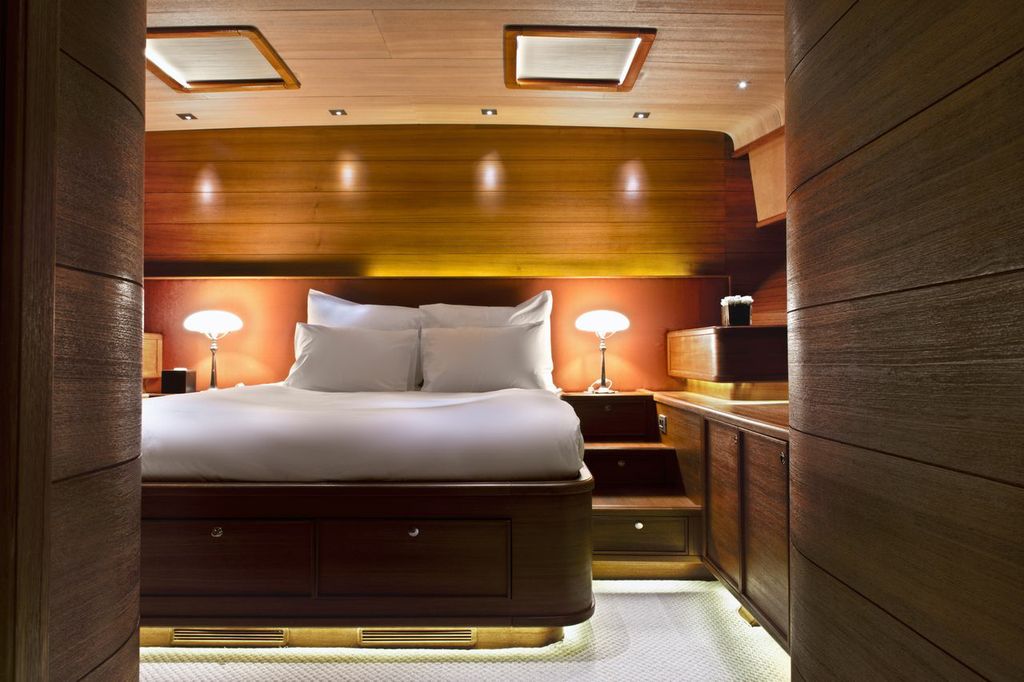 The Spa – Like everything in the hotel, the spa is not an afterthought  – it has been purposefully designed with a lot of thought and good taste.
When I visit spas around the world I always try to choose local specialty treatments to get a little inside into the local traditions. The helpful lady at reception has suggested a sea salt scrub followed by the hot sea shell massage. This treatment is offered only by Espa Turkey and is a must try for anyone who appreciates body treatments.
It is a 2 hour journey, that left me utterly relaxed and my skin feeling as smooth as a baby.
Espa in D-Hotel also offers hammam, a traditional Turkish bath – a unique treatment and another must try for any visitor to Turkey.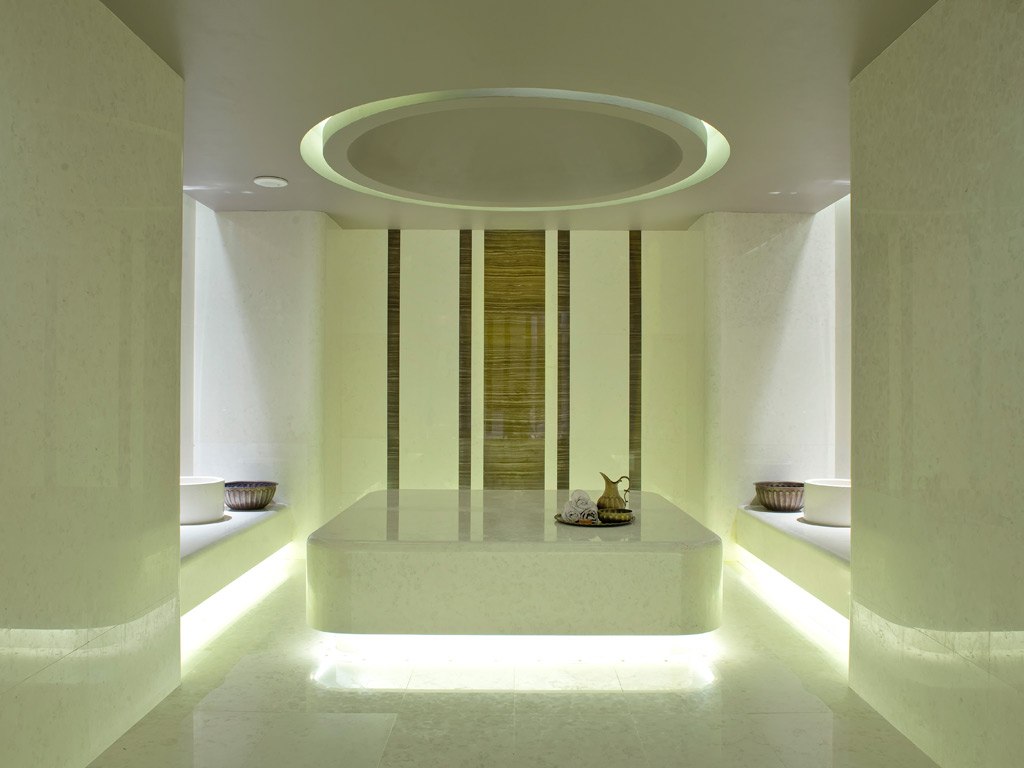 It is THE most relaxing treatment and a must for anyone stressed. I recommend doing hammam at night, just before bed – you'll sleep like a baby.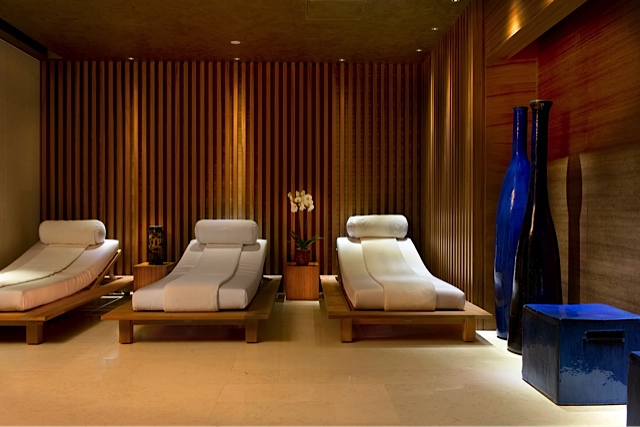 The Gym is huge with brand new equipment. I had an excellent work out. The gym is spacious and as a bonus has great views.
Activities – Are the best part of the resort. If you love active vacations there is always something to do at D-Hotel Maris. Choose from waterskiing or wake-boarding, canoeing over to the rabbit island to feed the rabbits, playing tennis, watching the sunset with a glass of champagne, scuba diving, boating, relaxing in the spa or at the beach with a good book. The choice is yours.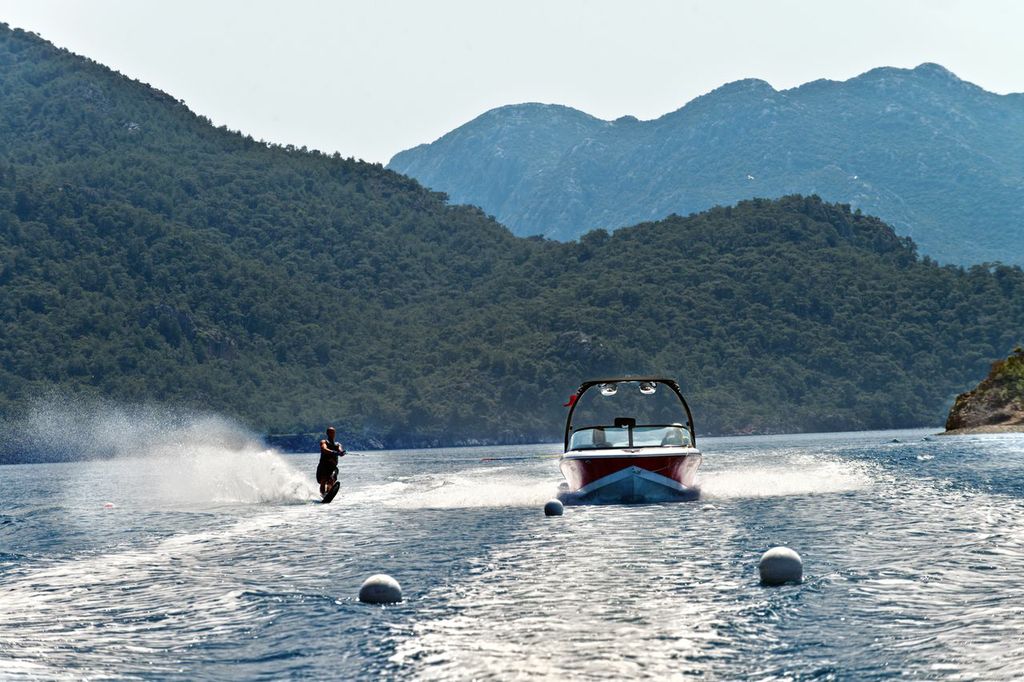 No matter young or old – you'll find something to do here for your heart and for your body.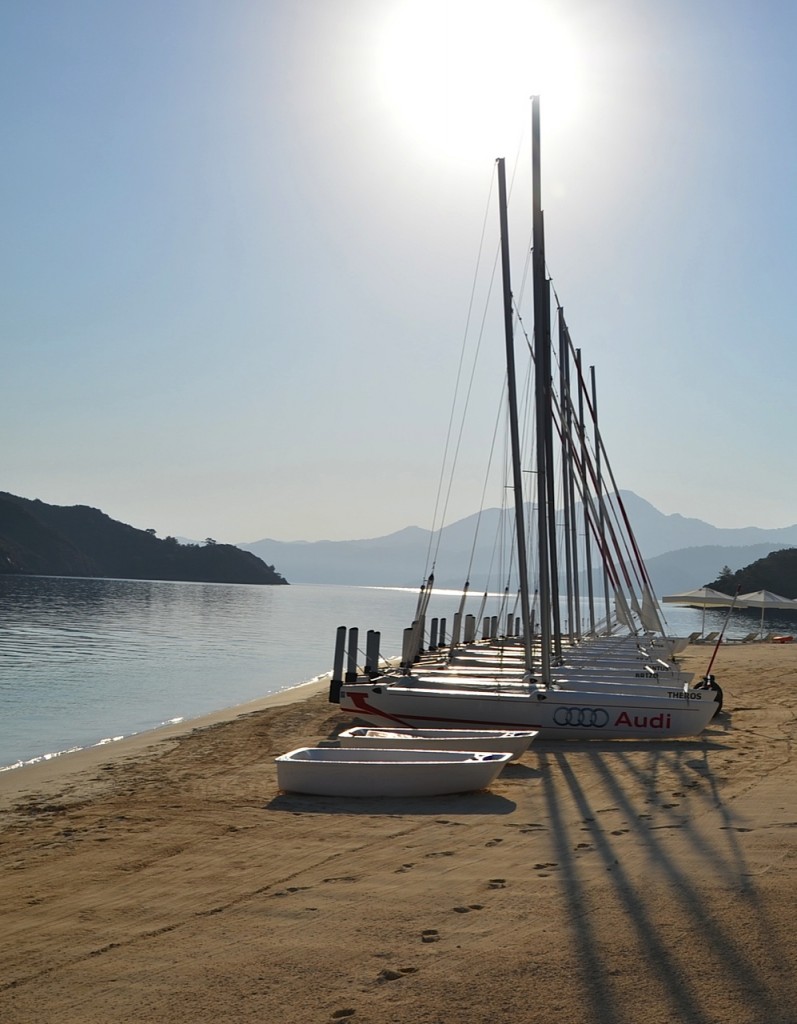 Dining at D-Hotel
Every morning we were looking forward to breakfast, served on a 3d floor terrace overlooking the bay and the Aegean.  It has the freshest of everything – huge ripe cherries, strawberries, and my personal favourite – freshly made gozleme with either cheese and spinach or meat. An old Turkish lady makes them right in front of you and once you tasted a little you'd keep coming back for more.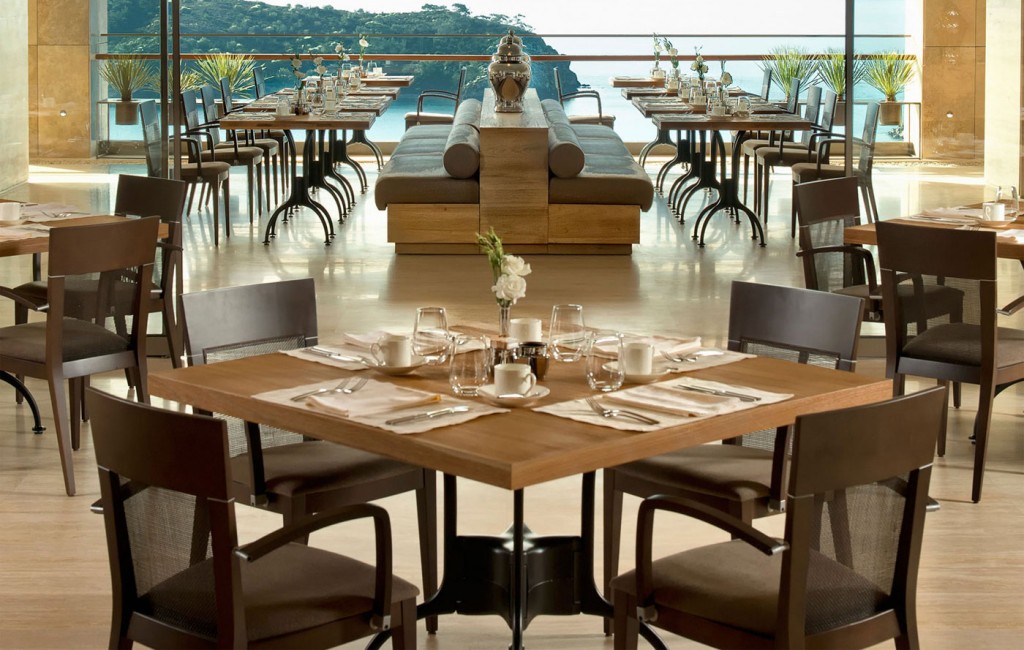 Dinner Restaurants – there are 5 to choose from. It doesn't matter which one you choose, you'll have a wonderful meal in a magic setting. We tried Marco's cuisine in Italian Bellariva and fresh seafood at Breeze. Both meals were wonderful and the one in Breeze has an especially lovely setting, right on the beach with candle light and your toes in the sand.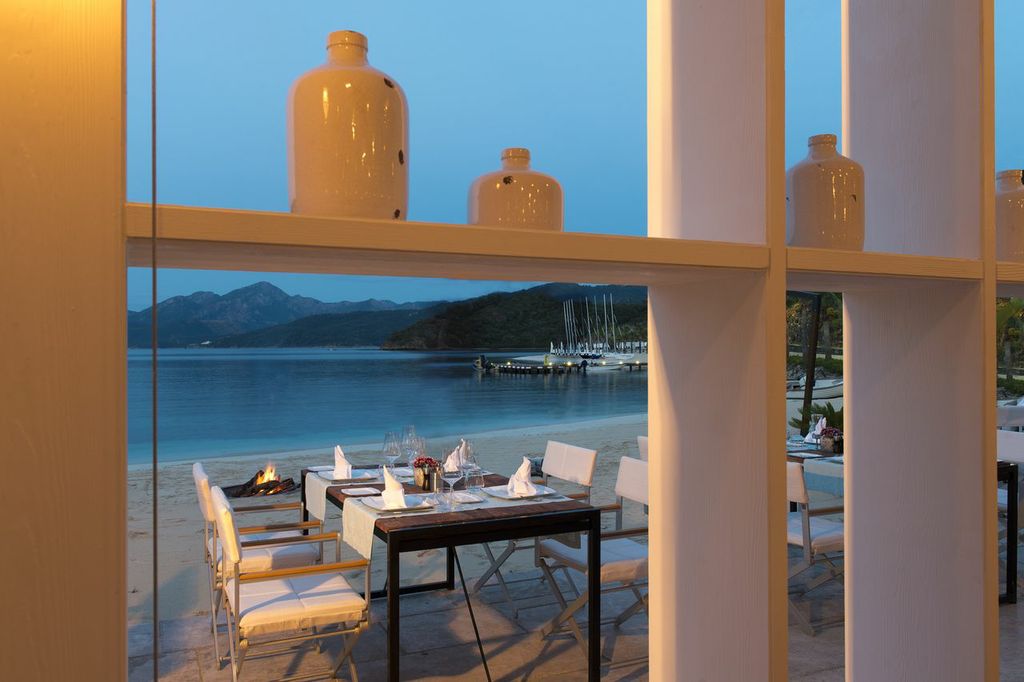 Famous Zuma (yes, the same one as in London, Bangkok, Dubai & Miami) has opened a pop up restaurant at D-Hotel, so if you are in the mood for contemporary Japanese try it out. We didn't get a chance to experience it but it seemed like fun & very child friendly.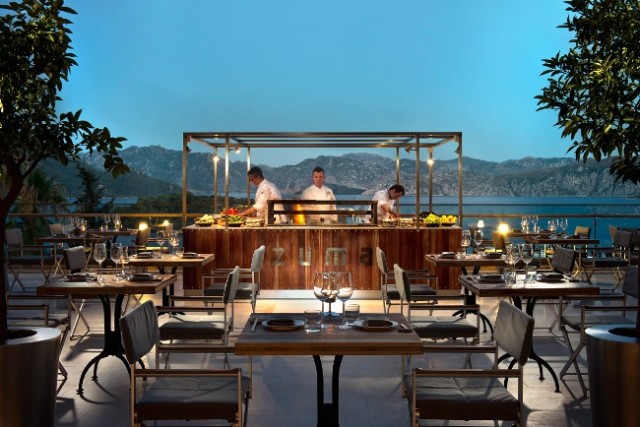 Executive Lounge is another excellent dining venue (included in your stay if you are staying in a suite or pay a lounge supplement). Out of hundreds lounges we have visited this one is THE BEST! The lounge serves breakfast, lunch and dinner, which means that all your meals and drinks are included in the stay.
The lounge serves beautiful Louis Roederer champagne and the best dinner meals I saw in any hotel lounge. There is hardly anyone here too so the magnificent lounge on the 8th floor will feel like your own private dining room.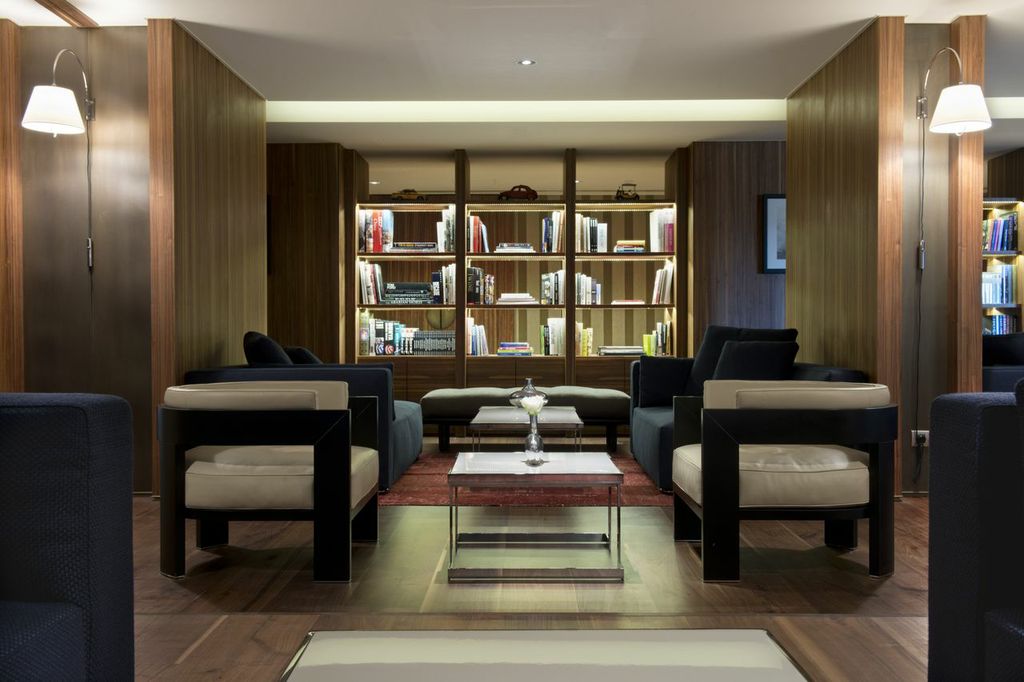 I could write and write about this hotel, after 3 days we were still discovering parts we haven't seen. I think D-Hotel Maris is the best luxury hotel in  Turkey for family holidays. Come and stay at least for a week to enjoy everything this exclusive retreat has to offer.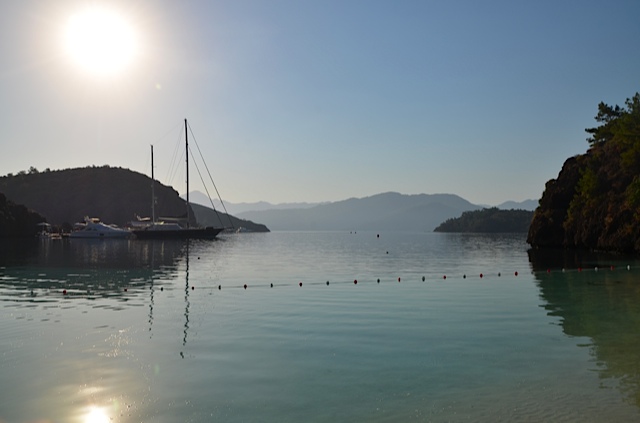 When we checked in, we received a little hand written note that said 'we hope to exceed your expectations' and D-Hotel Maris most certainly has! Come and discover this wonderful hotel on the Turkish Riviera for yourself. But be warned – it could become your favourite place on earth!