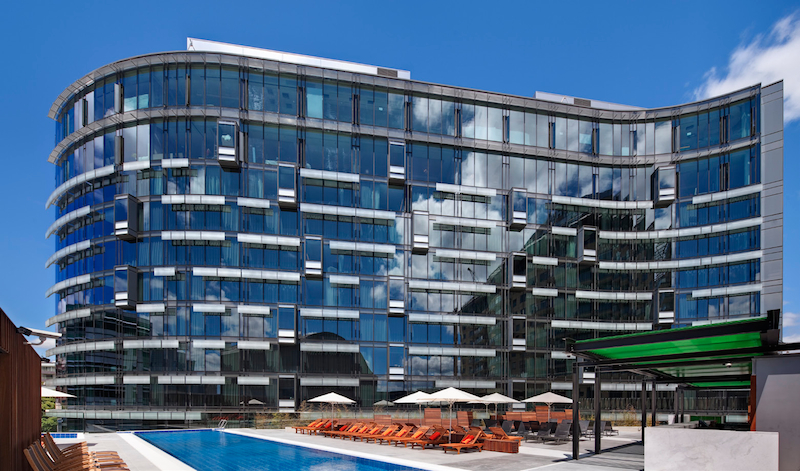 This article is about Sydney's newest hotel -The Darling. It is a new kid on the block and it is already making a lot of noise in town. The suites in the Darling are amongst the most glamorous in Sydney, so if you are into 'Suite Dreams' don't miss this review.
The Darling boasts the largest and the most luxurious suites in town, a number of top end, fine dining establishments and an excellent spa  – what a winning combination.
The Darling is a part of the Star casino complex and even though all buildings interconnect you don't have to be a part of the casino if you don't want to. We stayed at the Darling as a family with 2 young children and didn't even notice the casino on our right. To us, it felt like a stay in an uber luxurious apartment  – a pleasant escape from every day routine for the whole family.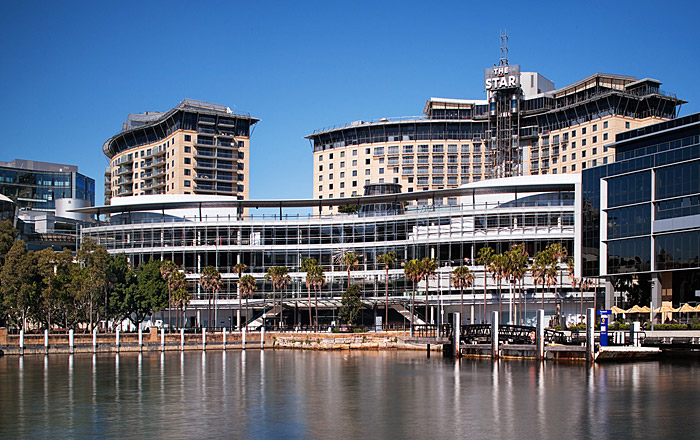 Arrival & Check In: We have arrived in a car and the minute we pulled up a very courteous gentleman at the front has helped us out and took care of the luggage and parking.
Check in was very friendly and took no longer than 2 minutes. Welcoming Jess told us that she is good at her job and that we would be well looked after at the Darling – and we were!
A pleasant surprise – the room keys at The Darling are personalized with your name on them – how sweet! I felt special from that moment onwards.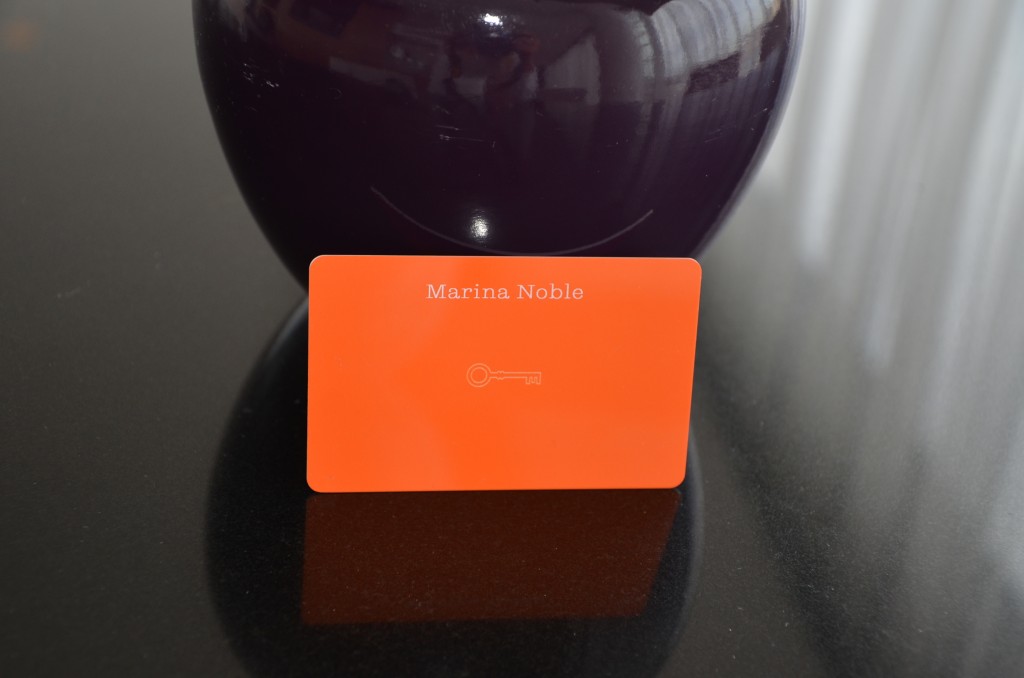 Our suite was sensational!
We stayed in a corner Adored suite, a sensational find in Sydney! The suite has some serious WOW factor, starting from 180 degree views from every window, uber luxurious finishes, the sheer size of it (115 sq m)! Everything in this suite speaks of comfort and luxury.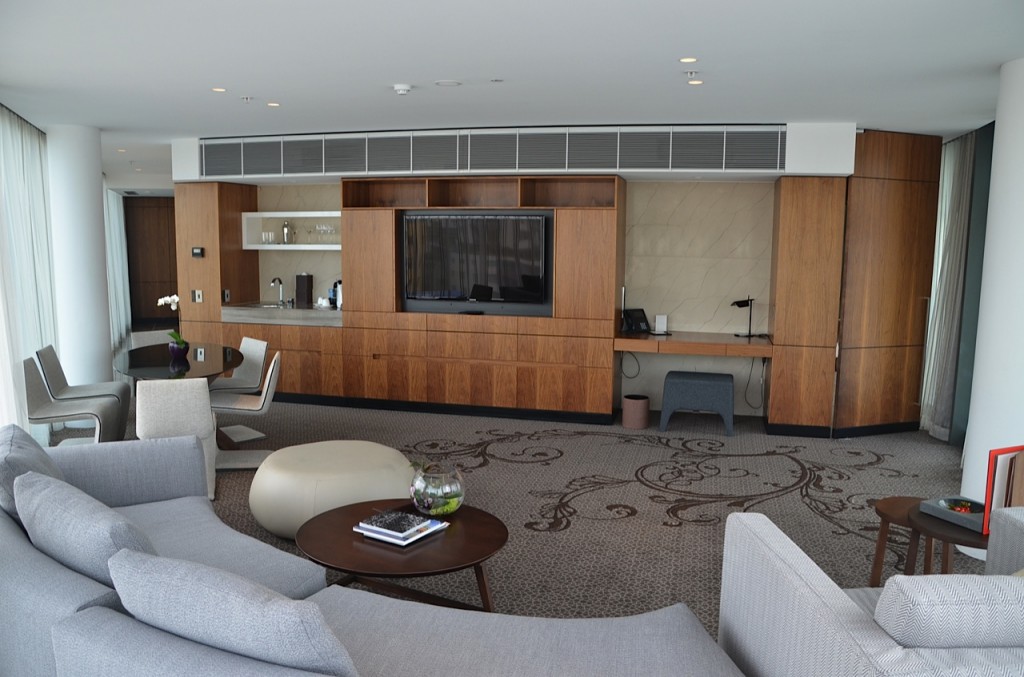 Adored Suite feels like an elegant apartment you could call home on your visit to Sydney. You enter the suite from a stylish wood paneled lobby, that opens onto a spacious elegant living & dining room with breathtaking views of Sydney Harbour.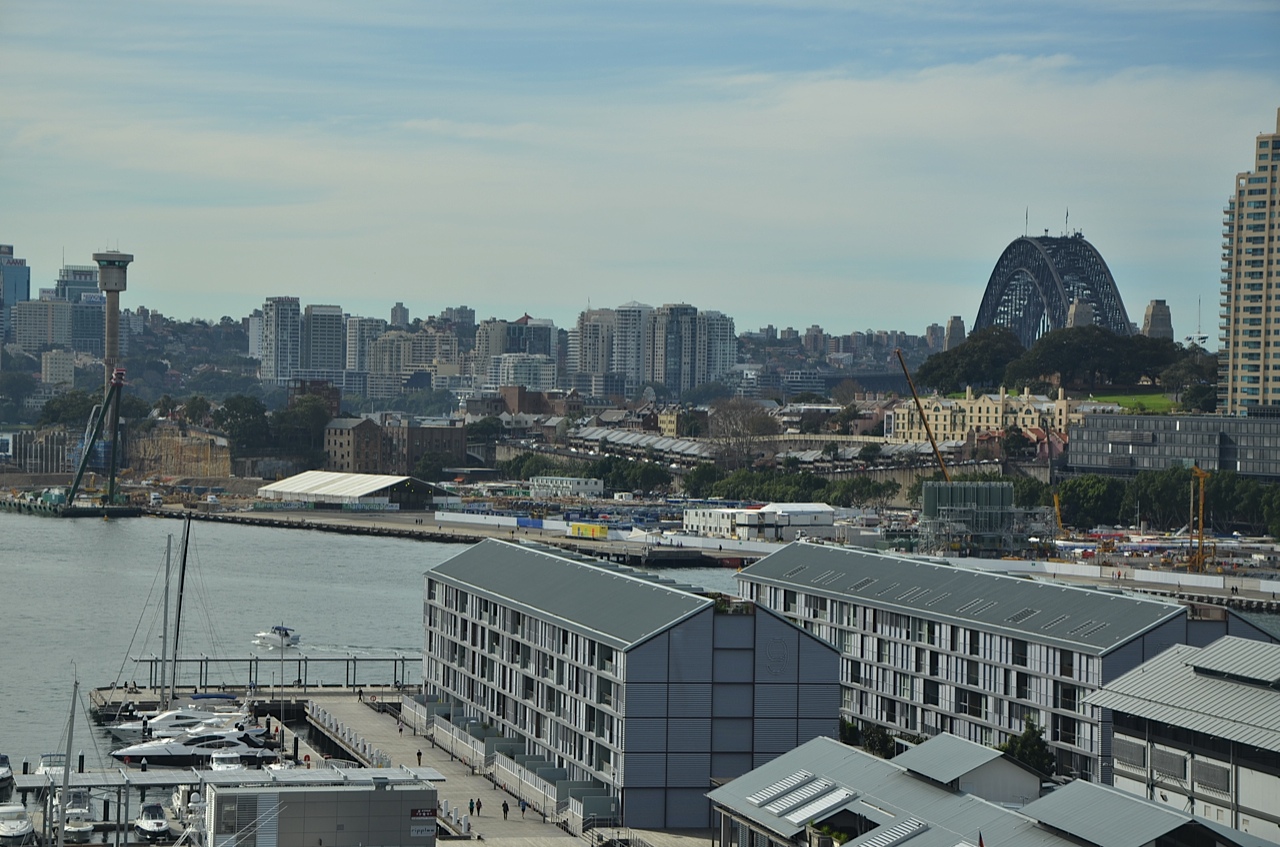 Lux Traveller Loves the suite – all the special touches put together create a very inviting home – sheer curtains, plush sofas, timber paneling, warm tones of the room, huge TVS, dining table for 6 people.
We especially enjoyed gathering around the dining table in the mornings as a family and sharing some beautiful times with each other over breakfast in privacy of our own suite and in such luxurious environment.
More about the WOW factor – once you've seen the living room and the very inviting bedroom you'd think you've seen it all. But wait, a surprise awaits – a huge free standing round bath with floor to ceiling glass windows will blow your mind away! It is an incredibly romantic bath setting with the best view in town.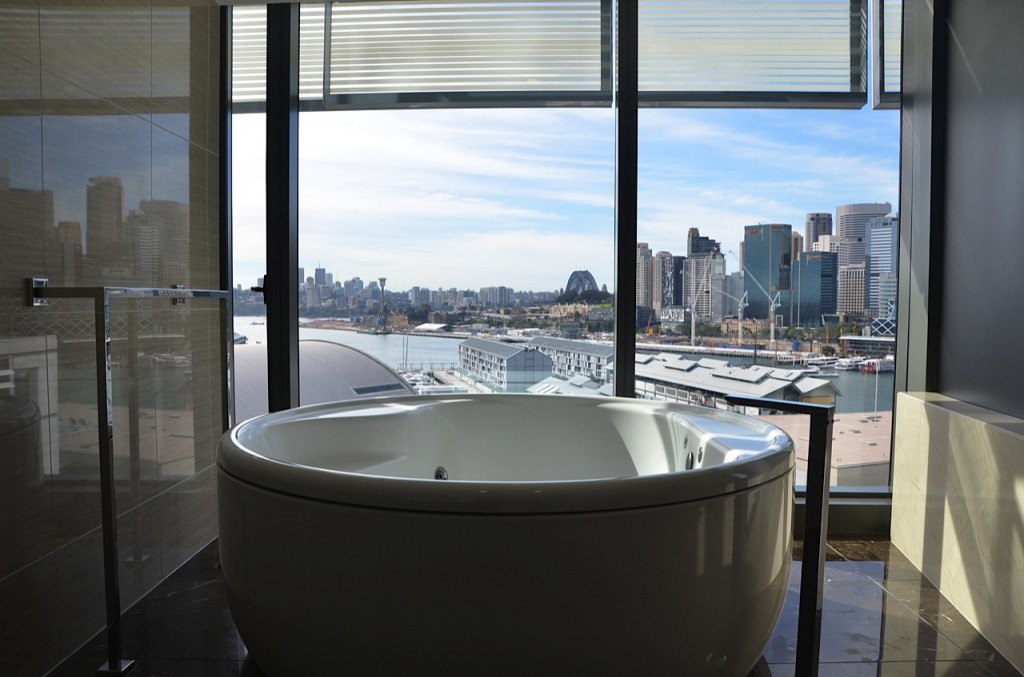 More things we love about the suite at The Darling- separate wardrobe area; even with 2 kids we didn't have any bags out in the open. Molton Brown amenities – they are the nicest smelling hotel shampoos I've tried lately. Little gifts left on the pillows at turn down service – a hand cream or a lip balm, perfect hand bag size treats. High tech everything – the lights, the blinds, all settings are controlled either via TV or via separate wall unit switches, very high tech yet easy to use. Separate marble powder room for the guests with a beautiful hand wash and hand cream set up.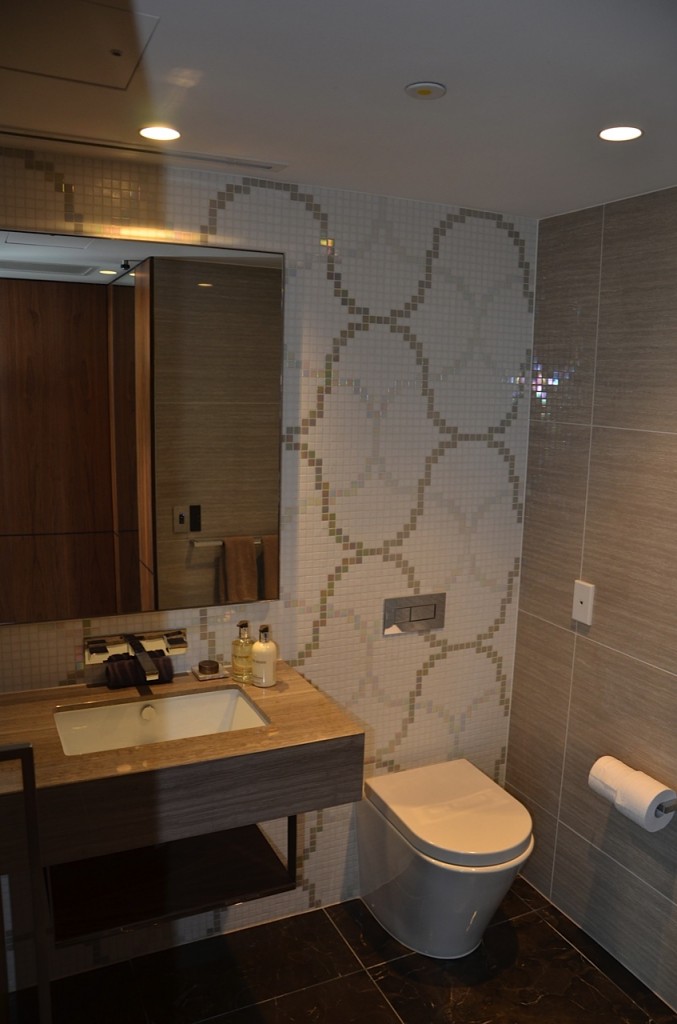 Breakfast is a fabulous affair at The Darling – one of my favourite moments. When breakfast is included in you rate you have an option of having it in the room and we highly recommend it. Sweet dishes weren't great but eggs were excellent – cooked to perfection with Portobello mushrooms, avocado and other yummy additions on the side. The juices are freshly squeezed, the coffee is hot – a perfect start to a busy day!
If you are in The Darling for a romantic break it is a beautiful intimate start to the day and we highly recommend it. Lovely Jess who has checked us in has advised against going to the buffet restaurant (as it is shared with a hotel next door) and probably doesn't feel quite as luxurious as the morning treat we had set up in our suite.
Dining – That is an excellent part about the location – you don't need to travel anywhere to experience fine dining in Sydney. You have a few of the top restaurants at your fingertips. Choose from Sokyo, modern Japanese in The Darling, Momofuku Seyobo- traditional Japanese awarded 3 chefs hats, Black by Ezard for an excellent steak or Balla for traditional Italian dishes.
We had a fabulous dinner at Sokyo (full review is coming shortly) and we can't wait to go back to try more of their delectable Japanese dishes.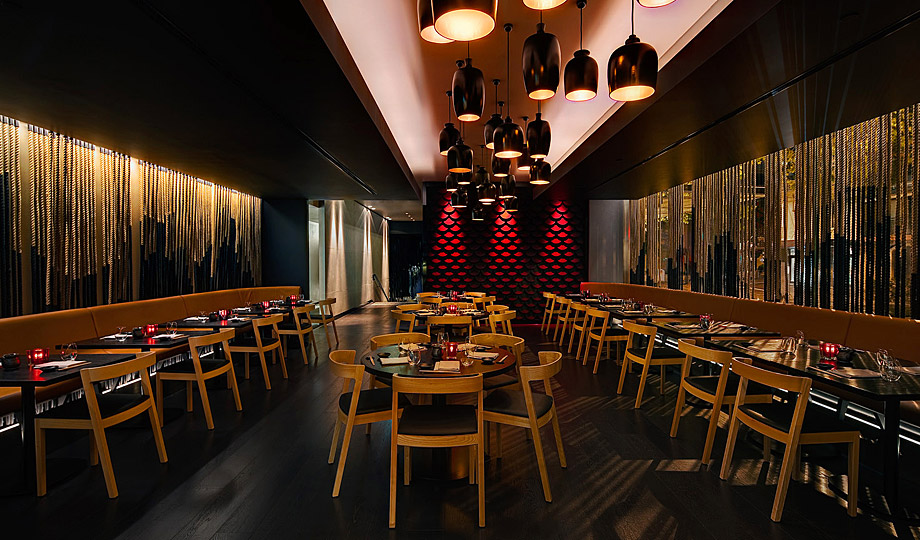 Facilities – Darling has a well reputed spa and an outdoor swimming pool for the warmer months. The spa is offering a traditional Turkish hammam treatment, first in Sydney.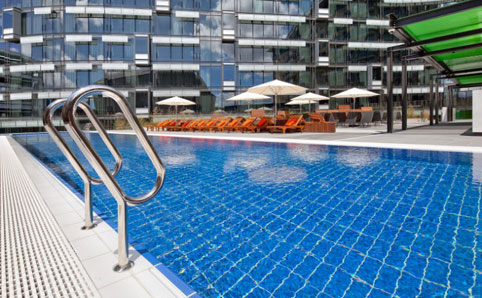 Lux Traveller Loves -
Million things, but here are just a few:
A spa bath with breathtaking views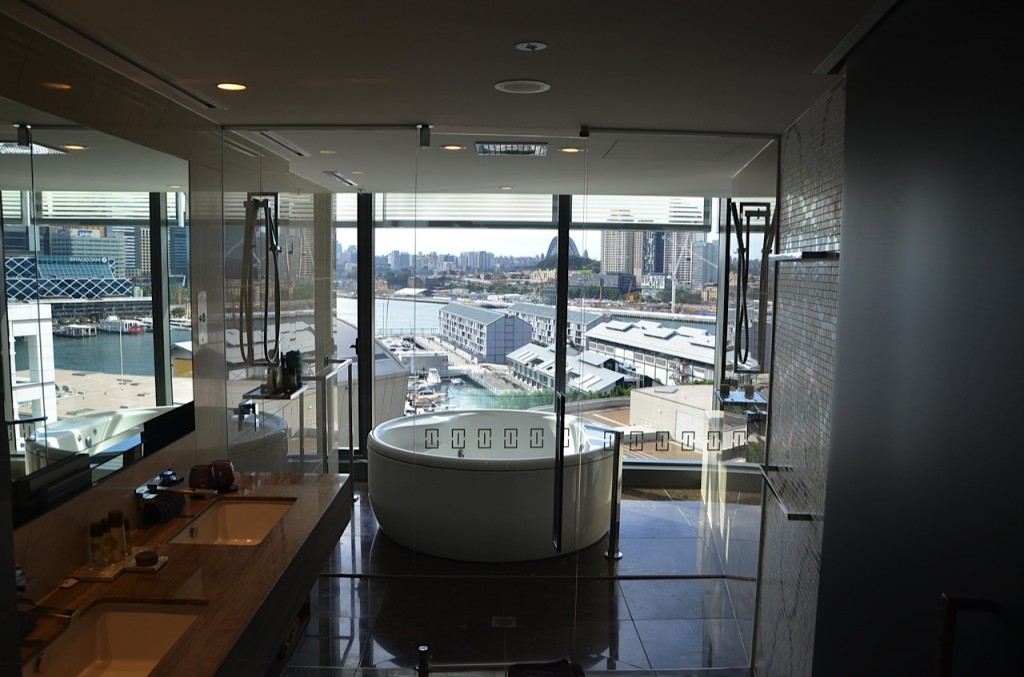 A lot of space, excellent functional design
Designer touches – elegant wall paper, velvet bed cushions with matching sheets, slippers and robes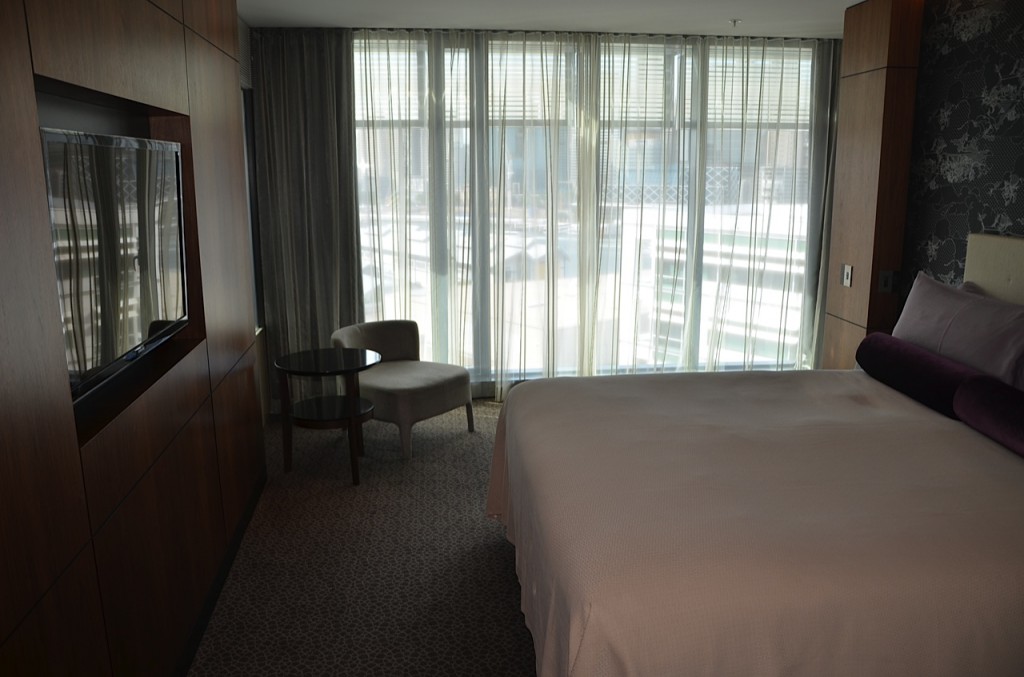 Nespresso machine, Ipod dock, high tech everything
Marble bathrooms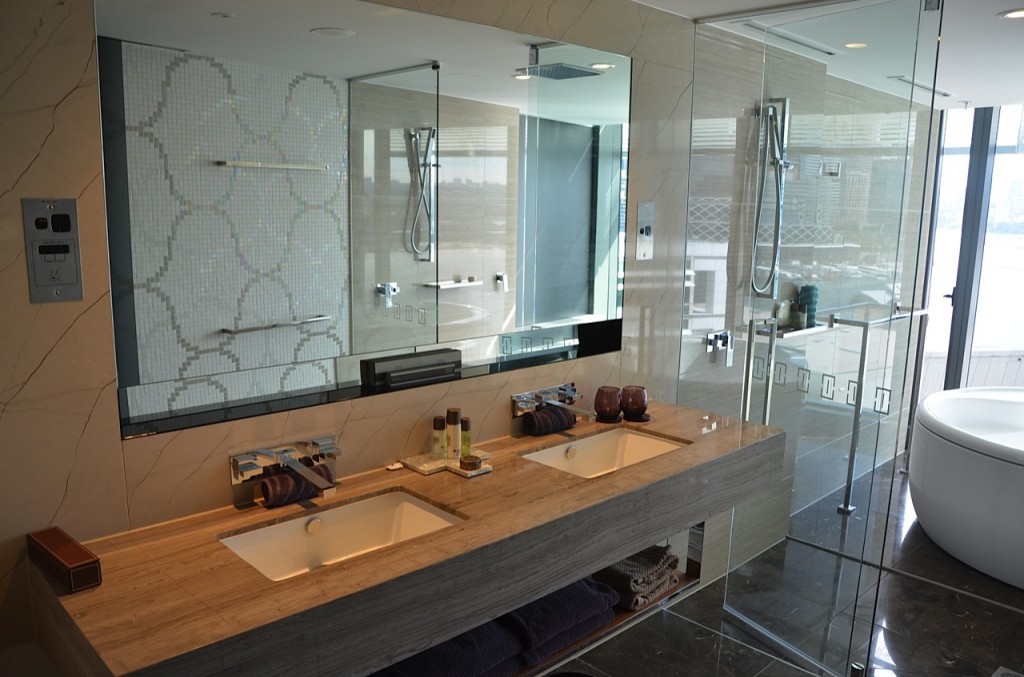 Double showers – you could literally do everything together in this romantic suite – bath, shower, dine and sleep – sounds like a perfect weekend to me!
Lux Traveller Doesn't like:
Nothing really but if we were to be really picky the location isn't the best. Pyrmont is a quite area and a little out of the way. But then, city is only 5 -7 min away.
All In All – The Darling is an excellent hotel with THE BEST suites in Sydney. So off to The Darling with your darling you go for a special weekend of utmost luxury & relaxation!
We will be back and next time would love to see the Penthouse suites – they look fit for a king!