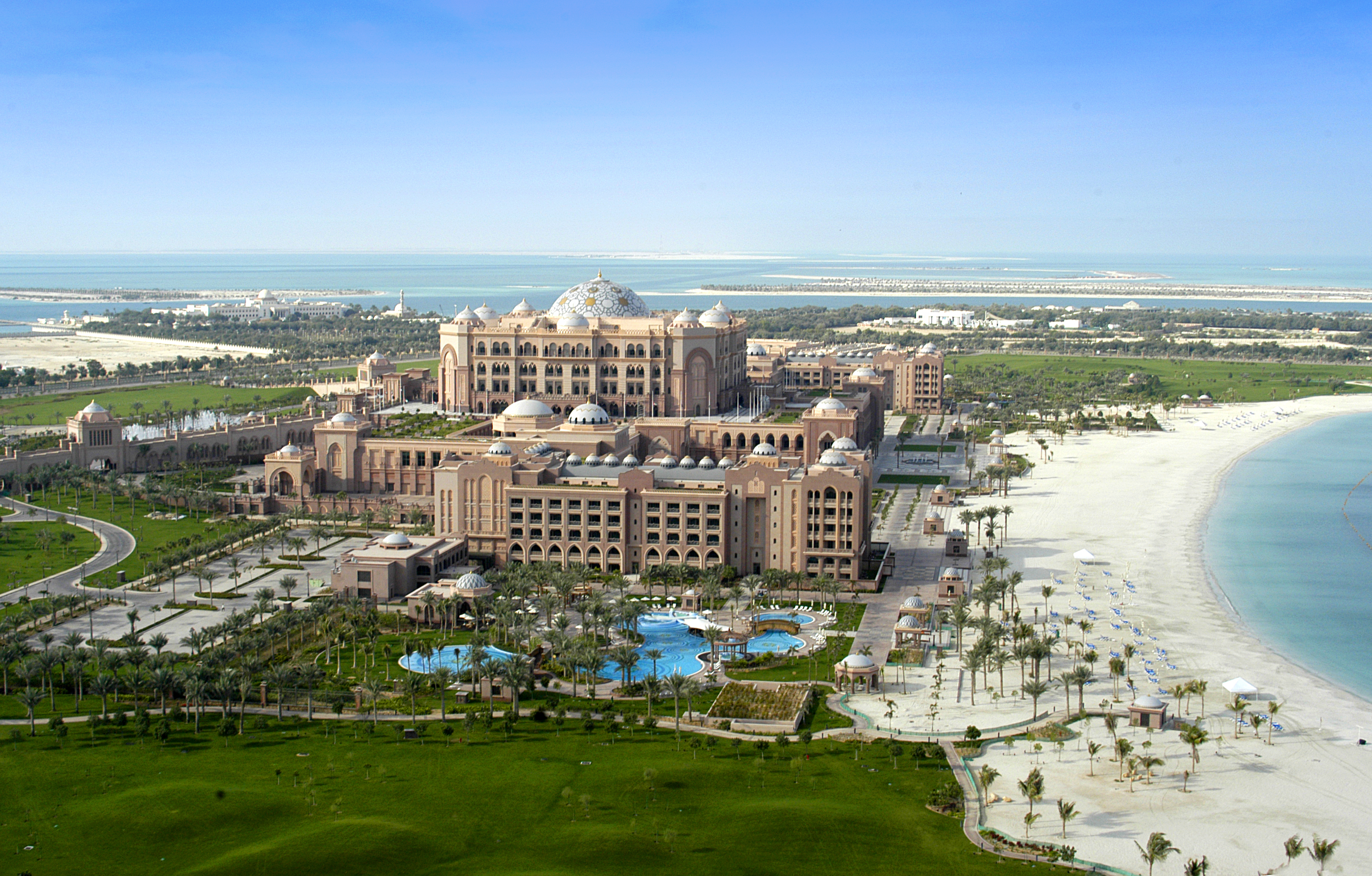 the lux score
94
the lux score explained
Service 9
Rooms 9
Food & Beverage 9
Ambience 9
Attention to Detail 10
Generosity & Value 9
Wow / Hip Factor 10
Facilities 9
Location 10
Fit to Promise 10
Emirates Palace is not just a hotel – it is a regal palace, one man's dream turned into a reality 9 years ago. This palace took 3 years to build and used more marble and gold leaf than any other development in the country. The build cost was 3.5 billion dollars, a huge amount even by the Emirati standards. Emirates Palace is build on 100 hectares and is located right next door to the stunning Presidential palace. So staying here is guaranteed to make you feel like royalty.
And literally, once inside the Emirates Palace you will be rubbing shoulders with heads of state, government officials, football stars or simply Lux Travellers from around the world who love opulence and luxury.
To say that Emirates Palace building is impressive is not to say nothing at all. The dome of the palace is 200m high and floor to ceiling marble.  Ceilings are gold plated and Swarovski crystals decorate all the impressive door handles. Courts between the rooms have either reflection pools or palm tree gardens.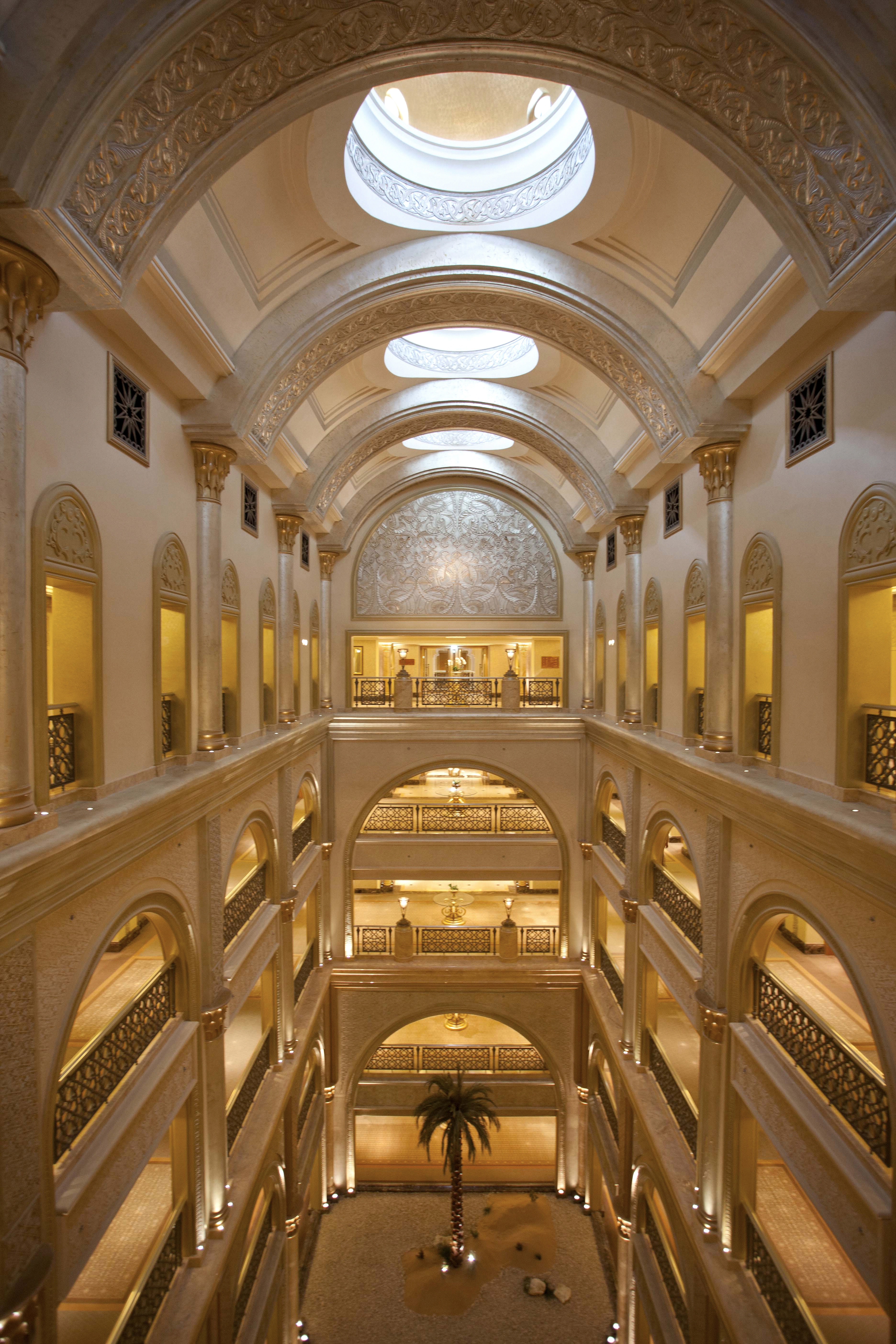 East and West wings lobbies feel more like rooms in the Hermitage or Louvre rather then hotel spaces. You understand the jist – this is no ordinary 5 star hotel – it is a local landmark of opulence and luxury taken to the extreme.
Before we arrived we heard comments from different people that hotel can feel a little impersonal or 'too' big. It wasn't my feeling at all – Emirates Palace is spacious, impressive, very private (only guests are invited to the hotel grounds after the lobby) and grand. The service is polished and the suites are very impressive.
Location
Emirates Palace is located in the heart of Abu Dhabi, just off the main street called the Corniche. But don't worry, even though you are right in the middle of the city, once you enter the palace you wouldn't know it. The palace is facing the sea, marina and Presidential Palace so you would hardly know that you are so close to the city centre. Also, being a magnificently huge structure with a lot of parklands, a resort feeling is guaranteed.
Hotel is separated into 3 sections – Main Palace, East Wing and West Wing.  Reception and most restaurants are located in the main palace.
Arrival
We have arrived late at night and friendly reception lady has offered to check us in the suite as the kids were very tired. They even offered for a butler to carry my 3 year old upstairs. In suite check in was quick, bags have arrived promptly, roll away bed took only a few minutes to arrive and once the kids were settled I had a few quiet moments to explore the suite.
Rooms & Suites
Emirates Palace has 302 rooms and 92 suites. We stayed at Deluxe Khaleej Suite, a grand one bedroom suites with spectacular 180 degree views of the Arabian Gulf.  This spacious suite (165 sq m) is perfect for a family of four.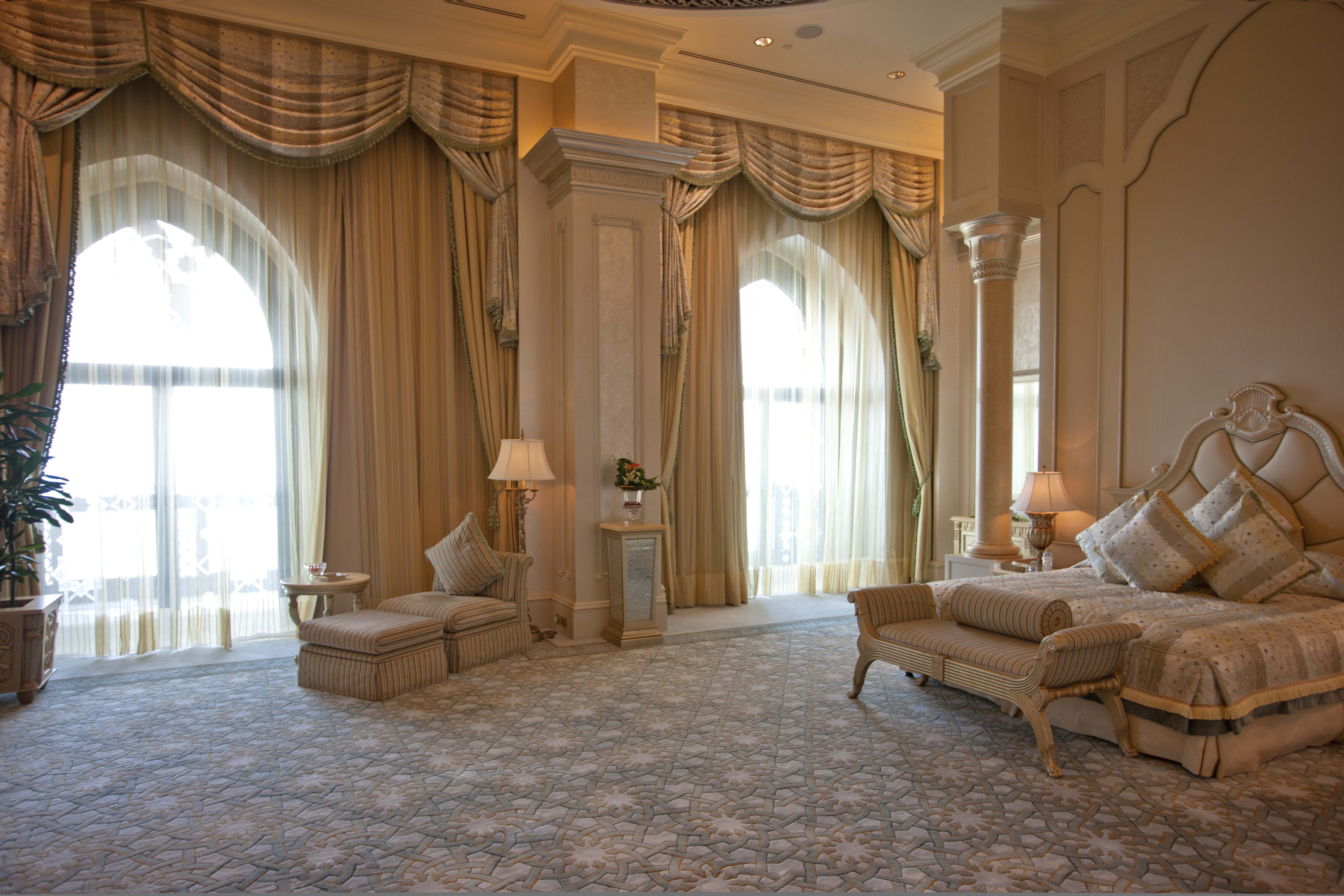 The bedroom is decorated in neutral colours with hints of gold, king bed is the most comfortable we slept in recently and divine bed sheets are made of the softest cotton. Walk in wardrobe is fantastic for storing luggage and the bathroom is all white marble. Living room features a dining table for four, a large comfortable sofa and a study desk. There are no coffee machines , ipod docks or international adaptors in the rooms but the adaptors could be requested and complimentary tea and coffee gets delivered to the room with a wake up call.
There is also a guest powder room in the suite and my favourite – a large terrace with sea views. Glorious place to relax in the shade with a good book at those really hot afternoon hours.
Standard rooms are also quite spacious (55 sq m) and are furnished in the same rich Arabian theme as the rest of the hotel.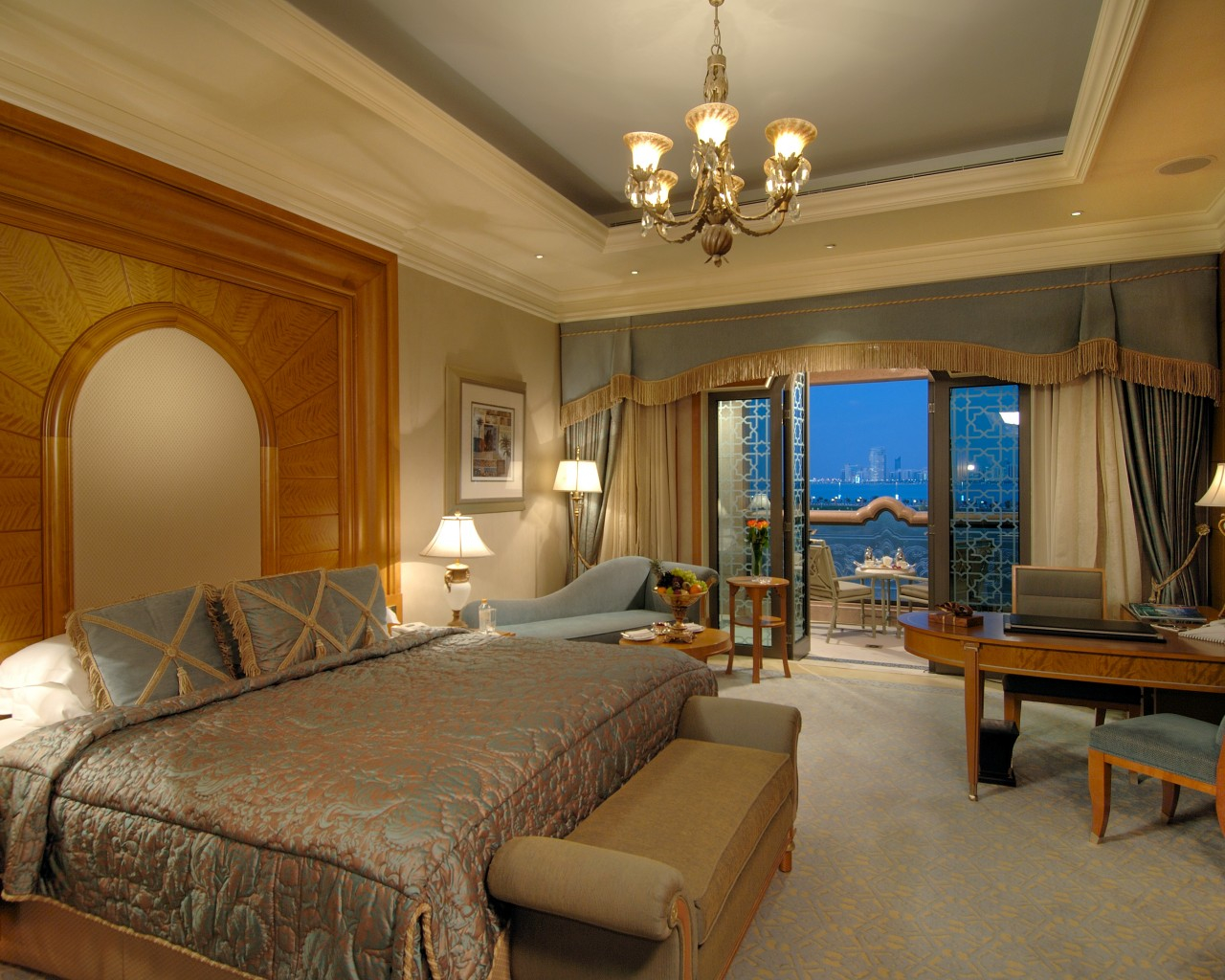 For extra special stay or for big families travelling together look no further than royal 2 and 3 bedroom suites. They are the crown of the hotel and will provide you with a true experience of 'royal living'. They are the height of Arabic extravagance and luxury.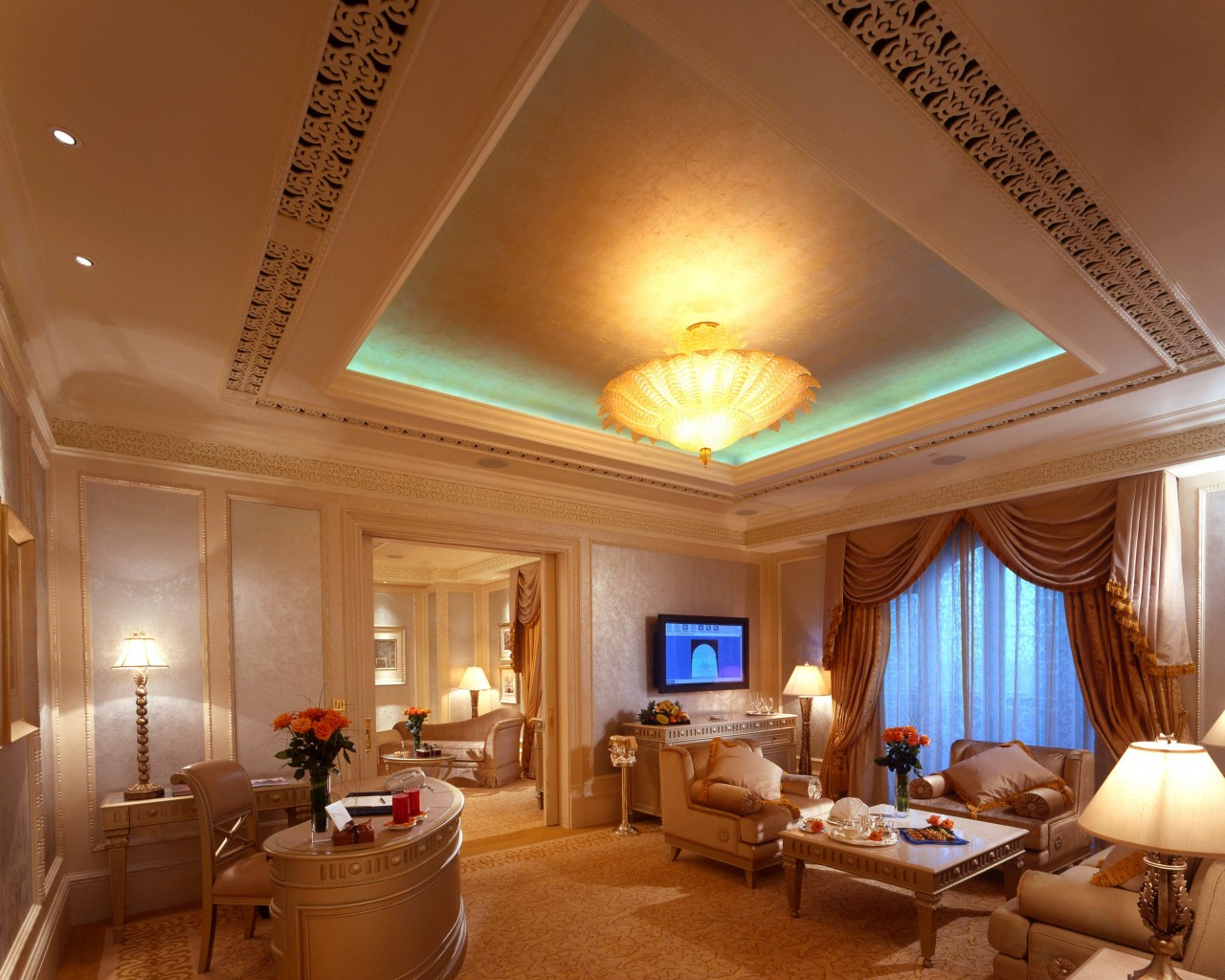 Facilities
If you are looking for a resort to spend your holidays, facilities are important and with 1,000 sq m of space Emirates Palace delivers an unforgettable experience for any taste.
Both East & West wings offer swimming pools, beach setting and gym facilities.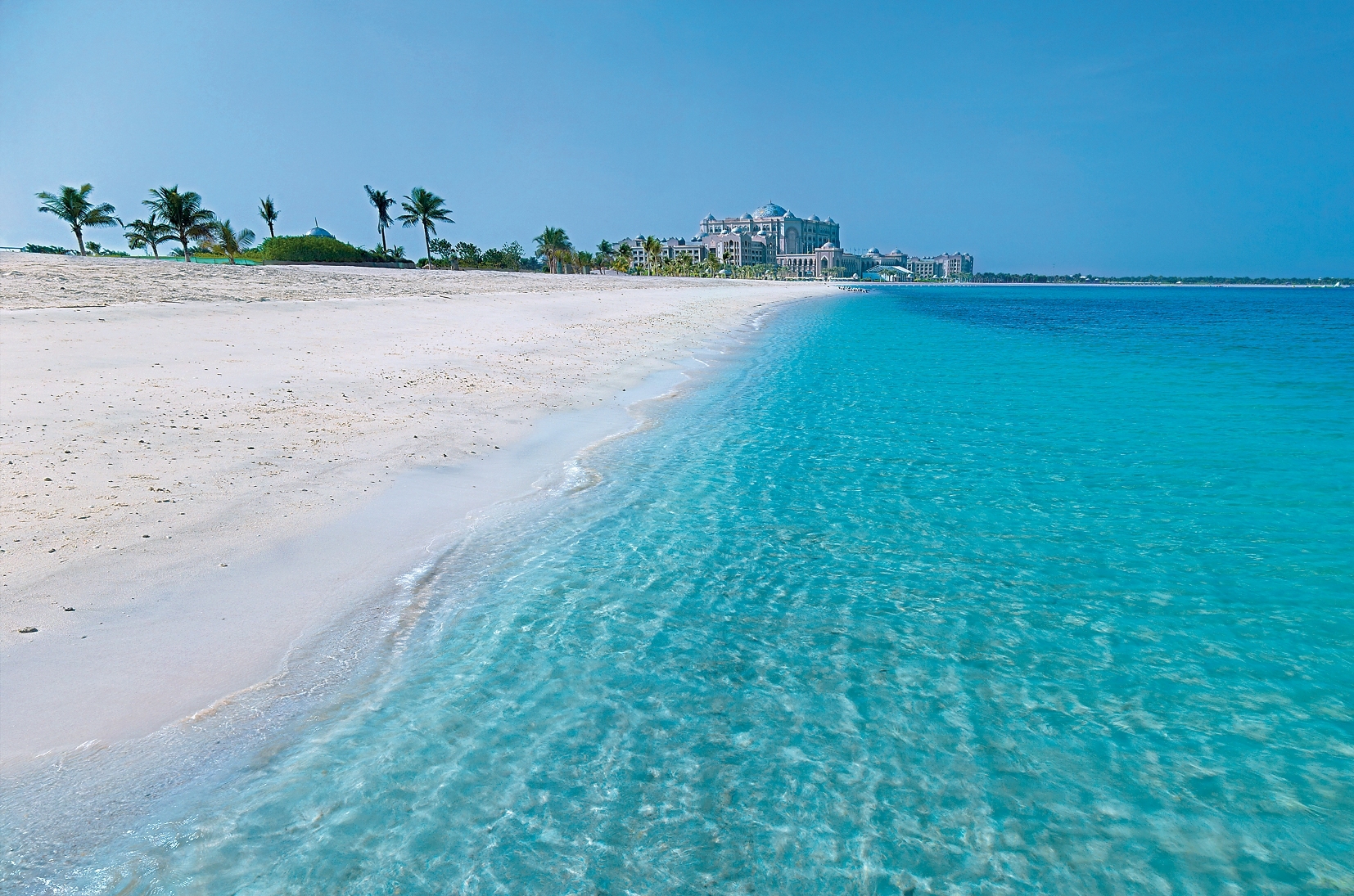 West Wing has 2 excellent water slides in the pool and a lazy river. West side also has water sports – a favourite place for the children. We tried water skiing, banana boat rides, stand up paddle boarding  and had so much fun. During our banana boat ride we spotted 4 dolphins and got within 10m of them – a highlight of the day. The water in the bay is protected by the marina so for most of the day the sea is really flat, perfect for water sports and for the small children who prefer the sea to the pool.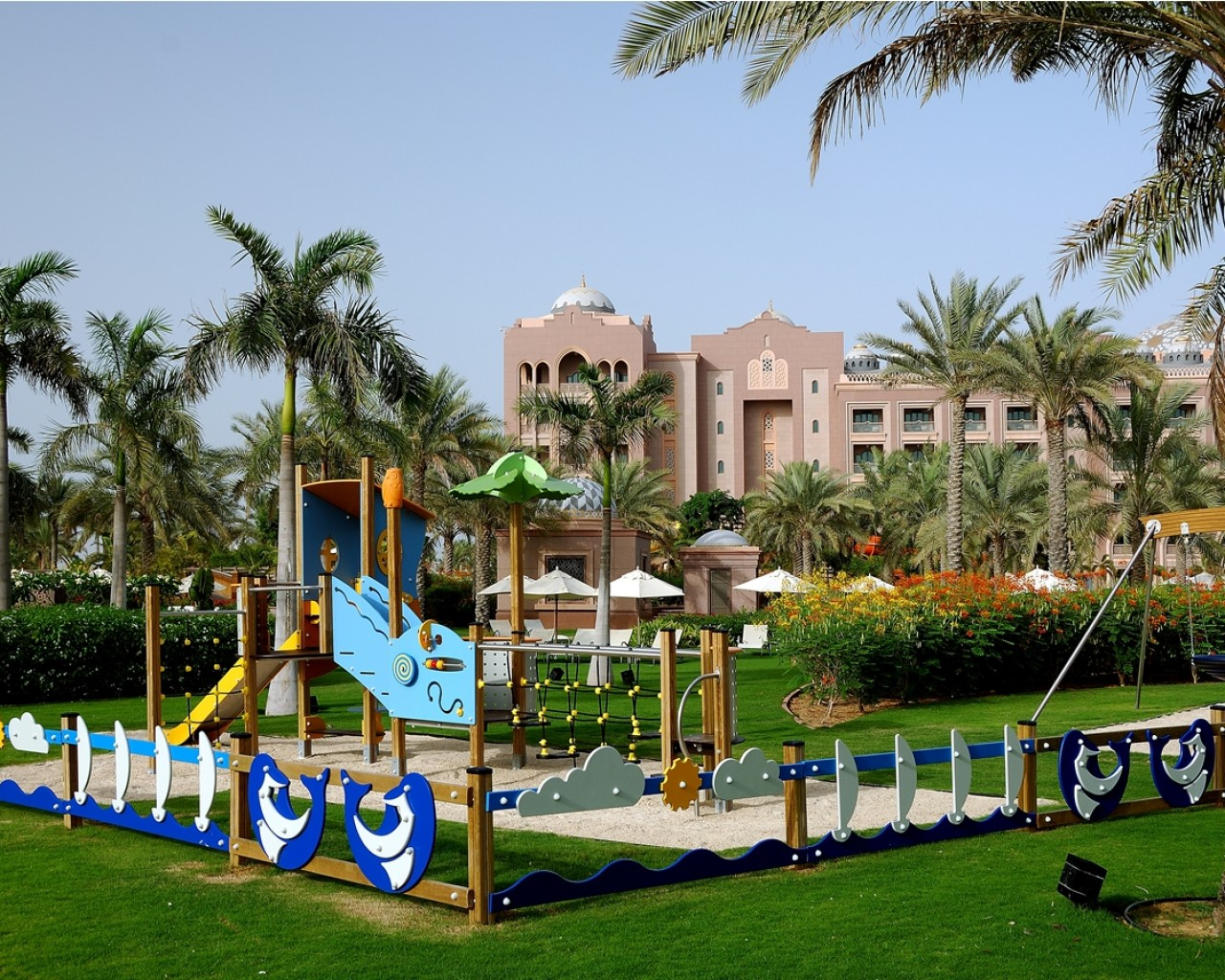 Emirates Palace also offers tennis, soccer and cricket.
Anantara Spa
This spa is designed in a distinctly Arabian style. It is so warm and welcoming with soothing water elements, splashes of colour, gold mosaics, white marble and dimmed lighting. Anantara Spa is a serene and opulent retreat.
Guests must try a traditional hammam treatment performed in a beautifully designed marble suite complete with spa baths and ice rooms.
I also enjoyed a facial and found the therapist to have the most wonderful hands and her suggestions have kept my skin hydrated for a long 14 hour flight that followed shortly after the spa treatment. Anantara Spa prides itself on having the most skilled therapists in Abu Dhabi and I'd have to agree with that.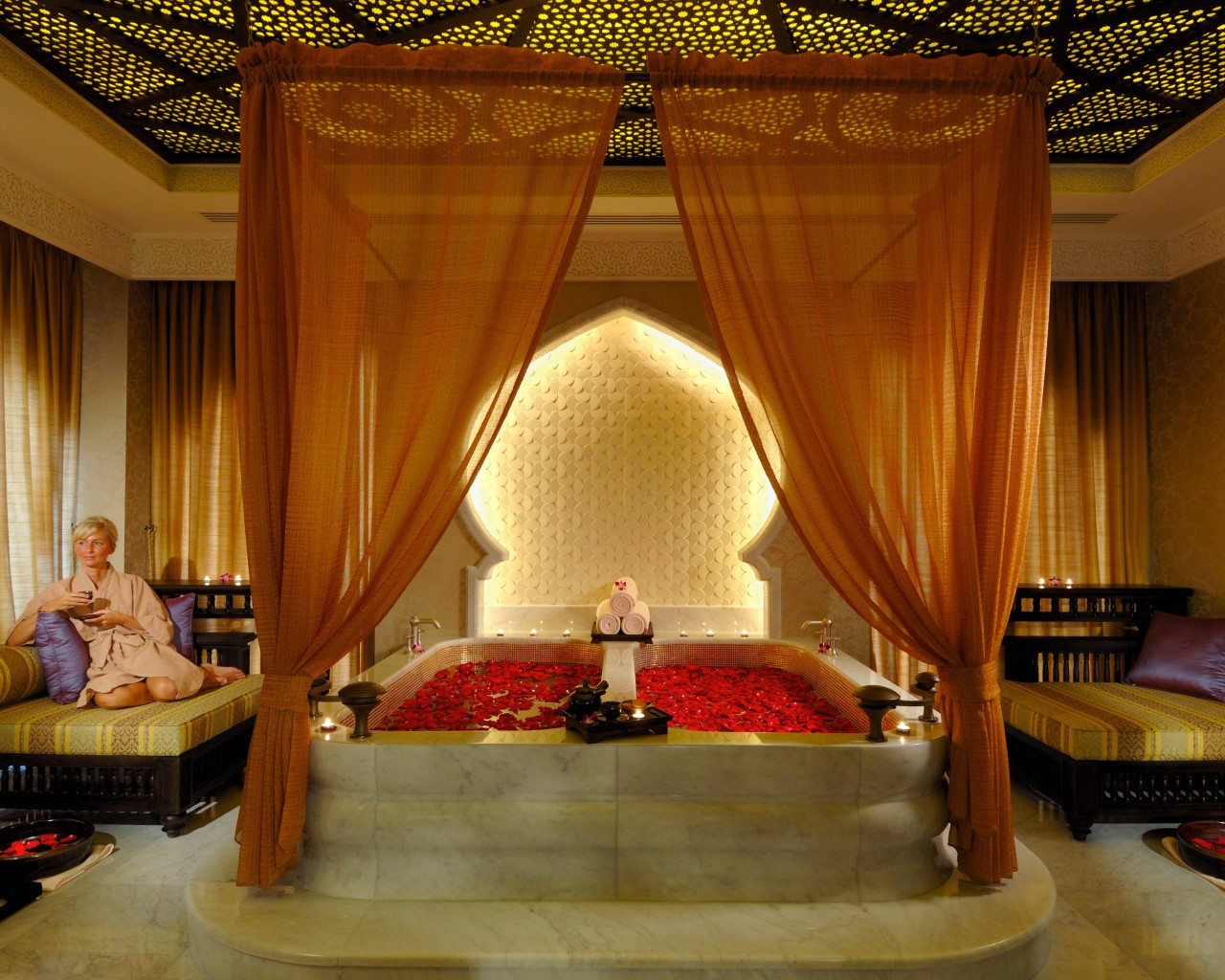 Restaurants
Breakfast is served on an outdoor terrace at level 4 with stunning views of the sea and the beach. Breakfast is a true 5 star experience that starts from simple luxuries like crisp white table cloths, Villeroy & Boch Pearl plates and elegant cutlery. A prompt cup of coffee or tea arrives as soon a you are seated and a selection of gourmet food is just right. Not too much, not too little – perfect for a great start of the day. Our favourites were fresh berries, juice bar and authentic Arabic section with local delicacies.
For dinner Arabic restaurant was a lovely local experience in a 'cabana' like setting with musicians gently playing Arabic tunes into the night and different flavor shishas completing the local experience. On the menu is a selection of gourmet meats (signature dish is lamb cooked under the ground for more than 8 hours – melts in your mouth) and seafood. Grilled lobsters are large and very tender – another specialty of the restaurant.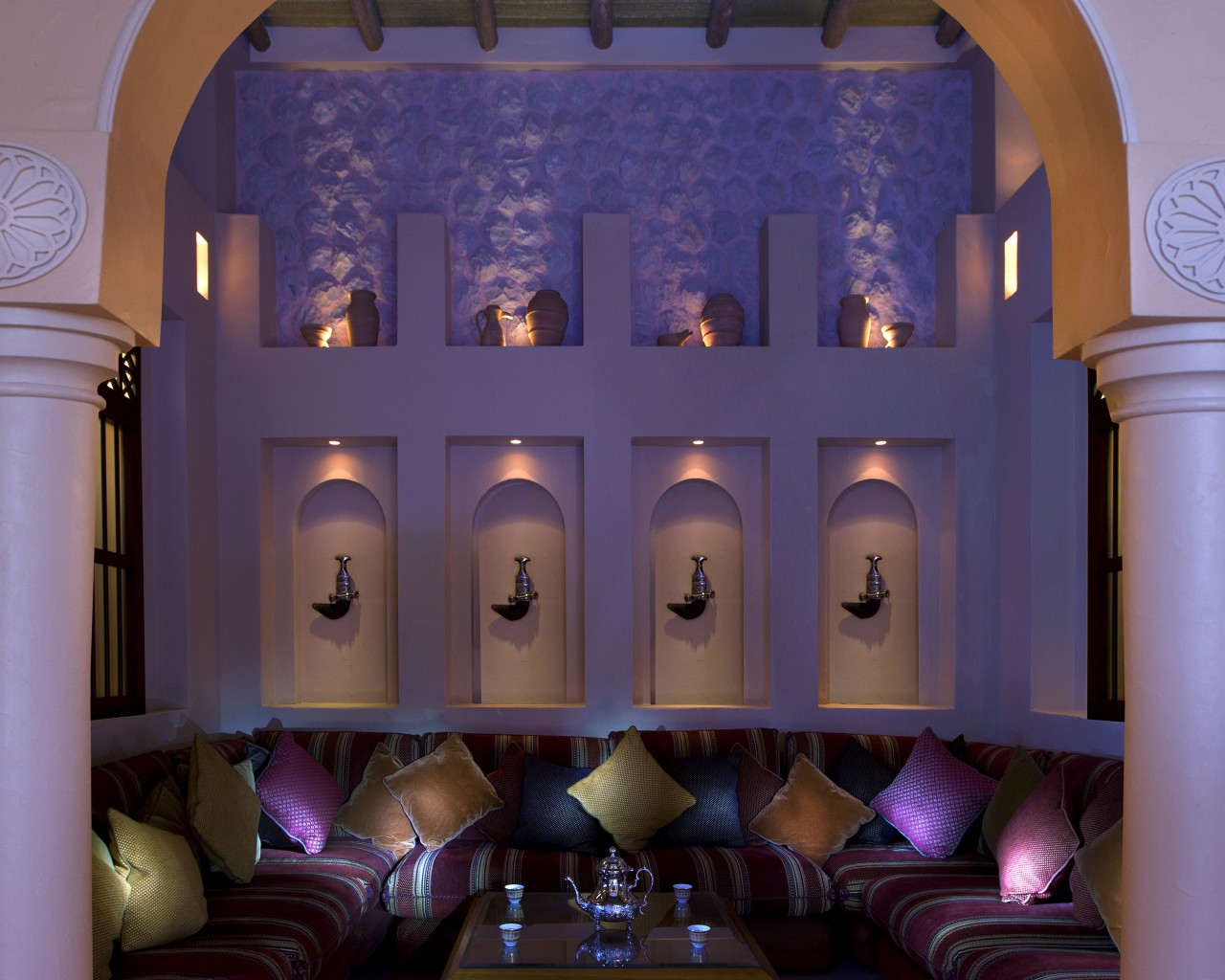 The Lux Traveller Loves
Feeling royal during our entire stay at the Emirates Palace!
Exclusive atmosphere of the resort with complete privacy and seclusion from the rest of the city.
100 hectares of green immaculate parklands and white sand beach.
Marble, gold and crystal as far as the eye can see.
Unique room keys – they look like a gold coin.
Opulent suites.
Silver service.
Splitting Hairs
Tiny things the hotel could improve on:
A multitude of hungry birds all around the tables at lunch restaurants somewhat take away from a peaceful long lunch experience.
Tennis courts desperately need a cover in the Arabic heat especially in spring / summer months.
A little music / atmosphere could be a nice addition to some of the pool / beach areas. It is very quiet and peaceful but a little bit of diversion could be a welcome addition for younger couples.
All In All
United Arab Emirates offers so many wonderful hotels to choose from but what sets Emirates Palace aside is its exclusivity and regal style. It is a wonderful hotel, must visit for all Lux Travellers visiting Abu Dhabi!