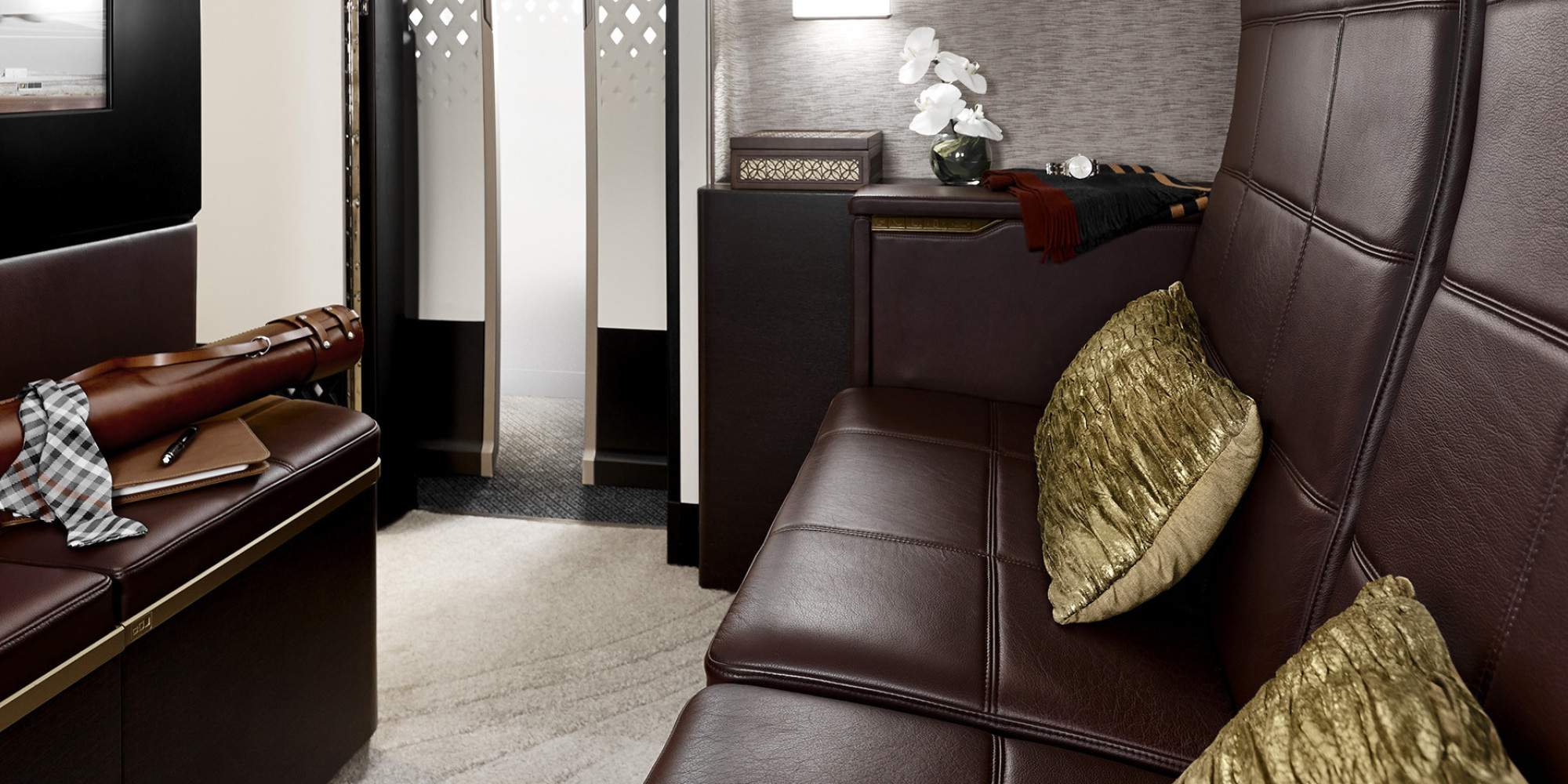 Where to start – yes it was amazing!  I'm so glad I did it.  I had been hankering to try the Residence for some time and decided to make it a surprise treat for my daughter who was with me in London. We flew from London to Abu Dhabi.
Etihad were a bit disorganised at first – there was no prior contact or concierge service in advance (as promoted on their website), the car booking was a bit confused – they sent a mini-bus plus another car for baggage (I only had carry on and my daughter a suitcase). When we got to Heathrow, there was no one to meet us on arrival, and they had booked us through to Brisbane even though we were stopping over in Abu Dhabi!!! That part could have been better. However, after that – it was sheer heaven.
We were whisked through Heathrow directly to the Etihad lounge. There was no check in needed and our bags were taken care of for us. At the entrance to the Etihad Lounge, the Lounge Manager and a personal butler greeted us and we were taken to a wonderful private suite, with its own bathroom and dining area – quite sumptuous.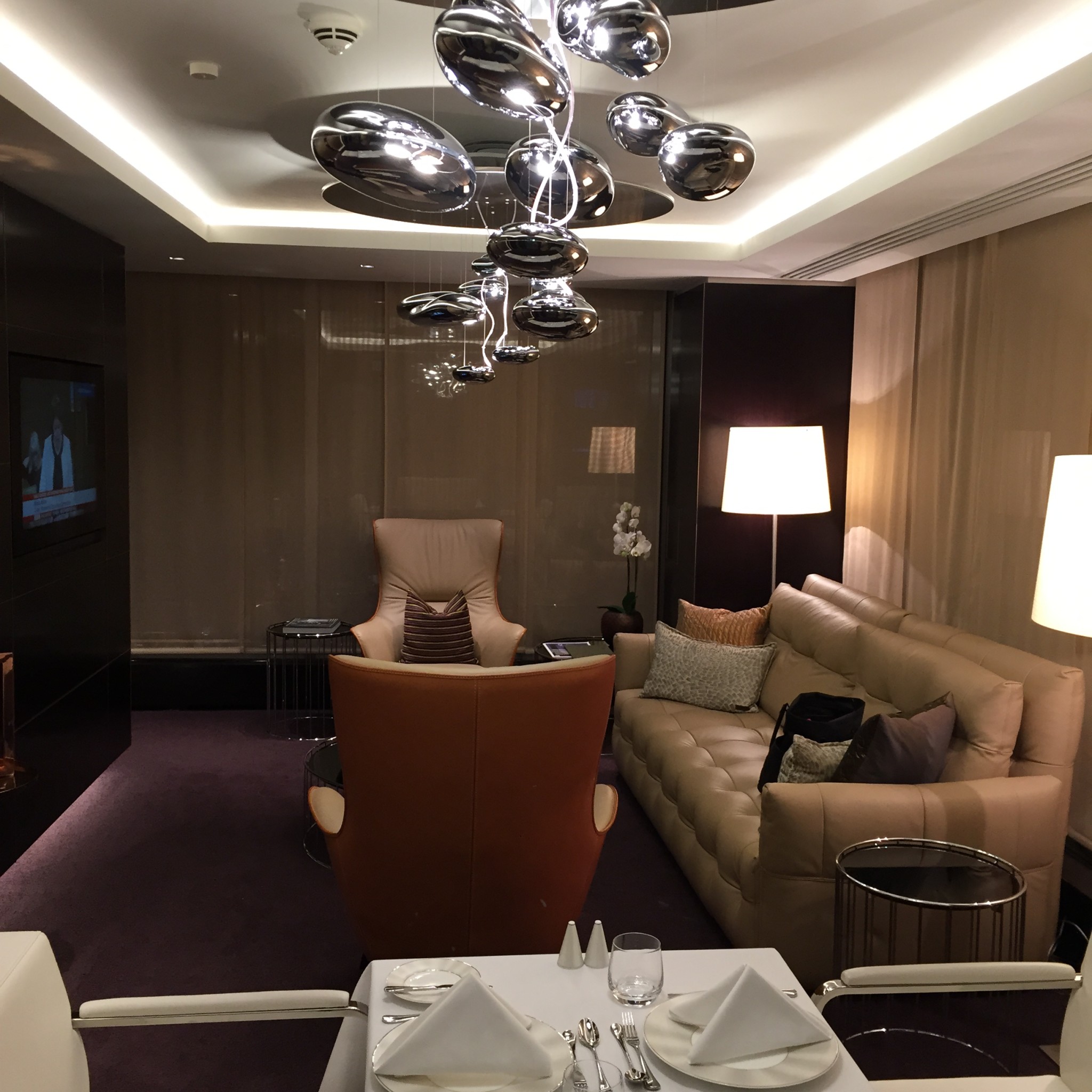 Within minutes of arriving, the spa manager came in to see if we wanted any spa treatments before boarding.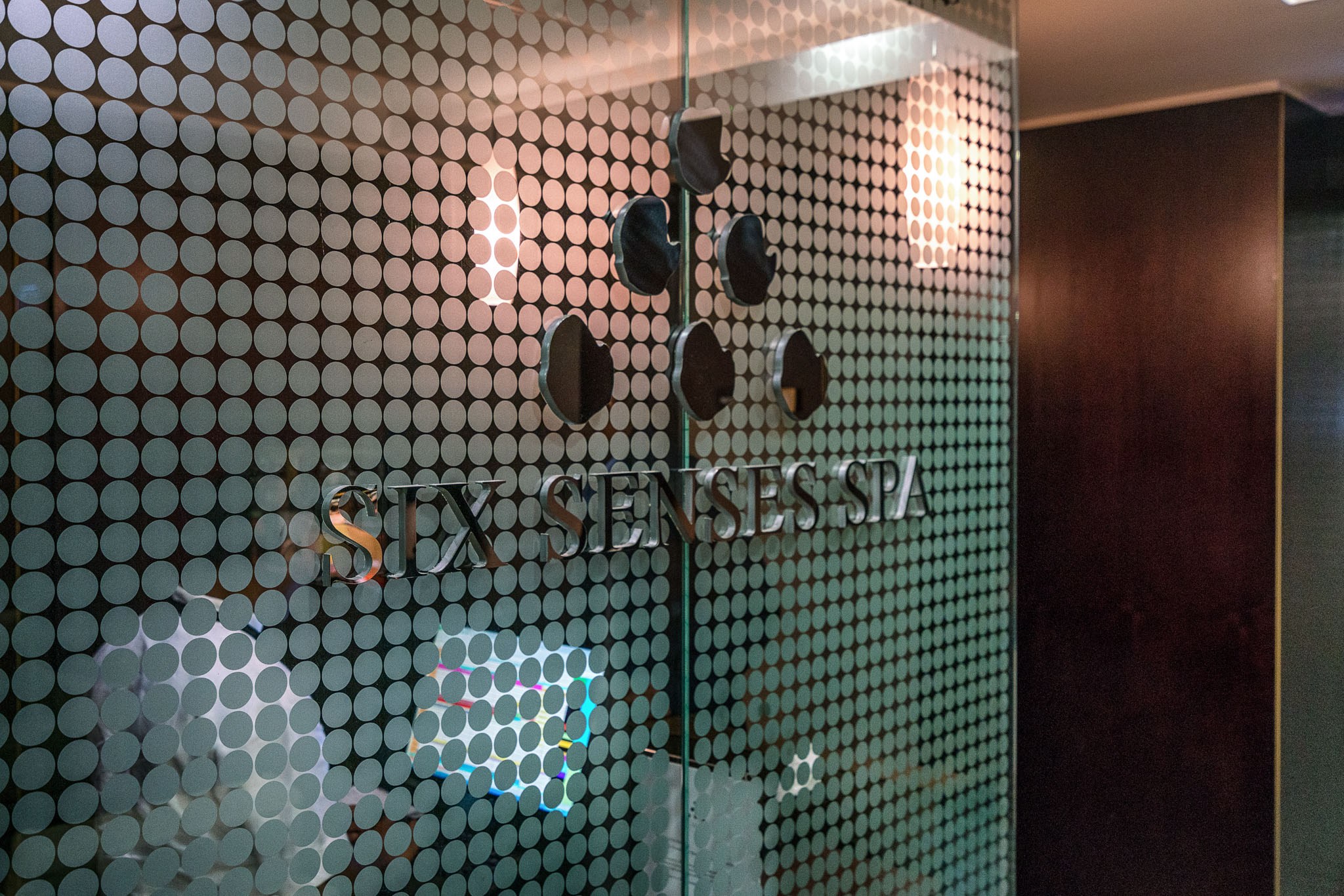 We were offered an a la carte menu, and there were already a series of delectable sweet and savoury snacks, pastries, fresh fruit, Arabic coffee and dates to nibble on.
We ordered champagne to celebrate, and were delighted to be brought Louis Roederer Cristal.  After discussing our boarding preferences, we were left to enjoy ourselves, with a buzzer if we wished attention. It was not like being in an airport at all, it was like being in the lounge room in a luxury residence.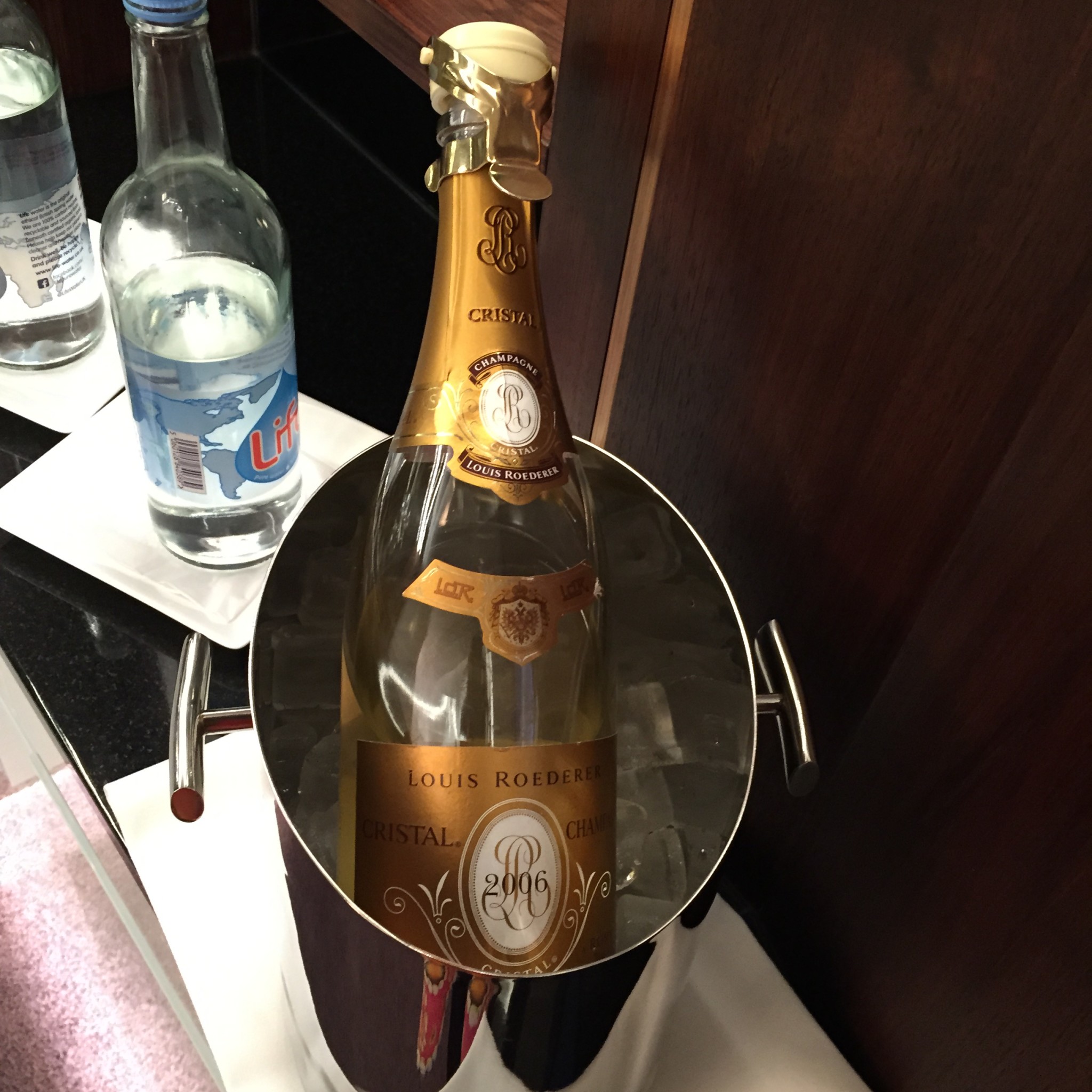 We chose to board early, so that we could explore the Residence. We were again swept through the terminal direct to the gate, where our liveried, Savoy trained, butler awaited us, in tails and white gloves. We felt like royalty! Our wish was his every command.
The Residence is entirely private, with three rooms, a sitting room, a bathroom and a double bedroom. Once you are inside, it is a totally private sanctuary.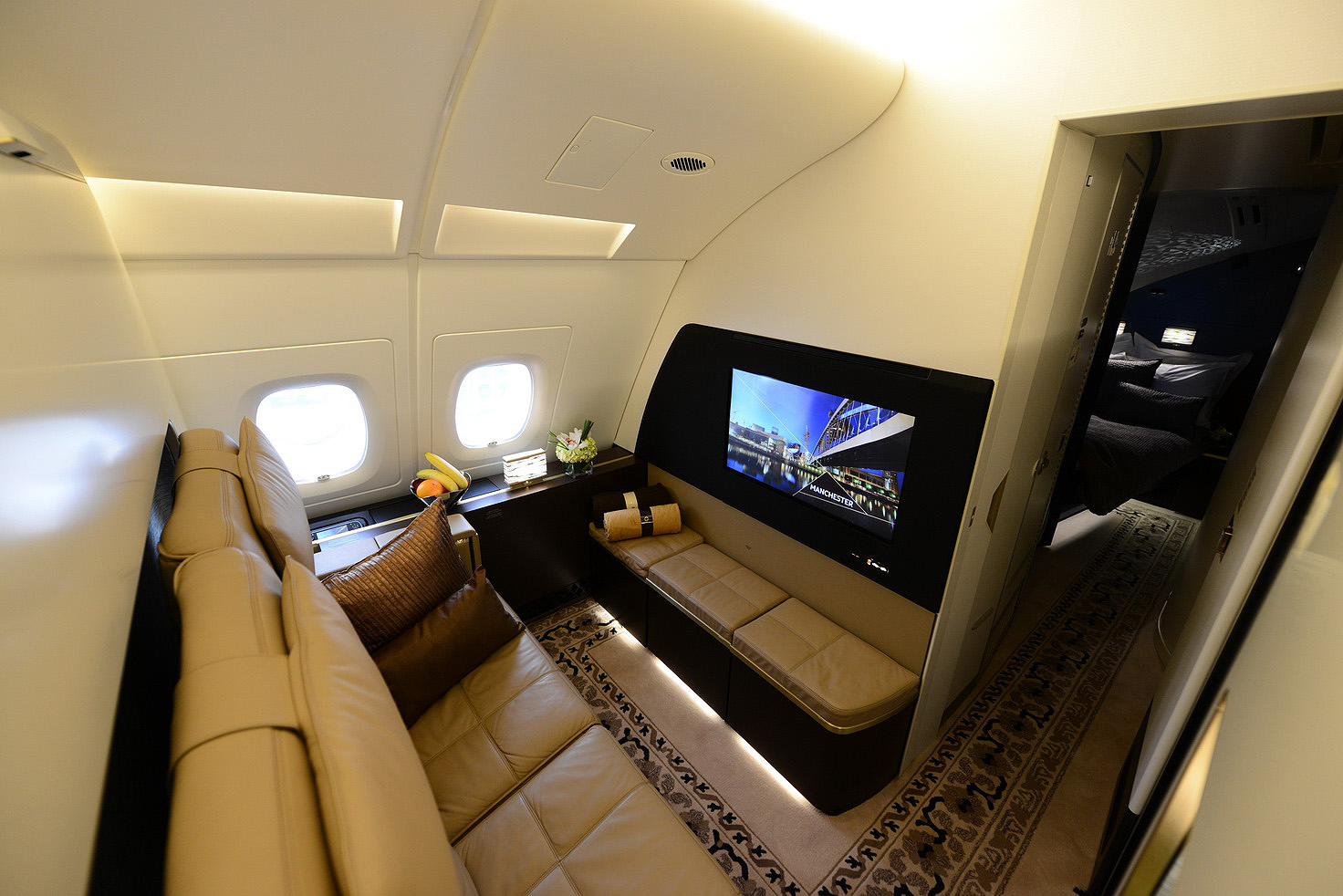 To be honest, I am not sure who came to welcome us, we were having so much fun. I think the cabin manager, the chef, maybe the captain, and we were waited in hand and foot by our butler for the whole flight. We certainly felt very welcome and special.
When it comes to luxury travel, it's the small things that make the difference. We had a welcome letter from the Captain, our butler's calling card, a Residence embossed Christian Lacroix sleeper suit to slip into, a personalised menu and a fully stocked drinks fridge. The lounge comfortably seated 2 people and had an oversized television screen. Perhaps a slight down side, is that both passengers have to watch the same movie. The service was perfect, and we enjoyed caviar and champagne and slipped into bed.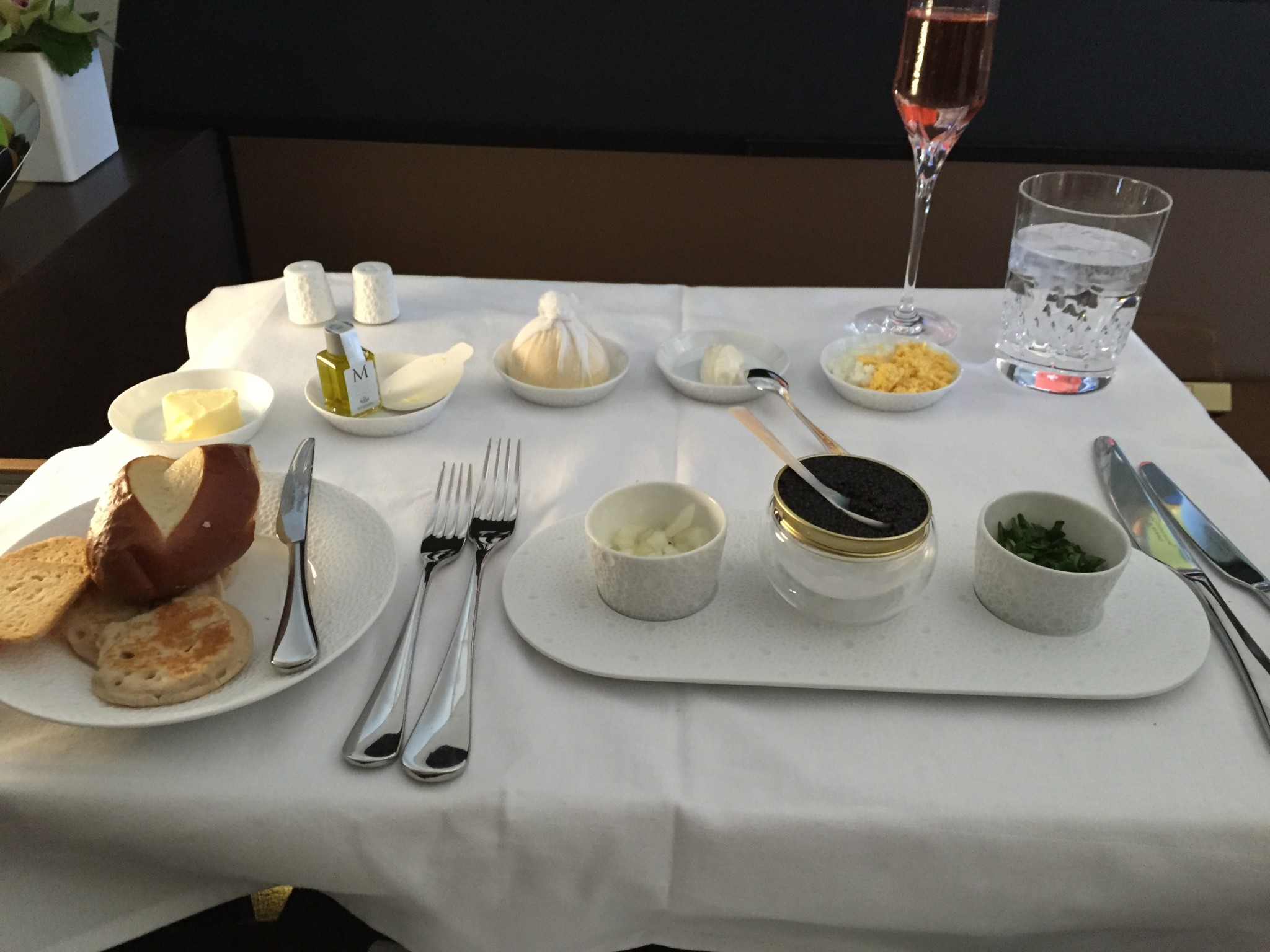 The bed was sumptuous and comfortable and we slept wonderfully. After waking, we both had a shower and enjoyed the Acqua De Parma toiletries. It was so private and well appointed – it was not like a flight, it was a travelling luxury hotel in the sky.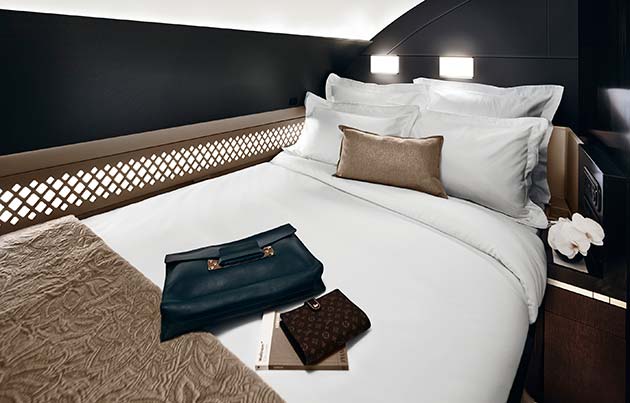 On arrival, we were farewelled by our butler and welcomed by an arrivals team who swept us off the plane and escorted us through customs and immigration in a jiffy – to our waiting limousine, already loaded up with our bags. We thought that this was the end of our Residence experience, but unexpectedly, after an overnight in Abu Dhabi – we were given the same level of escort and private room prior to our onward flight!! Well done Etihad!
Could it be better? Yes, I think there are a few things that Etihad could improve on, to really create the distinctiveness of the Residence. We did not receive the advance Concierge service promised on the website, the menu and wine list looked little different from the first class menus – except for the personalisation. I think having Cristal in London raised our expectations for the flight, and I was a little disappointed to have the first class champagne selection in the Residence. The absence of a Residence amenity kit was disappointment, although there were plenty of Acqua De Parma toiletries.
Was it fabulous? Yes! Did I feel like a superstar? Absolutely! Would I do it again? In a heartbeat!!! It was expensive – but what a treat! Splendiferous – luxury travel at its finest.