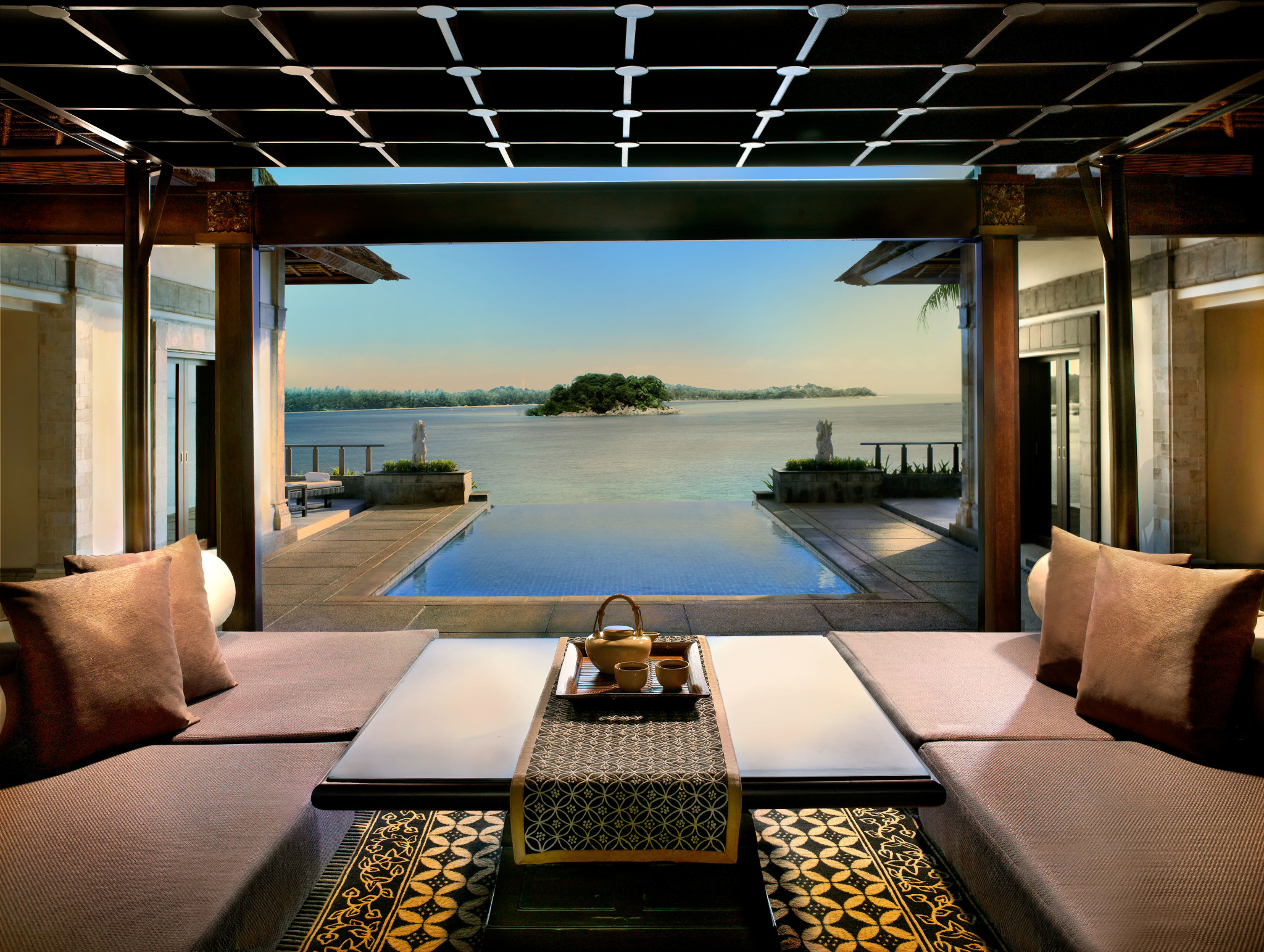 the lux score
86
the lux score explained
Service 9
Rooms 10
Food & Beverage 7
Ambience 8
Attention to Detail 8
Generosity & Value 8
Wow / Hip Factor 9
Facilities 8
Location 10
Fit to Promise 9
Bintan is an Indonesian Island a short ferry ride away from Singapore. It is a very popular weekend destination for the locals and a lovely diversion for overseas travellers looking for a change from a busy city. The ferry to Bintan takes an hour (it offers economy and premium seating) and the tickets can be easily arranged by your hotel.
Banyan Tree is one of the best hotels on the island; it offers a collection of luxurious sea view villas, premium dining and excellent Banyan Tree service.
Arrival and Friday Night In
Banyan Tree guests get welcomed at the ferry terminal and whisked away to the resort. 10 minute drive in an air conditioned four wheel drive is by no way taxing and after a quick check in, we get escorted to our villa. We arrive on a Friday night after a day's work and The Presidential Villa that is awaiting us in Bintan is nothing short of perfection.
2 Pavilions wrapped around a beautiful wet edge pool and an outdoor cabana, big enough for a party, is our home for the next few days. The villa is ultimately romantic. From the minute we walk in we feel like opening a bottle of champagne and sitting on the deck to gaze into the stars and each other's eyes. After a glass on bubbly we feel a sudden longing to change into swimmers and hop into a hot spa on the terrace. Nothing beats the tropical balmy nights and a sky full of bright stars.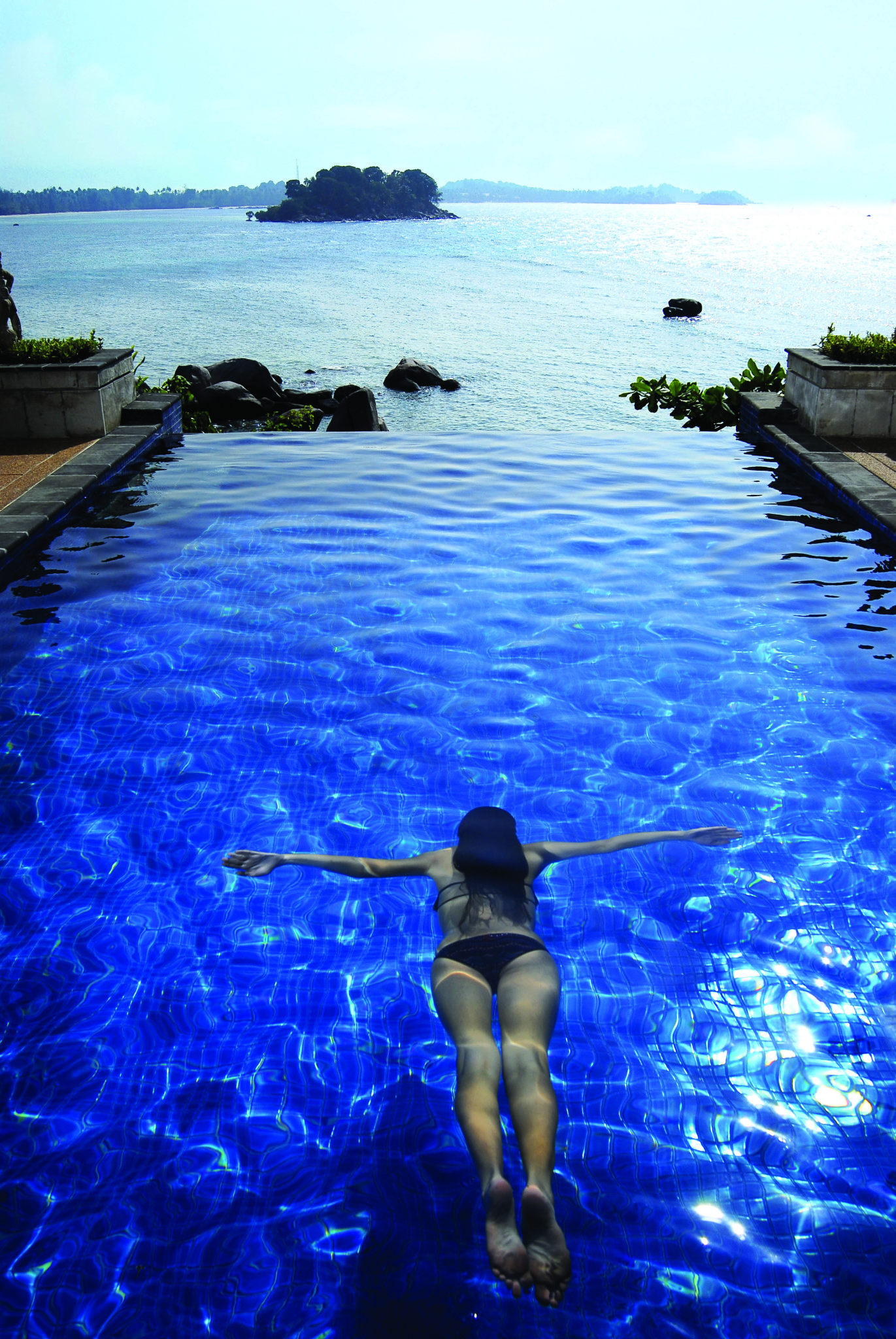 We order some room service on the first night from a Thai restaurant and it exceeds all expectations. Apparently the chef used to work for a royal family and some of his dishes are designed specially for them. We ask for a selection of chef's specials and they truly tantalise our senses. We go to bed way too full but very very happy. Feeling blessed!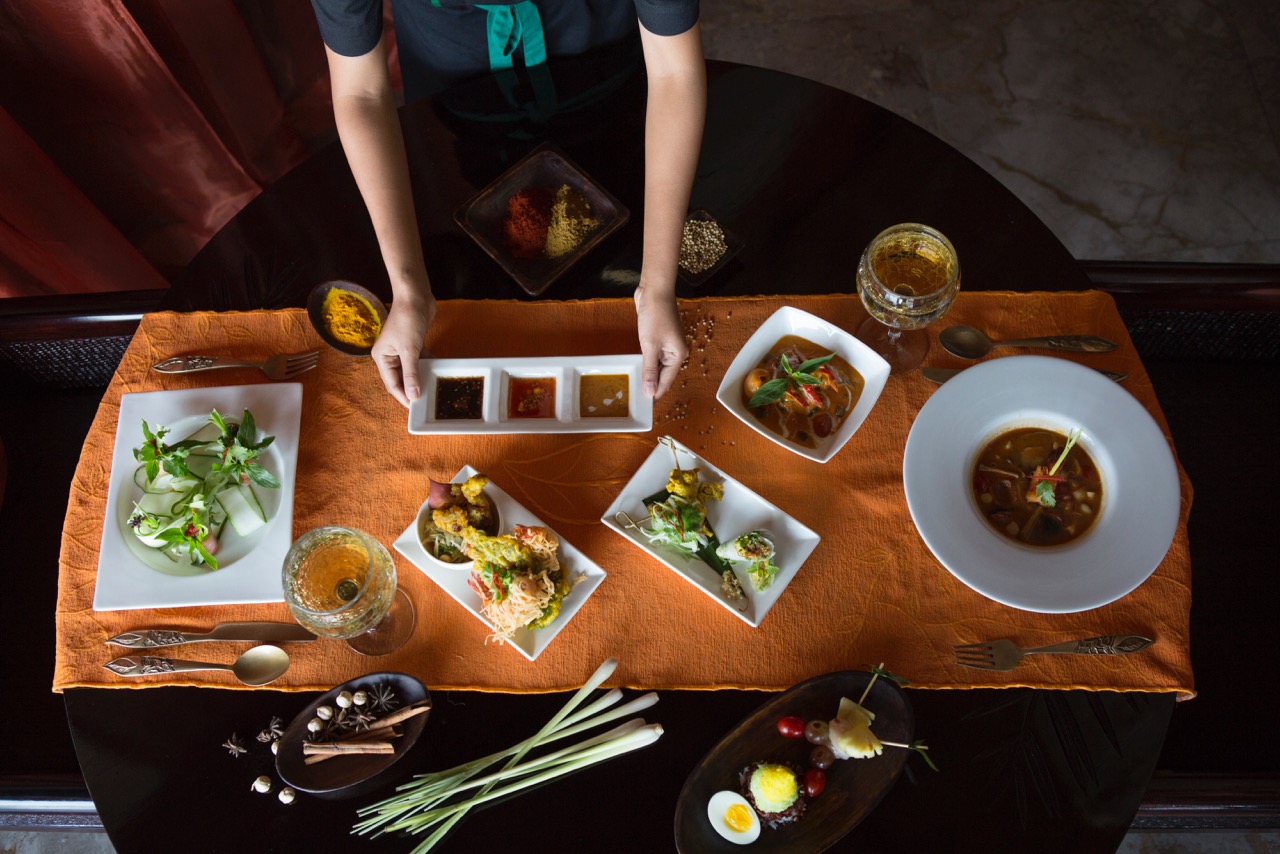 Saturday
The resort organizes yoga sessions for the guests and we aim to get up early and join in the class. Voila, king size canopy bed in our villa is just too comfy to get up early so we end up sleeping in and jumping in our glistening blue pool to freshen up before breakfast. The villas are completely private so if you feel like a skinny dip no one will know.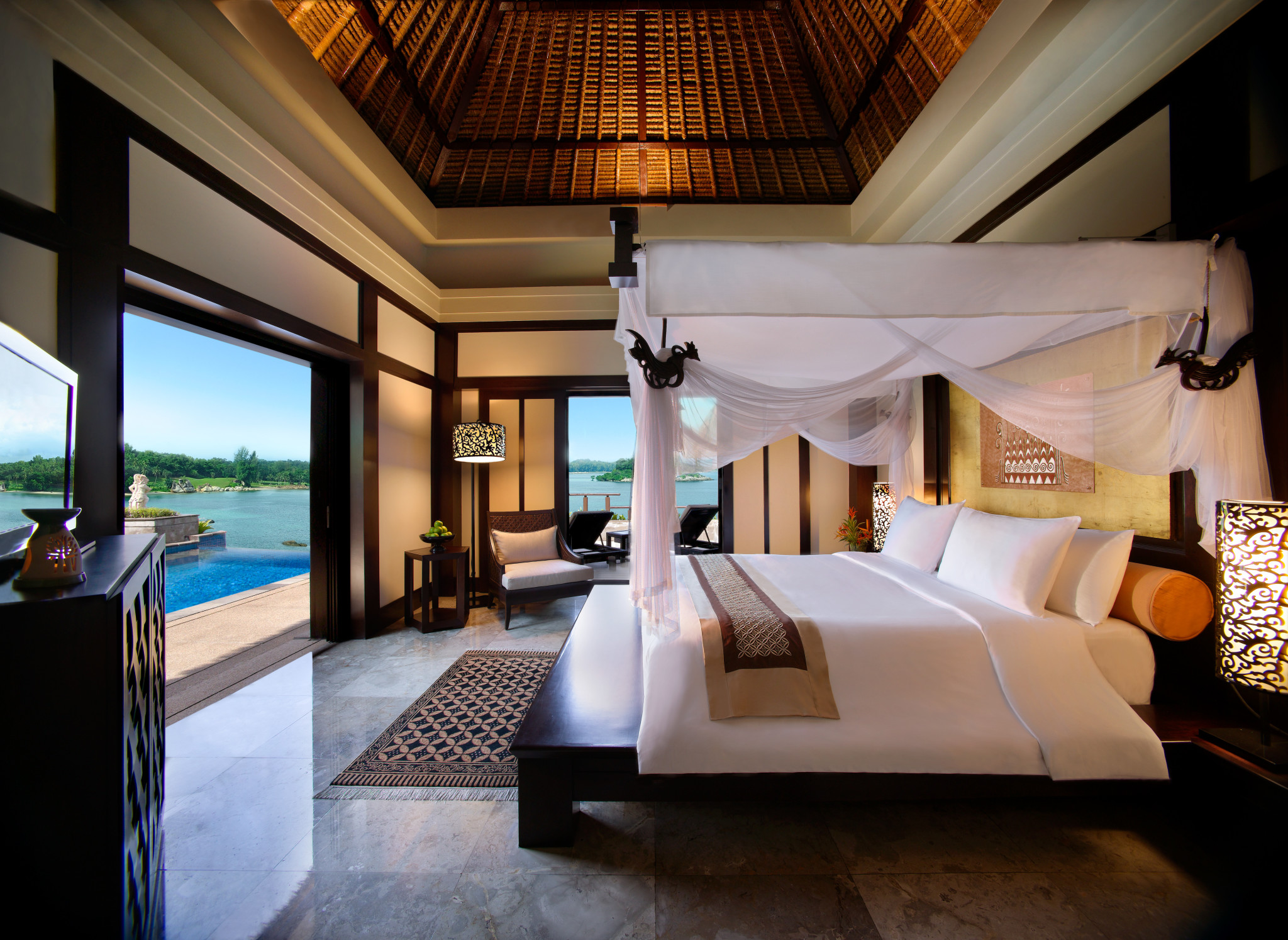 First outing of the day – breakfast. The restaurant is located on the cliff near the water's edge so crashing waves are right next to us. Swaying palm trees above us provide a bit of shade – a perfect setting for an al fresco dining.
Breakfast is the only time you get to meet the other guests and we find a mix of international travellers (Russian, Chinese, Australian), expats and Singaporeans.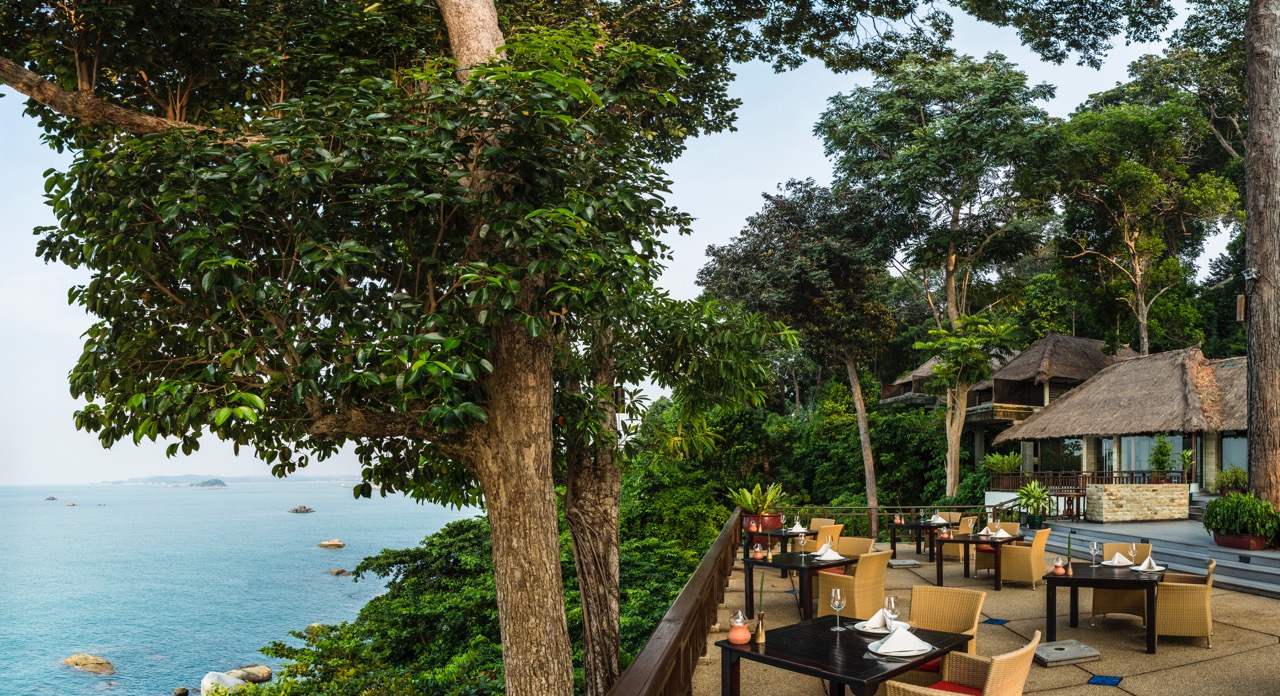 The service at breakfast is not overly swift but friendly and the food is exactly what you'd expect from a luxury hotel. Not as amazing as in some other Banyan Tree resorts but plentiful never the less. There is a good selection of pastries, fresh fruit, eggs, pancakes and some European cheeses and cold cuts.
Post breakfast we go off to inspect the beach. The beach is pretty and beachside pool is inviting. The water in the sea appears clean and a little waivy. A morning swim in the warm tropical water is just what I wanted and lazing under the sun with a good book makes it a perfect Saturday.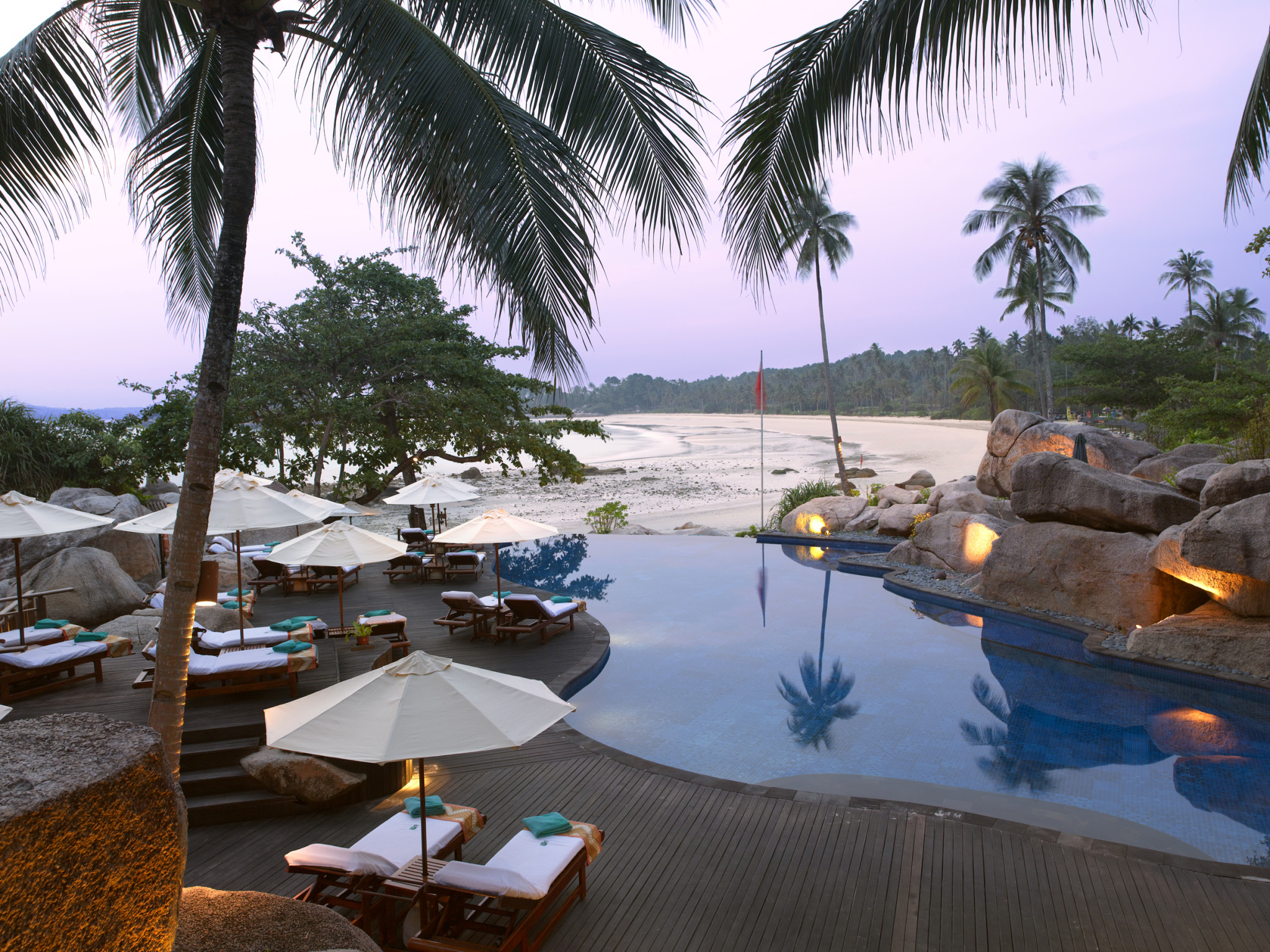 At dinner time we decide to try another restaurant, The Cove. The menu offers a choice of tantalizing cocktails and classic Italian dishes like smoked salmon linguine or stone crab spaghetti.
Even though the dinner is very enjoyable (we are dining almost alone al fresco again with a gentle breeze and a sound of crashing waves accompanying us) food-wise we prefer Thai from last night. It just was so authentic.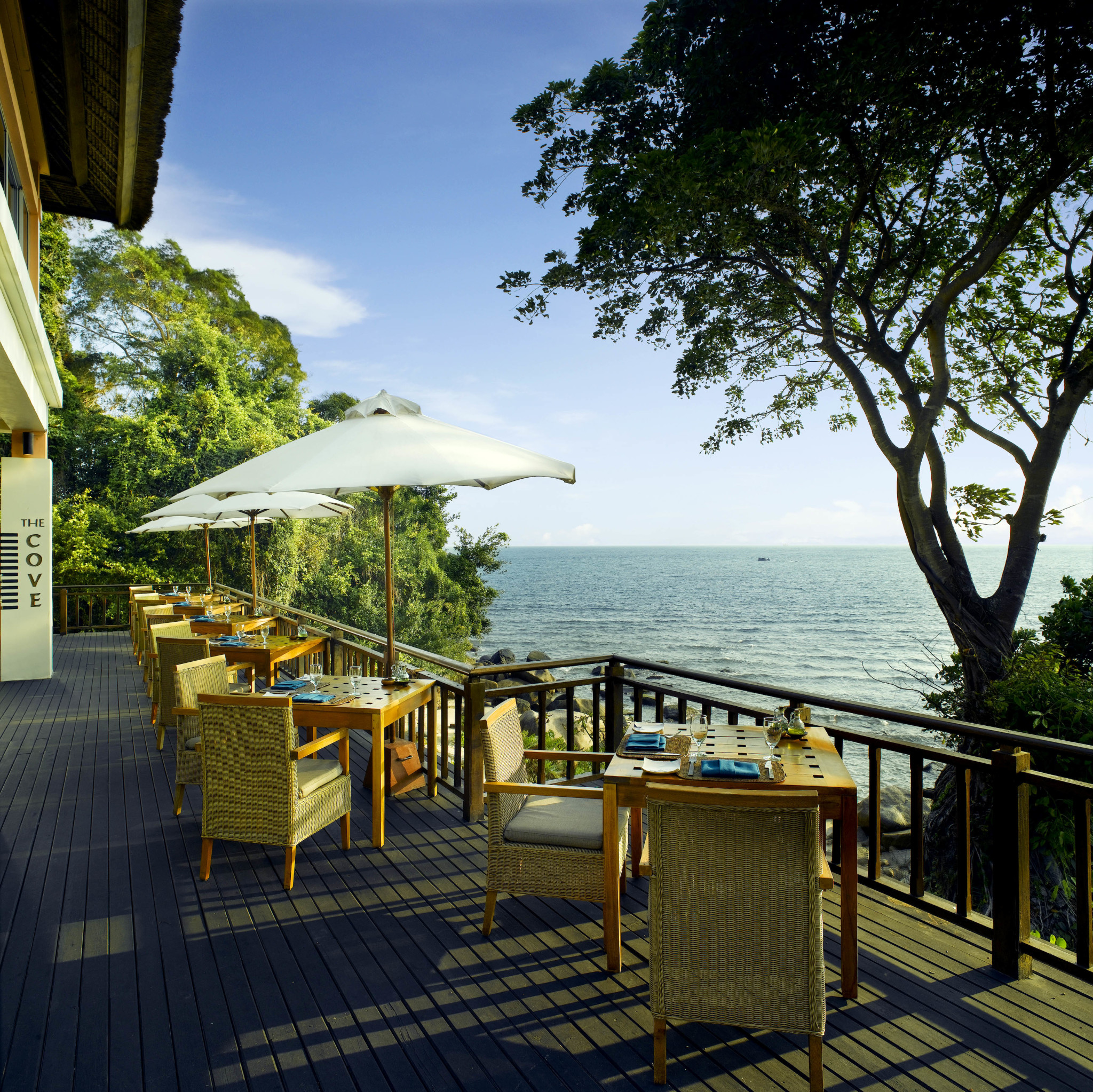 Sunday
Another luxurious sleep-in. Nothing beats opening up the shutters in the morning and looking out onto the blue Southern China Sea. The sky is blue, not a cloud in sight, the sun is shining and we hop in the pool again for what feels like our morning ritual now. We stay in the pool for a little too long only to realise that our European skin is not used to strong Asian sun. Slightly pink we come out of the pool and rush to breakfast. If you feel a little lazy don't despair – all villas come with a buggy service.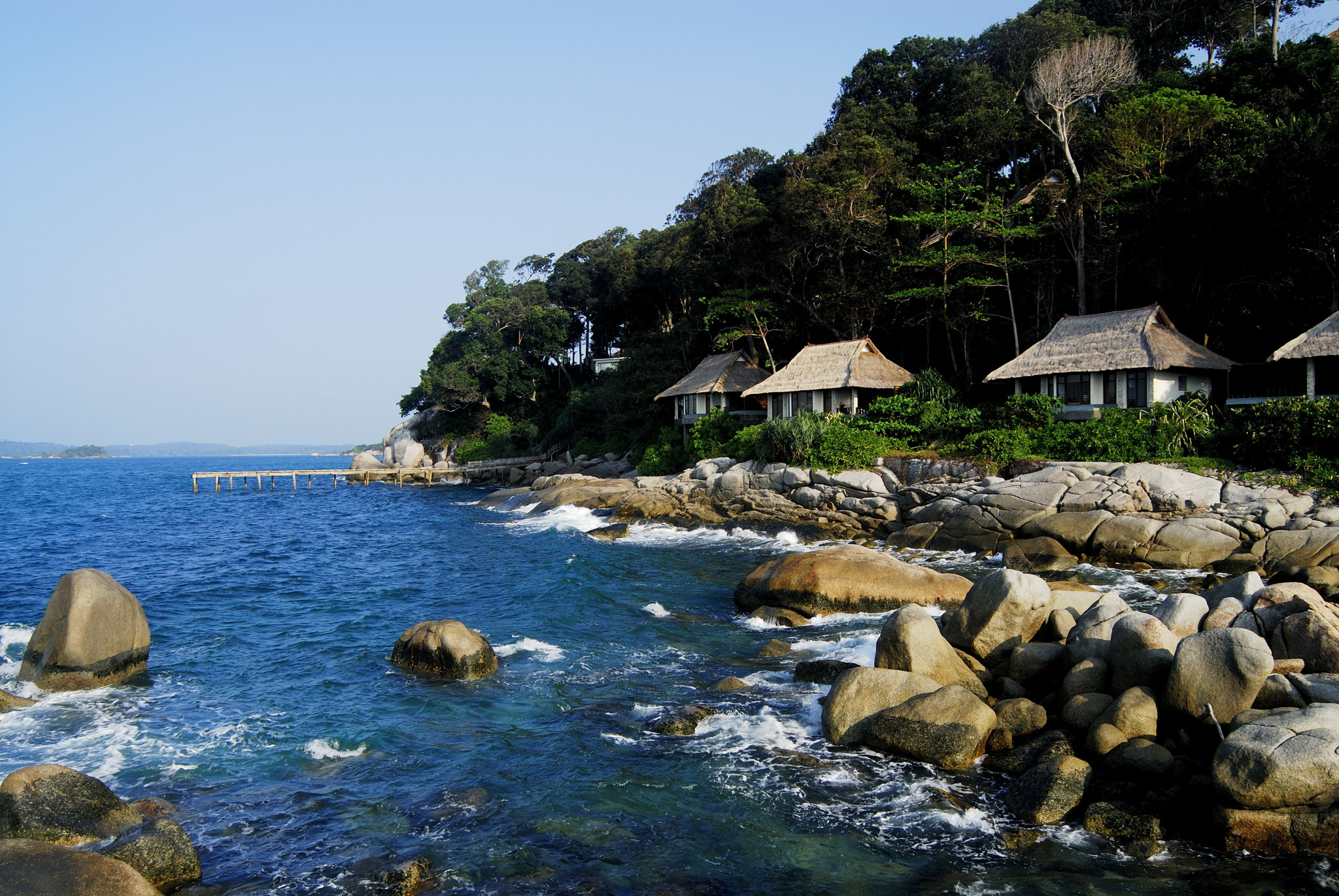 After breakfast we don't resist a temptation to pop into Banyan Tree boutique and stock up on the most beautiful body lotions, bath gels and hand creams for our loved ones at home. My only regret is that I didn't get their essential oil and oil burners – would've been such a nice souvenir to take home.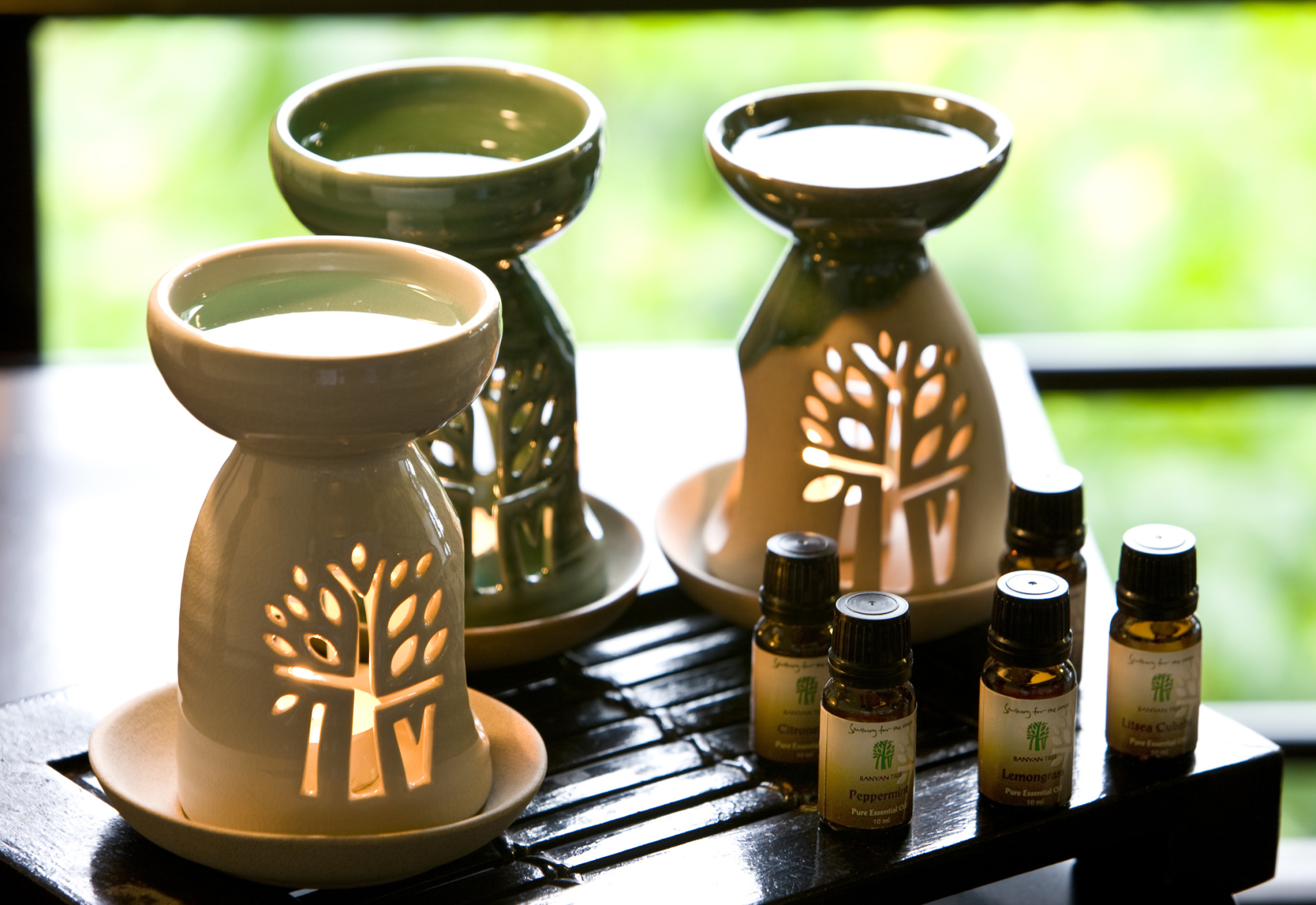 Another adventure – a stop at the resort's library. I find a great selection of international titles in different languages and even find my favourite Russian author. I borrow a couple of paperbacks in hope of getting through them in my cabana during the day.
Seeing that it is a weekend of total indulgence we opt for couple's massage in our villa in the afternoon. Our beautiful villa has its own massage room (can you believe it!) and two lovely therapists arrive 15 minutes before the appointment time to set everything up for our two hours of pure magic. I start with a massage (heavenly Balinese, my favourite) and a facial. My partner chooses a massage. Two hours later we compare notes but struggle to recall the treatment as both of us have fallen asleep to the gentle strokes of our professional therapists. Heavenly!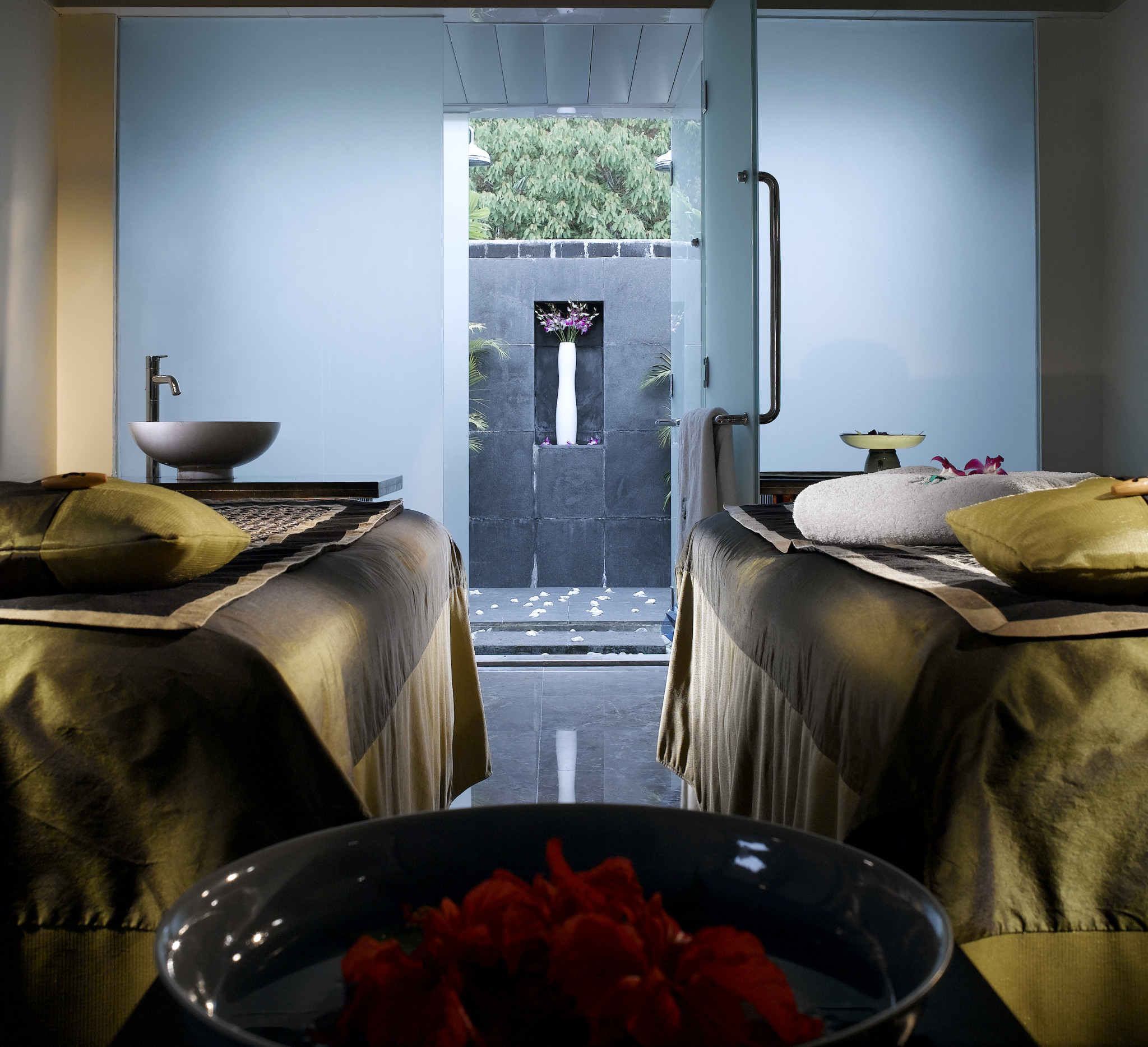 Before we know it, Sunday night is upon us and it is time to say 'good-bye' to this beautiful resort. We promise to be back soon and hop in our car to head to the ferry. The staff are waiving to us for a few minutes as the car drives off and we know that we shall return soon!