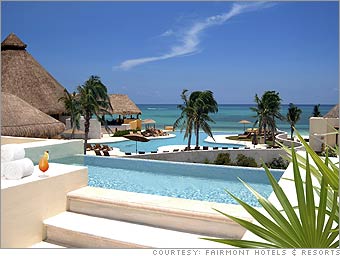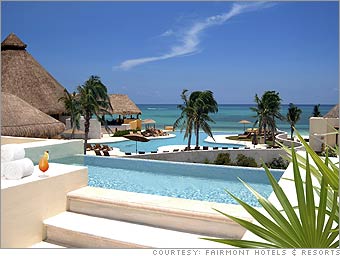 Fairmont Mayakoba is an excellent resort for all occasion near famous Playa Del Carmen.
Top hotels in Playa Del Carmen are located about 15-20 min away from town, in a small area called Mayakoba and around.
Choose from – Fairmont, Rosewood, Banyan Tree Mayakoba and nearby Grand Velas All Suites resort.
The reason we chose Fairmont is because it is the largest complex where one can have a choice of either socializing with the other guests or having a quiet private time. All the other resorts we visited nearby had absolutely no vibe and cater predominantly for the honeymoon couples.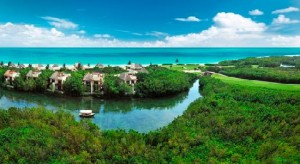 I like large well rounded resorts and Fairmont offers just that.
Hotel occupies a very large territory, 47 acres, hence a large variety of accommodation for every taste and budget.
One can choose from:
Hotel rooms (the most basic category with small rooms but nice outlook if you book sea view room)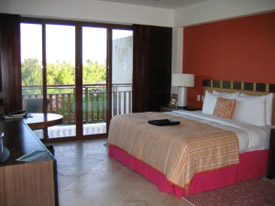 Deluxe bungalows  (casitas) – these are duplexes and have no views (Some look out onto bare tree brunches) & have no privacy. However they are very spacious & have lovely bathrooms. They well prices too so it could be an OK option for a luxury holiday on a budget.
Canal bungalows (casitas) – are exactly the same but on the canal waterfront.
Suites – are lovely and spacious as expected, designed in the same modern beach house style as the casitas. Some have private pools on the rooftop – very romantic. Suites are an excellent choice for families.
Crème De La Crème of the resort are beachfront properties – Suites / Casitas. There are only very few of them at the resort so do book ahead and don't hope for an upgrade to this categories as they are almost always full.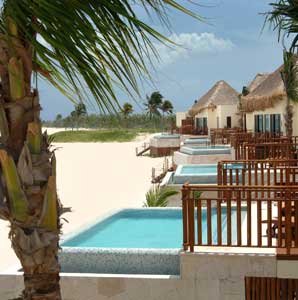 Beach at the Fairmont is gorgeous. White soft sand & blue warm water. However for beach aficionados – the water is murky (not crystal clear) and not many guests swim at the beach. Most guests prefer to cool down in a beachfront pool.
The beach is busy and has a nice vibe. Beachfront restaurant serves great lunch & dinner. Recommended!
For families – resort's main pool is huge, perfect for families. There is also adult only pool, featured below. We met some lovely couples there in the afternoon enjoying the sunset with a mojito in hand.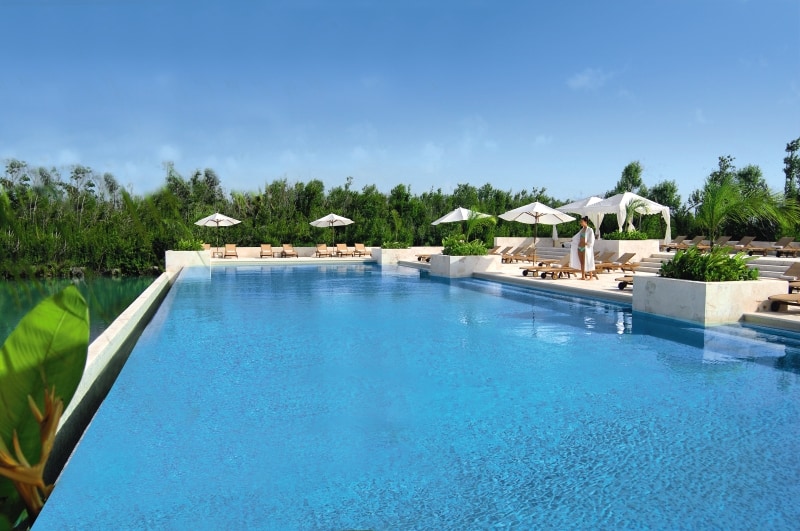 For honeymooners & romantic couples – there are a lot of places around the resort to escape to for privacy & relaxation. I haven't encountered any children during my whole stay.
I think Fairmont is a great resort for all Lux Travellers.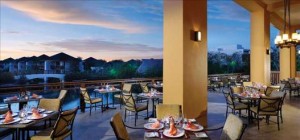 Breakfast & dinner – both are excellent. We tried all restaurants and were very pleased with all of them. Nothing memorable but very pleasant.
All in all – Great resort! I wouldn't hesitate recommending it.
Would I come back? Probably not as I'd like to try something different next time, with a little more action and entertainment.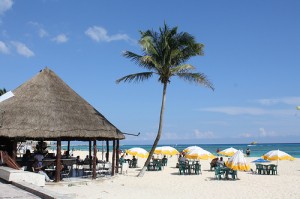 Tips – having a car at this part of the world is a must. Playa del Carmen is 20 min away and has a lot to do – great restaurants, night clubs, beachfront bars, shops – great town to go to in the evenings.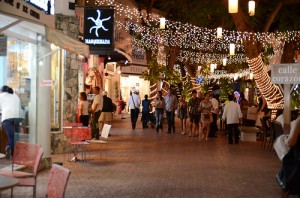 Playa Del Carmen is a place for sun worshippers at night and  fun town, full of life in the evenings.
Tulum – is a very famous town for its Mayan ruins. Plan your trip there carefully though as it could be super busy and not enjoyable if you are fighting the crowds all day. Bright blue beach near the ruins that looks so perfect in the photos had hundreds on people on it during our visit and it has completely ruined the atmosphere.
Drive through Tulum is an eye opener – many hotels advertise running water & electricity. However the food in the waterfront quaint restaurants along the way is very authentic & divine.