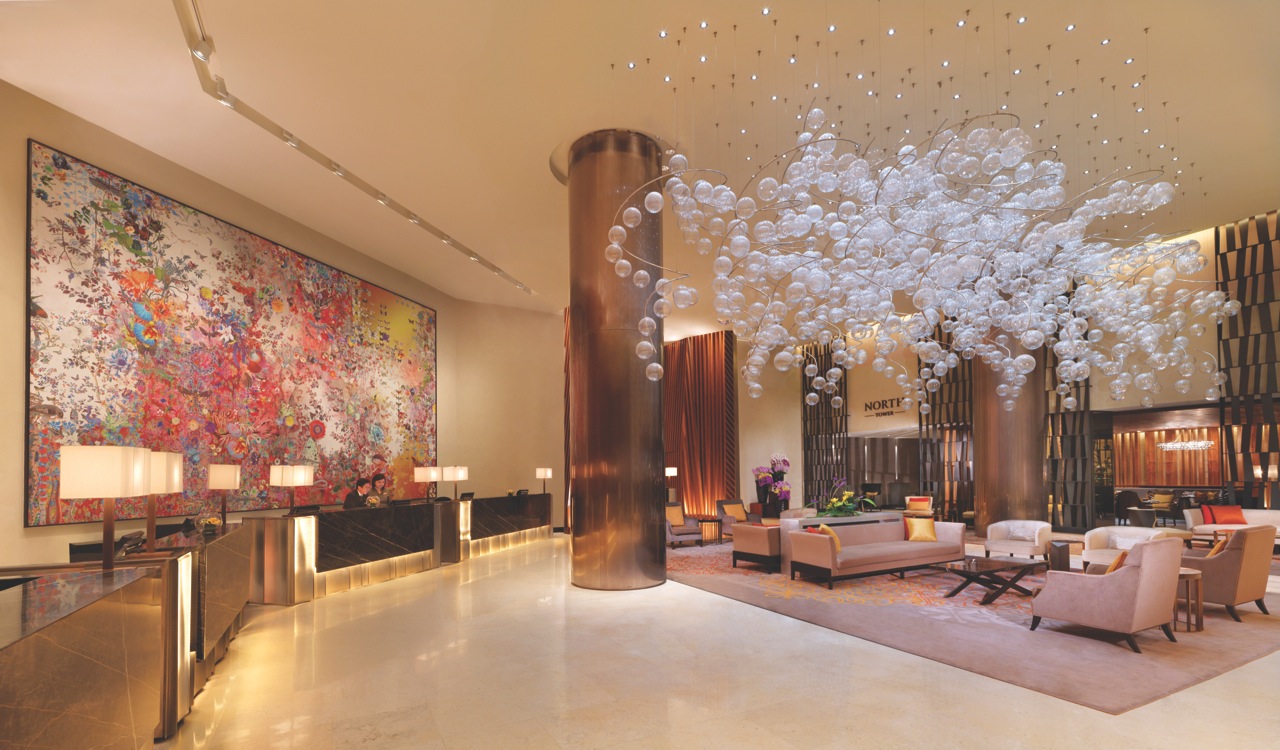 the lux score
77
the lux score explained
Service 9
Rooms 7
Food & Beverage 7
Ambience 7
Attention to Detail 8
Generosity & Value 8
Wow / Hip Factor 8
Facilities 7
Location 7
Fit to Promise 9
Fairmont Singapore is a large 5 star city hotel in an ideal location. After staying at a number of Fairmont properties I have developed a real affinity for the brand. Every Fairmont I visited highlights local design aspects in their interiors and Fairmont Singapore has gone a step further and acquired a collection of artwork depicting local history and modern life in Singapore. Artwork and sculptures can be found all throughout the hotel – on every guest floor and the most prominent pieces in the lobby.
Arrival & Location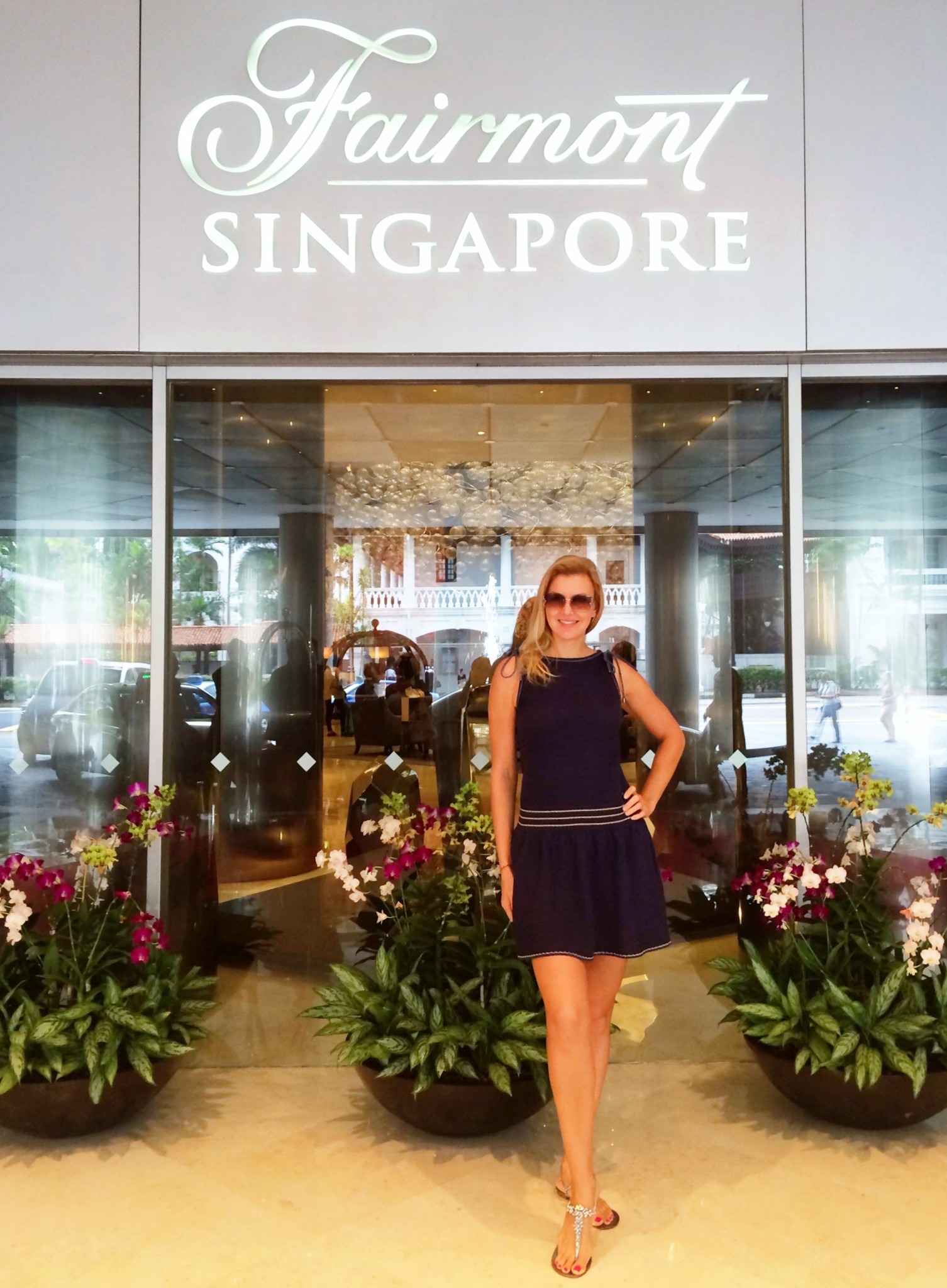 Fairmont is in the heart of the business district, across the road from the famous Raffles Hotel and within easy reach to Marina Bay. A taxi ride from the airport takes no longer than 20-30 minutes.
I love the impressive lobby of Fairmont Singapore with its high ceilings and dominating 'Diversity' painting by textile designer Claudia Caviezel, inspired by the kaleidoscope of cultural festivals that are widely celebrated in Singapore.
We also noticed the subtle use of Peranakan motifs in the hotel interiors and stunning hand made chandelier in the lobby made out of hundreds of baubles, specially designed for the Fairmont and shipped all the way from the Chezh Republic.
Accommodation
The Fairmont Singapore is a large hotel with over 700 rooms and suites located in 2 towers – South & North. North tower has just undergone a complete renovation and boasts wonderful views towards Marina Bay from the higher floors.
Even the lead-in rooms in North tower are spacious (from 39 sq meters) and beautifully designed with black marble bathrooms, black wood plantation shutters and soft carpet flooring. The photo of the new room is below.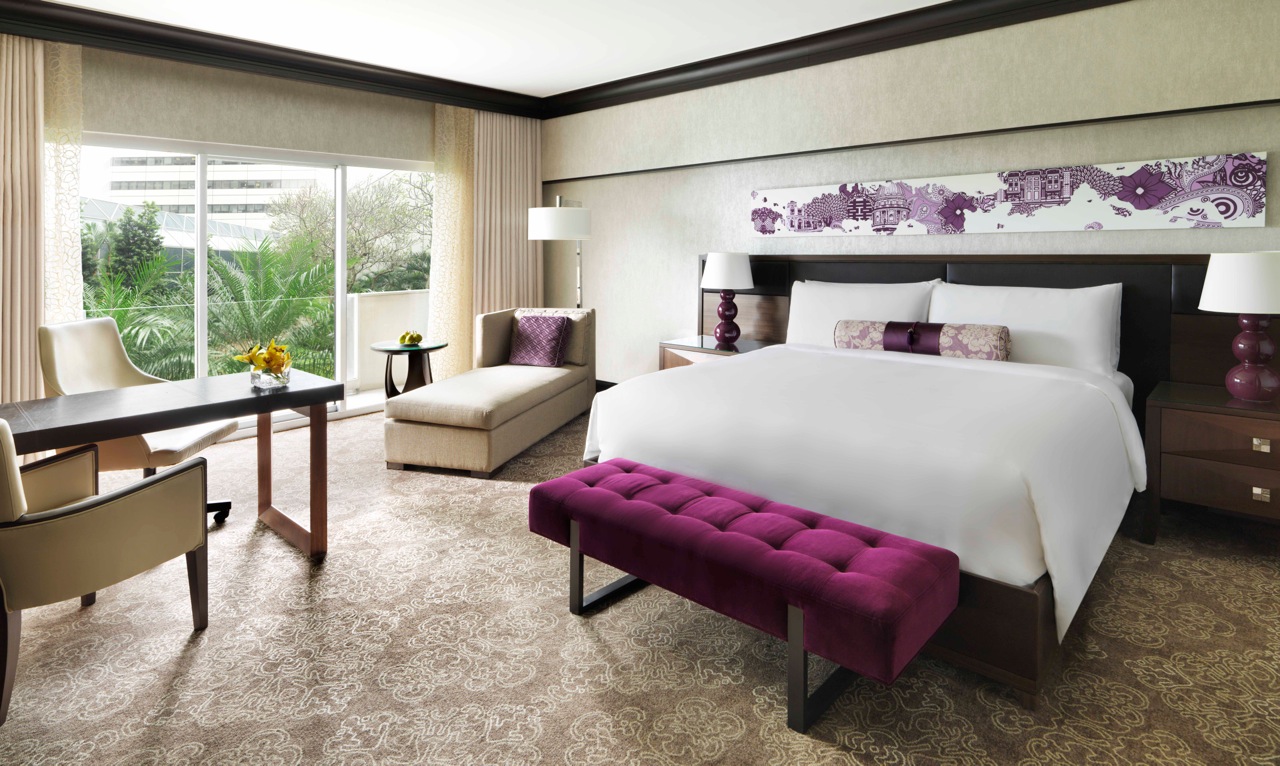 Lobbies have been upgraded too; they are decorated in warm dark tones and complemented by soft lighting; upholstered walls feature artwork and mini sculptures and dimmed lighting gives it an air of exclusivity.
South Tower hasn't been renovated since 2007, but is still very well maintained. We stayed in a Fairmont Suite in the South Tower; it didn't have a view but was very spacious and worked well for our family.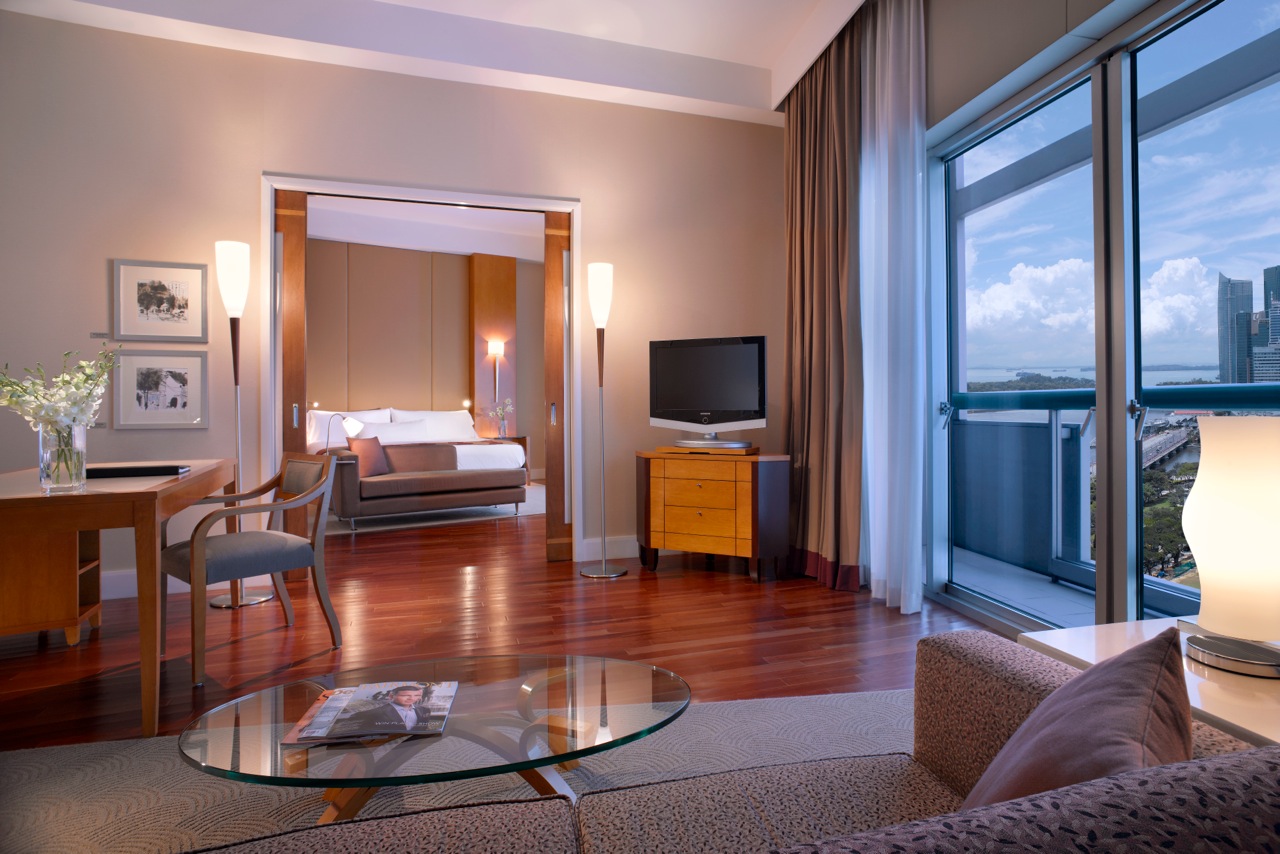 I have to say that Fairmont beds are unbelievable – they are called 'Could 9' and it is a perfect description for this sensational bed. We had the best sleep ever and couldn't get enough of the fluffy pillows, soft sheets and heavenly mattress.
Double bathrooms in the suites are also quite spectacular – all white with natural stone accents, rain showers big enough for two, clear glass vanities for him and her and a stylish bath as a centrepiece of the room.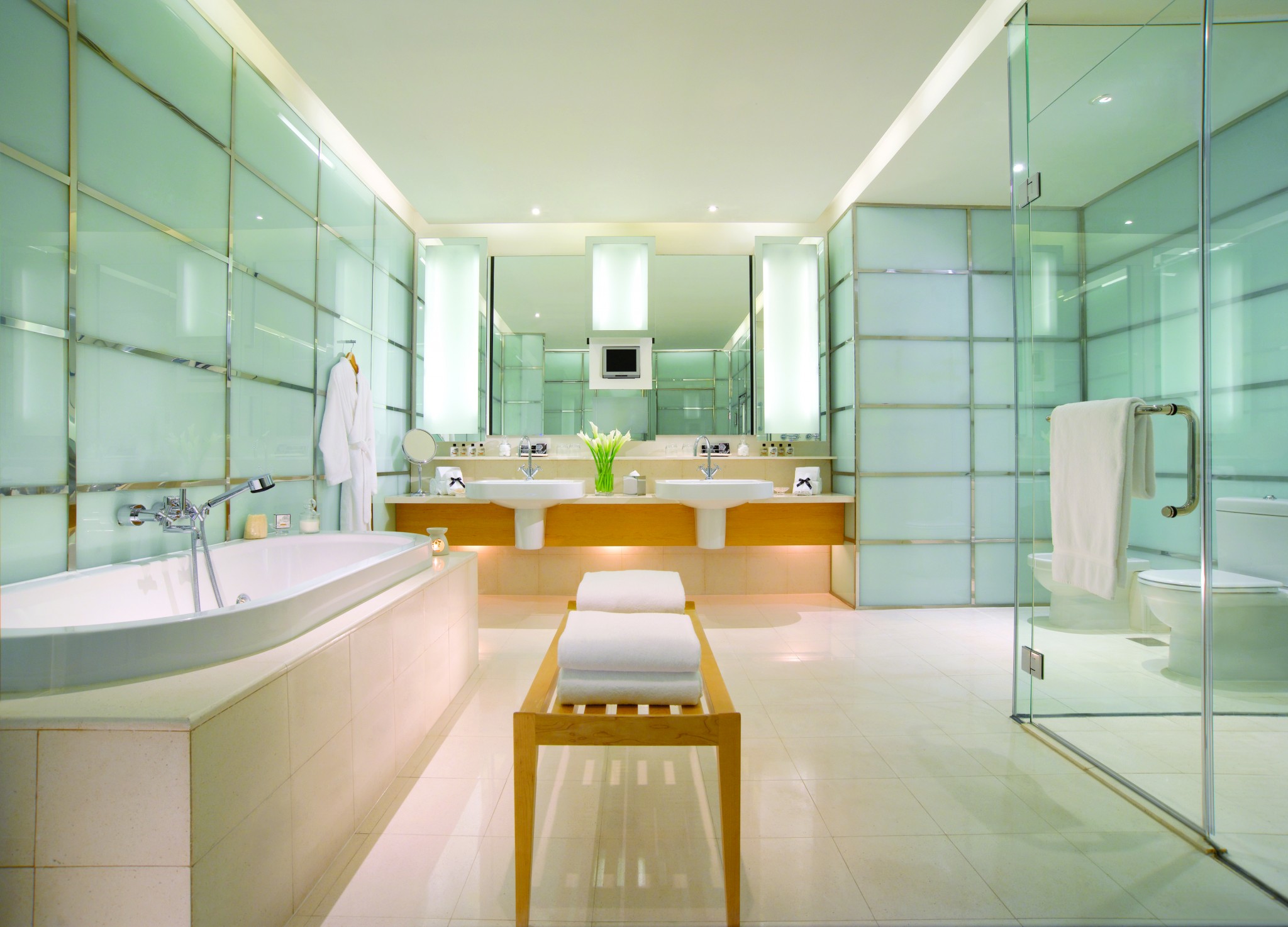 Facilities
Fairmont has a fantastic two storey gym. One storey is dedicated to cardio, another – to weights. On most days there are yoga classes in the mornings and evenings available to hotel guests for a small fee of $25 SGD.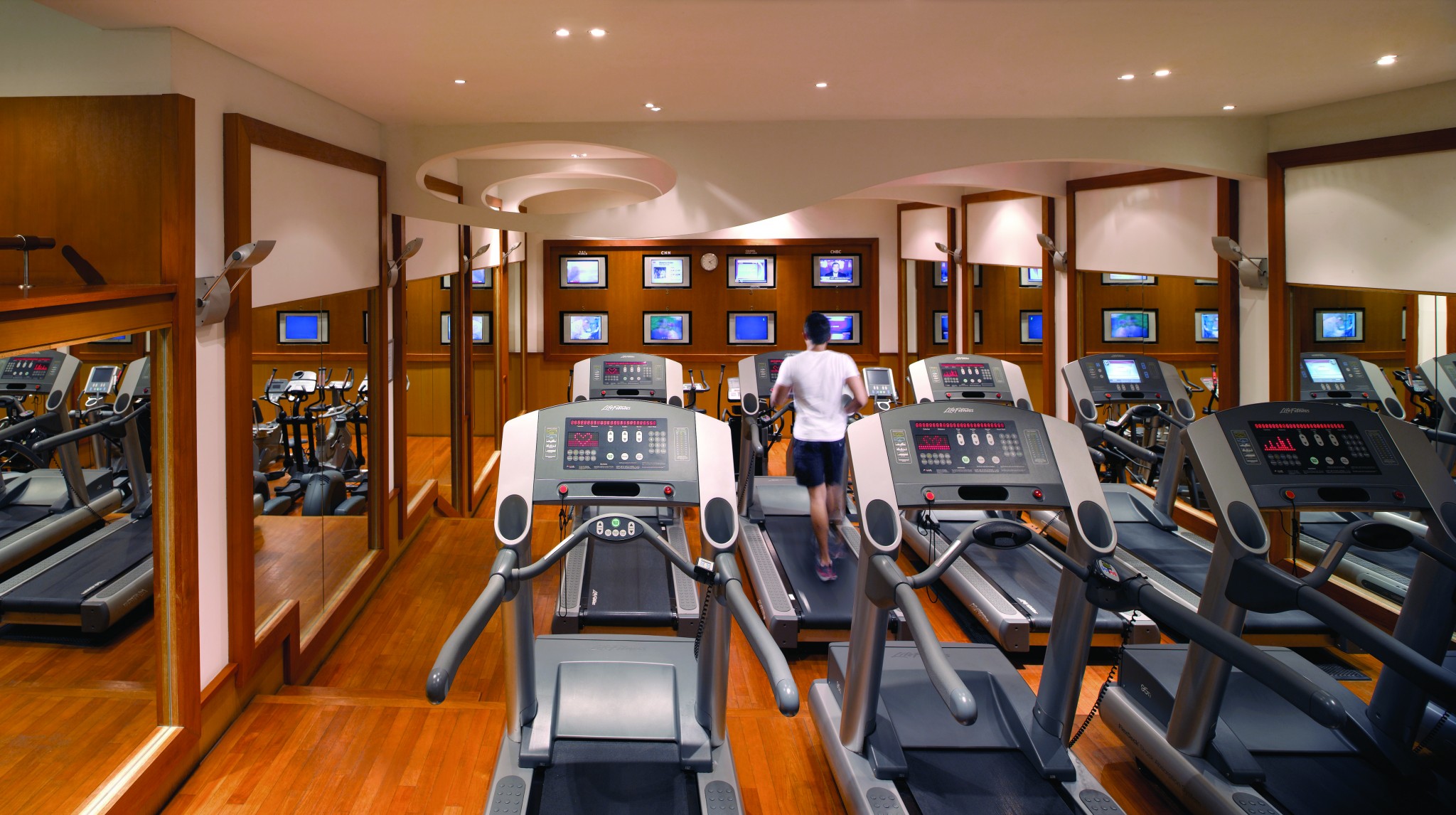 For those who love tennis, there are 6 tennis courts for hire and a coach available for private lessons.
Swimming pool area isn't as nice as in some of the other 5 star hotels. It is shared between 2 hotels – Fairmont and Swisshotel and isn't big enough to accommodate guests from both hotels (they have over 2,000 rooms between them). There are no comfortable shady cabanas by the poolside and no view from this part of the hotel.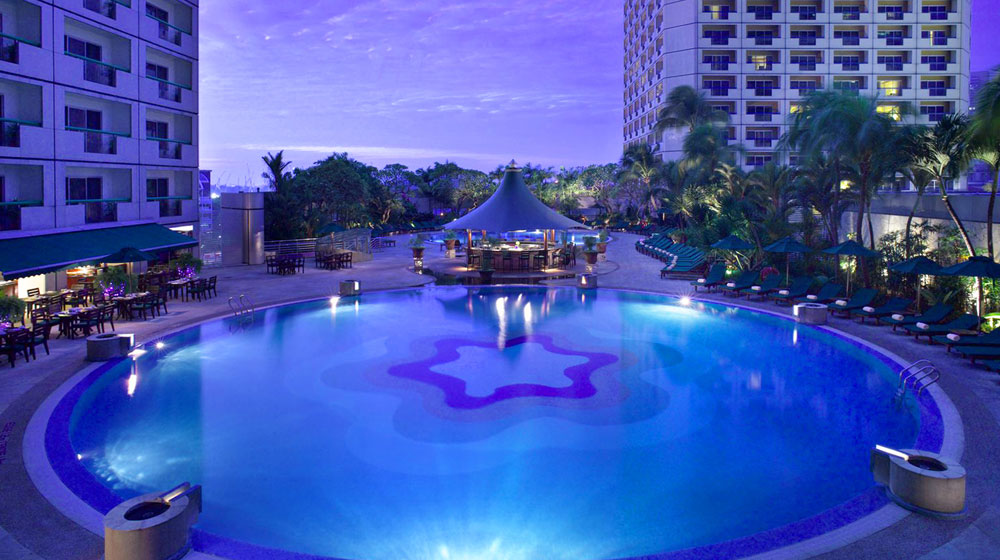 Willow Stream Spa
The spa is absolutely wonderful. It has marvelous indoor hot and cold pools in men & women's recreation areas, steam room and spa.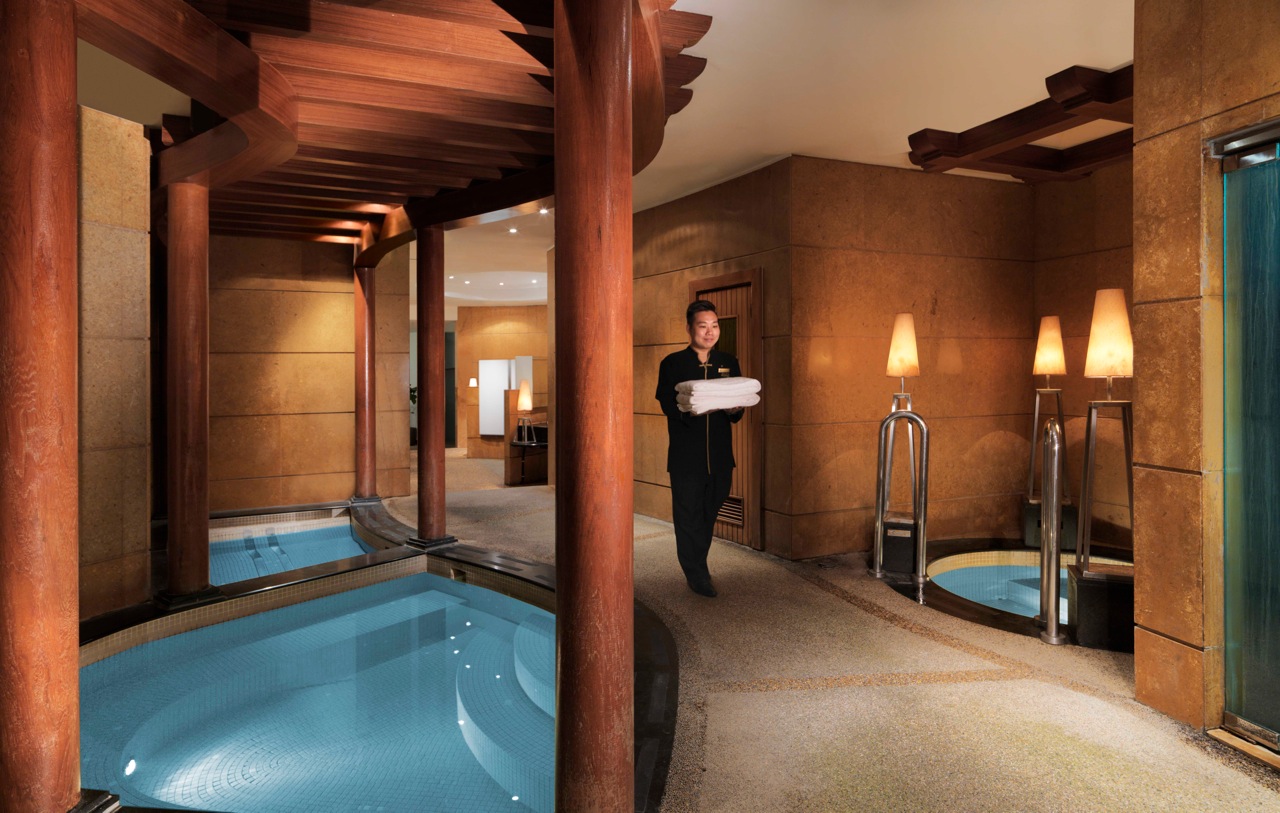 Treatments vary between massages, facials, scrubs, manicures & pedicures and any combination of the above. I had an utterly relaxing massage by a very professional therapist who has put me to sleep within minutes by her magic.
The spa also has a hair salon, so so for a special night out stop by the salon for a cut and blow dry.
We highly recommend a visit to the Willow Stream Spa while you are in Singapore – utterly relaxing and very professional.
Dining
Fairmont guests are spoilt for choice of dining venues in the Fairmont; there are 15 outlets – restaurants and bars in the complex for every taste and budget.
For breakfast guests can choose from the Executive Lounge (if you have access to it), main buffet at Prego or a smaller buffet at the poolside café.
Executive Lounge has the best exclusive atmosphere and I would highly recommend booking a room with club access. The lounge serves fresh fruit, yogurt, pastries and has a small egg station. In the evenings French champagne is on offer together with a selection of gourmet canapés.
Main restaurant Prego is busy and a little short staffed, but features a large buffet for breakfast, lunch and dinner.
For lunch Prego offers an Italian spread, apparently well known in Singapore. We didn't have a chance to try it but we heard that they do pretty good pizzas, pastas and Italian deserts.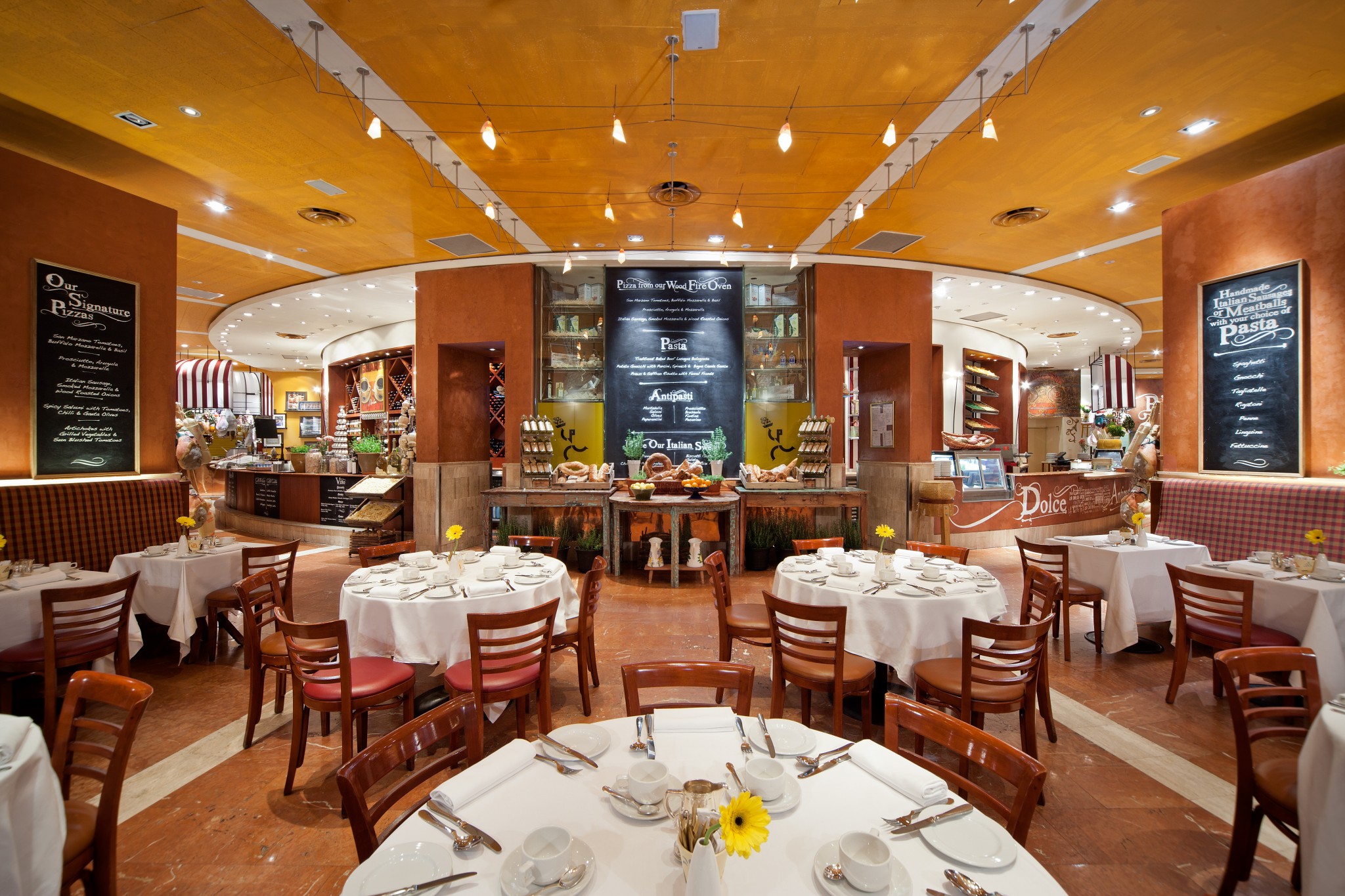 The only restaurant we experienced during our stay was Mikoni, a stylish Japanese establishment, famous for their degustation menu and spectacular presentation of the traditional dishes.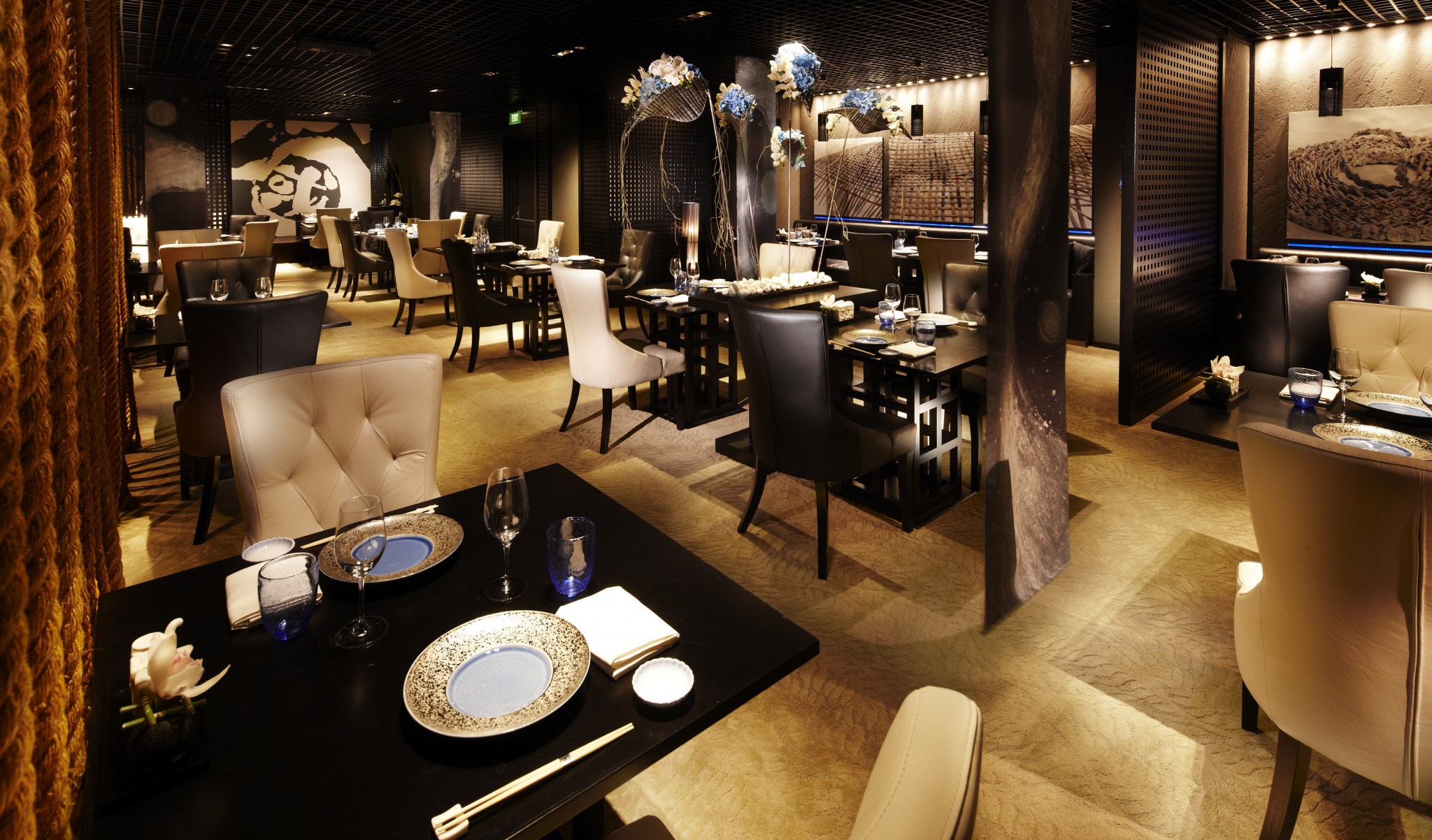 Here is the menu that was specially prepared for our visit and some of the spectacular dishes from the menu.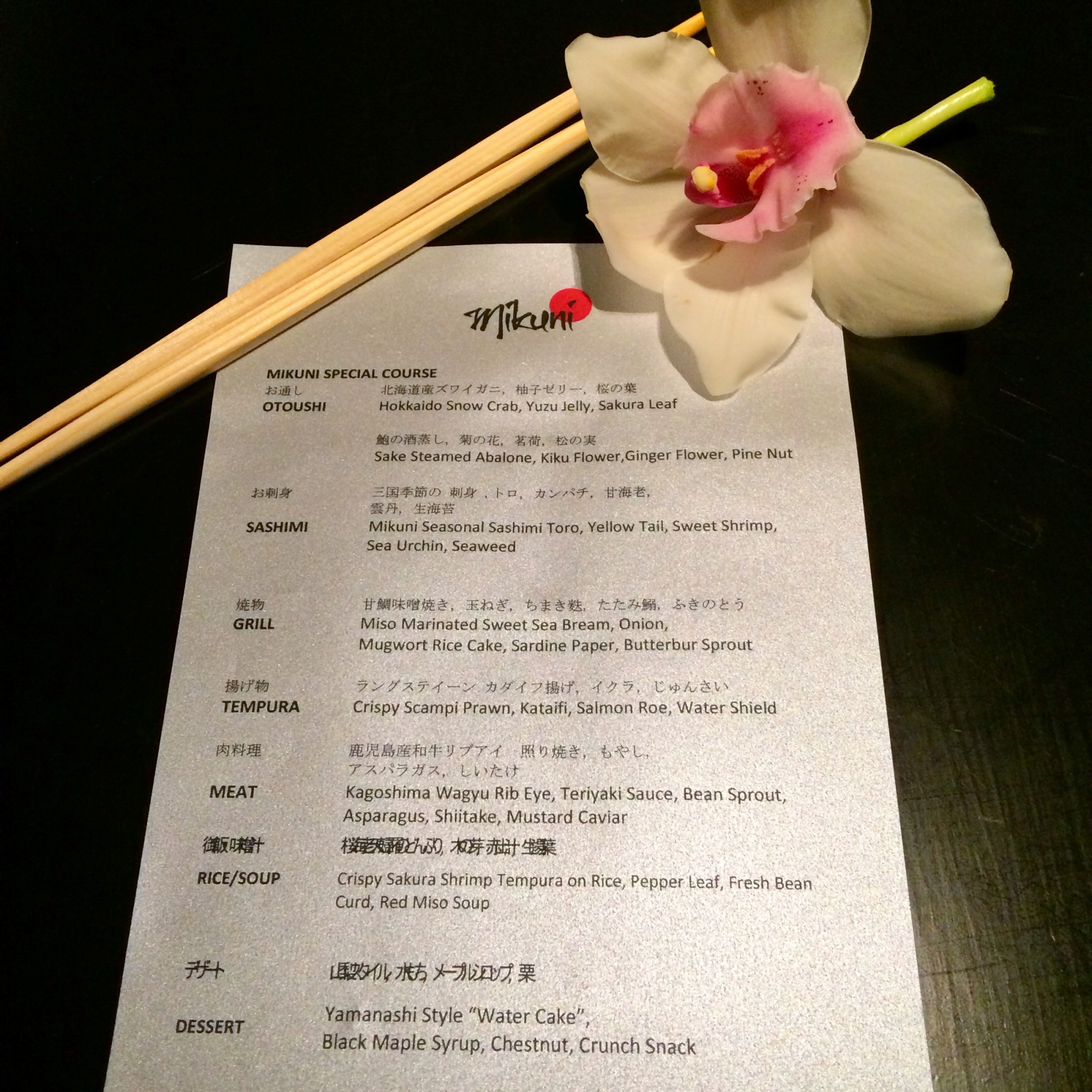 The restaurant was full and degustation lunch took a little over 2.5 hours. So try to reserve a table ahead of time and be ready to enjoy a long lunch.
There are also Chinese, Singaporean, Indian restaurants in the complex and French JAAN located in Swissotel tower on level 70 with a breathtaking view of the whole city. This innovative cuisine restaurant has won best restaurant in Asia in San Pellegrino guide.
The Lux Traveller Loves
Willow Stream Spa and gym – excellent for morning workouts and massages on rainy afternoons.
Newly renovated North Wing offers some of the best designed and spacious rooms in Singapore at a reasonable rate.
A multitude of dining options in the complex.
Splitting Hairs
Pool area could seriously benefit from an upgrade – it needs a little atmosphere, stylish cabanas, flowers – anything that could make it look and feel more exclusive and inviting.
All In All
Overall, the Fairmont grew on us. It is not the most luxurious hotel in town but it is very well priced (rooms start from SGD $310 per room per night), has fantastic dining options, handy location near the marina and possibly the best beds in town. The spa is wonderful, the gym has everything you might want for a good workout and yoga and tennis are excellent additions to the wellness program. Not many city hotels can boast all of the above.