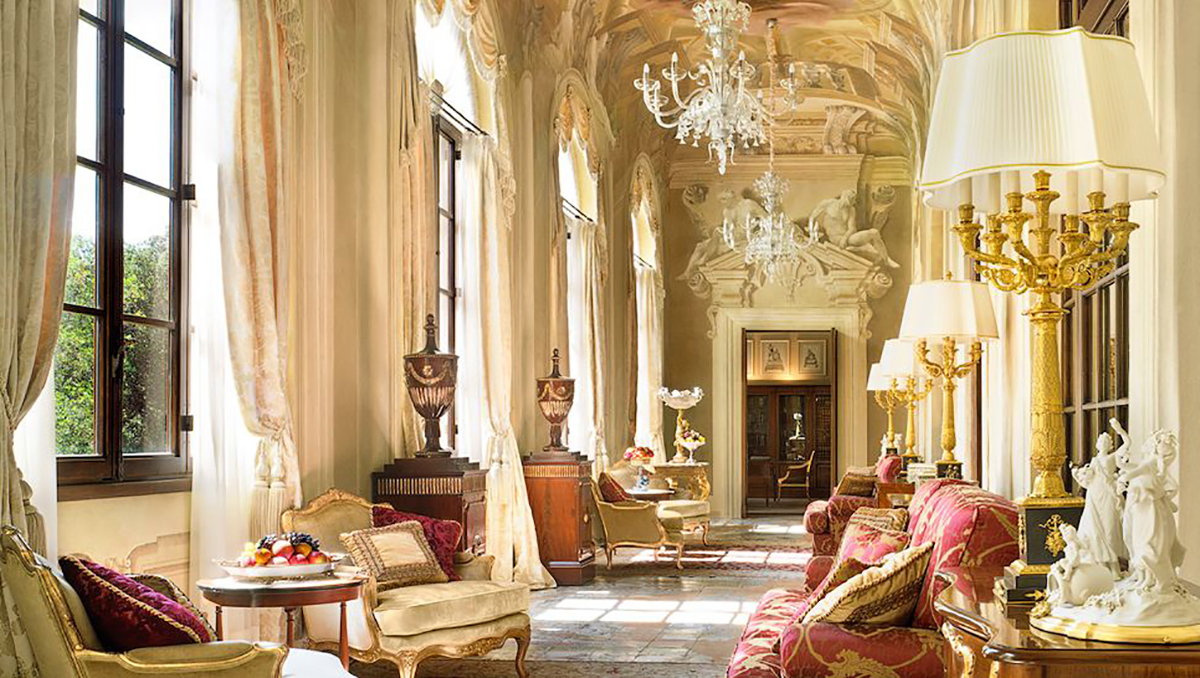 the lux score
94
the lux score explained
Service 10
Rooms 10
Food & Beverage 9
Ambience 9
Attention to Detail 10
Generosity & Value 9
Wow / Hip Factor 10
Facilities 10
Location 8
Fit to Promise 9
Four Seasons Florence is a serious contender for the Best Hotel In The World title. It is an impossibly romantic and beautiful. It is a place you would come to fall in love and be loved. If you love luxury experiences combined with true elegance – this grand hotel is for you!
It is located in a quieter part of Florence, 10 min walk to the historic centre – the Duomo, Piazza della Repubblica, Piazza della Signoria.
Four Seasons comprises of two beautiful old buildings – a converted convent and a Renaissance Palazzo (palace) with city's largest private garden between them.
You would feel like a prince or a princess staying in this magical palace.
Rooms and Suites
All rooms are plush and tastefully decorated however Standard and Deluxe rooms have no views and wouldn't be The Lux Traveller's first choice.
Four Seasons rooms have the view of the Hotel's park which is stunning. It is absolutely magical to open your windows on a warm summer night and hear the pianist playing a beautiful piece downstairs – just for you.
Junior suites are lovely for a couple and personally I wouldn't want to stay in anything smaller. These suites are quite large open plan rooms with a very big bathroom and lots of storage space (so you don't see the bags even though they surely are very good looking knowing your taste).
One bedroom suites are superb. The only difference here would be your budget. Whichever suite you choose they will be of unsurpassed standard. Some suites feature art on the vaulted ceilings, beautiful frescoes and stuccos.
Staying here would be nothing short of feeling like a royal.
Dining At The Four Seasons
Breakfast is the most elegant start of the day The Lux Traveller has lately experienced. It is set up in the park on comfortable plush white chairs with crisp linen and crystal glasses. The restaurant serves freshly squeezed juices, fresh berries, Italian delicacies and anything your heart desires.
Poolside restaurant is the best place for lunch. It serves a selection of light salads and antipasto as well as pizza and pasta dishes. The view and the setting is divine. Bring your book and enjoy an extra long lunch!
Dinner and pre-dinner drinks – again, superb. If you are not staying at the Four Seasons, please make a dinner reservation – you won't regret it! It is one of the most romantic settings in Florence.
The Lux Traveller also loves the bar inside the hotel – it has a very authentic vibe that makes it a perfect place for an afternoon drink with friends.
Swimming Pool and Spa
If you are here in summer (June – August) having a large pool in the hotel is a huge bonus. Not many hotels in Florence do. The pool is warm and beautiful, perfect for swimming off the jet leg! Or simply relaxing on the water's edge with a chilled glass of Prosecco.
The Spa is also sensational – I tried a massage and a facial and was happy with both.
All In All – One of the most romantic hotels in the world – a must visit for any Lux Traveller!
I can't wait to go back to Florence and to the Four Seasons! Staying here was a dream come true!