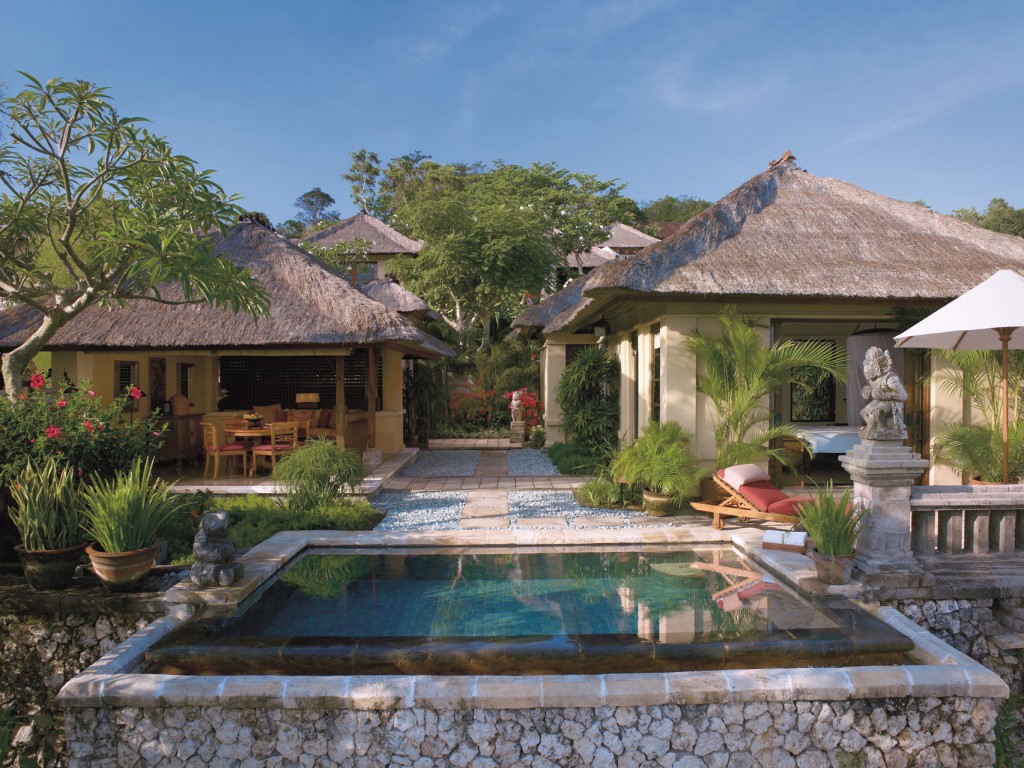 the lux score
90
the lux score explained
Service 10
Rooms 7
Food & Beverage 9
Ambience 10
Attention to Detail 10
Generosity & Value 8
Wow / Hip Factor 8
Facilities 10
Location 9
Fit to Promise 9
Utterly relaxed after our visit to the glorious Four Seasons Sayan we had a seamless transfer to the sister property at Jimbaran. We hear that many guests like to combine two resorts to experience different flavours of Bali.
Four Seasons Jimbaran is a beachfront resort, located as the name suggests on Jimbaran beach, about 20 min away from the airport and an hour and a half from Sayan.

Arrival and Accommodation
We arrived late at night and requested an in-villa check-in. Accommodating butler not only helped us with the luggage but also carried my sleeping son all the way to the villa.
Four Seasons Jimbaran has 156 villas, most with sea views, spread over 14 hectares of perfectly manicured gardens. In fact Four Seasons gardens are famous in Bali – they are so perfectly groomed, so thoughtfully laid out, so colourful with all shades of pink, white and purple that you feel like you are in the a magic land that is so full of life and colour.
Four Seasons Jimbaran has quite a unique mix of accommodation to match any style and budget. For couples and families choose a one- or a two-bedroom villa, for Royal treatment book a Royal Villa, 600 sq meter palatial two-bedroom residence or for large families or friends travelling together book Three- or Four- Bedroom Residents Villa.
The prices range from USD $700++ for a Garden View One Bedroom Villa to USD$4,000++ for a Royal Villa.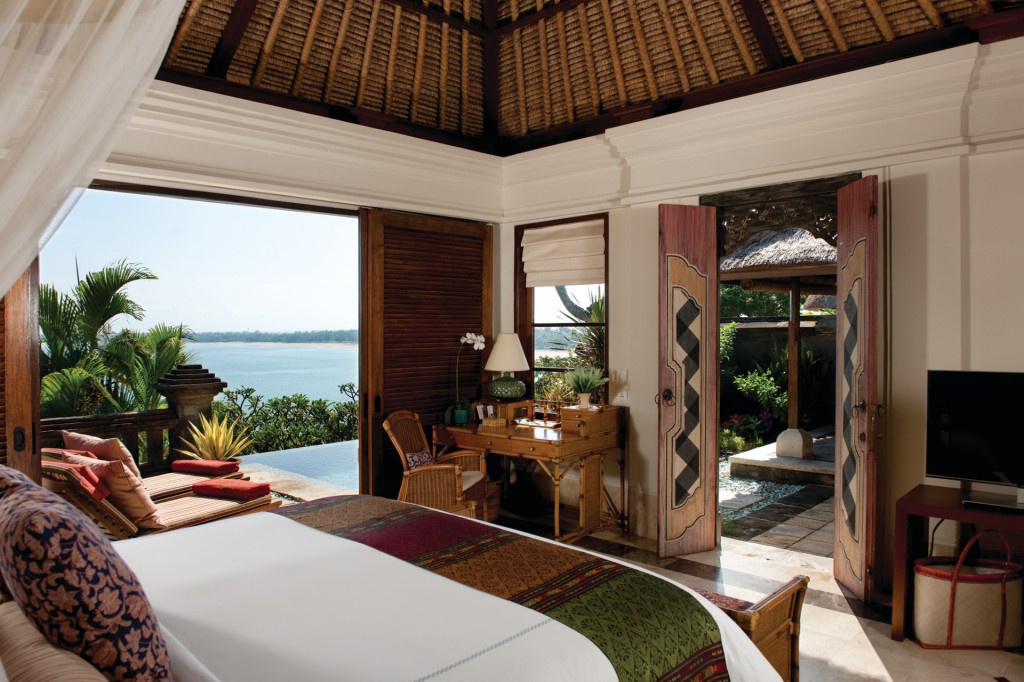 We stayed at the Ocean View One-Bedroom Villa which is perfect for a couple. It features a bedroom with a view and a large on-suite with indoor and outdoor shower.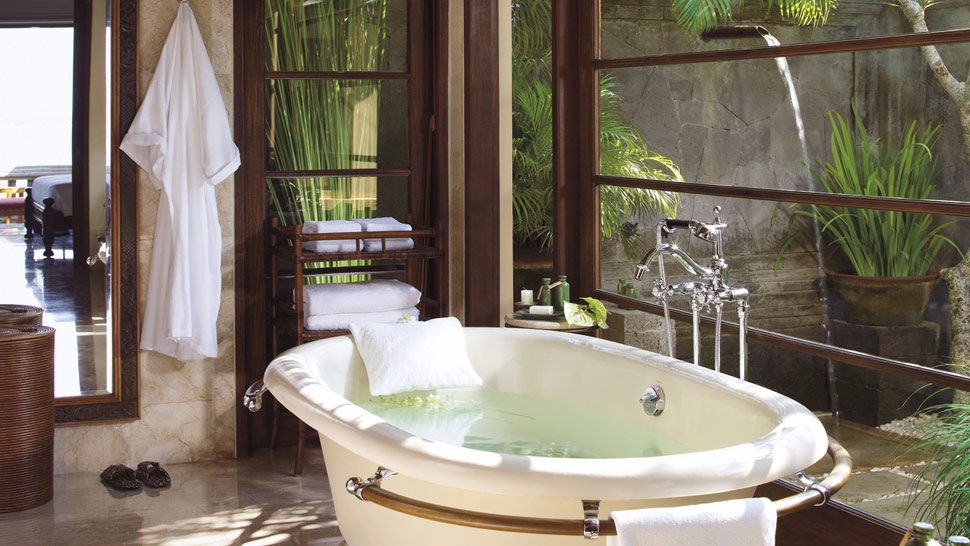 The living room is a separate thatched roof pavilion and is open to elements. Villa courtyard is behind a high stoned wall to ensure guests peace and privacy and a little plunge pool has a wonderful outlook towards the blue waters of Jimbaran Bay.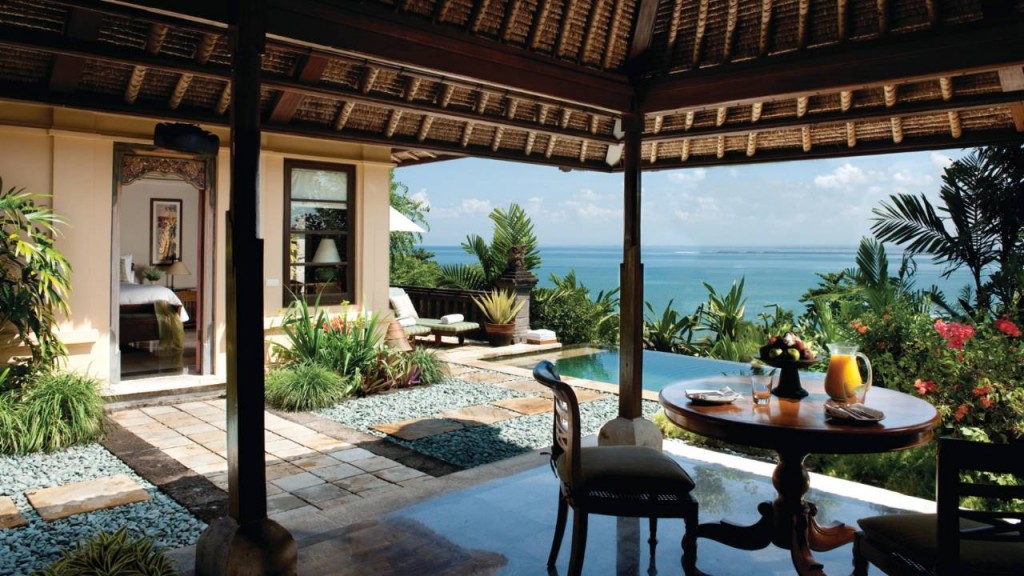 For families we would recommend reserving a two bedroom villa as one bedroom will hardly have enough room for a spare bed. Internally they are not overly spacious.
Two bedroom villas have a more grand feeling to them, they spread over 370 sq meters, have larger courtyards and bigger pools.
Activities & Spa
Four Seasons Jimbaran has a wonderful spa and a long list of activities, just like its sister property Four Seasons Sayan. If you prefer to be busy and active Four Seasons won't leave you bored.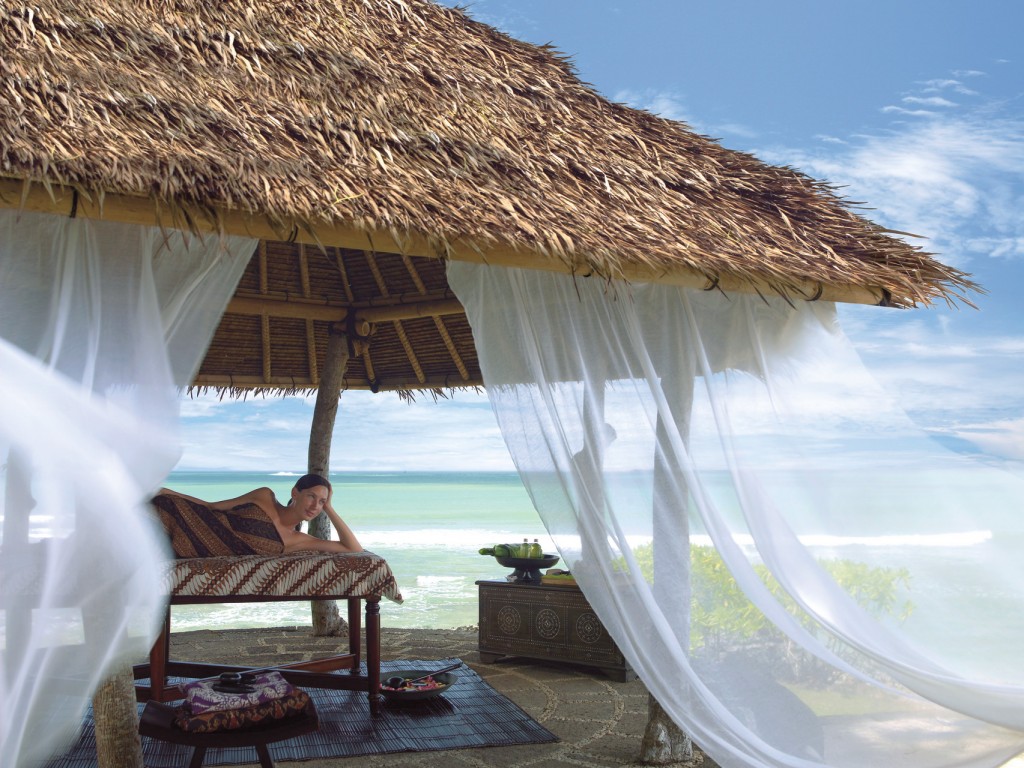 The days start with a yoga or mediation class set up in an open bale by the sea. Wonderful experience to meditate looking onto the deep blue while taking in the sound of the rolling waves and feeling the breeze on your face. Perfect start to a day!
After yoga – a delicious breakfast with the family and after that your choice of either more exercise like circuit training or tennis. If you are feeling a little lazy, just take it easy and lounge around by the pool or the beach. The choice is yours.
As for me, I love stylish pool cabanas at Sundara, resort's new beachfront restaurant slash beach club located right on the white sand of Jimbaran Beach.
That's where you would've found me on most mornings.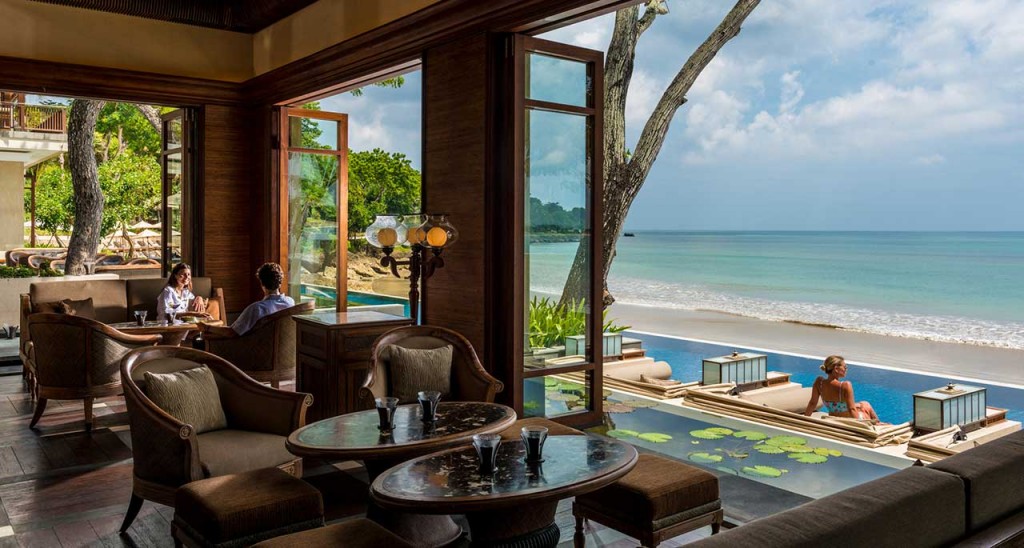 100 meter long pool is attracting guests from all over Bali and we felt privileged spending lazy mornings here and not having to leave the resort once we were done.
Sundara serves an excellent lunch and is always busy. It has a chilled holiday vibe, glamorous atmosphere and funky music. Great place to visit, even if you are not staying at the Four Seasons.
After lunch there is a multitude of activities to choose from and it could vary from a stretch class to beach soccer, Tropical Drink Class or a Temple Tour.
At a nearby bay Four Seasons offers its guests a multitude of watersports like jet skis, parasailing and all the rest but unfortunately we have run out of time on this trip and will look forward to experiencing all of these on our next visit.
Dining
Four Seasons Jimbaran has three restaurants – Indonesian Taman Wantilan, casual Pool Café and beachfront glamorous Sundara.
Taman Wantilan serves wonderful buffet breakfast with a view (it is located high above the sea with the breathtaking view of the glistening bay). For dinner it serves Indonesian favourites.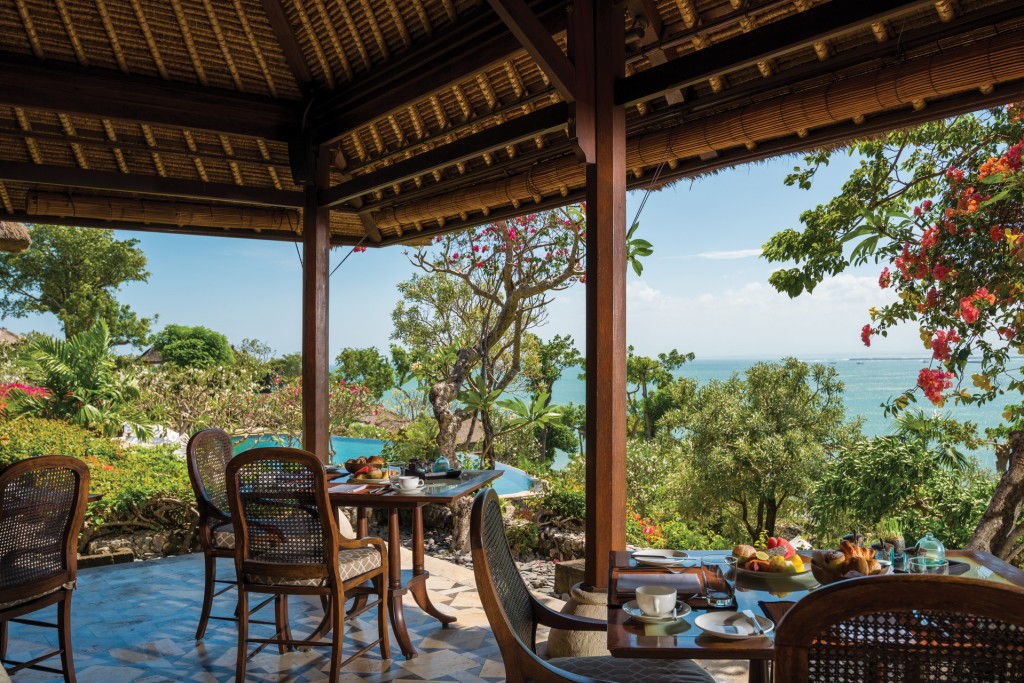 Pool Café is open for lunch only and as the name suggests, is located by one of the resort's pools and serves western favourites like burgers and salads for lunch only.
Sundara, beachfront restaurant, is our favourite lunch and dinner venue – it is dressy and funky – quintessentially modern Balinese. The setting is priceless – by a long pool, surrounded by funky cabanas and facing onto a mile long pretty beach.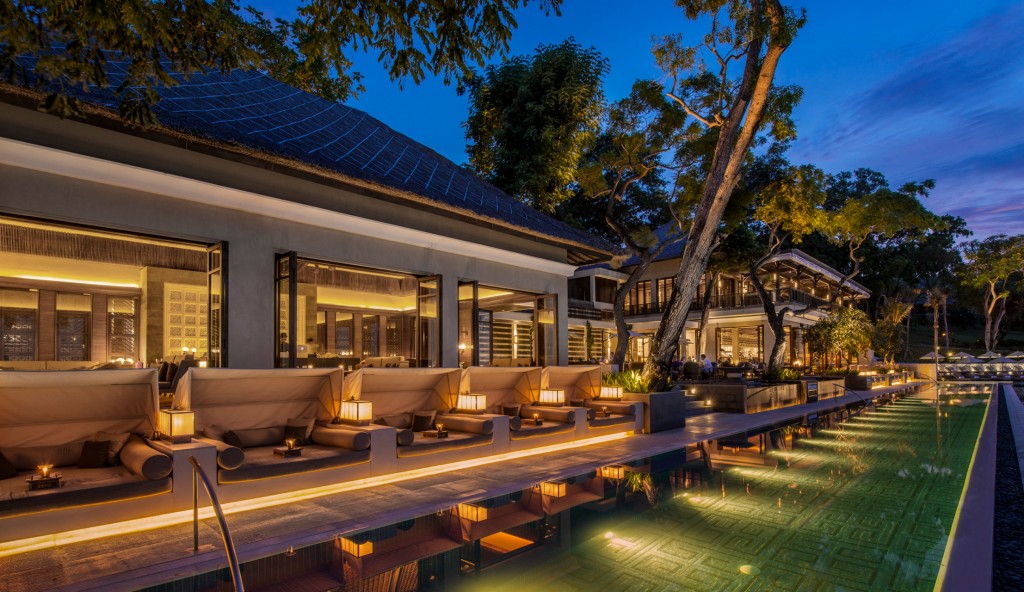 The food is fabulous – a mix of Italian and modern Asian. The service is friendly and the atmosphere is so inviting that it is not uncommon to see guests linger here from early afternoon until late evening.
Fab restaurant in a fab location!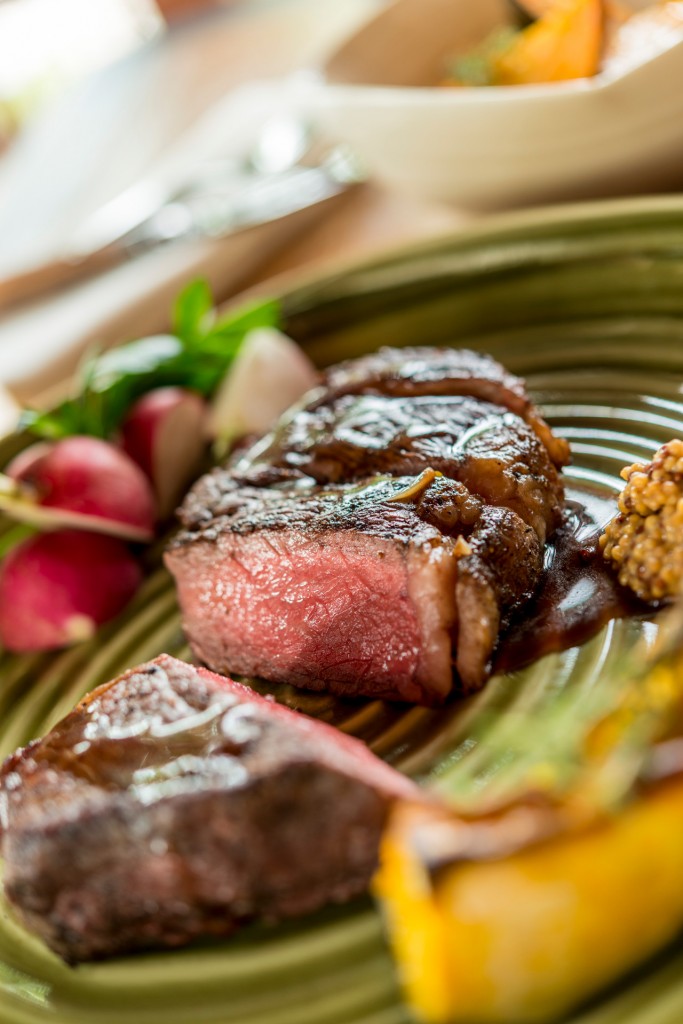 The Lux Traveller Loves
Beautiful lush and colourful resort gardens
Wonderful spa with a collection of most unusual and unique treatments, like a blessing by Balinese priest and chakra cleansing
Multitude of activities that won't leave even the most active guest bored
Sundara – my favourite place in Jimbaran for a lazy afternoon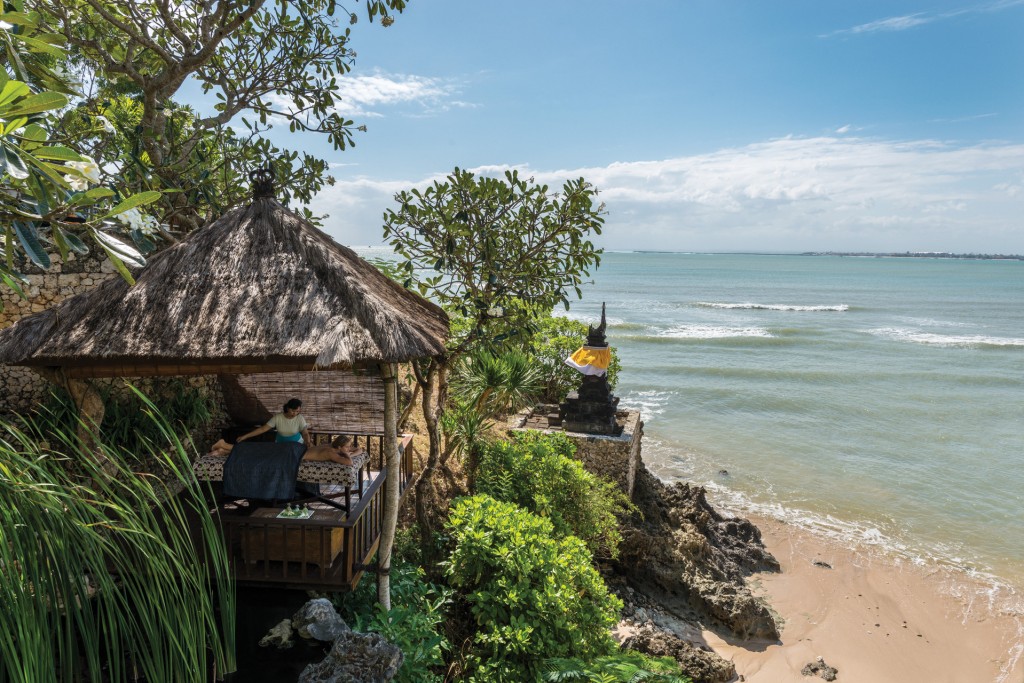 Splitting Hairs
Due to the age of the resort one bedroom villas were build without the indoor living rooms. For a similar price you could reserve a villa that is more modern and spacious in some of the other luxury resorts nearby.
The plunge pools are pretty but small – big enough only for a dip not a swim
Jimbaran is not the most exciting area of Bali in my opinion. It doesn't have a lot to offer and Jimbaran beach isn't the cleanest or prettiest in Bali. But the resort activities make up for it.
Apart from that – no complains what so ever!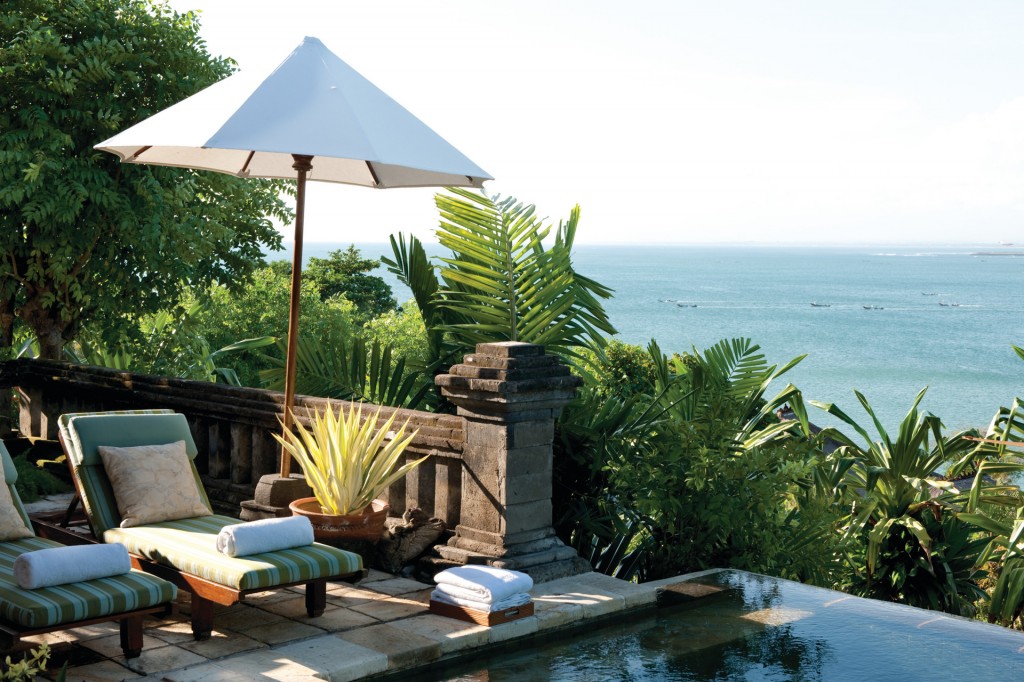 All In All
Four Seasons Jimbaran is an established and very well run resort. Their service is consistent as well as their offering. A great option for a stay at Jimbaran.