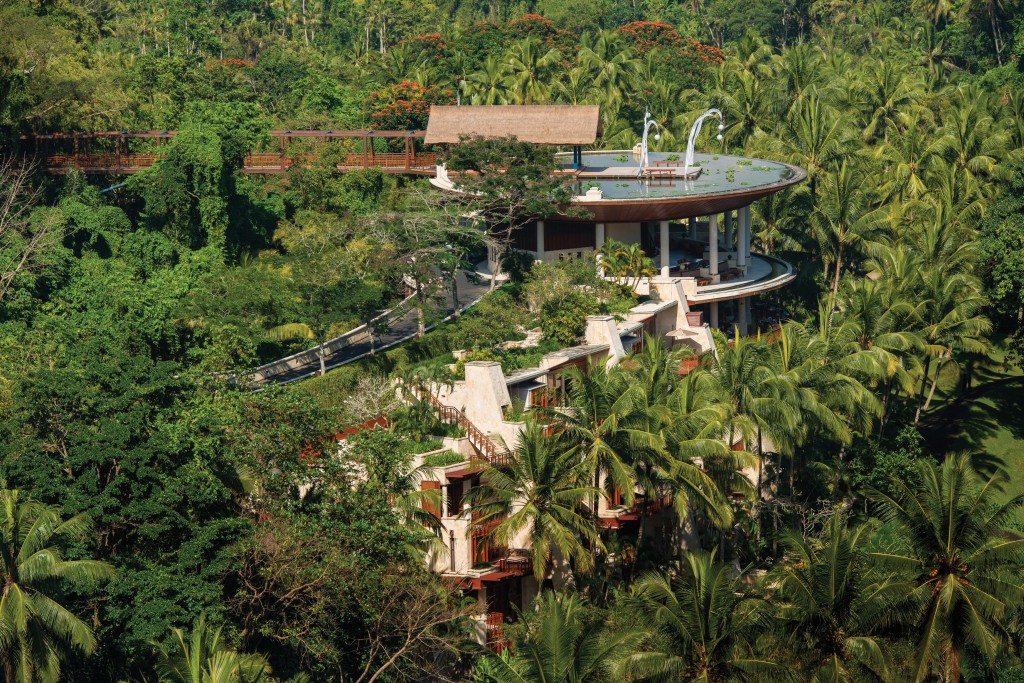 the lux score
95
the lux score explained
Service 10
Rooms 7
Food & Beverage 8
Ambience 10
Attention to Detail 10
Generosity & Value 10
Wow / Hip Factor 10
Facilities 10
Location 10
Fit to Promise 10
Four Seasons is represented by two wonderful properties in Bali – one located in Ubud, spiritual capital of Bali – Four Seasons Sayan and another one in Jimbaran Bay, a beachfront location 20 minutes away from the airport.
Our journey has started at the Four Seasons Sayan and journey is the right word to describe the two days we spent there. It wasn't a holiday or a visit – it was a deeply moving journey that has touched my soul.
Four Seasons Sayan is a unique location, high up in the hills overlooking not one fast river but two. The lobby has an astonishing wow factor that overwhelms you at check-in and never leaves you during your stay. Lush greenery, swaying palm trees, mini rice paddys and a beautiful river complete a serene picture.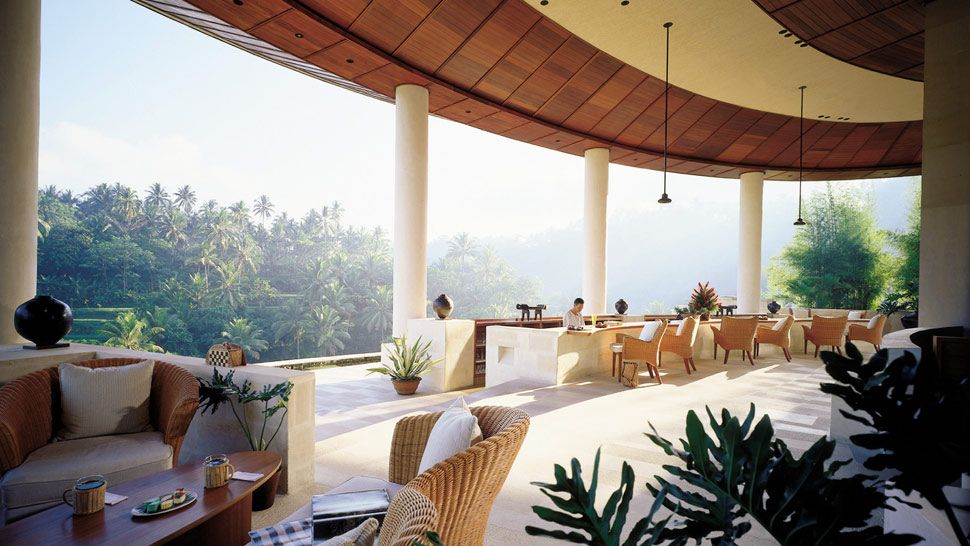 There is something in the air here that can't be put in simple words – a little bit of spirituality, serenity, awakening, purity – a mix of all of the above and much more.
Four Seasons Sayan is also very well known for its unique spa. Believe it or not spa programs at Sayan programs include Laughter yoga, rice paddy planting and a smoking ceremony of the posterior. Yes, I am not joking!
The spa offers the traditional treatments like massages and facials as well but what makes it stand apart from all other spas in Bali is its unique healing therapies, like Balinese Water Purification, Balinese Healing, Chakra Clearing and many other interesting programs.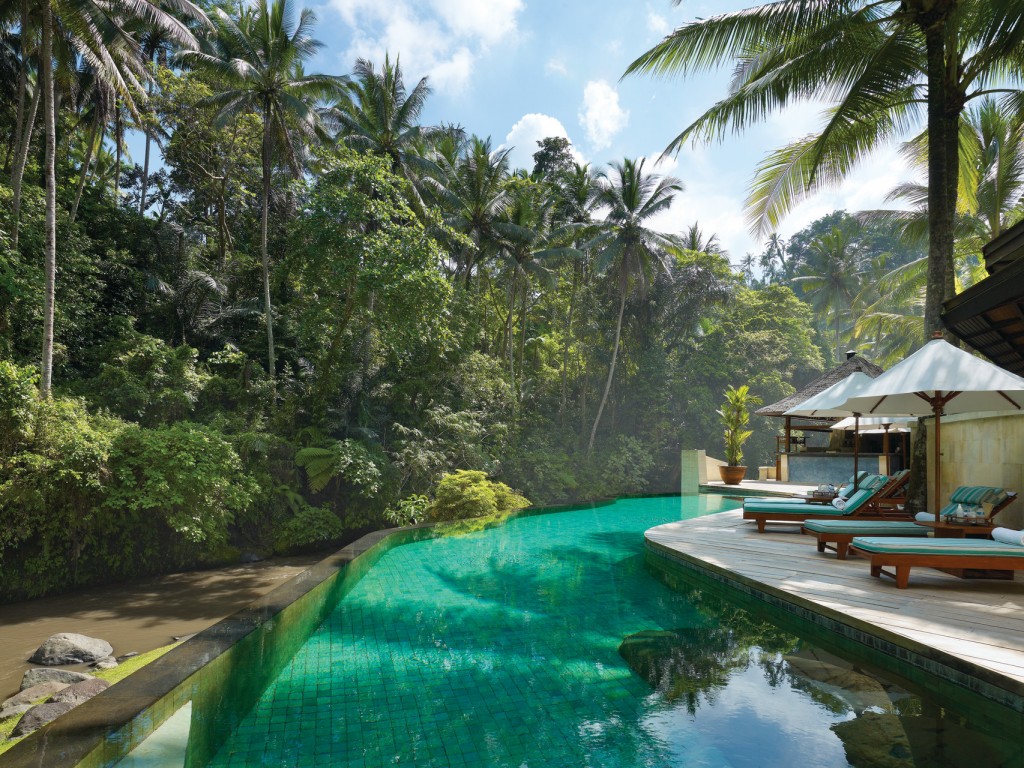 Arrival & Accommodation
Trip from the airport to Sayan takes approximately 2 hours by a luxury car that Four Seasons will gladly organize for you.
We arrived at Sayan late in the evening and from the minute we walked in we knew we will be up for a surprise in the morning. Reception area feels like it is set in the middle of Balinese jungle – very exotic and peaceful at the same time.
After a quick check-in we were escorted to our villas – two traditional thatched roof villas opening onto a large common courtyard with a plunge pool for each villa. The garden setting was inviting for all local birds to come and serenade us in the mornings. The pools were cool but refreshing and the terraces were absolutely perfect for our family to enjoy a morning coffee together and an after dinner chat in total privacy.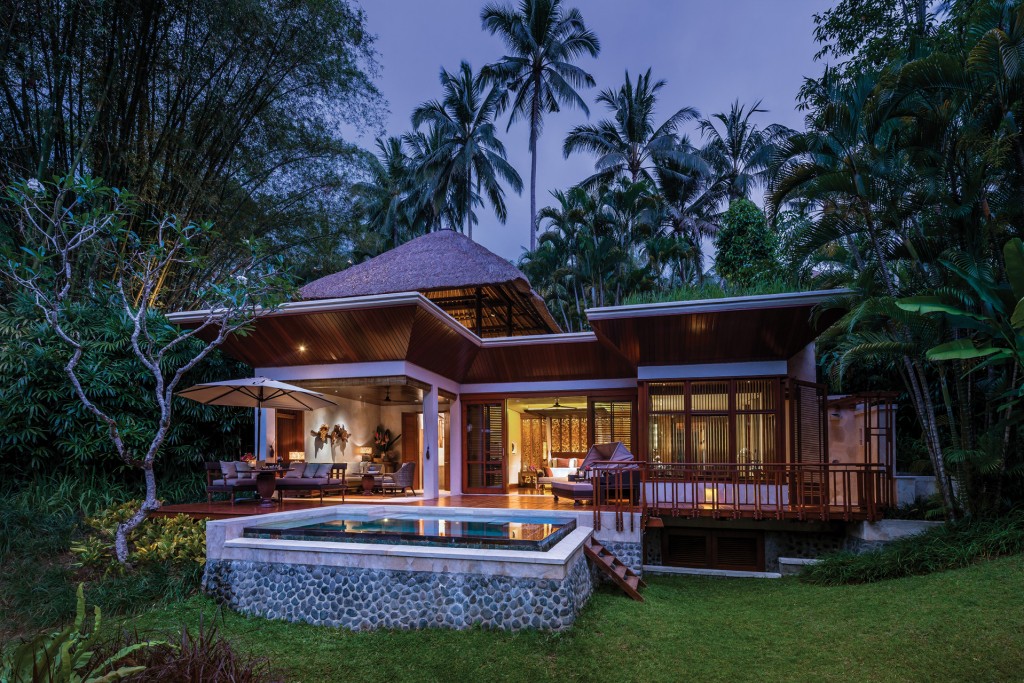 All in all Four Seasons Sayan offers 18 suites and 42 freestanding villas.
Villas range from one to two bedrooms and differ only in outlook. Some villas face the lush tropical gardens (like ours), some face directly onto the river.
Four Seasons Sayan is nearly 15 years old yet the villas and the resort itself are so well maintained that they don't show their age. The villas are designed in a traditional Balinese style with teakwood, silk upholstery, romantic high canopy beds, outdoor showers and spacious double bathrooms.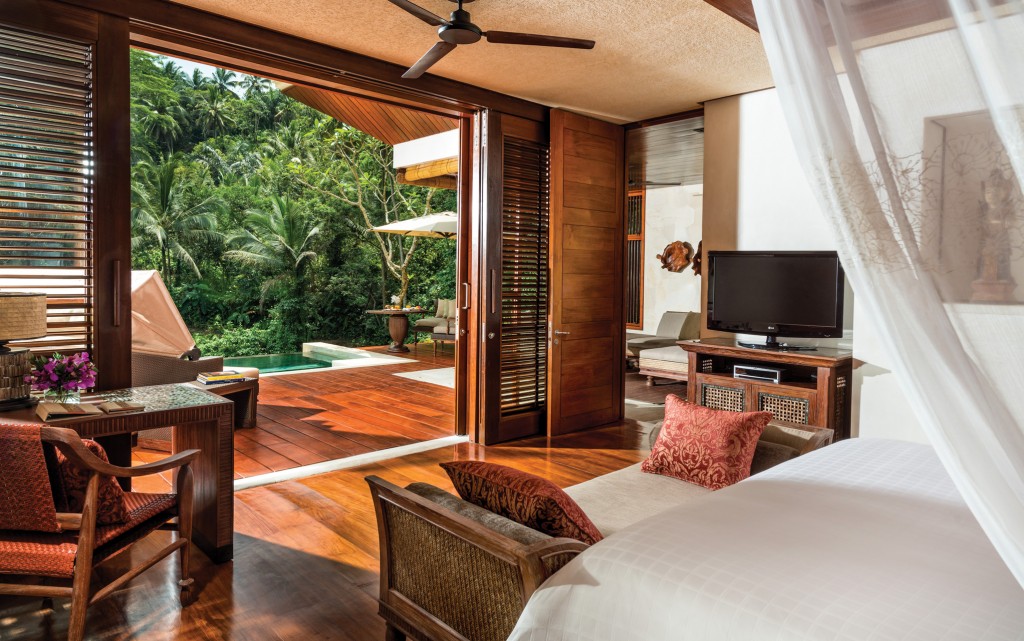 The jewel in the Four Seasons Sayan crown is The Royal Villa, a three bedroom residence spread over 1500 sq meters. This residence is a palacial home surrounded by mesmerizing views of the Ayung River, forest and rice paddies. If I am not mistaken this residence was Julia Roberts home during the filming of 'Eat, Pray, Love'.
Dining
Sayan has 2 restaurants to choose from – Riverside Cafe, seafood grill restaurant located right by the river's edge and surrounded by beautiful swimming pools and lounges.
Riverside Cafe is open for lunch and dinner and offers its guests casual dining in relaxed and casual atmosphere.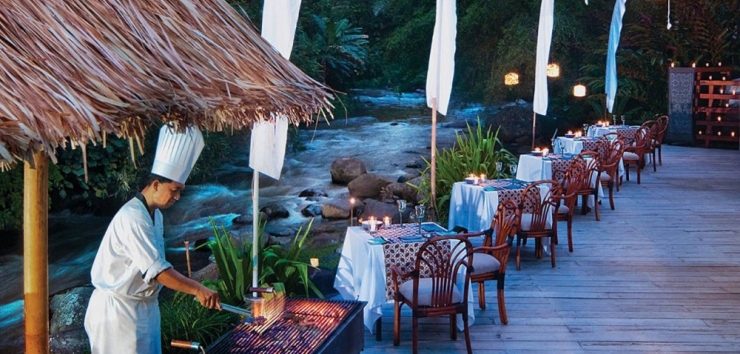 Ayung Terrace is an Indonesian restaurant open all day. The location of the restaurant is equally wonderful, it is set up 30 meters high above the river and will inspire you with wonderful views over the resort.
On some nights Ayung Terrace puts on a cultural show and a themed dinner – they are really nice especially for the kids.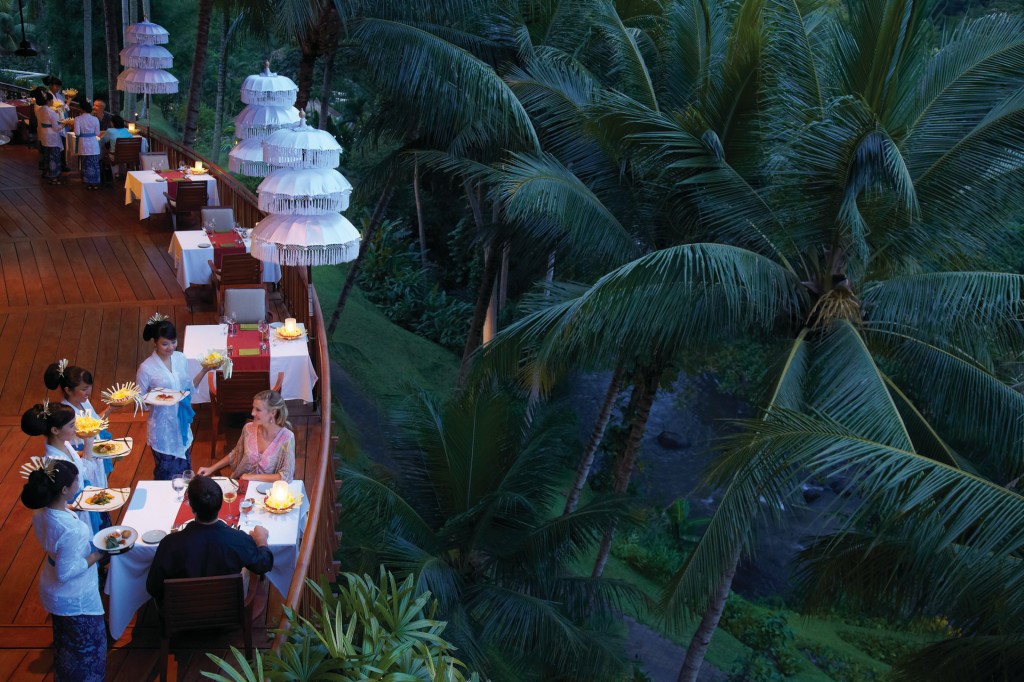 Spa & Activities
I have already mentioned the spa – it has to be one of the best spas in the world and I'd say it is one of the main attractions for visiting Four Seasons Sayan.
Spa treatments can be performed either in the spa rooms or in the stunning spa villas, surrounded by lotus ponds.
With so many amazing programs to choose from and so little time we have settled on experiencing 'A Day in a Balinese Farmer's Life' on our first day (an 8 hour journey) and a traditional signature spa treatment Muladhara on the second day.
Below are the descriptions of both treatments just to tantalise your senses. If you are a spa lover like me you won't be able to resist these exciting experiences.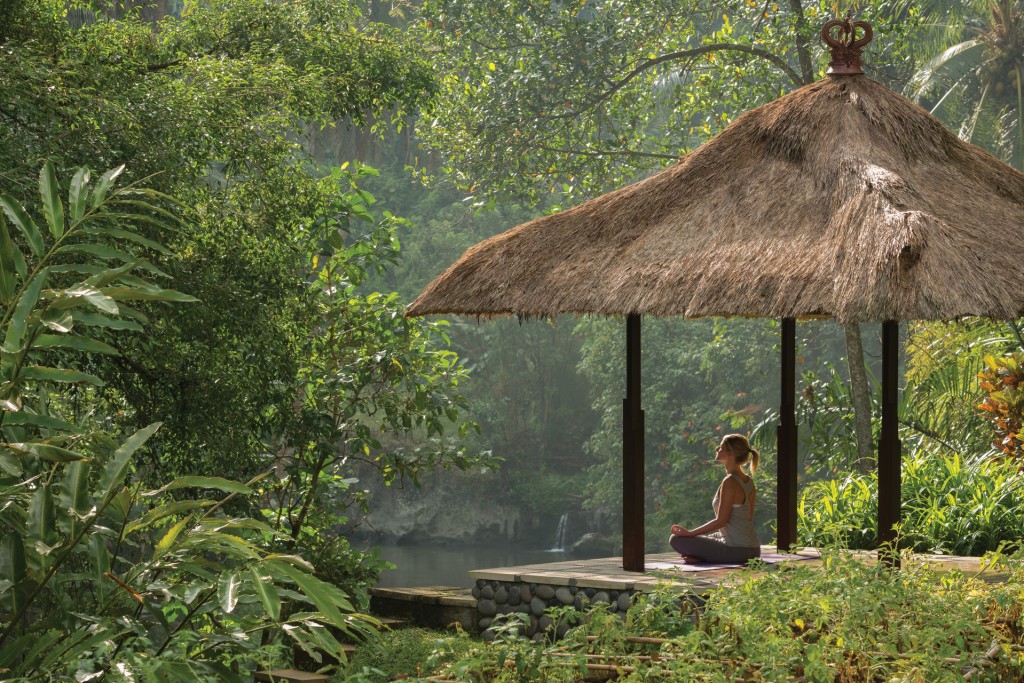 A Day in a Balinese Farmer's Life as described by the Four Seasons Sayan
Begin the day with a morning trek through the picturesque terraced rice fields and jungle paths leading to the banks of the flowing Ayung River. Breakfast will be served in a private bale, surrounded by the vivid greed rice plantings and the mirror-like watery surfaces of the terraces. Those yearning for a taste of the traditional lifestyle of the rural Balinese can continue their day by planting rice seeds. Following a refreshment break of young coconuts, it is time to relax the sore muscles in a river stone bathing ritual. Enjoy an application of fresh herbal blends on the hair and scalp, an invigorating river stone scrub to revive the skin, and a soothing Balinese massage. The day's adventure ends with a traditional lunch of NasiCampur – the typical of the everyday Balinese meal – in a private bale along the river.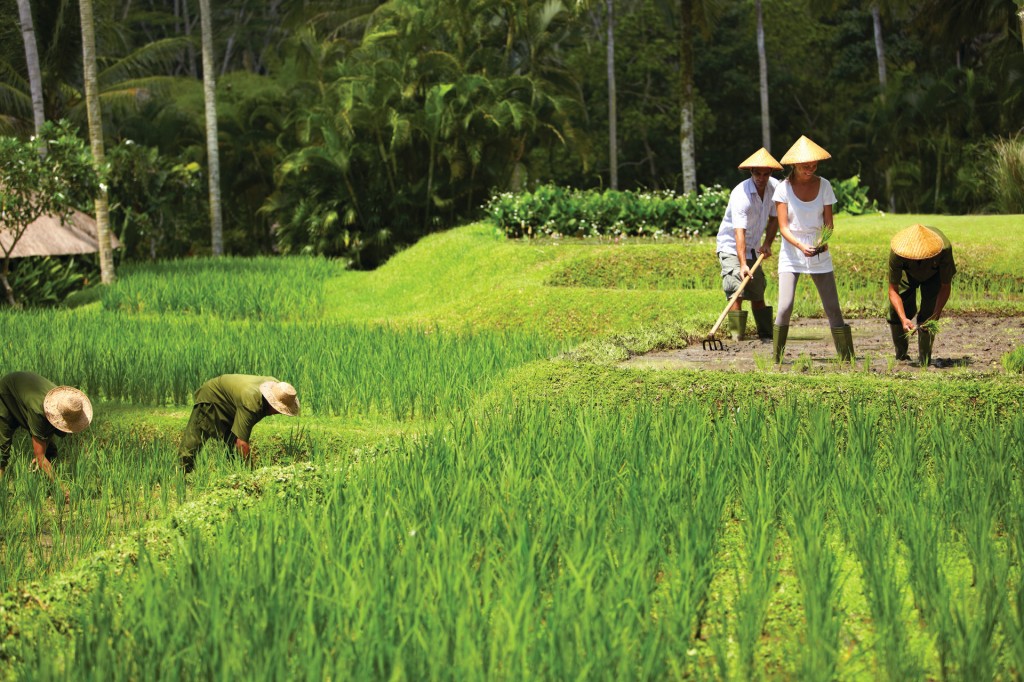 Signature Spa treatment Muladhara at a Spa villa (described by the Four Seasons Sayan)
Muladhara – the root chakra – is located at the base of the spine, anchoring you to the earth. Being well-balanced in this chakra is especially important if you travel frequently, if you've experienced a relocation or if you've started a new chapter in your life. Balancing Muladhara calms the body and mind, creating a profound inner peace that helps free our full potential. Twice a month in the Balinese calendar, it is a ritual to cleanse the body from negativity to bring good health. In Balinese tradition, a priest or priestess carries this out after special ceremonies using a sacred and secret mantra, by working with the root chakra to cleanse and open it to the earth. Combining a foot wash, Balinese sacred kemenyan smoke and the soothing sound of singing bowls, this treatment features a slow, deep massage using locally grown ginger and cinnamon in a grounding blend of vetiver, patchouli and jatamansi oils. The experience induces a deep sense of stillness that will leave you feeling ready to take on the world.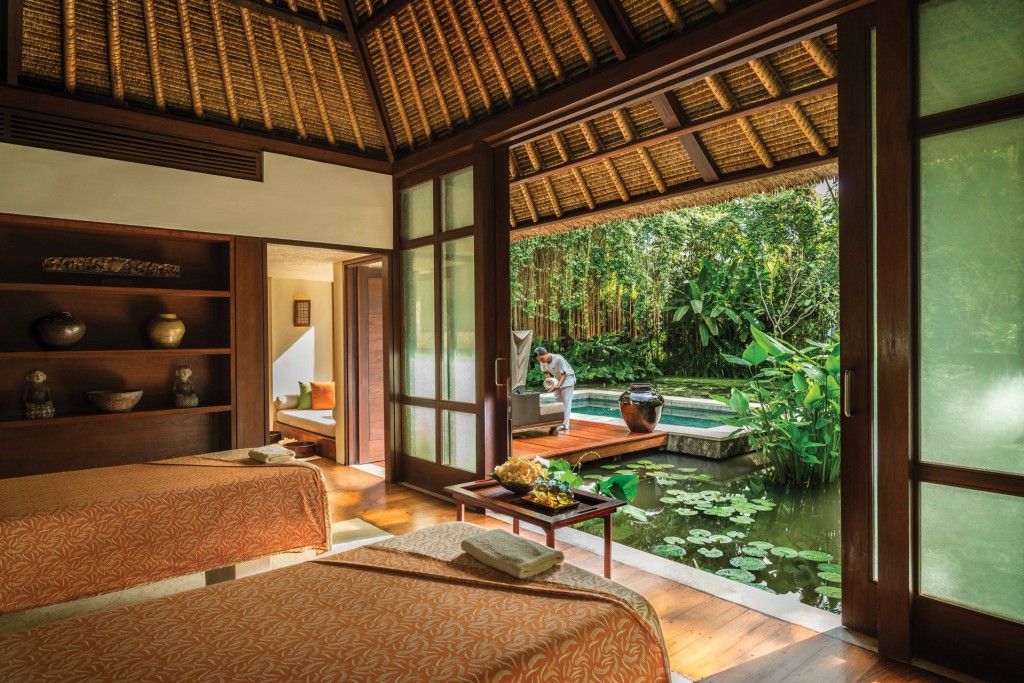 Both journeys were amazing and felt very spiritual. I felt that they shifted something in me on a deep level. Especially after Muladhara I felt pure, open minded and ready to step onto a new journey in life.
Apart from these wonderful experiences there are many more to choose from. On top of these add complementary Yoga classes, biking adventures, pilates, personal training, jungle boot camps, aqua aerobics and your week will fill up very quickly.
On the other hand you could choose to just sit by the pool, enjoy the serenity around you, the beautiful nature, inspirational views, bond with your partner and do absolutely nothing. The choice if yours and that's a wonderful thing about Four Seasons Sayan.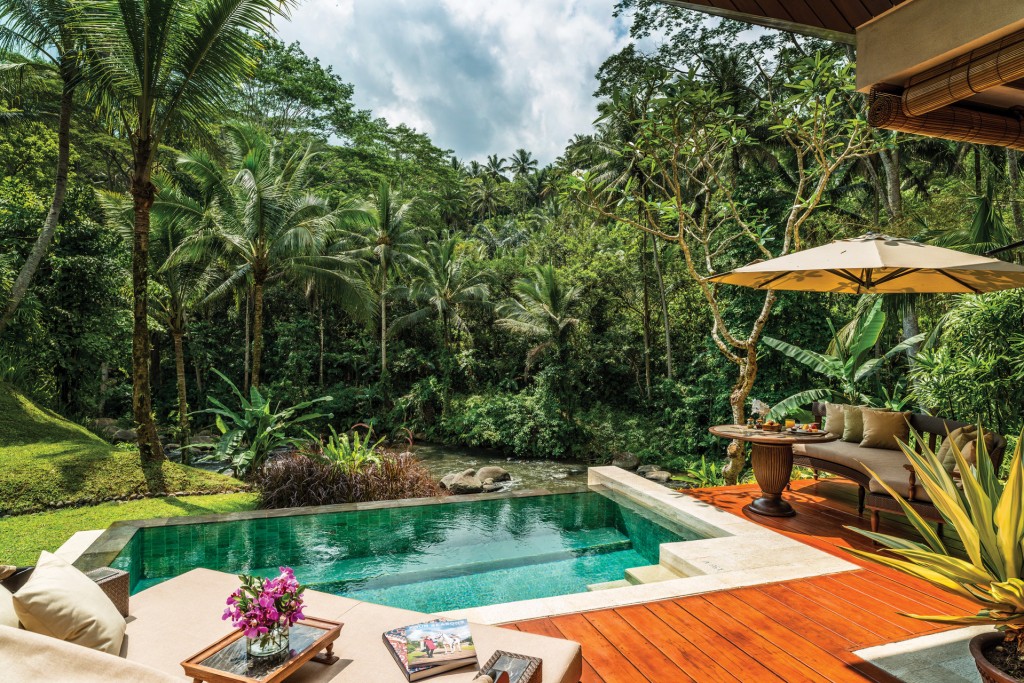 The Lux Traveller Loves
The Spa and all the wonderful experiences it offers its guests
Morning yoga at a lotus pond – inspirational start to the day
Pre-dinner champagne at the bar with sensational views and gentle sound of swaying palm trees and flowing river
Wonderful staff and service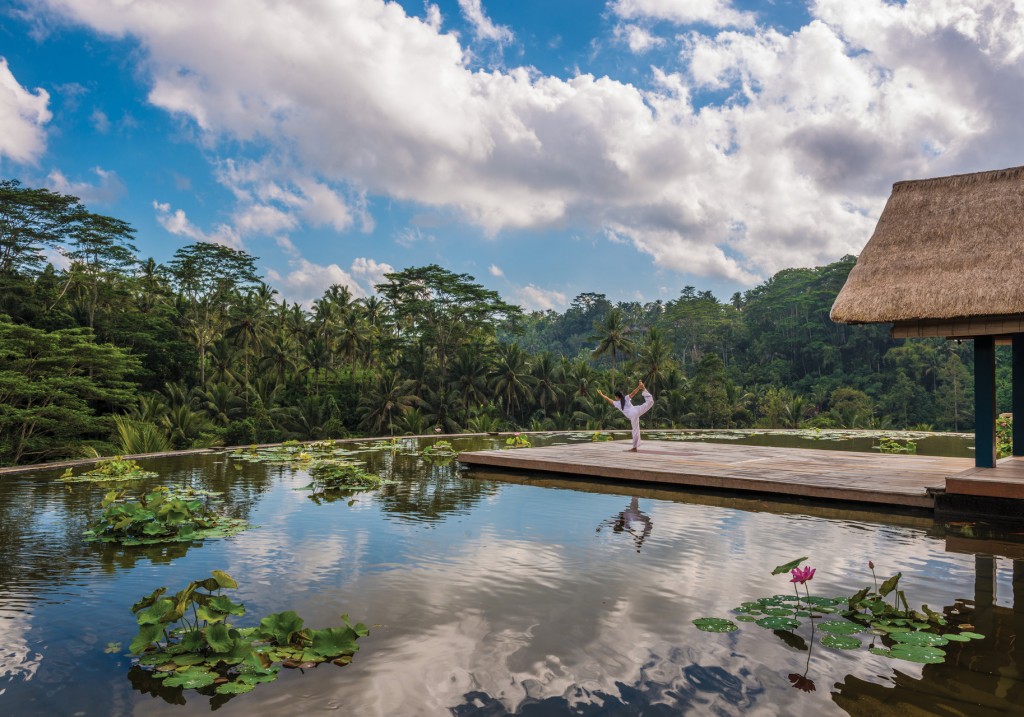 Splitting Hairs
One bedroom villas are perfect for couples but will be too small for families (they comprise of the bedroom and en-suite with no indoor living room). So families will need to splash out either on a two bedroom villa or book two villas, depending on budget and preference.
Plunge pools are not big enough for a swim only for a dip.
All In All
Apart from those factors the resort is absolutely perfect. It is my favourite resort in Ubud now and I can't wait to return for a longer stay.
Four Seasons Sayan is a true sanctuary of healing, health, spirituality and beauty.
The Lux Traveller highly recommends it!