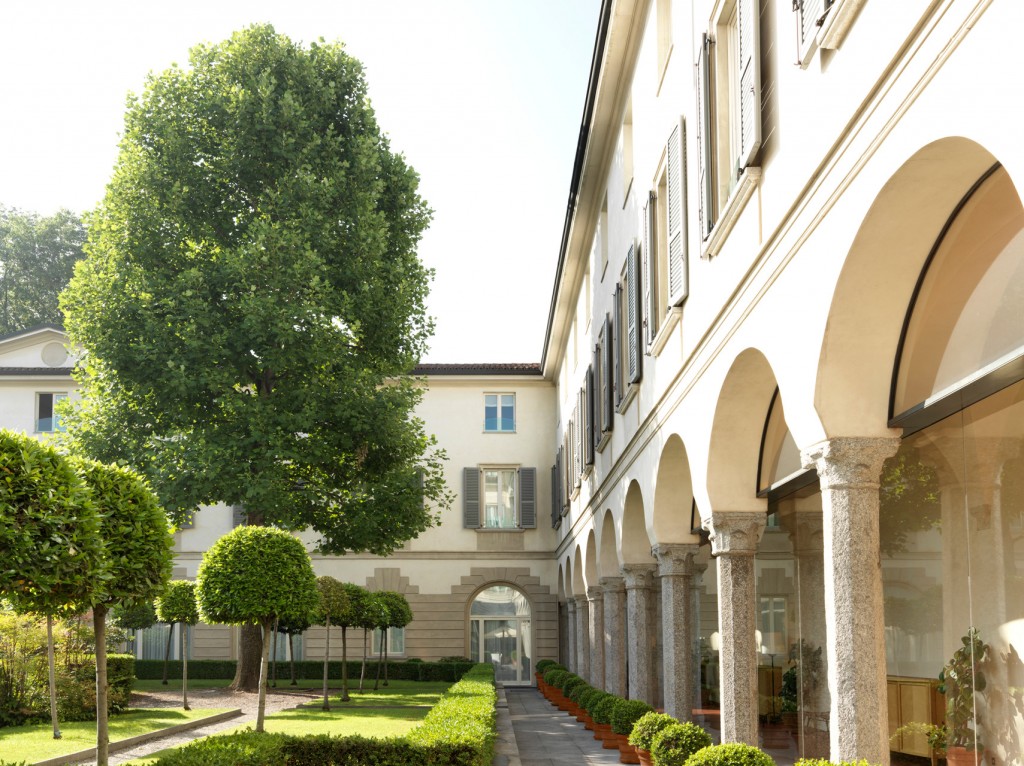 the lux score
87
the lux score explained
Service 9
Rooms 6
Food & Beverage 10
Ambience 9
Attention to Detail 9
Generosity & Value 8
Wow / Hip Factor 9
Facilities 9
Location 10
Fit to Promise 8
Via Gesu in Milan is the address you want to be at.  It is an enviable location in the heart of Milan Fashion District. Via Montenapoleone, Via della Spiga and Via Manzoni with all the Italian favourites like Prada, Gucci, Brioni, Loro Piano and many others are just on your doorstep. And the glorious Duomo, possibly the most beautiful building in Italy, is just 7-10 minutes walk away.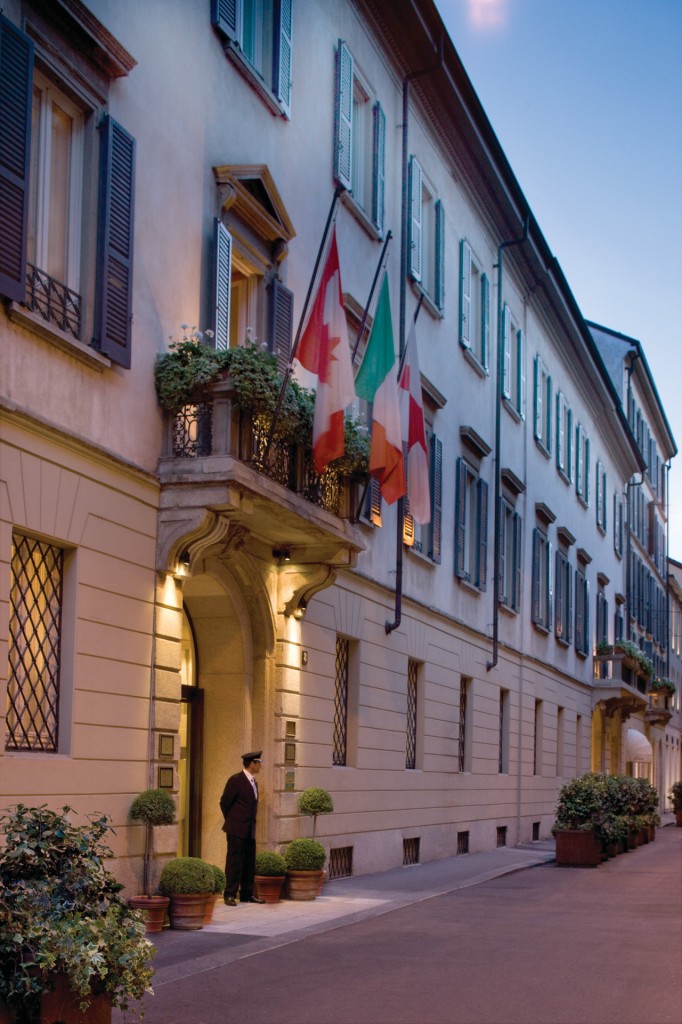 In our opinion there is no more refined and glamorous hotel in Milan than the Four Seasons. It is the place to see and be seen, an old favourite with the international jet set. There is a lovely mix of guests in this hotel – Italians, Russians, English, Americans, Arabic and yes, an odd Australian (myself).
In the Four Seasons Milan I feel at home. It is just so easy to stay here – everything is a short walk away, the food is amazing, the spa one of the best in Milan and the rooms, even though older in style are cozy in their feel.
Accommodation
Four Seasons occupies 2 palazzos. Main building was originally built as a convent and converted to a hotel in the last century. Seeing that it is a conversion rather than a brand new hotel most rooms and suites vary in size and style and only a few  have a separate bedroom / living room. I guess not many nuns required such luxuries in the old days.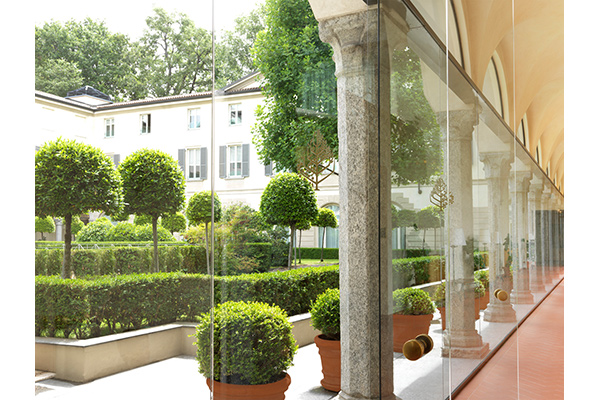 Second building next door has more modern accommodation, so you need to be very specific in what you'd like at the time of booking. If modern look and feel is important to you, do request a renovated room.
We stayed in a Cloister suite, in the original convent building. All 90 rooms and suites in this building are located around a pretty green courtyard.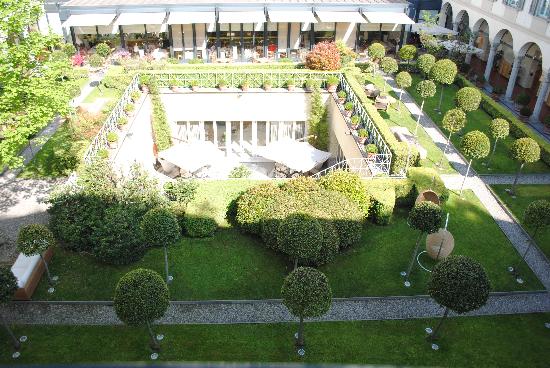 Our suite was split level, located over 3 floors. Living room with a fold out sofa on the entrance level, bedroom a few steps up and a lovely marble bathroom one floor down.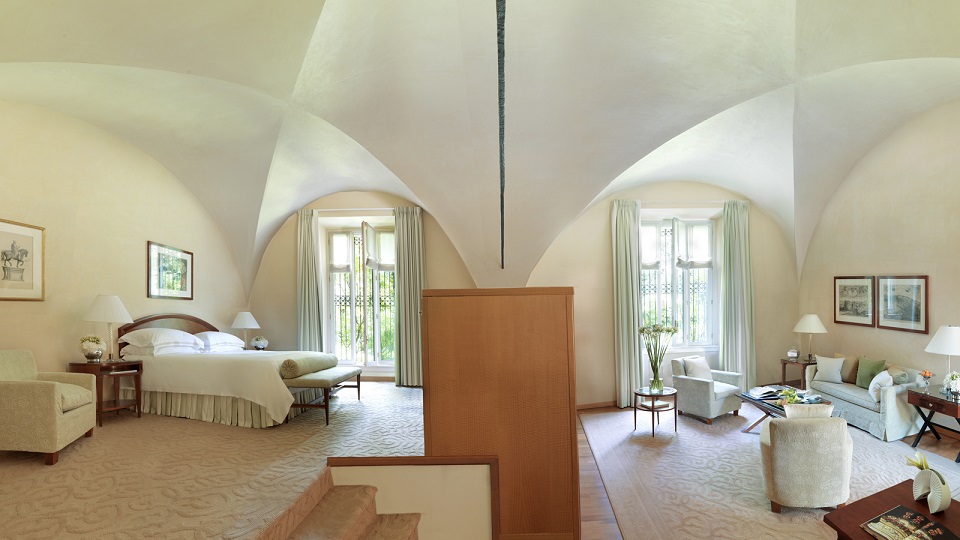 Bathroom had a wonderful shower and double vanities – both a rare find in Italy.
There was plenty of room for the luggage and a lot of cupboard space, perfect for storing all the shopping bags.
The beautiful feature of the Cloister Suite is its vaulted ceilings and large French windows, a reminder of the old days and historic beginnings of this palazzo. You certainly feel like you are in Italy, a country with amazing rich history.
The furniture and room décor is a little aged but it didn't take away from the charm of this place.
Facilities
Four Seasons Milan has a wonderful spa, new gym and a really pretty swimming pool that looks like it is carved out of rock.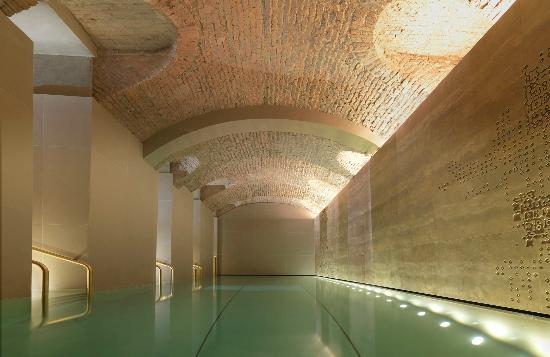 The spa complex is a recent addition – it is very modern and beautiful inside. It offers a great selection of treatments for every taste. Unfortunately we didn't have the time to experience it on this trip but will certainly aim to do so on our next visit to Milan.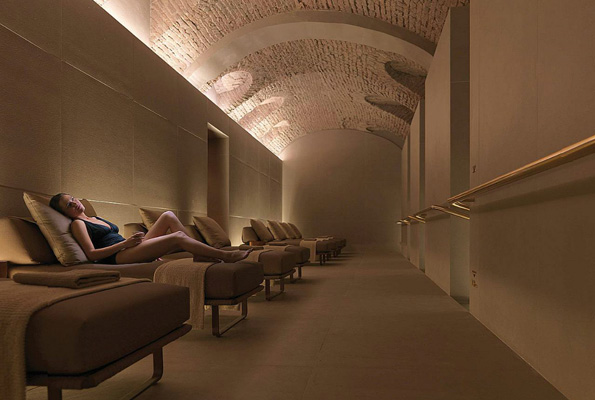 Dining
I really love the restaurant in this hotel. It is located in a private courtyard and has a very romantic exclusive atmosphere. Tables outside on a warm evening are magical. Christofle cutlery, perfectly starched linen and silver service just add to the atmosphere of exclusivity. All gentlemen are wearing jackets and ladies look very elegant.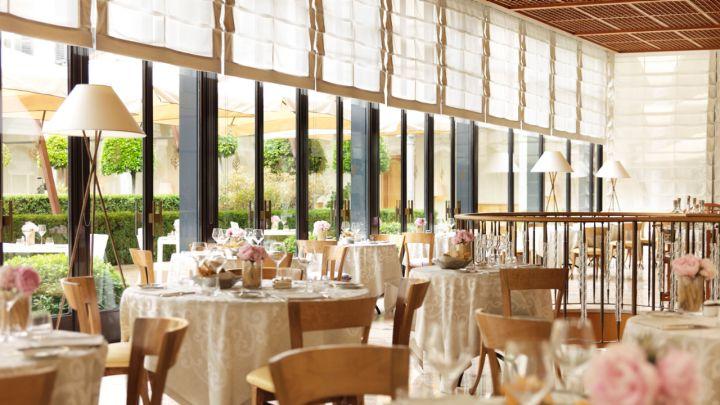 When dining here try the Italian specialties – Milanese risotto, beef carpaccio, zucchini flowers and don't go past the desert trolley.
Breakfast is also wonderful – same silver service combined with freshly squeezed juices, fresh berries, Italian cheeses and cured meats, various cakes and pasties and a selection of hot dishes from the a la carte menu. Very elegant affair indeed.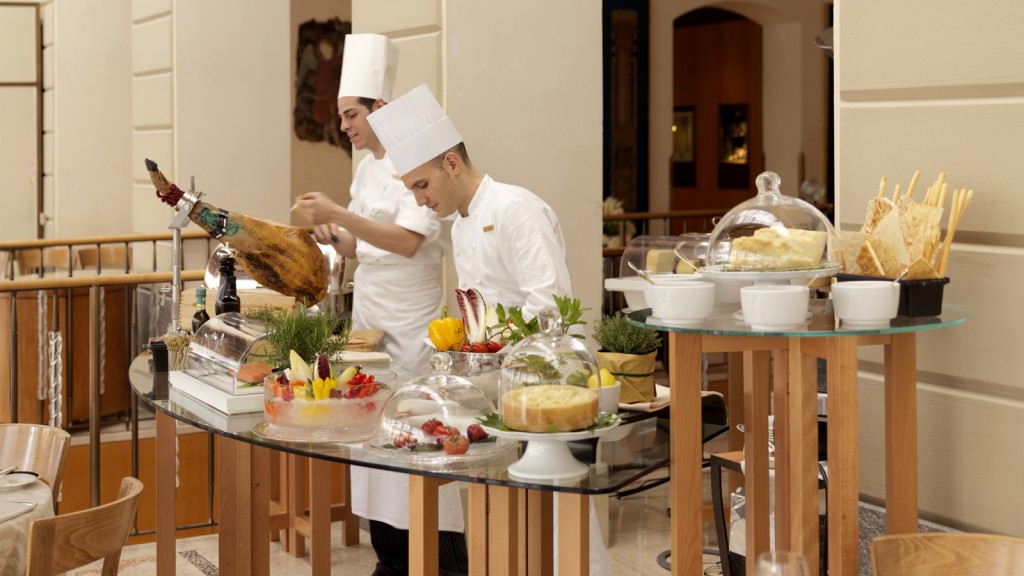 Lunch can be enjoyed in the main restaurant or in the lobby café. For a very quick fix on the run ask for a Buffalo mozzarella and tomato salad (Caprese salad) – it take 5 min to prepare, tastes amazing and you'll be back in the shopping paradise in under 20 min.
The Lux Traveller Loves
Elegant exclusive atmosphere in the hotel.
The best location in Milan.
Children feel very welcome even though there are not many in the hotel due a very high price range.
Fantastic fine dining experience at La Veranda.
Internal courtyard – immaculate garden with a bar is a very pleasant place for a refreshing drink on a warm sunny day.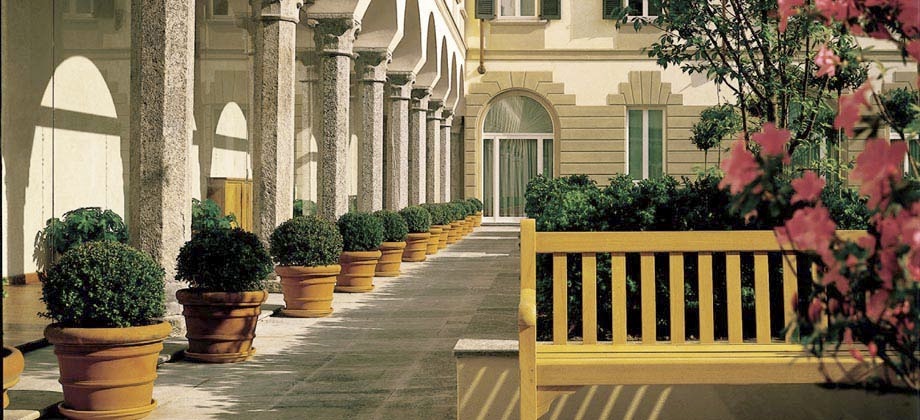 The Lux Traveller Doesn't Like
Even though the rooms are pleasant they could benefit greatly from  a furniture upgrade and a renovation.
All In All
Four Seasons is our favourite hotel in Milan. We highly recommend it to all Lux Travellers heading to this fashionable city. We would definitely like to return and spend more time here.