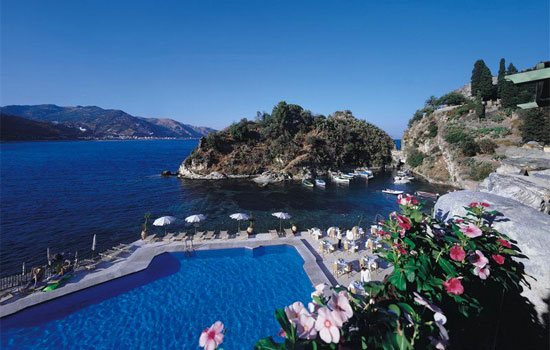 Grand Hotel Atlantis Bay in Taormina, Sicily – True Luxury Escape!
This hotel is an absolute dream!
We have originally booked its sister hotel, Mazzarro Sea Palace, which looks nice on the internet but after 2 min inspection of the hotel itself and the rooms /suites we immediately cancelled the original reservation and headed off to the younger, much more beautiful sister – Grand Hotel Atlantis Bay.
While Mazzaro is VERY old and lacking any kind of luster, Atlantis Bay is luxurious and modern grand hotel. Hotel's Presidential Suite often hosts Italian dignitaries and celebrities.
I couldn't recommend this hotel highly enough. If you are the Lux Traveller who loves seaside resorts and utmost luxury, do visit Sicily and this beautiful romantic hotel.
Taormina is a gorgeous traditional Italian resort with a long pretty street for an evening walk (passagata), with multitude of beautiful restaurants, bars and little boutiques to visit.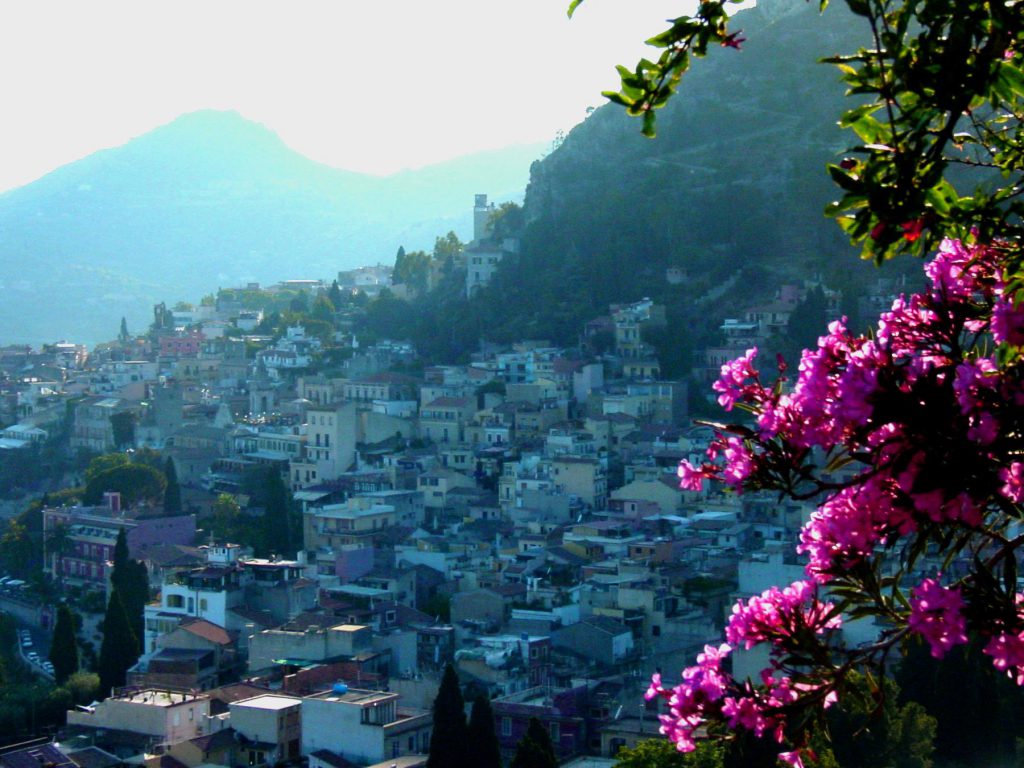 The location of the hotel is the best in Taormina. Right on the private beach with beautiful warm clean sea water, perfect for swimming. The pool is on the beachside terrace, which makes it a perfect spot for the parents to sunbathe while little ones play in the pool.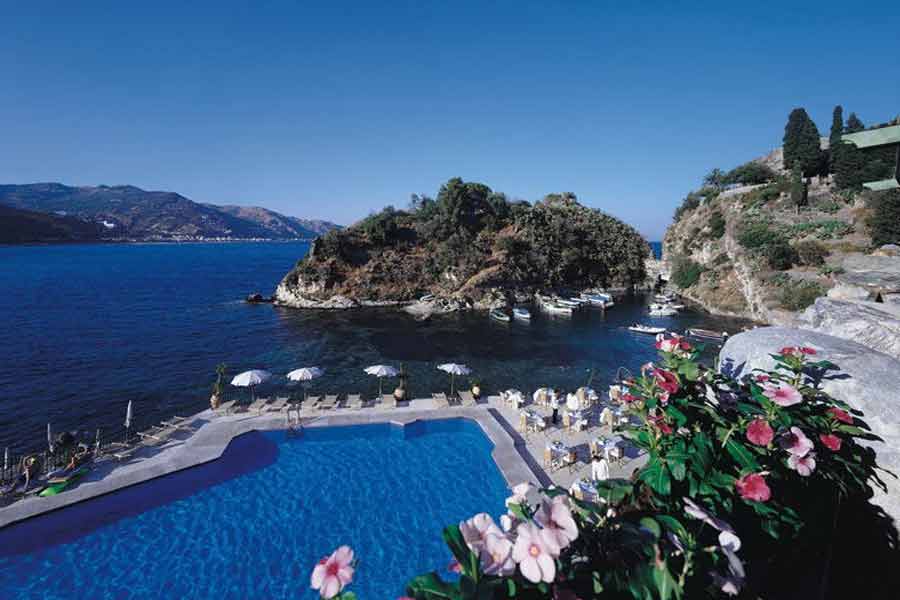 Atlantis Bay caters beautifully to both families and couples. June / September would have much less children – perfect time for the couples to visit the hotel.
July / August is the time when most Italian families take time off, so do expect a lot of families here during those months.
Sicily is blessed with beautiful long summer, it is warm here from May to October.
Accommodation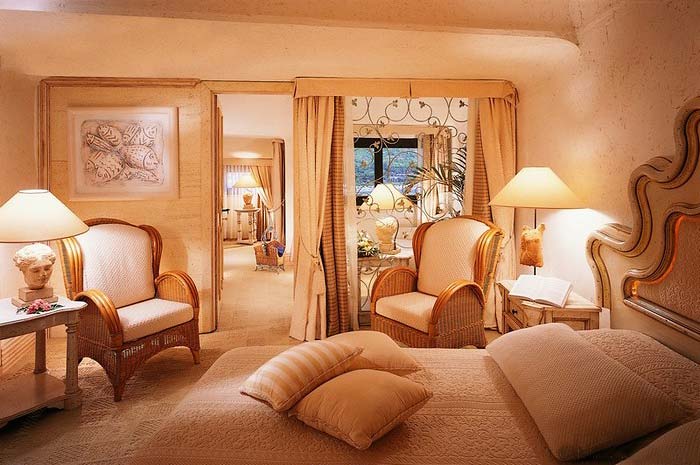 Atlantis Bay is just like an Italian village built on a cliff dropping down to the sea. Most rooms have terraces, some are quite large. Room design / size varies quite a lot from room to room so if larger room is important to you please let the hotel know in advance.
Many of the rooms are spacious and very comfortable, so if you are a couple traveling with no children standard rooms could quite suitable.
Of course, if budget allows, suites are really special. Most have large terraces with spectacular sea views, all have separate living room / bedroom, beautiful marble bathrooms. These are perfect for families as living room can easily accommodate 2 single beds.
Presidential Suite – a jewel in the Atlantis Bay crown. The Atlantide Suite is one of a kind, with a spacious foyer, a bar, dining room and living room. 
Separate bedroom with one-way glass. 
Round bed with fine silk sheets.
Bathrooms in precious onyx marble for women and black marble for men, with Jacuzzi and Hammam. Luxurious, top-quality personalized linens. 
Tropical fish aquarium. 
Terrace with private swimming pool, with magnificent view of the bay – lounge chair, table and chairs.
This suite if fit for a king! It is opulent, luxurious and impossibly romantic! A great place for a royal honeymoon!
Facilities
Atlantis Bay has recently opened a small spa on-site, which is an added bonus to this already stunning hotel.
Pool is at the beachfront which is excellent for families. Adults can stay on the beach and and still keep an eye on little ones playing in the pool.
The beach is pebbly. The water is very clean and warm. perfect for doing laps in the sea.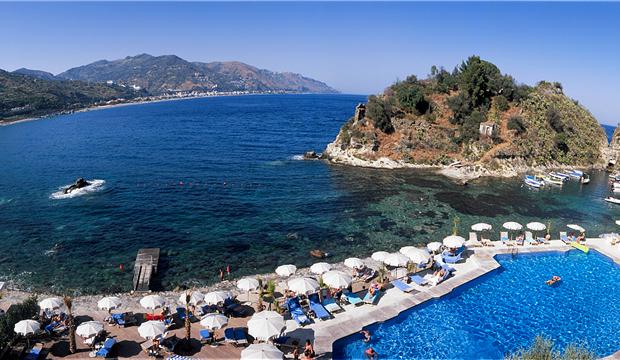 Breakfast – Superb! Great choice of finest Italian meats, fresh juices, pastries, mineral water – anything your heart desires. And the setting – magic! On a beautiful terrace at the waters edge, with the best view in the world – just as special as every other experience in this hotel.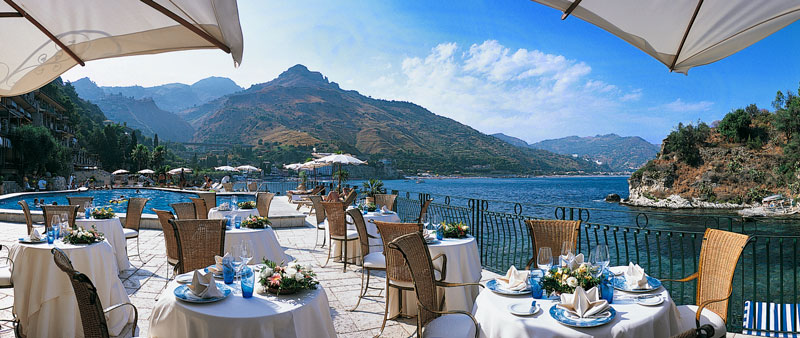 Dinner is excellent as well but we would recommend to explore the town at night as there is so much atmosphere and a lot of great restaurants to try.
For an enhanced stay – book a limousine airport transfer to / from the airport. It is a 90 min trip and it feels much shorter in a lovely Mercedes.