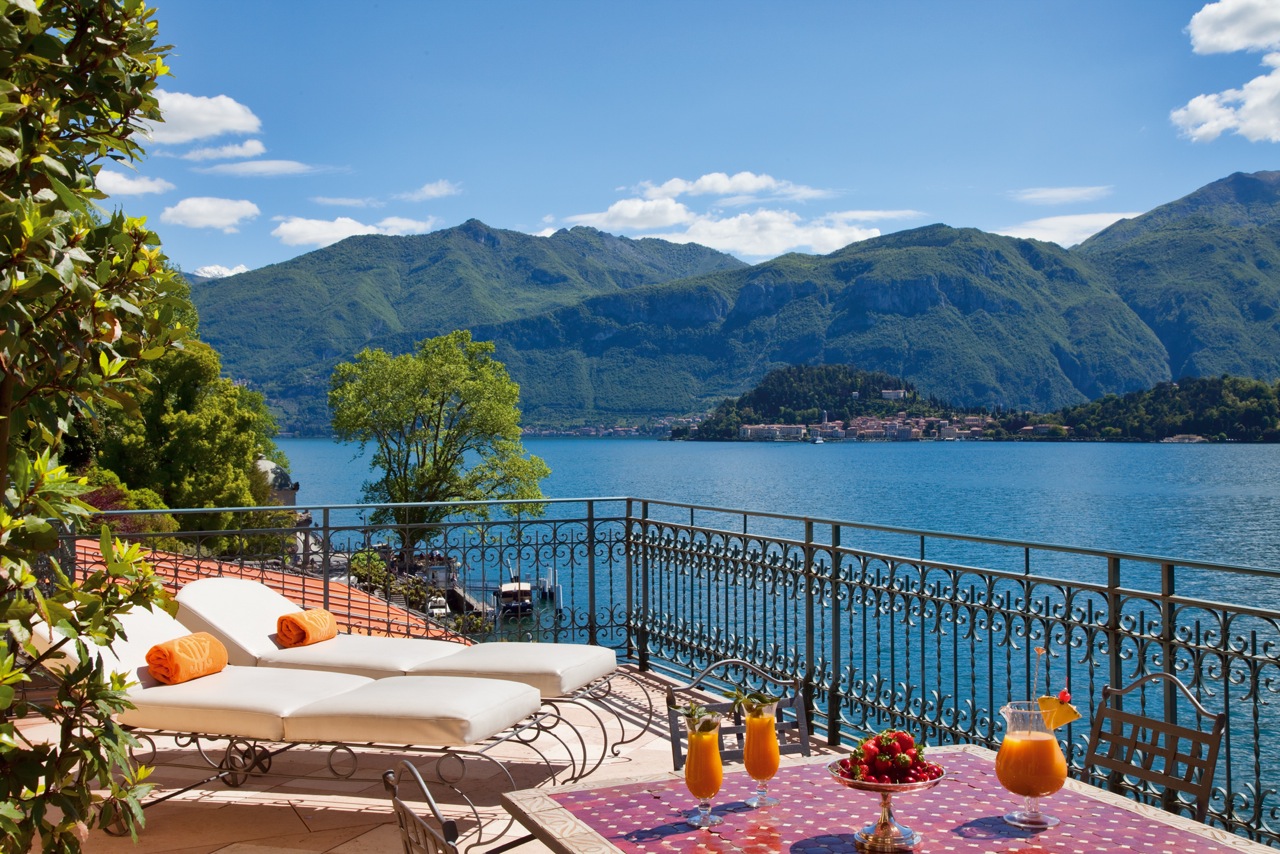 the lux score
97
the lux score explained
Service 9
Rooms 9
Food & Beverage 9
Ambience 10
Attention to Detail 10
Generosity & Value 10
Wow / Hip Factor 10
Facilities 10
Location 10
Fit to Promise 10
Grand Hotel Tremezzo is a beautiful, historic hotel on the shores of lake Como in Italy. Its history dates back to 1900's when wealthy foreign visitors have made Lake Como their obligatory stopover on grand European tours.
Grand Hotel Tremezzo occupies a palatial villa, adjacent to the famous Villa Carlotta. From the minute you walk into the Art Nouveau lobby you know that this hotel is going to be very special. Mirrors, artwork, huge bouquet of red roses, Belle Epoque furniture speak of infinite luxury and elegance.
The location and the views over the lake and all the way to Bellagio and Grigne Mountains make Grand Hotel Tremezzo the ultimate place to stay on your Italian vacation.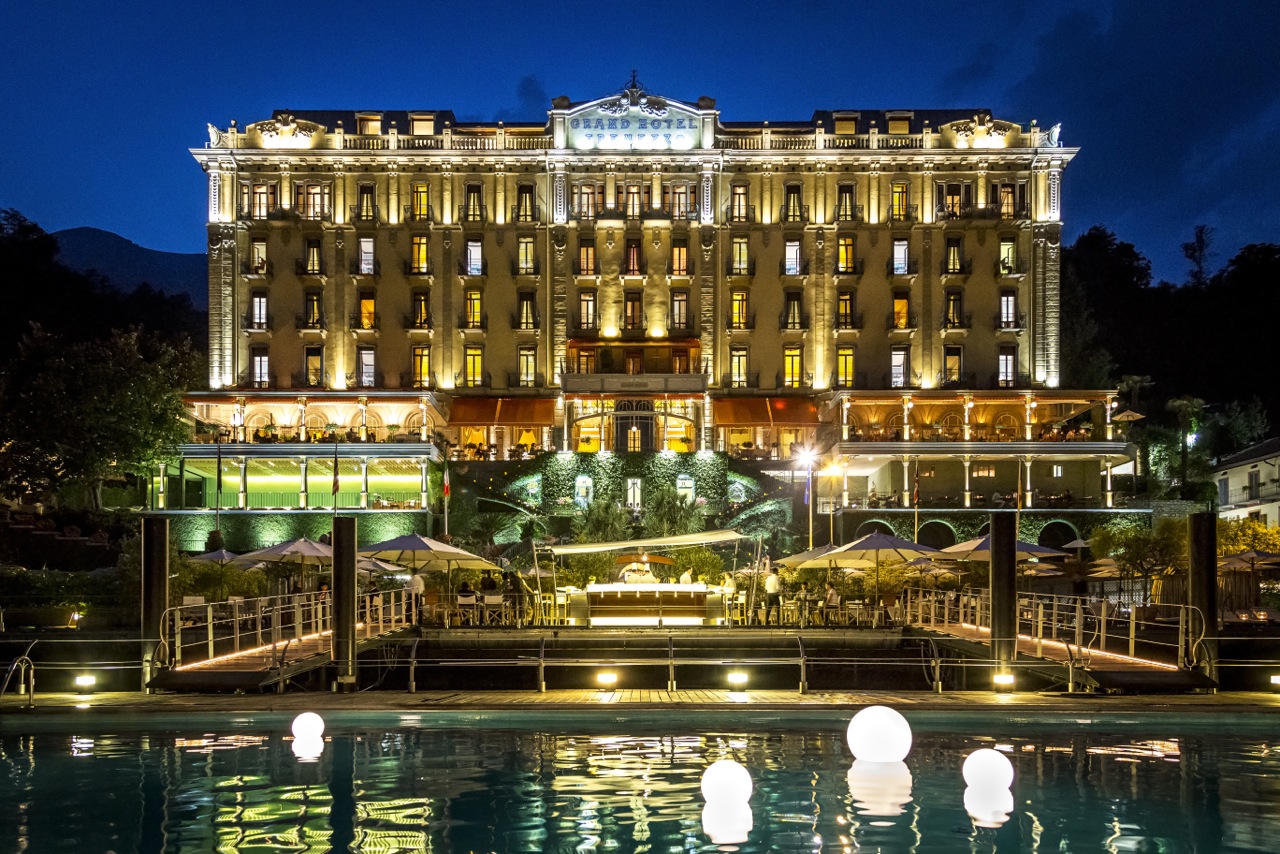 Accommodation
In 2010 Grand Hotel Tremezzo has undergone an extensive renovation and the owners have built a whole new executive floor for the VIP guests only. This face lift has truly brought the hotel up to its Grand status.
I had a look at all room types and even some of the lead-in rooms are excellent – spacious and elegant. Of course the rooms differ by size and view, with more prestigious rooms facing the lake.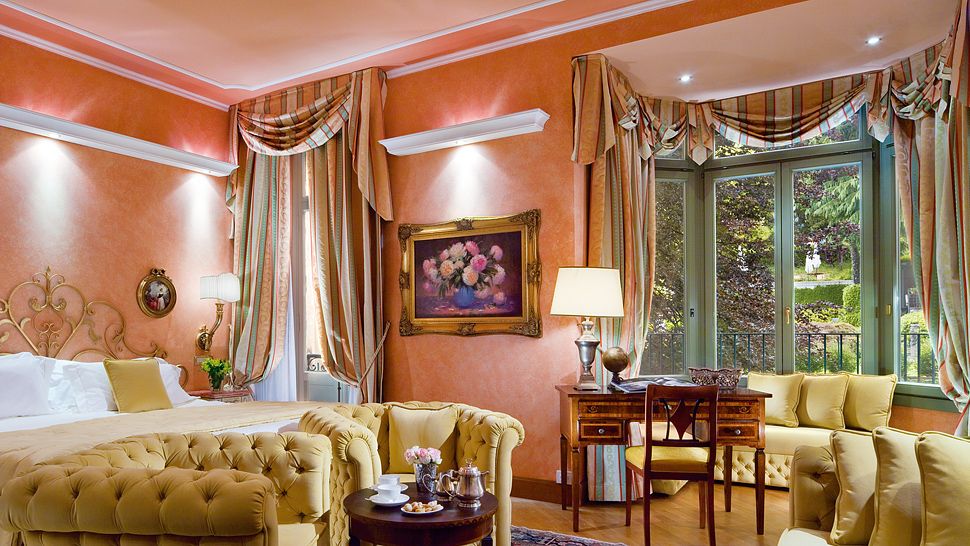 Many rooms have romantic touches like Juliet balconies facing the lake, canopy beds, relaxation areas by the window and marble bathrooms.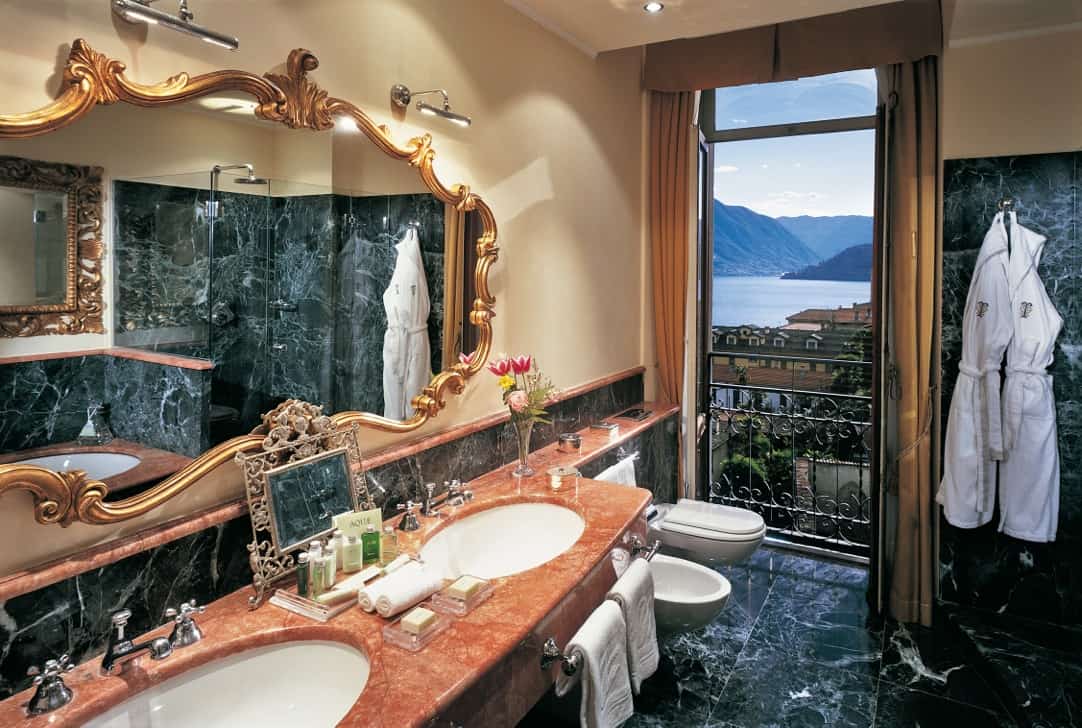 For suite lovers there is a great choice of luxurious options. New VIP floor offers only 8 suites with a personal butler service. Each suite is exceptionally plush and modern with marble bathroom, large private terrace with spa bath and deck chairs, separate living room and bedroom with exceptional views.
Our corner suite had a separate living room, beautiful ultra comfortable bed with the most delicate sheets and softest pillows, marble bathroom and a spectacular terrace with sun beds and a spa. It would be a sensational terrace to enjoy on a warm night – sipping a glass of Prosecco in a spa with your loved one, gazing at the starts and the lake. We happened to have two days of rain, but we found a way to enjoy ourselves even then.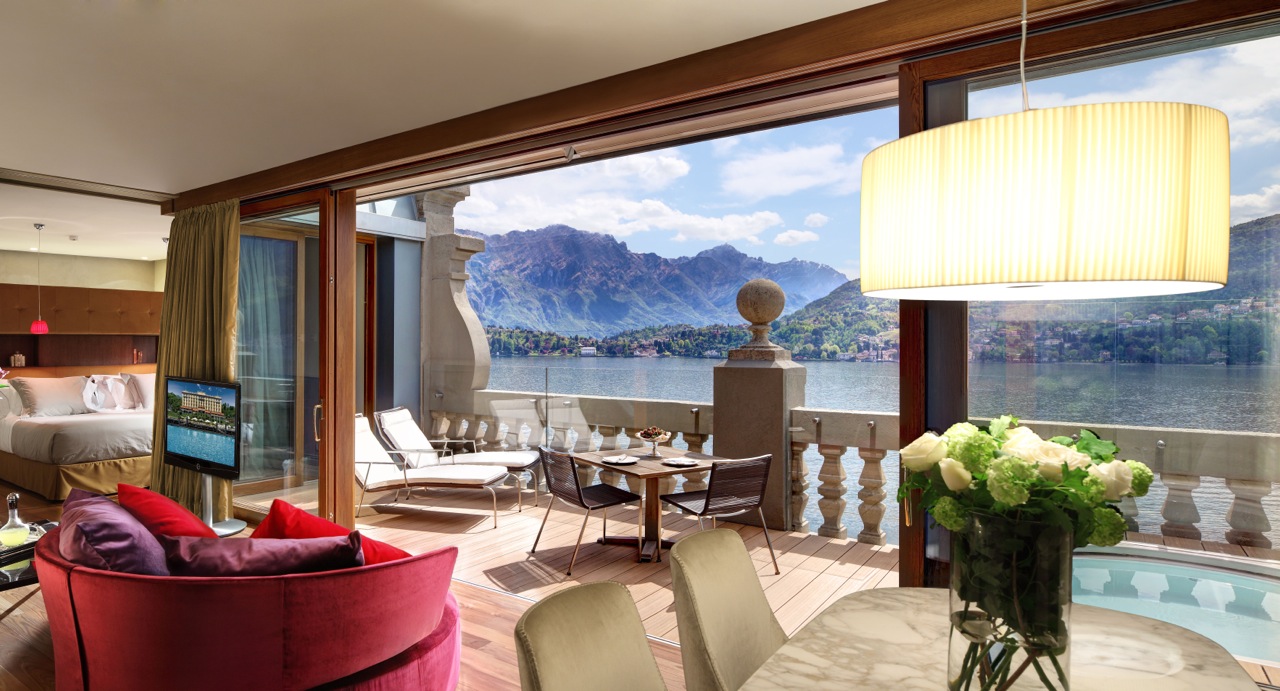 For those who prefer suites with a historic feel, choose from four signature suites that make this hotel truly special – Suites Carlotta, Aurelia, Maria and Greta are all named after famous personalities who stayed in the hotel at some point. Greta suite, names after Greta Garbo, is a jewel in the Grand Hotel's crown.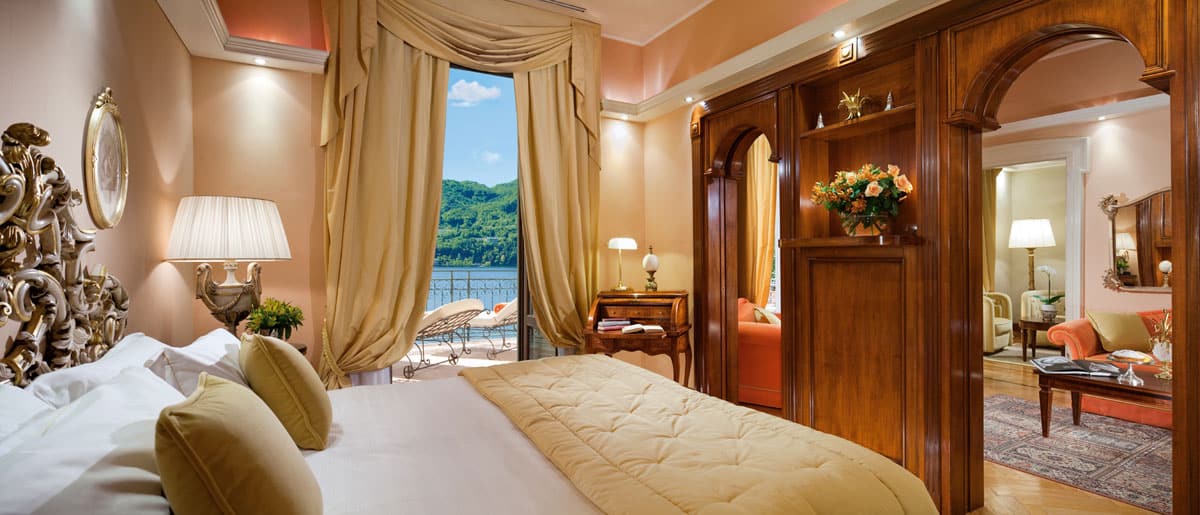 This spectacular suite features a wood-panelled foyer and drawing room that could be easily mistaken for a suite in Versailles or Hermitage and a bedroom decorated with fine Italian marble.
But the true attraction of the suite is a magnificent terrace overlooking the lake. This terrace has seen many dignitaries, celebrities, proposals and weddings. If you are looking for a very special place to propose to your beautiful other I can't think of a more romantic place to do it at.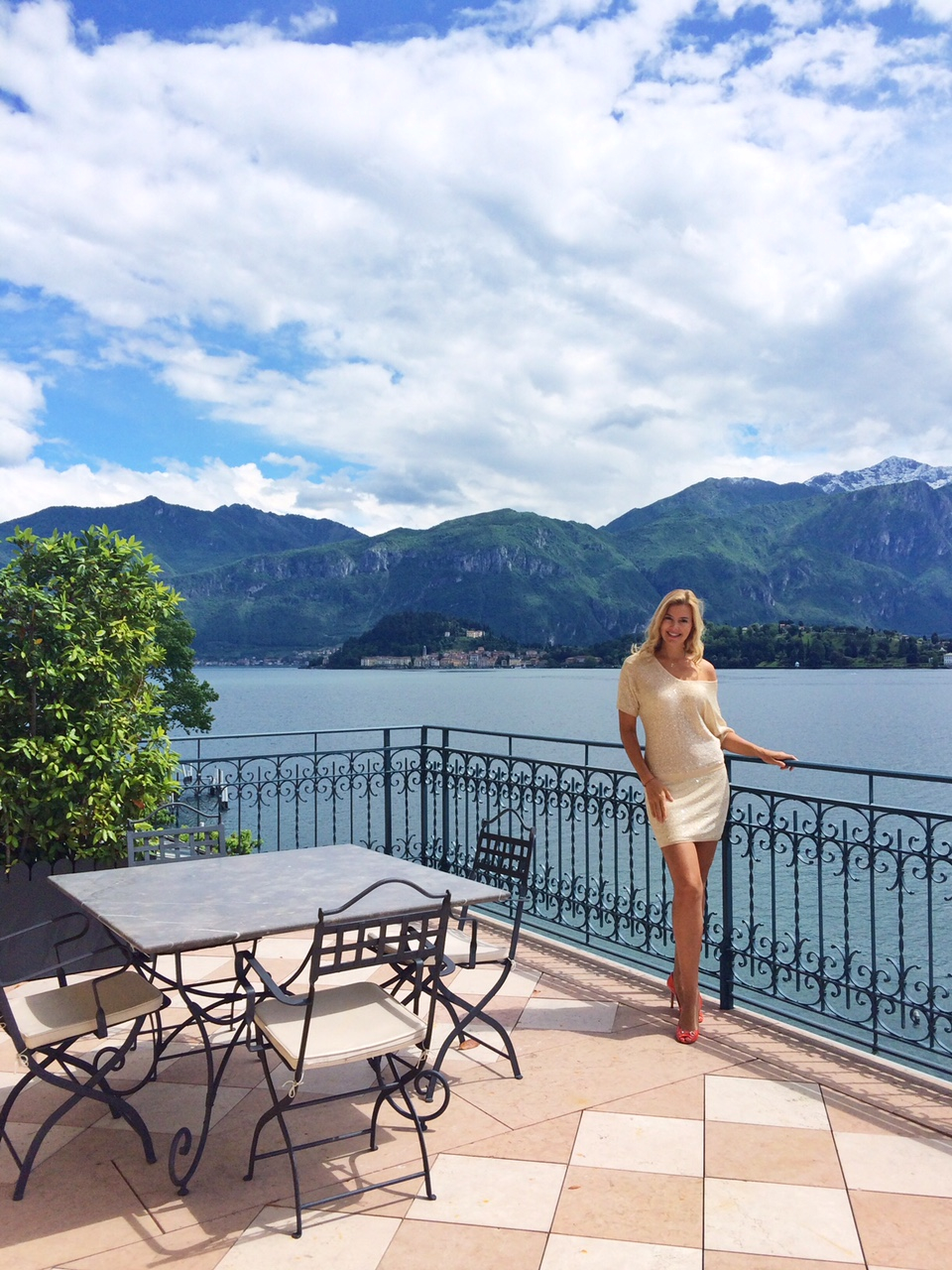 Dining
Dinner at La Terrazza was another wonderful highlight of our stay at Tremezzo. The setting of the restaurant is ultimately romantic – candle lit terrace right on the lake.
An elegant dinner at La Terrazza is a 'must try' for any visitor to Lake Como. Old traditions are kept up with here – all guests get beautifully dressed up for dinner while all waiters wear tuxedos and treat guests like royalty.
The food is inspired by Michelin star chef Gualtiero Marchesi and won't leave any gourmand unimpressed. The menu changes depending on seasonal produce but some of the Gualtiero Marchesi's specials are on the menu at all times. Try the seafood soup, fresh water fish and crepes Suzette – they are the best!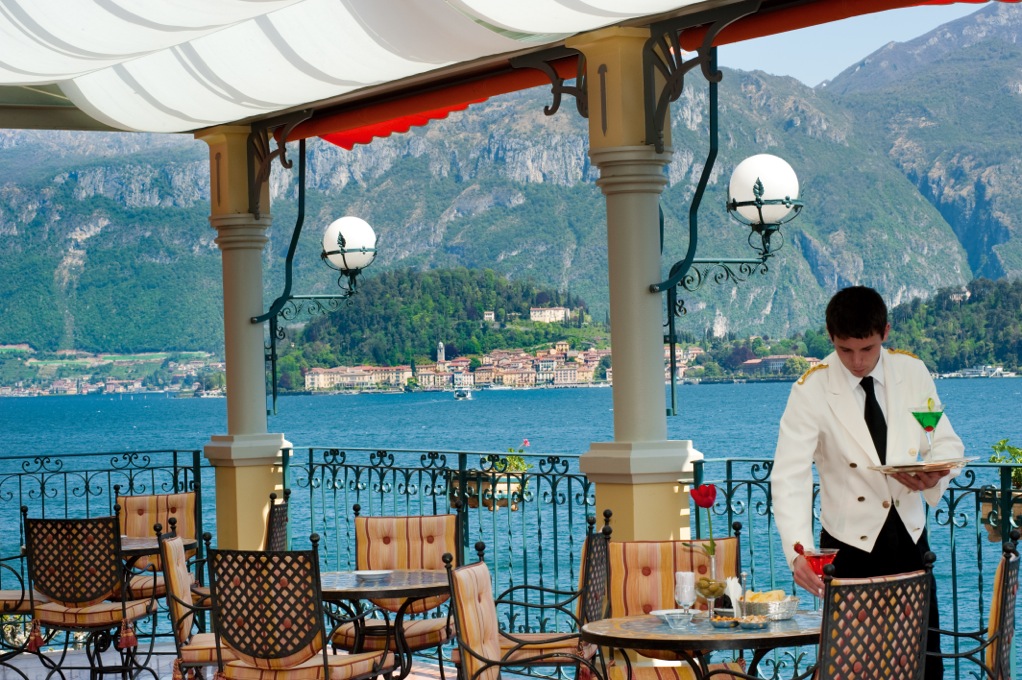 For a slightly more casual dinner try Grand Hotel's other restaurant – L'Escale; it specialises in Fondue and Raclette. The setting of the restaurant is very unique – carved into rock with bare brick walls and wine casks used as tables.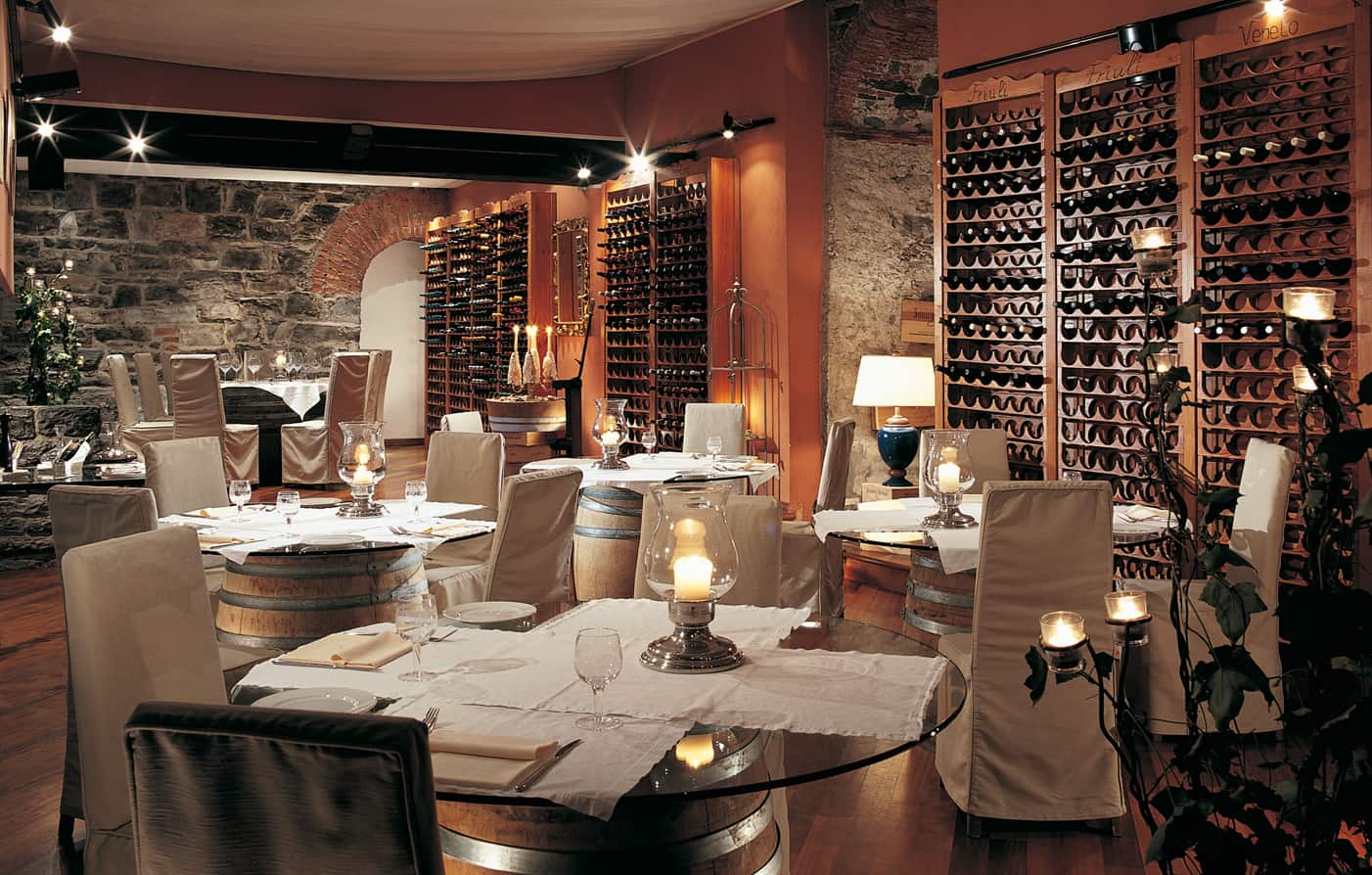 We enjoyed a selection of grilled meats and seafood cooked in the centre of our table – a lot of fun! Waiters are chatty and friendly and will happily share with you history of the restaurant, local region and will give good suggestions on choosing the best wines to accompany your dinner. It's not an easy job when there are 350 local wines on the menu. We had a fabulous night in L'Escale and would suggest for you to experience it at least once during your stay at Lake Como.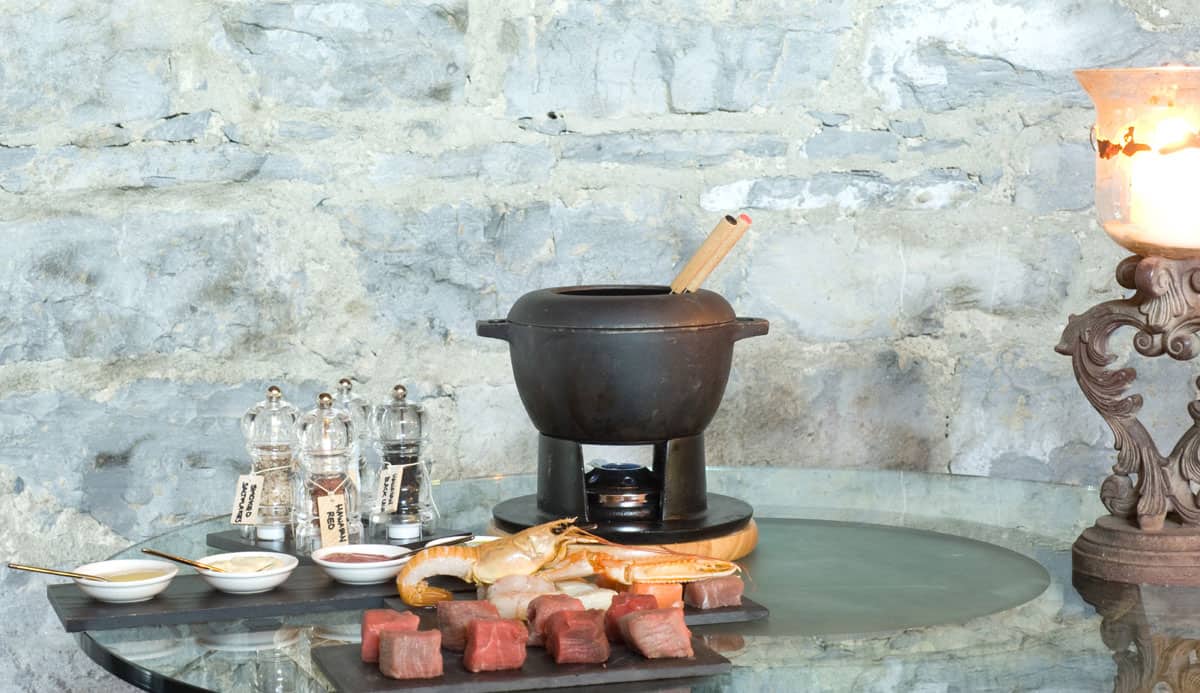 There is also a pizza restaurant at the beach but we didn't get a chance to try it. I am sure it would be a fabulous place for lunch on a hot summer day.
Last but not least – breakfast. Breakfast is served on the terrace of the main restaurant throughout the year. Smart glass panels can either slide open to let in the sunshine in summer or stay closed during the colder months to keep you warm yet to give you an impression of sitting at the water's edge.
Breakfast food is typically Northern Italian – a selection of cold cuts, cheeses, breads, pastries, yogurt, fresh fruit, freshly squeezed orange and grapefruit juice, eggs your way and perfectly brewed Italian coffees. Fresh food in a divine setting.
Facilities
Facilities make Grand Hotel Tremezzo a jewel in this part of the world. On a good day guests can enjoy a stroll in the expansive gardens, a game of tennis or a swim in one of the three pools. For those who came to the lake to unwind there is a beautiful lakeside beach with a famous pool suspended in the lake.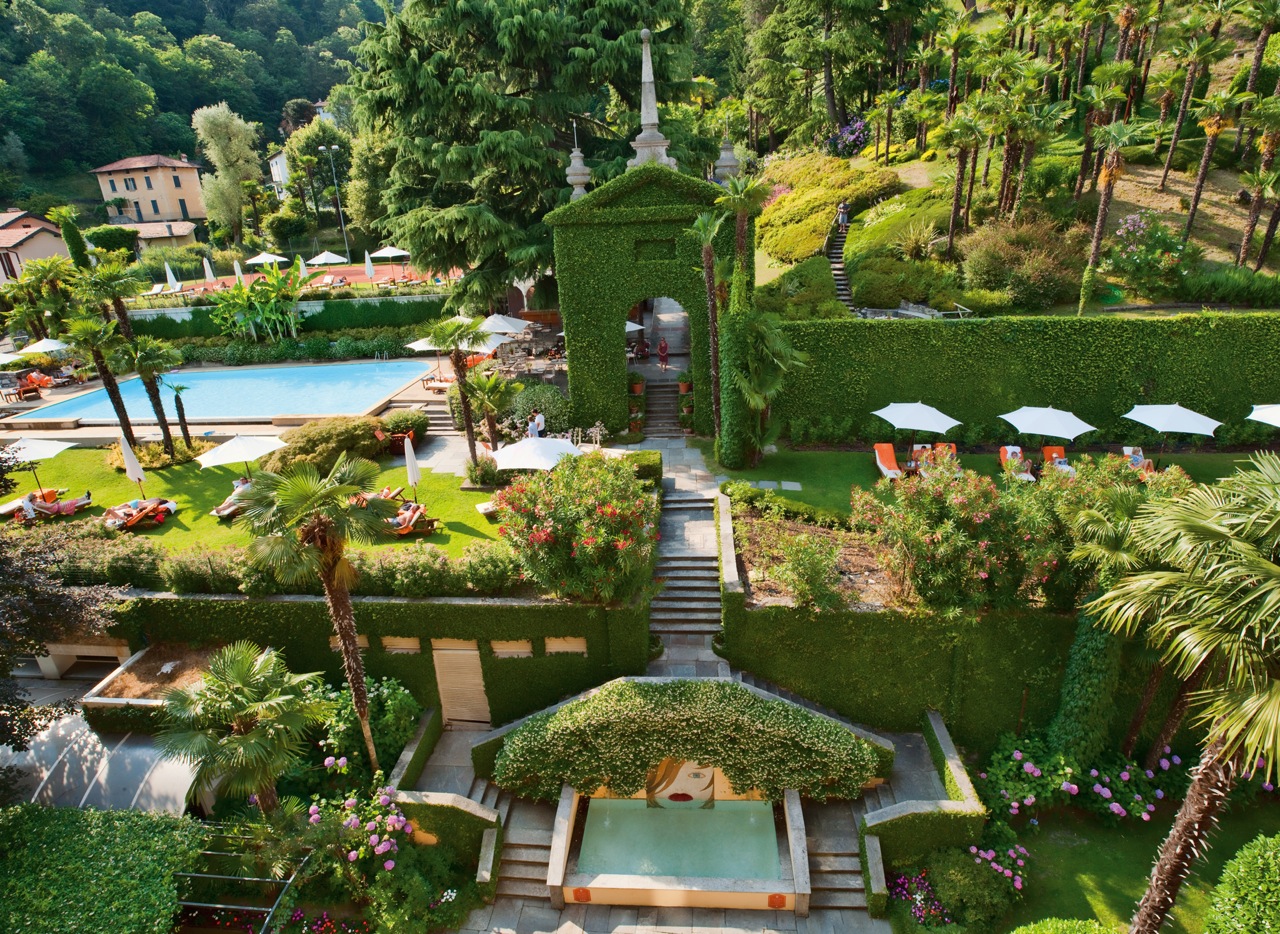 For those who visit the lake during the colder months there is a stunning warm indoor pool with a relaxation terrace (I have to admit that we fell asleep there a few times after a swim and we weren't the only ones – it is a relaxation terrace in its true senses – you simply get mesmerized by the views and drift off).
And of course Grand Hotel wouldn't be completely Grand without a spa. T-Spa uses Espa products, developed based on natural ingredients. Spa menu features a lot of anti-aging and anti-stress treatments in combination with traditional massage therapies.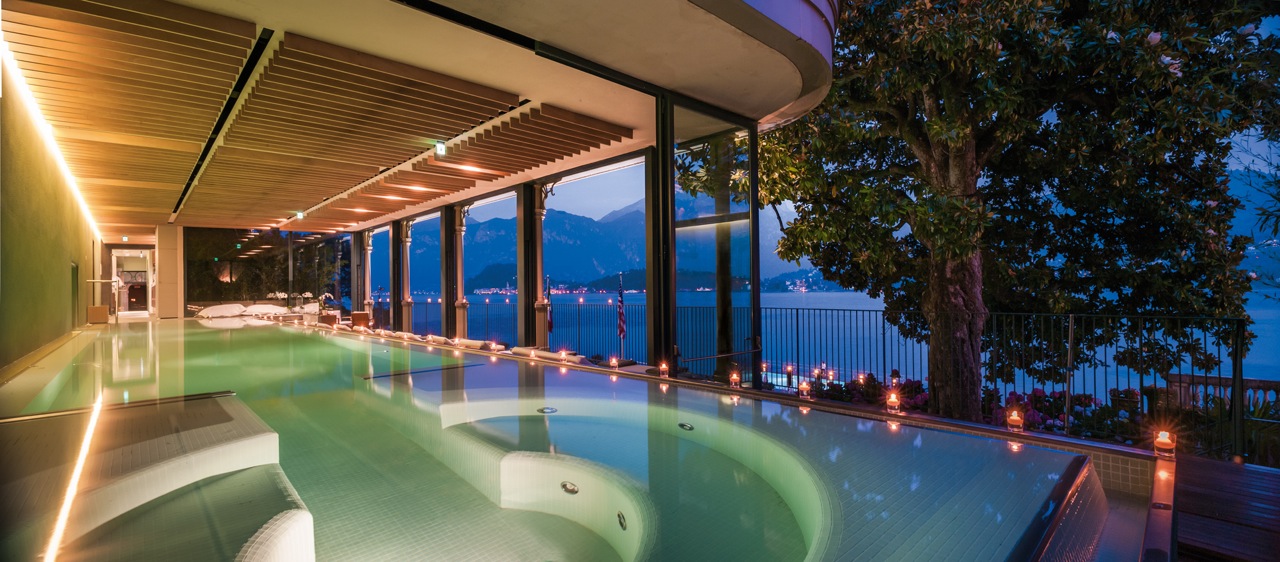 The ultimate for a romantic couple is T-Spa Suite experience. This private suite features Turkish bath with contrast showers, large jet spa bath and a very comfortable daybed for two. Add candle light and mood lighting and you end up with a unique and wonderful suite to spend a couple of intimate hours with your loved one.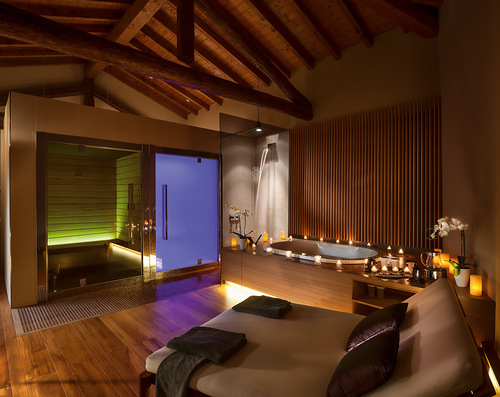 For a complete luxury experience book the whole spa with its indoor pool just for the two of you for the evening and enjoy all the facilities in complete privacy. Ultimate relaxation experience that will give you everlasting memories.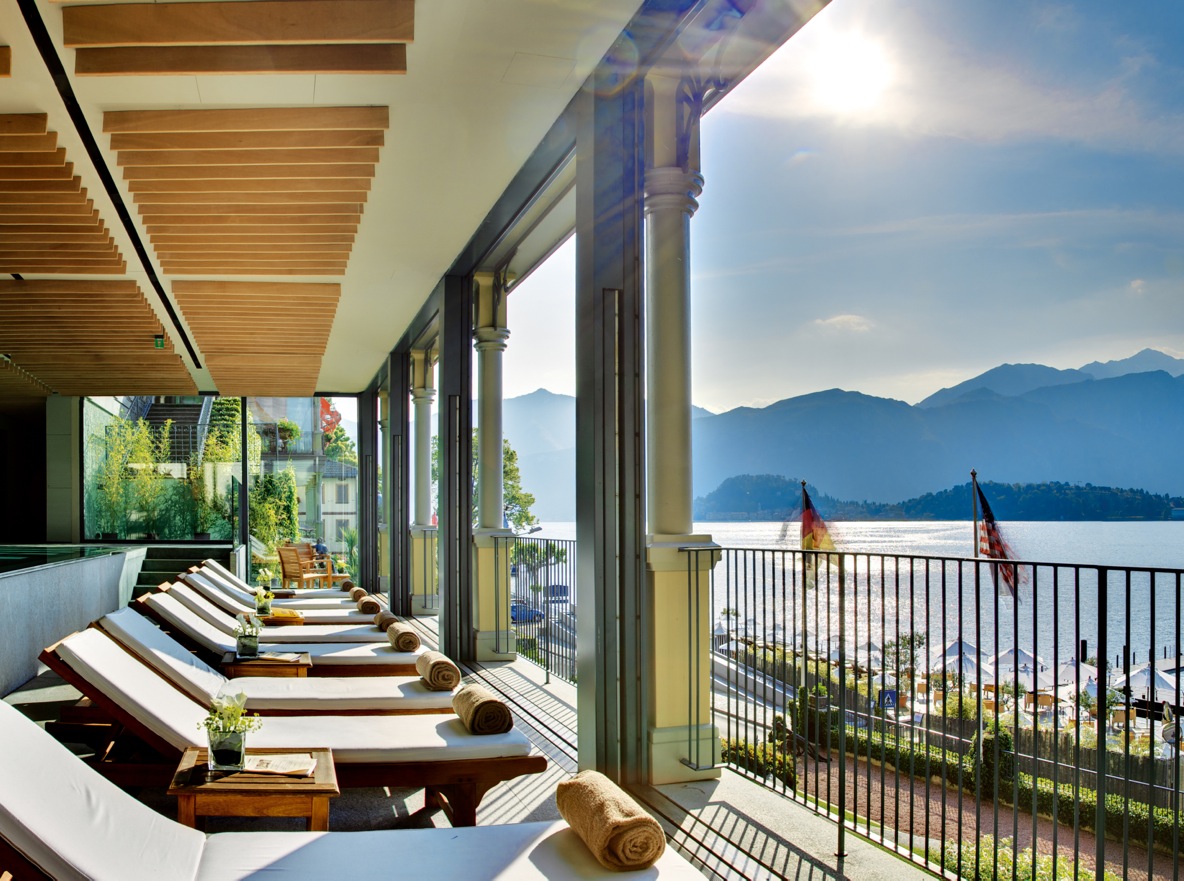 The Lux Traveller Loves
Ultimately elegant historic suites
Breathtaking views over the lake and the mountains
True silver service
Sensational dining
The best facilities on Lake Como
Pool suspended in the lake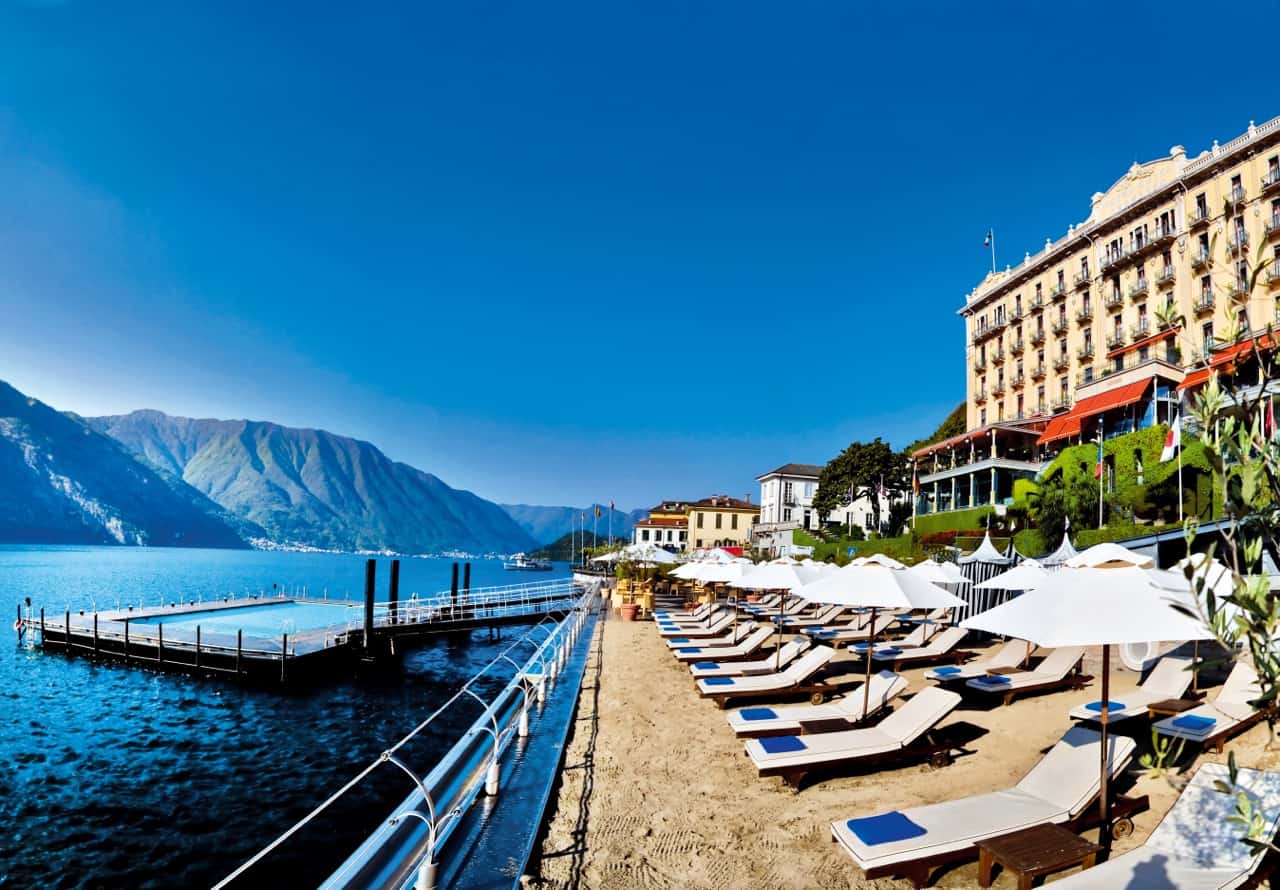 Splitting Hairs
Some of the suite bathrooms are very small due to the constraints of being in an old building.
Lake Como has a very rainy climate even in summer so if at all possible check the weather before making a booking. Lake is best enjoyed on warm sunny days.
All In All
Amazing historic hotel on Lake Como. If you are looking for an ultimately romantic escape Grand Hotel Tremezzo is absolutely perfect!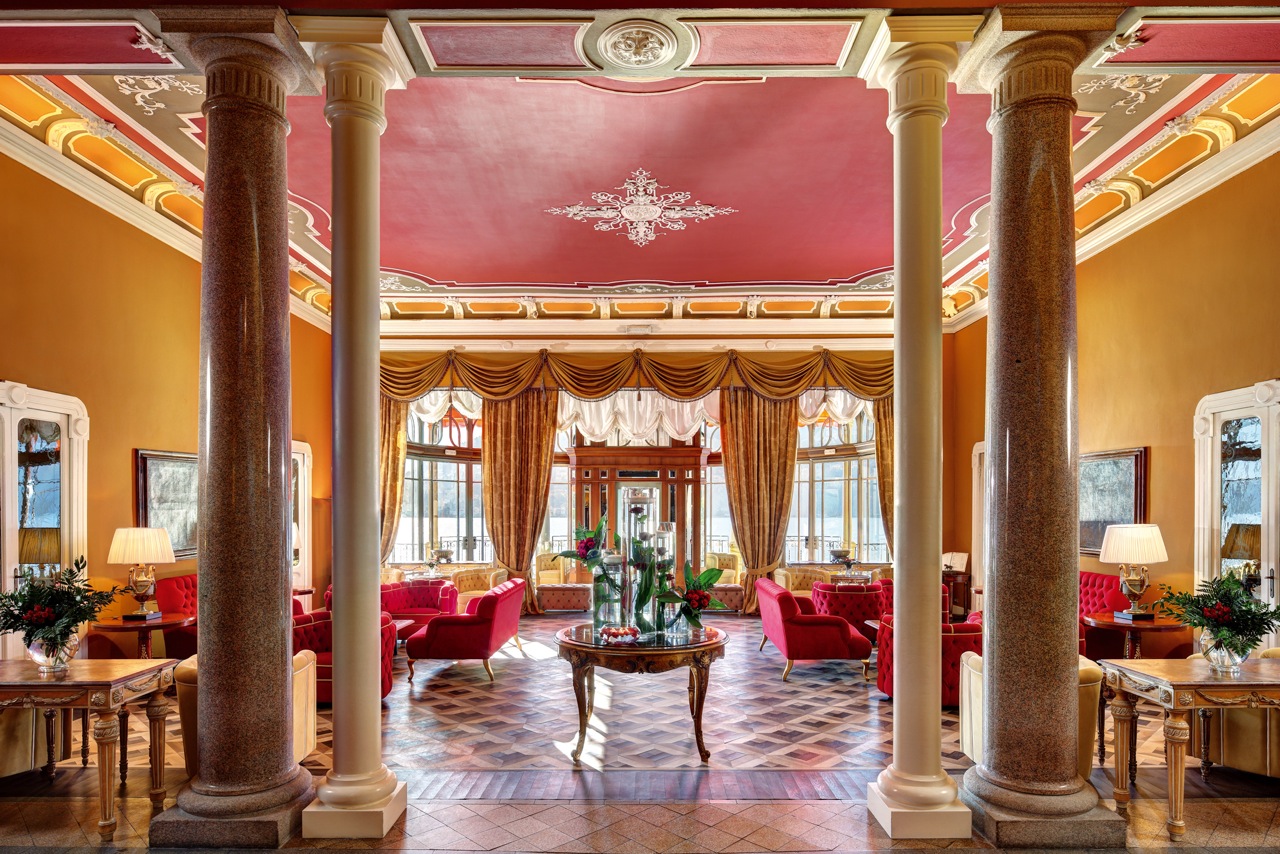 Grand Hotel Tremezzo is a member of the Preferred Hotels & Resorts.