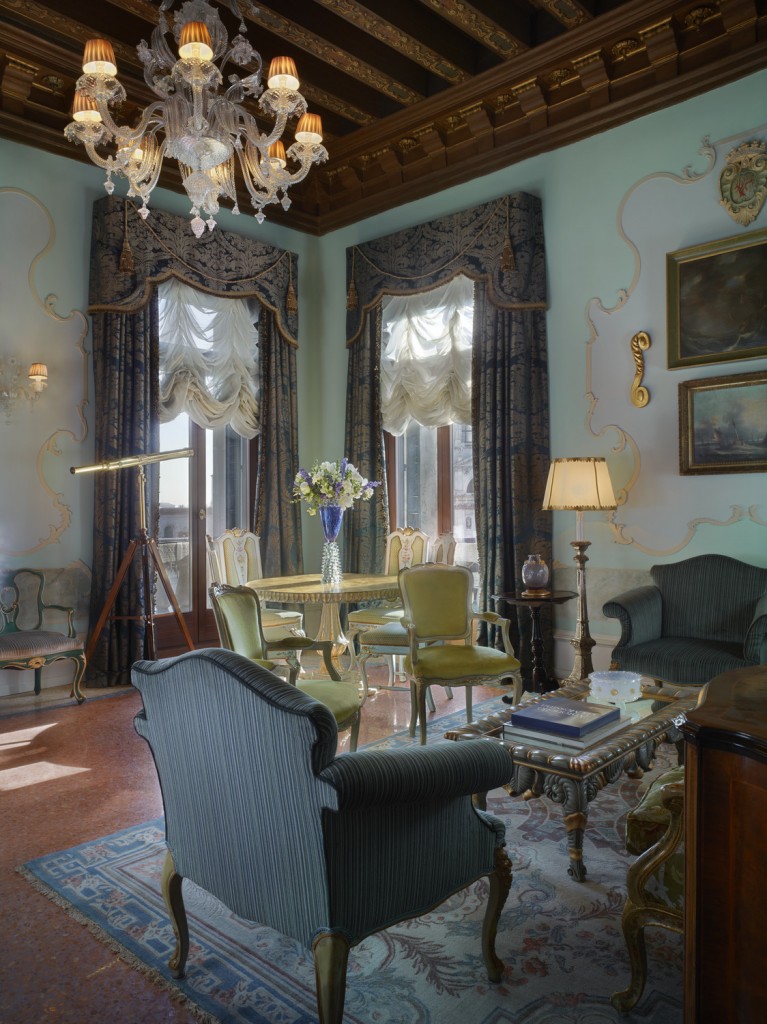 I woke up in heaven today! At least as close as it gets to it on planet Earth!
I am in the The Punta della Dogana Patron Grand Canal Suite in the stunning Gritti Palace on Grand Canal in Venice.
I feel like Angelina Jolie in the Tourist – the suite is that grand and beautiful.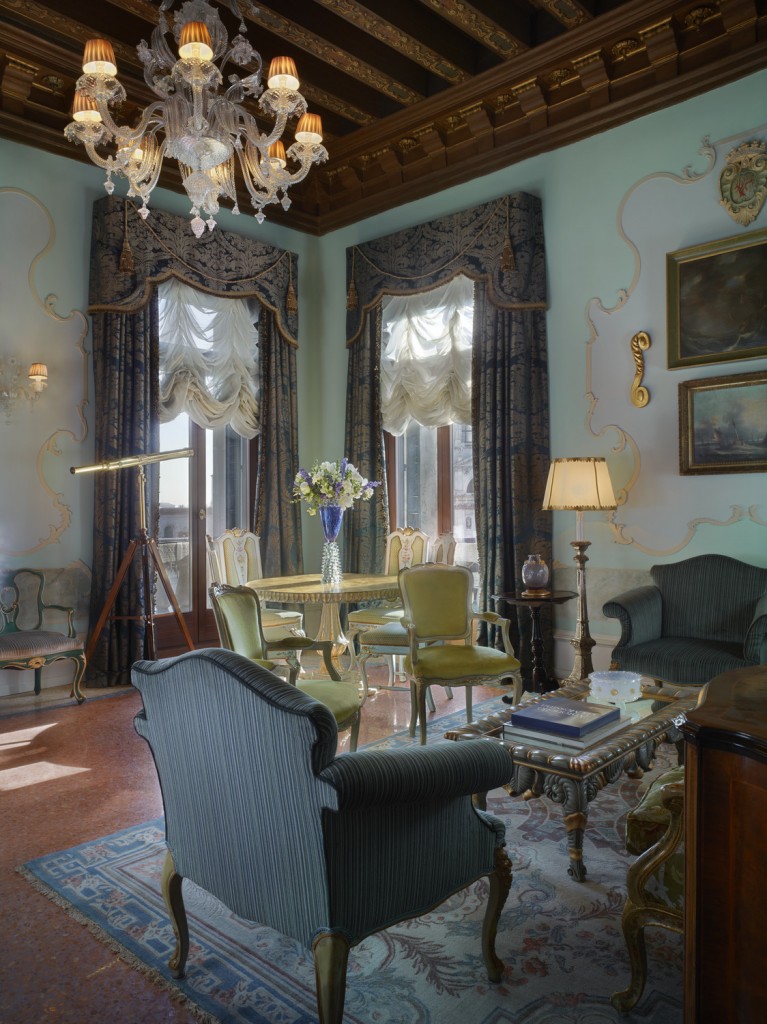 I have visited Venice before and never appreciated it the way I do now. The key to visiting Venice in style is the right hotel – it will shape the way you see this amazing city. And there is no better place to base yourself than Gritti Palace.
It has always been a luxurious hotel but what makes it extra special now, is that it has undergone a complete renovation and is not only historic but exceptionally luxurious. It offers the highest quality of accommodation and service in Venice.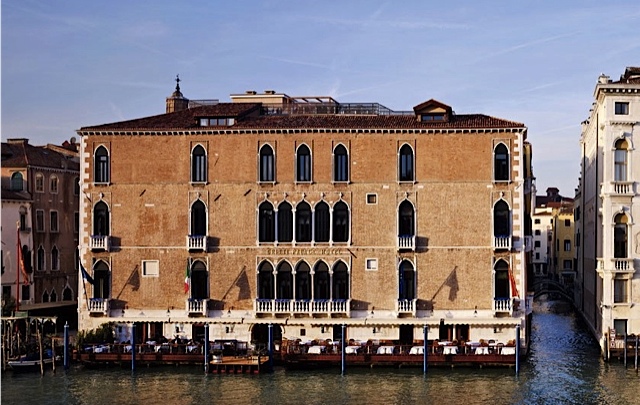 The Palazzo is decorated in a traditional Venetial style  – rich & royal – complete with silk fabrics, Murano chandeliers, plush velvet sofas and terrazzo floors.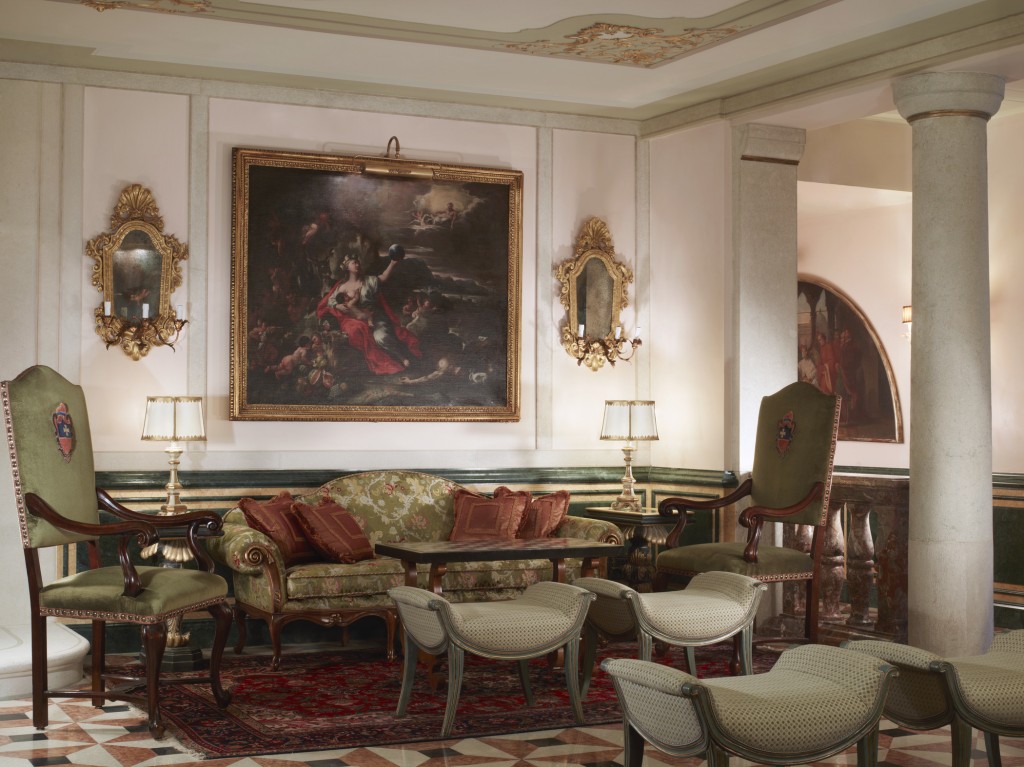 Suites at the Gritti Palace:
Gritti offers the best signature suites in Venice.  The suite we are in – The Punta della Dogana Patron Suite is my favourite!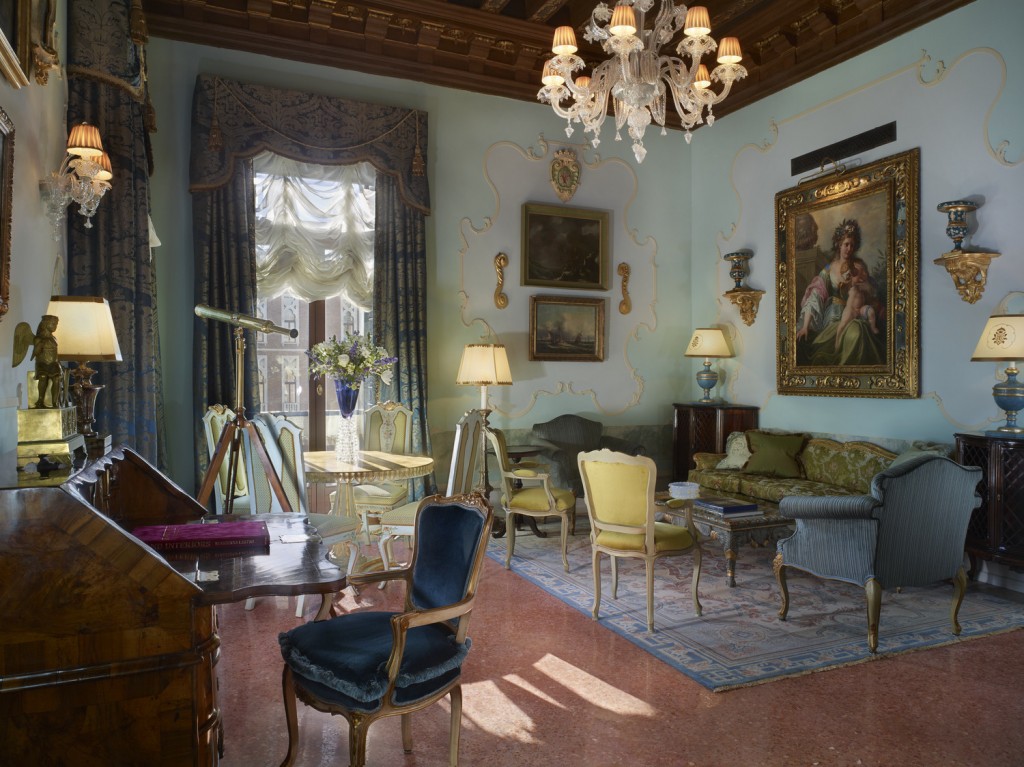 It has stunning views of the Grand Canal with a little balcony to enjoy the views from, high 4m ceilings, lots of space and an exceptional décor.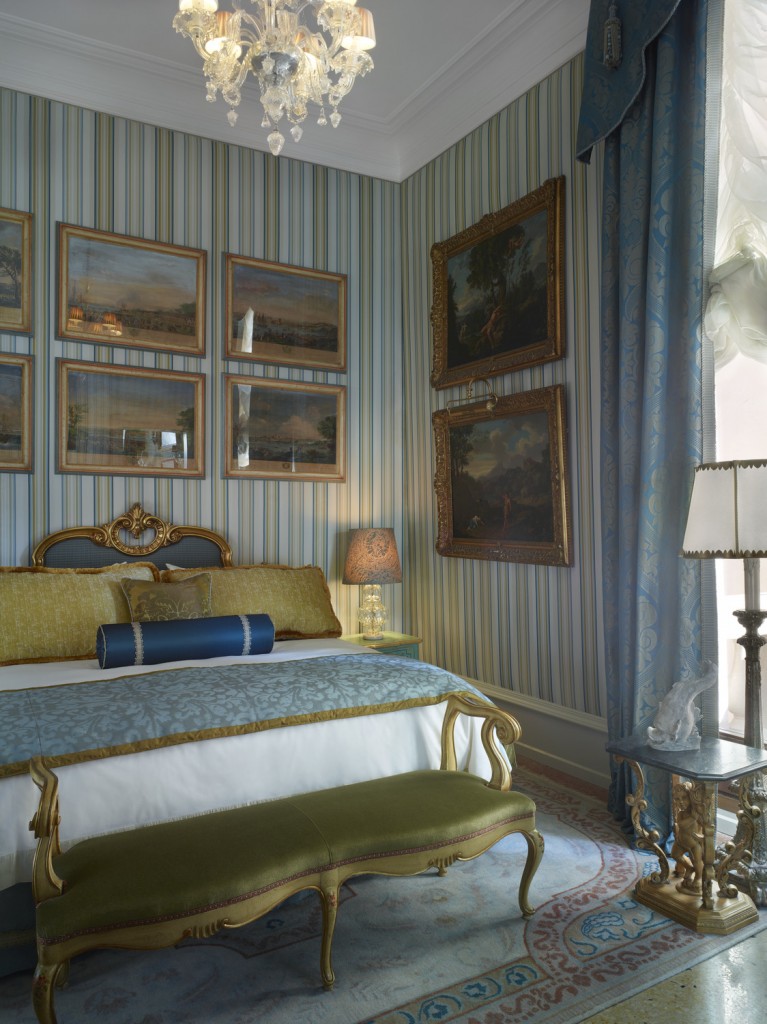 Lux Traveller Loves the views, the furniture, the bathrooms, huge B&O TVs and audio systems…We pretty much love everything. The suite is exceptional!
Bathrooms deserve a special mention – they are very impressive. Each suite's bathroom is decorated in a different colour floor to ceiling marble. Bathrooms feature double vanities, separate spacious showers (rare find in Italy) and Aqua Di Parma toiletries.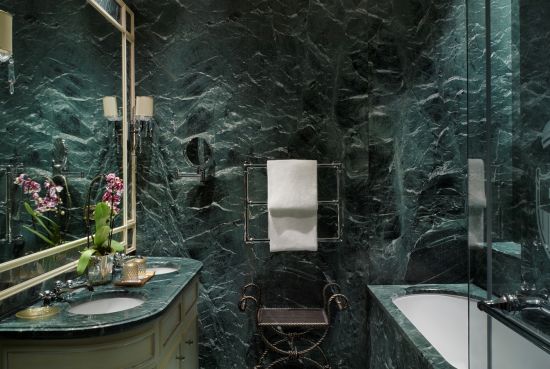 Royal Suite is another spectacular suite – it's best feature is a large terrace facing the canal.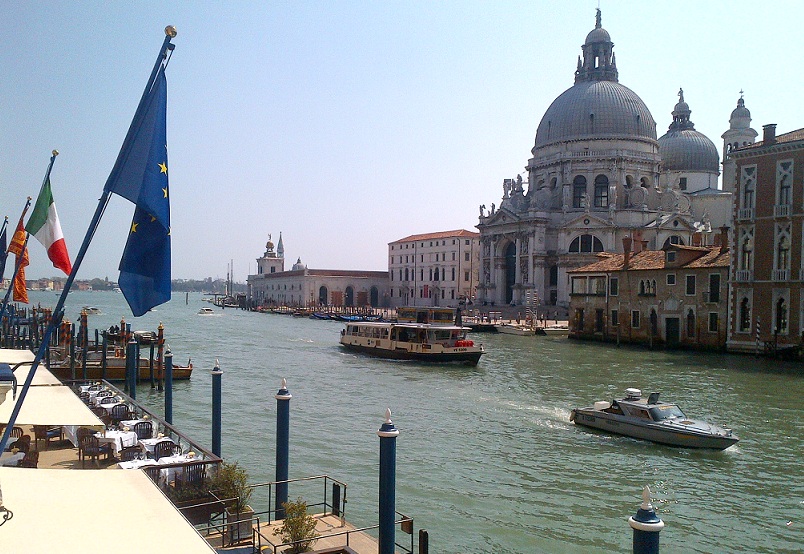 Royal suite could be converted to a 3 bedroom apartment (with interconnecting rooms added on each side) – what a way to visit Venice as a family.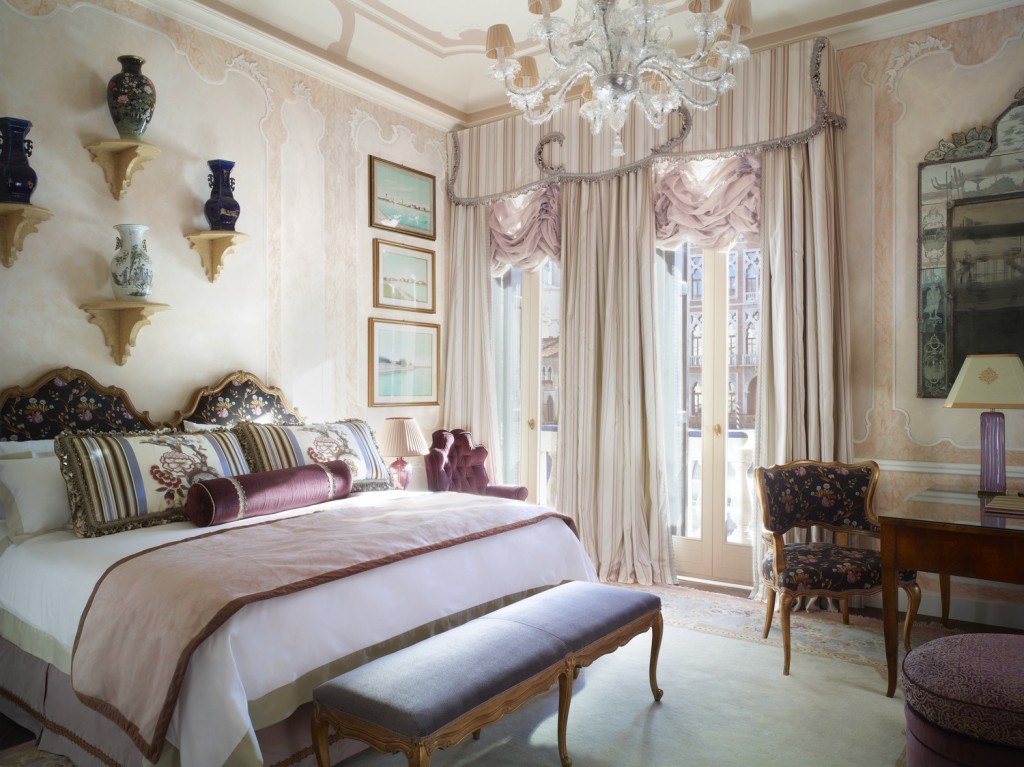 Another spectacular suite is a Penthouse Suite with a 250m roof top terrace complete with outdoor Jacuzzi, deck chairs, dining and relaxation areas.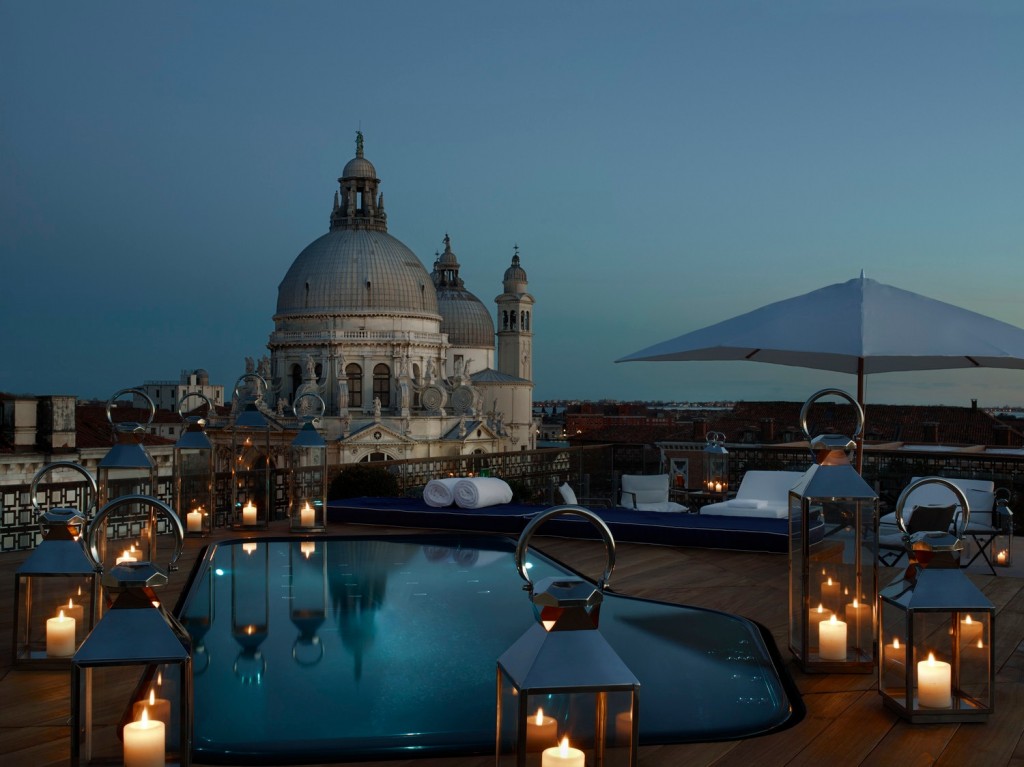 The suite itself doesn't have the best outlook as it is loft style with smaller windows but the terrace is a jewel of the hotel and would make an amazing venue for a private party or a family gathering.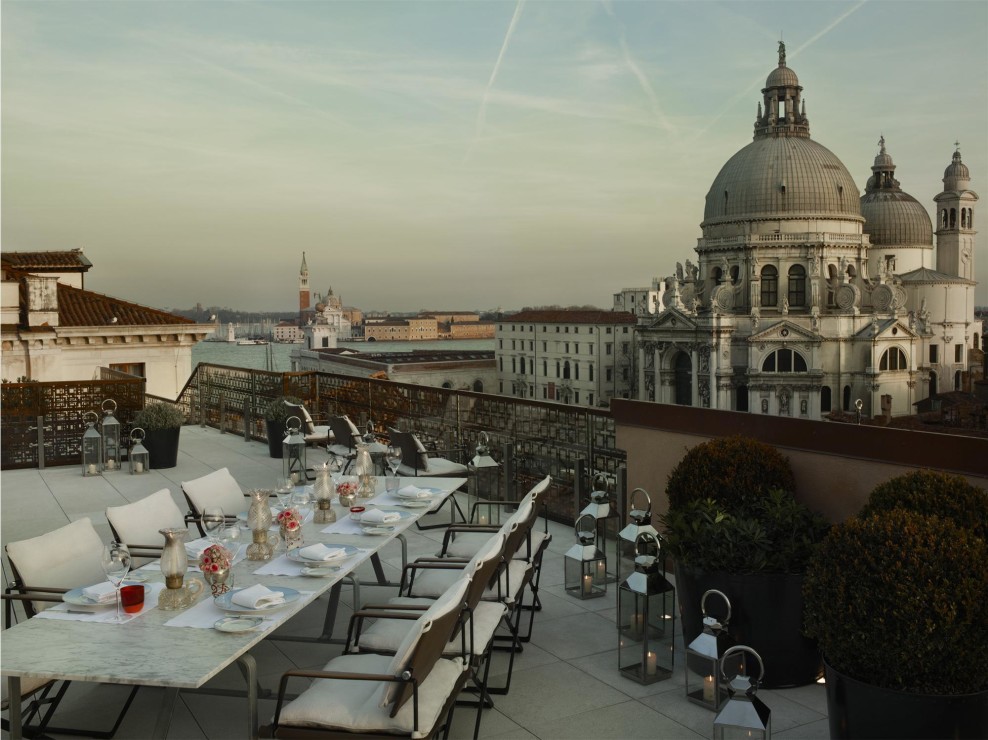 If your heart really wants to stay in a suite yet your wallet can't afford it, don't worry, Canal View rooms are superb too!
Usually I am not a big supporter of staying in the rooms, but these rooms are special. Request a room with a view on 2nd or 3d floor of the Palace (they have much higher ceilings and feel very roomy and spacious). These rooms are plush, spacious, beautifully decorated with a romantic touch of a stand alone bath in the room in front of a window. Bath Italian Honeymoon style!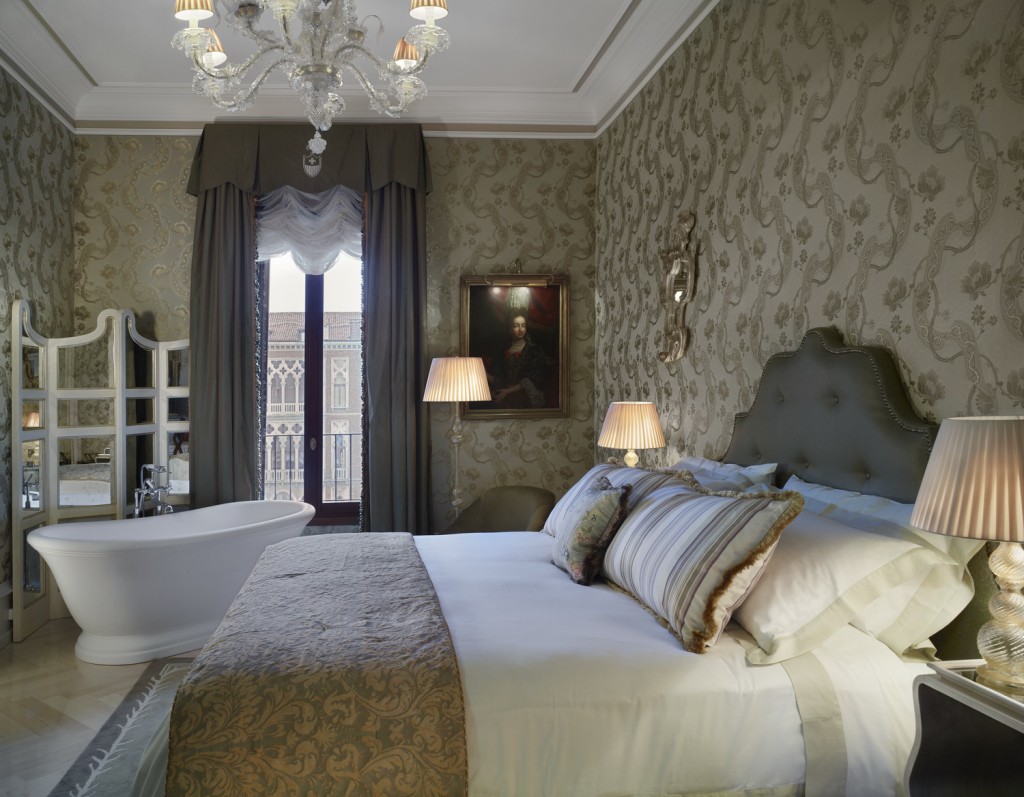 These rooms are so beautiful that I almost prefer them to the Sestieri Suites (first suite category). These suites don't have the views, high ceilings or a separate bedroom but do offer a little more space and a sofa for a child.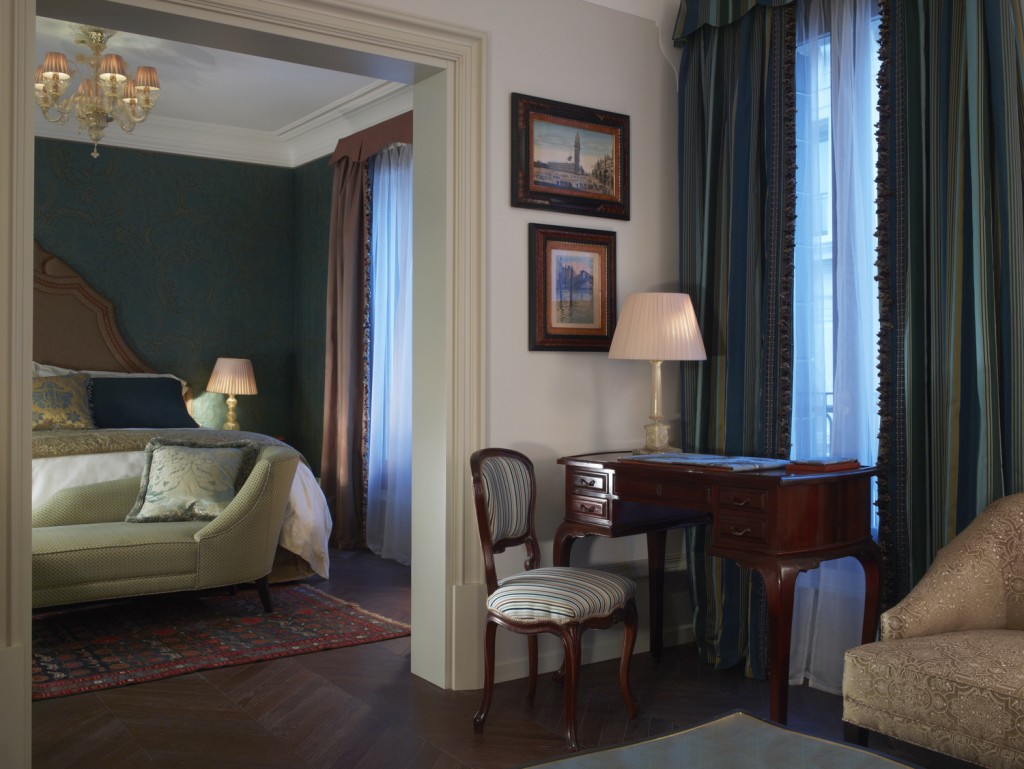 Serenissima Suites are similar, but bigger with a completely separate bedroom & bigger bathrooms. Great suites for a family of 3 (small child could easily sleep on a sofa and your suite will still look luxurious and spacious).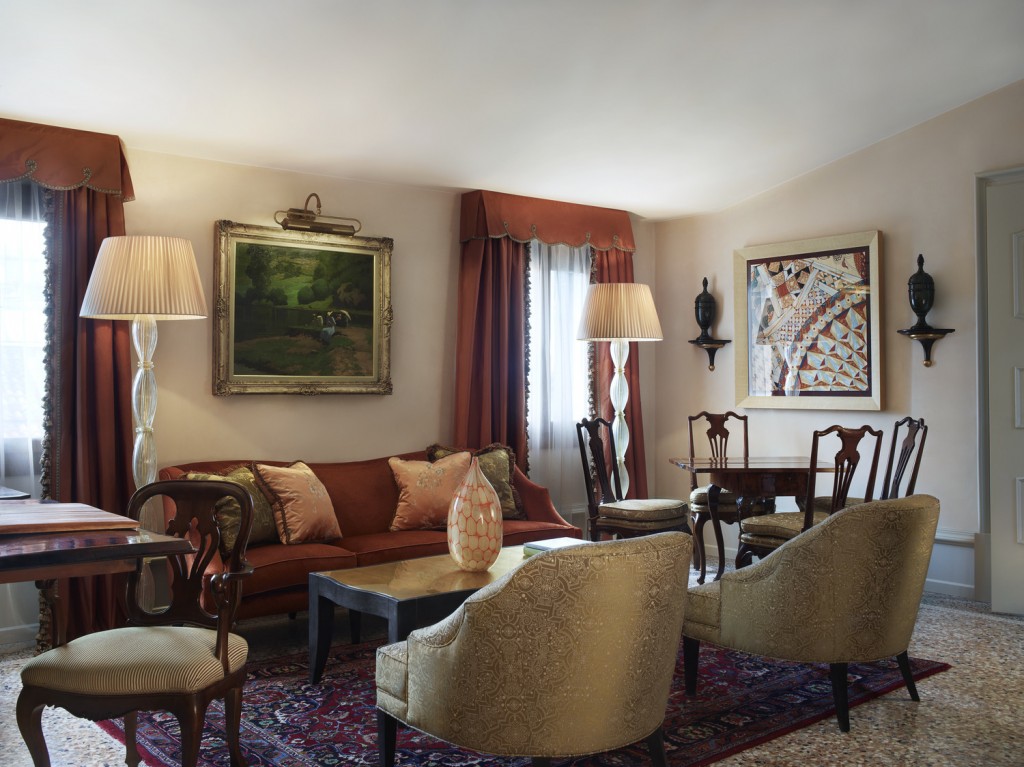 Dining at the Gritti
Breakfast is served on an outdoor terrace in the warmer months and is a lovely start to the day. Delight in traditional Italian delicacies while taking in the views.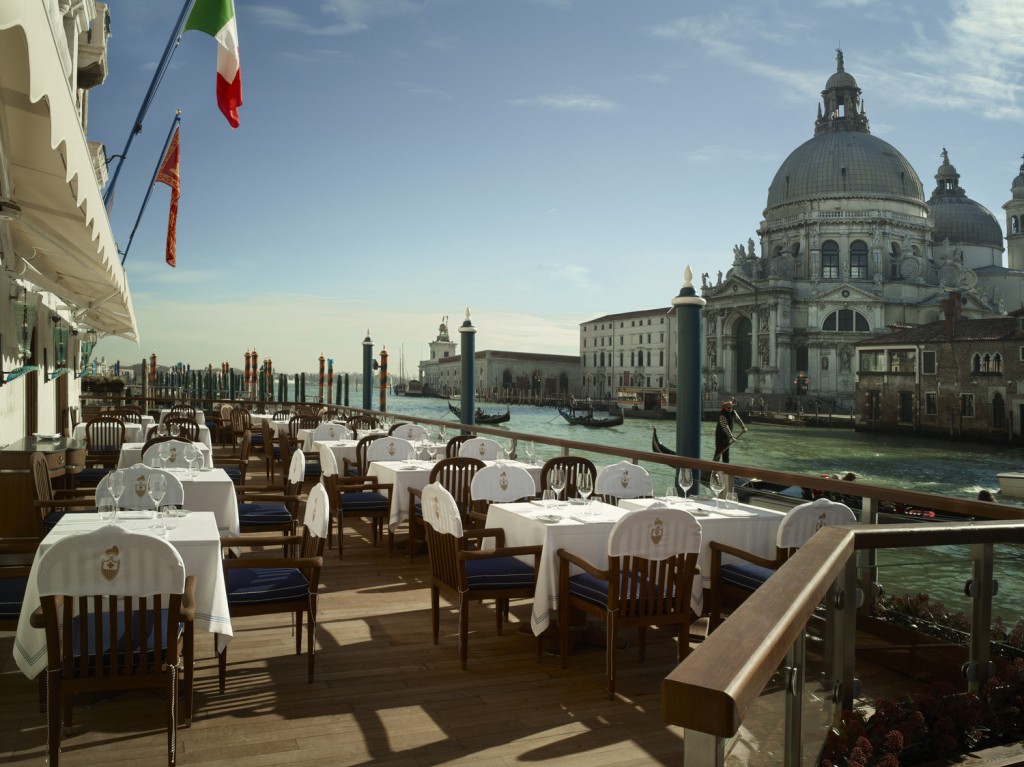 For colder months the breakfast is served inside the restaurant – it is a beautiful historic space decorated in a traditional Venetial style. You'll certainly know you are in Venice.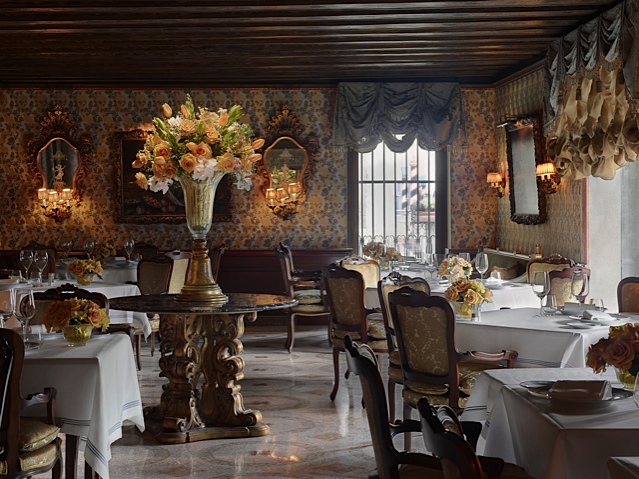 For dinner – a visit to Club del Doge Restaurant will not be your ordinary dinner out – it is a Gastronomic Experience in the most romantic setting.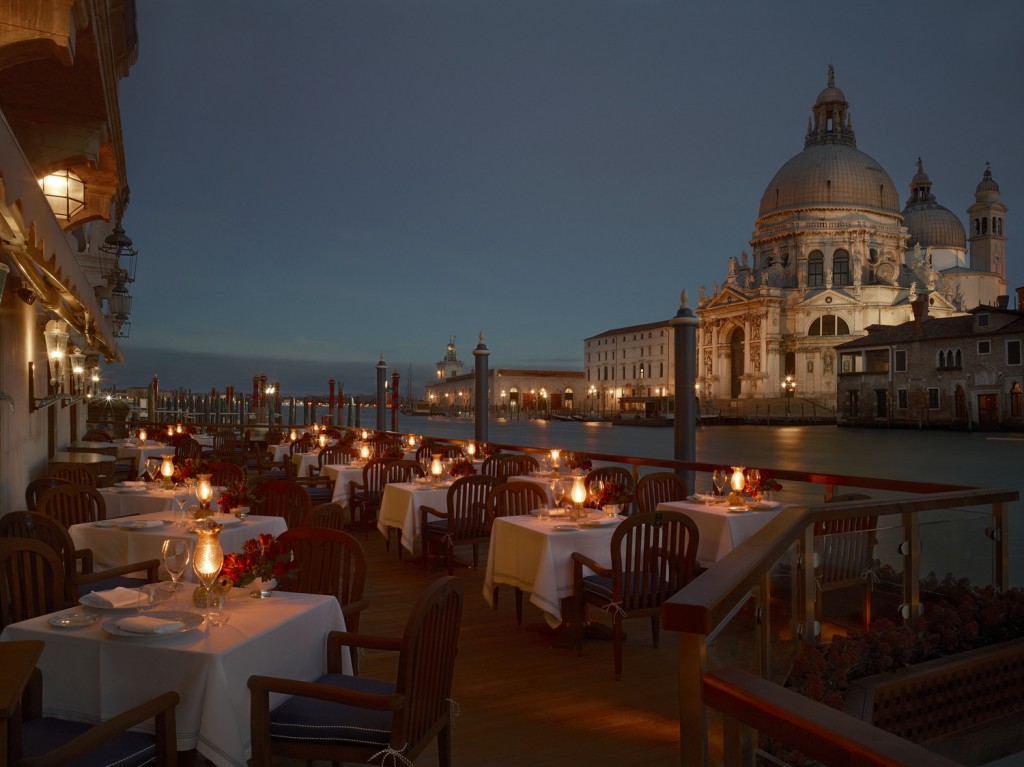 The view is breathtaking, the guests are the most elegant you'd see in Venice and the food is superb. Even my 9 year old who doesn't eat has finished her entrée (vegetable soup), steak (the most tender meat we have tasted in Italy) and desert (chocolate mousse of course).
Adults enjoyed a prawn carpaccio, followed by sole and a soufflé. The meal was beautifully complemented by Rose champagne and exceptionally friendly silver service.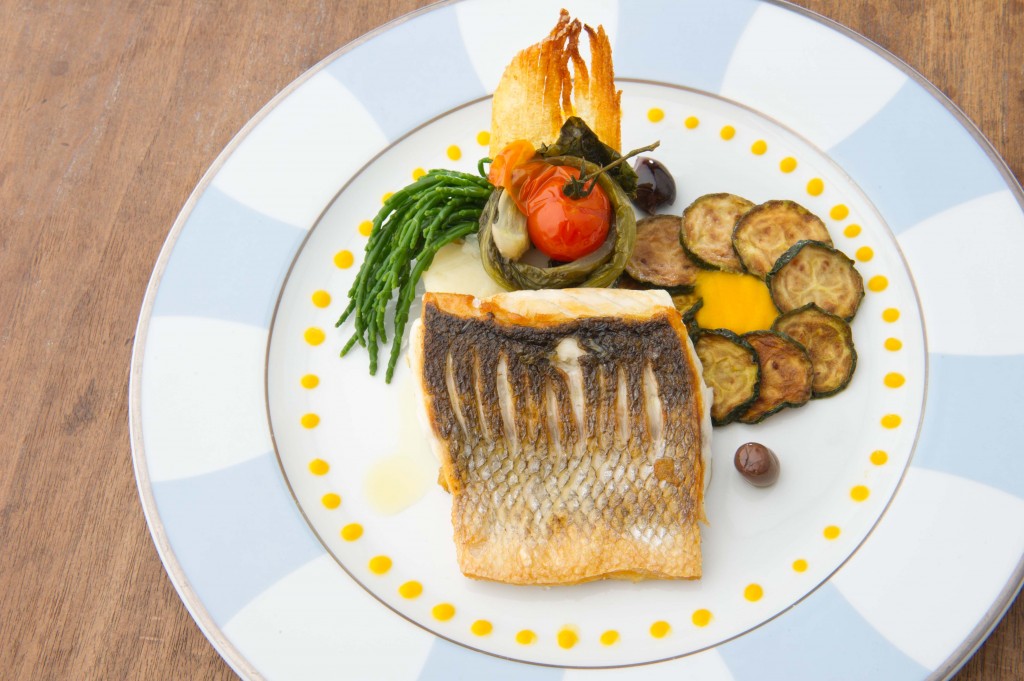 Even if you are not staying at the Gritti please visit Club del Doge restaurant for an unforgettable experience!
Other Facilities at The Gritti:
As a bonus to an already fabulous hotel, Gritti has recently added a tiny gym and 2 spa suites. They offer a variety of facials and body treatments, always a welcome offering after a day of sightseeing.
Lux Traveller Loves:
Uber Luxurious Suites – Best in Venice
Views of the Grand Canal
Venetian  style, fit for royalty
Very welcoming service – Gritti Palace staff treat you like part of the family
Unforgettable dinner at the Club del Doge
Lux Traveller Doesn't Like:
I tried to think of something but there really isn't anything less than perfect about Gritti. It is a hotel I'd love to come back to.
Tips – depending on your budget book either Grand Canal view room or a suite with a view. Ask for rooms / suites on level 2 or 3 as they have much higher ceilings and feel more spacious and luxurious.
The best way to get to the Gritti Palace is by a water taxi. The cost is approximately €120 from the airport or €60 from the train station. It is a very pleasant journey.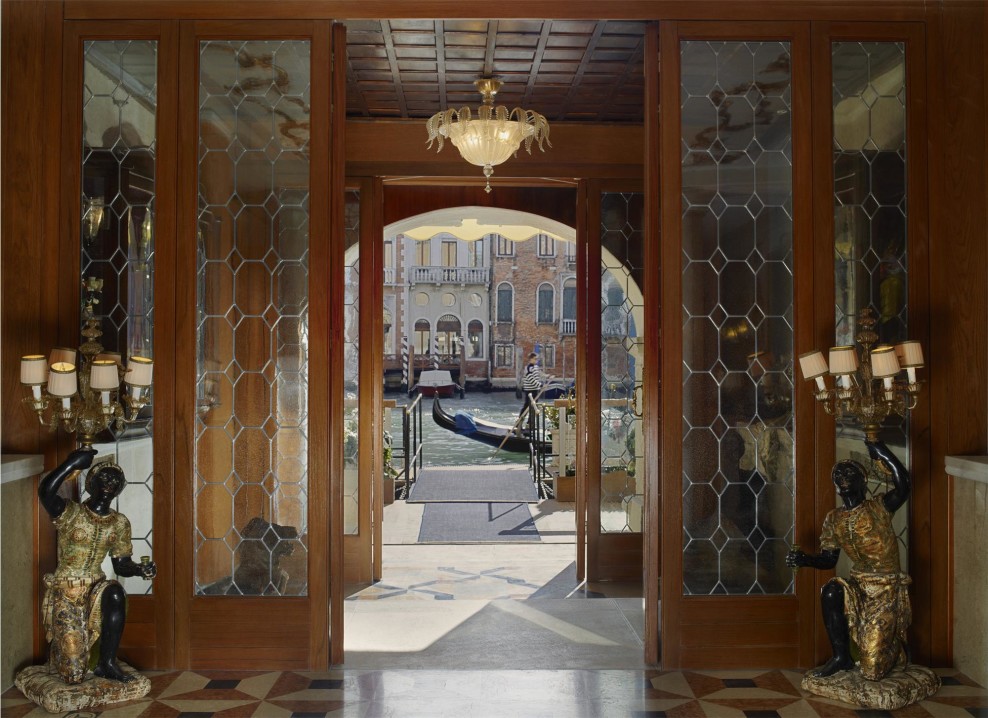 Starwood Platinum guests are treated really well here, so request a room / suite you like ahead of time. For couples – we recommend Canal view rooms over the Sestrieri suites.
All In All – Hands down, it is a very luxurious, one of a kind hotel. Our favourite in Venice. If you are lucky to experience one of the specialty suites you will cherish this stay forever. They are exceptionally beautiful and romantic! A perfect place for a perfect honeymoon!
To Book your stay at the Gritti Palace Call: +39 041 296 1222 or Email: grittipalace@luxurycollection.com