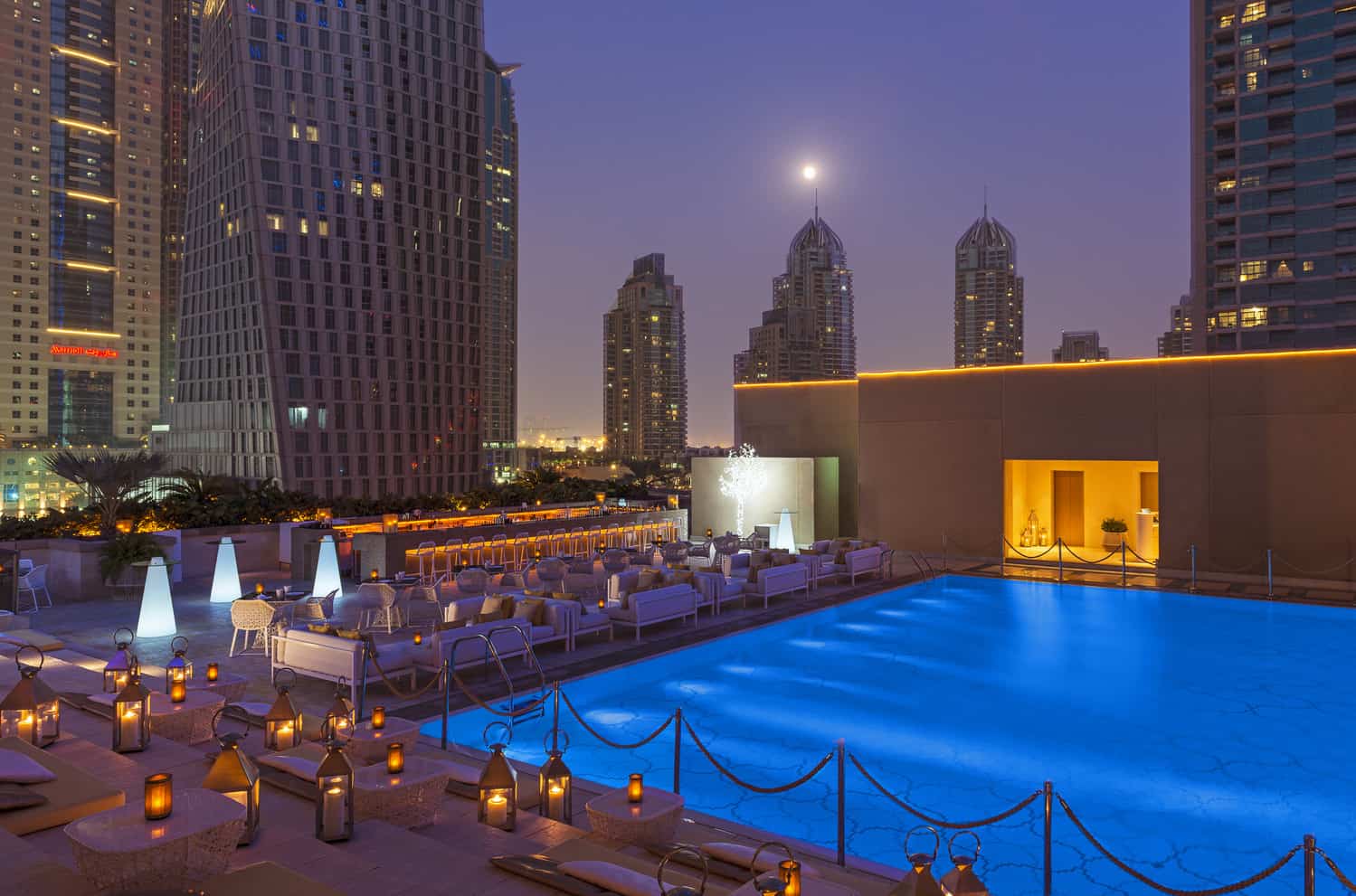 the lux score
92
the lux score explained
Service 10
Rooms 10
Food & Beverage 10
Ambience 9
Attention to Detail 9
Generosity & Value 10
Wow / Hip Factor 8
Facilities 8
Location 8
Fit to Promise 10
Grosvenor House is an iconic hotel in Dubai Marina. Its two 45 storey towers offer luxurious accommodation, an abundance of excellent restaurants, views over the Marina and so much more. It is a great all rounder and one of my favourite properties in Dubai. Even though it doesn't have a direct beach access it shares a private beach with its sister property Le Royal Meridien Beach Resort.
Grosvenor House is within easy reach to the airport (30 minutes), shopping centers and to the abundant restaurants and night life in Dubai's business centre.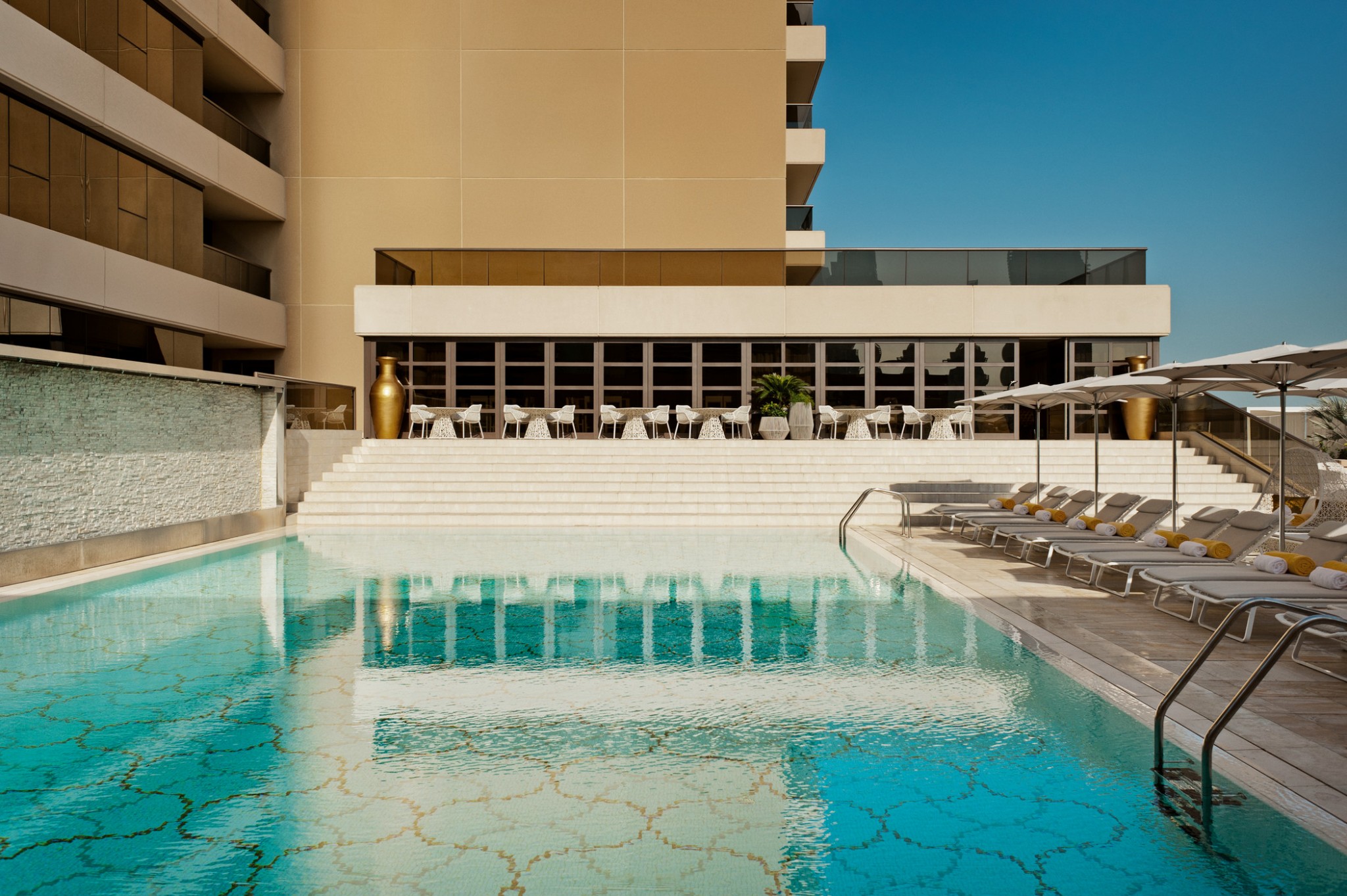 Day 1 – Grosvenor House Dubai
I am so excited! We are flying to one of my favourite cities in the world and going to call it home for the next 2 weeks. Our first stop is Grosvenor House, an iconic tower hotel near Dubai Marina.
The line at customs isn't too long and within 30 minutes we are at luggage pick up area where we have spotted our driver. He has courteously helped us with the bags and escorted us an impressive four wheel drive. Very pleased with the car, as even after all the travel we do, we did not learn to travel light.
We arrive at the hotel at night and it is already dark – Grosvenor House towers are lit up in a pretty blue and the lobby is a flurry of activity as well heeled guests are gathering up downstairs to finalise their evening plans.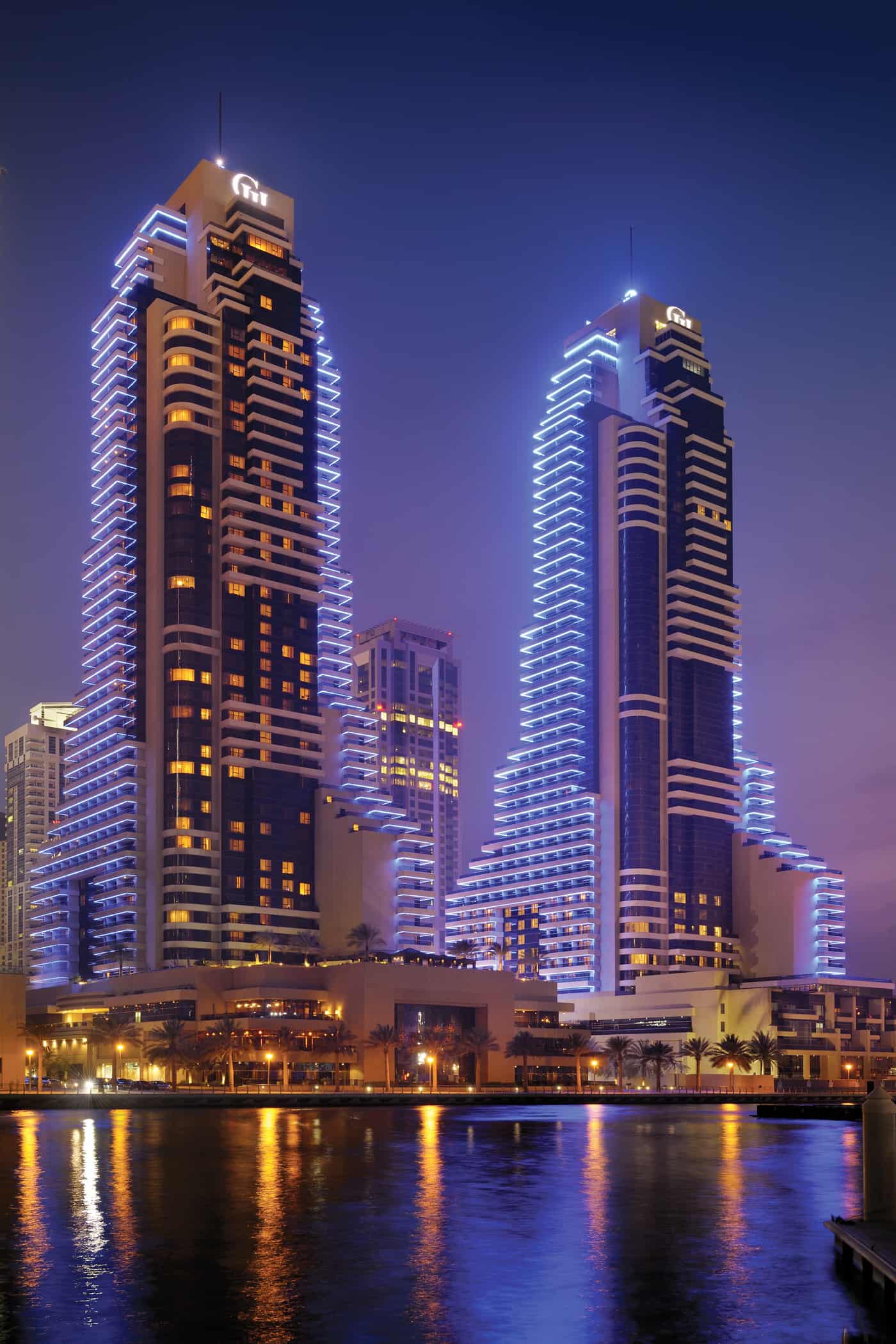 This impressive lobby has wonderful high ceiling enhanced by a stupendous flower arrangement and modern sculptures. At first I think that a lovely scent in the lobby is coming from the flowers but soon I realize it is another lovely feature of the hotel – a signature scent diffused in the common areas to enhance customers' experience.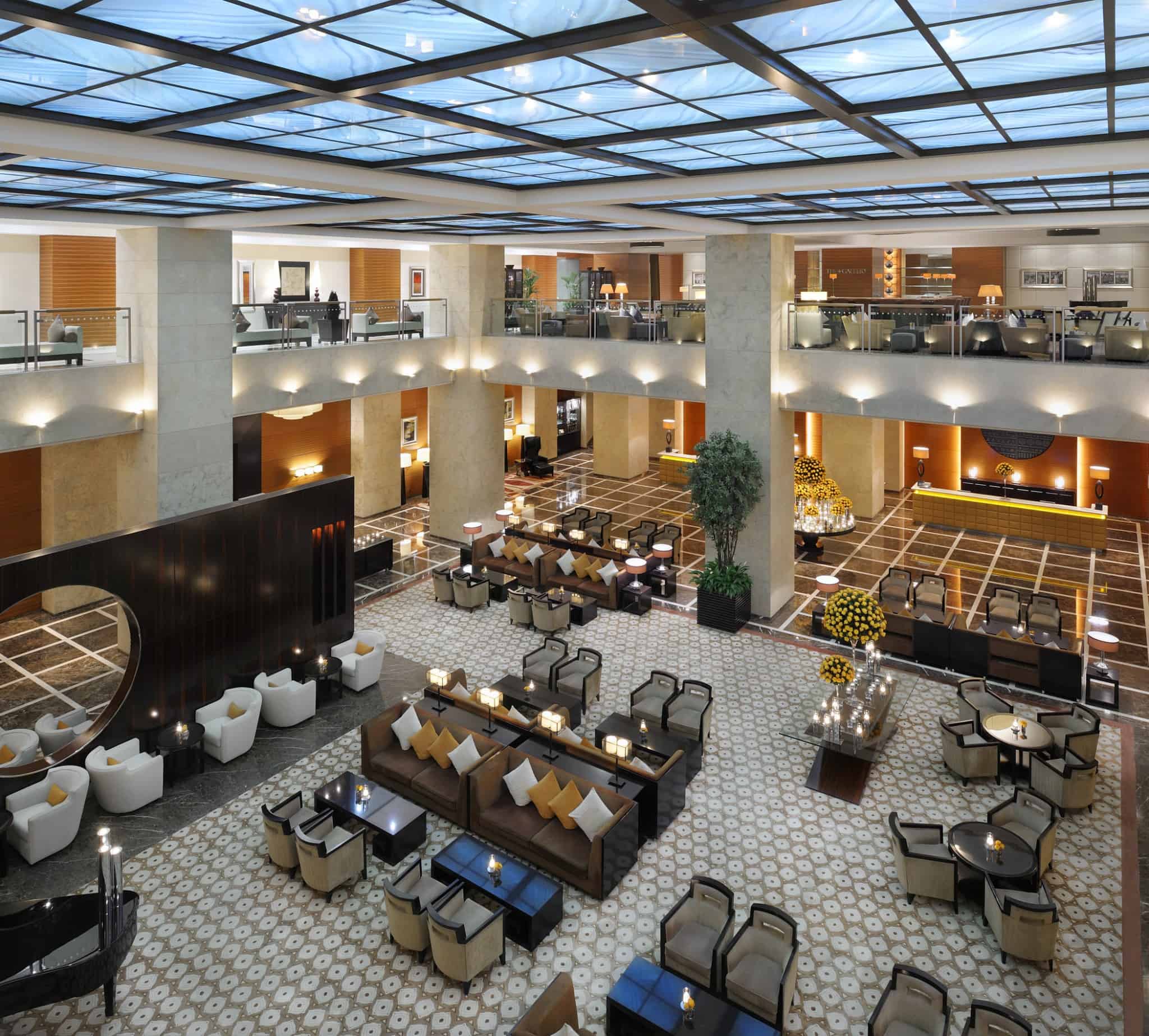 When we arrive, the hotel is nearly full and we got assigned a Deluxe Room for one night. We are a little too tired to make different arrangements, so we settle in for the night and truly enjoy our 'Heavenly bed'.
Deluxe rooms are perfect for couples with little luggage. They are modern and well sized, packed with little luxuries like Bulgari toiletries and Nespresso coffee machines (on request).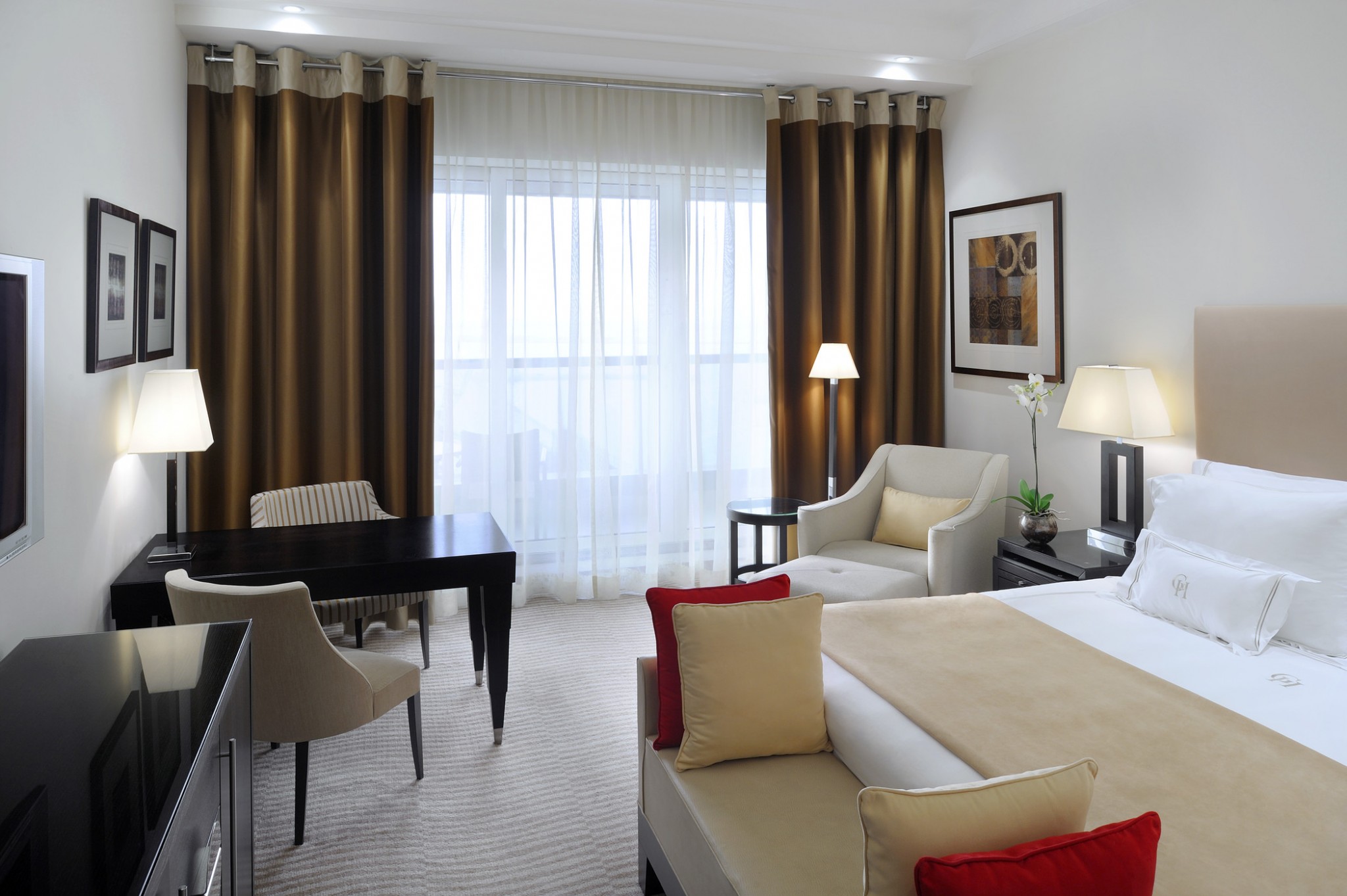 As I was falling asleep I could hear dance music coming from downstairs – there is a night club in Tower 1 and even though I considered checking it out for a quick drink before bed, the tiredness has won over and, voila, I was asleep in 10 minutes.
For those who have a little more stamina than me you could check out Embassy night club, especially on a Thursday night (the most popular night out in Dubai).
Day 2 – Busy, Busy Day
We got up nice and early and decided to start the day from a session in the gym. Tower 1 has a small gym and nearly not as good as Tower 2. Gym in Tower 2 has a fantastic range of cardio and weight equipment. It also offers pilates and yoga classes from time to time – check out their classes schedule. It also is a very social environment – everyone seems to be friendly and chatty.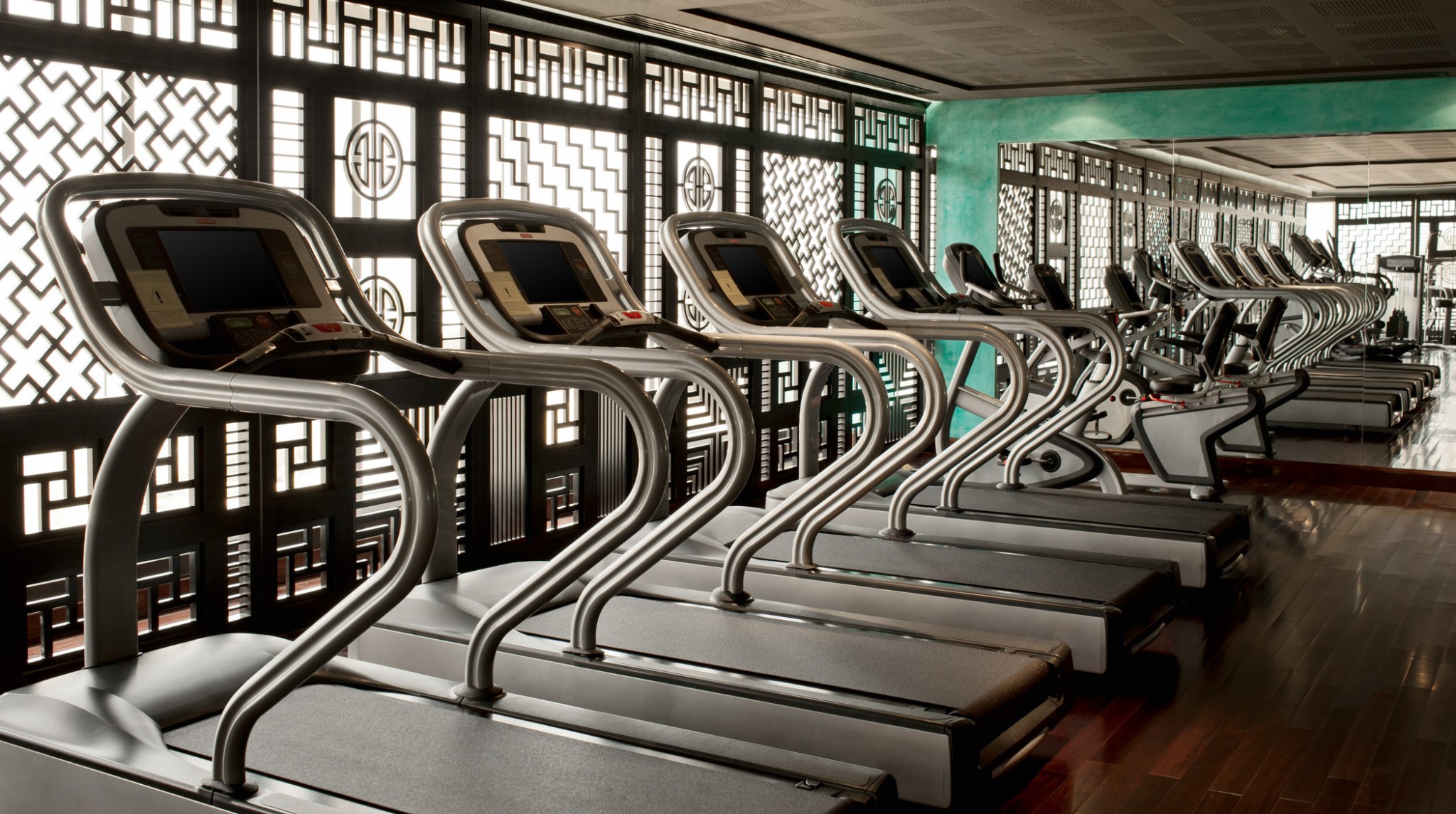 After the gym – breakfast, my favourite meal of the day. Breakfast is served in the main buffet restaurant Sloane's and guests have a choice to be seated either on a sunny terrace or indoors. It gets hot in Dubai early, so I prefer to be near the window but inside. The breakfasts are excellent with a good selection of Middle eastern dishes, crepes, waffles and pancakes made in front of you, strawberries, freshly squeezed fruit juices, a salad station, various deserts and lots more. Truly a 5 star selection.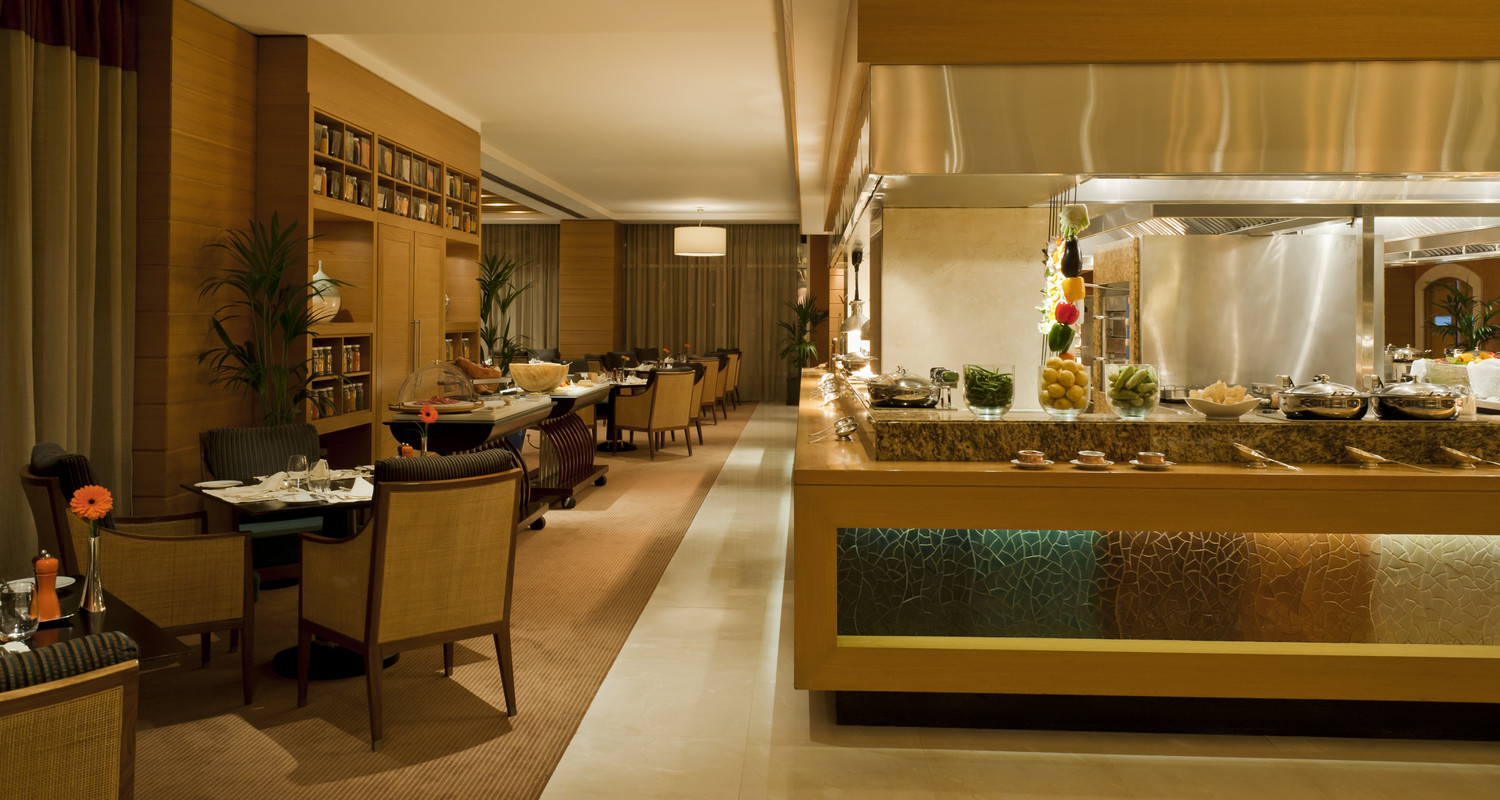 Once breakfast is over, we head off to the beach. Grosvenor House is not on the beach but it does provide a 5 minute shuttle to the nearby sister property Le Meridien Beach Resort located on a pretty Jumeirah Beach. In busy months (April-May) it seems to be quite a challenge to find a daybed though. Most guests arrive early and place their things on the beds to reserve them for the day. A little help from the service attendants would've been nice.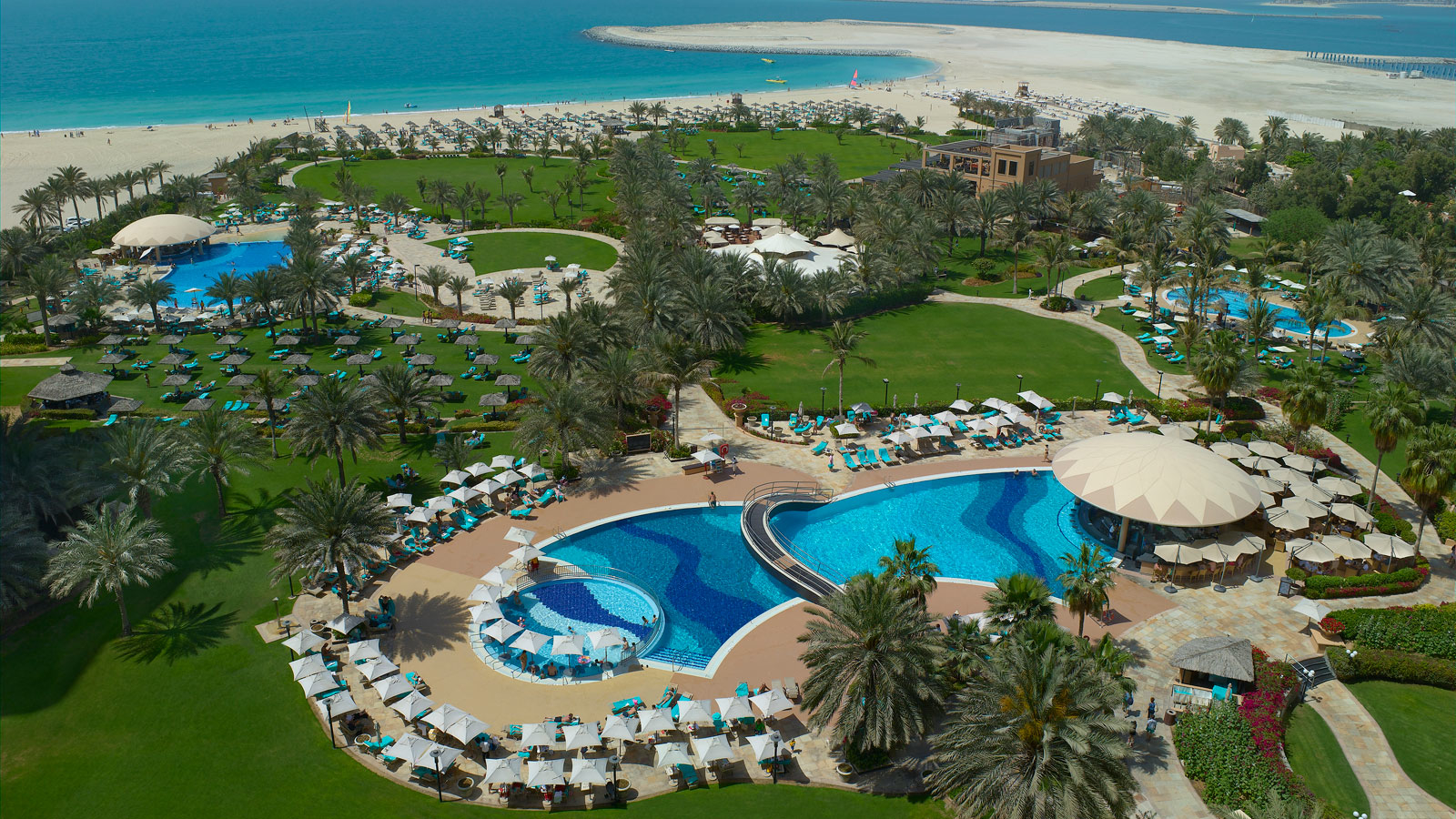 The water at the beach is warm and clean and there is a variety of privately owned water sport centres all along the beach, so if you prefer your holidays active, hop on the water skis or cruise around the marina on a jet ski for an afternoon of fun.
In the evenings there is a lot to do in Grosvenor House – it is one of the reasons I love this hotel. Between Grosvenor House and Le Meridien you are spoilt for choice – they have more than 20 bars & restaurants. All are completely different yet all offer excellent cuisine, glamorous setting and hospitable service.
Dubai is generally known for good food and excellent service and Grosvenor House more than exceeded our expectations.
On the first night we chose Ottomans – a mystical restaurant with an outdoor terrace right on the Marina. Ottomans chef skilfully blends traditional Turkish dishes with Mediterranean flavours. We have requested a small tasting menu and got a chance to try many appetisers and mains in tiny portions. I highly recommend it, especially if you are not overly familiar with Turkish cuisine. To finish off a night like the locals do, enjoyed a cup of tea and a sheesha on the terrace.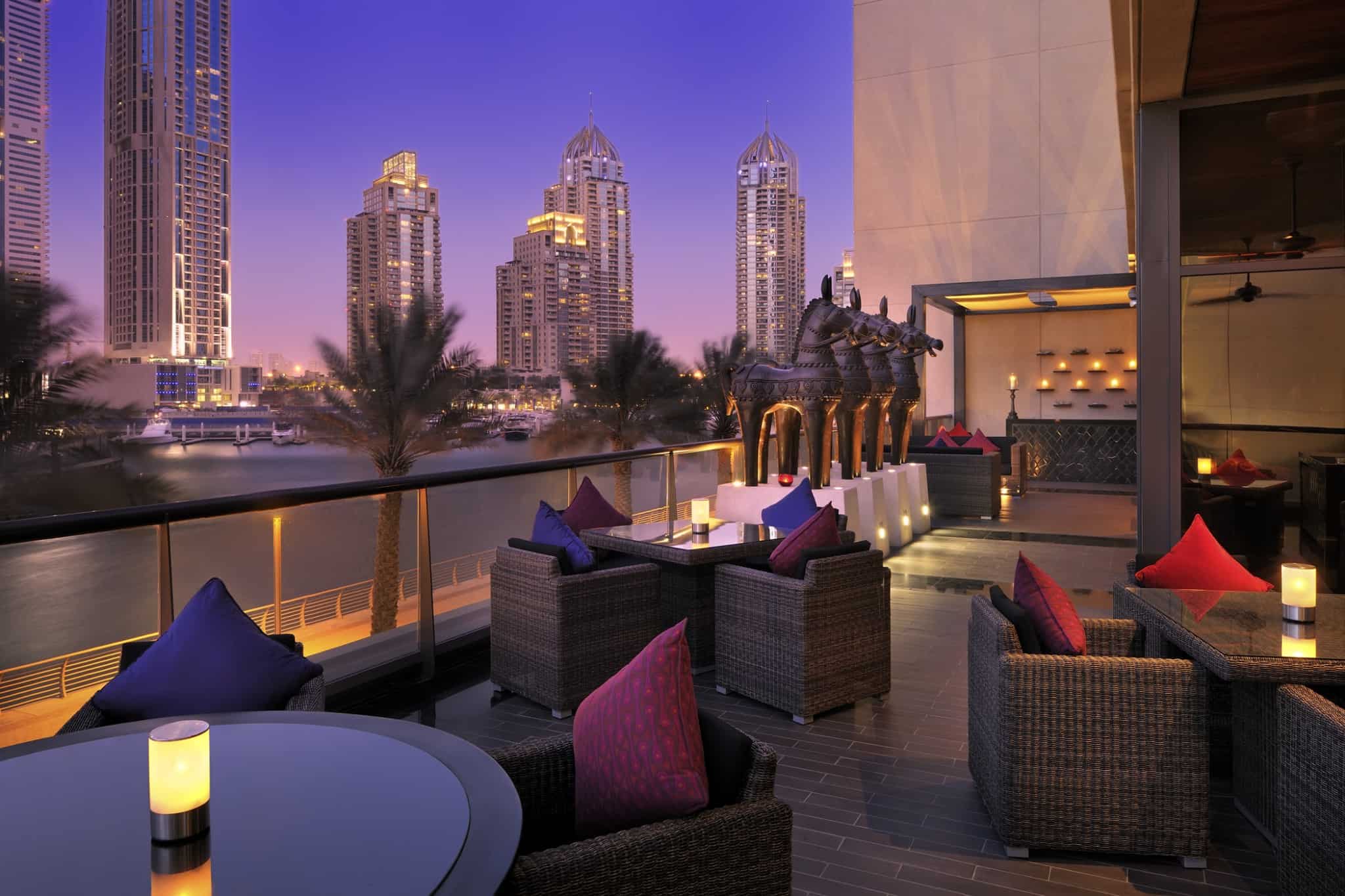 Day 3 – Shopping and Dining Out
Today we decide to explore the shops and headed off to the largest shopping mall in the world. Dubai Mall is 20 min away from the hotel and what an experience it is! One can spend days here and not even discover all the shops. It seems like every brand in the world is represented here – shopping trip not to be missed. I find the prices in Dubai to be 20-30% higher than in Europe but you can find all recent collections in almost every size.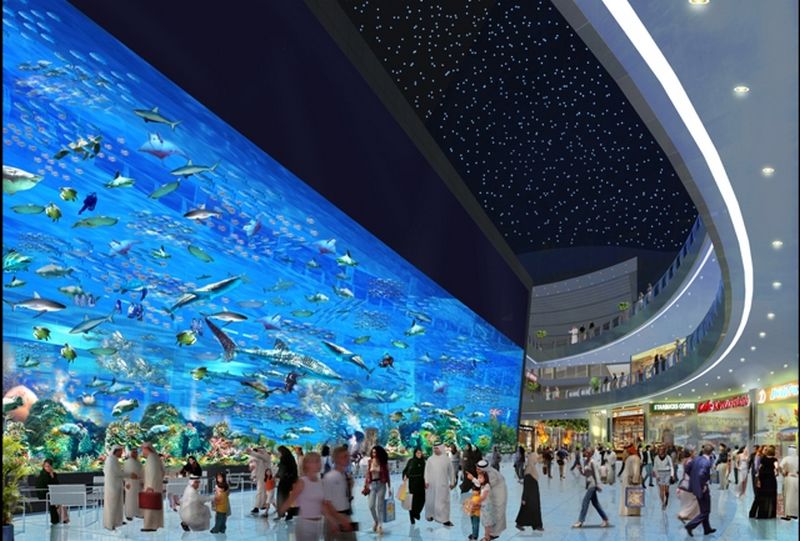 Loaded with shopping bags and excited to put on our new outfits we head back to the hotel around 7pm. After a little rest we glam up and head to the famous Buddha Bar. This ultra chic Vietnamese restaurant and sushi bar has a great DJ, loud music, fabulous party atmosphere and delectable Asian food. Highly recommended to all visitors to Dubai.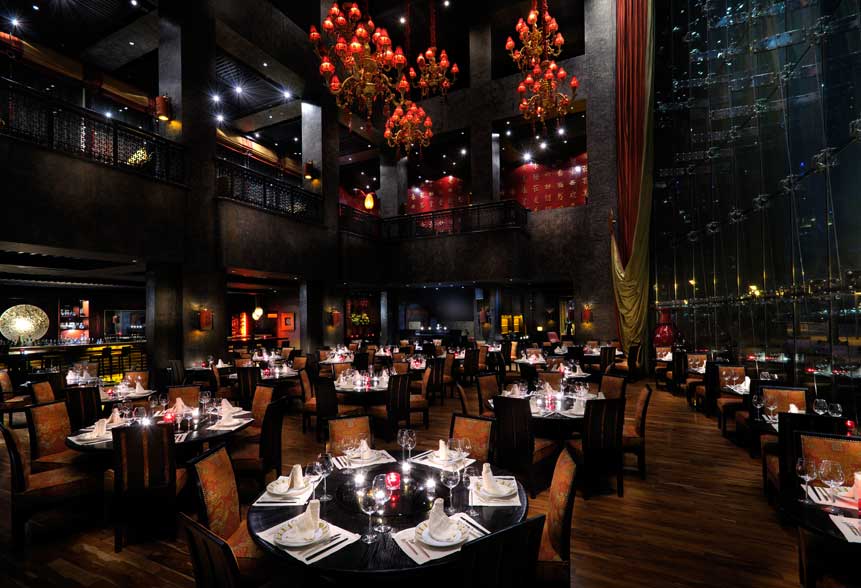 Day 4 – Relaxation & Seafood
There is still so much to do in our fabulous hotel and we have only one night left. I think you need at least a week to fully appreciate Grosvenor House.
After a long lunch at the beach (Le Meridien Beach Bar tables are set up right on the white sand and serve a good selection of pastas and salads) I am excited to try the Spa at Tower 2. I love the interior of the Thai inspired B/Attitude Spa. As soon as the lift doors open the atmosphere of serenity envelopes you from head to toe. Dimmed lights, oriental rugs, mozaic tiles, silk cushions create a unique tranquil ambiance.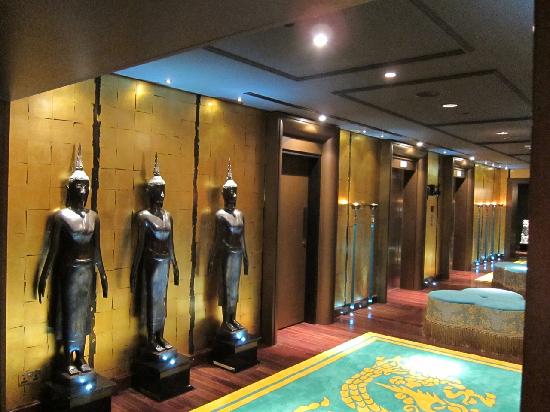 Wonderful facilities include hammam pools (5 temperature controlled pools ranging from cool to very warm), eleven Chakra themed treatment rooms, a couples suite, his and hers relaxation areas with spa, sauna and steam rooms.
I had a Balinese massage, performed by a Balinese lady and relaxed in the sauna and hammam pools afterwards. Utterly relaxing and pleasant afternoon.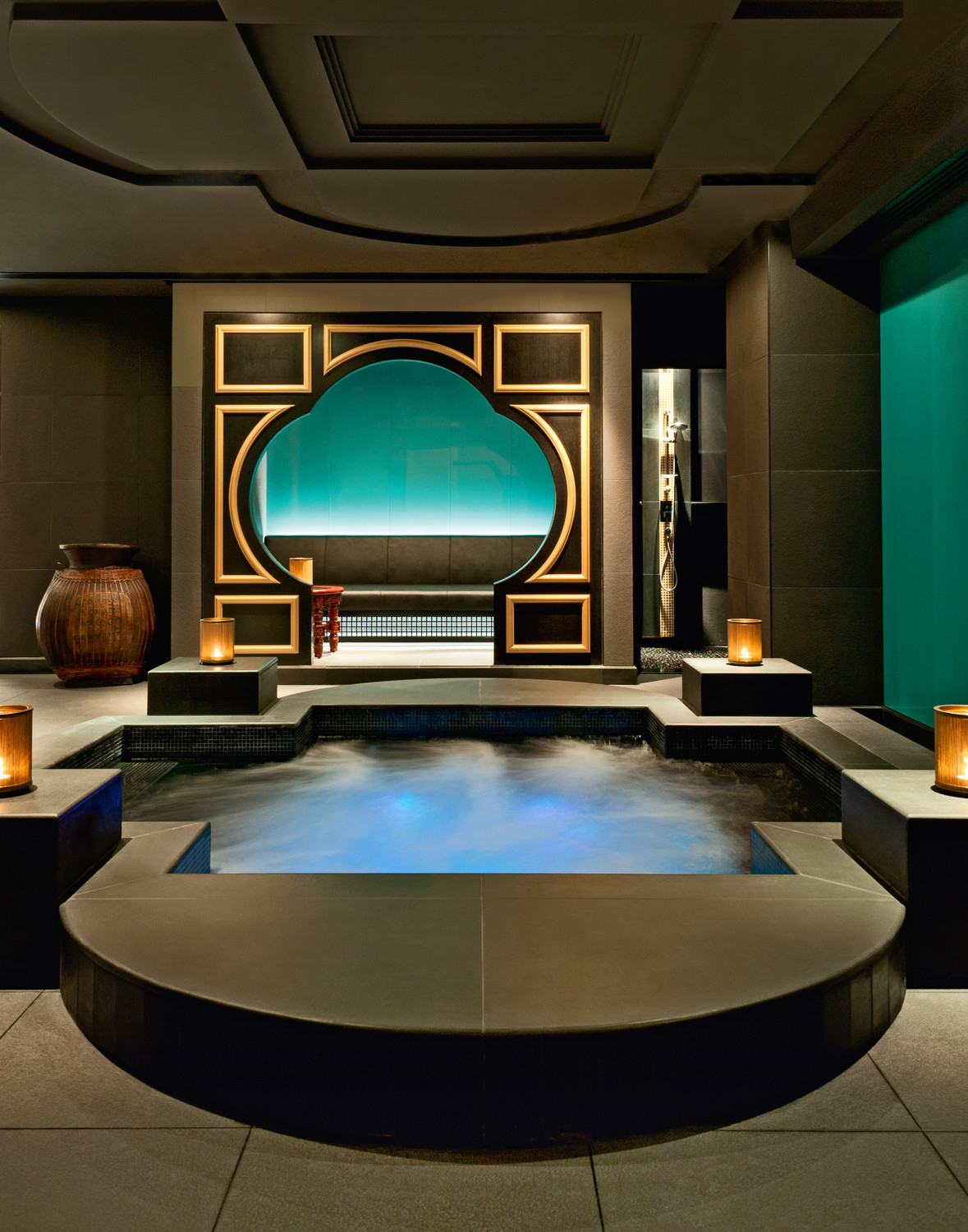 Our dinner today is at the new seafood restaurant Geales in Le Royal Meridien Beach Resort. Another elegant restaurant in the complex and 'a must try' for all seafood lovers. Outdoor white lounge terrace is perfect for a romantic evening and a large selection of fresh seafood on offer will please any gourmand. I like that guests get to choose their own seafood from a large counter inside the restaurant and decide on the way you'd like it prepared – carpaccio, tartar style or simply grilled. Dine under the stars on the freshest seafood in Dubai – unforgettable!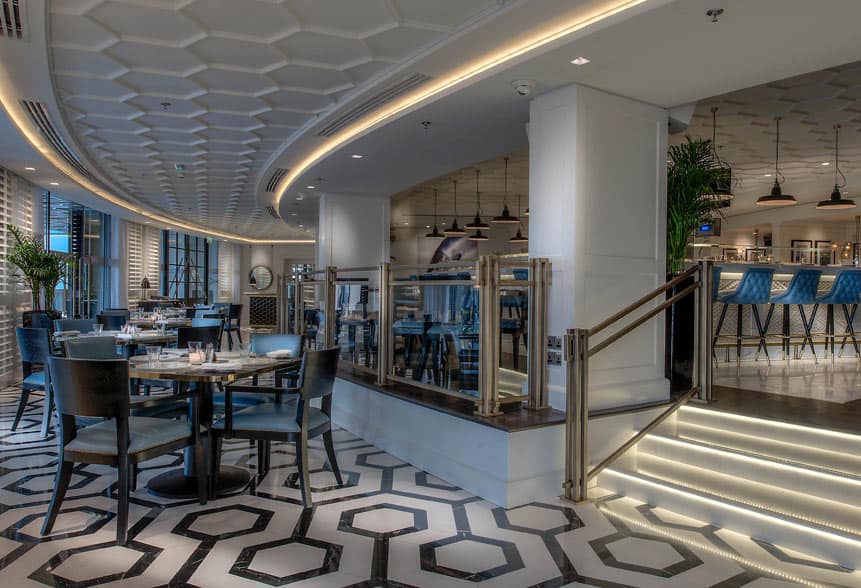 This wonderful evening has concluded our stay at the Grosvenor House and I have to say, we were sad to leave the next morning. It is a fantastic, fun, social hotel – an absolute winner in Dubai.
Below is a little more information on the hotel's accommodation and dining options. I know you will enjoy your stay here!
A Little More About Accommodation At Grosvenor House
On day 2 we moved to a two bedroom apartment in Tower 2. It is a newer tower with ultra luxurious hotel rooms, suites and apartments. It is also the tower with good views.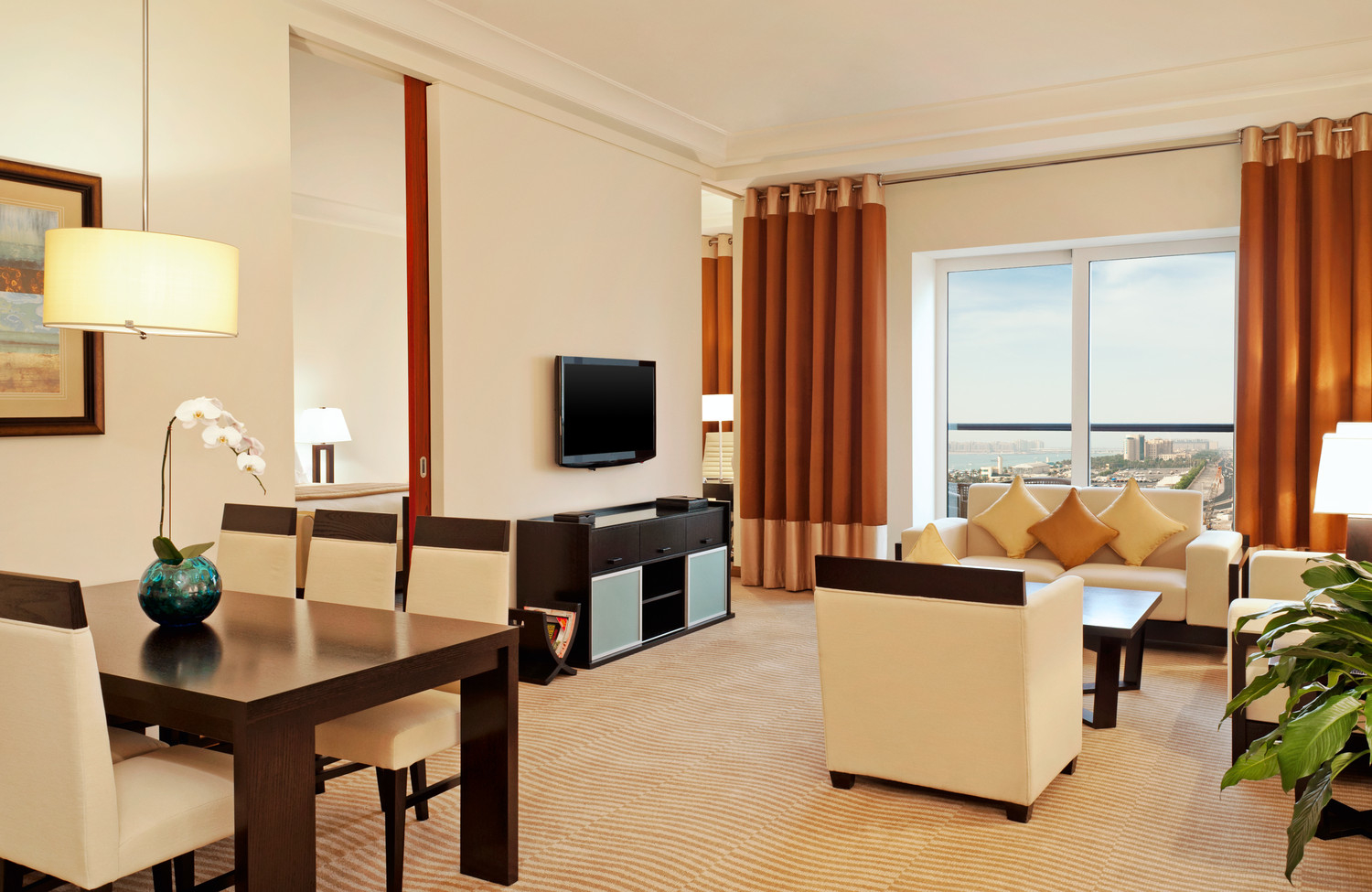 Apartments here range from one to three bedrooms and are a true home away from home. They have a full kitchen with dishwasher, luggage room, en-suite in each bedroom, separate shower and another powder room. The oversized living room is beautifully furnished with fancy lounges, dining table for six, huge flat screen TV and iPod dock.
Spacious master bedroom has floor to ceiling windows with fantastic views of the Marina. It is a perfect residence for long stays or family vacations.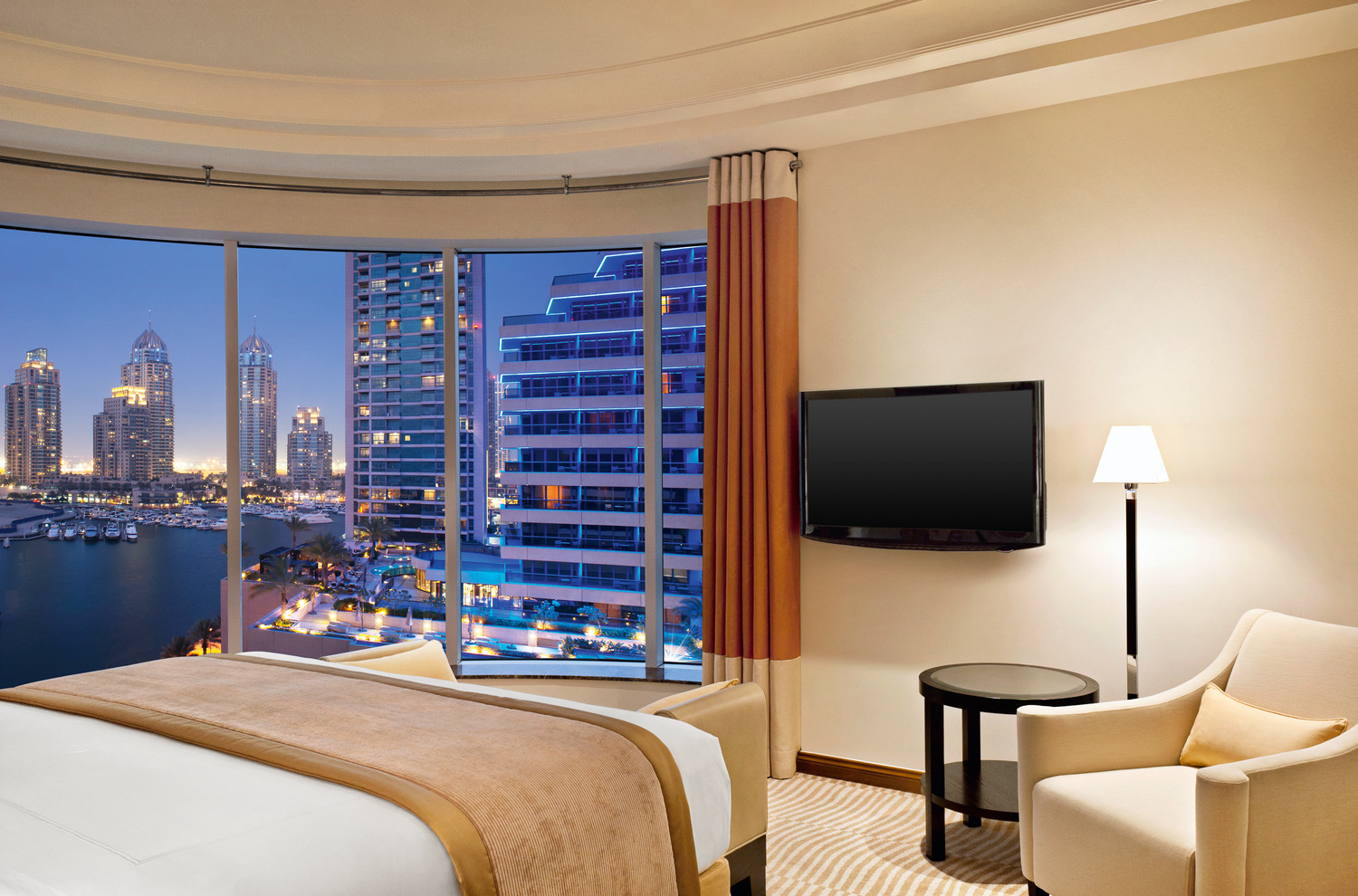 Tower One offers a selection of one, two, three bedroom suites – similar to apartments just without the kitchen and with a smaller living room.
Dining
There are more than 20 restaurants and bars between Grosvenor House and Le Royal Meridien. They are all different and all fantastic! I recommend an aperitiv at Siddarte, late dinner at Toro Toro, definitely dinner and drinks at the Buddha Bar and dinner at Geales. Ottoman's is also worth a try for an authentic Turkish experience and modern Mexican lounge bar / restaurant Maya in Le Royal Meridien seems to be very popular too.
All In All
Grosvenor House is a truly fantastic hotel, well priced, very courteous and well managed. You will enjoy your time here whether you are a family, a couple or a single.