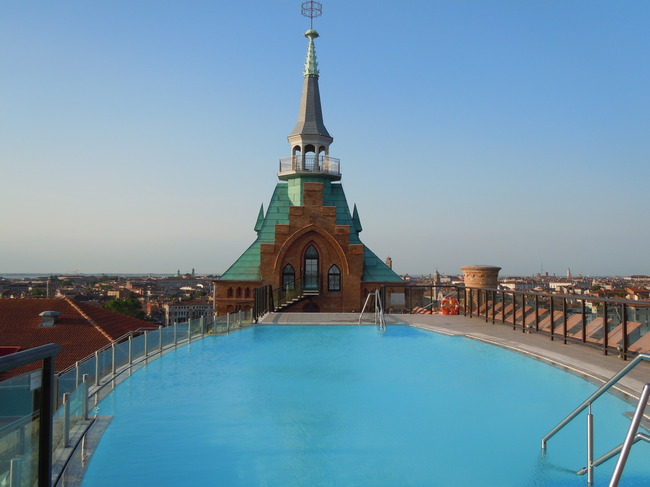 Hilton is a relatively new hotel in Venice which should be a good thing. However Lux Traveller has discovered that Hilton Molino Stucky completely lacks any historic character or Venetian style.
It is located on an island, away from all the action. To get to any place of interest, one would need to either catch hotel's shuttle to San Marco's Square (free shuttle is offered a few times a day), or water taxi (which is very expensive) or a public ferry (it stops about 7 min walk from the hotel but isn't a luxurious experience as the ferries are very crowded).
Hotel is a popular destination for American tourists pre and after cruises. So the feel of this hotel is more as a stop over destination rather then a luxury holiday in a historic city.
Hilton prides itself on having a swimming pool (a rarity in Venice) however during our stay it was impossible to use – there were way to many people in the pool to have even a tiny swim.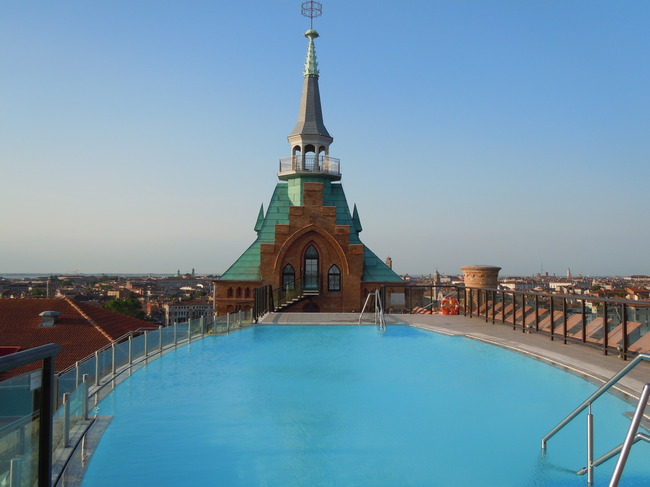 We also couldn't find a deck chair and left disappointed.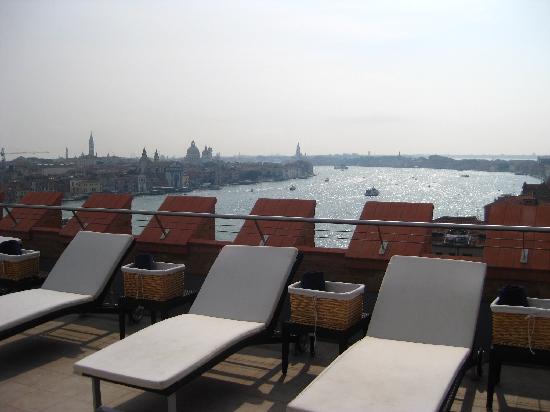 Accommodation
Even though it is a large hotel most of the rooms don't have views of the water.
To get a room with a view will set you back about €550 and it is not worth it in The Lux Traveller's opinion.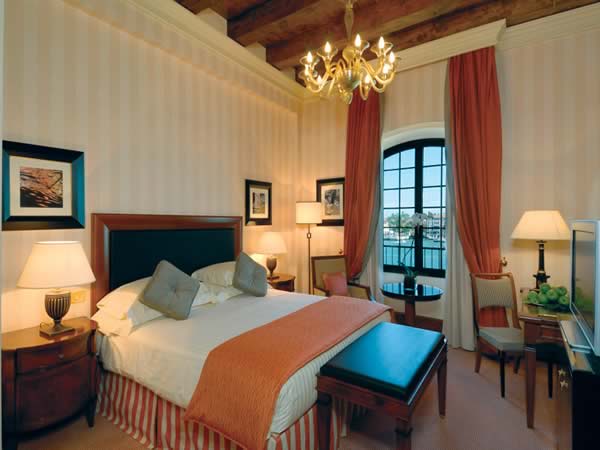 If you are after an authentic Venetian experience and would like to feel like a valued guest, choose a hotel in town – Hotel Danieli is a good option in a similar price range.
Lux Traveller Likes:
Hilton Honours members can get a room on points and get other Hilton Honours benefits like free internet and breakfast.Nothing beats a free night especially in the city as expensive as Venice.
Fairly new rooms. Many hotels in Venice haven't been renovated for a long time. It is nice to have the modern comforts at the Hilton.
However you won't receive an authentic Venetian experience at the Hilton.
Lux Traveller Doesn't Like:
Location – too remote from the centre
Overcrowded pool – too small for hotel this size
Lack of Venetial feel – you could be anywhere in the world in a typical Hilton room.
All In All – regretfully our stay at the Hilton was far from luxurious and we don't recommend it unless it is a quick stop over before a cruise.