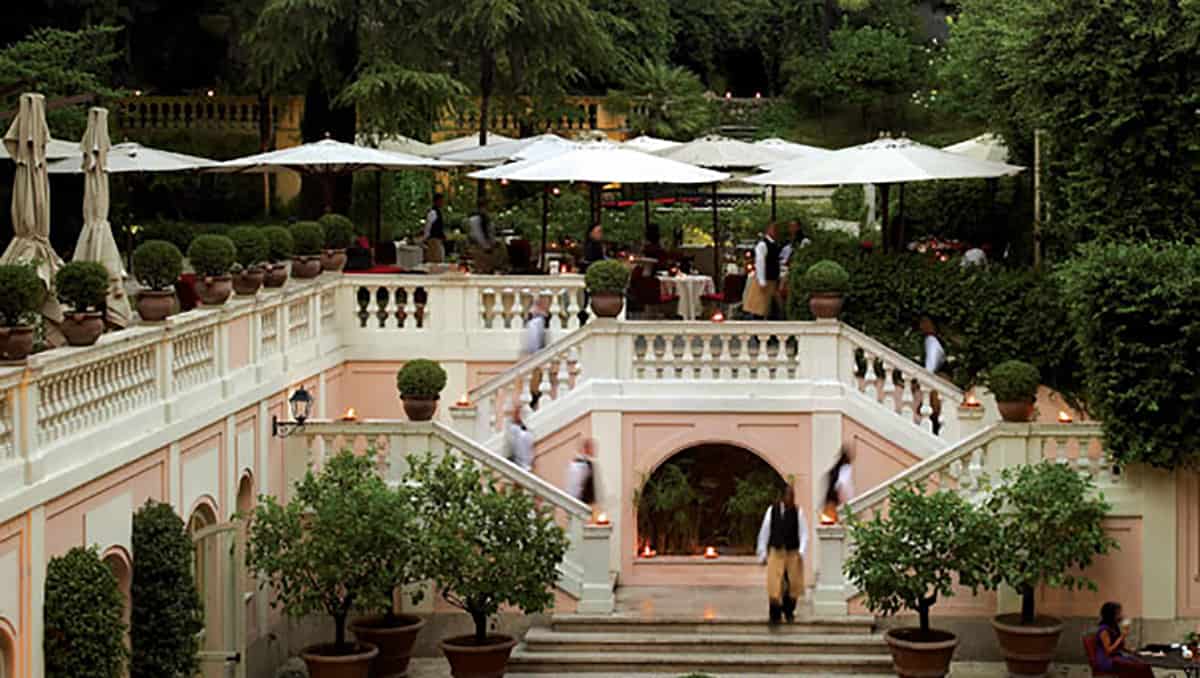 the lux score
94
the lux score explained
Service 9
Rooms 8
Food & Beverage 9
Ambience 10
Attention to Detail 10
Generosity & Value 9
Wow / Hip Factor 10
Facilities 9
Location 10
Fit to Promise 10
Hotel de Russie is one of the most beautiful and luxurious hotels in Rome. 
This luxury hotel is probably the most expensive one in Rome (the rates for standard rooms start from about $500 Euro per night) but it certainly has the air of exclusivity and elegance about it that I haven't found in any other Roman hotel.
From the moment you enter the hotel with the doormen greeting you in their suits and top hat, through the lobby with its extravagant flower arrangements and tranquility you realise why this is the place international VIPs stay when they come to Rome.
During my visit, the German Chancellor, was one of the guests in the Hotel De Russie.
The arrival was smooth and pleasant. I was very happy to know that I got upgraded to an Executive Suite. When I arrived at the Suite a lovely bottle of Prosecco on ice waiting for me in the room together with a welcome note – sweet touch!
Accommodation
Standard Rooms are very simple but have a good size bathroom (no separate showers here though) and only one wardrobe. If you go for a Classic room be warned that they have absolutely no views / outlook and some rooms look onto the building right next door (about 10m away from your window). Apart from that the rooms are very clean, fresh and pleasant.
The hotel corridors are decorated with the historic reliefs, the carpet is fresh and all common areas are modern and tasteful.
Executive suites are our choice in Hotel De Russie. They are gorgeous and very Roman.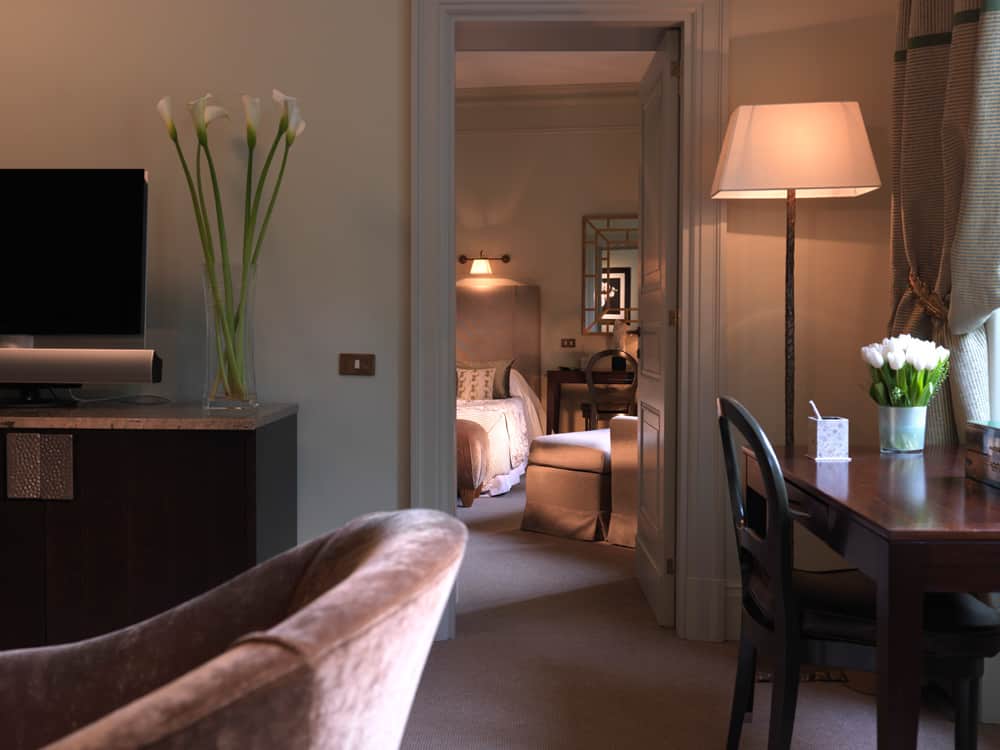 The bedroom is spacious and the bed, even though hard, is very comfortable. The living room has a large sofa (perfect for a child), 2 armchairs and a study table. Both TVs in the suite are B&O which adds the air of luxury. The suite has two large built in wardrobes which makes it easy to store all the luggage and shopping. You know you are going to do lots of it in Rome! The suite also has 2 bathrooms which is always a nice touch especially if you are sharing accommodation with the children.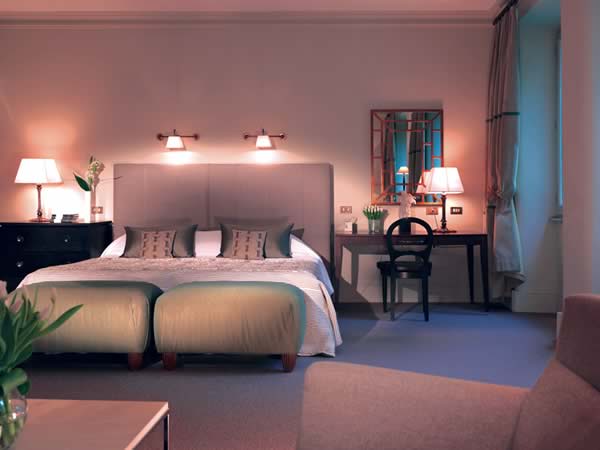 The shower and a bath are separate which is a luxury you don't often find in Italy. The view in my suite was lovely too – facing onto the Hotel De Russie famous gardens.
Breakfast – simple but beautiful in an Italian way. The buffet offers a lovely selection of Italian gourmet foods – pastries, cured meats, many different kinds of cheese, Italian cakes, some fruit and yogurt.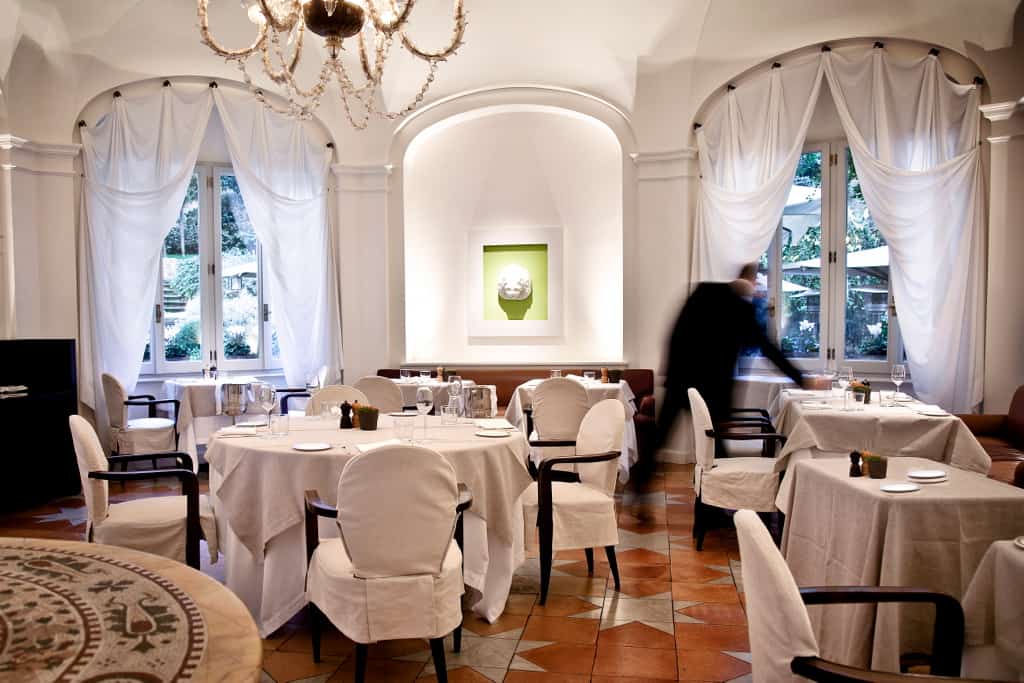 Not a huge spread but friendly prompt service, comfy sofa seats and Italian classic music more than make up for anything one could consider missing.
Breakfast room is cosy with lounge seats, crisp white table clothes, excellent service and Italian classical music playing softly at the background. What a way to start a day in Rome!
Drinks at The Stravinsky Bar – A Must Try even if you are not staying in the hotel. This little gem must be one of the classiest in Rome, a place where beautiful people come to for an aperitivo (pre dinner drink). Mink coats, Birkin bags are a commodity here. Come in between 6-8pm for a glass of champaigne and people watching.
On a warm sunny day lunch at the Stravinsky bar is a great treat after a busy morning of browsing the nearby designer stores. And weekend brunch is another must try.
The Spa
The Spa in Hotel De Russie comes as a close second to the one in Hotel Cavalieri. It has a gorgeous indoor pool (a real treat if you are travelling with kids), sauna, steam room and a very small gym.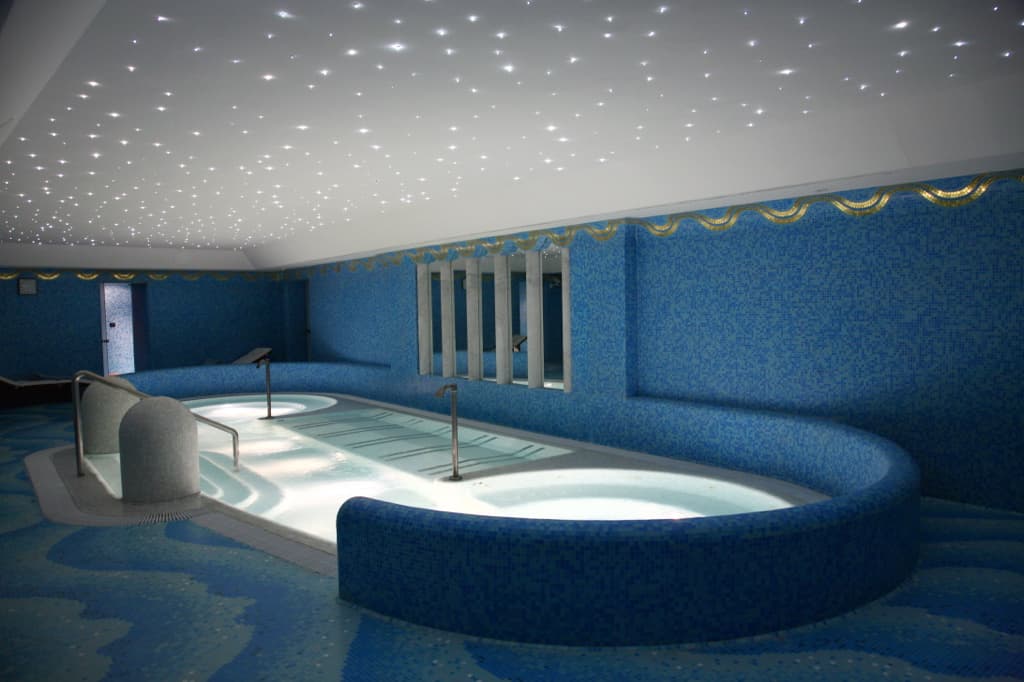 The treatments in the spa are divine. I tried a Cinq Mondes Ritual  – a body treatment that consists of a scrub, wrap and a massage and lasts for 1.45min. For most of the time I was so relaxed I was half asleep and after 2 hours I left the spa on a cloud. It was absolutely beautiful and I would highly recommend it!
Splitting hairs – concierge' restaurant recommendations weren't very good. They sent us to empty restaurants 2 or 3 times in a row. It was a little disappointing but we made up for it by going to Trastevere. There we found excellent Italian tavernas there, with excellent atmosphere and great Roman food.
The other small issue – hotel couldn't provide me with a power adaptor, a must for all 5 star hotels.
All in all – Hotel De Russie in The Lux Traveller's view is the best hotel in Rome for all seasons. It is located in the shopping heaven of the world, on uber fashionable Via Babuino, home to stores like Chanel and Miu Miu and 5 min walk away from the Piazza Di Spagna ,The Spanish Steps and Via Condotti.
You feel special and privileged staying in Hotel De Russie – I would definitely return.