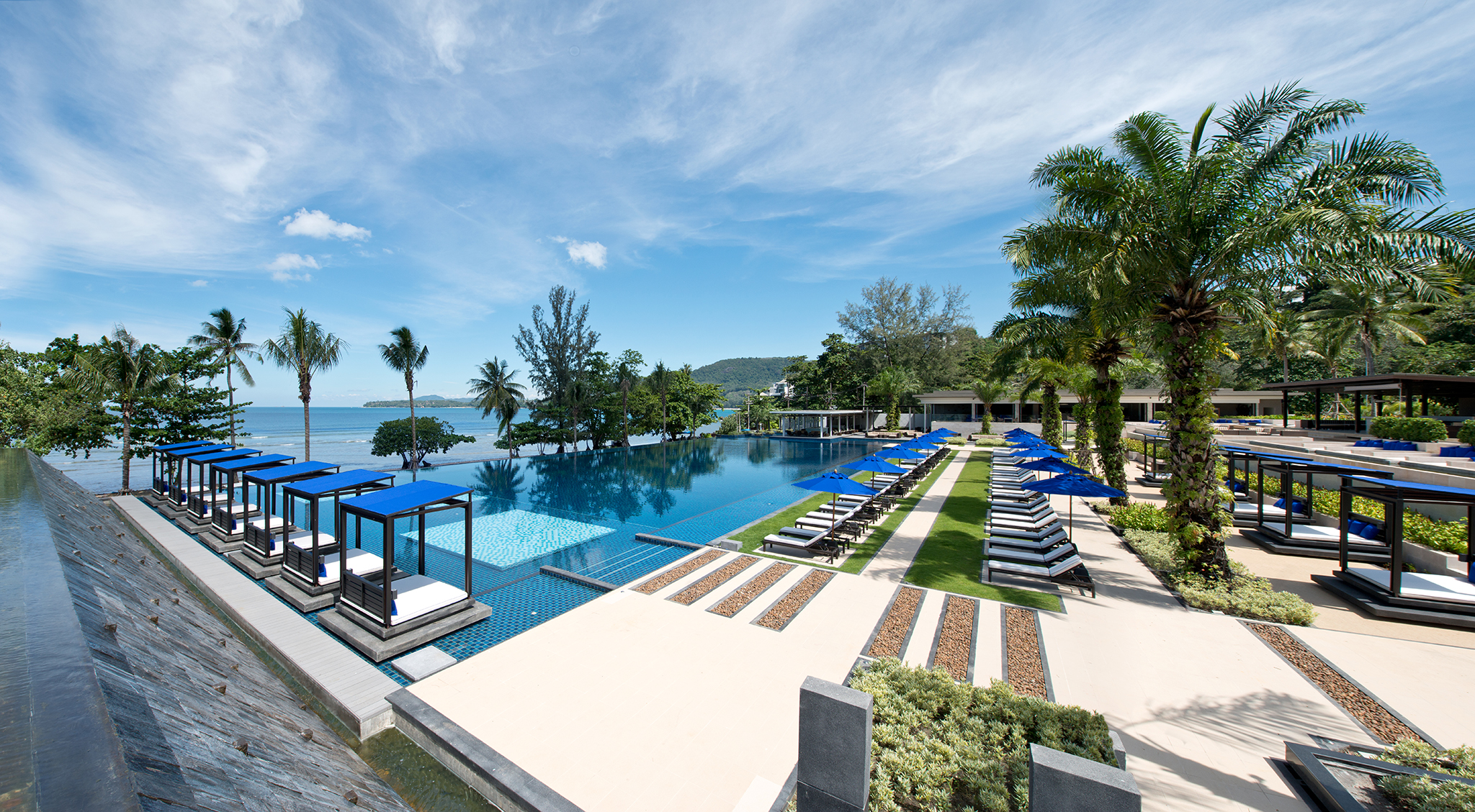 the lux score
75
the lux score explained
Service 10
Rooms 7
Food & Beverage 7
Ambience 7
Attention to Detail 7
Generosity & Value 8
Wow / Hip Factor 7
Facilities 7
Location 7
Fit to Promise 8
Hyatt Regency Phuket is a wonderful new addition to Hyatt portfolio in Asia. The resort was overtaken by the Hyatt group a little over a couple of years ago and most of the resort was completely renovated to match the impeccable Hyatt brand.
Location
Hyatt Regency is located near Kamala Beach however it doesn't have a direct beach access; you would need to use a shuttle bus or a taxi to get to Kamala. The beach across the road from the hotel looks pretty but isn't a swimming beach.
Everything in Phuket is easy to get to and Hyatt takes no more than 30-40 minutes from the airport by car. Hotel doesn't own its own fleet but will easily organize a hire car to pick you up.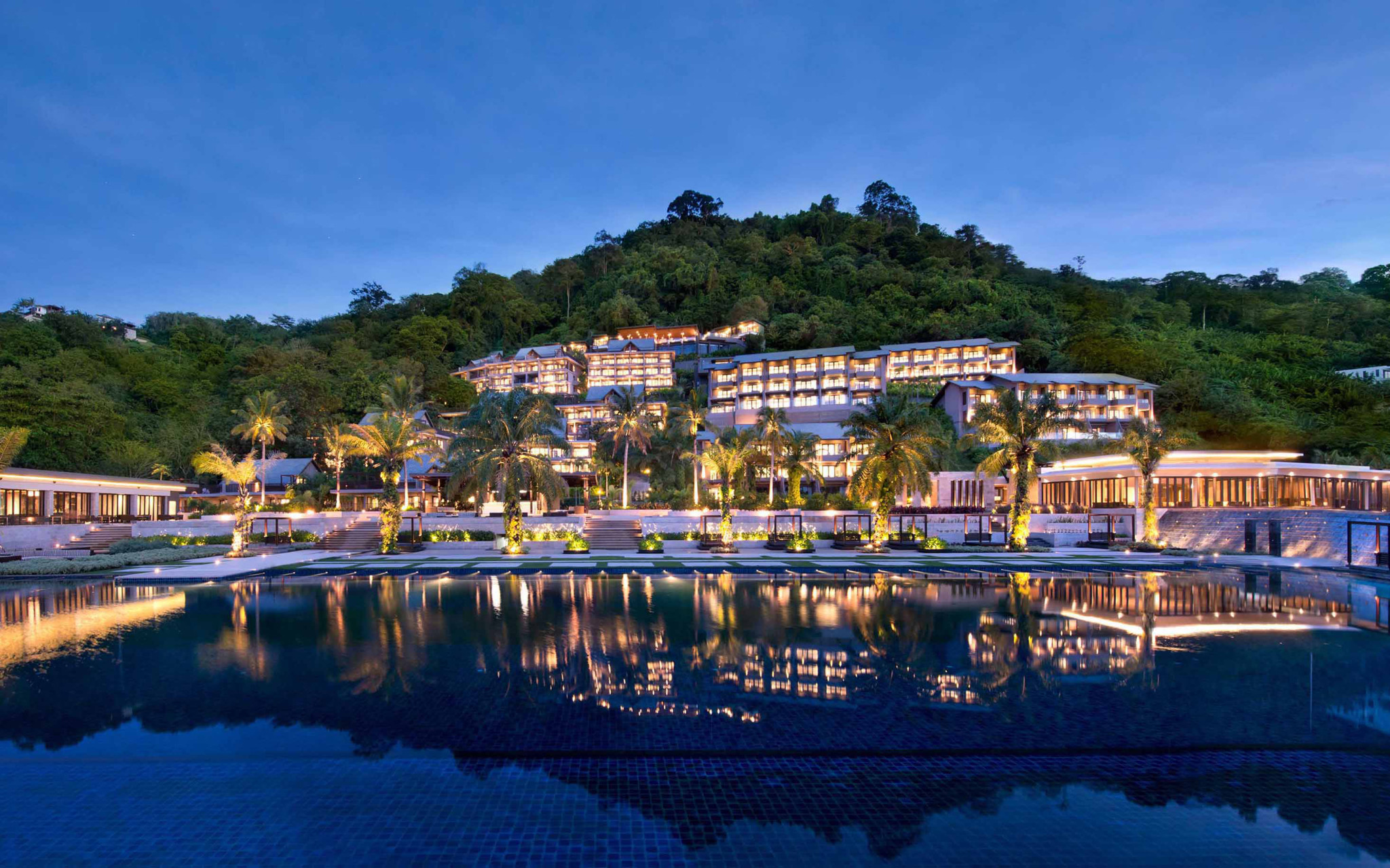 Accommodation
Hyatt Regency offers its guests 199 guest rooms and 12 Deluxe Two Bedroom Suites. I had a pleasure to stay at both.
Some of the guest rooms are located in renovated buildings with new aircon systems and generally fresh styling. Spacious 68 square meter Deluxe rooms are my favourite. They have ample space for a couple, feature hardwood floors, views of Kamala Bay and a love seat on the terrace, perfect for watching a sunset or a spectacular tropical thunderstorm.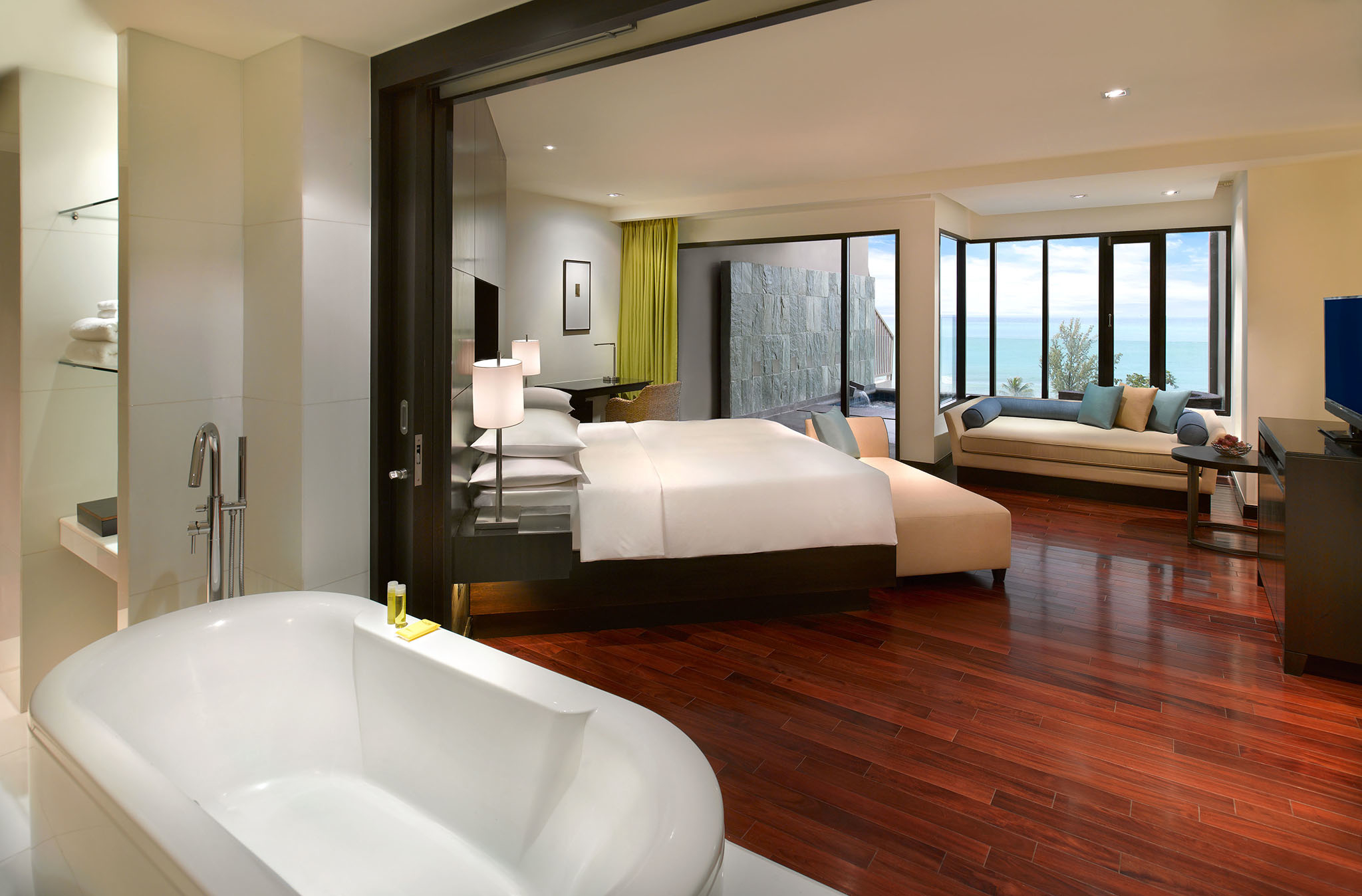 The bathrooms are very modern and sexy with an open bath that becomes a part of the bedroom and a separate shower for those who prefer a quick rinse rather than a long soak.
Two Bedroom Suites are perfect for families as they offer two separate bedrooms and a large outdoor terrace with a sofa and a dining table. The suites don't have an indoor living room and are located in older buildings with noisy air con systems, so while I would recommend them for families with younger children, I would suggest two separate rooms for families with older siblings.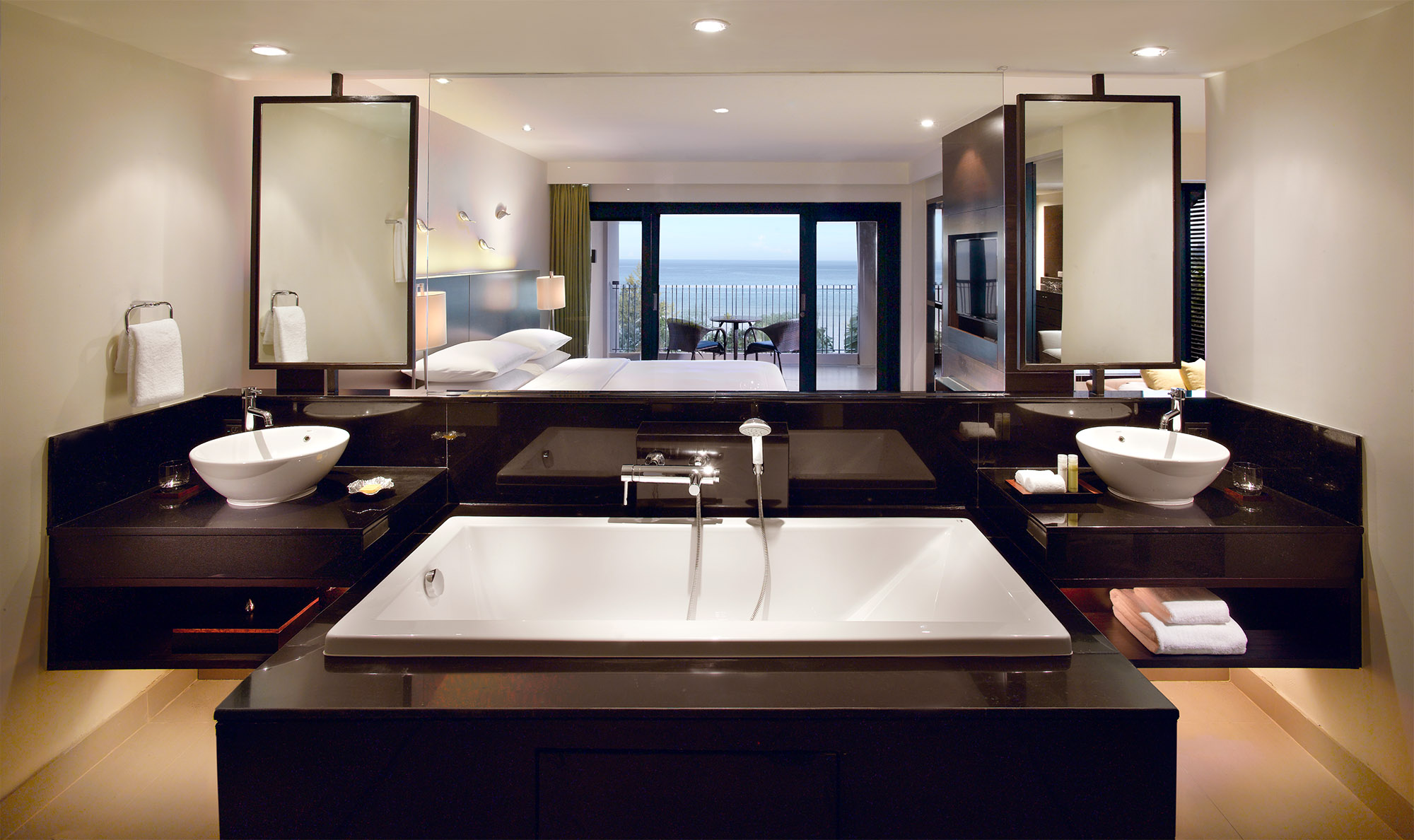 The hotel is very well priced and even two Deluxe rooms won't break a budget. Rooms start from $175 per night.
Facilities
The most impressive feature of the hotel is a stunning, longest in Phuket, infinity pool with the views of Andaman Sea.
The pool, surrounded by pretty cabanas and ultra comfortable day beds provides hours of entertainment for the younger guests and is a perfect place to see and be seen for the adults.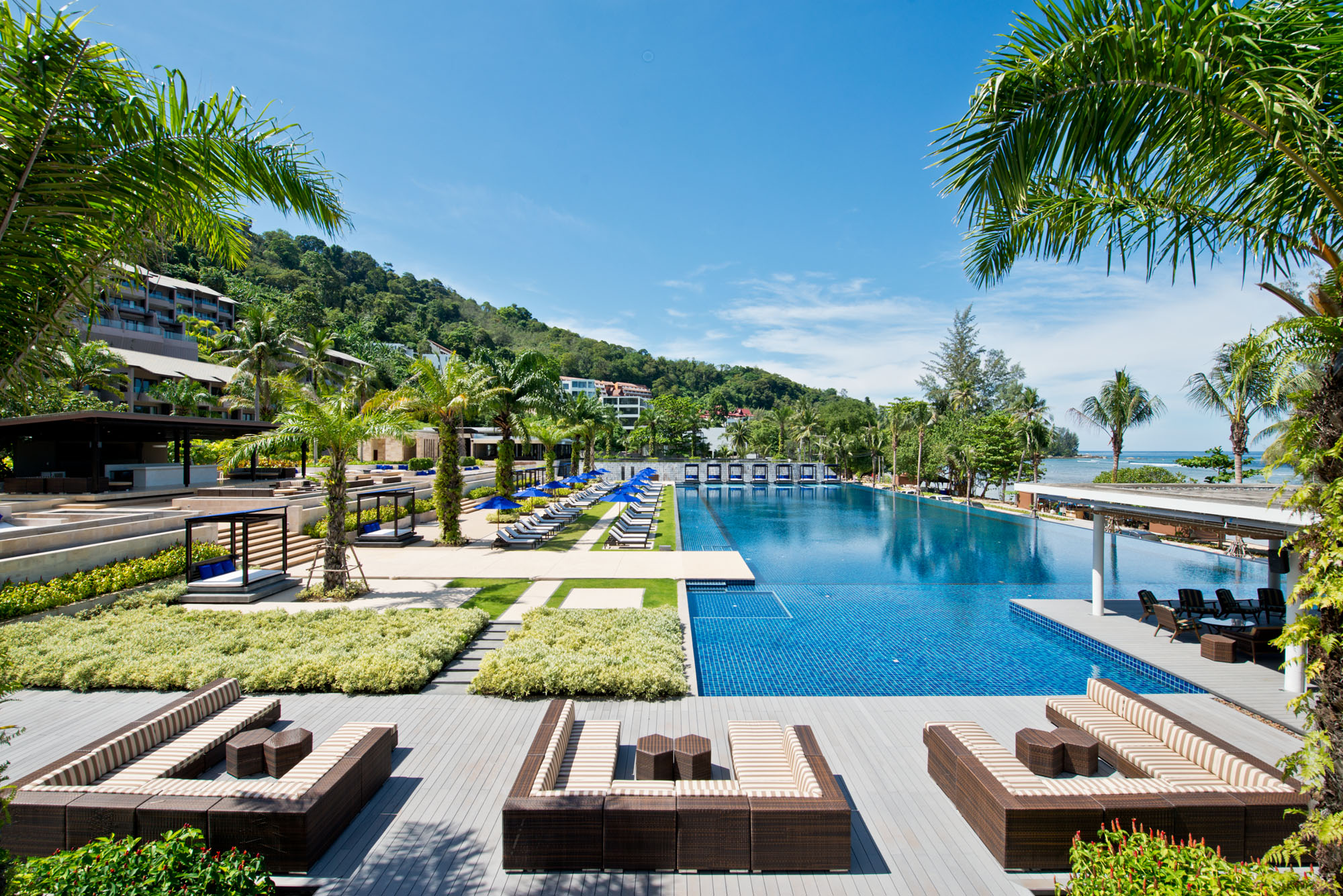 For the active guests there is a good size gym with cardio equipment and free weights as well as complimentary exercise classes offered to the guests on a daily basis.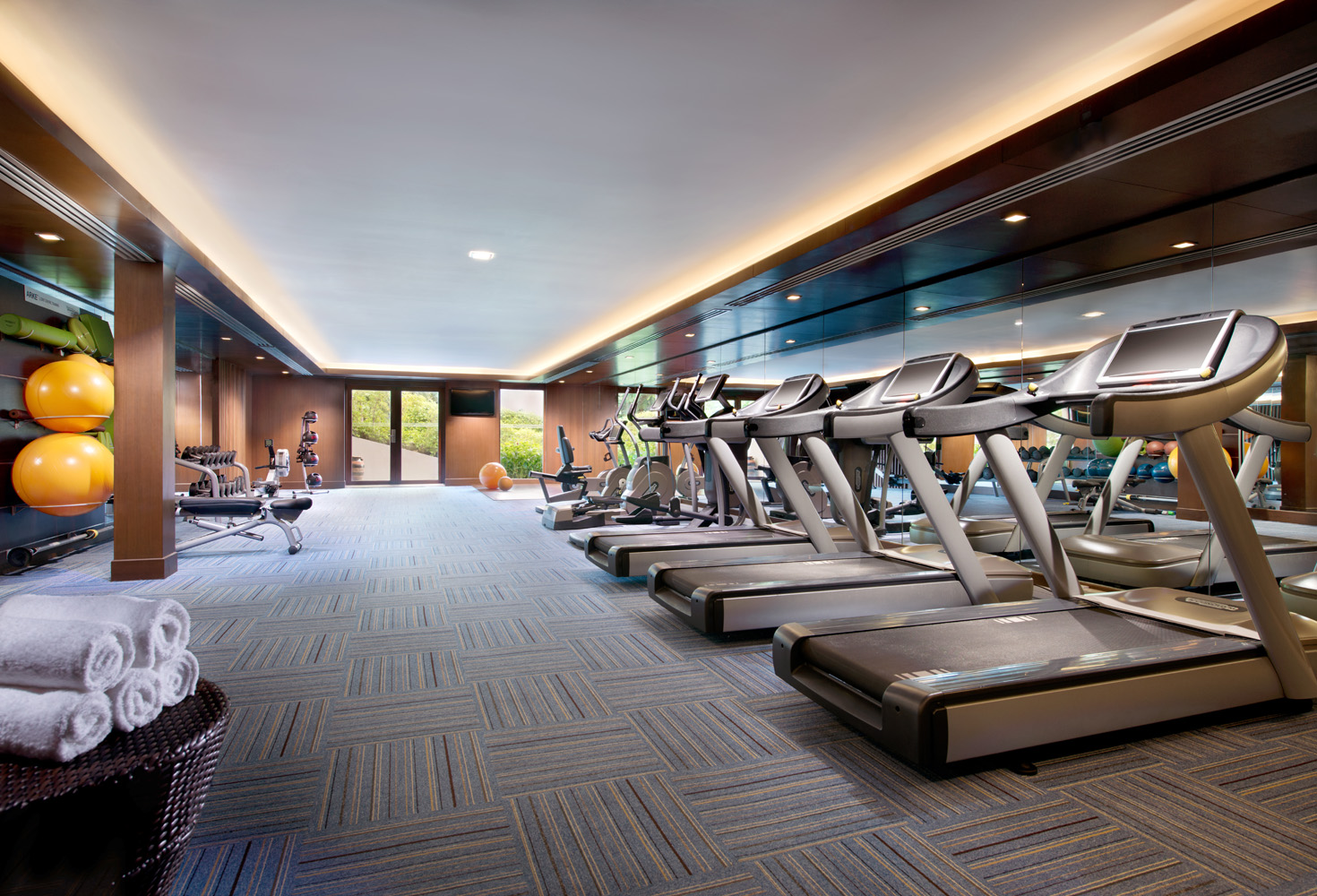 Nahm Spa, a sanctuary of relaxation, is a must visit for any spa lover. Treatment rooms feature jacuzzis and sea views and are a perfect setting for a romantic pampering experience for two. Nahm Spa takes inspiration from the ocean as a life source. Movement, natural rhythm of the sea inspire the guests to find their balance and reach inwards.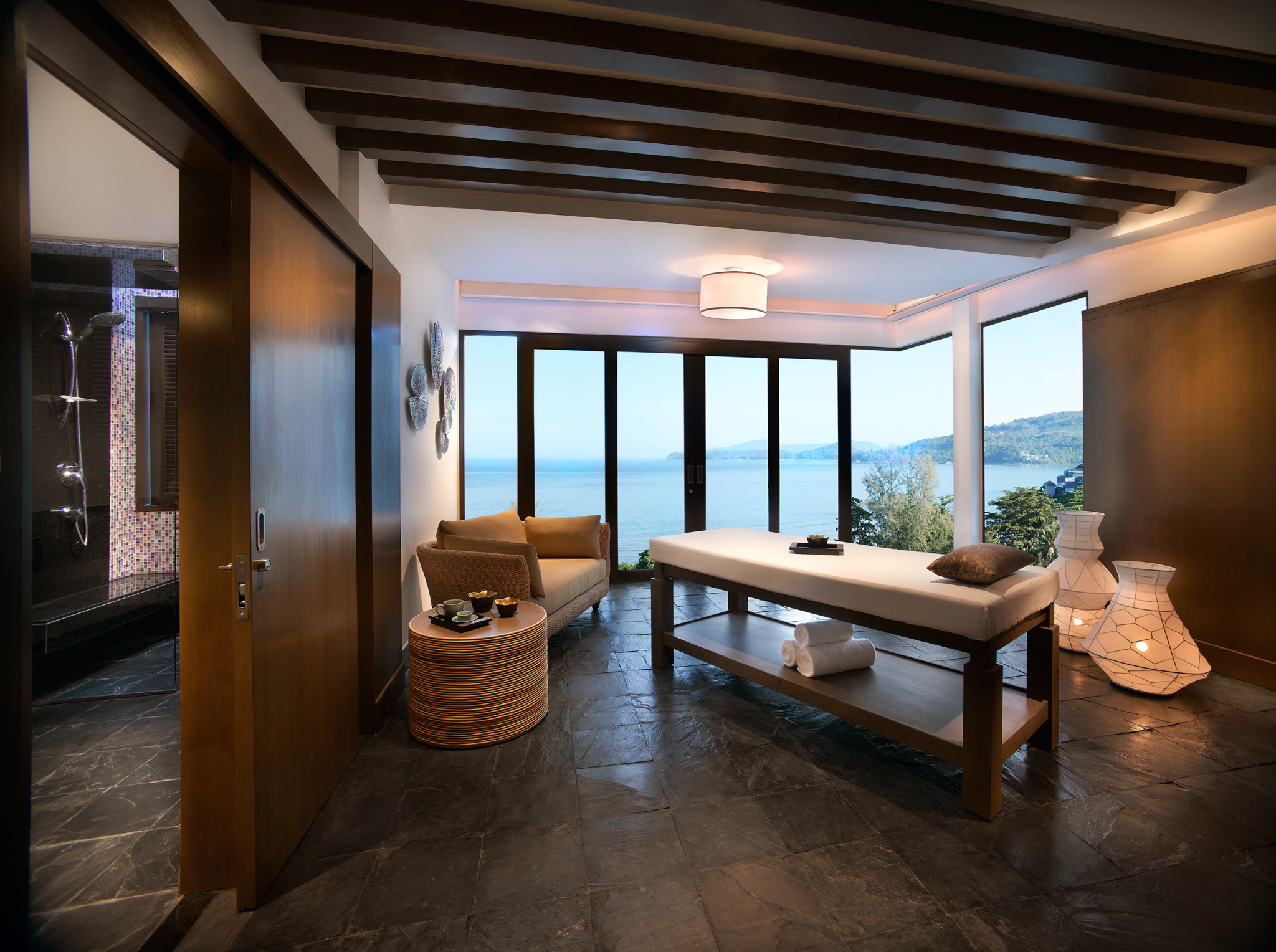 When trying new spas I like to experience their signature treatments, something that would give me an insight into their beliefs and healing techniques. In Nahm Spa I would recommend trying Vitalize Ritual that combines active herbal elements with indigenous healing. Start with a bearberry wrap, follow with a herbal compress and finish off with a pumpkin enzyme facial. Heaven!
Dining
Breakfast is served in the main restaurant buffet style and unless you start early it is quite busy. The buffet serves a standard selection you'd expect from a large 5 star hotel. There isn't anything specially outstanding but nothing is missing either.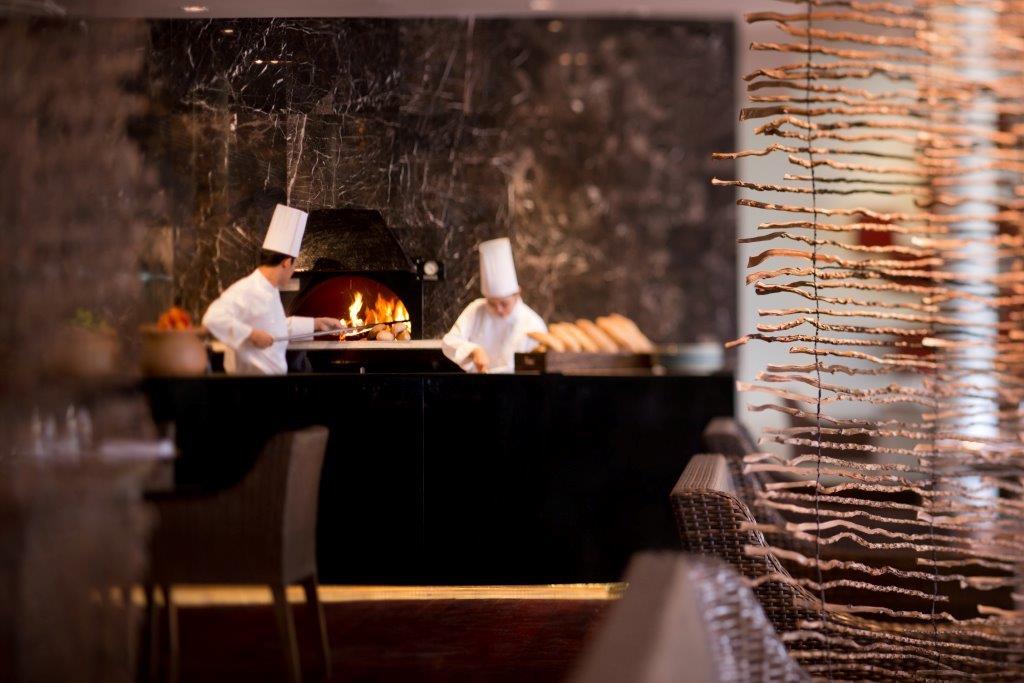 Two dining highlights at the Hyatt Regency are Sunday brunch, that was recently introduced by the new Italian chef, and the steak diner located at the highest point of the resort specializing in excellent char grilled meat and seafood.
Sunday brunch was an absolute standout with beautiful food flowing from 12pm to 3pm in the afternoon. You can't miss the obvious Italian influence with fresh mozzarella salad, Italian cured meats, risotto station just to name a few of the delicacies.
While Sunset Grill provides a perfect setting for a romantic dinner – sensational views of the coast, dimmed lights, light breeze on the terrace and mouthwatering cousine will ensure a perfect night out.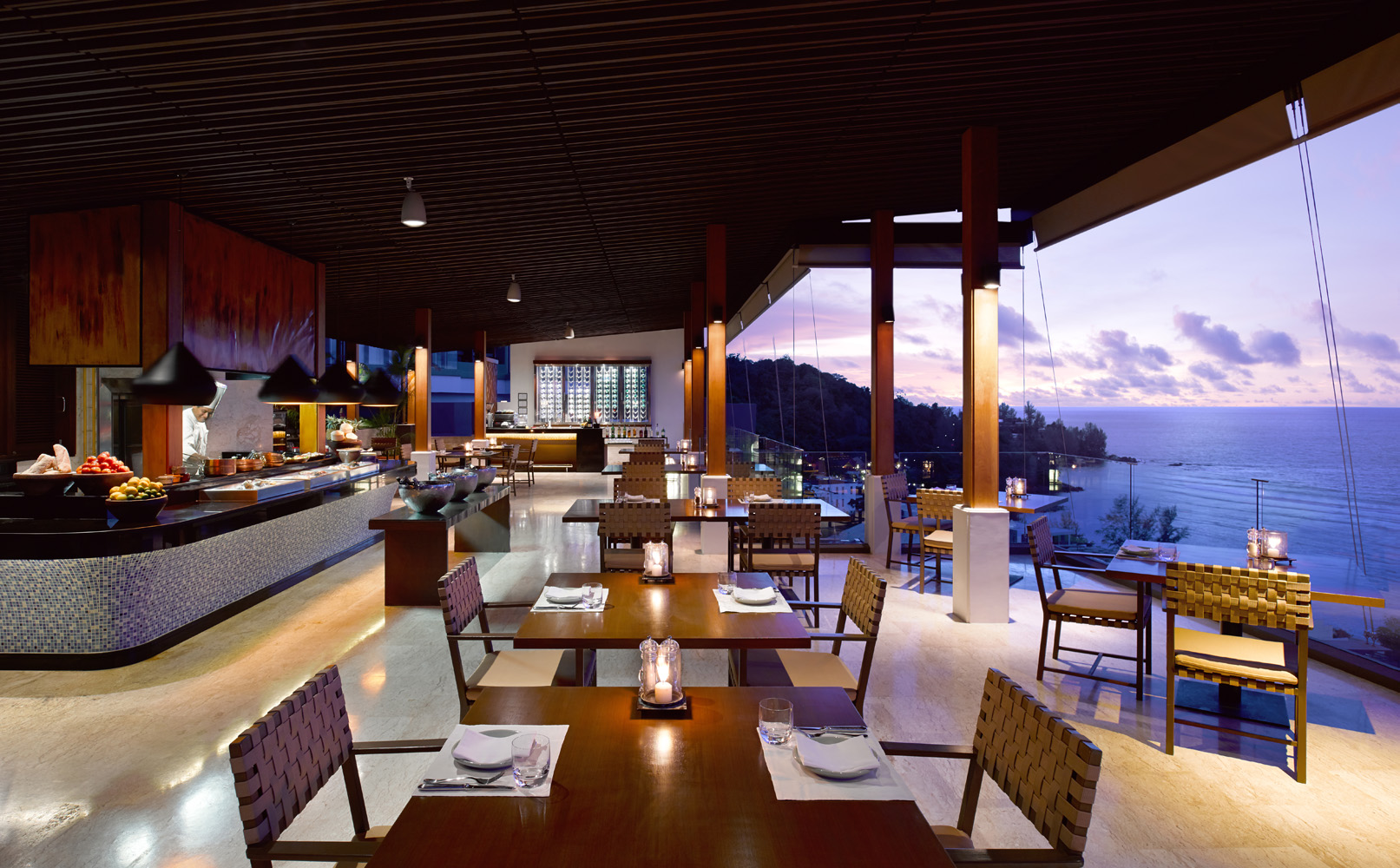 The Lux Traveller Loves
Picture perfect infinity pool
Nahm Spa that truly knows how to spoil you
Exceptional service throughout the stay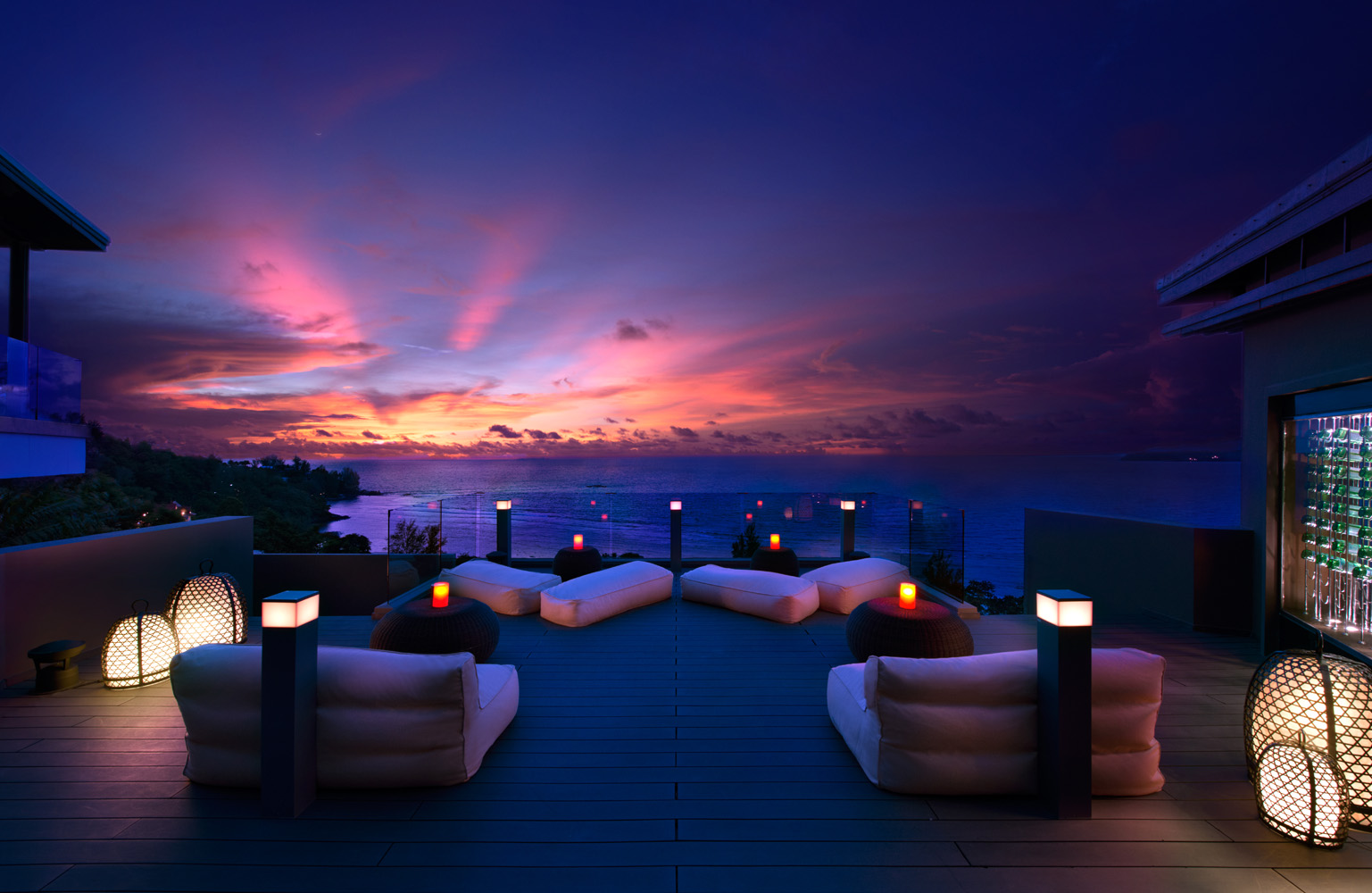 Splitting Hairs
Having to catch a shuttle bus to the beach wasn't ideal
And if you are a light sleeper I would suggest staying in the newly renovated building to avoid noisy air con systems in the old section.
All In All
Hyatt Regency Phuket is an excellent hotel for price / service / accommodation ratio. I would suggest it to anyone looking for affordable luxury and not worried about being right on the beach.
The hotel is very popular with Asian travellers and conferences.