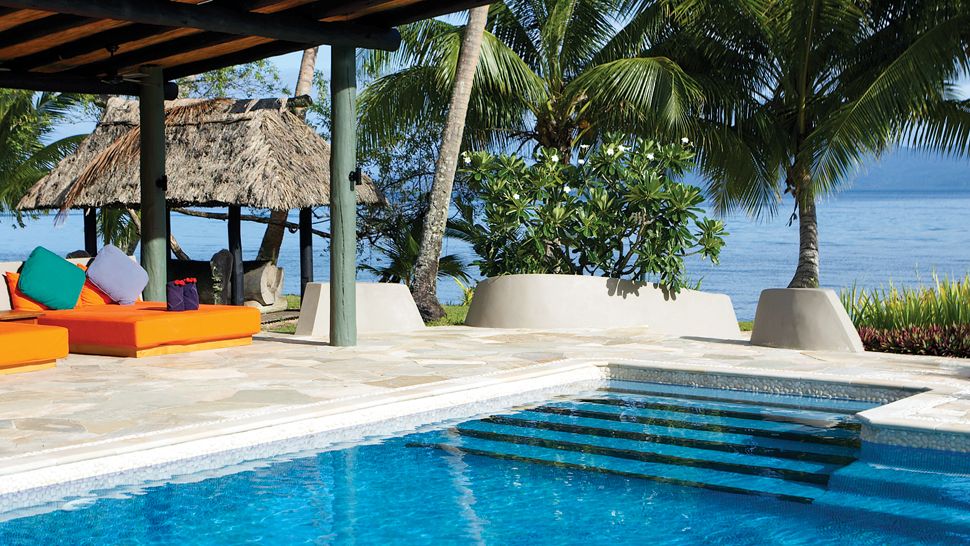 the lux score
90
the lux score explained
Service 10
Rooms 8
Food & Beverage 9
Ambience 9
Attention to Detail 9
Generosity & Value 9
Wow / Hip Factor 9
Facilities 9
Location 9
Fit to Promise 9
The award-winning environmentally responsible Jean-Michel Cousteau Resort, Fiji is built on 17 acres of a former coconut plantation overlooking the peaceful waters of Savusavu Bay on Vanua Levu Island. With one of the most impressive and engaging kids clubs in the world as well as an extensive array of adventure and pampering offerings, it is an exclusive escape for couples, families, and discerning travellers looking for an authentic Fijian experience.
Arrival and Location
It is a one-hour flight from Nadi or Suva. Guests are met at the tiny airport on Vanua Levu and given cool towels and cold water before being whisked away to the resort in a comfortable four wheel drive.
A group of staff members always welcomes guests with mellifluous Fijian songs and fresh flower wreaths.
Accommodation
There are 25 spacious one and two-bedroom thatched roof bures each with king and day beds and private deck with hammocks overlooking the gardens or the bay. The rates start from AUD$1,170.00 per room per night plus taxes.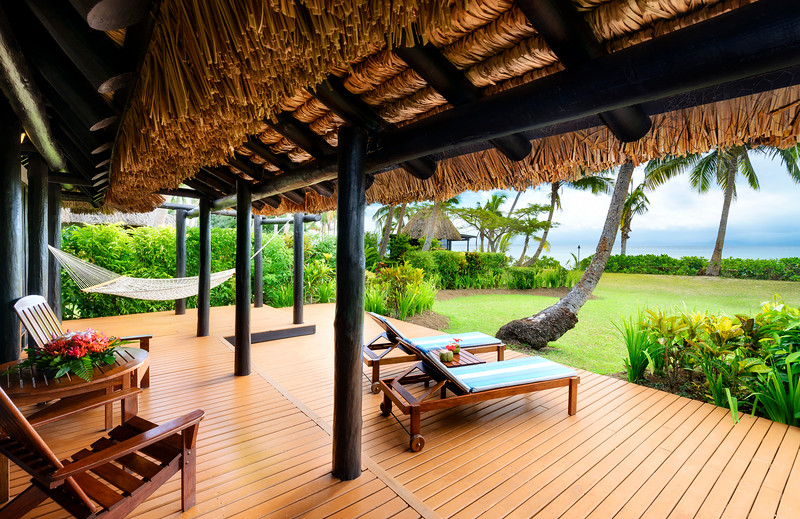 Each bure has ceiling fans and air conditioning as well as shutters that offer excellent cross ventilation. The spacious bathrooms have double vanities.
It is one of the few Fijian resorts that offers a family of five the option of staying in the same spacious bure.
There are no televisions and no phones so you can fully relax in your tropical environment.
A couple of split level honeymoon bures have separate living areas and a dining table and chairs on the deck. One has a deck-top spa.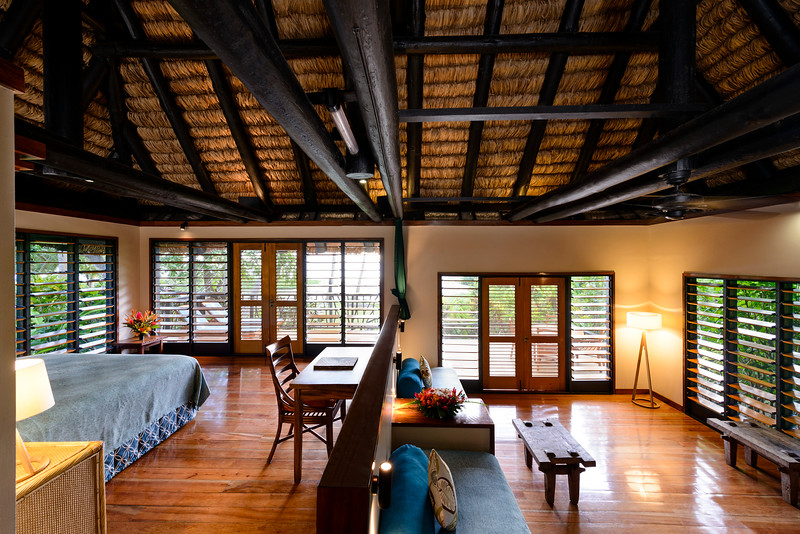 For those who prefer nothing but the best there is a stunning Presidential Villa. It is the only villa at the resort with a private pool and an outdoor BBQ. The rates for the villa start from AUD $3,000.00 per night plus taxes.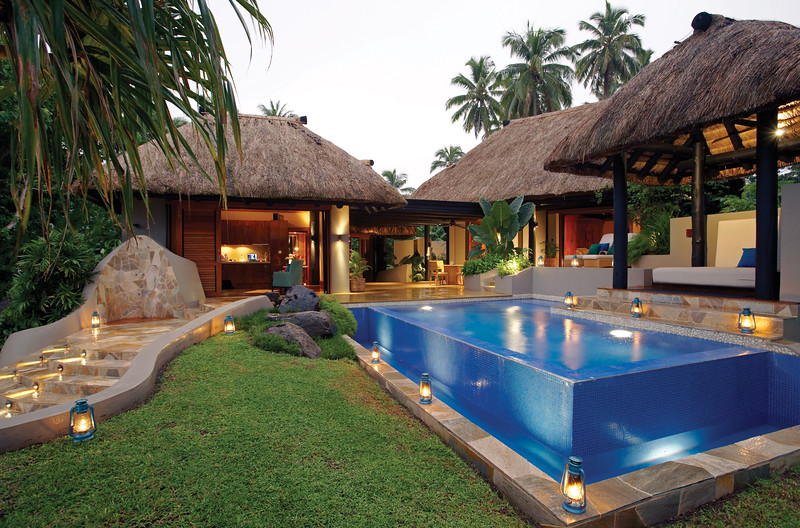 Meals and Drinks
The quality of the food is excellent, among the best in Fiji. Meals are served in the main open-air dining bure, which is built to resemble the village chieftan's residence with its 20-metre-high thatched roof overlooking the swimming pool and ocean. Private romantic dinners can also be arranged on one of the ocean terraces or at the end of the pier.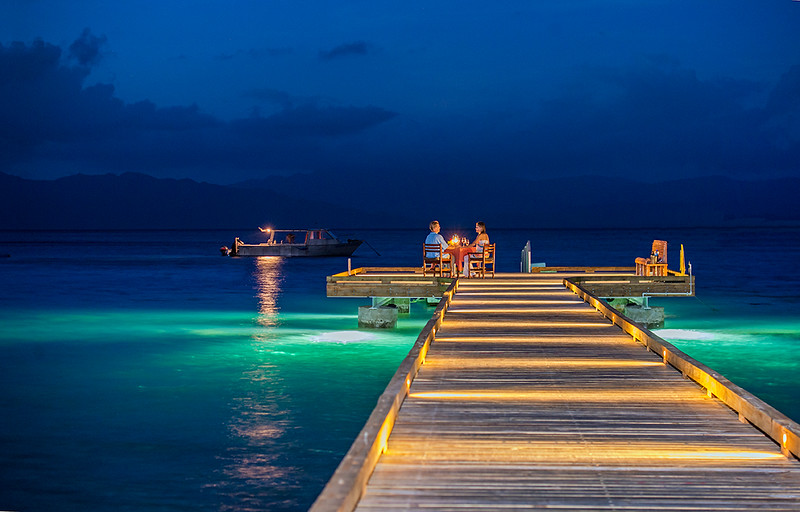 Breakfasts include a fresh fruit and pastries buffet as well as delicious cooked offerings including daily changing specials, like a spectacular eggs hollandaise.
Lunches include delicious salads and soups, grilled items and Indian curries. Some highlights include tuna Nicoise, Thai beef salad, and chicken and papaya salad.
Dinners show off the inspired culinary creations of the resort's Fijian-Chinese chef Raymond Lee. He has some terrific material to work with as the resort's extensive organic vegetable garden grows Japanese eggplant, tomatoes, peppers, zucchini, chilies, mango, passion fruit, papaya, and a host of herbs. Fresh fish is a specialty although the resort does not serve reef fish as part of its sustainability policy.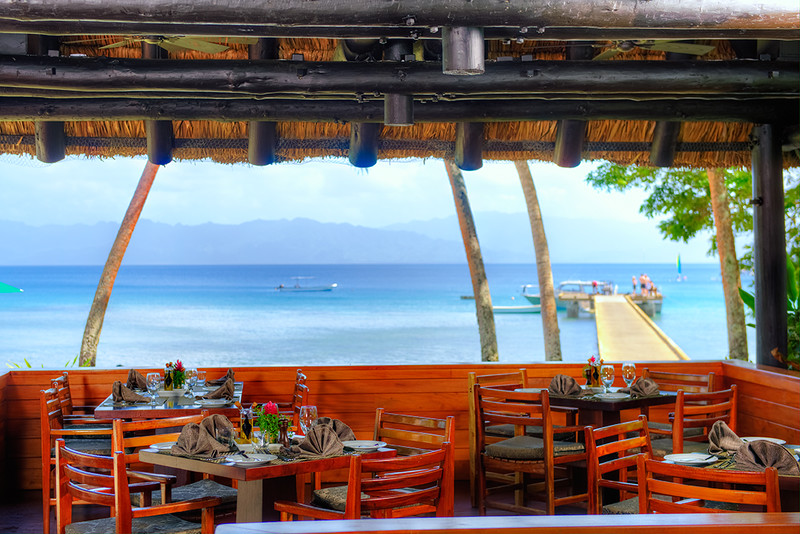 One night a week a traditional Fijian lovo feast is served complete with roast suckling pig, marinated chicken, local lolo fish alongside okra, taro and other vegetables all which wrapped in banana leaves and cooked underground. Some of the particularly delicious meals included a special Fijian raw fish appetiser, crab bisque, corn soup, local fish with delicate Asian spices and New Zealand lamb with raisins and pine nuts.
Each lunch and dinner the very engaging staff band serenades guests with beautiful Fijian songs and a couple of nights each week other local singers and dancers put on performances at the resort.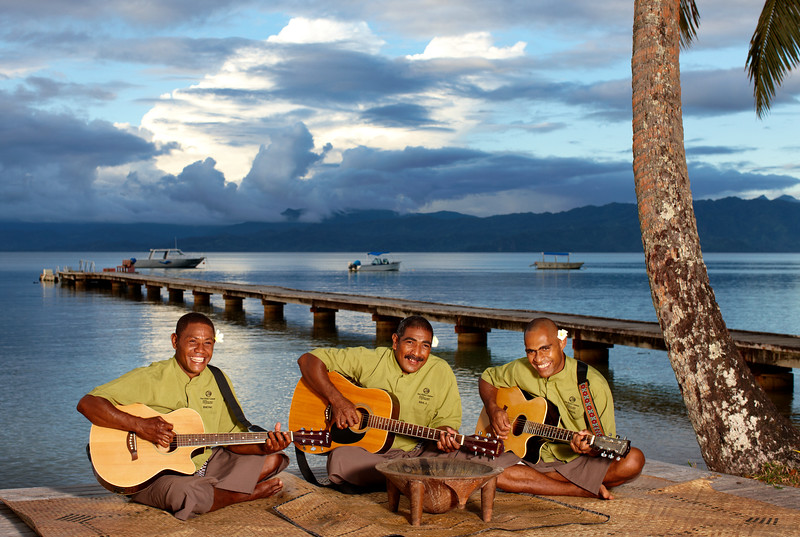 Activities
It is the phenomenal range of activities on offer that distinguishes Jean Michel Cousteau Resort. At the top of the list is the world-class diving which is run and supervised by Jean Michel Cousteau and his team. Guests can try resort dives or do the complete PADI certification on site while experienced divers have a huge range of dive sites to explore. One of the world's best dive sites is Namena Reef, located in a marine reserve an hour's boat ride from the resort.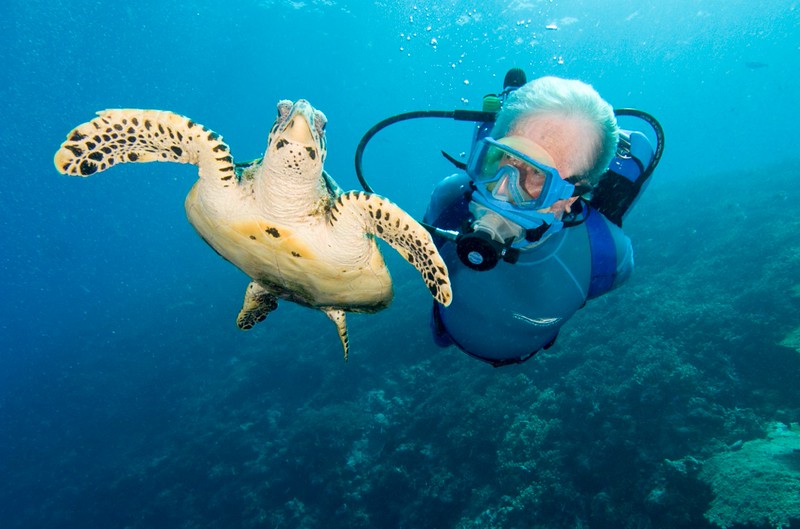 There are also 15 snorkelling sites within 15 minutes of the resort with three snorkelling trips offered daily, including several night snorkels. Resident marine biologist Johnny Singh leads many of these trips and gives terrific explanations of what you see underwater by writing on a white board.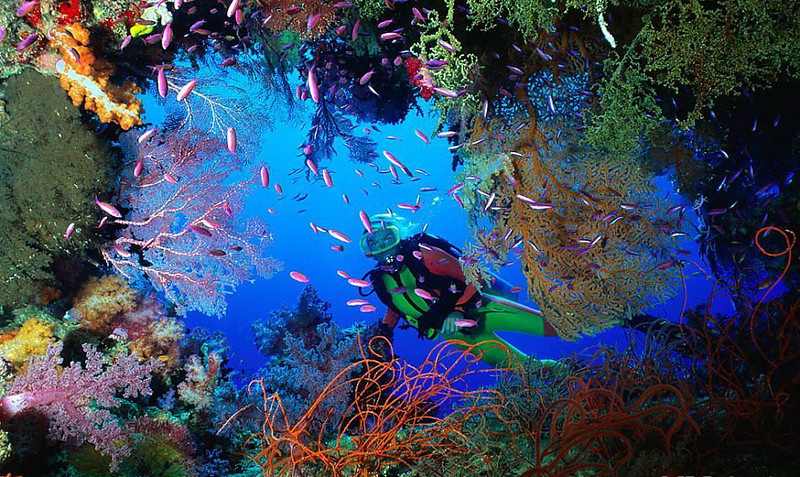 Every day there is a different theme to the activities on offer at the resort. On Sunday you can attend the village church service. On Mondays you learn lots about the local reefs. On Tuesdays there are various activities highlighting Fijian culture. On Wednesdays, you learn all about the resort's eco credentials and initiatives. On Thursdays there are visits to the rainforest. On Fridays, you learn all about coconuts and visit a local pearl farm and on Saturdays you can visit the local market.
There is also an exceptional babies, kids and teenager program. All children under the age of five have a dedicated nanny from 9am to 9pm while children aged 6-12 share a 'buddy' staff member between five of them. The kids facility has its own pool and play equipment and there is an terrific jungle gym and tree house. Kids are taken on snorkelling trips and other adventures and teenagers can learn to dive and make a Fijian raft. There is a separate dining area for families so that those without children can dine in peace.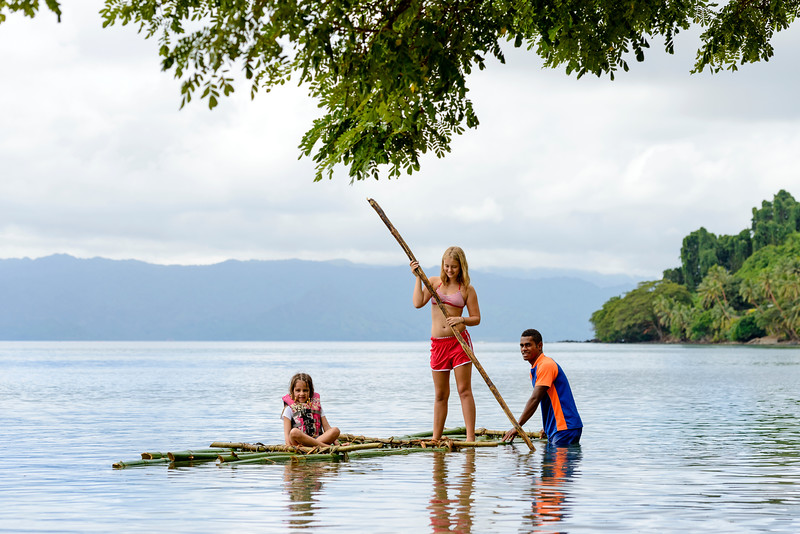 Other activities include Hobie cat sailing, kayaking, stand-up paddle boarding, deep sea fishing and private picnics on the resort's own islet located just off shore.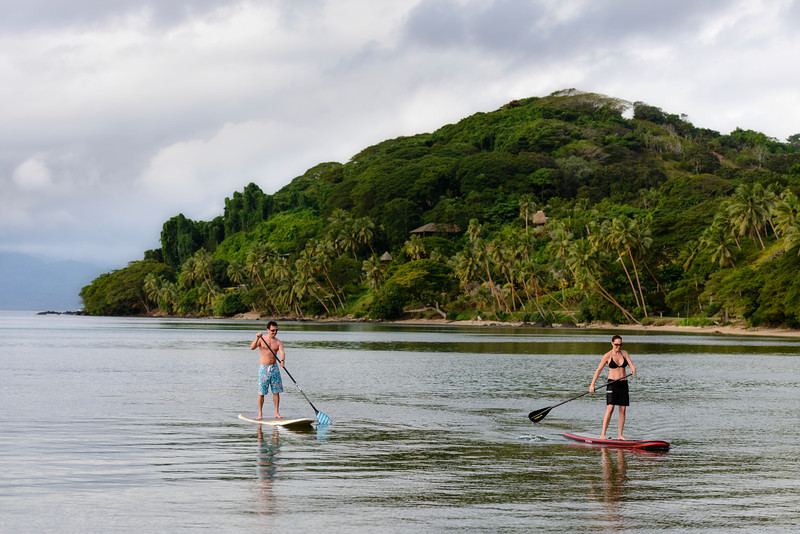 A tennis court and volleyball court round out the facilities.
The resort also produces very beautiful authentic beachside wedding ceremonies.
Wellness
There are two airy spa bures located right above Savusavu Bay. The beautiful coconut oil spa products are created by local company Pure Fiji.
A signature treatment is the Bobo traditional Fijian massage, which has been passed down through generations. A long, firm, percussive massage stimulates circulation and releases tension.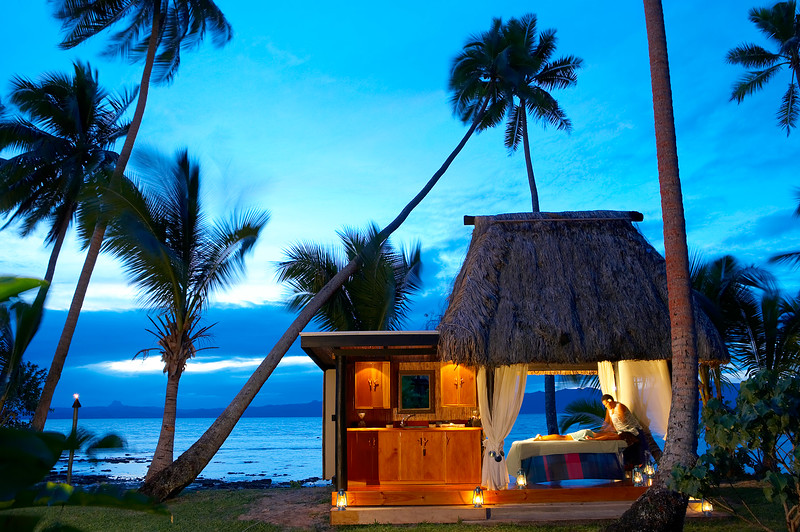 The Lux Traveller Loves
The attentive and warm friendly service from all the staff who exude a very Fijian joie de vivre. One of the star staff is Fijian marine biologist Johnny Singh who leads a wide variety of naturalist tours with great enthusiasm and knowledge.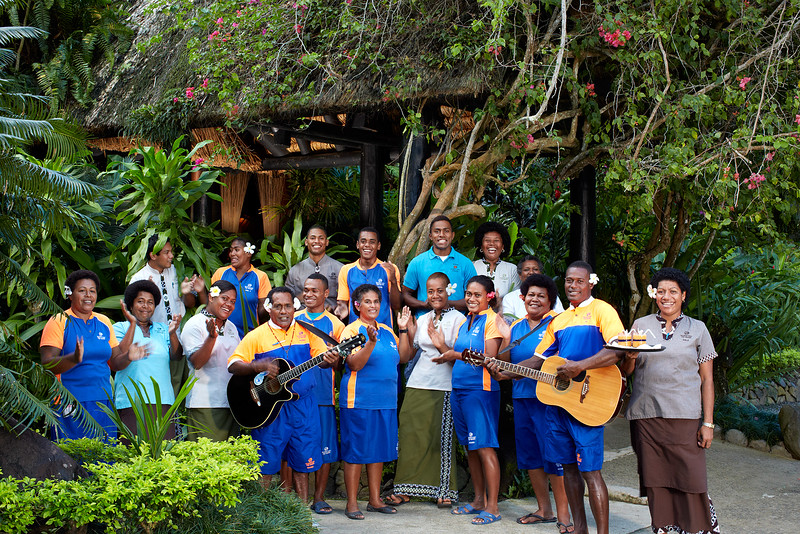 The remarkable range of activities on offer including snorkelling, diving, sailing, picnics, rainforest walks and village visits.
The exceptional babies, kids and teenager programs.
The resort's excellent eco credentials.
Splitting hairs
The bures are very airy and comfortable but could be refreshed a little with their décor. It can be annoying not having a phone if it is pouring with rain and you would like to contact the main office.