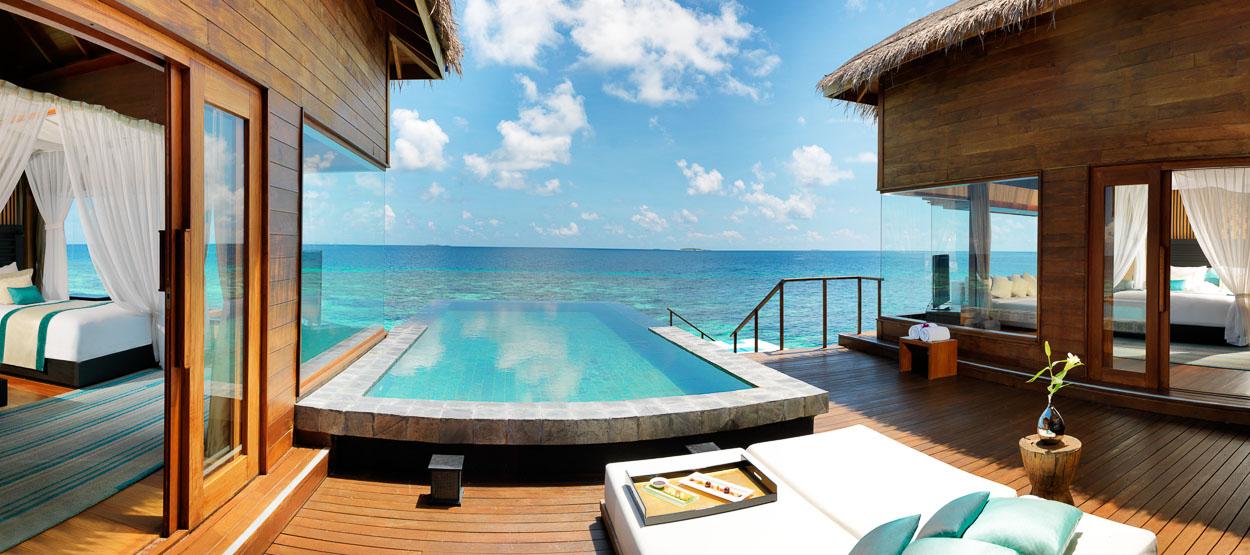 the lux score
96
the lux score explained
Service 10
Rooms 10
Food & Beverage 9
Ambience 10
Attention to Detail 10
Generosity & Value 9
Wow / Hip Factor 10
Facilities 10
Location 8
Fit to Promise 10
Jumeirah Dhevanafushi is an exotic hideaway at the southern part of the Maldives. This enchanting island boasts the most remote luxury that can be found on planet earth. And at the same time it has the biggest WOW factor in the Maldives!  If you are looking for an extra special resort for a unique occasion – honeymoon or a marriage proposal you can't ask for a more spectacular setting.
The ultra modern and exceptionally tasteful design of the resort combined with the largest villas in the Maldives as well as best service & generosity will ensure an unforgettable vacation for you and your loved ones!
Here is a summary of our experience in this Jumeirah resort and some helpful tips.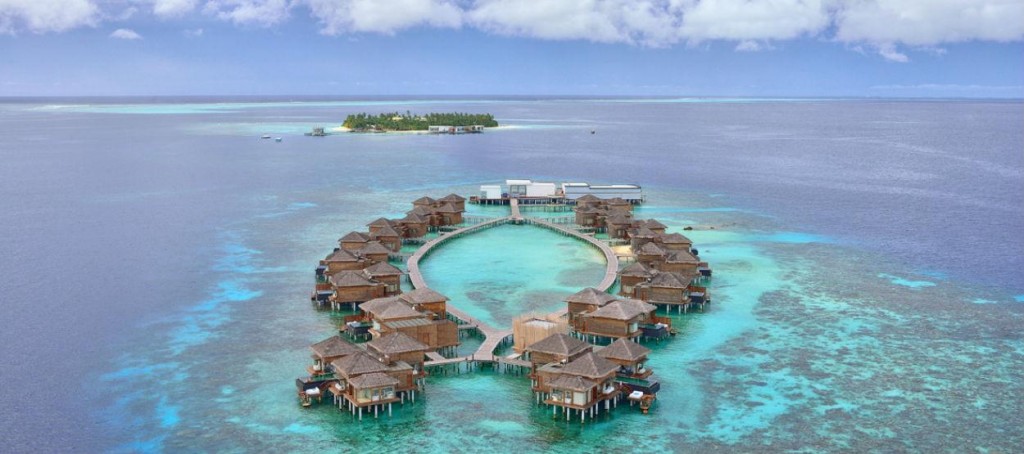 Location
Maldives is a unique destination where every resort is located on its own island. And Jumeirah Dhevanafushi is not an exception, in fact this glamorous retreat occupies two islands in the middle of the Indian ocean.
Some of the resorts are located close to Male and require only a speed boat transfer, others are on further atolls and require a scenic seaplane flight. And then, there are a few resorts that are completely secluded – Dhevanafushi is one of them. To get to the resort you'll need to transfer to the domestic airport and check in for a local flight which will be followed a speedboat transfer.
The transfer from Male takes about 3 hours door to door and is not always convenient, but we can promise you, it is worth the journey. There are no more luxurious villas in the Maldives. Dhevanafushi is a pinnacle of modern luxury when it comes to island holiday!
Arrival
When we finally made it to the resort, in was quite late and the rain has settled in. But that hasn't stopped hospitable Jumeirah staff coming out on a jetty to welcome us to the resort. We were met by at least 8 staff members, each one offered a hand shake, introduced themselves, and shook our hands. They played some welcome music and offered us a cool towel and a drink as soon as they had a chance. Very warm welcome – thank you Jumeirah.
All check in procedures were done in the villa by our personal butler and were completely seamless.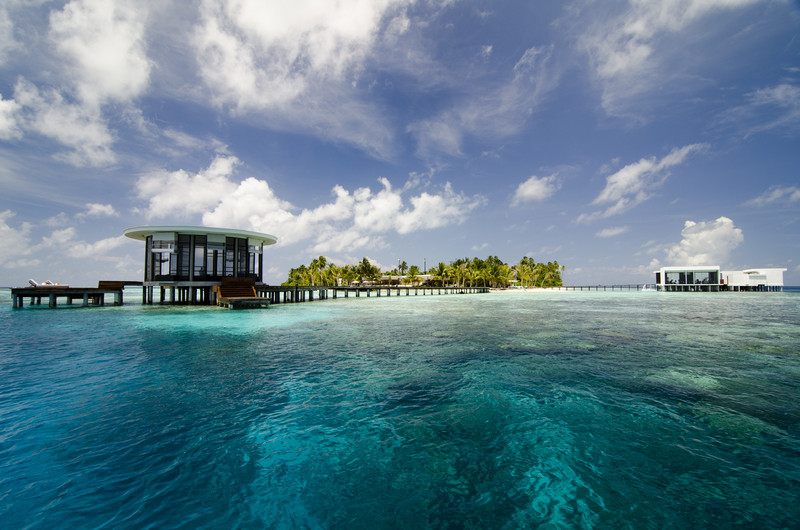 Villas
Jumeirah Dhevanafushi has to be a jewel in Jumeirah's crown. Level of service, WOW factor of the villas, attention to detail is only comparable to the 7 star Burj Al Arab in Dubai.
We had a pleasure of staying in the Beach Island Revive – a 300 sq m villa on the beachfront. This amazing villa is guaranteed to impress you – it has to be one of the most beautiful island villas The Lux Traveller has ever seen.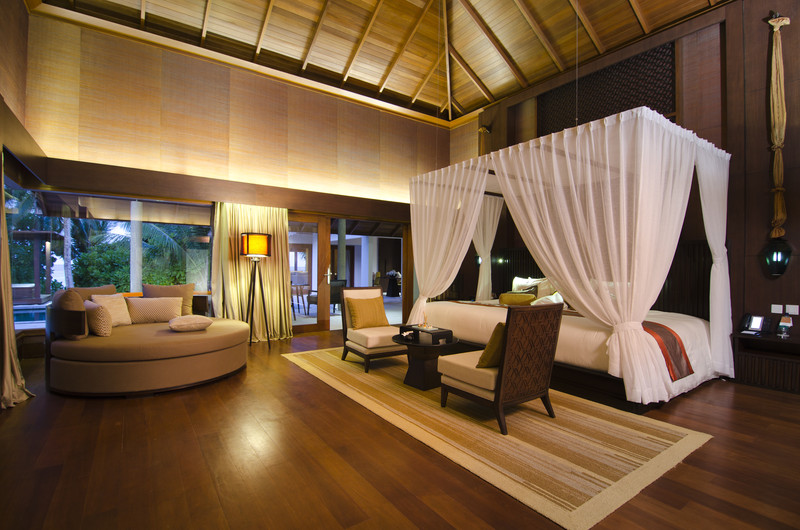 Beach Island Revive comprises of 2 Pavilions. One of the pavilions has an oversized bedroom with the largest royal bed in the Maldives, a 3x2m honeymoon retreat! The bed could easily fit a family of 5 with more room to spare.
And then, wait, there is the bathroom…this marble creation is bigger than some of the one bedroom apartments in central London – they feature a huge 4 person bath as a centerpiece of this impressive and very functional room as well as a daybed by its side. Not to mention attention to detail – fragrant bath salts, Hermes bubble bath, towel decorations and the works!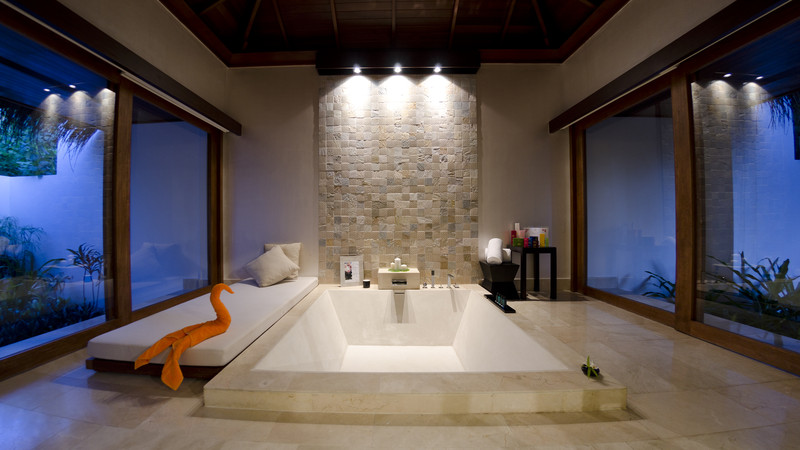 This side of the villa is a perfect parents retreat or romantic honeymoon sanctuary. First, in our case 🙂
Once we have explored the bedroom pavilion, we were off to see the rest. Outdoor living area features endless lounges and day beds – there truly is enough room to accommodate a family of 8. Dining area and kitchenette has a large fridge, Nespresso coffee machine and a lot of complementary water.
Second pavilion is et up as either a bedroom with two single beds or as a living room. In either case it has an Apple TV (with lots of free recent movies) and a full second bathroom. Perfect for families!
Our courtyard and swimming pool were so beautiful and large that if we wanted to stay in the villa and enjoy family time we might've just done so. When you holiday in such luxury you almost don't want to leave your villa.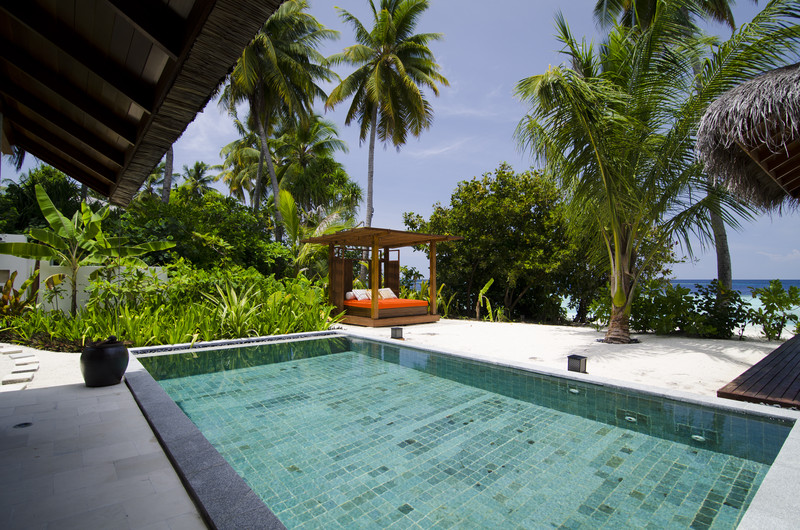 Each resort in the Maldives is unique and has something very special to offer its guests. In Dhavanafushi's case it is complete privacy, seclusion, utmost luxury and unbelievable standard of accommodation and service.
Water Villas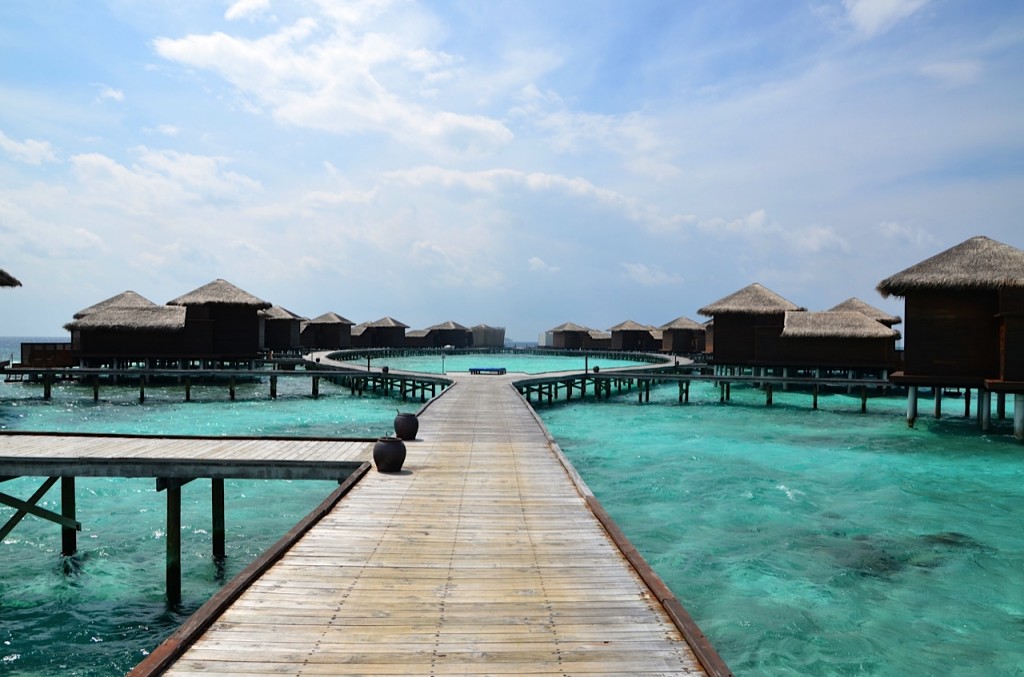 Dhevanafushi is set up on 2 little islands – beach villas are on the mainland and water villas are on a separate little island, 5 min boat trip away. Guests often combine their stay between 2 villa types for a little bit of diversity.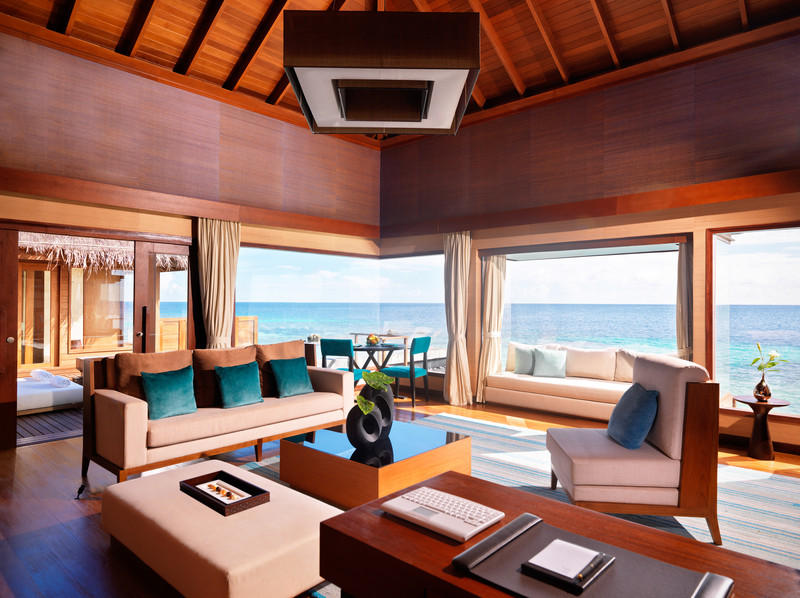 16 Water Villas, with fancy names like Ocean Revives & Ocean Sanctuaries  are amongst the largest and most luxurious in the Maldives. They start from 270 sq m and comprise of an oversized bedroom, bathroom and living room just like the beach villas. Wet edge swimming pools glistens like black diamonds on the private decks of these sensational overwater villas.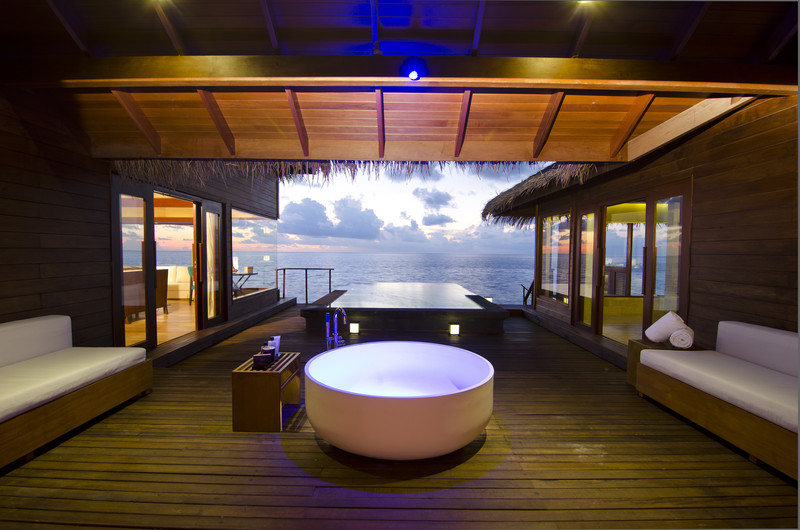 Ocean Sanctuaries are the ultimate luxury in the Indian ocean – palatial retreats perched above the turquoise waters. These 'one of a kind' magnificent residences, 340 sq m in size, feature 2 bedrooms each and are privy to the most spectacular sunsets or sunrises one could find in the Maldives. These villas will surpass your every expectation.
Service
Jumeirah hotel group prides itself on service and I have to agree, all Jumeirah hotels we have visited have superb service. When every tiny request is almost foreseen by the courteous and helpful staff it makes a huge difference to the luxury experience.
Small example – while still on the transfer boat, late in the evening, our children have requested for some Spaghetti Bolognese – imagine our surprise when we saw it perfectly laid out on the dining table as soon as when we walked in our villa. Pasta dishes were beautifully served with selection of gourmet breads and chilled water.
Adults were also treated to a complimentary bottle of French champagne with a selection of hand made cakes, fruit and truffles. What a lovely way to start a holiday!
True Butler Service
Every villa is this outstanding resort comes with a private butler. We had a wonderful gentleman, Shah, look after us. Seeing that resort caters mostly to couples and doesn't have kids activities or kids club, Shah was our best friend. He entertained the kids, built sand castles with them, drove them around the island on his buggy, played in the pool – you name it – he did it! The most wonderful butler service, thank you Shah!
Dining at the resort
Dhevanafushi is quite a small resort, only 35 villas, so breakfast is served from the a la carte menu rather than buffet style. Anything one wishes for is on the menu and if it is not, it could be easily arranged by the staff.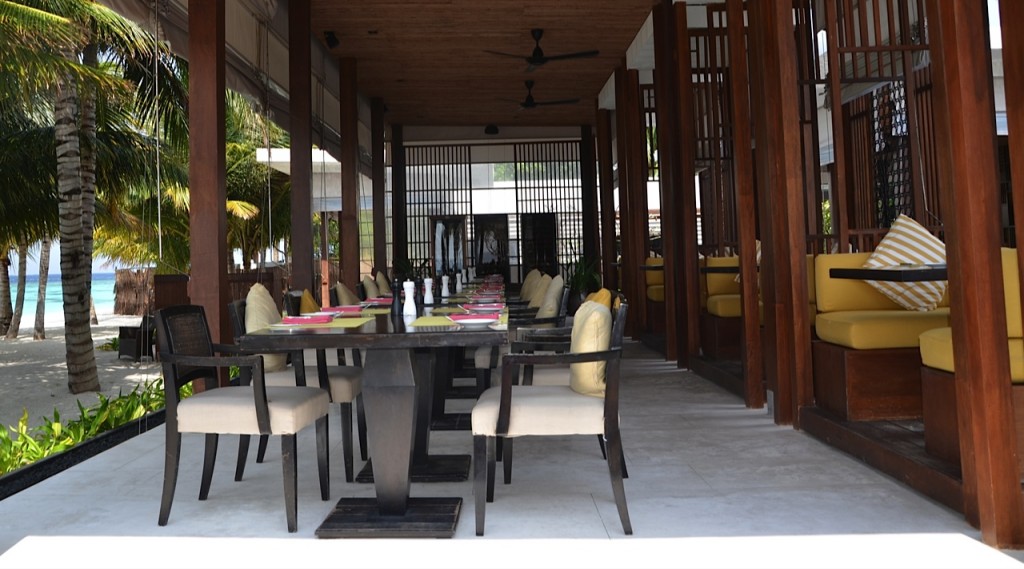 Our favourite morning treats were Maldivian breakfast – local tuna mixed with coconut, and Middle Eastern breakfast – a combination of Greek salad, Turkish style eggs and home made baked beans. Great opportunity to try something unusual.
Breakfast is served in either overwater restaurant at the Water Villa island or in the main restaurant near the Beach villas.
For dinner there are a few different options – main restaurant with either a-la-carte menu or themed set price dinner on some nights; Johara, fine dining over water or Mumayaz, beachside BBQ.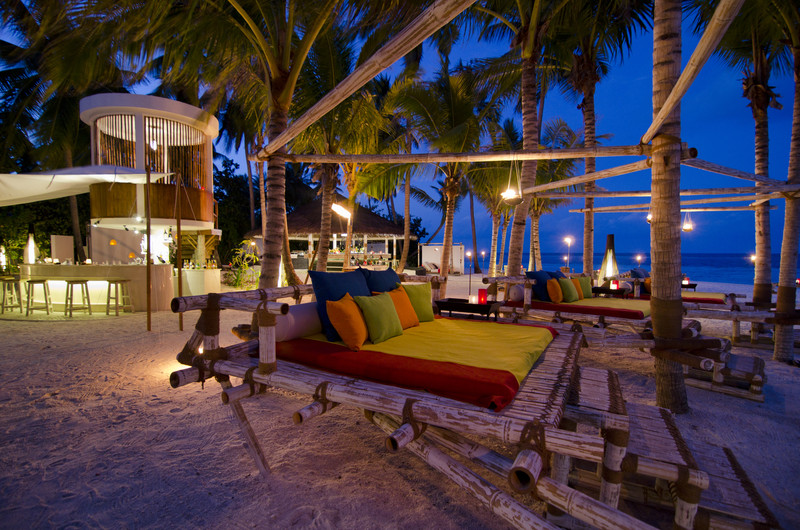 We experienced a seafood BBQ at Mumayaz on one of the calmer nights – it was one of the most romantic dinner settings in the Maldives and the nicest seafood. Apart from the multitude of salads, sashimi, oysters and hot cooked meals one could choose their own beautiful seafood – prawns, baby octopus, squid or fish to be grilled to perfection and served to your table with a delectable selection of condiments.Wonderful night! We highly recommend you try it.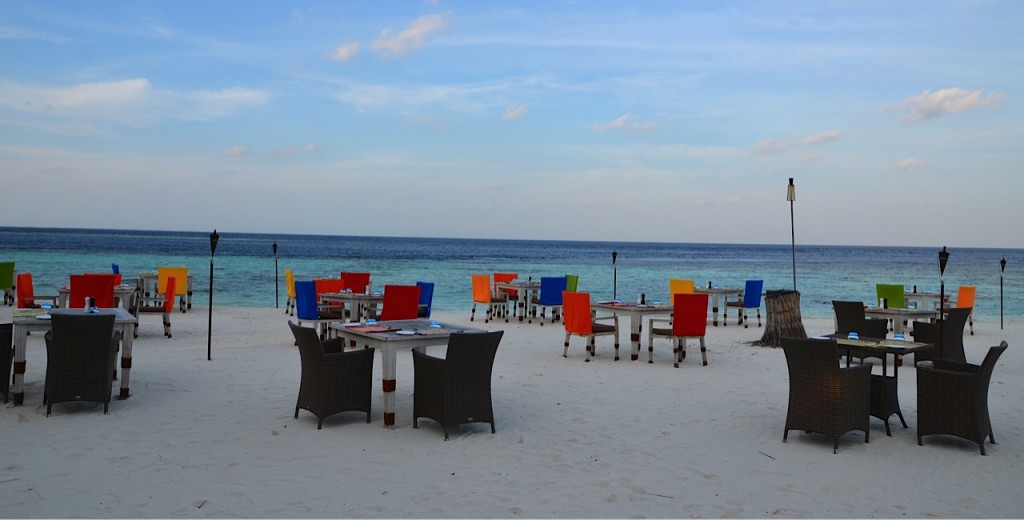 Magical Private Dining
Many Maldivian resorts offer private dining options. Yet, no one does it as well as Dhevanafushi. Private dining is truly magical here – staff set up a sofa and a table made entirely out of sand – it takes hours to make it and looks spectacular! It is set up in Middle Eastern style with beautiful colorful cushions and lanterns. You won't find anything like this anywhere else in the world, so for a very special night to celebrate or remember ask the resort to organize it for you. It is not a cheap endeavour (starts from $600 USD per table) but well worth it for an extra special memory.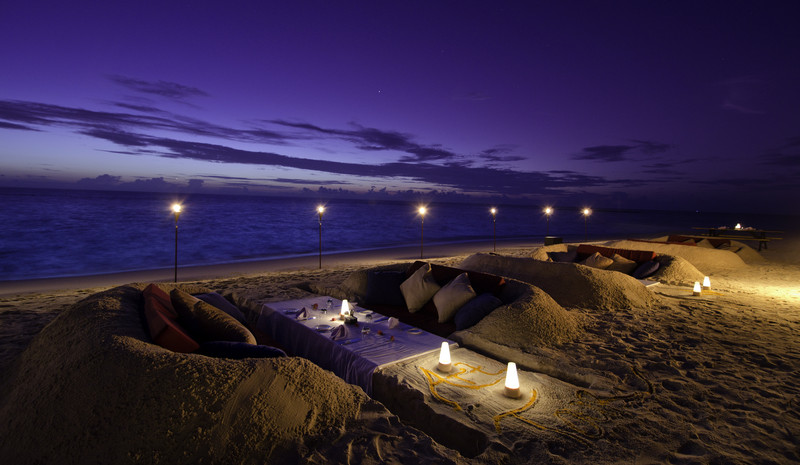 Facilities
Dhevanafushi caters mostly to couples who come to the Maldives to escape the rest of the world and connect with each other. Most guests spend a lot of time in their villas (and why won't you – they are so spectacular) so the atmosphere at the resort is very quiet with hardly any people around.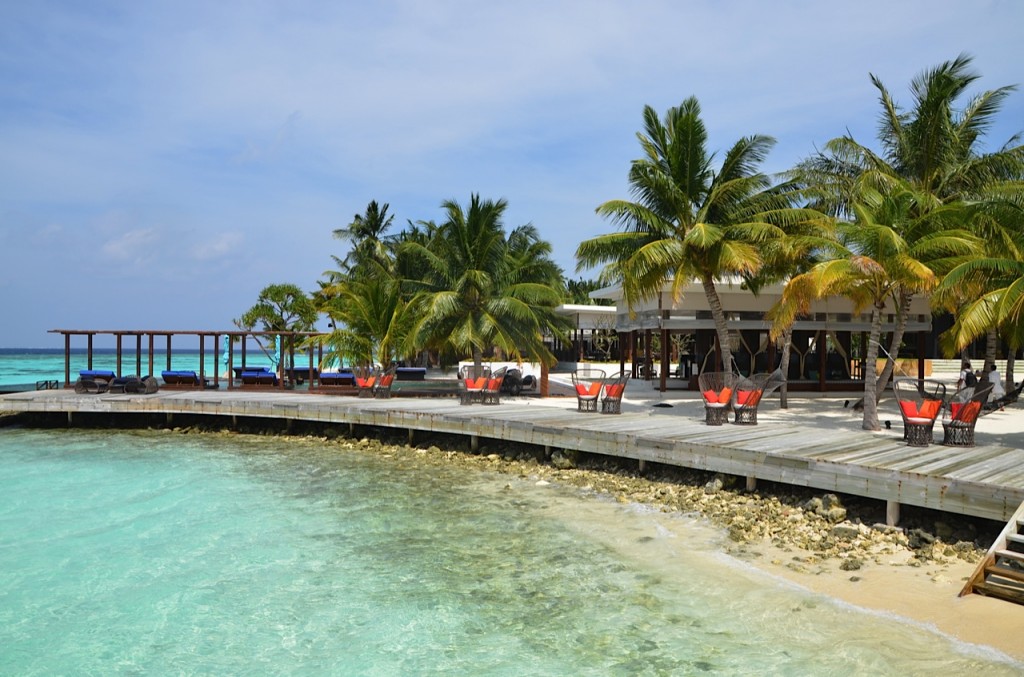 There are a couple of swimming pools at the resort – one on the mainland and one near the water villas, yet hardly any guests swim at them as everyone has a large pool in their own villa.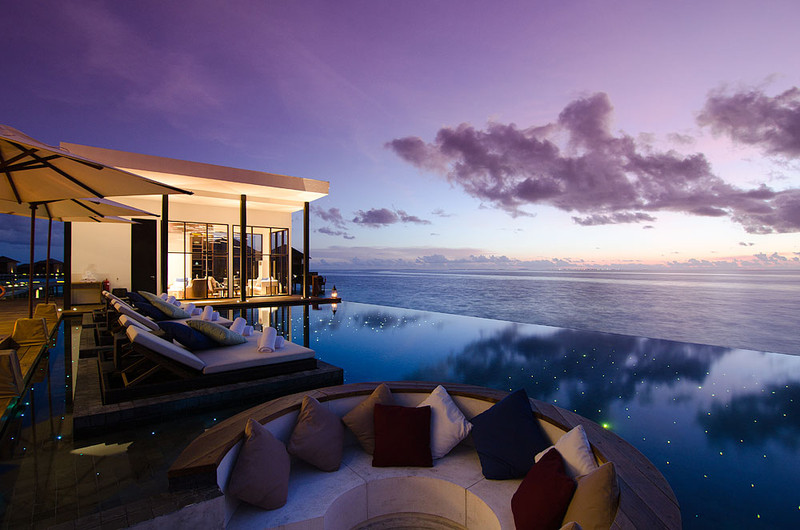 Resort organizes private snorkeling and diving trips and various motor water sports. We went on a snorkelling safari and the resort has ensured that our 3yo had his own private guide to look after him and teach him snorkelling. You should've seen the smile on my little boy's face when he put his face under the water and saw hundreds of fish under him – the biggest smile ever!
If you prefer to take it really low key, you could snorkel at the house reef – it is quite small but you'll see a couple of resident turtles and a lot of beautiful fish and coral.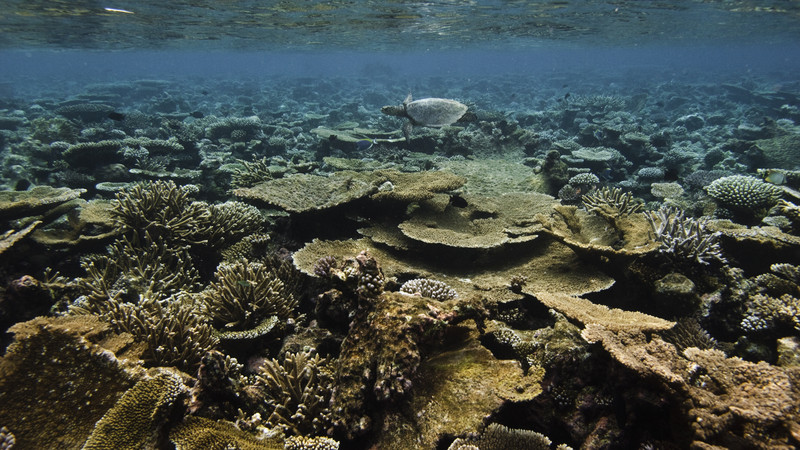 Talise Spa & Gym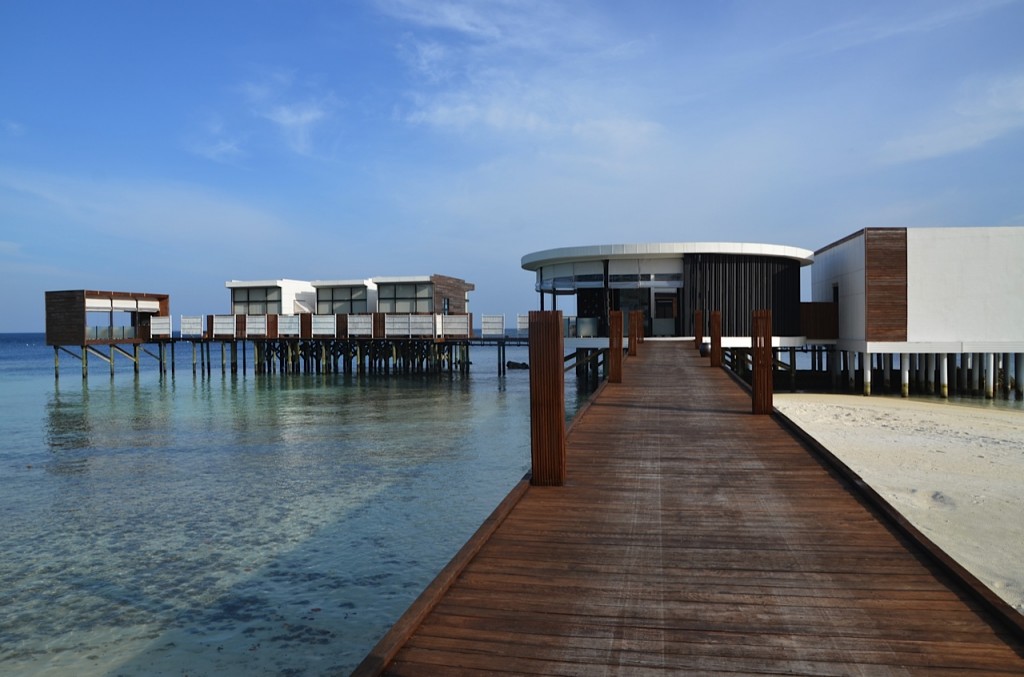 Talise Spa is another jewel of the resort. It is set up over water in a most spectacular setting.
All therapists are very professional and highly trained. I booked in for a pedicure and a massage and both were of the highest standard.
The spa is very busy so we recommend making a booking well in advance. If you book before you arrive, you receive a 20% discount which comes in handy, the treatments are quite pricey.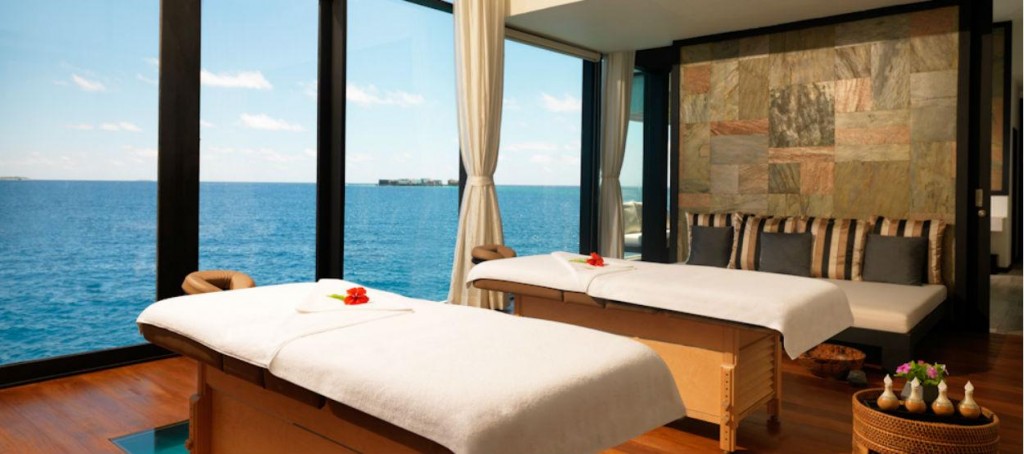 Gym was my other favourite. When I trained there I almost had to pinch myself – the view from the gym is so spectacular that it made me feel so lucky being in this unique part of the world and experiencing this super special resort.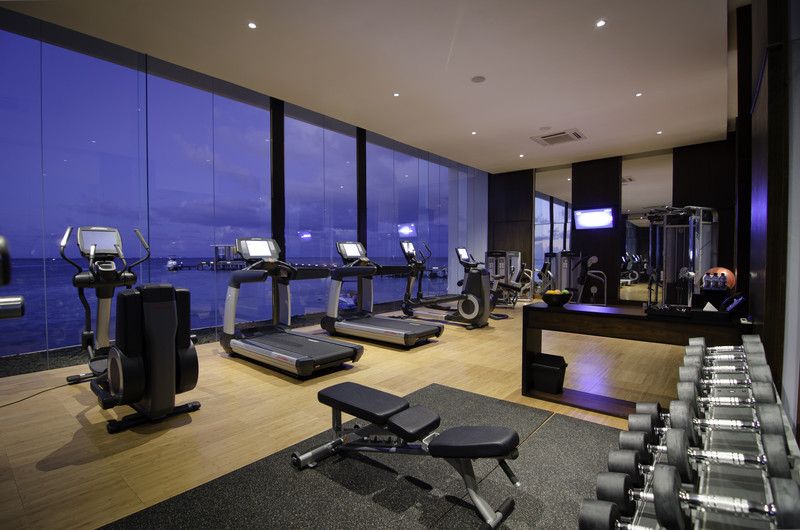 The Lux Traveller Loves
The most luxurious villas in the Maldives
Seclusion, privacy and intimacy of the resort
One of a kind private dining – Ottoman style
Overwater gym with the views to die for
Talise Spa – spectacular setting and highly trained staff. French pedicure to perfection and couples' treatments to remember.
Above & beyond Butler service – thank you Shah – you made our holiday extra enjoyable!
Full size Hermes toiletries in the villas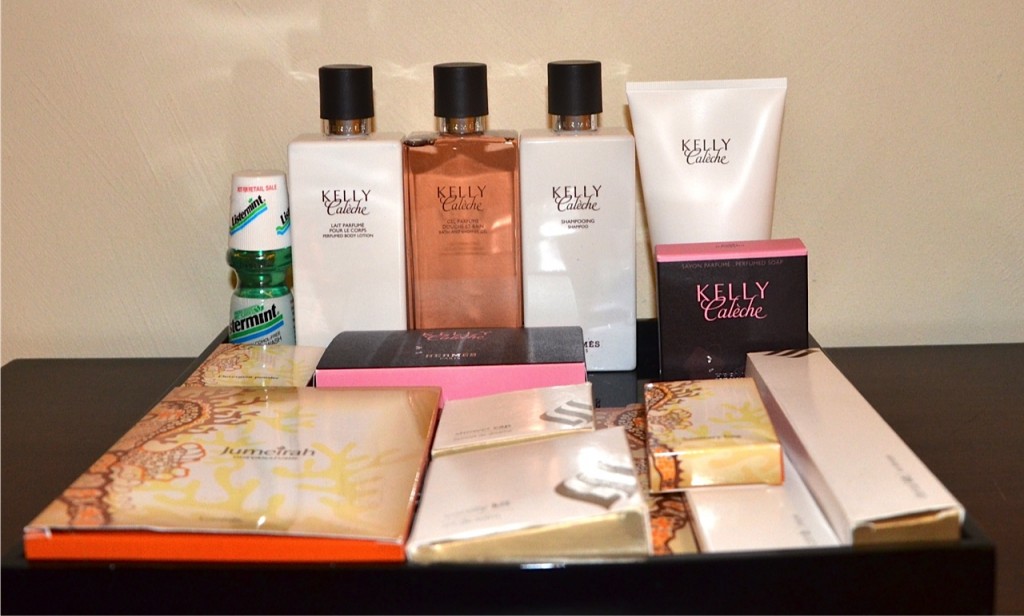 The Lux Traveller Didn't Enjoy
If there is anything to complain about it, it's a long transfer to the resort. It takes more than half a day. If seaplane was a possibility it would be a much easier trip.
Also, being one of the most exclusive resorts in the Maldives all the extras are quite expensive, about 30% more than in other resorts. But if you are counting dollars, you probably wouldn't choose Dhevanafushi in the fist place.
All In All – Dhevanafushi is one of the most luxurious resorts in the world. A perfect place for a couple on a special trip or for a family in need of complete R&R, seclusion and total relaxation.