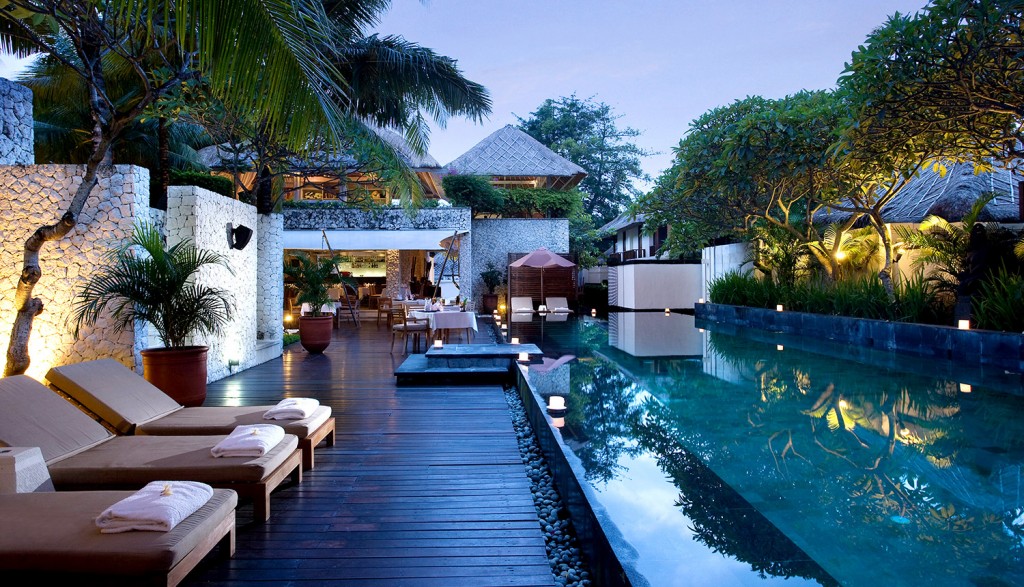 the lux score
77
the lux score explained
Service 7
Rooms 8
Food & Beverage 7
Ambience 7
Attention to Detail 7
Generosity & Value 10
Wow / Hip Factor 7
Facilities 7
Location 8
Fit to Promise 9
Karma Jimbaran is a collection of 40 expansive 1,2, 3 and 4- bedroom villas. All villas are individually owned but managed under Karma's umbrella.
The Location
As the name suggests Karma Jimbaran is located in Jimbaran Bay, a beach area 20 min away from the airport. Jimbaran beach stretches for a couple of kilometers making it a perfect spot for a morning walk. We did the walk every morning and it took about an hour and 15 minutes to get from one end of the beach to the other and back. A great way to start the day! But make sure to go early as it gets quite hot after 8am.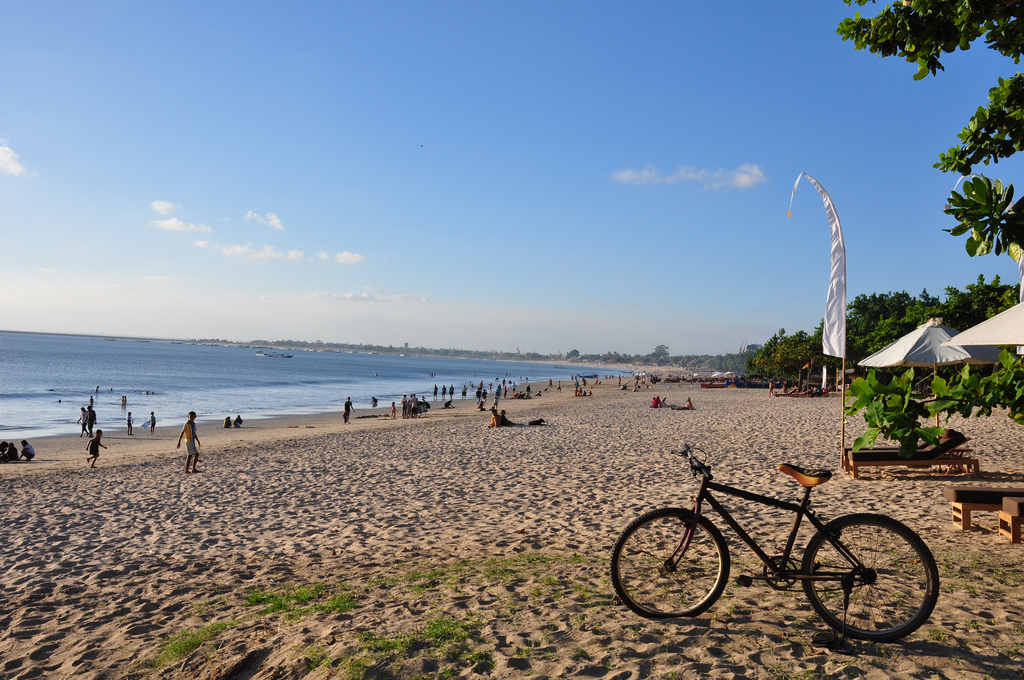 Accommodation
The villas are set up amongst the green lush gardens, with a multitude of frangipanis and bougainvillea all around – a very pretty site. Karma Jimbaran is not a beachfront property but it is only across the road from the beach.
Karma Jimbaran is about 10 years old, yet villas have been very well maintained. They don't represent the latest in modern luxuries but they beautifully reflect Balinese style and are spacious, clean and comfortable.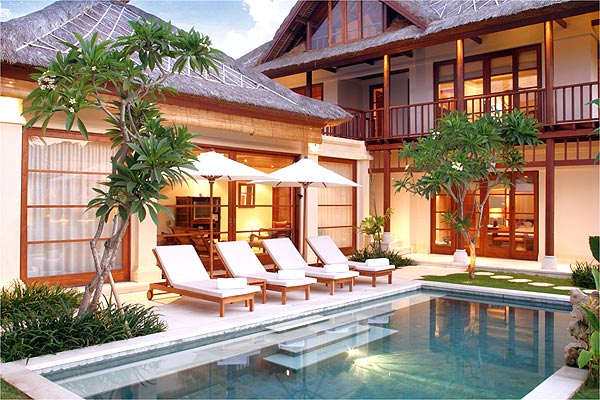 Each villa features a private courtyard and a good size pool. Some of the villas have their own fish pond complete with a supply of fish food – a favourite amongst the younger guests.
The configuration of the villas is excellent. In our 4 bedroom villa 2 of the bedrooms were located in the separate pavilions complete with the en-suites while large master bedroom with spacious wardrobe area and a double bathroom was upstairs and 4th bedroom was adjoined to the living room pavilion. It is a similar design / configuration for all villas.
The villas were designed in this way to allows large groups of friends to stay together yet have their complete privacy when they want it. Very clever.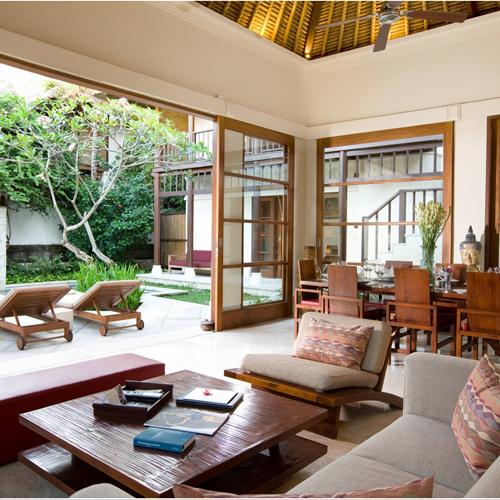 The price range of 3 or 4 bedroom villas in Karma is equal to a price of a one bedroom villa in many other luxury resorts, hence Karma is a very attractive offering for large families. A lot of space at an excellent rate.
Dining
Karma Jimbaran promotes in-villa living.
All villas have fully functional kitchens with full size fridges, so many guests choose to do their own grocery shopping and eat in the villa. Especially those with many children in their group.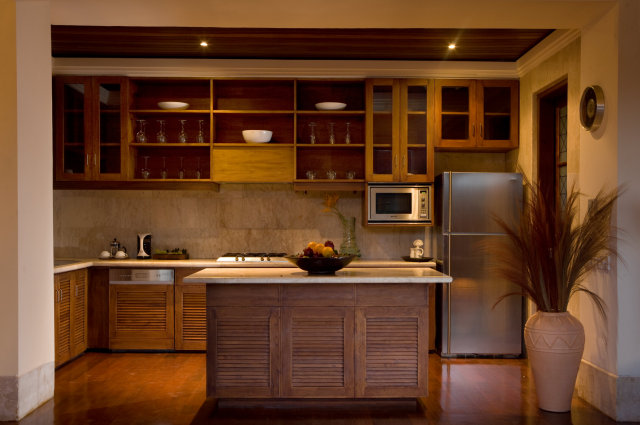 Karma has one restaurant that offers breakfast, lunch and dinner.
Breakfast seemed very popular (probably included in the room rate for most guests) while lunch and dinner were very quiet.
If you are looking for great food and nice atmosphere Karma staff happily make recommendations. However our 2 favourites for dinner in Jimabaran are Sundara (beachfront restaurant across the road, part of the Four Seasons Hotel) and Cuca (modern tapas in a romantic candle-lit garden atmosphere)
Facilities & Spa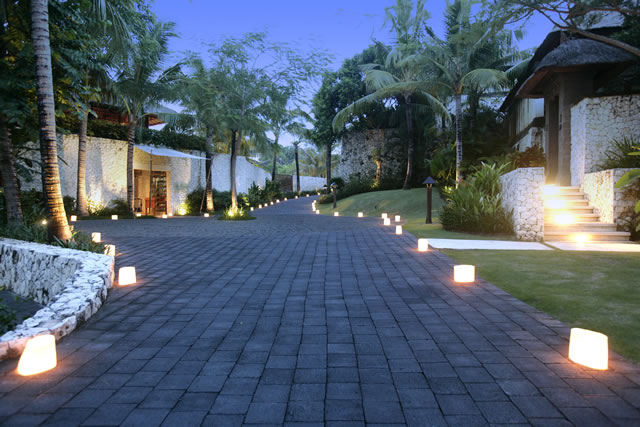 Karma has a pretty communal swimming pool by the restaurant and a couple of spa rooms.
Spa offers lovely Balinese massages, pedicures and manicures, oxygen facials. I tried a traditional Balinese massage and it was very relaxing. All of Karma treatments and retail products are GMO-free and made without any parabens or petrochemicals. Nice healthy touch.
Karma Beach Club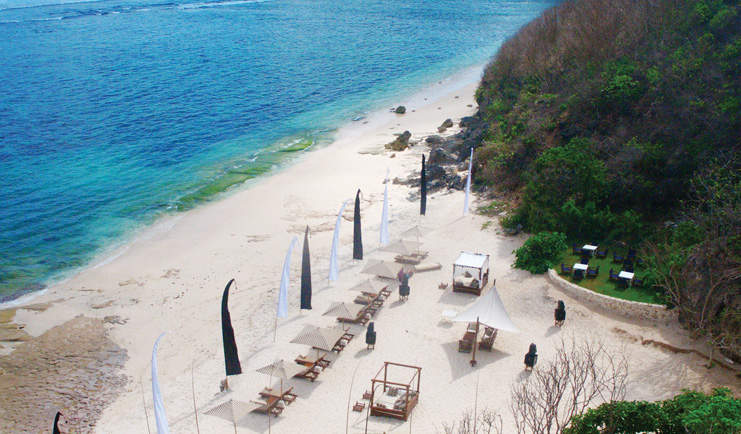 Karma Jimbaran has a sister property – Karma Kandara, located in nearby Uluwatu, exclusive cliffside area 20 minutes away. Karma Kandara has a beautiful beach club with a multitude of cabanas and lounges perfectly located on a white sandy beach with crystal clear blue water (the only beach in Bali that offers truly clear blue water).
Jimbaran can organize a complimentary car (if booked one day ahead) to take you there and back. The entrance and lounges are also included for all Karma guests. It is a wonderful way to spend a day – swimming, kayaking and enjoying a long lunch with your feet in the sand.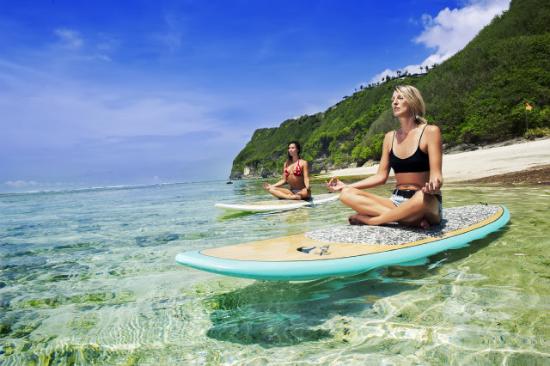 Kids Club
Karma Jimabaran also has a little kids club. My two little angels went in to explore it while I had my massage and they loved doing art and craft, creating Balinese offerings and making bracelets. It is great to know that your kids are well looked after while you and your partner relax in the spa or just take some time for yourselves.
The Lux Traveller Loves
We loved the generous size and the configuration of the villas
Excellent value – in low season 2 bedroom villas start from USD$445++, 3 bedroom from USD$530++ and 4 bedroom villas from USD$620++
Free access to Karma Beach Club at sister property Karma Kandara
Being across the road from the beach and Sundara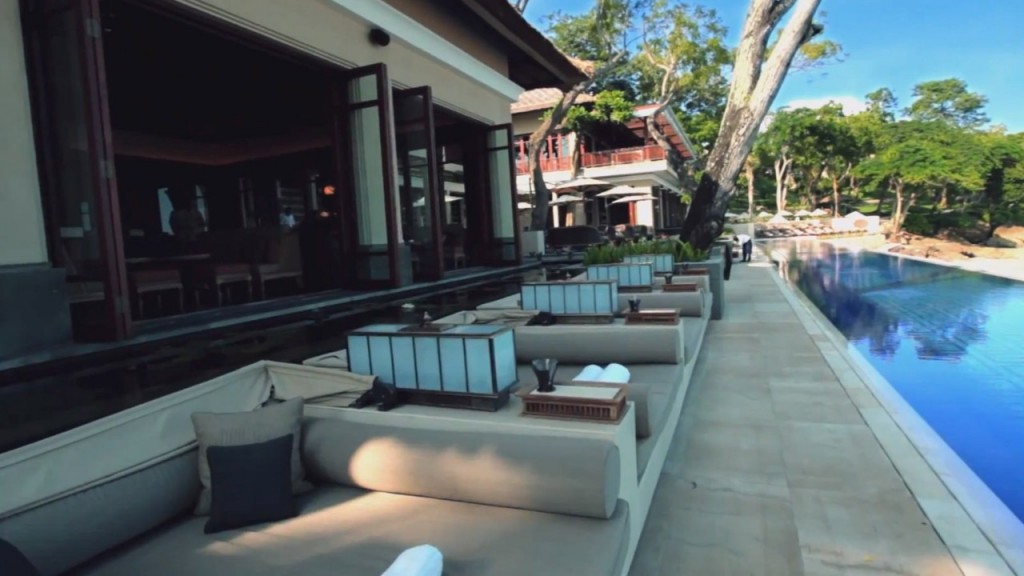 The Lux Traveller Didn't Like
There is a large construction site right next to Karma on one side. If you villa is facing construction, it won't be a very peaceful stay. The noise starts early and doesn't stop till 10pm. So be sure to reserve a villa that faces the other way towards the valley to maximize the enjoyment of your holiday.
There are not a lot of dining options or activities at the resort. It would be nice if Karma introduced some complementary yoga classes or beachside activities.
All In All
Karma villas are very spacious, well planned, have good size swimming pools and represent an excellent value for large families or groups staying together.
The location, even though not beachfront, is very convenient – 20 min to Uluwatu and Karma Beach Club and 20 min to the airport.