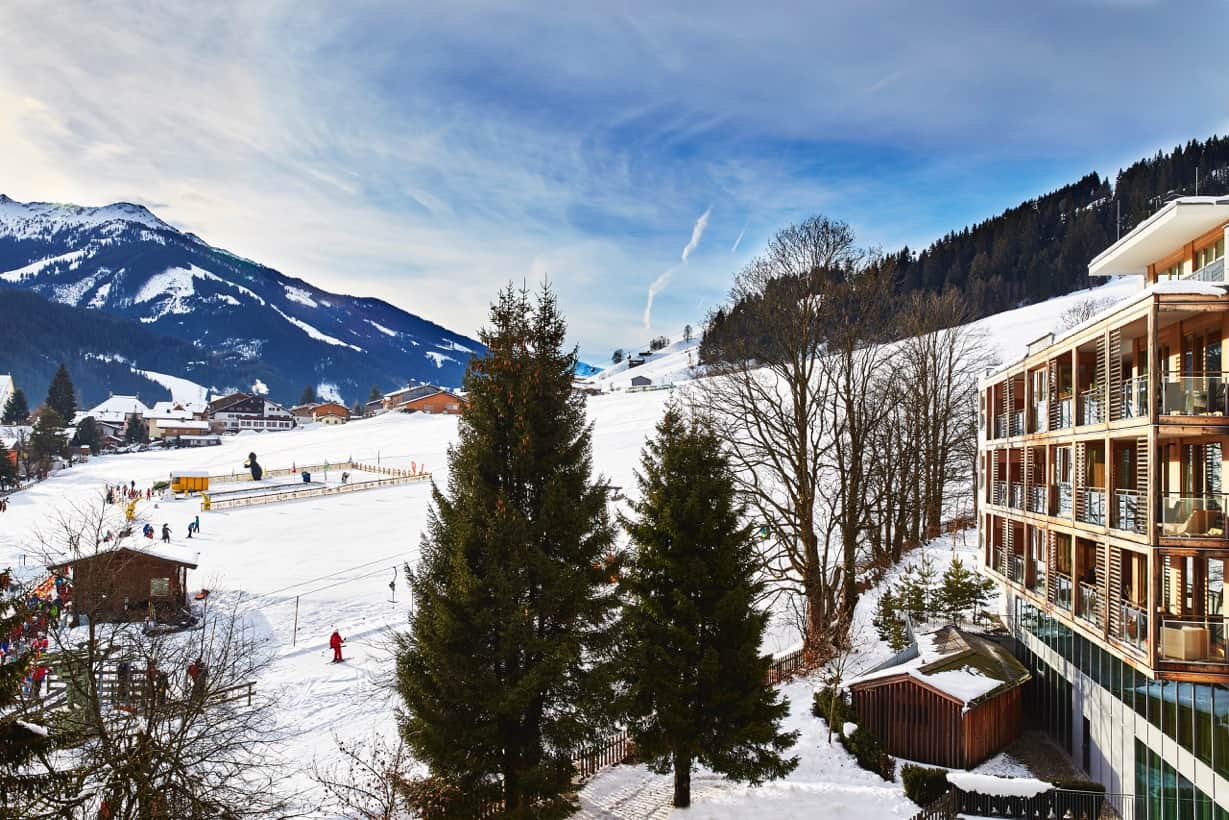 the lux score
95
the lux score explained
Service 9
Rooms 9
Food & Beverage 10
Ambience 9
Attention to Detail 10
Generosity & Value 10
Wow / Hip Factor 9
Facilities 10
Location 9
Fit to Promise 10
This winter was my first trip to Austria; I visited a small ski resort Kitzbuhel. This town is a famous destination in Europe amongst the ski community. Kitzbuhel is only two hours away from Munich by train or by car.
I chose Kempinski for my stay not only because it is a brand I like for but also because Kempinski is the only ski-in, ski-out hotel in town. The fact that the largest suite in Austria is located in this fabulous hotel might've also been a factor.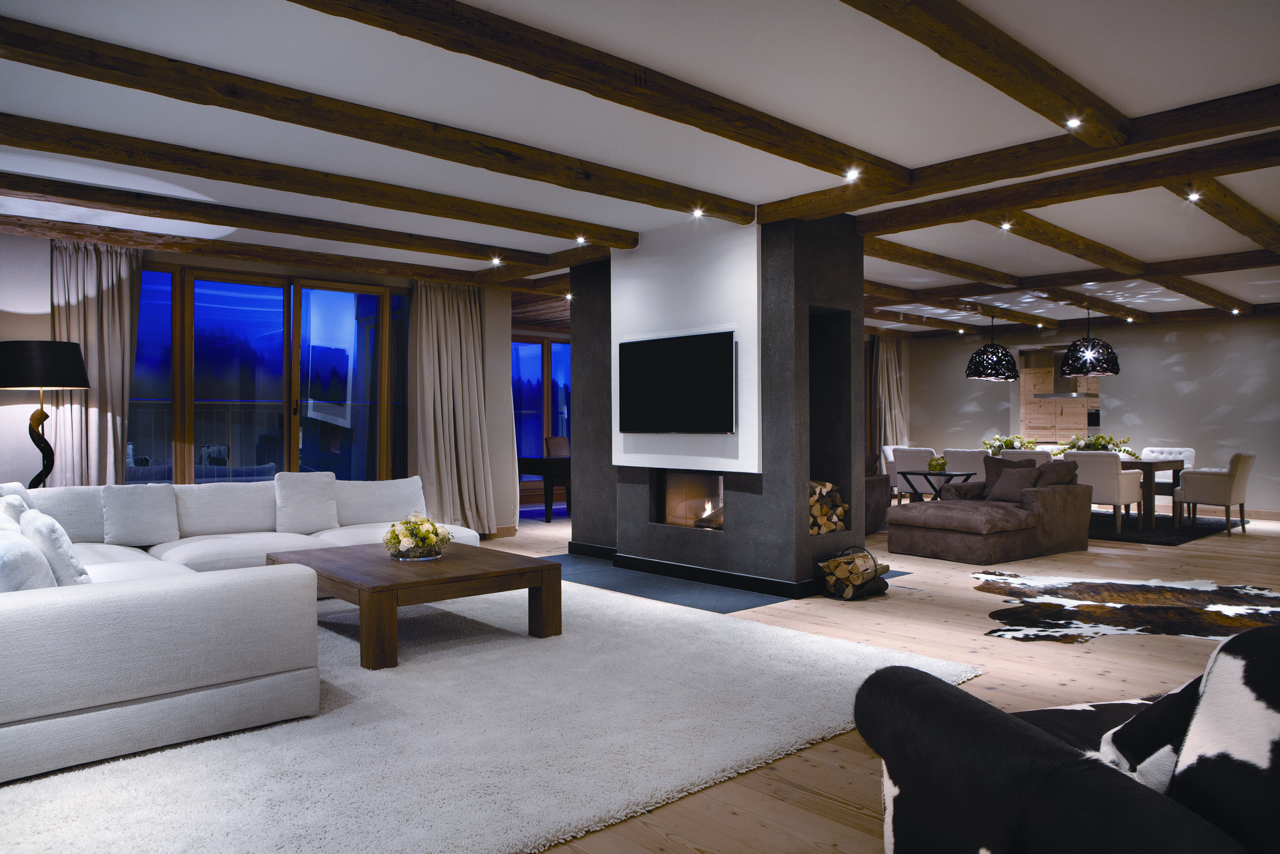 Location and Accommodation
Kempinski Tirol is located a few minutes away from the center of Kitzbuhel. Even though the hotel has a lot to offer to its guests, it is nice to venture out to do a little shopping, experience different ski areas and try fashionable restaurants up in the mountains so I would recommend having a car.
If not, Kempinski has a range of luxurious Mercedes limousines to drive you around town.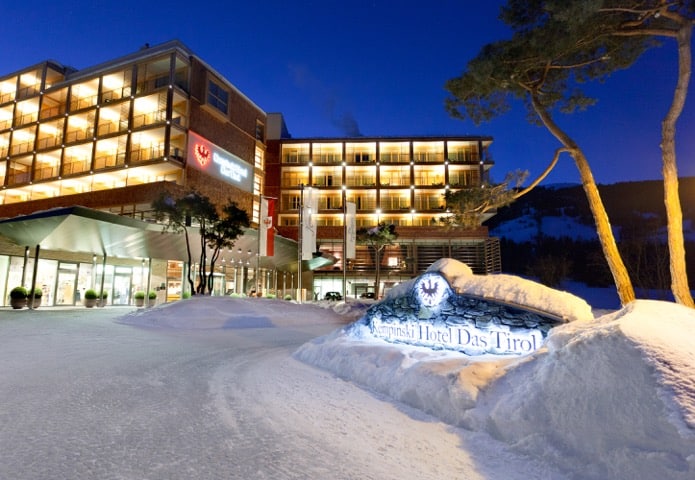 Accommodation
The hotel offers a great selection of rooms and suites. Even entry rooms are modern and stylish with brand new glass bathrooms, plush beds with dressy red bed covers and very cosy interiros with wooden walls features and oak furniture.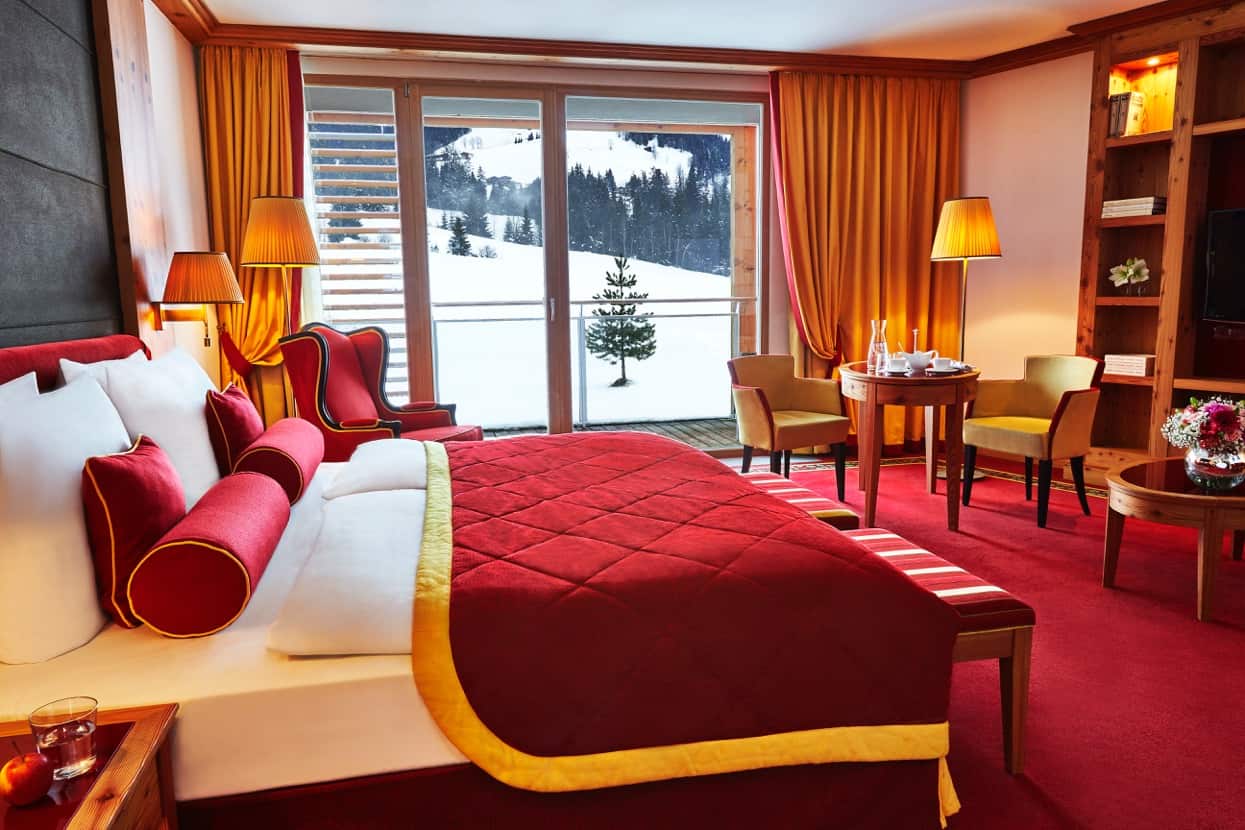 The Lux Travellers with families should look no further than the Presidential Suite, the largest in Austria. It features 5 bedrooms with oversized ensuites, formal and informal dining, full kitchen, sauna and a living room with huge outdoor terrace. It is designed in a classic yet luxurious style, with plush rugs, glass fireplaces and designer furniture.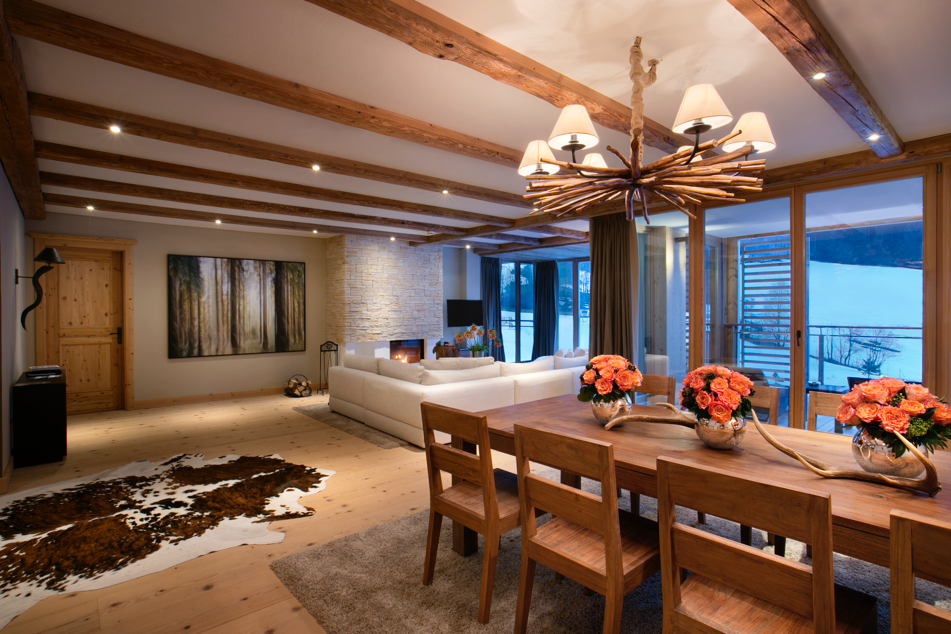 For couples I would recommend rooftop suites 702 and 703. These ultra spacious and luxurious rooms share Penthouse suite terrace and look out onto the magical white slopes on nearby mountains. I love warm heated stone bathroom floors, oversized bathrooms with either a stand alone bath or a steam room, beautiful thick carpets under the bed, heavy curtains on the windows, ample storage for the luggage, soft feather pillows and the welcoming ambiance. They truly feel like home.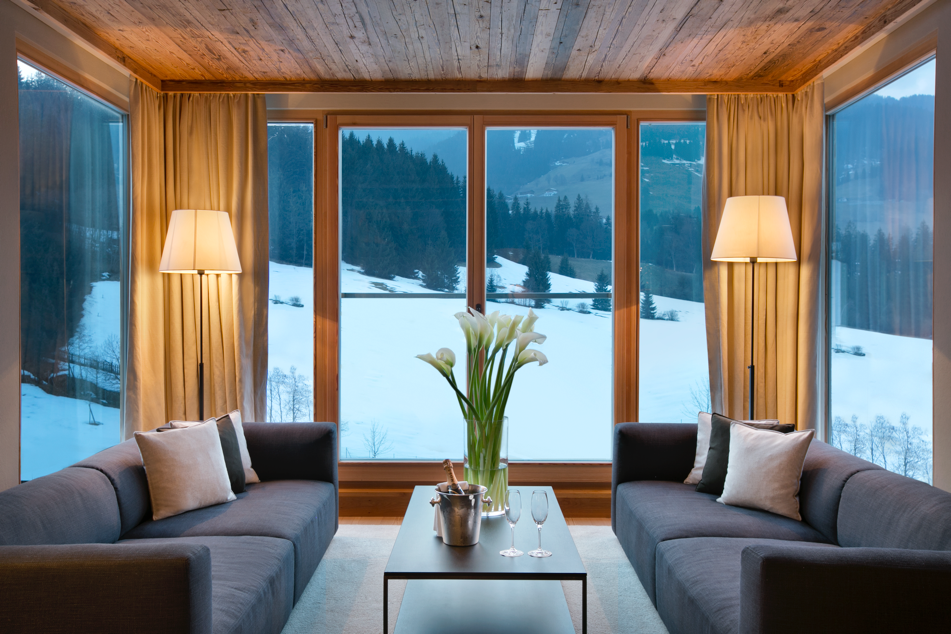 Facilities
Guests who are looking for relaxation won't be disappointed with Kempinski spa and sauna recreation area. I haven't seen such amazing variety of dry saunas in any other hotel before. Saunas vary in themes and temperature, from 65-90C and themed with pink salt or lava settings to mention a few. Turn the sauna timer on for 15 minutes, enjoy the heat, then jump in an outdoor pool, warm even in the middle of winter. It is a beautiful feeling swimming outdoors while it's snowing and the steam is coming off the hot pool water.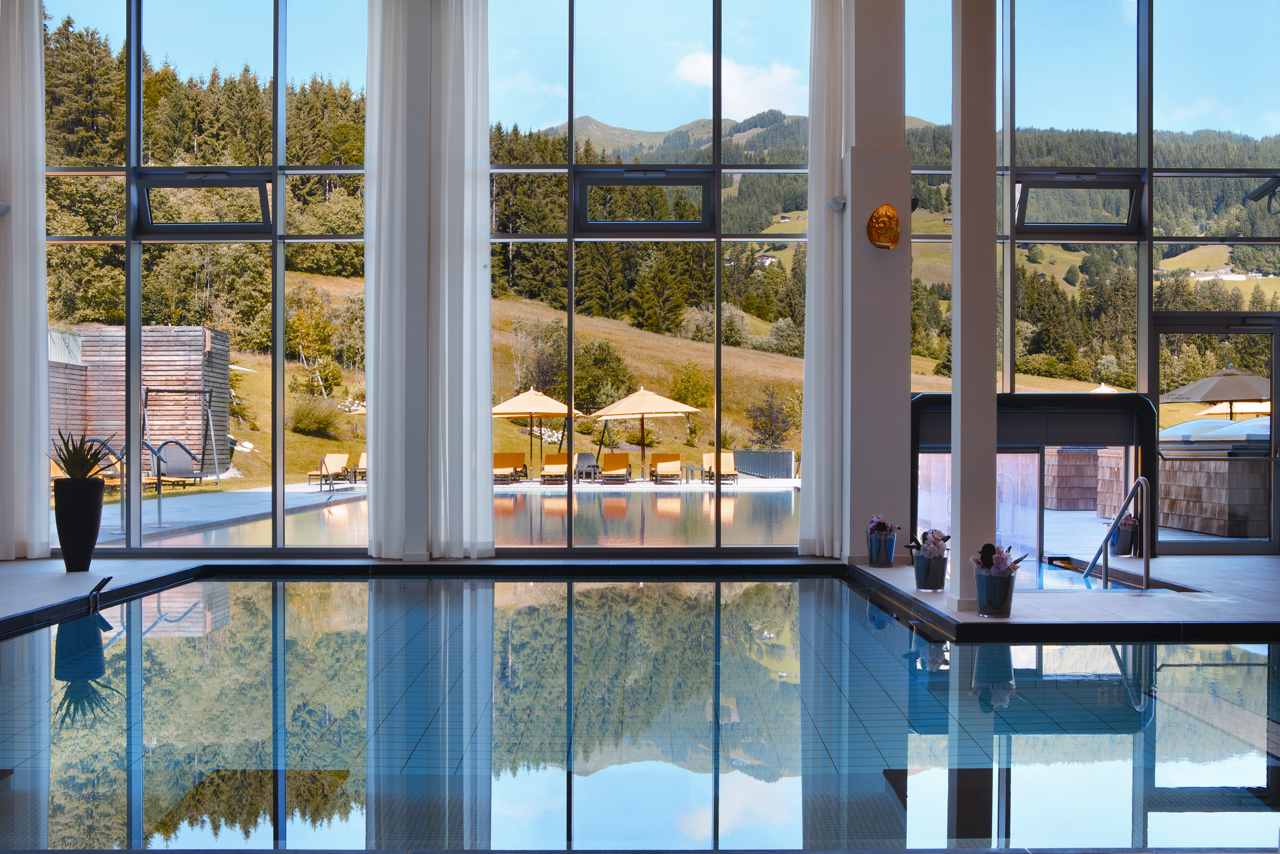 The spa offers a selection of traditional treatments expected in a five star hotel. I tried a sports massage with a German male masseur and he was excellent, gentle but firm. My body, a little stiff after travelling between continents, was very grateful to receive.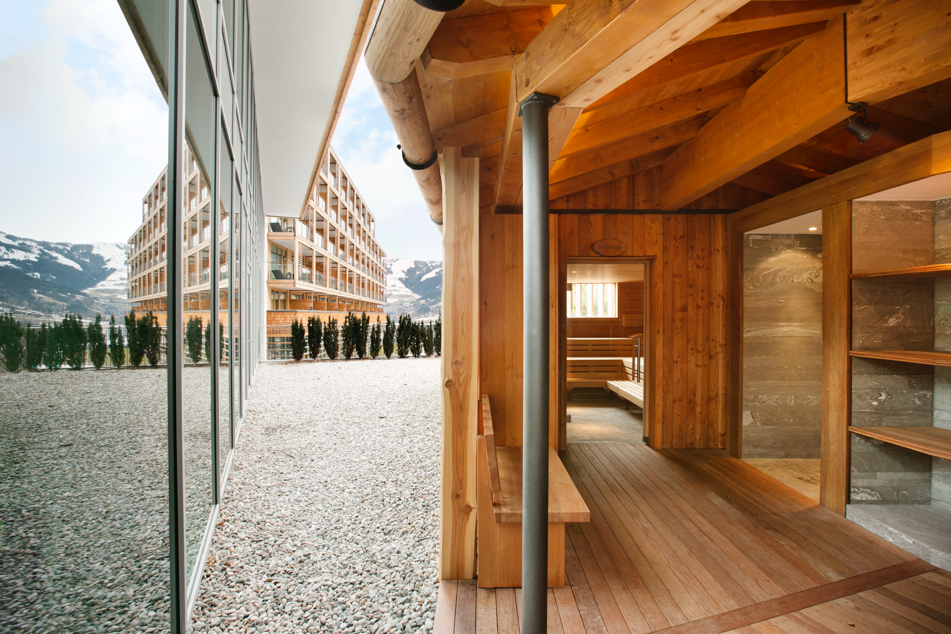 For those guests who come to Kitzbuhel specifically for skiing Kempinski is a great base as ski lifts are mere meters away from the entrance and hotel has its own ski school. Kids are offered 'all day' ski programs and babies are looked after in a kids club. Beginners can book in a group or private lesson with the concierge as well arrange ski passes.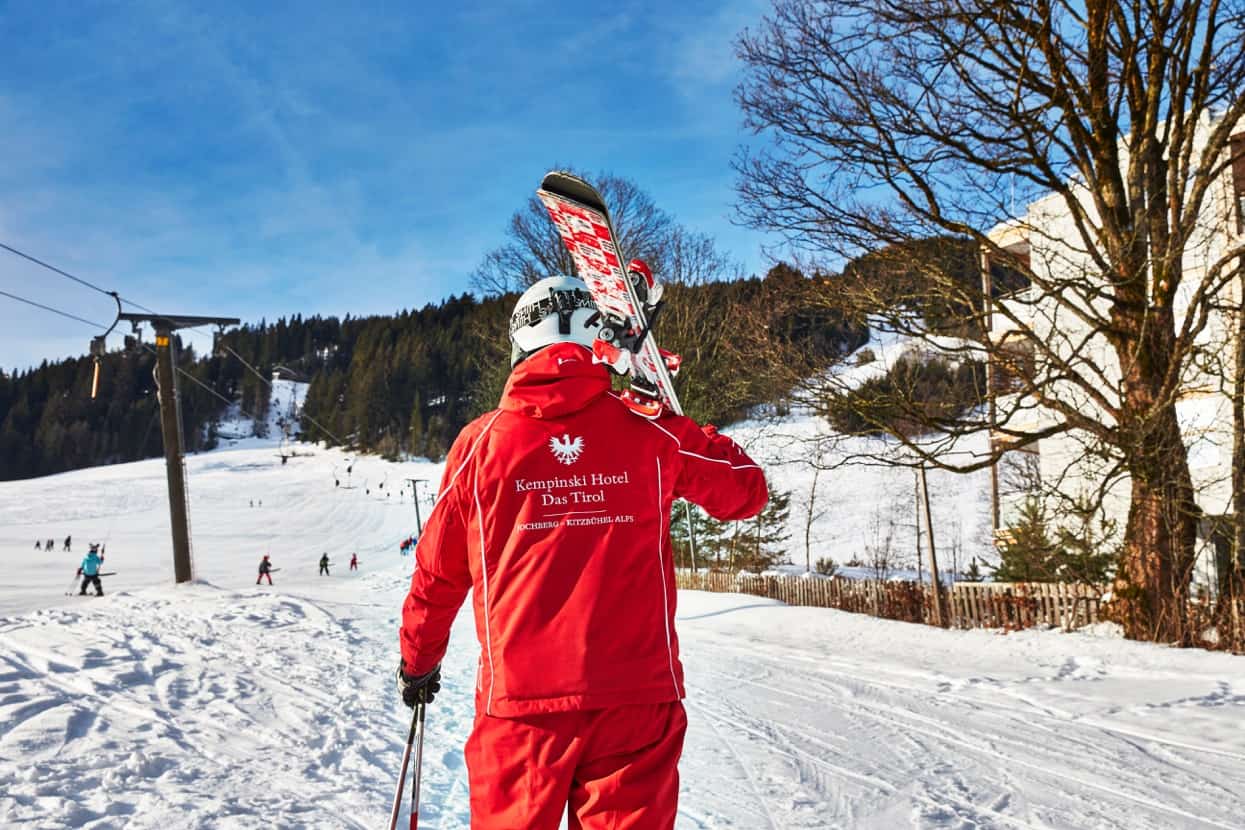 Adventurous skiers can book a trip with Kitz Air to Cortina and do some heli skiing in the Italian Dolomites.
If you prefer to travel light, in-house ski boutique will fit you out with Bogner jackets and pants and provide ski rentals for the whole family.
Dining
Breakfast in Kempinski Tirol is fantastic and served between 7-12pm. Perfect for those who love to ski early and come back to the hotel for late breakfast. It has a great selection for the health conscious – Kombucha drinks, freshly squeezed juices, rye bread baked on premises, yogurt and sour cream butter from the local farmers, seeds and nuts to add to your cereals. Of course there are traditional omelets, cured meats and hot dishes to choose from too if you feel like a more substantial breakfast.
For dinner chose from a la carte Austrian dishes at Steinberg or modern Asian in Sra Bua.
I tried Austrian dishes and especially liked Ox Tail soup with noodles, lamb stew and Kaiserschmann (chopped up French toast with plum jam – typical Austrian desert that is too good to miss).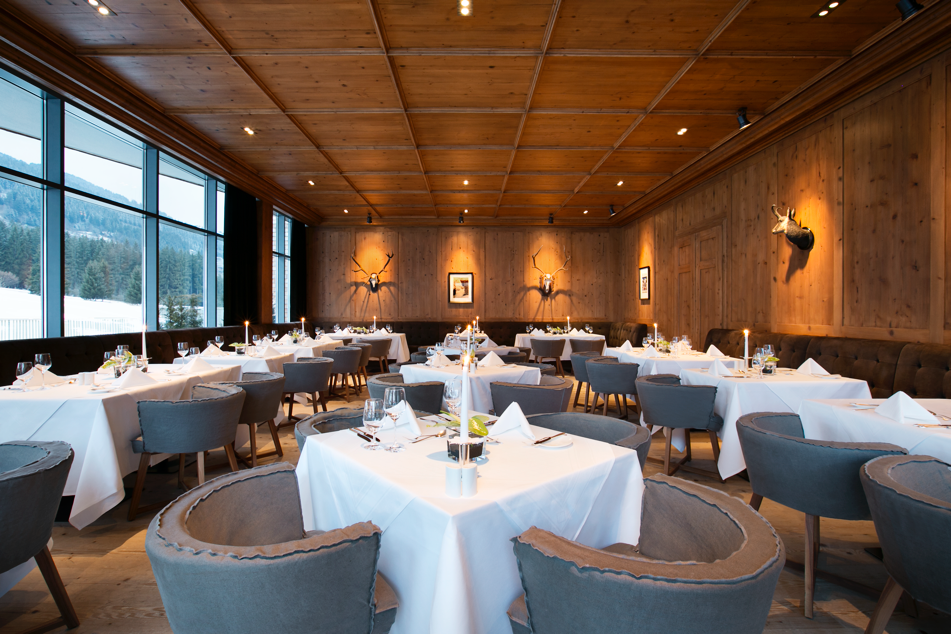 The Lux Traveller Loves – So many things…
Full service for skiers – boutique, ski-in ski-out service, ski rental, ski school – all in one
Luxurious brand new suites
Exceptional recreation facilities
Excellent breakfast for the health conscious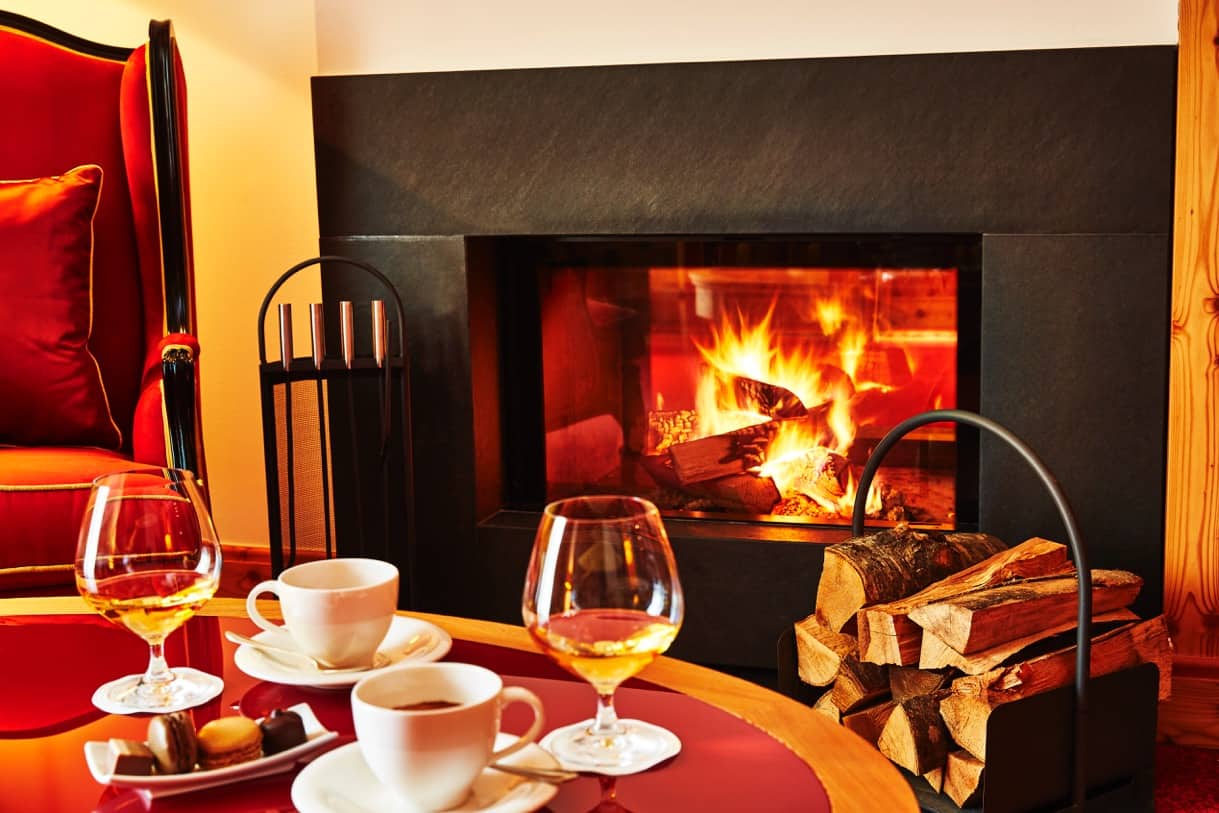 Splitting Hairs
I couldn't fault the hotel even if I tried. Just a few things to mention that could make your stay more comfortable.
It's much easier to have a car in the area as taxis are expensive and will easily cost €25 to go to town center one way or €50 to go to one of the mountain restaurants in the evening.
And for travellers out of area a little warning – if you venture to the sauna be prepared that saunas are shared for men and women in Austria and Germany and everyone there is in their birth suit. It's an eye opener for some of you who are not used to nudity in common areas.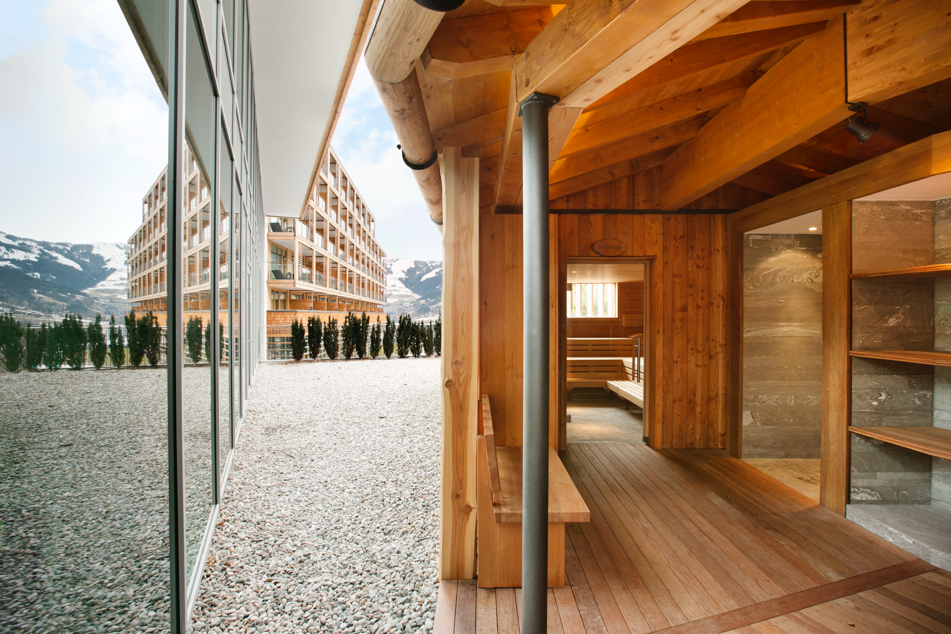 All In All
Kempinski Tirol has become my favourite new destination in Europe. It is such a wonderful hotel to bring a family to over winter holidays or, if you live close, to visit simply for a long weekend. I can't wait for bring the kids here to enjoy the snow and all the facilities.