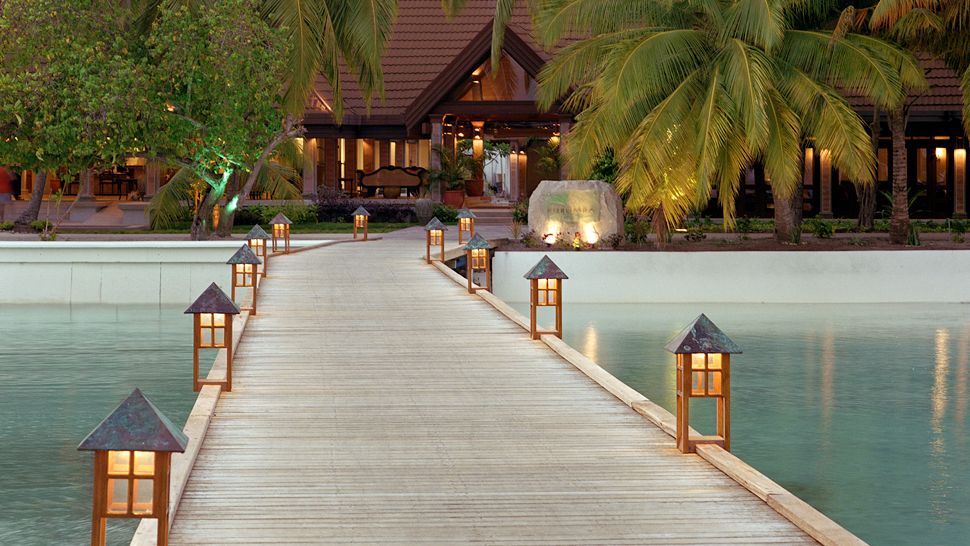 the lux score
83
the lux score explained
Service 10
Rooms 7
Food & Beverage 9
Ambience 7
Attention to Detail 9
Generosity & Value 9
Wow / Hip Factor 7
Facilities 8
Location 8
Fit to Promise 9
Kurumba is a unique resort  – it is the first ever island resort in the Maldives. It was built 41 years ago, yet it has kept up with the modern times and The Lux Traveller's requirements. Today it has 180 rooms (one of the largest resorts in the Maldives) and most of them seemed occupied during our stay.
The resort is managed by a lovely Australian / New Zealand couple – Jason and Victoria, and their warmth has transferred to every part of this great resort. Kurumba markets itself mostly to couples but we found it to be an excellent family resort. The Lux Traveller's family stay in Kurumba was a complete success.
Prior To Arrival
The Lux Traveller often travels with children and that requires a lot of organization. Kurumba staff always replied to our emails promptly and were very accommodating. Thank you – your assistance was much appreciated and our children felt very welcome and comfortable at the resort.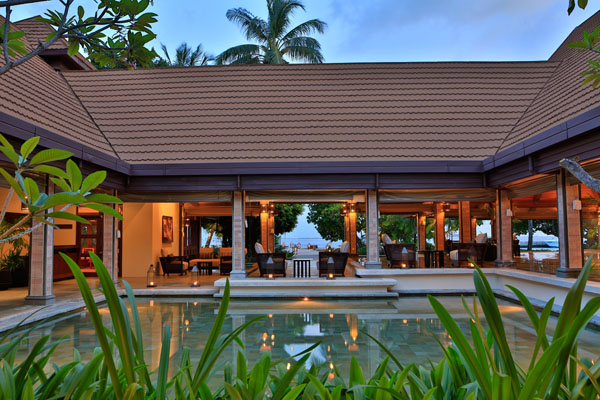 Arrival
When you arrive at Male airport you need to look out for a sign with the hotel's name rather than your name.  If you can't see Kurumba representative, just ask one of the other resorts' staff to help you. They all work together and will happily help.
One of Kurumba's winning points is its convenient location. The island is only 10 min away from the airport by a speedboat transfer. It is especially convenient if you are traveling with young children or arriving on a late flight. Many resorts require a sea plane transfer and they operate only during the day.
Kurumba's boat is a beautiful large cruiser with comfortable cream leather seats and air conditioned salon. The trip is very quick and easy.
On arrival you'd be whisked to the resort's Hibiscus lounge for 'meet and greet' and check in. Coconut ice-cream and iced tea was a welcome refreshment that made the check in go quicker.
Accommodation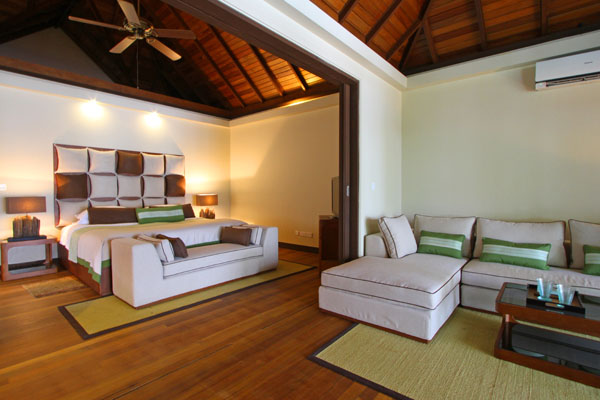 The Lux Traveller stayed in a Deluxe Pool Villa which was an excellent choice for a family with 2 kids. The villa is not overly luxurious but has everything you might need for a blissful vacation. The villa has a bedroom & a separate living room, large open garden with a day bed, sun lounges, swimming pool and a spa.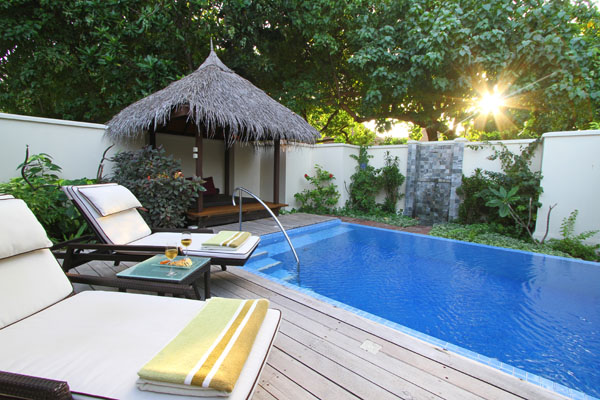 The villa looks out onto a beautiful white sand beach – heavenly setting.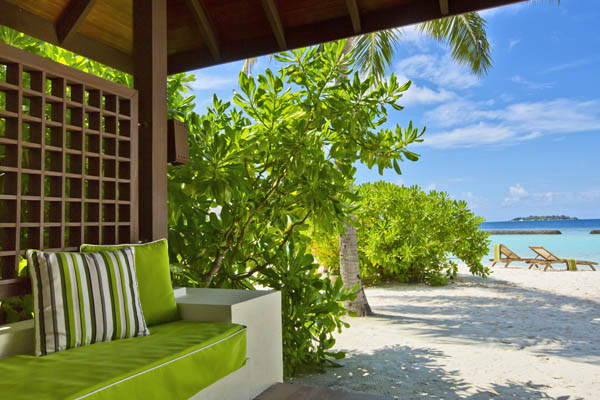 For ultra lux experience book a Presidential or a Royal Villa. Both of them have 2 bedrooms, 2 bathrooms and are absolutely perfect for families who want to holiday in ultimate style. However these villas are in a very different price range. Deluxe Pool Villas start from $1,300 per night, while Presidential Villa starts at $3,500.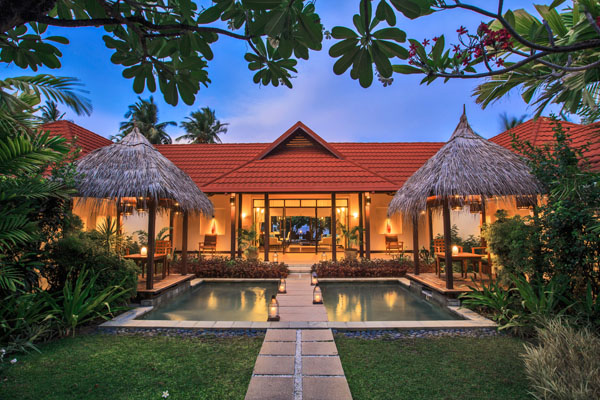 Dining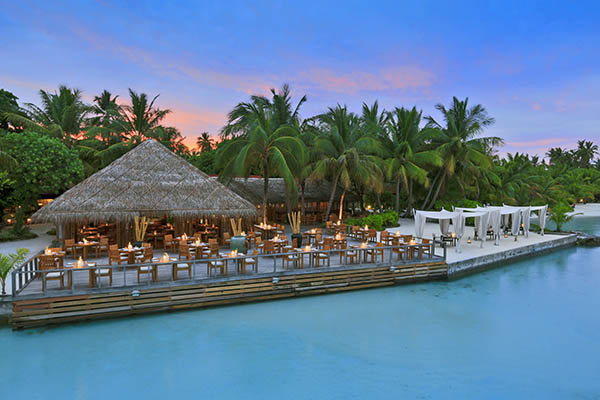 Kurumba has 8 excellent restaurants. Unfortunately we didn't have a chance to try all of them but can definitely recommend Japanese and Ocean Grill restaurants. They are set up right on the beach in a very pretty setting with white cabanas and lanterns. The food is very fresh (especially seafood and sashimi) and the setting is ultimately romantic.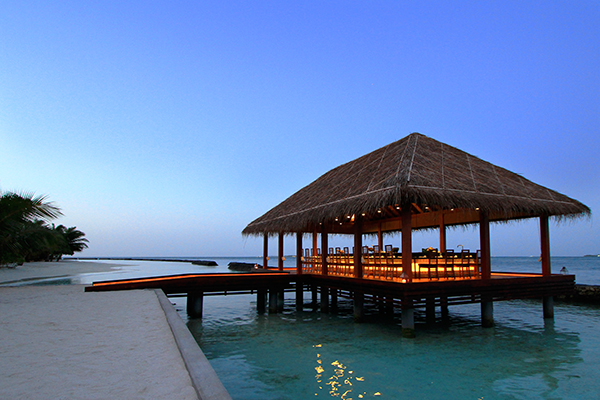 I am not a big fan of buffets but I have to complement Kurumba's dinner buffet. The food was exceptional and comprised of many different cuisines – Japanese, Indian, Sri Lankan, Western and included many delicacies that other resorts don't include in their buffet selection.
For breakfast there are 2 options – the standard buffet in the main restaurant or a la cart beachside breakfast for premium villas. It is a nicer setting and a la cart choices are lovely – eggs, any style, crepes, waffles. Our choice for a relaxing long breakfast.
Facilities
Kurumba is a medium size island with a lot of things to do. There are tennis courts (no private lessons though), gym (small but functional with modern equipment), motorized and non-motorized water sports, snorkeling trips, diving centre and spa.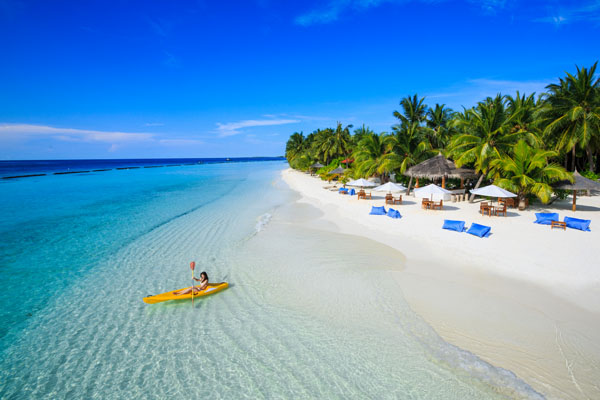 My little 9 yo had an excellent water skiing lesson – first time she got up on the skis. Three helpful instructors jumped in the water to help learn and it made a huge difference. I had a few circles around the island too – great fun!
Veli Spa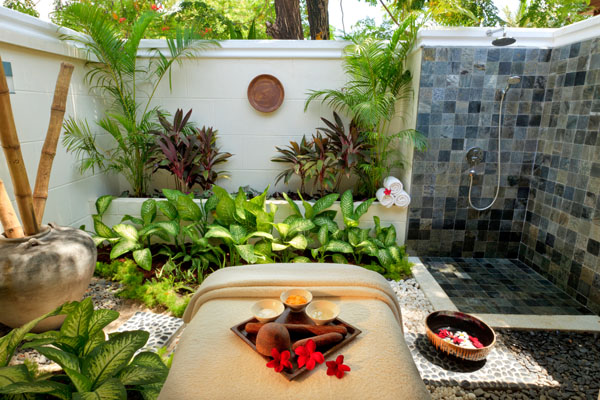 I had a pleasure of experiencing a long treatment in the Veli Spa. I had a scrub, a massage and a mini facial. I'd suggest that therapists are more skilled in relaxation treatments rather than sports massages or specific facials so try a couple of body treatments and you won't be disappointed.
The Spa is set up in the garden pavilions – a very peaceful setting. It has only 8 treatment rooms, so book well ahead.
Boutique
Kurumba has quite a large boutique that sells a lot of toys and clothes for the children and has a nice selection of beachwear for the adults. Worth a visit!
The Lux Traveller Loves About Kurumba:
Very handy location
Affordable price range
Wide variety of activities and restaurants to choose from
Friendly and very accommodating staff
Family friendly resort
Designer cabanas at the beach bar – perfect place to watch a sunset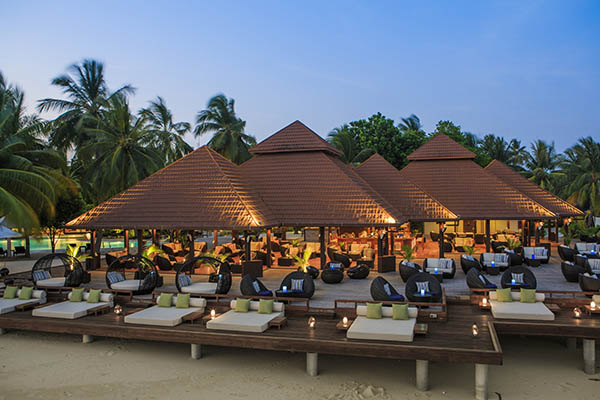 Splitting Hairs:
Being so close to Male is a blessing but also a negative. Sea life is not as rich as in the resorts located further away and you can also see Male from one side of the island which is not as blissful as looking out on a pristine indian ocean all around you which is a true Maldivian experience.
Kurumba doesn't have overwater villas which many visitors to Maldives want to experience. And beach villas are a little older in style and not as posh as in the newer resorts but the price range reflects that very fairly.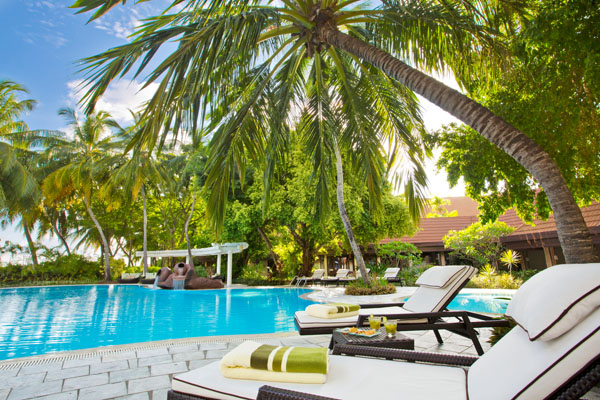 All In All – Kurumba is an excellent middle of the range 5 star resort. We would recommend it to families with young children and to guests arriving on  late international flight. It would be perfect to combine a stay in Kurumba with one of the other resorts located further away in a more pristine setting.