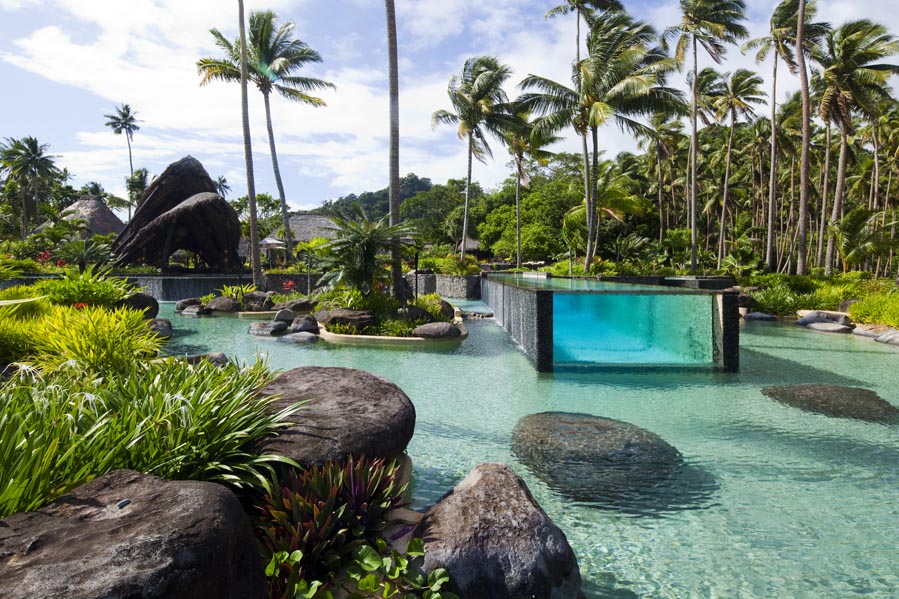 the lux score
98
the lux score explained
Service 9
Rooms 10
Food & Beverage 10
Ambience 9
Attention to Detail 10
Generosity & Value 10
Wow / Hip Factor 10
Facilities 10
Location 10
Fit to Promise 10
Laucala Island is the most amazing destination in Fiji, possibly in the whole world.
Vincent Pauchon, Director of Sales and Marketing, has told us that Laucala is 2nd most expensive resort in the world. What does $5,000 USD per night provide for its guests?
Laucala is a private island and it belongs to Dietrich Mateschitz, the owner of Red Bull. He bought it in 2003 and decided to turn the island into a resort / holiday home for himself and his celebrity friends.
After a few years of thoughtful planning and elaborate work beautiful Laucala welcomed its first guests in 2009. We are told that Dietrich himself makes a regular appearance at the resort in March and December every year.
Currently Laucala is a very popular destination for international jetset who are looking for absolute privacy, serenity, exclusivity and inspiration.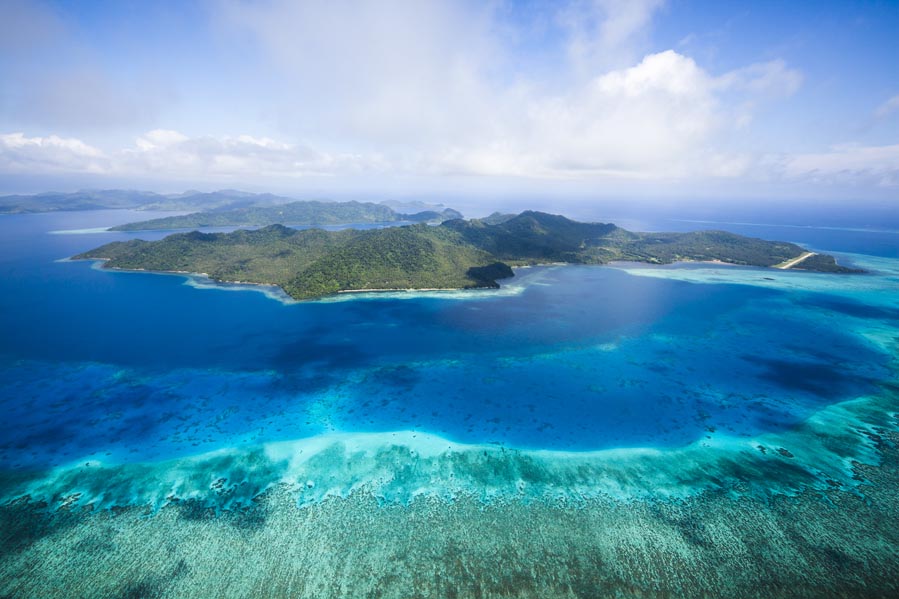 Accommodation
Laucala is a fairly large island of 3000 acres of green mountainous land and jungle forests surrounded by picture perfect white sand beaches. And believe it or not it is home to only 25 exclusive villas.
Each villa epitomizes the latest in luxury and glamour yet we love that the architects kept the traditional Fijian feel of the villas – free-flowing shapes, high thatch roofs, use of natural and local materials like coconut husk, palm leaves and local timber in the interiors.
All 25 villas are very similar in style but differ by size and location. Guests can choose from either one, two or three bedroom configuration making it a perfect resort for families as well as couples. You can also choose a setting – some of the villas are situated on a pristine private beach amongst the coconut palms and the green forest, others high up in the lush tropical gardens with uninterrupted sea views.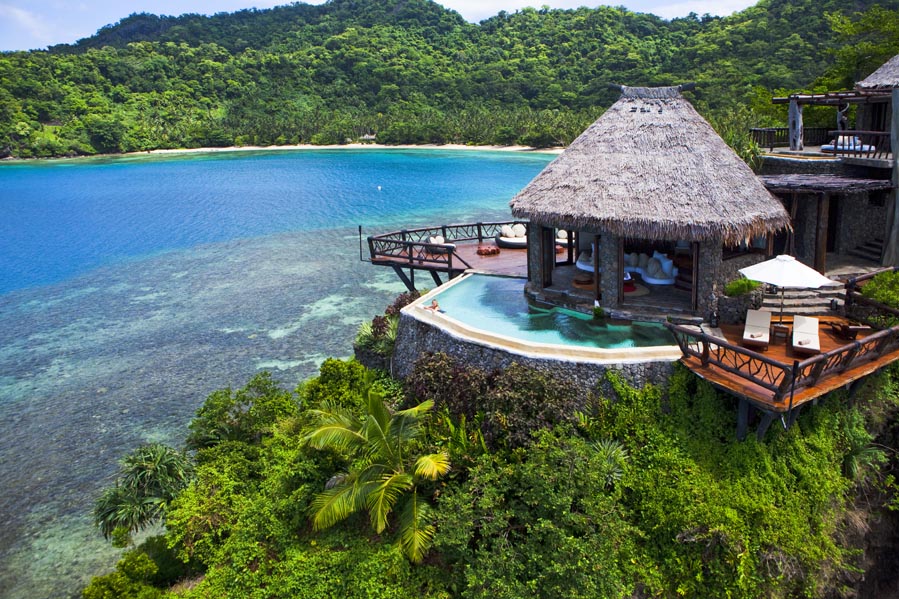 One unique villa is on a cliff face like a magic castle (perfect honeymooners escape) and one of the villas is overwater. Apparently when guests check into their overwater villa the staff hardly see them around the resort – it is the ultimate sanctuary with its own jetty and wet edge rock pool.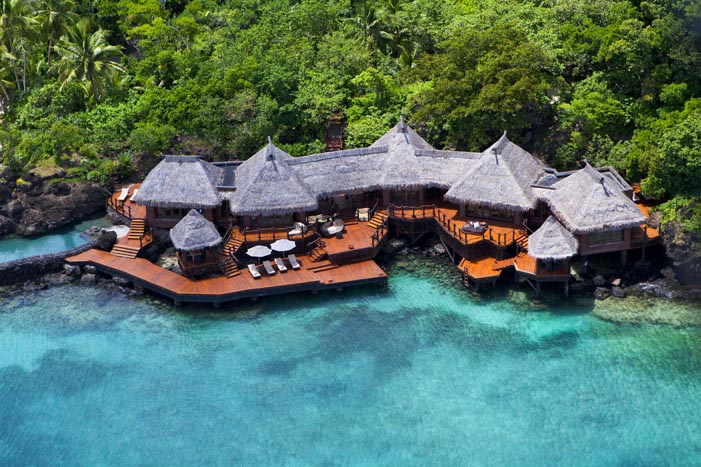 We stayed in a one bedroom beach villa. It was very spacious, approximately 300 square meters of beautiful indoor & outdoor living space. Lush green rainforest surrounded us on every side ensuring absolute privacy and pristine beach at the front was all ours.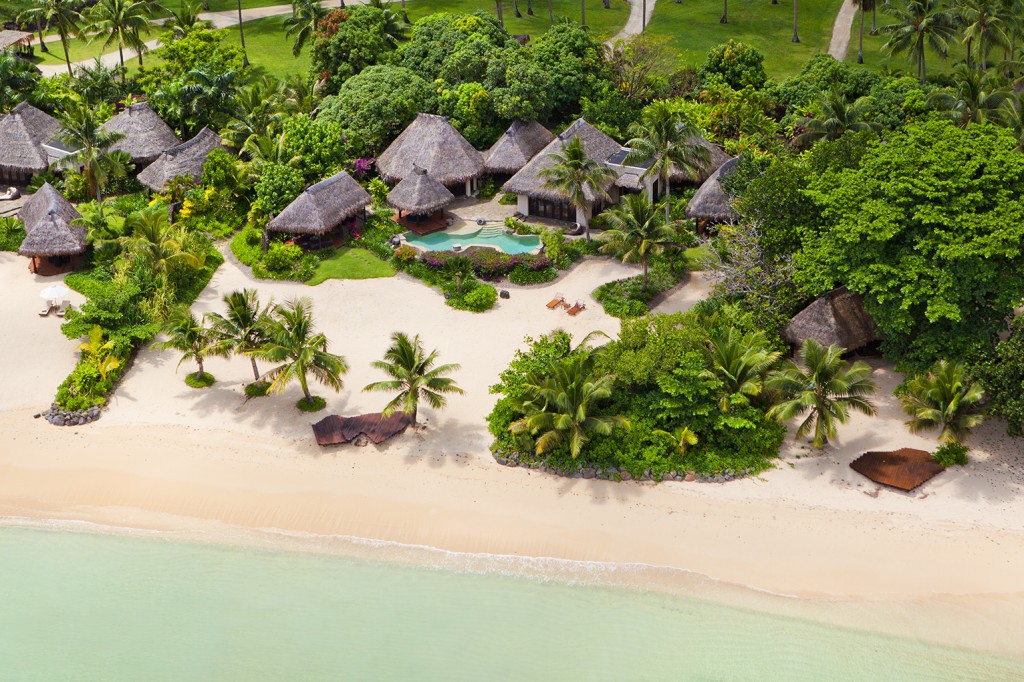 We love the clever design of the villas where both living room and bedroom pavilions open onto the swimming pool and the garden, creating an open plan seamless indoor and outdoor living. Jellyfish chandelier was another highlight.
Tikki torches surround the pool and magically come on at night enhancing the romantic atmosphere.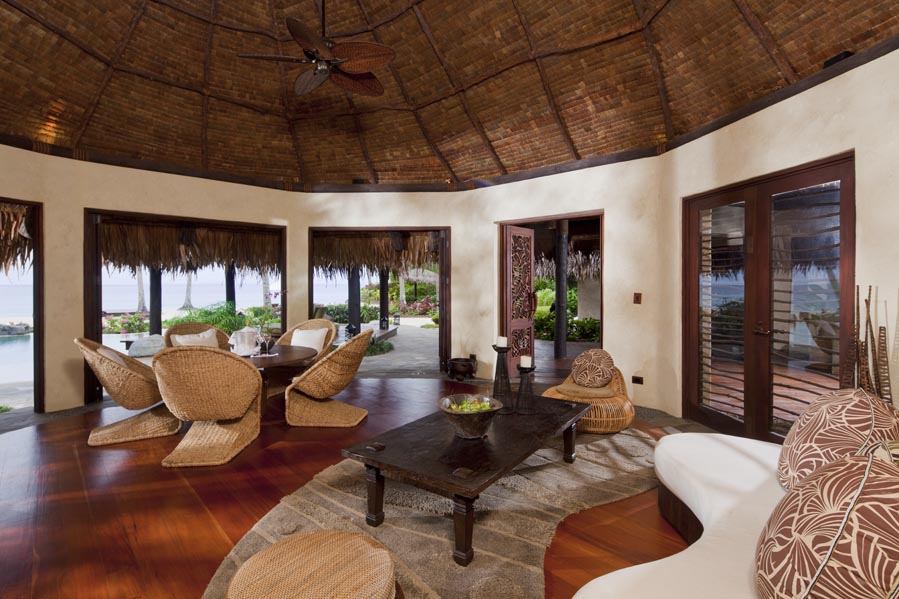 There are so many amazing feature in each villa and everything is truly though out. One my family favourites was a buggy that came with our villa – we cruised around the island at our own leisure and explored the island. Real treat for the children.
Outstanding Activities
Laucala isn't a cheap holiday destination but every single activity is included for the whole family. Be it diving, submarine rides, golfing, water sports or lessons with a tennis pro – there is something for everyone at Laucala!
Submarine – Laucala is the only resort in the world that offers its guests this ultra unique way to see the sea life.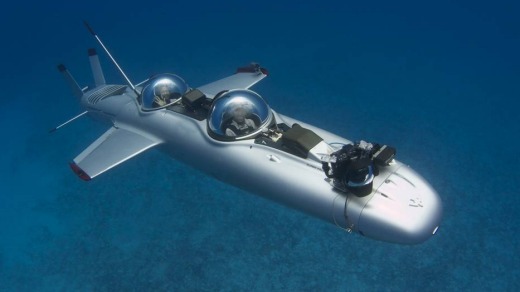 Boating – Laucala owns 3 wonderful boats – one for water sports and luxurious snorkelling trips, brand new diving / snorkelling boat and a luxury cruiser.
Golf – championship 18-hole golf course is another highlight of the resort. Golfing professional is on hand to help you improve your swing or teach you the basic skills if you are a beginner.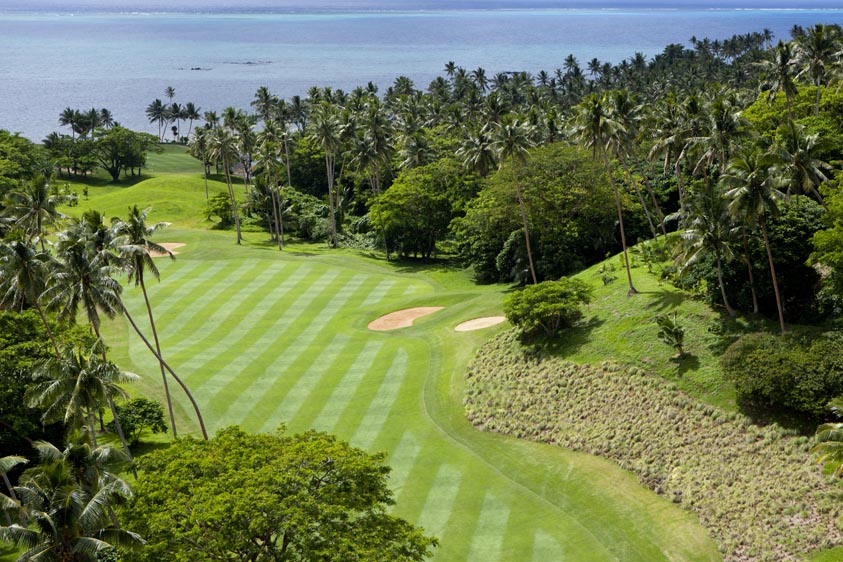 Other activities
Guests can also enjoy a variety of motorised water sports – water skiing, jet skis, wake boarding, banana boat rides for families and many more.
For more gentle water sport lovers there are paddle boards, catamarans and kayaks (some are made from completely clear material so you see all the fish under the kayak when you explore the lagoon). Pretty amazing!
For snorkelling adventures Laucala staff will find the calmest spot in the lagoon and take you there at any time of the day. Everything is done on request, when the guests are ready to do it. You don't have to plan or book ahead.
For divers there is a professional diving centre and all dives are also included in the tariff.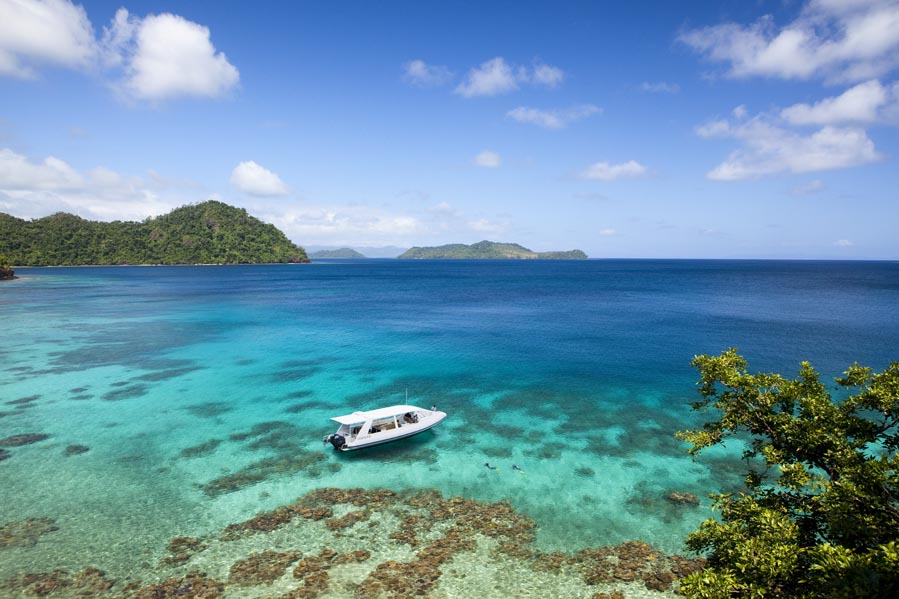 For land based activities Laucala offers yoga and tennis. Both need to be pre-arranged in advance – on request Laucala will bring to the island a yoga teacher or a tennis coach specifically for you.
Kids at Laucala
Kids and families are very welcome at Laucala. Because of the size of the island and the size of the villas even if some guests have children, honeymoon couples have absolute privacy still and are not at all affected by families.
I travelled with my 4 year old son and he absolutely loved the island, our villa, all activities and water sports staff.
I would recommend this resort equally to honeymoon couples as well as families. Laucala has a perfect balance of a true luxury resort.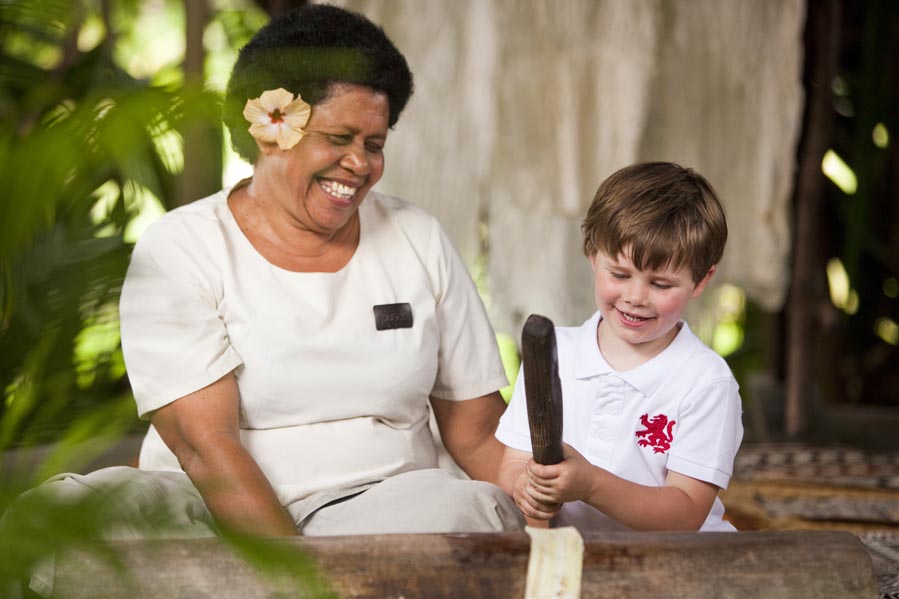 Spa
Laucala has a wonderful spa located amongst the tropical gardens and lily ponds in stand alone spa villas. Each beautiful villa features a relaxation area for two, a wet or dry outside treatment terrace (with either outdoor massage tables or Vichy showers, massage tables, spa and a bathroom.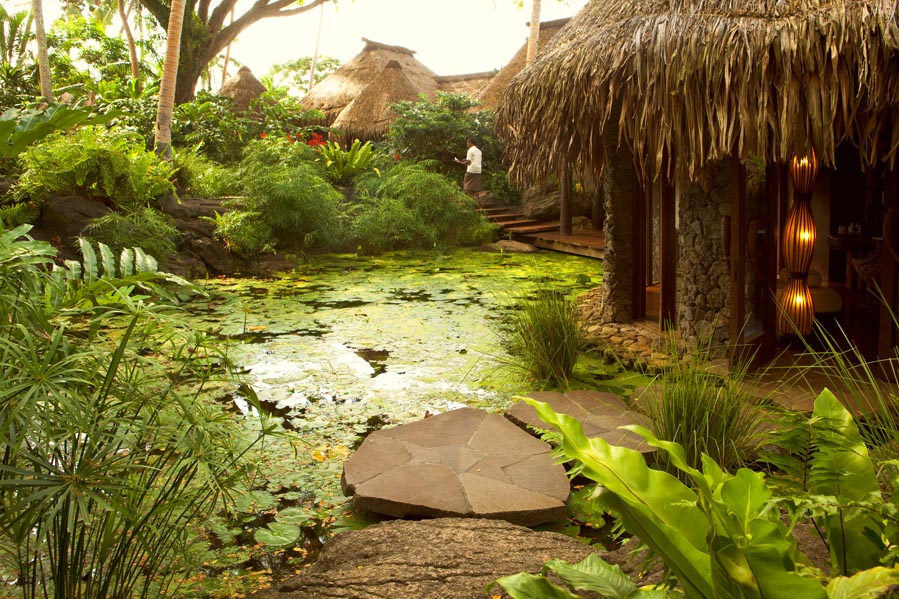 All treatments are performed using natural ingredients, most of them picked up a day before from the Spa Garden.
Guests themselves can pick their own spices, fruit and herb flowers to create their favourite scent or a massage oil.
Every guest on the island receives a wonderful 90 min spa therapy of their choice on a complimentary basis. I tried traditional Fijian massage and slept through most of it. For me – it is a sign of a perfectly performed relaxing treatment.
Next time I'd love to try their hot-and-cold stone therapy and body scrub using volcanic soil from the island.
Dining
Dining is just as wonderful as everything else we have experienced at Laucala.
Our days started from a perfectly set breakfast in our villa's outdoor bale.
'Anything you like' is chef's motto but if you prefer to make absolutely no decisions on holiday breakfast menu has wonderful suggestions like French toast, pancakes, eggs and fresh fruit.
French toast was absolutely amazing, prepared in a way I have never tasted before, served with delicious crunchy coconut flakes on top. Bread basket with freshly baked breads and croissants served with home made jams was my son's favourite together with freshly squeezed watermelon juice.
Beautiful lady who served us never left the villa without brewing me a cup of aromatic espresso and serving me a glass of sparkling water too.
We took more than an hour every day lingering over beautiful food, juices and coffee – having a swim in between bites and taking in the view of the picture perfect beach in front of us.
Breakfast can also be served in the main restaurant but having it in the villa seemed like a more luxurious and relaxing way to start a day.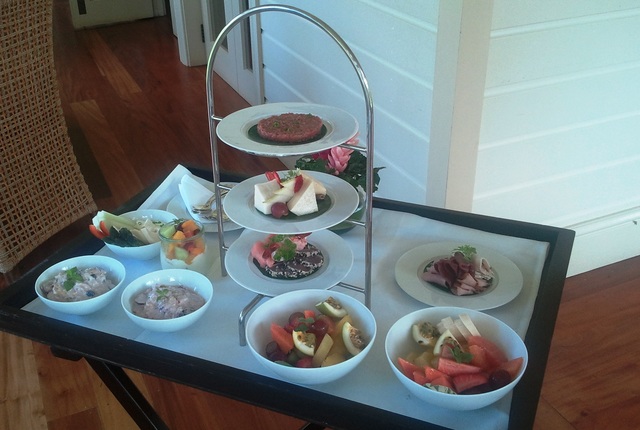 Lunch
Lunch can be served in your villa, by the pool or by the beach. Menus differ slightly in different restaurants but pretty much anything you like can be prepared specially for you. Beautiful fresh salads, burrata and tomato caprese, charutterie plates, fresh seafood served either raw or grilled and many more all available to guests with a glass of freshly opened bottle of French Champagne of choice.
Poolside café was our favourite but all locations are wonderful.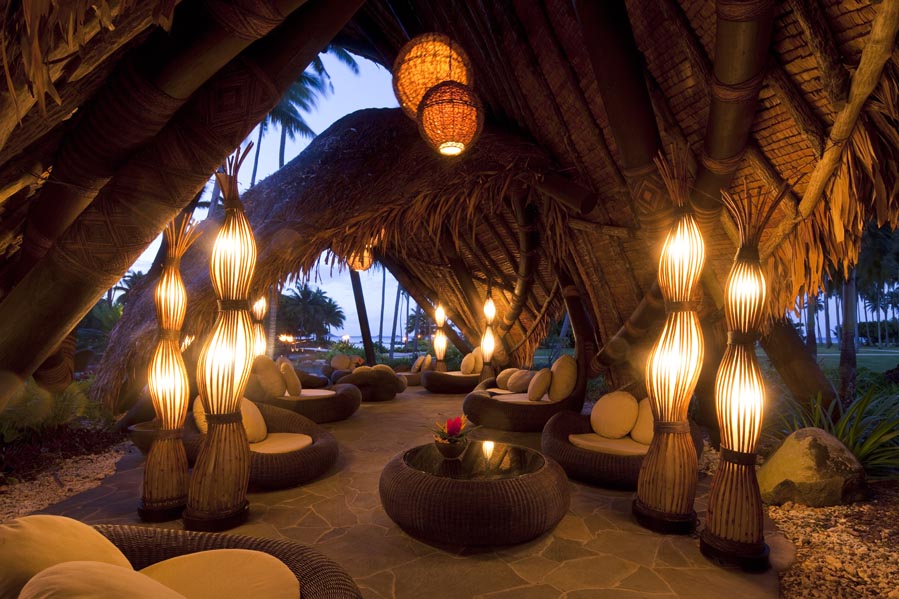 Dinner
For dinner there are more choices again.
Plantation House – an absolute highlight for us, serves a six course degustation menu that changes daily. Gourmet designer cuisine is modern European in style and impeccably arranged on a plate.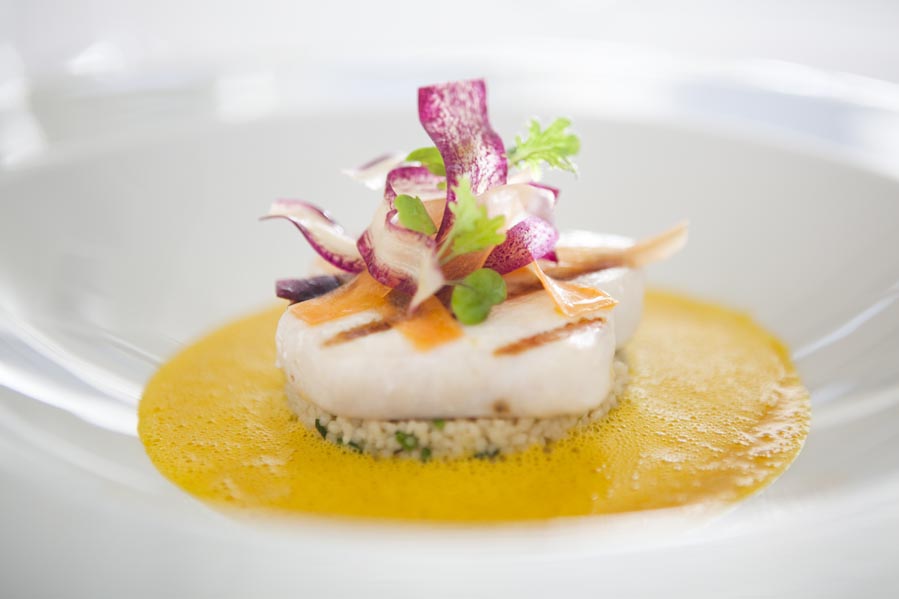 The menu varies depending on what ingredients are available to the chef from the local farm and garden on the day.
Plantation House also has a wonderful wine cellar stocked with premium French champagnes and wines. The largest selection in Fiji.
For al fresco Asian experience we tried Seagrass Lounge.
It is located on a cliff, high above the Coral Sea with sensational views of the turquoise lagoon in front of you.
Restaurant combines a wonderful setting with excellent modern Asian cousine. Lobster is ever-present on all Laucala's menus and we tried it in many varieties. I don't know how they cook them but even the lobsters at Laucala are extra soft and sweet. Fantastic!
Seagrass also offers Teppaniyaki experience in a private cliffside setting. Watch the sunset while your private chef prepares meats, seafood or vegetable you have chosen for your gourmet dinner.
For especially romantic dining Laucala offers its guests 'Dining By Design' – private dinner set either amongst the jungle forest (for an exotic twist), on a private beach or on a jetty.
We hear a few proposals were made on the island and not surprisingly everyone had said 'Yes'.
The Lux Traveller Loves
I haven't personally seen yet all the seven star resorts in the world but I am convinced that Laucala is a one of the top 5 in the world. It just has to be!
You fly in on a privat jet like royalty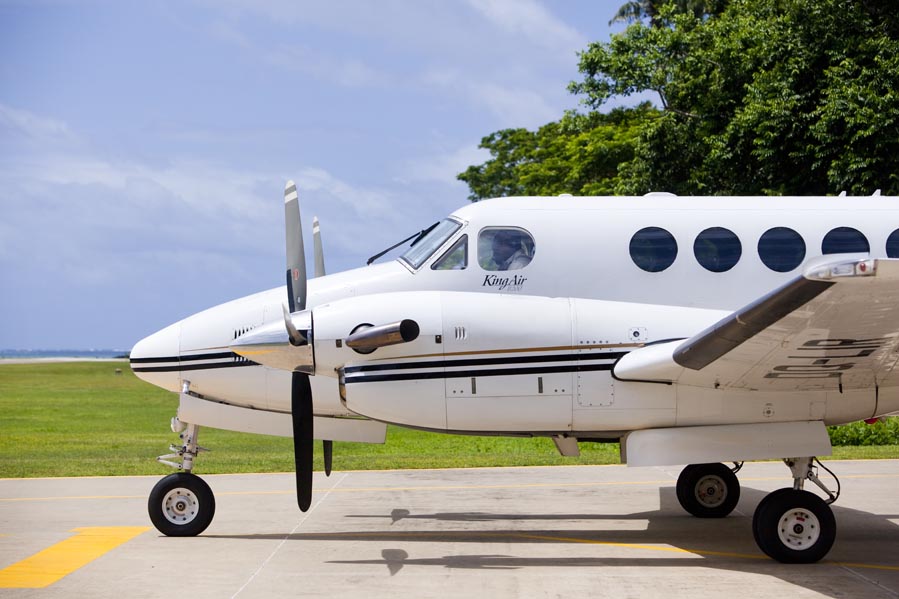 You stay in 300-600 square meter stunning villa on your own private beach
Every activity you can think of is not only available but included in your rate
Submarine rides? Really. Yes please!
When you just thought of a glass of French champagne it is already being poured for you.
The minute you think of a glass of champagne you hear a bottle pop and a ice cold glass is in front of you within a minute
Exceptional food all day long in a setting you desire
Boats galore to choose from. Do we go on a luxury cruiser today for a day of relaxation and romance or go on a sexy speed boat for a trip around the and nearby islands?! Pink costume or blue today? These are the only decisions I had to make during my stay on the island!
Splitting Hairs
Things do take a little longer sometimes but seeing that everyone (especially guests) are on Fiji time it totally doesn't matter.
Amazing Facts
Celebrity Owner – Dietrich Mateschitz, owner of Red Bull and Formula 1 team
Price to buy and develop the island – USD $40mln
Getting to the resort – Only by private jet
Island size – 3000 acres yet only 25 villas
Price per night – from USD $5,000
Staff per villa ratio – 16 staff per villa
Inclusions – all food and drinks, water sports, boating, spa treatments, baby-sitting, nanny service, golf, tennis, yoga, submarine rides
All In All
Exceptional, Amazing, Unique, Seven Star Island Resort! A Must visit for any self respecting millionaire (joking) – world explorer and Lux Traveller.
Thumbs Up!