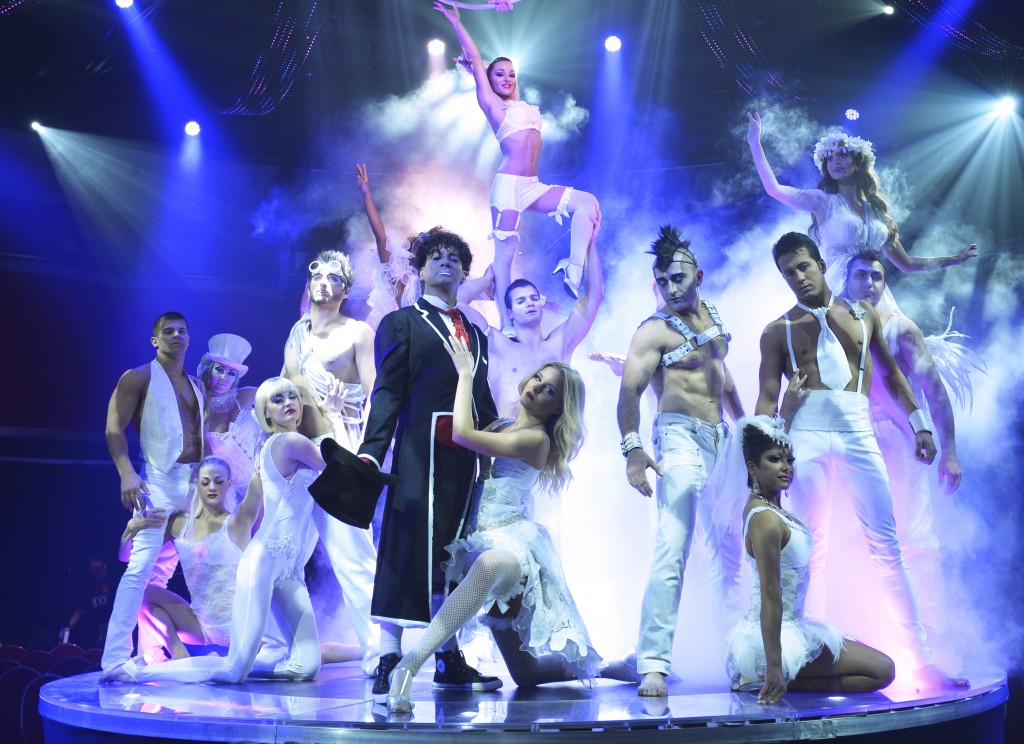 Le Noir is a fantastic production that incorporates burlesque dancers, funny clown interactions and outstanding gymnasts, performing one thrilling act after the other. The show is currently performed at the Sydney Lyric Theatre but not for much longer, so hurry to book your tickets.
The show consists of two parts, 45 action packed minutes each. I have to say that Le Noir is not for young children or faint hearted – the costumes consist mostly of sexy lingerie, couple acts are full of passion and intimacy. However, for everyone else, it is certainly a feast for the eyes.
Show director Neil Dorward has divided the acts into 3 chapters – White, Red and Black – each more risqué than the previous one, hence the name – the other side of darkness. Cheeky!
White chapter starts from a beautiful solo act performed by gracious and elegant female gymnast which is followed by a romatic duet on silks. Russian couple Vadym and Daria have been performing together for 5 years and they paint a beautiful picture of love and serenity through this hard to follow act.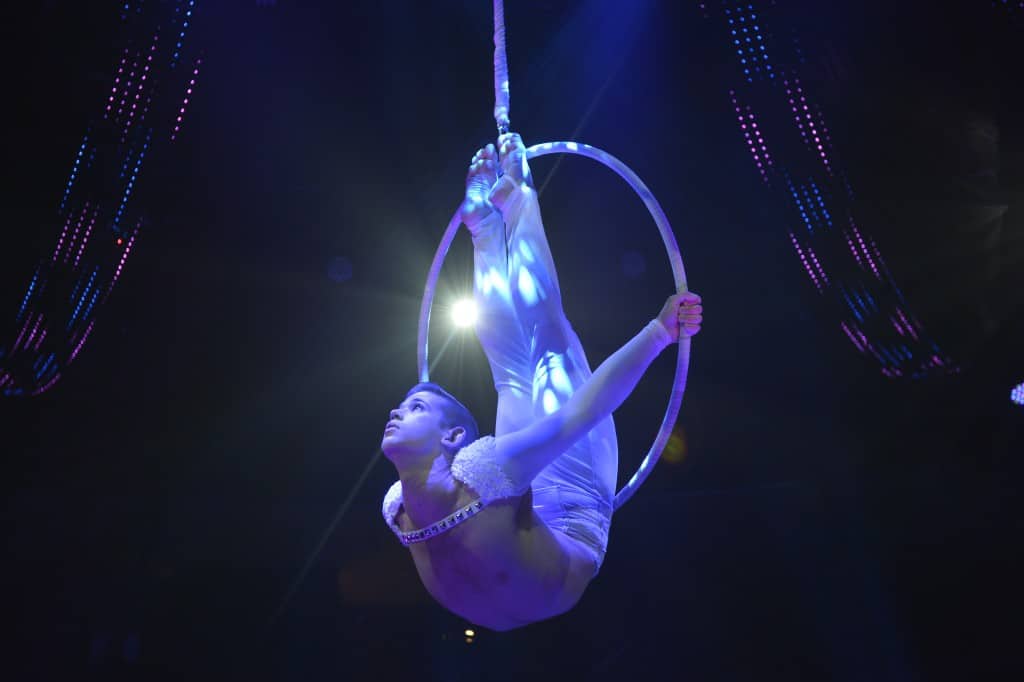 However, what comes next takes your breath away – an ultra dangerous roller skate duet -they spin on 1.5m stage at unbelievably fast speed with the female being attached to her partner only by a face strap (sounds a little odd but you have to see it to believe it).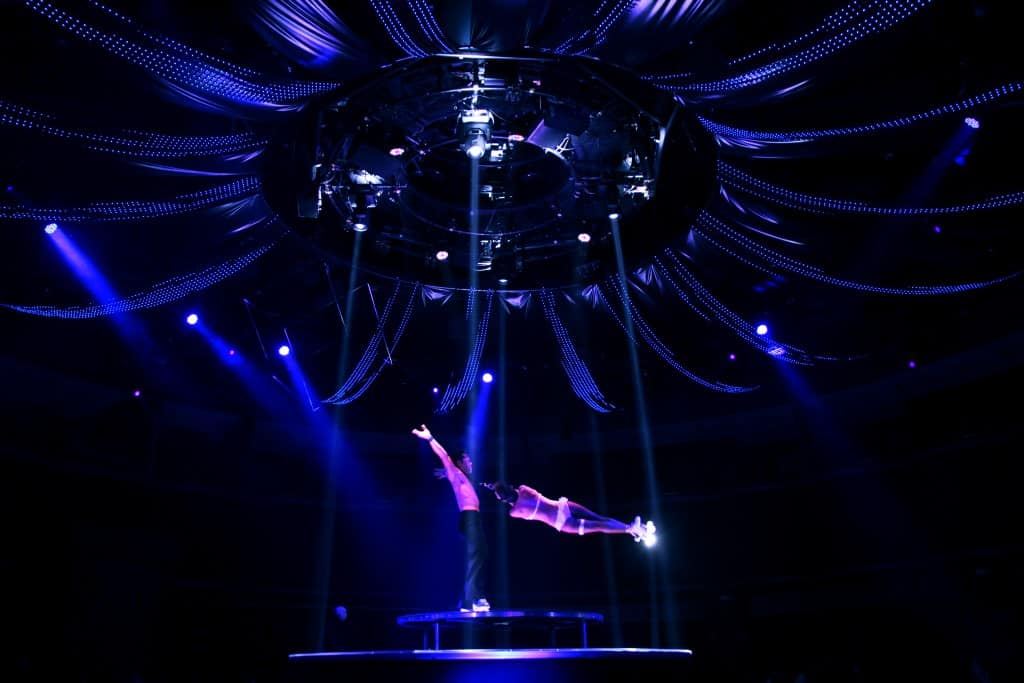 Second half of the show is no less dramatic and has one sensational act after the other – another romantic duet that represents a combination of acrobatics and dance, a balancing act and a famous wheel of death to name just a few.
What I love about the show is that acts are very quickly followed by one another without long and somewhat boring breaks that Cirque De Soleil seems to have in their shows. It is very compact, yet intense and visually stunning. Many acts will make you hold your breath, the clown will make you laugh and the acrobats will leave you in awe of their grace, strength and flexibility.
Many of the performers in Le Noir come from Cirque Du Soleil and their ultra professional training shows throughout the performance. Duet couples have been with each other for years and spectators can feel their deep connection and affection for each other.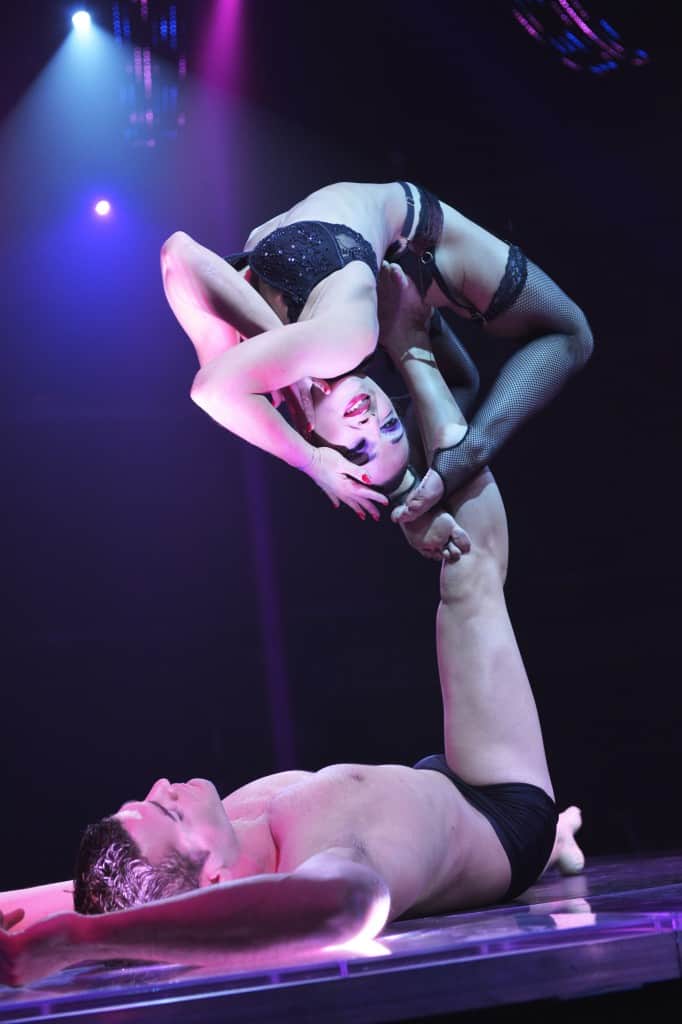 We also love the intimate setting for the show at the Lyric theatre. The stage is a 2m circle with the best seats in the house being right on the stage. First row is a meter away from the performers – you can almost touch them – they are so close to you and the view of course is unbelievable.
The Lux Traveller verdict – Le Noir is a wonderfully produced (if a little too burlesque for a circus production) and professionally performed show that will keep you on edge of your seats for nearly 2 hours. Especially thrilling acts – Wheel Of Death & Roller blade duet. Le Noir is a must see show this season!
Tour dates
25th of March -5th of April – Sydney
9-18th of April – Melbourne
To Book Your Tickets please go to: http://www.ticketmaster.com.au/Le-Noir-the-Dark-Side-tickets/artist/1985780
Tickets for stage table seating are $150 pp (best seats in the theatre), followed by premium stage tickets at $110 pp.
As a weekend idea, why not combine Le Noir with a romantic stay at The Darling Hotel (located next door) and a dinner at The Black.