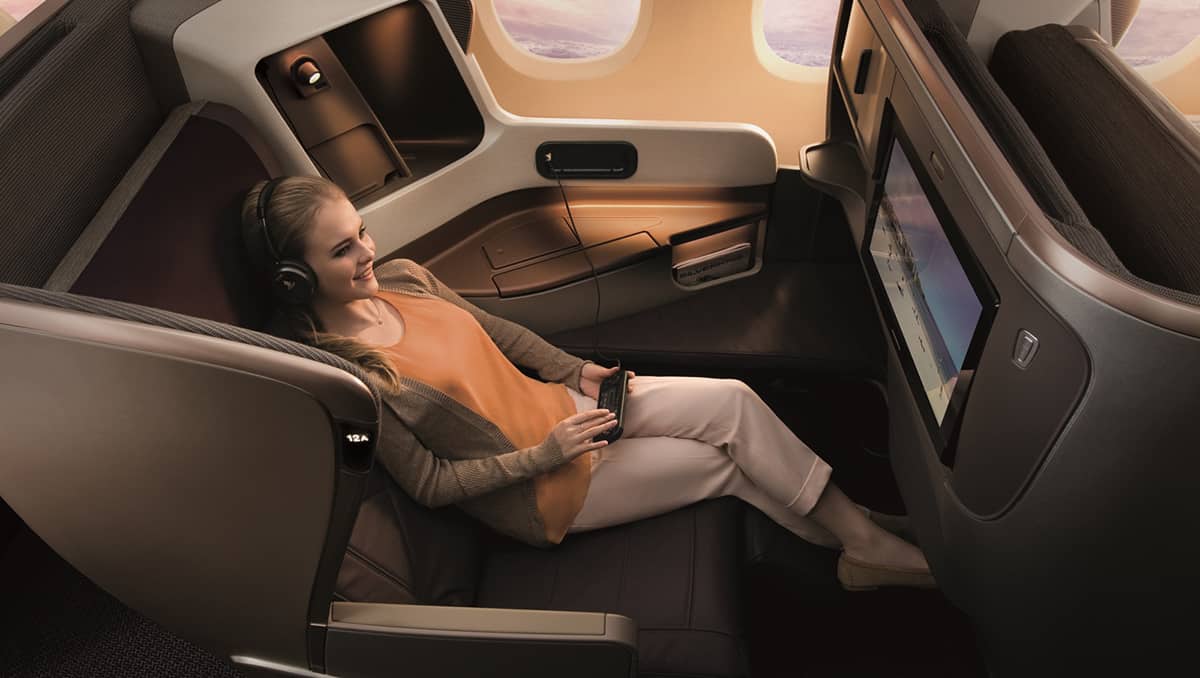 This is a review of the Singapore Airlines Flight SQ 222, Sydney-Singapore on Boeing 777-300ER. Price of the return flight AUD $6,111.00
First Class experience is always fantastic, no matter what airline you have chosen for you long haul flight. However some airlines do luxury better than others. Here is a review of our experience on Singapore Airlines flight, Sydney-Singapore SQ 222.
Arrival and Check-in
Singapore Airlines doesn't offer its guests a complimentary transfer which is a little disappointing. Most airlines we flew First Class with offer a door to door limousine service.
Check-in at the First Class counter is smooth and quick. No line whatsoever and a very friendly and accommodating staff. On check-in I was provided with a customs form and an Express pass.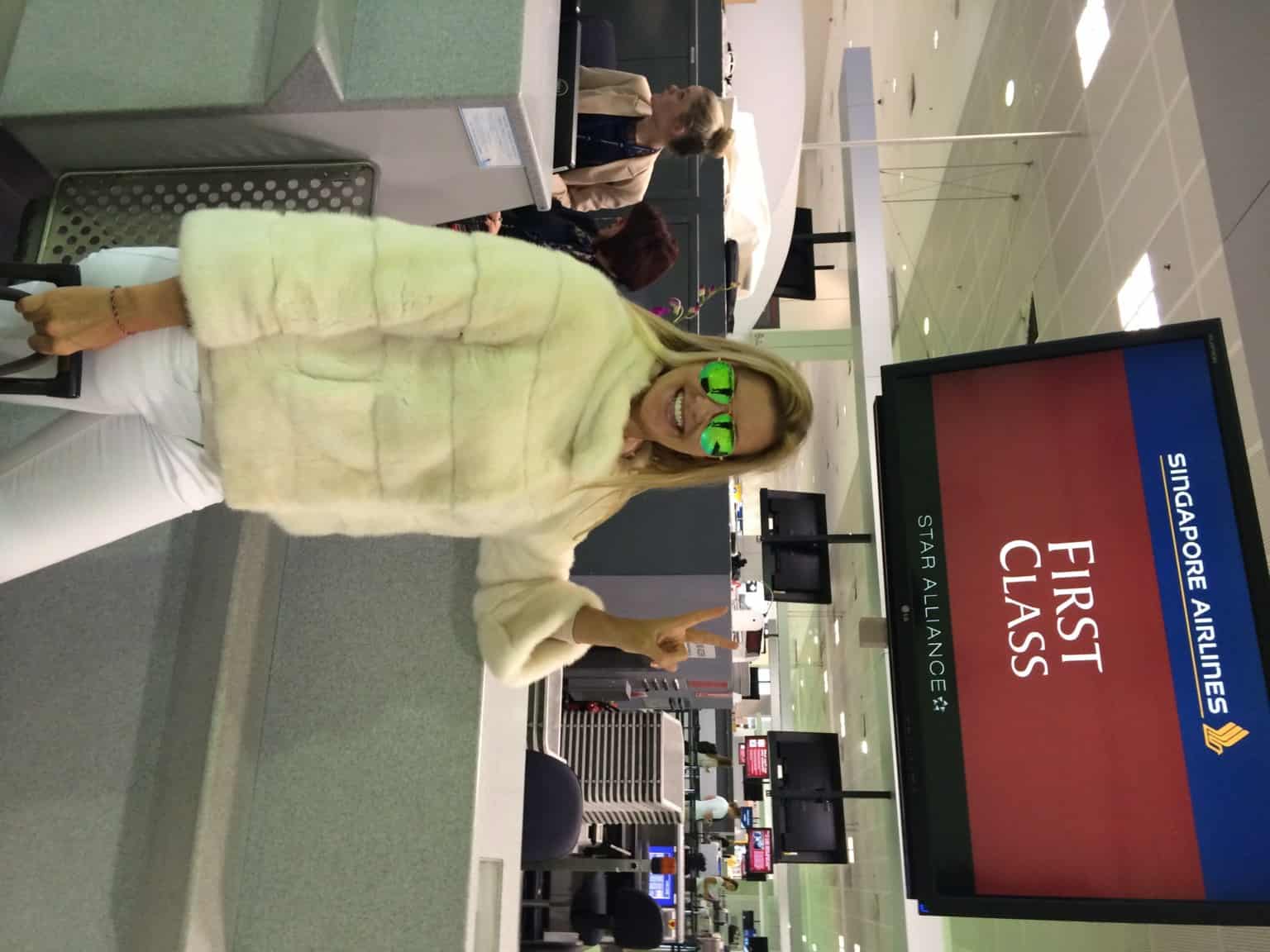 Lounge in Sydney International
Singapore Airlines has a small lounge in Sydney International airport. One half is for Business Class travellers and a separate 'hidden' section for First Class passengers.
Lounge can accommodate comfortably up to 7 groups and 10 single travellers. It has a number of inviting tables for two or single 'suite like' work stations for those wanting to catch up on business while waiting for their flight.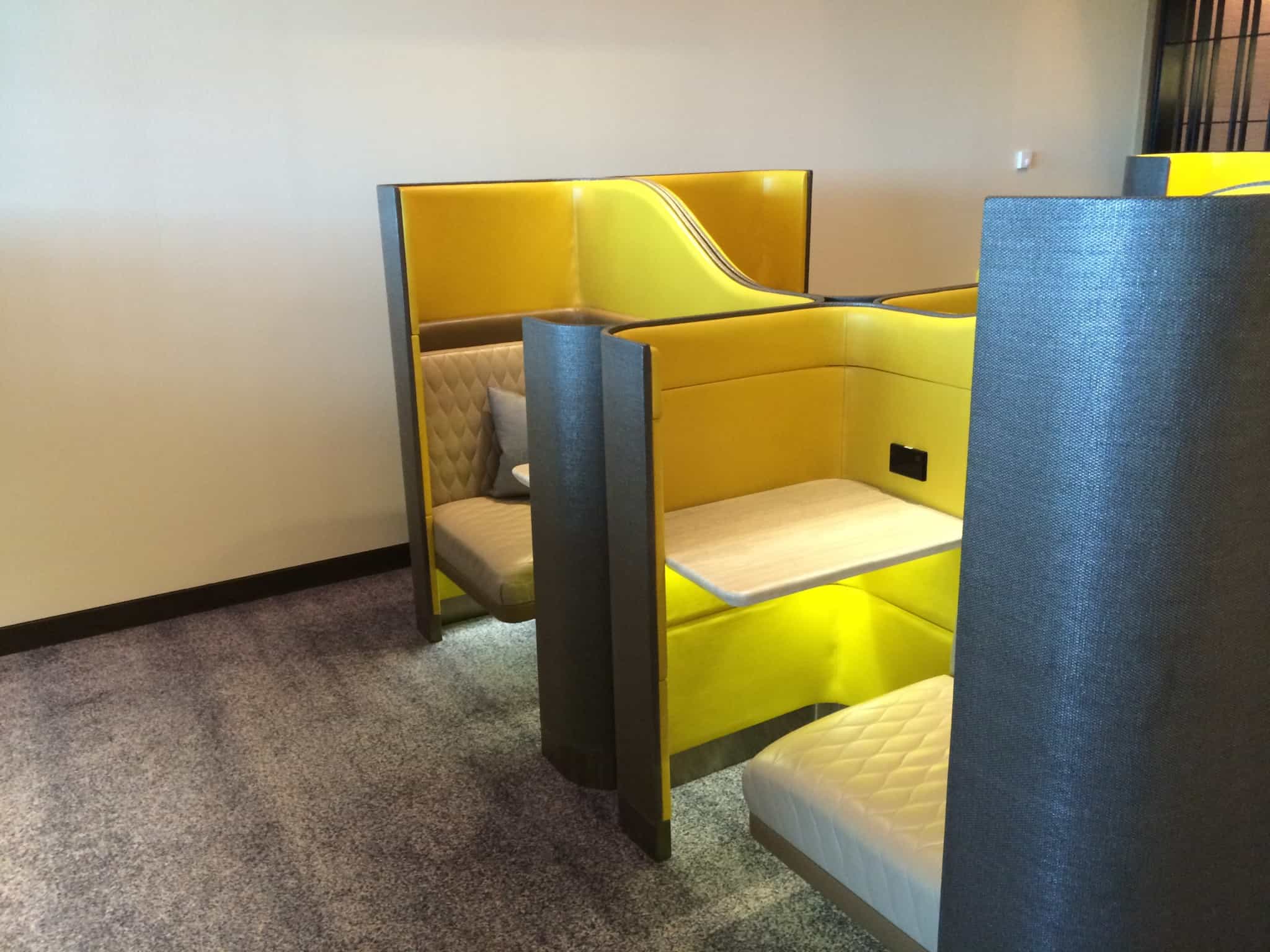 The lounge serves a selection of premium Australian wines and Moet Chandon champagne. Food wise, there is a small buffet with a couple of hot Asian dishes, fruit, cheese, smoked salmon or a few a la carte options like duck pancakes and prawn laksa.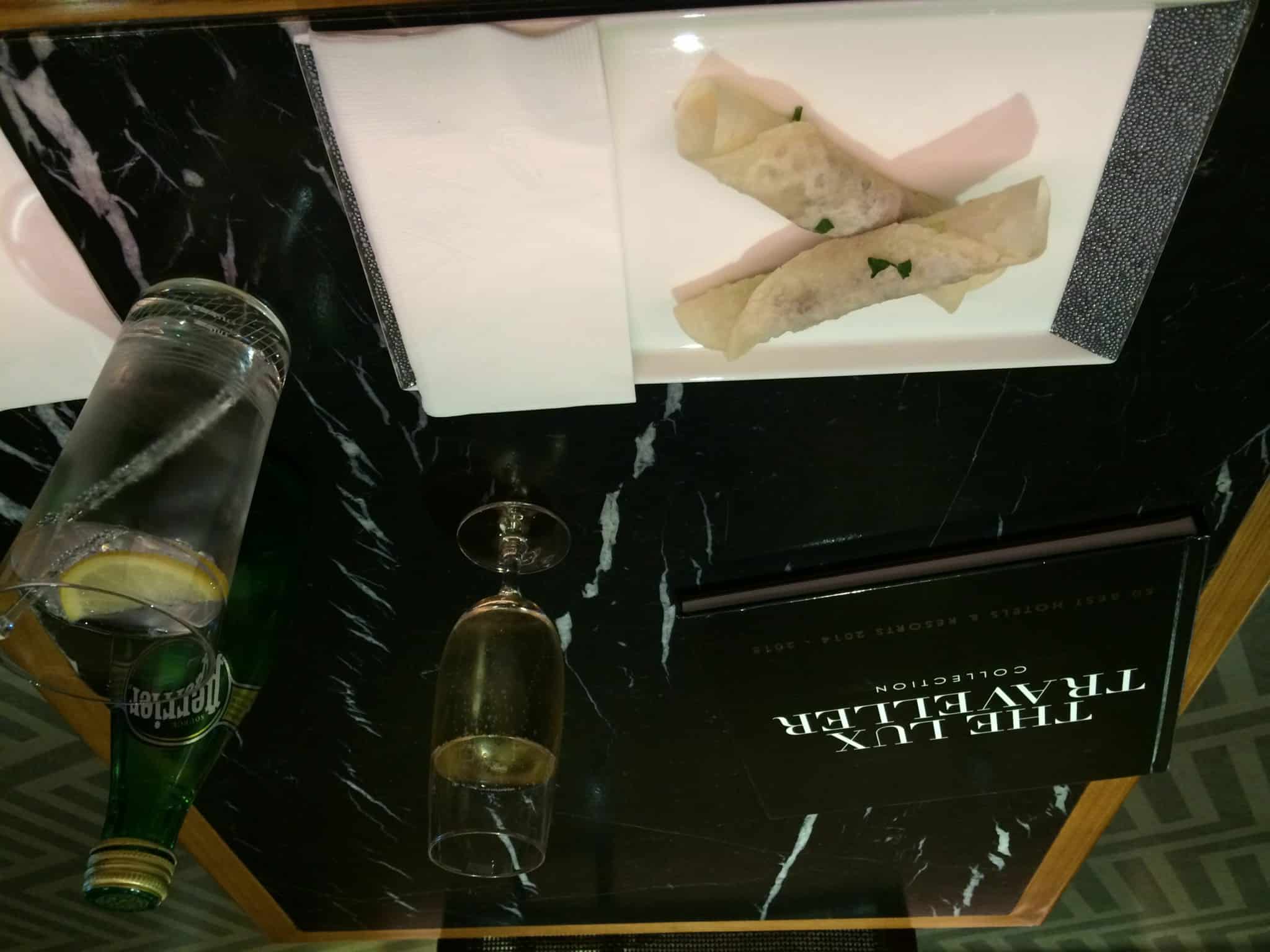 Food menu is a little limited.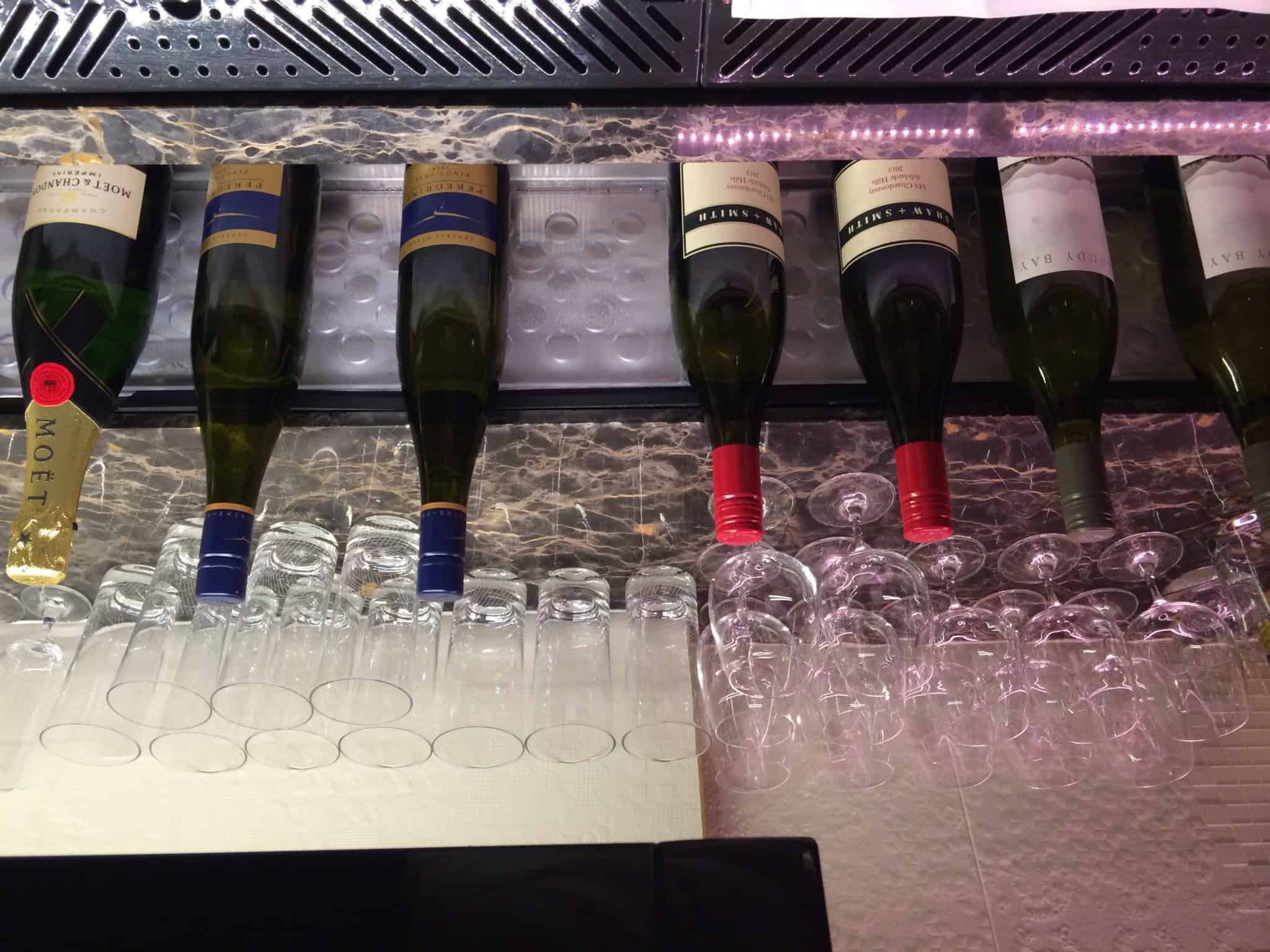 Cabin
First class cabin on SQ 222 has only 8 seats – it feels very exclusive and even though you are not in suites the experience is worth while.
Seat configuration is 1-2-1. I had a single seat, 2F perfect for those travelling by themselves, while middle seats are great for couples. I had a sensational view of the clouds and plenty of storage space for the bags.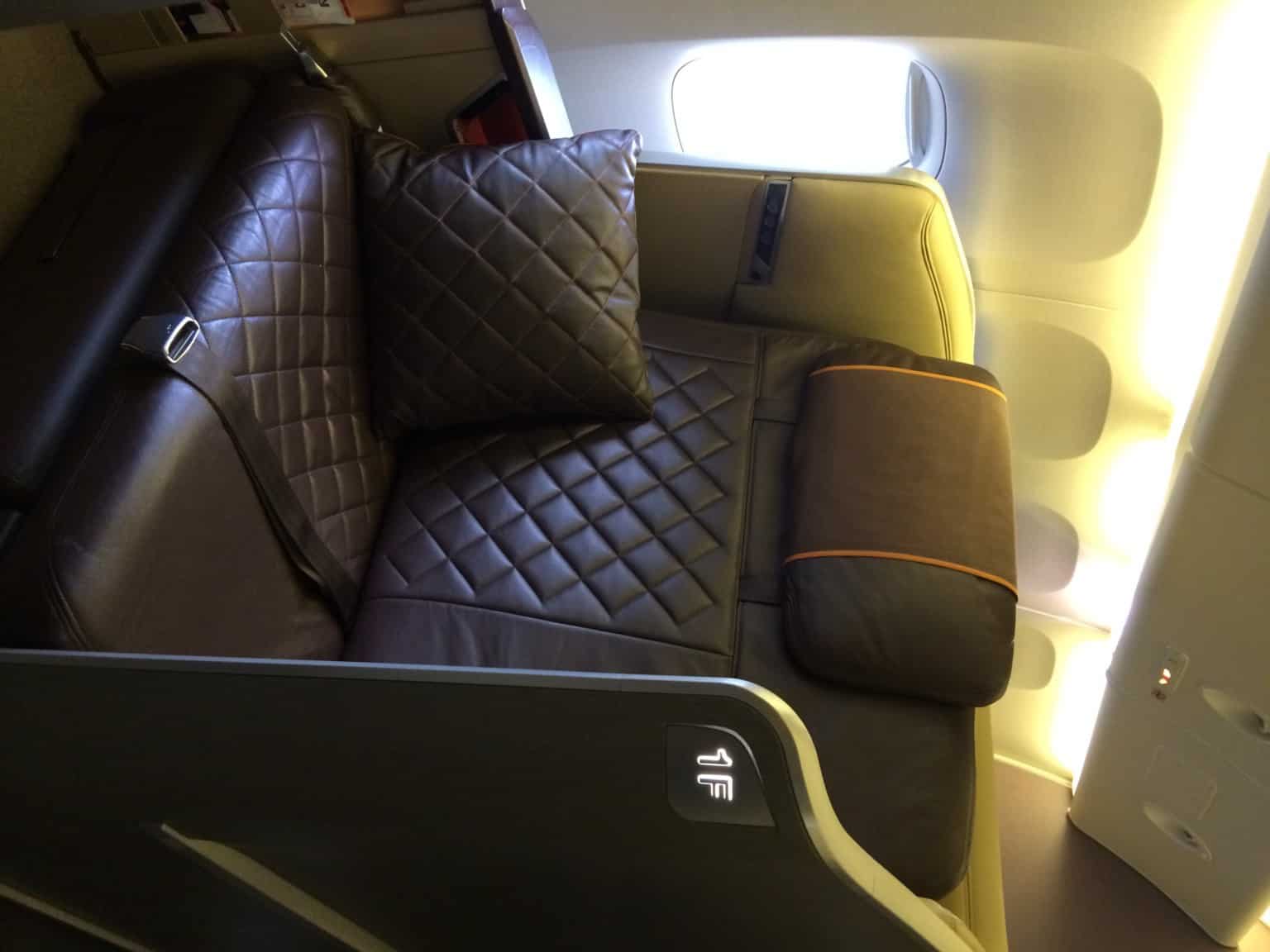 Unique feature of this cabin – there are no overhead lockers. I was so happy to finally find a plane cabin where I don't have to put heavy onboard luggage high above my head and worry that at some point during turbulence it could fall our on my head.
Seat
Huge seats are upholstered in dark chocolate leather and are complimented by interiors in beige leather, multiple storage areas and a large TV. For night time seat converts into a fully flat oversized bed that comes with a mattress, big soft pillows and comfy doona.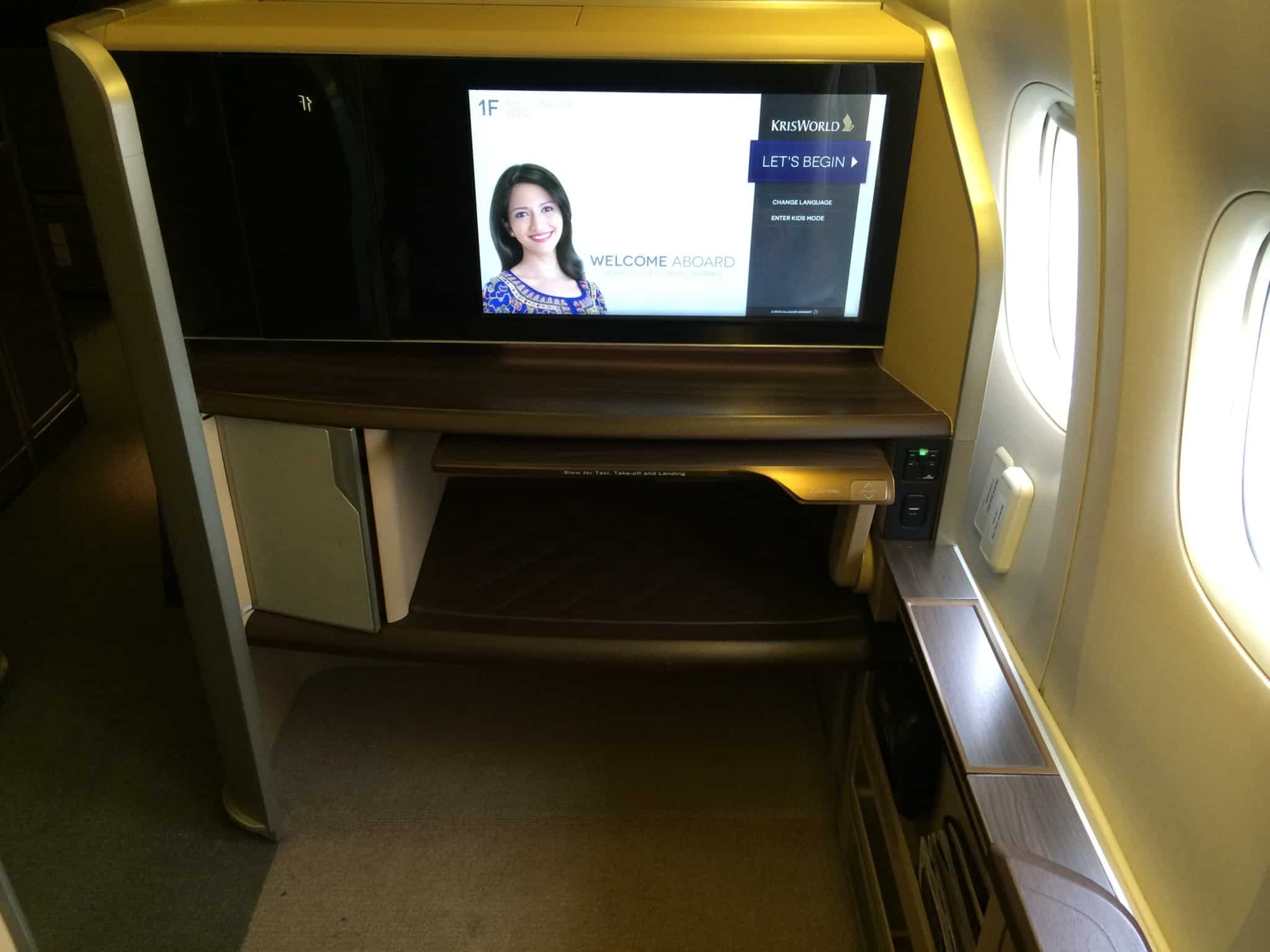 Working on the flight
Dining table comes out from the shelf under the TV – a welcome change from having to pull it out of the armrest. The table is very stable for those using it for their laptop.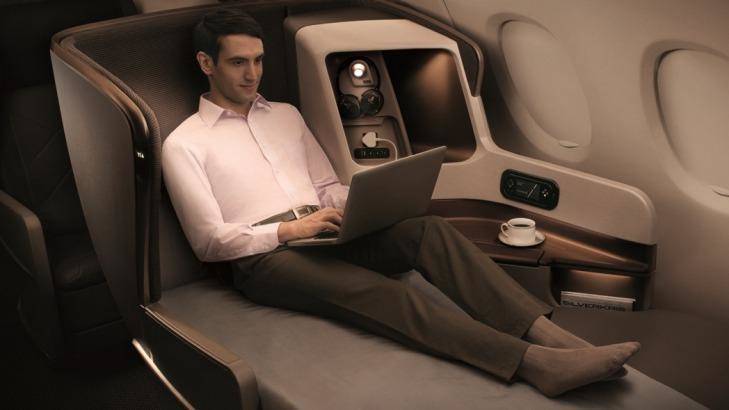 If you would like to charge your electronic devices during the flight there are multiple chargers in the seat – international plug and a USB port. You can also purchase wifi onboard if you'd like to stay connected to the outside world.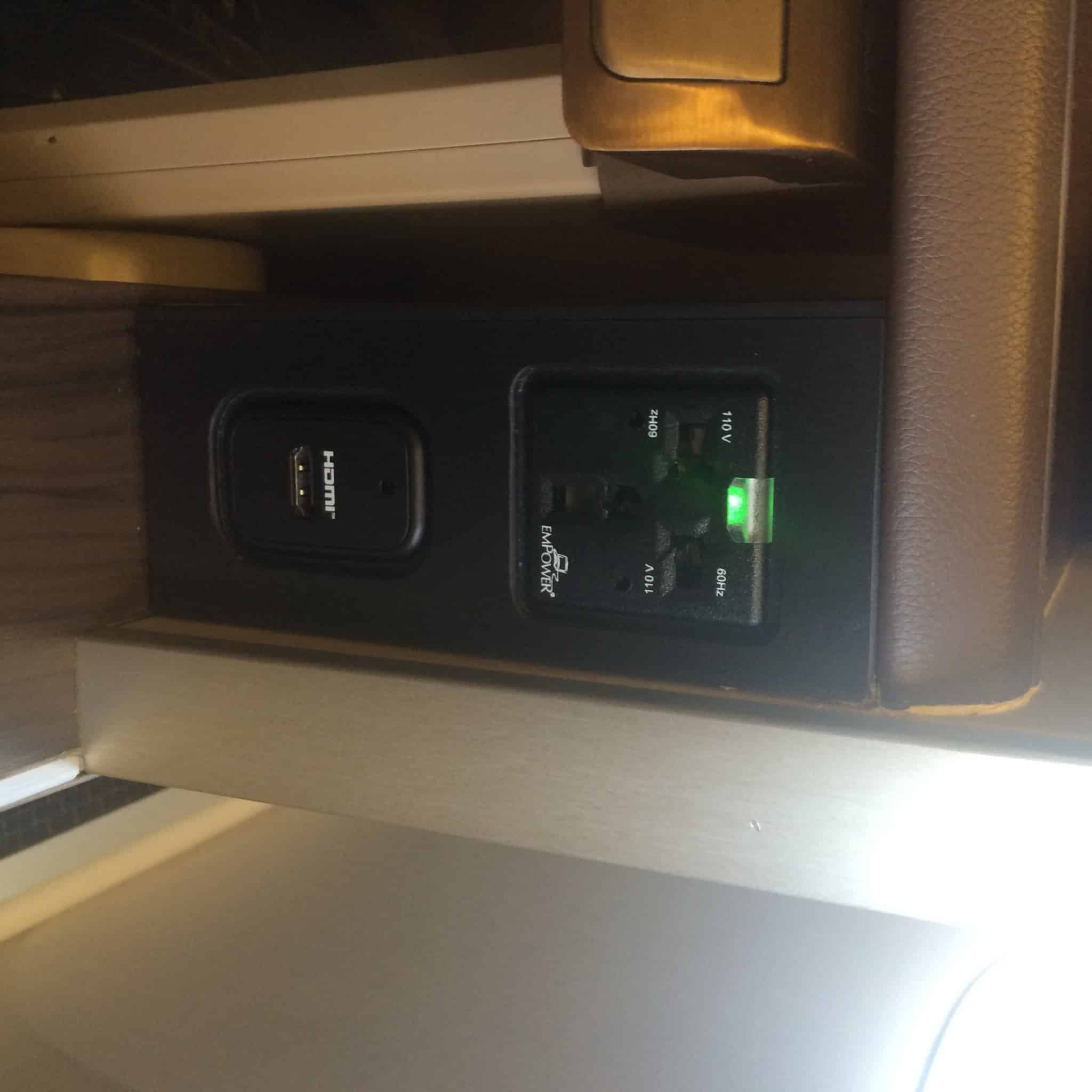 Dining
First Class menu is designed by Matt Moran, acclaimed Australian chef who runs Aria restaurants in Australia.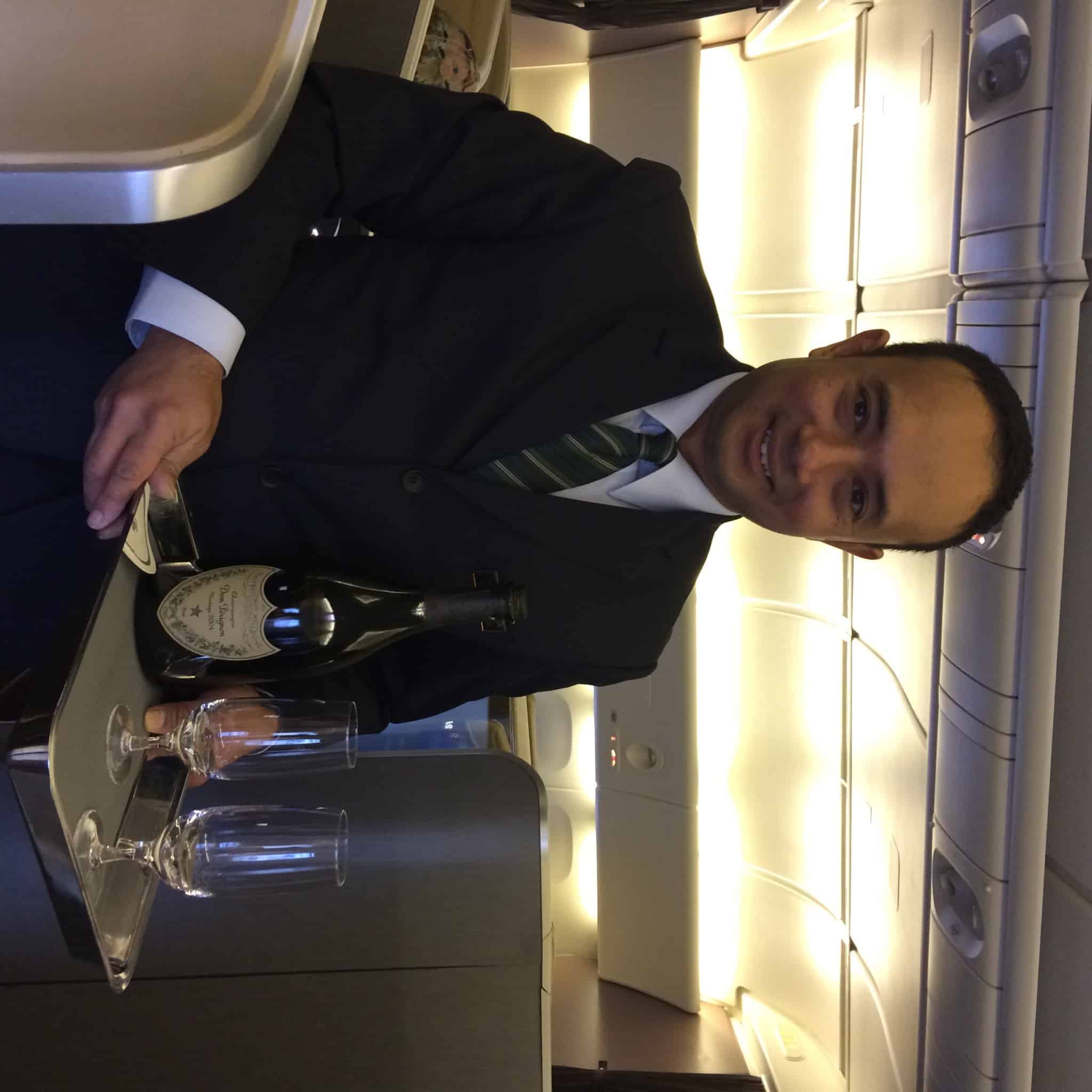 The flight starts from a pre take off drink, swiftly offered to all First and Business Class passengers. In Business Class you are offered Tattinger while in First Class you'll be spoilt by Dom Perignon vintage or Krug. I love Dom Perigean, so I started with a glass of this beautifully light champagne.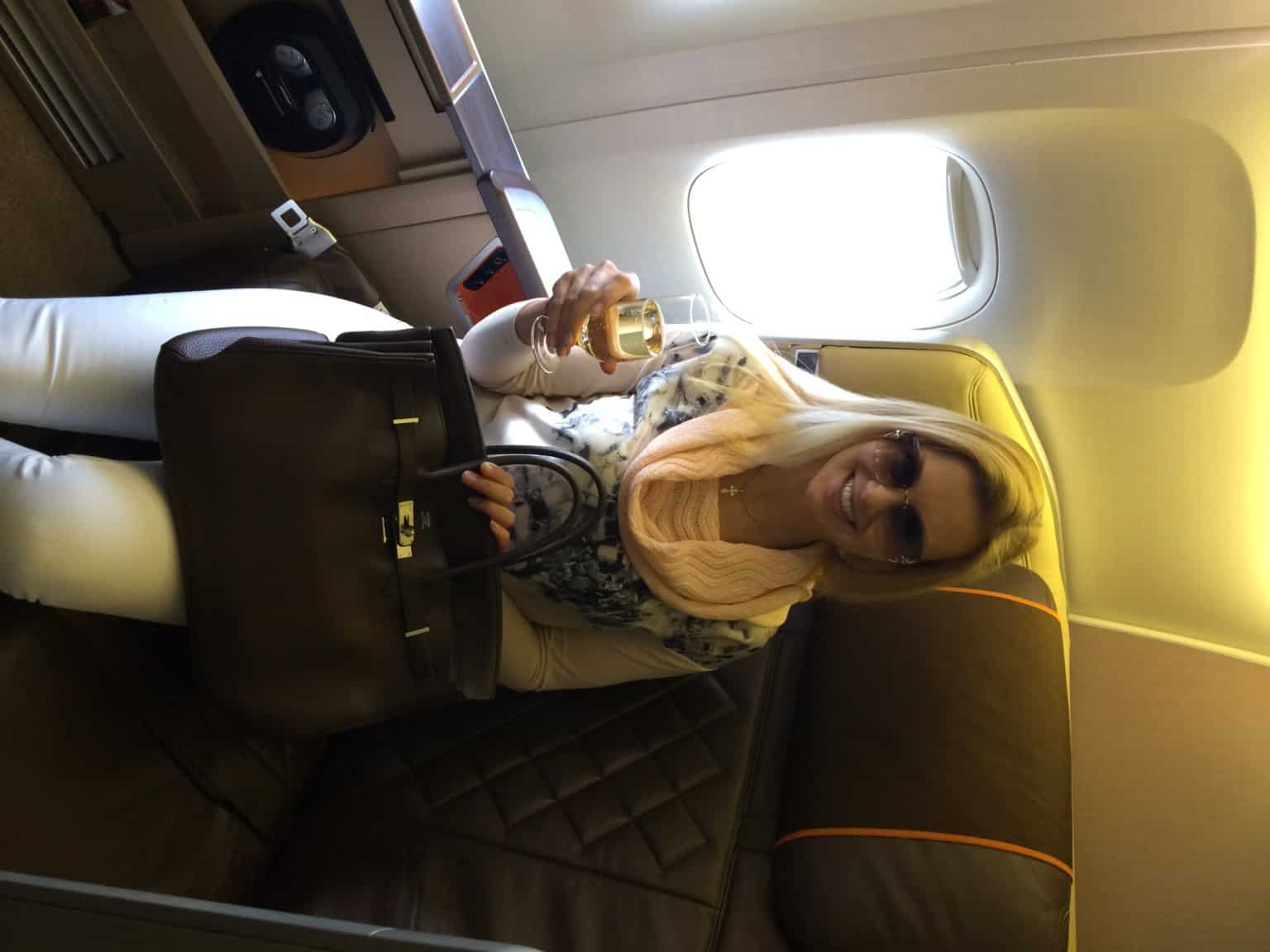 After take off and once the seat belt lights go out you'll be offered another drink of choice with a side of nuts (cashews and macadamias).
After that, the menu comes out and 'surprise –surprise' black caviar (my favourite!) is on the menu! Yay! I am ordering a double portion of that!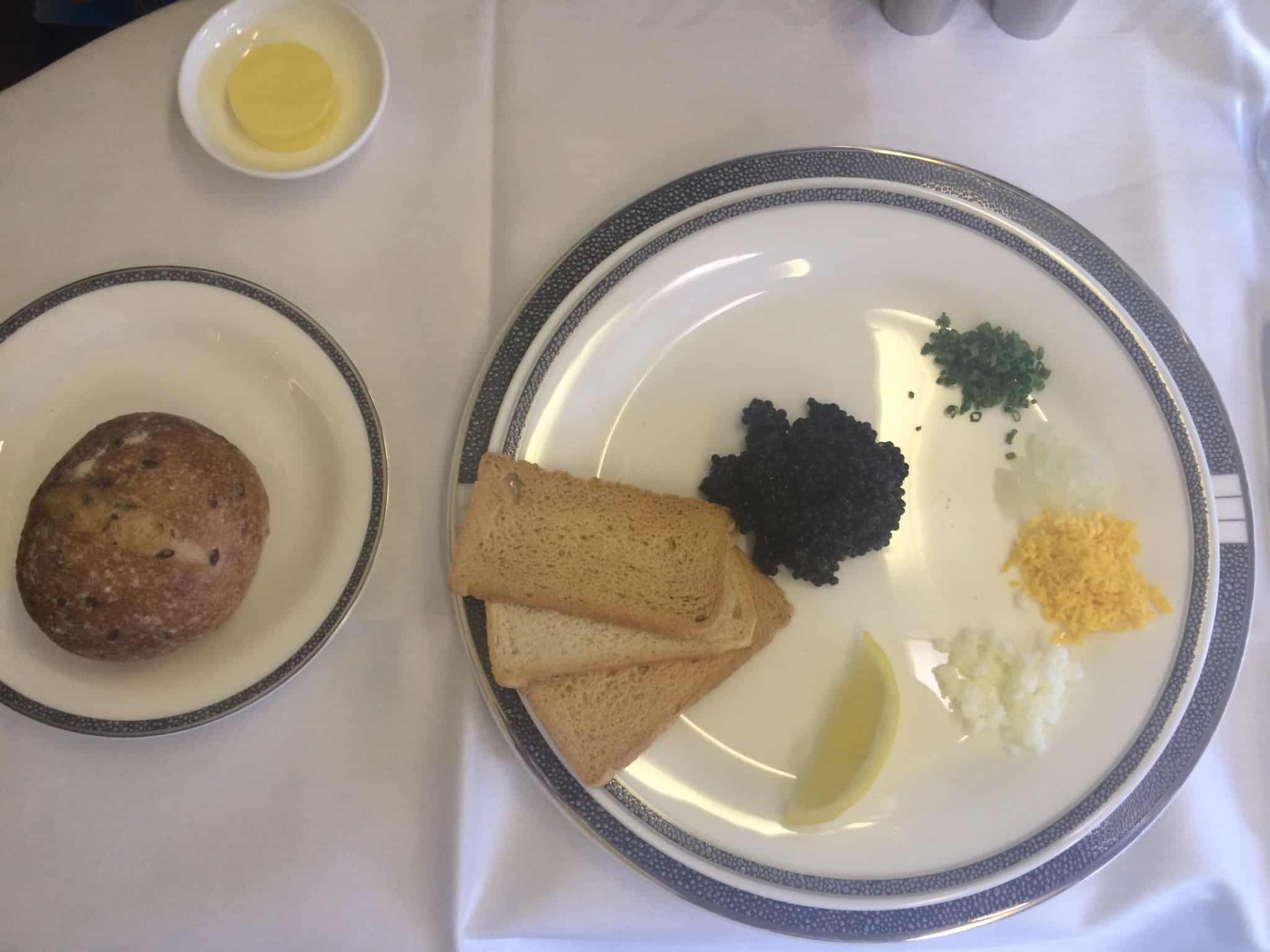 Caviar is followed by mushroom soup, salad and lamb for me. Mushroom soup is recommended by the chef as well as the lamb. Interestingly enough, when I asked the staff If they tried either dish – they haven't. I think it's a faux par by the airlines – staff should be familiar with all the dishes they serve.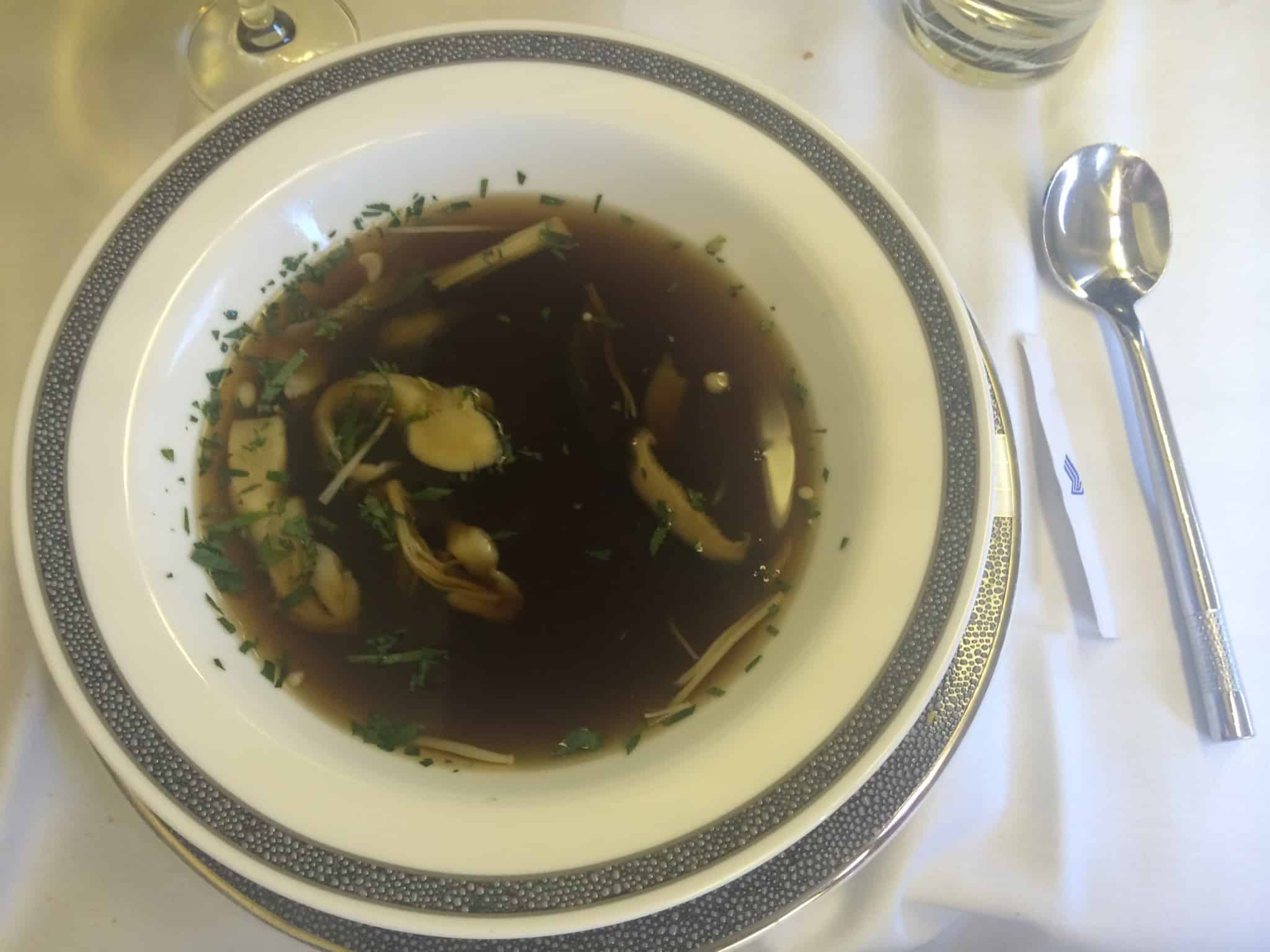 However both dishes delightful and I was very happy with both choices.
Entertainment
I love the large TVs in the new First Class seats and Singapore Airlines are famous for their excellent entertainment system. There are plenty of new release movies for both adults and children, a selection of Asian and European films as well as Hollywood classics. No matter what your taste is – you won't be bored.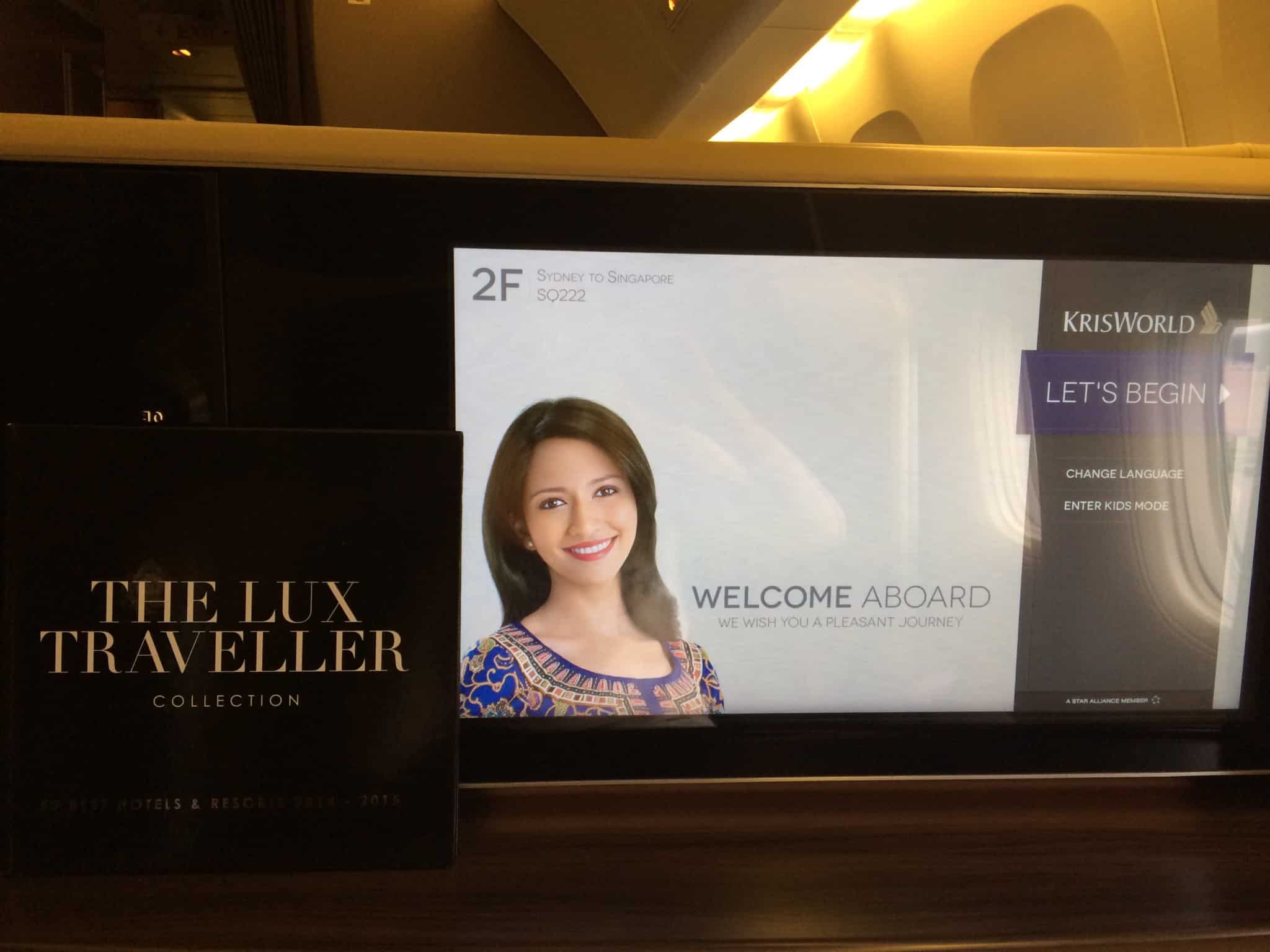 The Lux Traveller Loves
Impeccable Service
Dom Perignon and caviar
In seat storage
Ultra comfortable bed perfect for long haul
Exclusive atmosphere
Splitting Hairs
Limousine service would be a great addition to the already outstanding experience.
All In All
The flight was so comfortable that 7.5 hours have just flown by. It's rare that you come off the long haul flight refreshed but this was certainly the case with me. Can't wait to hop on my next First Class flight with Singapore Airlines. Thumbs up!