the lux score
93
the lux score explained
Service 9
Rooms 8
Food & Beverage 8
Ambience 9
Attention to Detail 10
Generosity & Value 10
Wow / Hip Factor 9
Facilities 10
Location 10
Fit to Promise 10
The Chedi Club is a little gem amongst the rice paddies of Ubud. I am so pleased I discovered it on this trip. It would be difficult to find a more serene setting for ultimate relaxation and romance in Bali.
A little about Ubud – it is one and a half hours away from the airport, in the luscious green hills in the middle of the island. There are two rivers running through Ubud and white water rafting is one of the favourite activities for visitors here. Many of the resorts sit on the river's edge while The Chedi is a little different, it is set up amongst the rice paddies on flat land and it feels more like someone's private estate rather than a hotel. At The Chedi I feel at home.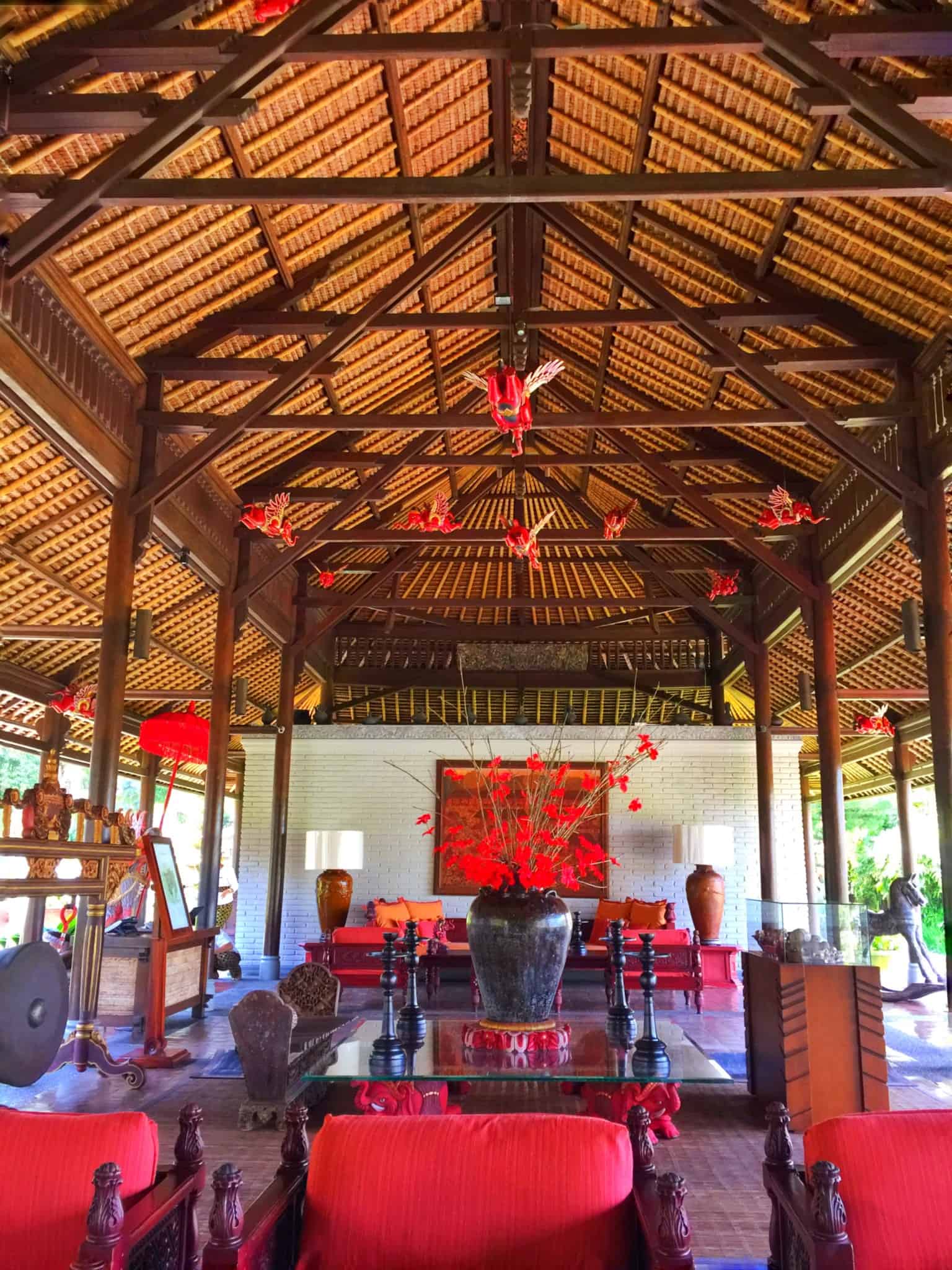 Villas
There are only 20 villas at The Chedi so at any given moment there are no more than 20 couples at the resort. Every couple has a dedicated butler who attends to their every wish with a big smile on his face. Our butler has organized our itinerary, booked transportation, spa and restaurants. He also managed our laundry, made sure the villa is perfectly clean, that we don't forget about the afternoon tea or cocktail hour, he even took us out for a walk through the local village and the rice paddies. It is a very personal and attentive service.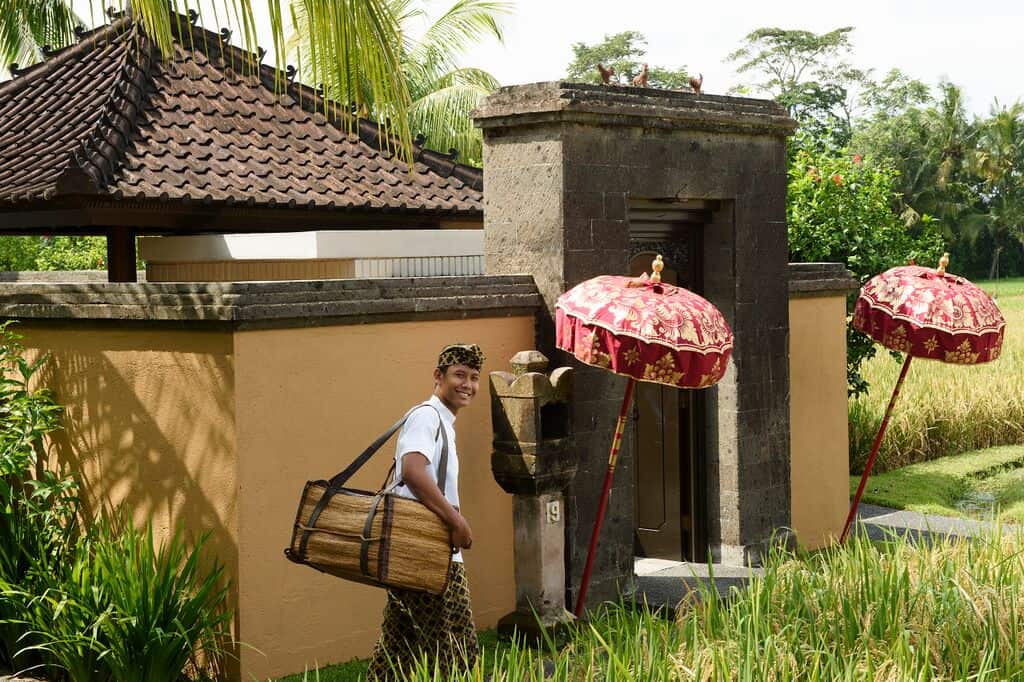 We stayed in a gorgeous honeymoon villa with a patio and private pool facing directly onto the rice paddies. A huge wood carved Balinese bed with crispy white sheets was very comfortable, dual vanities much appreciated and an outdoor double bath was a wonderful treat.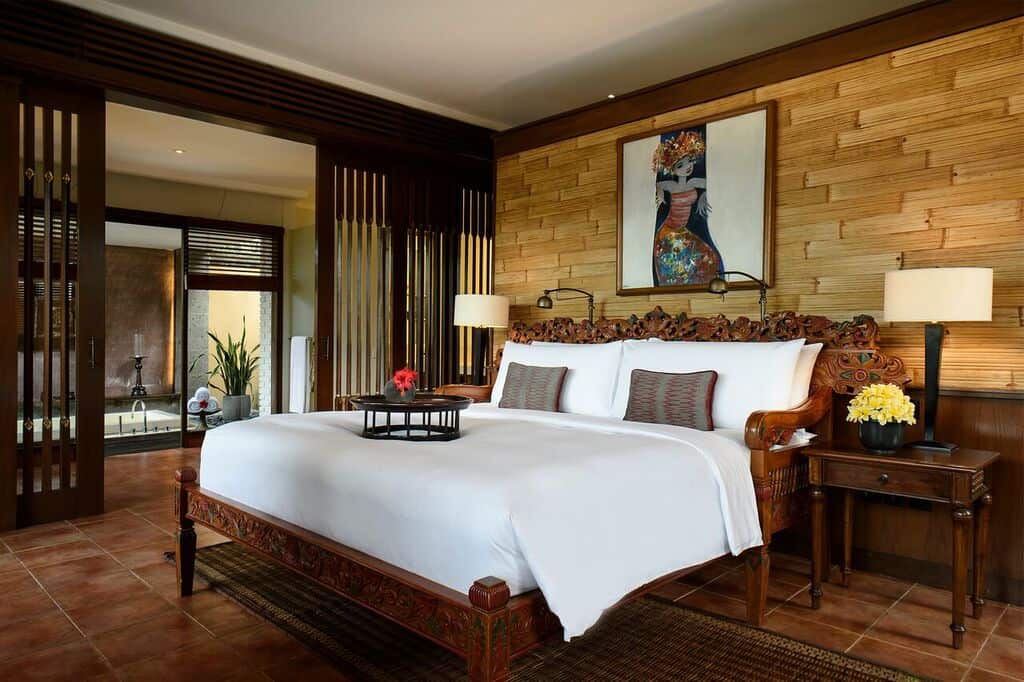 Relax on your outdoor day bed, have a nudie swim in the pool or indulge in a romantic outdoor bath for two – this villa is perfect for romance!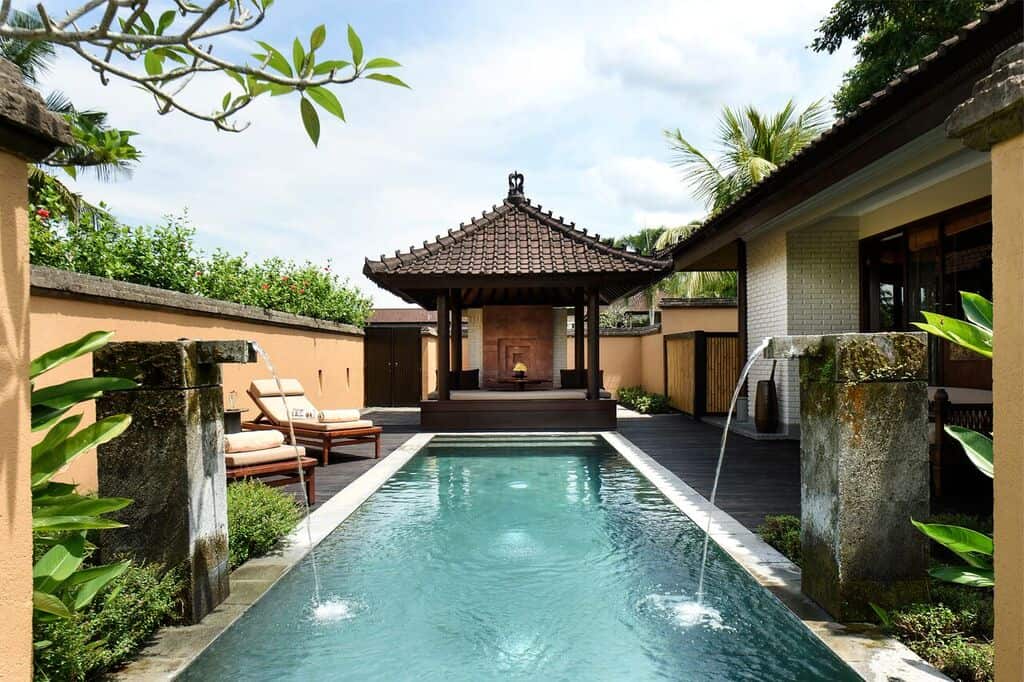 A typical day at The Chedi Club
Wake up with to the sound of birds singing and little animals' noises just outside your window. Start the morning with a daily yoga at the open air bale set amongst the luscious greenery and lily ponds.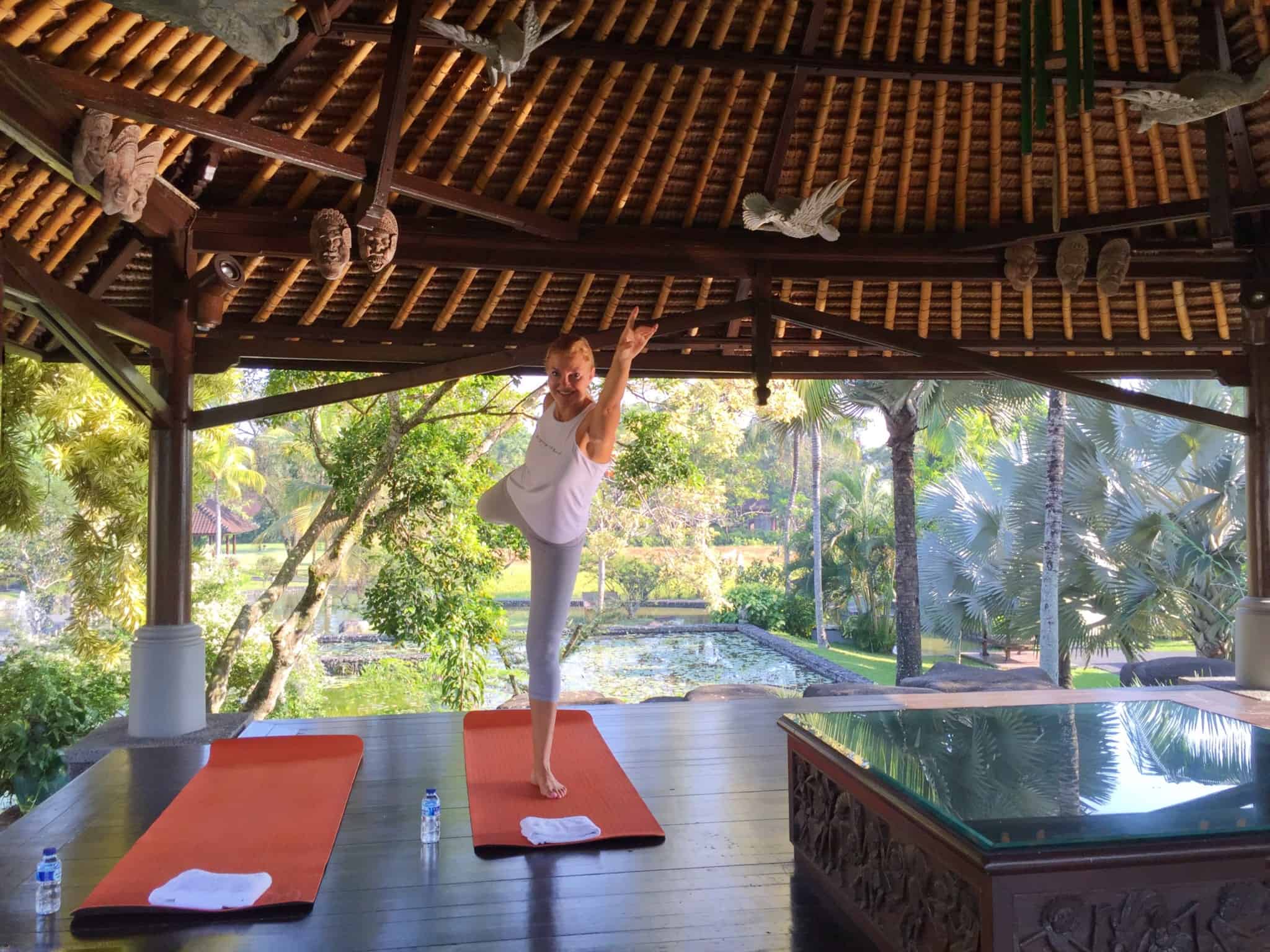 Indulge in nature and serenity – I spotted a squirrel on a tree next to us and had a dragonfly land on my lap during mediation. Once the class is over enjoy some ginger tea and watermelon as your treat served at the bale.
After yoga join other guests at breakfast or, if you are feeling romantic, share a private breakfast in your villa. Breakfast menu is wonderful with freshly squeezed  fruit and vegetable juices of every kind, healthy green or nut based smoothies, fresh local tropical fruit, Balinese rice and noodle dishes or western style pancakes and eggs.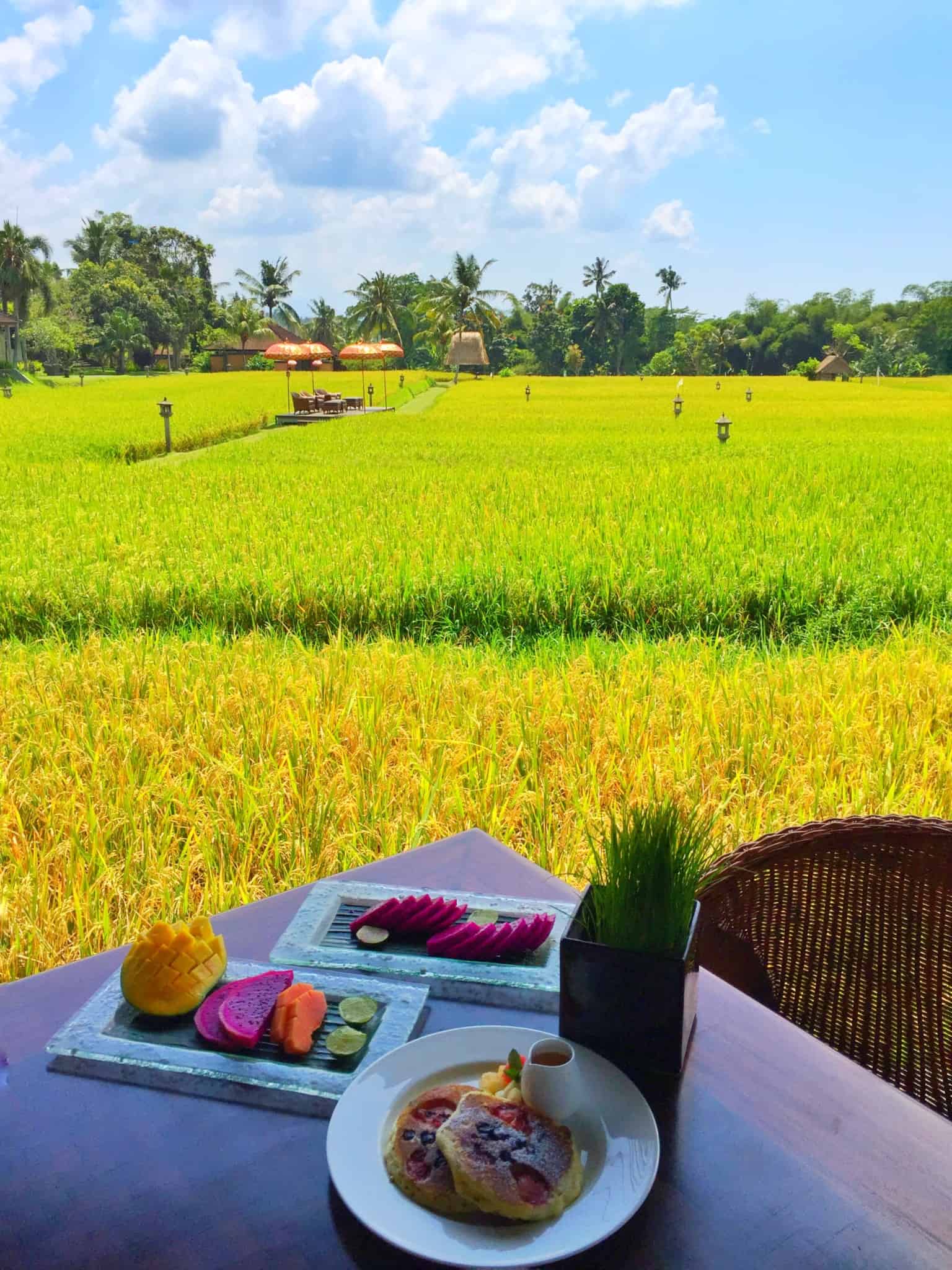 Breakfast is superb and the view of the rice paddies from the restaurant is pure magic.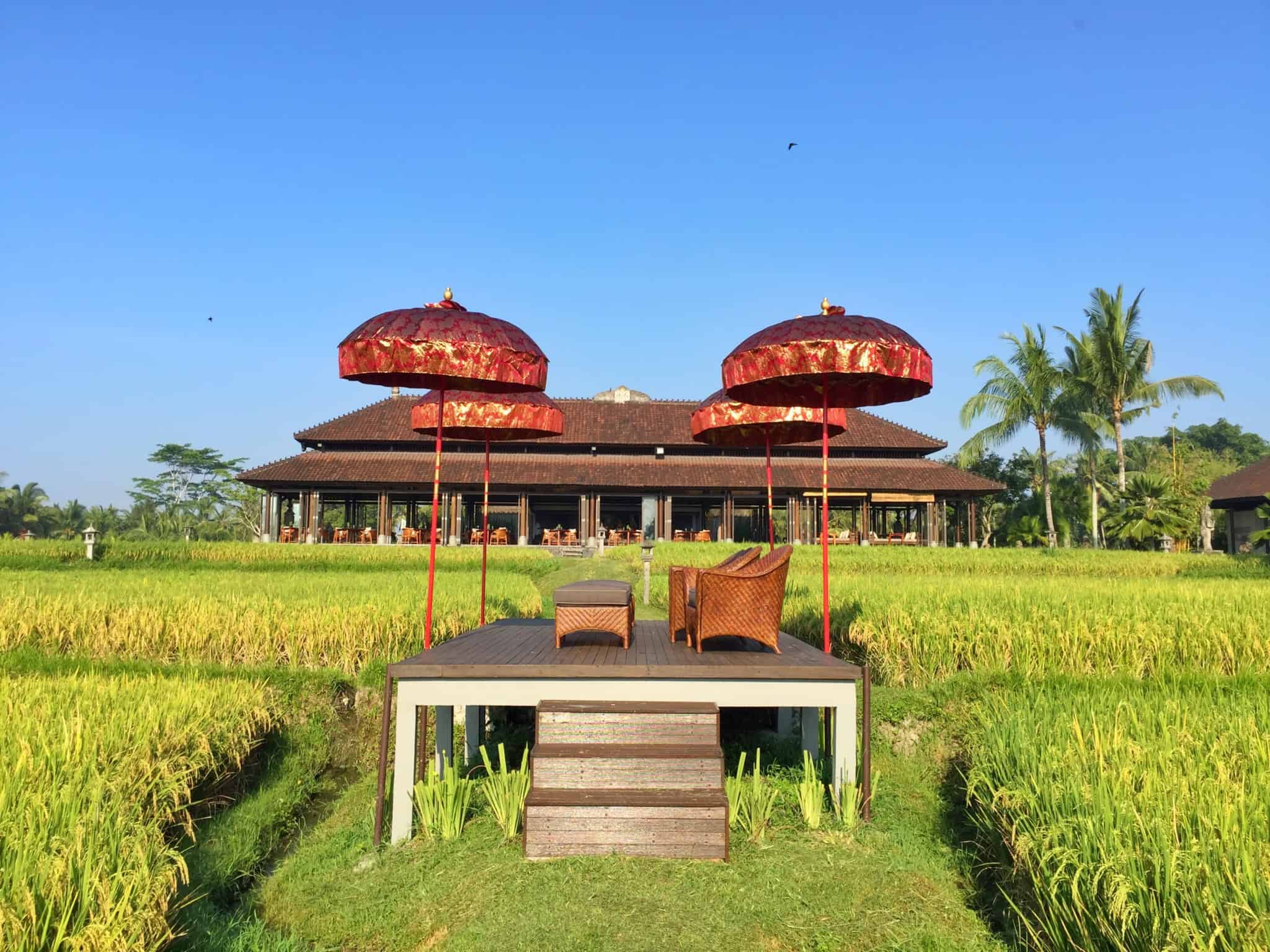 It's around 11am by the time the breakfast is finished and it is a perfect temperature to sit by the pool, read a book and have a swim. 25 meter pool sits amongst the lily ponds and is another wonderful view to behold. For those who like a little more exercise the pool is excellent for laps – there is hardly anyone here in the morning.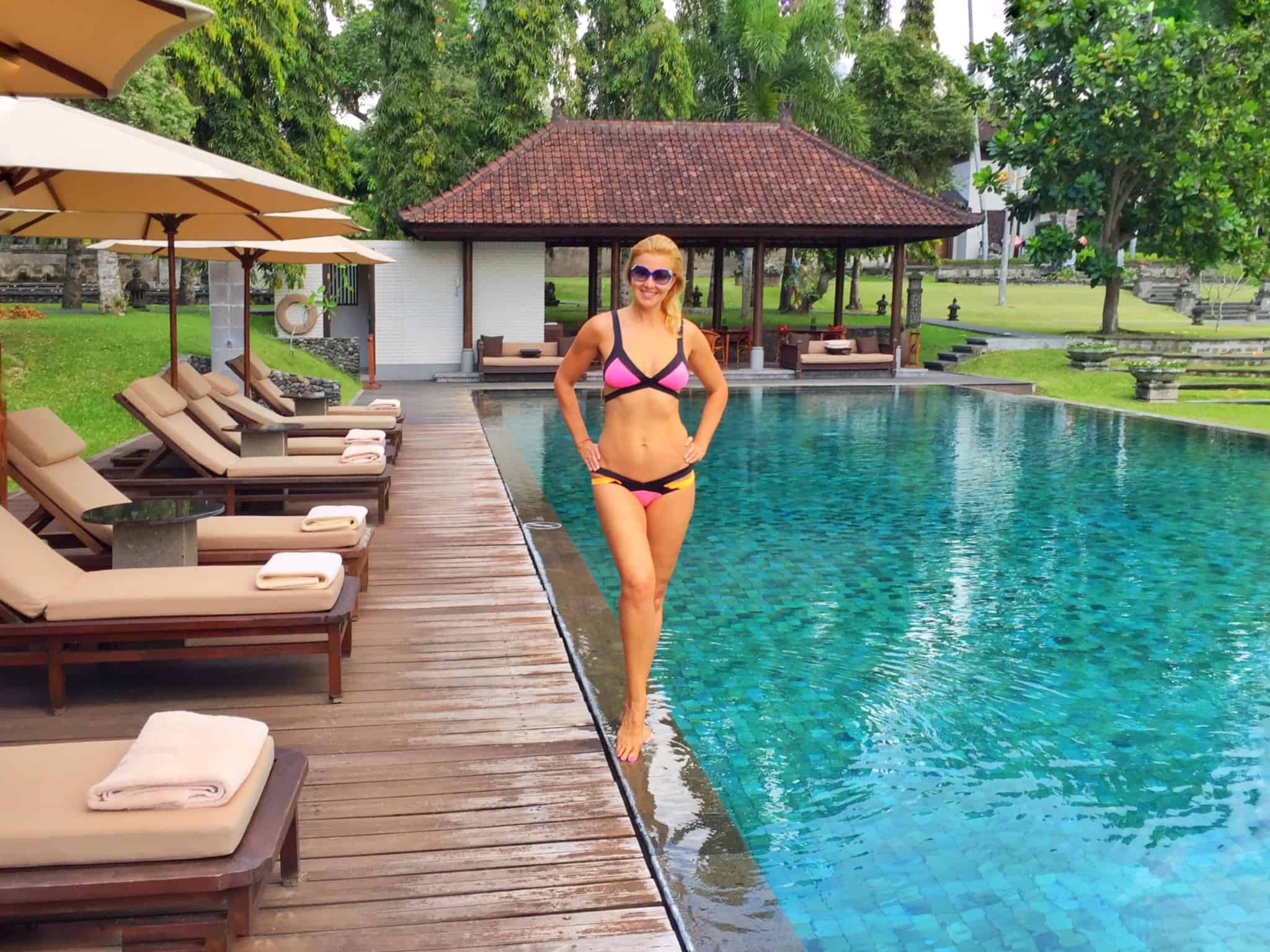 Once the afternoon sun gets a little too warm venture to the spa for a traditional Balinese massage. No surprise – spa suites have stunning views and are designed for couples with oversized baths and outdoor relaxation areas. A massage followed by a romantic bath is a perfect way to nurture your bodies and share a special moment with your loved one.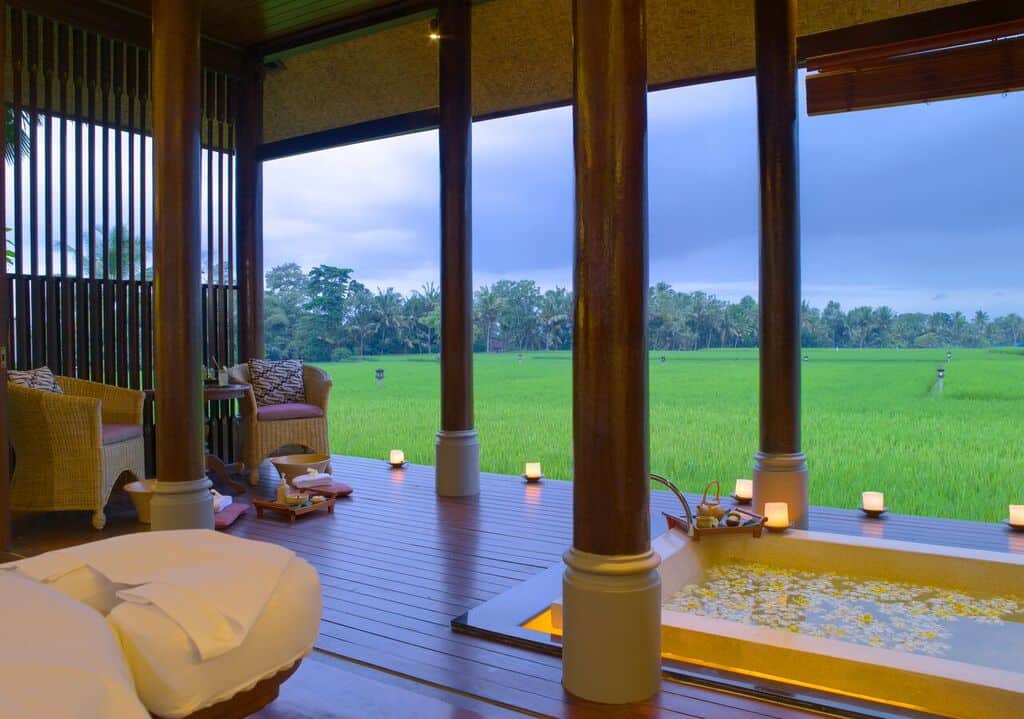 3-5 pm is the afternoon tea time and you can enjoy complimentary tea and coffee with a plate of beautiful canapés either poolside, in the spa, at the restaurant or in your villa. Everything is flexible and designed to make you feel welcome.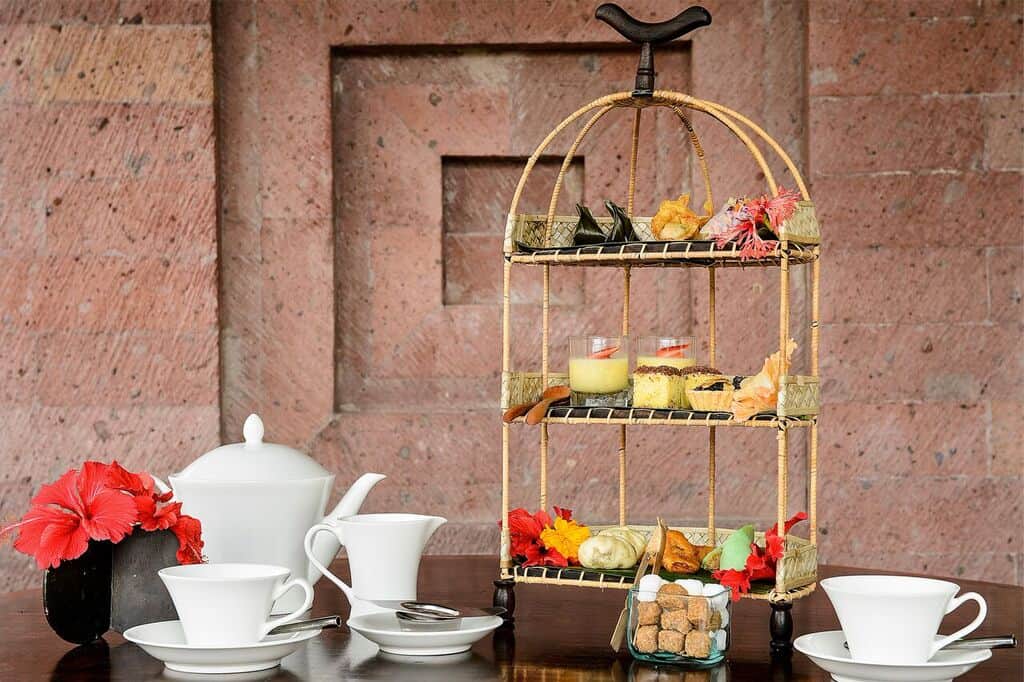 If you'd like to explore the rice paddies a late afternoon walk is a nice adventure. Put your sporty shoes on and see the local herb garden, learn about the rice crops and see how the locals live when you stroll through the village.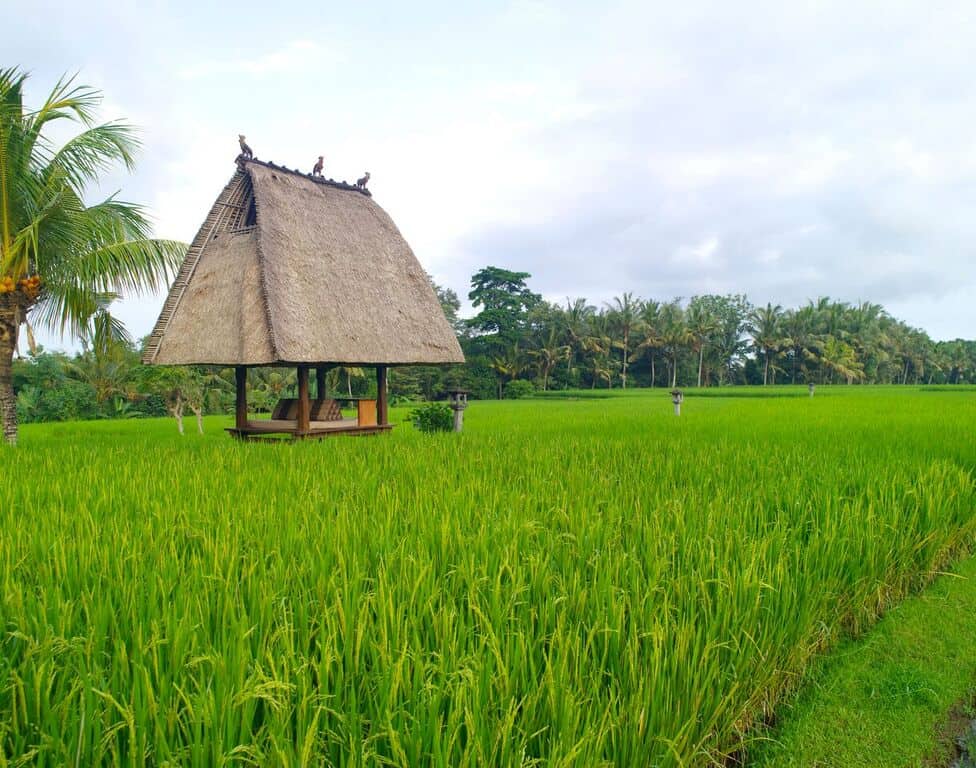 6-7pm is a cocktail hour and your complimentary cocktails are ready to be served anywhere in the resort. Choose from Australian wines or delectable cocktails designed to complement the freshest ingredients like lemongrass, ginger and lime.
Dinner is served at the restaurant or for special occasions can be arranged at the candle lit setting amongst the rice paddies. It is a view to behold, impossibly romantic.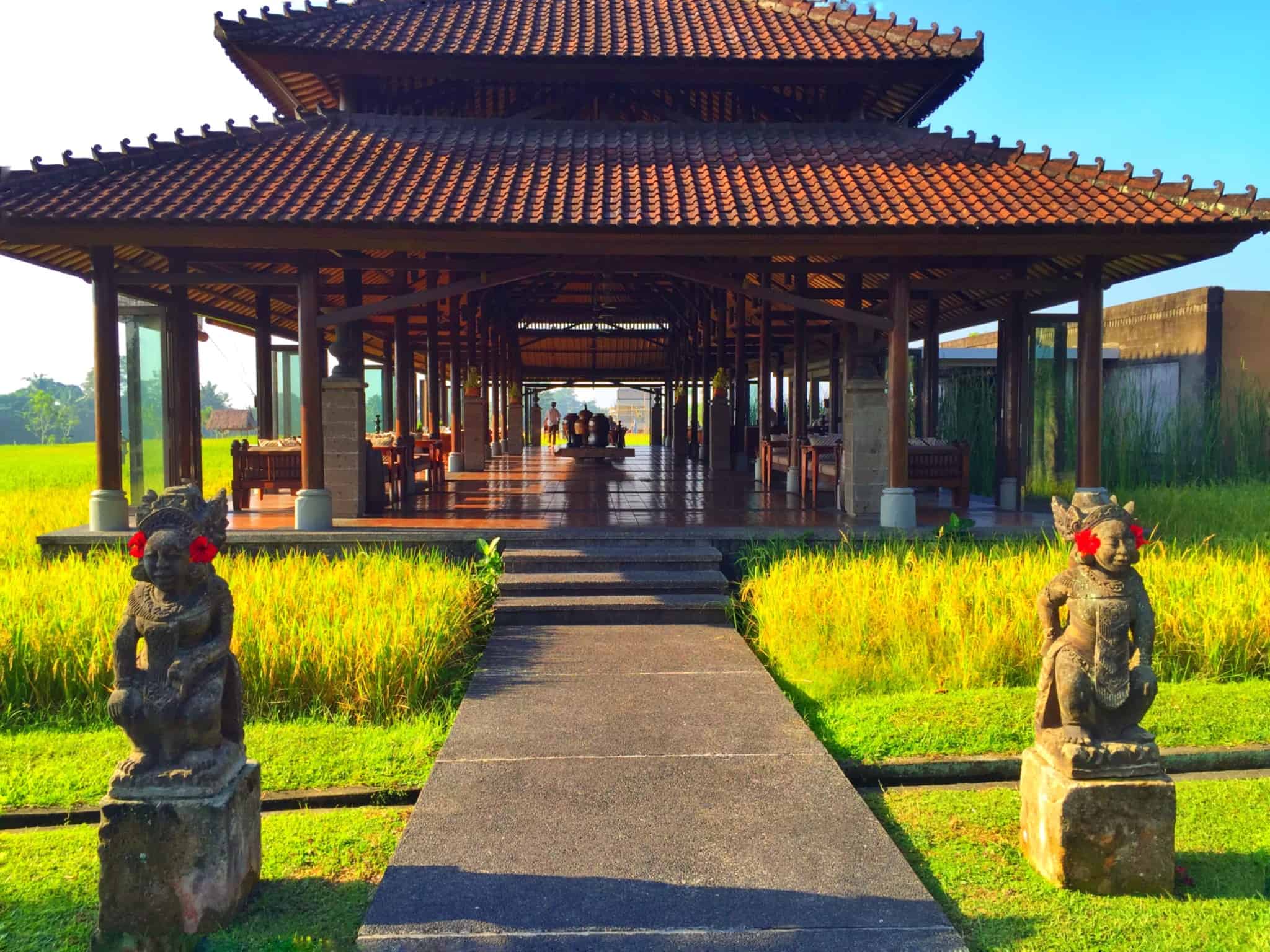 The menu features a lot of local delicacies like duck baked in banana leaf, slow roasted lamb, shredded chicken salad and curries. I love Balinese food – it is flavoursome, very fresh, not overly rich and wholesome and The Chedi presents the best local dishes cooked to perfection.
After the dinner head back to your villa for a nightcap. All minibar items are complimentary and for those who appreciate a nightcap there is vodka, gin and whisky to choose from.
After such a beautiful day a good night sleep is guaranteed. Enjoy!
The Lux Traveller Loves
Personal Butler for every villa
Complimentary inclusions like mini bar, laundry, afternoon tea and evening cocktail
Very private pool villas
Excellent yoga classes and massages
Serene location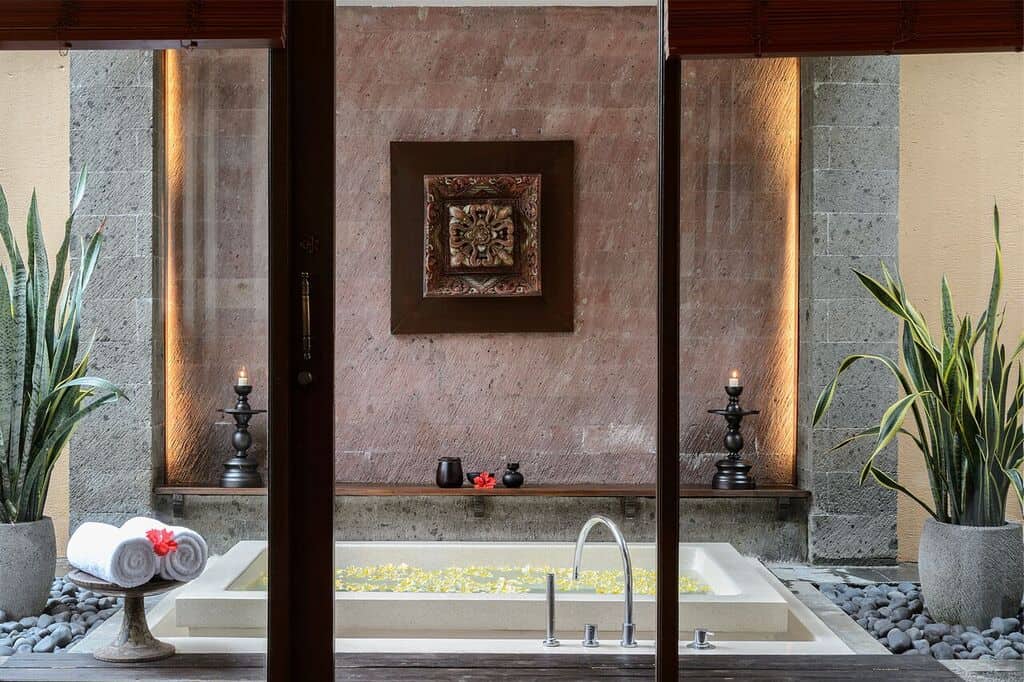 Splitting Hairs
The only thing I would like to change is having more time to enjoy this little gem.
All In All
The Chedi Club Ubud is an excellent boutique resort for couples. It is perfect for those seeking to relax and to re-connect with themselves and each other. In saying that Ubud has a lot of activities to offer families like white water rafting, trekking and monkey forest so there is no reason why you wouldn't stay in Ubud with your family. The Chedi Club has a two bedroom villa for those travelling with children.
I would suggest spending at least 2-3 days at the Chedi in the beginning of your trip to recharge the batteries and adjust to a slower pace of life.