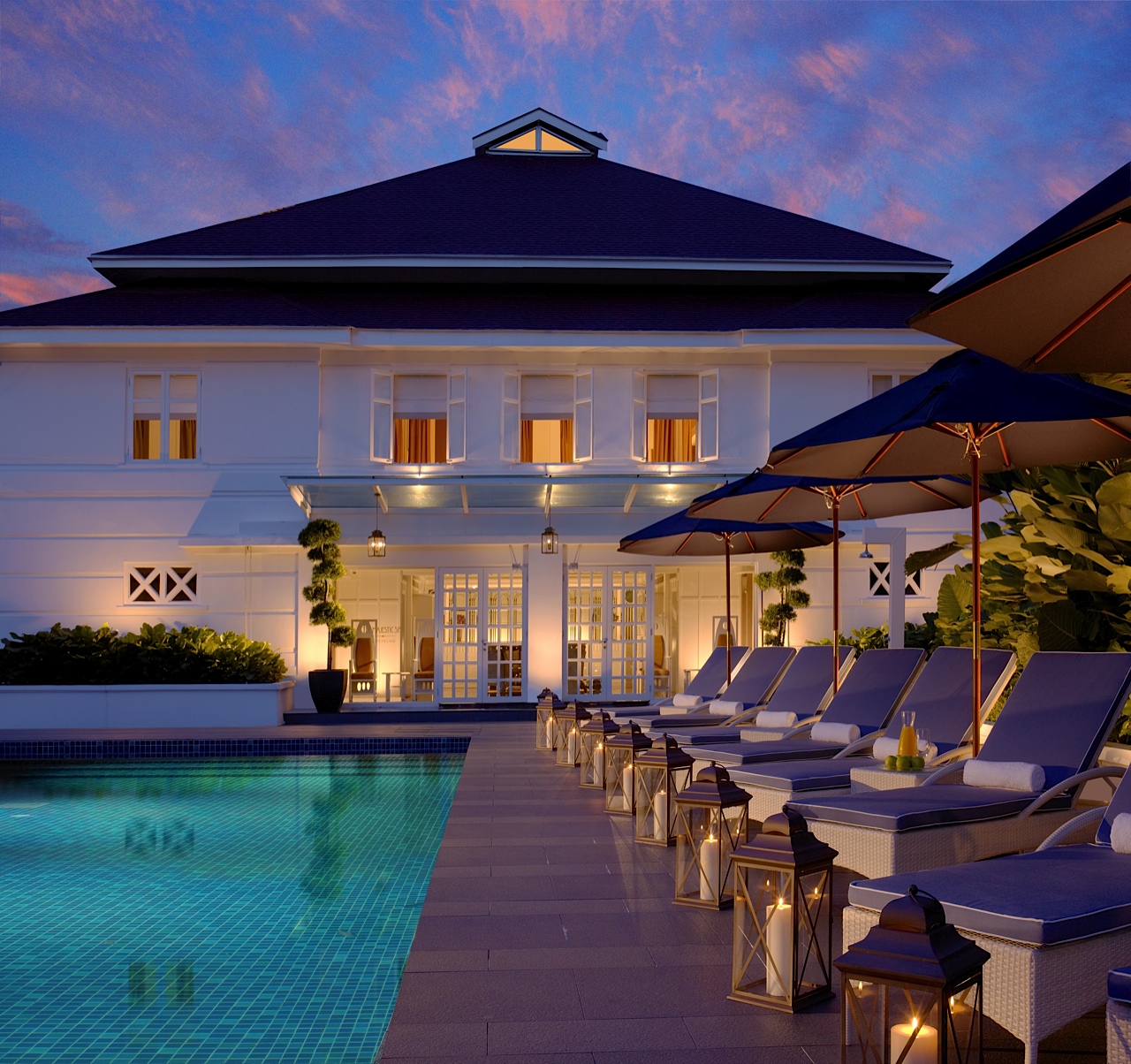 the lux score
89
the lux score explained
Service 10
Rooms 9
Food & Beverage 8
Ambience 8
Attention to Detail 9
Generosity & Value 10
Wow / Hip Factor 9
Facilities 8
Location 8
Fit to Promise 10
Kuala Lumpur this year is hosting Seven Star Luxury Award gala dinner and being a proud panel member of the Award committee we needed to find a luxury hotel to call home for a few days.
I was thinking one of the big chains – Mandarin Oriental, Ritz Carlton but after some research and advice from friends The Majestic Hotel name has come up.
It is a fairly new independent hotel, part of the Malaysian group YTL Hotels. It is very unique to this city as unlike most other hotels that are located in the skyscrapers The Majestic Hotel occupies a 150 year old Colonial building, one of the few remaining structures that reminds us that Malaysia used to be a part of British Colony some time ago.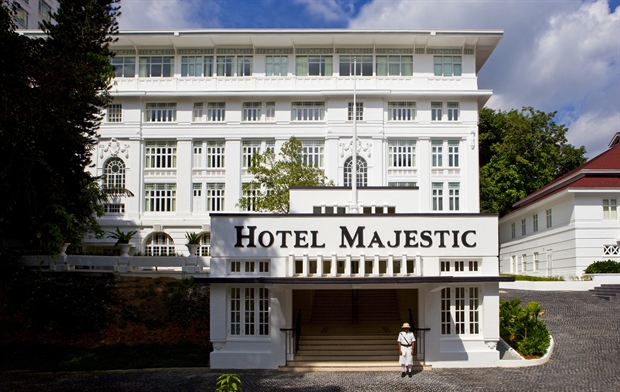 Originally the mansion that now holds the hotel was constructed as a luxury apartment complex for the British expatriates. For some reason the apartments didn't work out and building was sold to a private company and turned into a hotel. It was a favourite place for English ladies to enjoy their Devonshire tea with friends and attend evening dinner and dance. By the time this beautiful biulding has approached 21st century this is was in a desperate need of renovation and after waiving its last guests good bye in 1983 it has closed down for a complete re-build. Being such a significant part of city's history the building had to be carefully preserved and restored to the most intricate detail. YTL did a sensational job in blending history with modern luxury.
This story alone has spiked our interest in the hotel and The Lux Travellers have booked ourselves into a beautiful Tower Suite for 3 days.
Arrival
From the very beginning nothing seemed to be an issue. We arrived late at night and were promptly greeted by the hotel's driver at the luggage carousel. Hotel has a fleet of luxury vans, perfect for families with luggage. With all the travelling we do you'd think we learned to travel light, no such thing!
The drive took no longer than 1 hour door to door. On arrival we were greeted by name and escorted to our suite for check in. My little 3 year old Lux Traveller was fast asleep by that stage and friendly butler has picked him up and carried him upstairs. Very sweet and a big help for me.
Accommodation
The Majestic Hotel comprises of 2 wings – newly constructed Tower Wing and Majestic Wing, the original building that now hosts 53 suites reserved for adults only. All suites come with a 24 hour Butler Service and a dedicated driver, ready to take you anywhere any time.
Tower Wing has 253 rooms and suites, the largest being Premier Suites.
These beautiful one bedroom suites have views towards the spa pool and colonial wing from its floor to ceiling windows. The plush décor features dark soft carpets, ample sofas in the living room, dining table for 4 people, 3 flat TVs, marble bathroom, separate powder room, 3 wardrobes, 2 study areas and very spacious bedroom with super comfortable four poster bed and a multitude of pillows for every taste as well as custom made linens.
We found the suite to be absolutely perfect for a family. The only thing to note is that The Majestic Hotel doesn't provide roll away beds so three would be the maximum number of guests to sleep comfortably. This suite could also connect to another room to create a 2 bedroom apartment.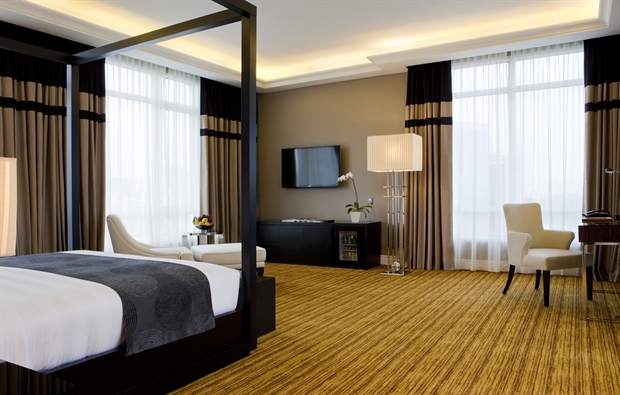 We loved this suite and looked forward to coming back to it every day.
Standard rooms are also excellent – they are spacious and feature a little sofa for a child in front of the bed. Every part of the interiors is thought through, modern and luxurious, designed with the ultimate comfort in mind.
Majestic Wing
This historic wing offers three types of suites – all identical in style, only vary in size. The style is very different from the Tower wing – classic British, featuring fabric upholstered walls, parquetry floors, black and white bathrooms with white claw foot baths. Formal colonial style, rarely found in Asia. Because of this unique offering it is very popular with Asian couples and honeymooners, who want to experience English luxury without having to travel all the way to the UK.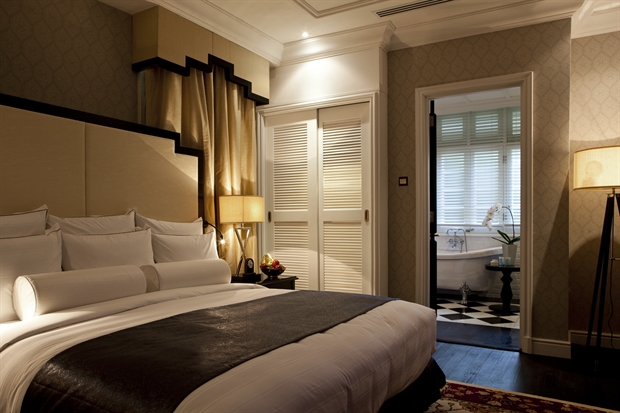 As for me, my personal preference is the ultra plush Tower Wing, but it is lovely to have the choice.
Dining
Dining is quite a highlight in The Majestic Hotel. There are two main restaurants, Contango – that offers buffets for breakfast, lunch and dinner and Colonial Cafe that serves afternoon tea and a la carte dinner.
We arrived quite late and our first stop was Colonial Cafe that serves British classics accompanied by an inviting jazz band in a plush old world atmosphere.
House specials are Prawn Cocktail, Salad Olivier, Meat pies and other decadent dishes that would bring you back in time to when gentleman wore white dinner jackets to dinner and ladies were dressed in floor length gowns.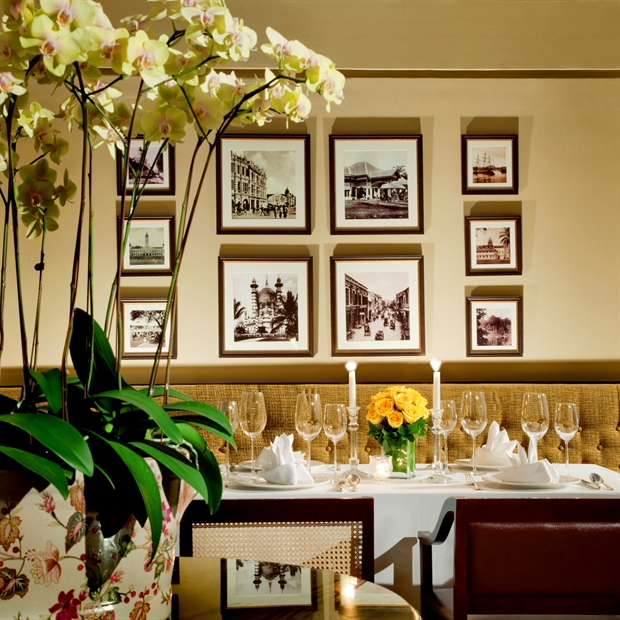 Contango
This buffet restaurant serves breakfast, lunch and dinner in a glamorous and luxuriously appointed dining room. Elegant velvet sofas were so comfortable that we probably spent way longer that we should've lingering over long gourmet lunches.
Breakfast is fairly basic, and requires a larger selection of western dishes and fresh fruit. However it was a pleasant start to our days.
Lunch at Contango is superb. The style of buffet is interactive – you can ask the chef to make you fresh sushi or pizza to your taste, choose your pasta and order a fresh sauce to be prepared in front of you. My other favourite was 'make your own salad' –  you put all the ingredients you like in a large silver bowl, choose your dressing, mix it all up and serve yourself a perfect mix of greens, just like you'd make at home, only much quicker and easier. Fresh sashimi and roasted duck were another highlight, as was the desert table (absolute favourite with the children). Choose form a large selection of gelato, chocolate lolly pops, multitude of petit fours, éclairs, cakes and profiteroles. Nothing short of amazing!
Lunch is also a very reasonable affair, around $27 USD pp and children under 12 receive 50% off. Excellent value and a great way to spend a Sunday afternoon. No wonder we saw so many locals coming in to enjoy the restaurant.
Afternoon Tea
This was another highlight of our stay. Hotel Majestic serves afternoon tea either in the Colonial Cafe or in the Orchid Conservatory. With only 3 tables in this very special room Afternoon Tea is booked out two months in advance.
Orchid room is a beautiful reminder of Malay culture and in terms of architecture, it cleverly connects the old building with the new one.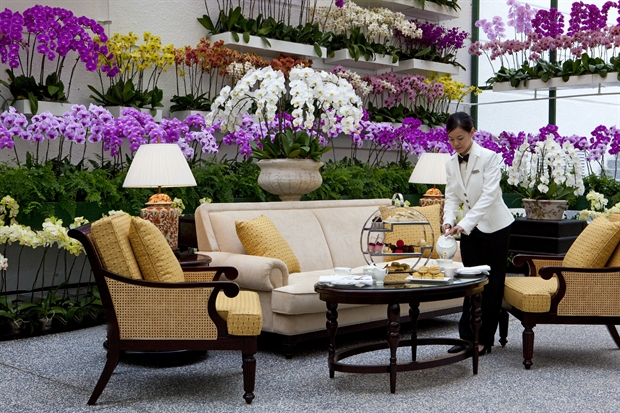 Facilities
The Majestic Hotel has a wonderful spa offering a selection of packages that include a selection of 2 or 3 treatments like scrub, massage, facial, hair treatment or a wrap – all creative combinations designed to immerse guests in a sense of calm and relaxation. You can choose individual treatments too but we found that most guests book at least two hour blocks and many enjoy treatments together with their partners. My package was wonderful, I especially enjoyed the Malay style massage. The therapist was very strong and skillful. As for the facial it was very basic – if you would like to have an advanced facial treatment it is best to request an experienced therapist in advance.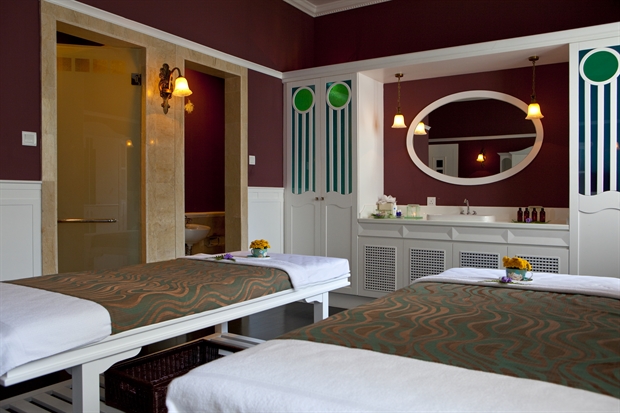 Spa has only 5 treatment rooms so try to book ahead – they do get busy.
In front of the spa complex there is a beautiful little swimming pool (featured on the main photo), reserved for adults only. There is hardly anyone there, so we had the whole pool to ourselves for most of the day. The water is really warm and the outlook is very pleasant.
There is another pool on level 4 that caters to families, but it wasn't overly inviting and a little cold so we much prefered spending time by the spa pool.
Level 4 also has a spacious well-equipped gym, perfect for keeping up your exercise routine on holidays.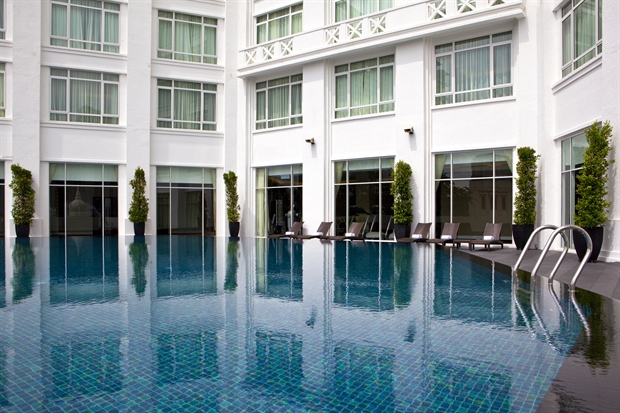 Another lovely facility in the hotel is men only grooming salon – Truefitt & Hill.
They offer professional barber services, hair cuts & shaves and have a special on 'Scotch & Shave' which might appeal to many husbands whole wives are out exploring KL's fabulous shopping.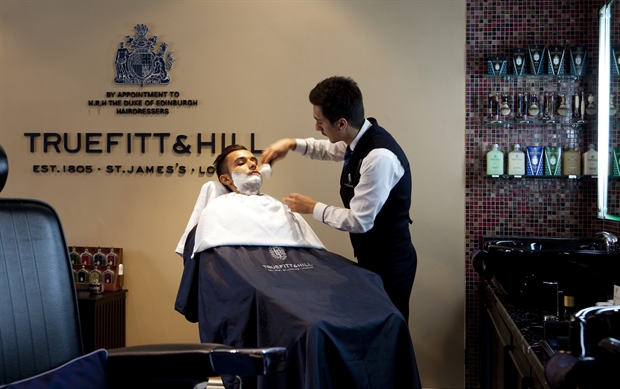 The Lux Traveller Loves
Grand Lobby with a serious WOW factor – stunning crystal chandelier, black marble throughout and an enormous flower arrangement as a centerpiece of this beautiful space will impress you from the minute you walk in.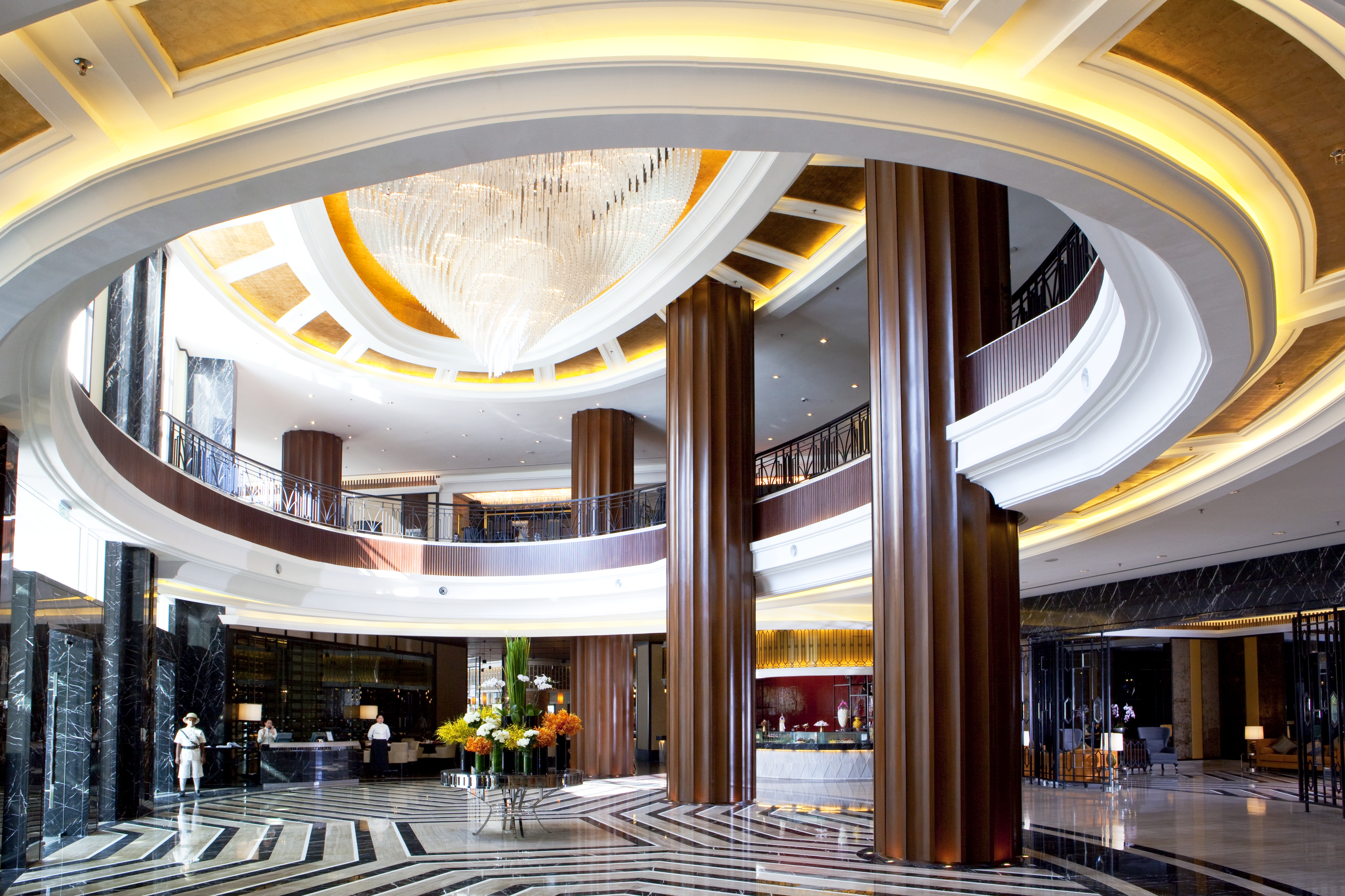 Boutique feel of the hotel – the lobby and common areas never felt crowded and the restaurants while busy have a wonderful inviting atmosphere.
Elegant guests – everyone seems to be beautifully dressed in this hotel, especially in the evening. High heels and lovely dresses is the way to go in KL.
Brand new luxurious and plush rooms and suites – you just can't beat new.
Exceptional buffet lunch at Contango.
Very warm and hospitable service.
The Lux Traveller Didn't Like
Breakfast needs a bit of improvement as well as housekeeping (wasn't as prompt as in other top 5 star hotels). Apart from that there was absolutely nothing else to complain about.
All In All
Majestic is a new and fabulous addition to the KL collection of luxury hotels.
It is located 10-15 min away from the main shopping area but we found it to be a plus rather than a minus. It feels like a very calm luxurious oasis in a busy city. Thumbs up!