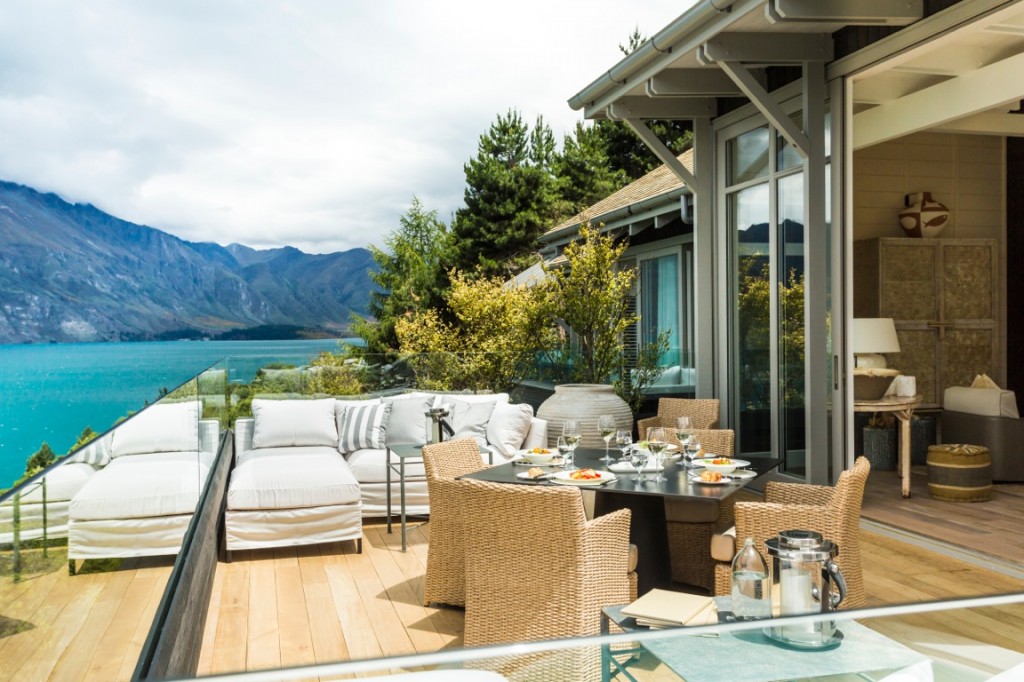 the lux score
92
the lux score explained
Service 10
Rooms 10
Food & Beverage 9
Ambience 8
Attention to Detail 9
Generosity & Value 10
Wow / Hip Factor 10
Facilities 6
Location 10
Fit to Promise 10
Matakauri is a romantic lodge located on the water's edge of Lake Wakatipu in the close proximity to Queenstown, New Zealand.
If you haven't been to New Zealand's South Island before, you are in for a surprise! South Island is stunningly beautiful. Breathtaking scenery was featured in a number of Hollywood movies – The Hobbit and Lord Of The Rings. South Island is a land of enchanted forests, sparkling lakes and snow covered mountain tops.
Queenstown is a quaint little town, 10 minutes away from the lodge. It has a variety of self-serviced accommodation and a number of five star hotels but in my view the best place to stay is in a beautiful lodge a little out of town and Matakauri is just the place I was looking for. It is a sanctuary of relaxation and natural beauty yet it is only minutes away from the ski fields, mountain walks and town centre.
Why Matakauri?
This wonderful lodge has won numerous awards – it was recently acknowledged by Tatler Magazine as one of its top 101 hotels in the world, won multiple Conde Nast awards, was nominated by Fodors as one of NZ's Top 5 Ultra-Luxe Lodges. These credentials alone were enough to spike our interest and arrange a visit.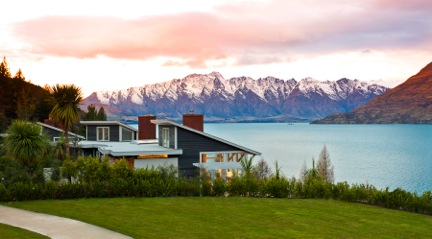 Arrival and Accommodation
I arrived to Matakauri at 11am, a couple of hours before the official check in time. Friendly manager has invited me into the lounge for light breakfast (nice surprise that is was served so late) and showed me to my suite afterwards. I was travelling by myself and was looking forward to some 'me' time but the minute I saw the suite I regretted not having a romantic partner with me.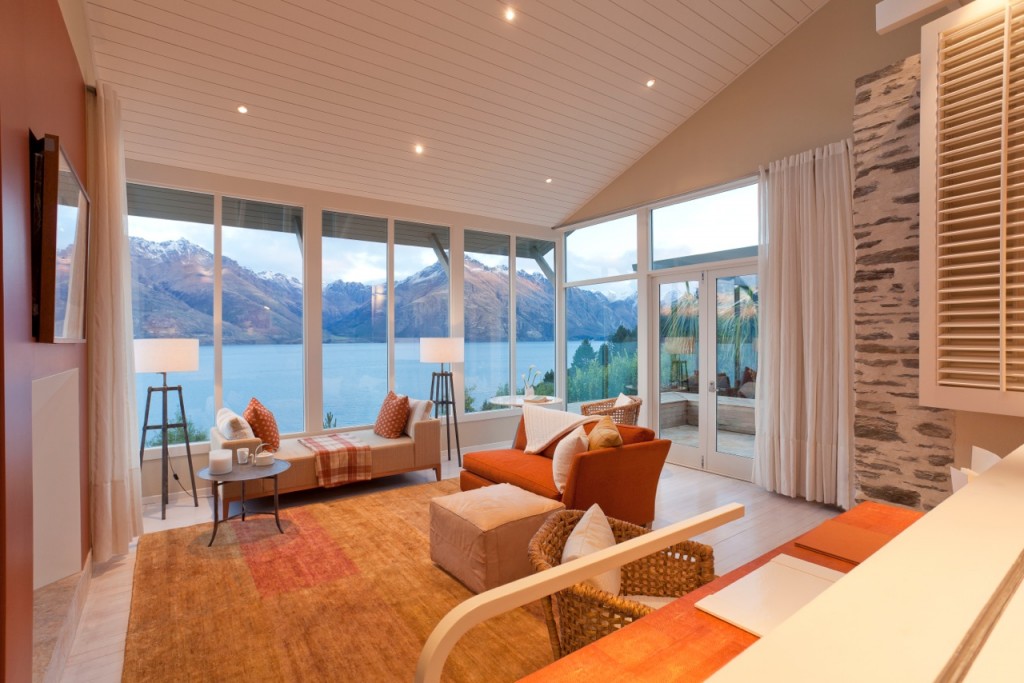 The suite is designed as a couple's retreat – the alcove bedroom, bath with a view, beautiful little courtyard on the water's edge, crackling fireplace – all spoke of beauty and romance. The lodge has been completely refurbished in 2010 so all furnishings and amenities are new and luxurious.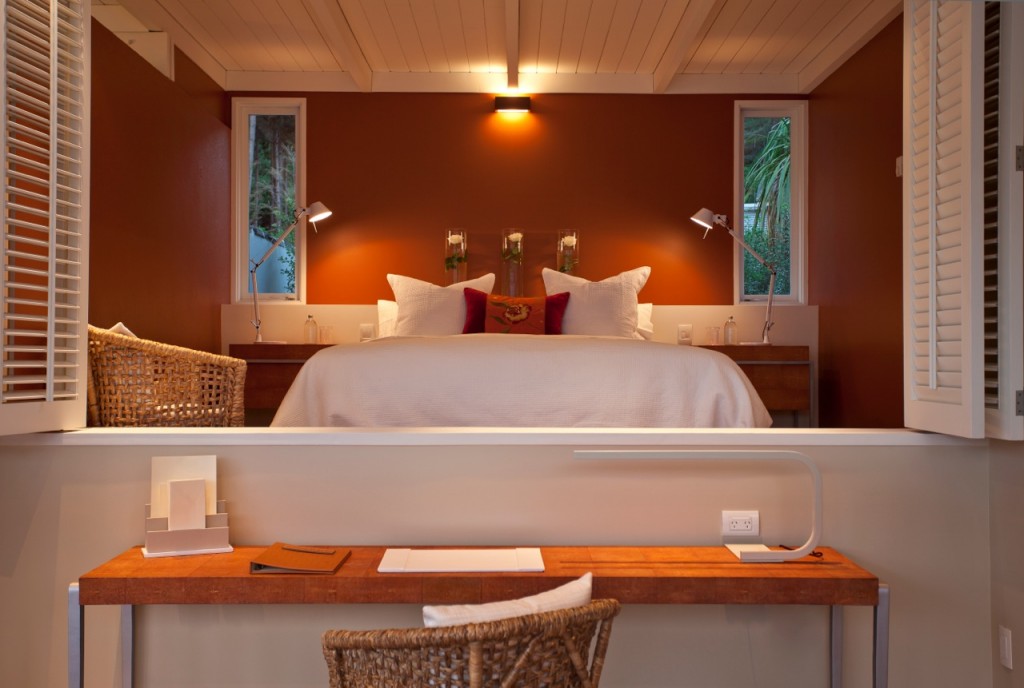 Matakauri features 12 suites, all with a private courtyard, spacious living room with fireplace, sensational views from every window, double bathroom and a walk in wardrobe.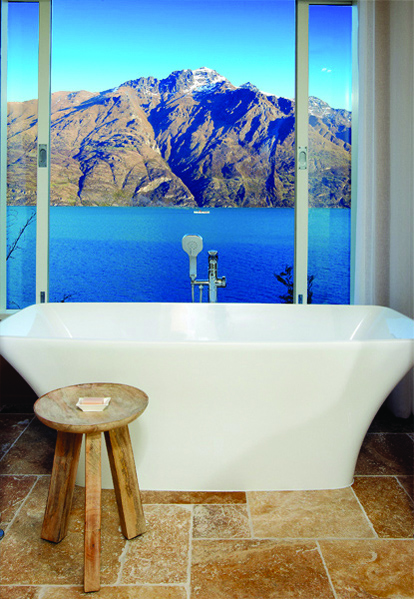 Owner's Cottage 
The jewel at the lodge's crown is the newly opened (since January 2014) NZ $5mln Owner's Cottage – ultra luxurious 4 bedroom, 465 sq m residence that was specially designed for large families and groups travelling together. No expense has been spared for this glamorous retreat. The cottage feels like a designer lake house rather than hotel accommodation.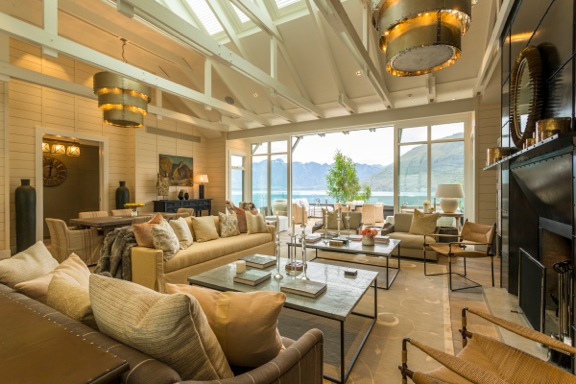 Crystal candle sticks, fur throws, designer furniture and stunning bathrooms are just some of the features that the Owner's Cottage offers its guests.
With the price tag of NZ$8,250 per night Owner's Cottage is not the accommodation everyone can afford but manager tells us that the Cottage has hardly seen a vacant day since the Royal visit earlier in the year. And I understand why, relaxing on the waterfront deck with a cup of freshly brewed cappuccino prepared by your personal butler is certainly priceless.
On request the Cottage can be staffed with a private chef and butlers who will cater to your every wish. What a way to enjoy your Queenstown vacation!
Dining
Dining is another highlight at Matakauri. I came to the lodge from a nearby health retreat Aro Ha, an amazing establishment that promotes fitness, health and exercise. There I spent 5 days without a taste of sugar, a piece of bread or a slice of meat and by the time I arrived at Matakauri I was really looking forward to the authentic lodge dining. I know that the food is always amazing at luxury lodges and I was counting minutes to dinner time.
Matakauri certainly hasn't disappointed me. 3 course a la carte dinner changes daily and represents a wonderful mix of clean and fresh flavours prepared mostly from locally sourced produce.
Our menu on the first night included grilled prawn entrée, followed by venison and poached winter fruit desert.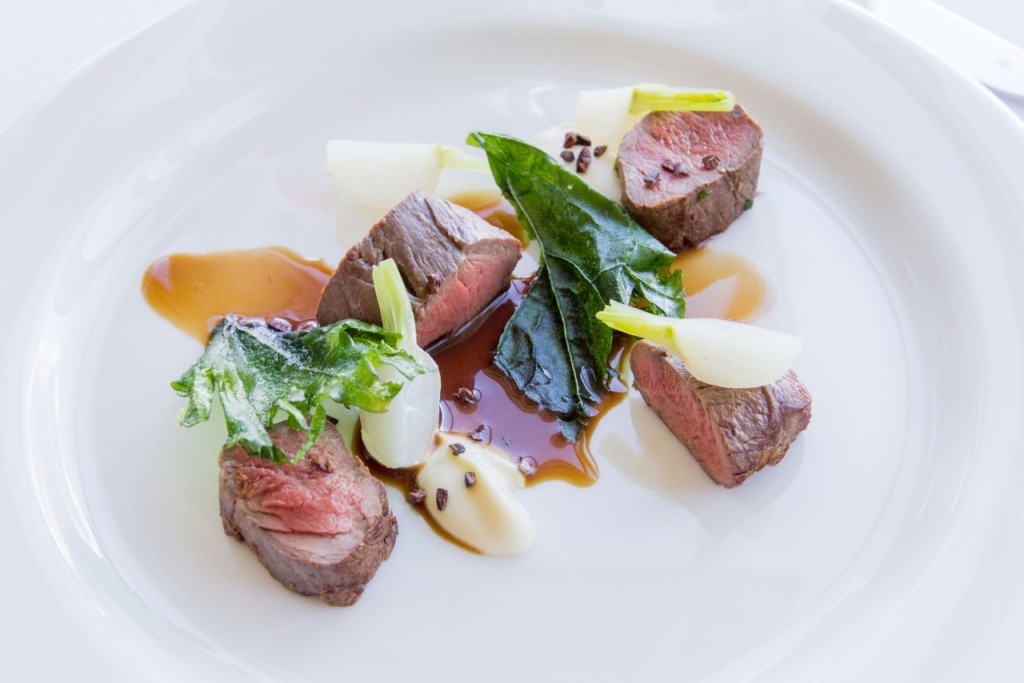 The dining room has only about 8 tables, all beautifully set up with white crisp table clothes, designer cutlery, beautiful plates and silver candle sticks. Fireplace adds a homey vibe to the sophisticated atmosphere.
Silver service and personal attention made my dinner a fun and memorable event though I enjoyed it by myself on a first night.
On a second night I had plans to go out and try one of the other restaurants in town. But guess what? I was so impressed with the food and service in Matakauri that I have invited a friend over and we enjoyed another beautiful meal together.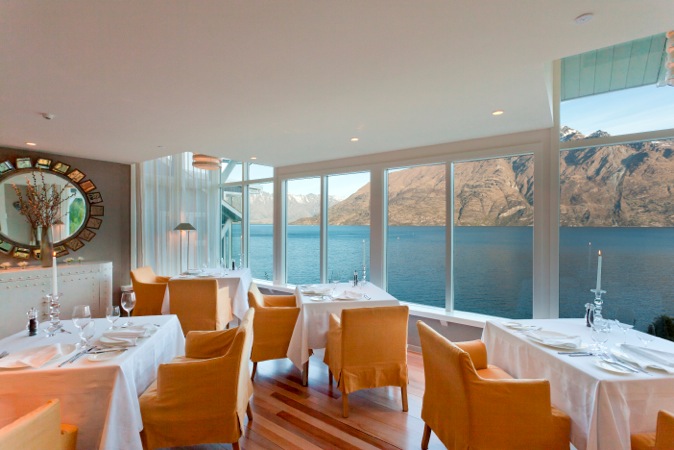 I was expecting to find the same menu (you get offered a choice of 2 dishes for every course) but was so impressed to find a completely different menu on the second night. Head Chef Jonathan Roger is exceptionally creative – he changes the menu daily and comes up with best tasting dishes that will leave you longing for them long after you leave the lodge.
For wine connoisseurs – you will be extremely pleased by the impressive long wine list at Matakauri. It has the most comprehensive selection of New Zealand wines I have ever seen. You'll find wines from every region in New Zealand and every type of red and white produced in the country.
Mind you, a lot of beautiful wines are already included in the rate but if you want to spoil yourself with something extra special Matakauri restaurant is a perfect venue for it.
A little about Breakfast
Breakfast is beautiful as well, simple yet nice. I enjoyed it in the lounge on the first morning (a fresh selection of fruit, daily smoothies, eggs any style, pastries and cereals) and in my suite on the second morning. It was so pleasant to get out of bed in my PJs, settle in by the window with a book and slowly enjoy the fruit and coffee that was beautifully arranged for me on the dining table. Lazy mornings at their best!
Spa at Matakauri
Spa in Matakauri is quite small, only 3 treatment rooms, yet the masseurs are excellent. I had a remedial massage there every day, absolutely perfect for relaxing the sore muscles after the day of skiing or hiking.
Lovely feature of the treatment rooms is the view onto the lake and mountain tops – picture perfect setting for relaxation. There is also a small sauna in the complex that perfectly complemented the massage in the end of the day.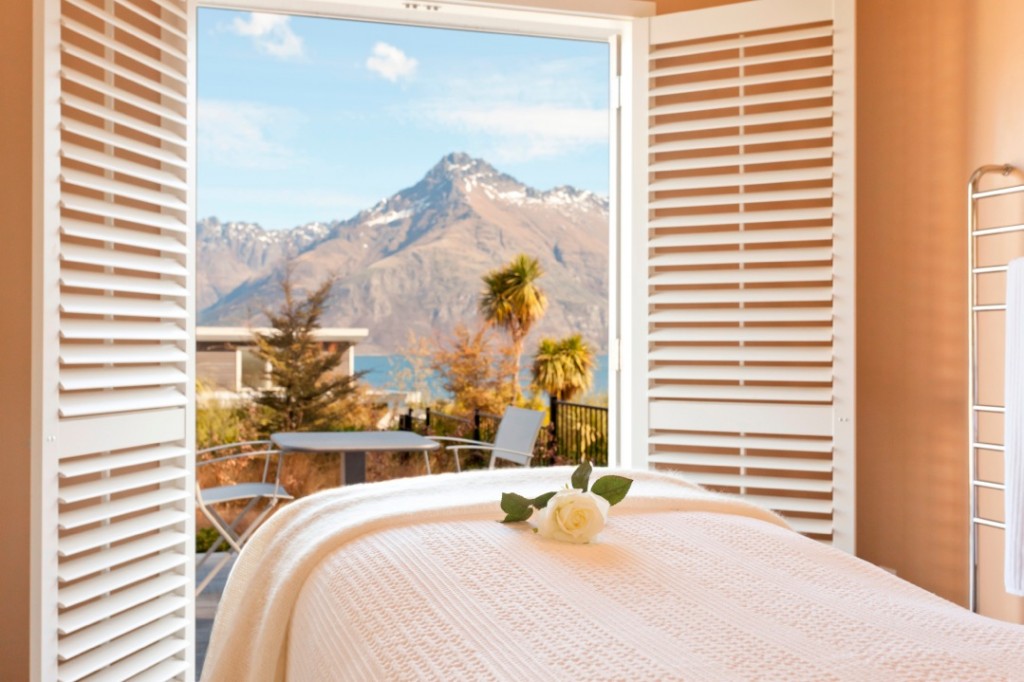 There is also a gym and a small outdoor pool in the spa complex, yet I don't know how often one would be able to use it in New Zealand's weather. It doesn't get overly warm here even in summer.
Lux Activities recommended by Matakauri Lodge:
For families: a Dart River jet safari, gold mining in the Arrowtown River, biking and skiing
For romance: multi-course picnics on a private mountain or at the edge of a waterfall arrived upon by helicopter
For adventure: helicopter is the preferred mode of transport for heli-skiing, fishing or tours over Milford Sound as well as heli-golf – hitting biodegradable balls off a 6,000 foot-high glacier
Wine and Food: meet and work with local winemakers and have lunch at a vineyard in the famed wine region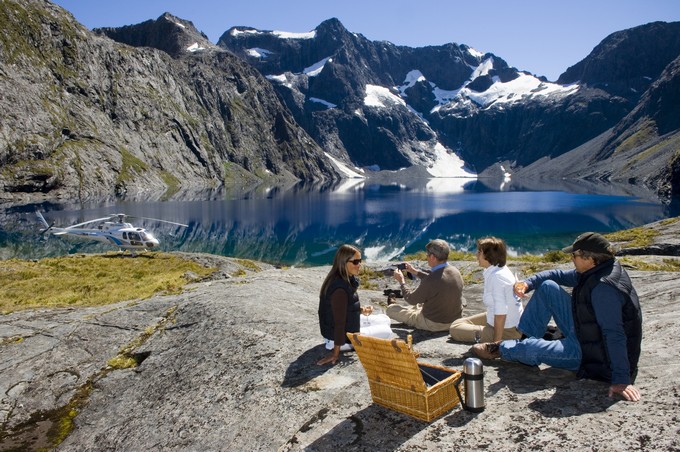 The Lux Traveller Loves:
Warm and attentive approach throughout our stay
Divine setting and views
Outstanding dining experience
Ultra Lux Owner's Cottage – a pinnacle of luxury accommodation in Queenstown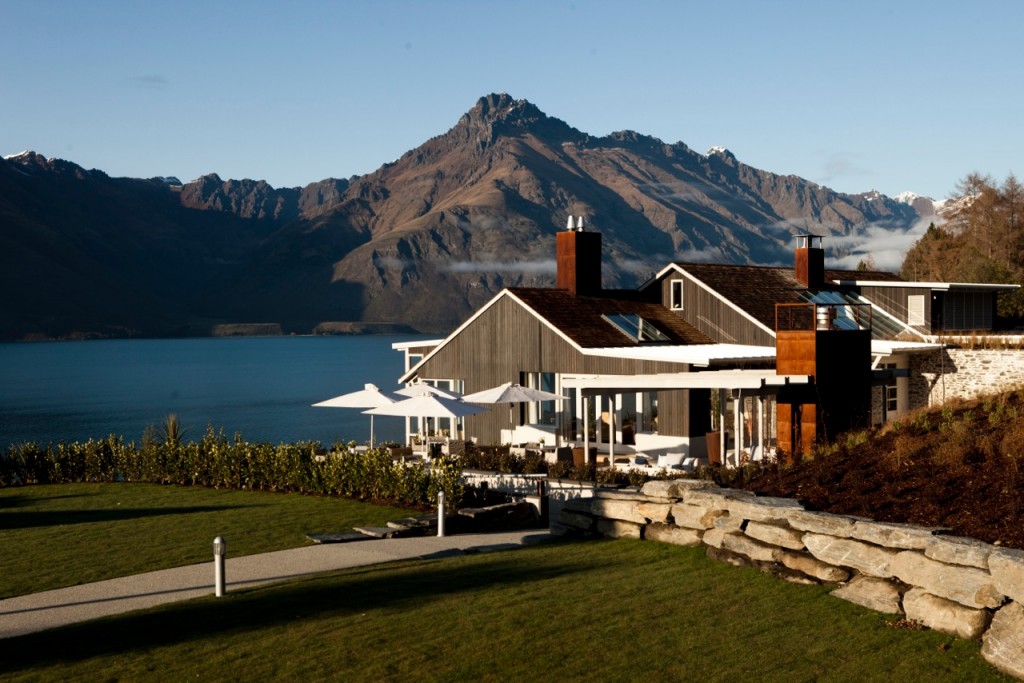 The Lux Traveller Didn't Like:
Absolutely nothing.
Just a recommendation to hire a car in Queenstown, otherwise getting to the town or ski fields from the lodge could be a little tricky.
All In All
Matakauri is a sensational lodge, definitely worth a visit from all The Lux Travellers heading to New Zealand's South Island. It could be a romantic weekend destination in itself or a wonderful base for a ski holiday.
Queenstown boasts a lot of summer activities too, so if you prefer to travel in warmer months ask the lodge for some suggestions on what to do. I am sure they will organize a very memorable and exciting stay for you.