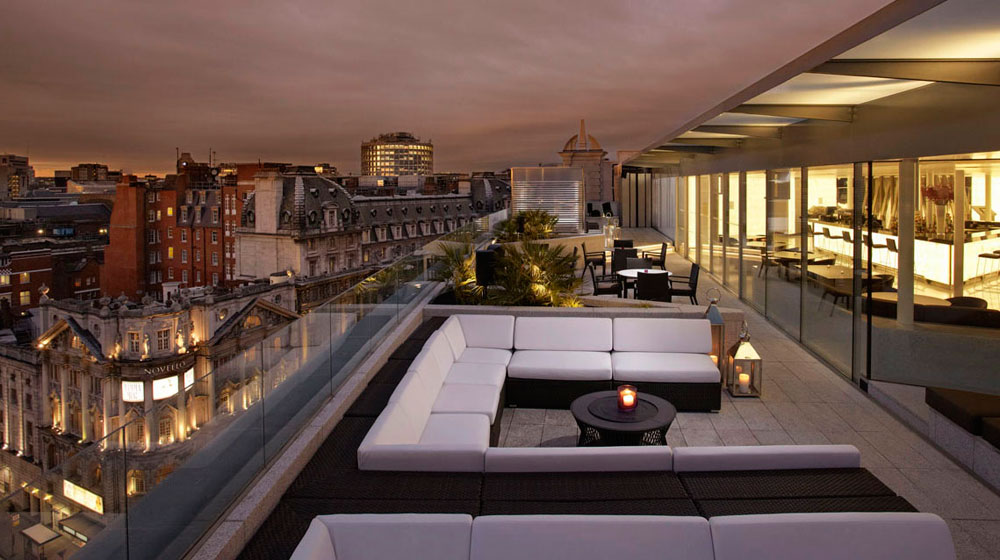 the lux score
77
the lux score explained
Service 7
Rooms 8
Food & Beverage 7
Ambience 7
Attention to Detail 8
Generosity & Value 7
Wow / Hip Factor 9
Facilities 9
Location 7
Fit to Promise 8
The ME London is owned by Melia group and is I believe one of only 4 ME locations. It only opened about 6 months ago and is very much a 'design' hotel – think funky and quirky and enjoy all the surprises!! It has a good location for theatre land, Covent Garden and the city – plenty of choice for dining nearby alongside the onsite restaurant options. The hotel is located on the corner of the Strand and Aldwych and so is easy walking distance from Waterloo, Embankment or Charing Cross. There is also a taxi rank right outside. It is an interesting building – having been past on the bus a number of times during the refurbishment, wondering what it was going to be, it was nice to finally stay! Pleasingly, despite the location being on what is essentially a glorified roundabout, the windows are very sound-proof and we weren't disturbed at all by the traffic below us, the rooms have sliding doors instead of curtains and these are really good black outs as well. The hotel is across the road from One Aldwych and minutes from the Savoy (the Waldorf is also over the road but looking tired?) so has plenty of competition to make sure it keeps its socks pulled up.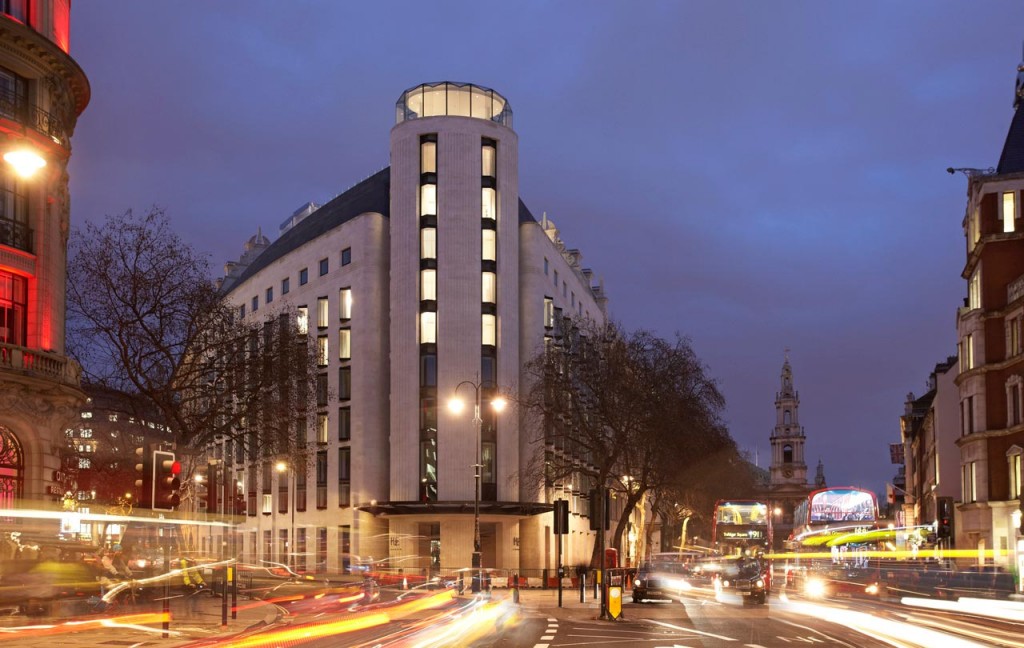 On arrival you are hit by melons, a lovely smell of fresh melons! That is the scent on the ground floor as concierge walks you past the main bar and all the flamboyant glass features and stunning flower arrangements! I haven't seen hotels in the UK do this before, but it reminded me of some in Singapore! Reception is on the first floor where we were taken to. It is a very clever and friendly reception. First off – a glass of champagne is offered – yes please! However we were already gawping upwards at this point, a bit like you would do in New York at the skyscrapers! It is hard to describe the atrium properly, but essentially the interior of the hotel is an empty prism with a small gap at the top that lets light in. Very clever architecture and very modern and with jelly fish light shows. It certainly has the wow factor. Friendly check in staff and all very efficient. Nice to have concierge take you to your room – so many fine hotels have stopped this tradition and I think it does help build your first impression. It is especially useful here as the corridors are quite dark – very funky, but still dark!! I think this hotel is too big for staff to remember your name, but it does have a smaller feel to it than many of the other hotels we've stayed in across the city over the years.
Accommodation
We stayed in a vibe room on the 3rd floor, this was a really good sized room and I wouldn't need anything more in London. The room had a small seating area by the window – these weren't sofa's but very comfortable seats, however it was described on the website as a 'lounge' so we had been expecting a sofa? We have a super-king bed at home so it is always nice to stay in a hotel where the bed is the same size otherwise it feels like a downgrade. Thankfully we had a super king that was super comfy. The room is very modern, but also very well thought through. Good lighting on the desk, plugs on either side of the bed which is all to rare, storage space for the suitcase in the wardrobe and nice hangers and hair dryer too!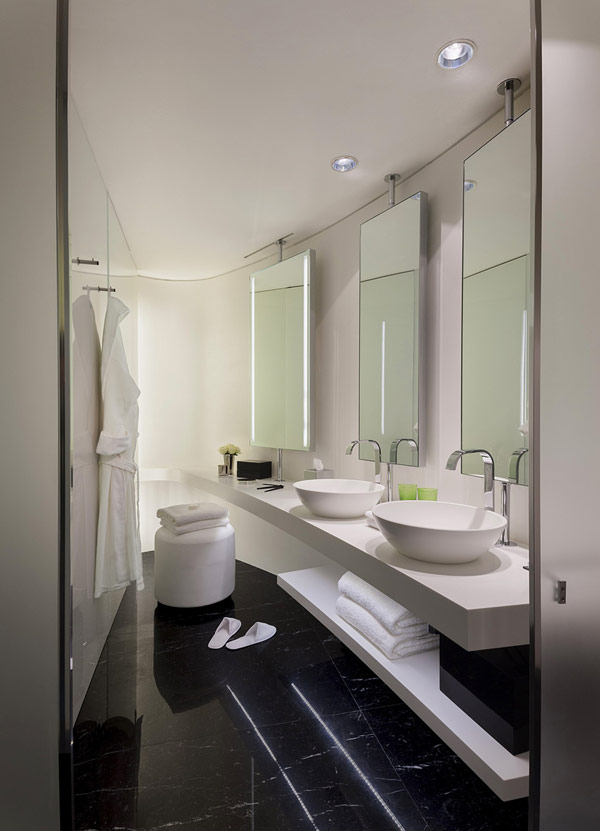 Our bathroom only had a shower, no bath, but the waterfall shower was powerful. The bathroom is a big space with his and hers washbasins and is hidden behind big sliding doors – hotel bathrooms always seem to overheat, but because the shower is closed in, this one didn't! The lighting and air con is high tech. There is a little mini-ipad sort of gadget by the bed that controls temperature and colour of lighting – there is even a 'sexy' setting! Definitely good to be able to control the air con from bed to warm up or cool down the room without having to wage a war with some wall-mounted dial that doesn't work!! The mini bar and other assorted goodies on offer is streets ahead of other hotels. They have thought of everything, including toys for a dog, and for adults and hangover cures! The food options looked enticing as everything was very British and very fancy looking – no sign of any Pringles here!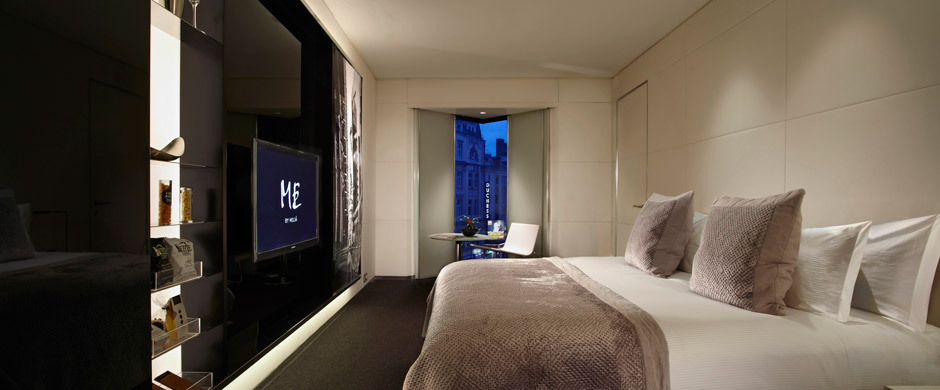 Facilities
There are 2 restaurants and 2 bars, alongside a gym that is big for a hotel. Room service is available. Also very helpful and friendly concierge. The restaurants are thankfully not your run of the mill expensive hotel spots and are I believe run by third parties, so they absolutely compete with other local restaurants. The roof 'Radio' bar commands some of the best views of the London skyline in this area of London – it would be nice if they'd put a swimming pool up there instead, but this is England and a bar is much more sensible for the weather! There is a choice of seating inside and out – entrance is on a first in first out basis, even for hotel guests. Good music is played and it is definitely one of those places to be seen and see in London!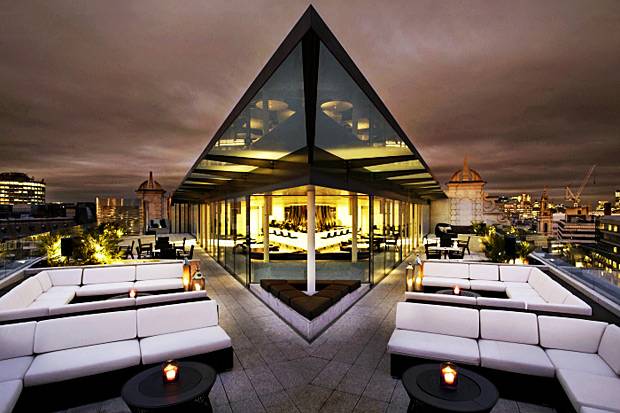 The ground floor bar looked much more sedate and relaxing, afternoon tea is served here as well. There is also a spa, but our time was short. But given the attention to detail around the hotel that is there to relax you, I can only imagine that the spa adds to that! Everything is impecably clean and tidy and new.
Dining
We only ate at the hotel for breakfast, but this was fabulous, it is served through until 11am which is great for a Saturday morning lie in. Everything about it is a quality product – even in terms of the juices and teabags! There is a really good choice of pastries and breads and then full options for a european buffet or a full english. The chef's can also cook to order, although having said that – my poached egg didn't arrive by the time we'd finished breakfast, by which time I was full anyway. Plenty of staff and plenty of papers, it definitely felt more like going out for brunch than a normal hotel breakfast!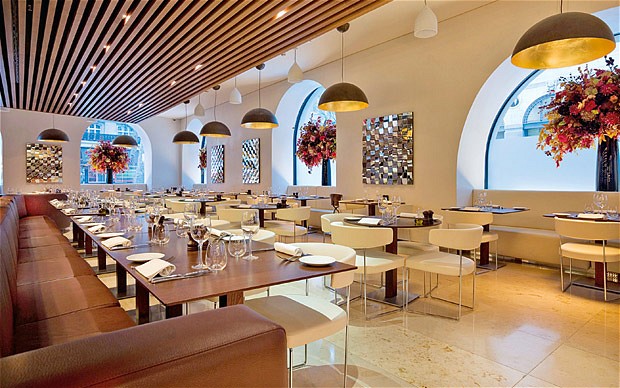 The Lux Traveller Loves
The detail that has gone in to everything, and the way that everything has been thought through. Whether the contents of the minibar, or the architecture and lighting. Very clever and very modern but in a way that would struggle to offend anyones senses!
The Lux Traveller Doesn't Like
I admit I am being fussy with these, but: the air conditioning is really 'too' good (and quiet) such that it will dehydrate you, we drunk so much water just to keep pace but being in control of the temperature properly was nice; at Radio bar, 12.5% service is added to the drinks price on the menu. You don't have to pay this, but just be aware it is being added on even if you aren't dining and are sitting at the bar ordering the drink!! And we didn't have much of a view from our room, I imagine higher ones do, but don't expect one – we weren't particularly fussed as we enjoyed the panorama from Radio bar on the roof!
Overall, we really enjoyed our stay. It is nice to be in London on a Friday night rather than on a work night. This is a very modern property completely different to other 5* offerings in the area. Service felt much less lazy than you see at other city hotels which can only be good for the London hotel scene in general. Price wise this is competing with many of the other top hotels in the capital (maybe not in the league of the Savoy however…). I think it competes well having stayed at a few on Park Lane over the years, however if I was a tourist in London then I might want to enjoy the olde worlde charm that isn't on offer here! It is certainly very different and with a very funky vibe and you need to be bought into that to make the most of your stay! All in all a really good addition to London's hotel and bar scene!