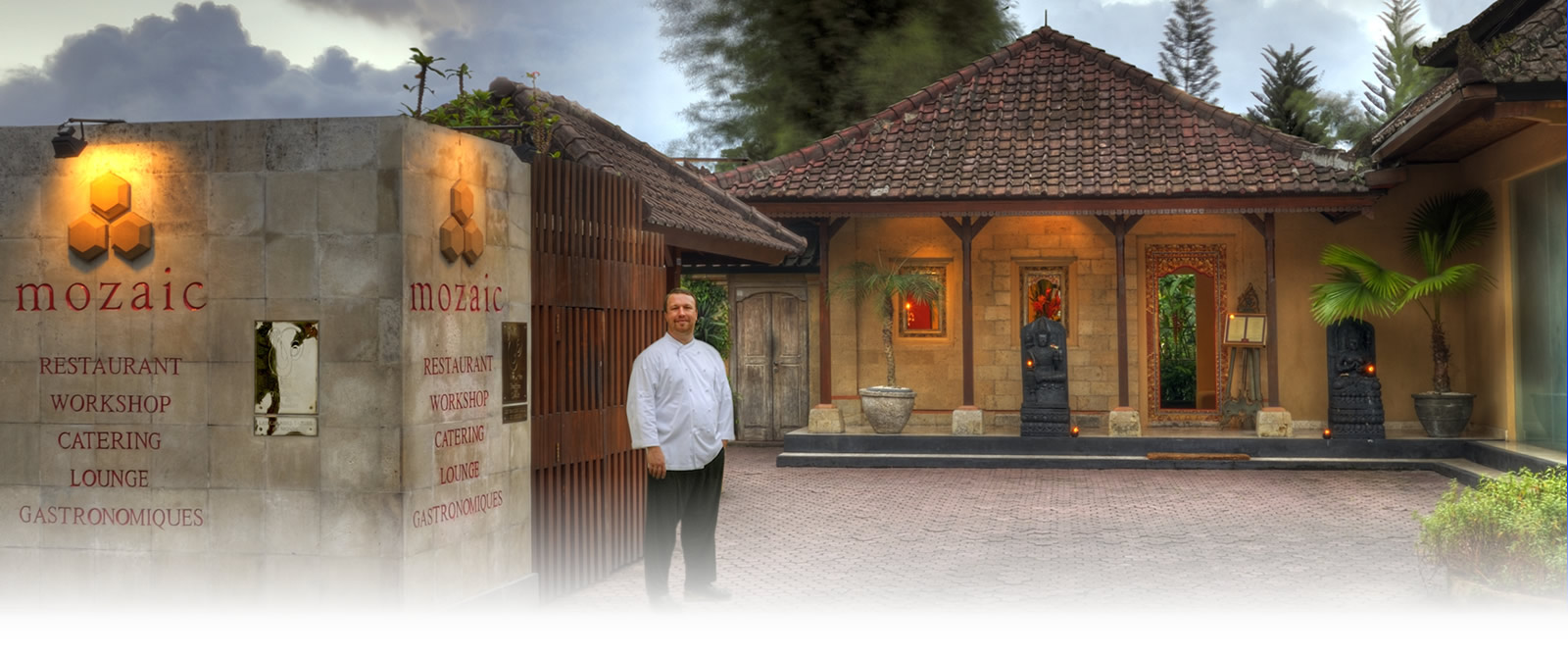 Mozaic is the most famous restaurant in Ubud and possibly in the whole of Bali. It has a reputation for the best designer food and equally designer price tags.
I like how the head chef describes his food – 'He prepares dishes that inspire him at the moment, orchestrating his menu as a symphony, a sequence of marvellous colours and flavours'. I have to agree with it. The food at Mozaic is a celebration of flavours.
Locals say that they can buy a scooter for a price of dinner in Mozaic. In the name of research The Lux Traveller has decided to forgo the purchase of a scooter and headed off to Mozaic.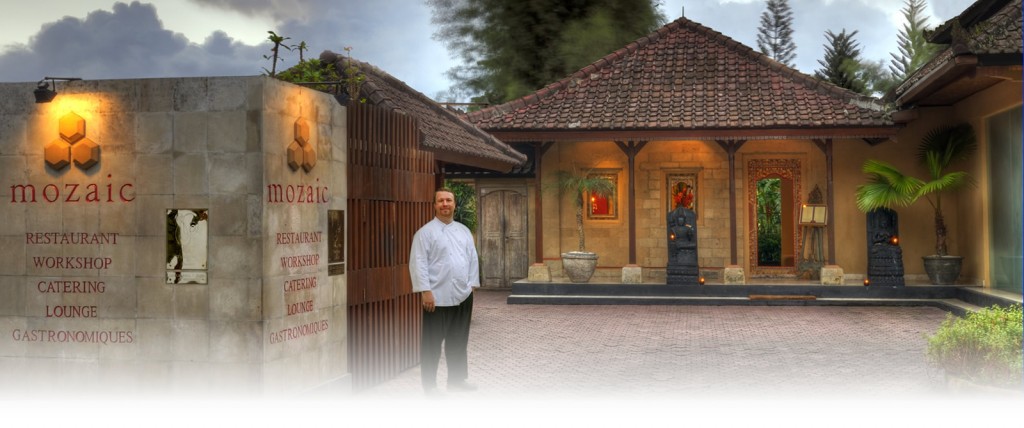 Our Experience
The driver has dropped us off in front of what looks like cute cottage in the middle of a busy street in Ubud with a security guard at the front. At a time I happened to be holding a can of Diet Coke and security guard has promptly informed me that I have to either through out the drink or be charged corkage – Gee, welcome to you too!
Following this strange episode we were escorted to a very smoky (yes, you are still allowed to smoke indoors in Bali) waiting room / lounge bar. As I don't smoke, I didn't  want to stay in the smelly bar and asked to be taken straight to the table. I was offered to order a drink and wait instead…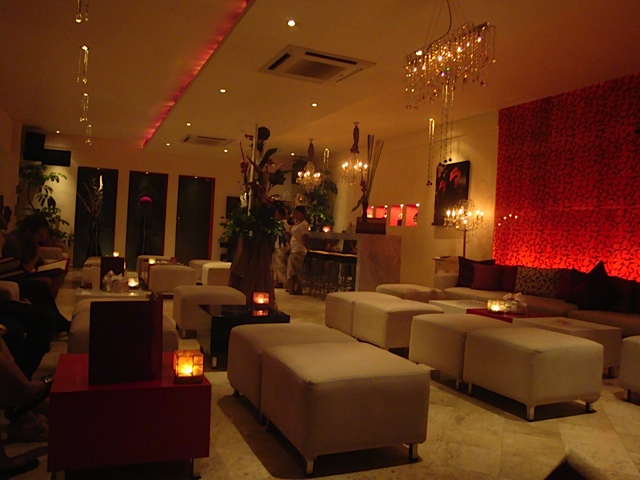 After about 5-7 min we were finally invited to the table. Tables are set up in a lovely garden with torches and candle light in a dark romantic setting.

Only 60% of the tables were full though so I wasn't sure why we had to wait outside.
Anyhow, let's the dinner begin!
On the Tapas menu at the bar we have spotted black caviar – The Lux Traveller's favourite treat. Siberian Sturgeon's, wild raised, black caviar comes in a small 20gr tin, elegantly presented on ice with a selection of crackers, sour cream and most delectable Russian blinis. The caviar with the pancakes was so good that we couldn't stop at one and ordered another one. It was surprisingly well priced as well, about $100 per serving.
You can't have caviar without the French Champagne so a bottle of Billecart Salmon Rose has magically followed the caviar order. Our happy waiter was very courteous, listened patiently to every request and we didn't have to ask for anything twice.
After the caviar indulgence we were offered a 6 course degustation menu. Mozaic offers 4 variations of it – Discovery Menu, Chef's Tasting Menu (has a couple more delicacies like Foie Gras and Lobster on it), Vegetarian menu and a Surprise menu (you don't know what you are getting – allow the chef to surprise you).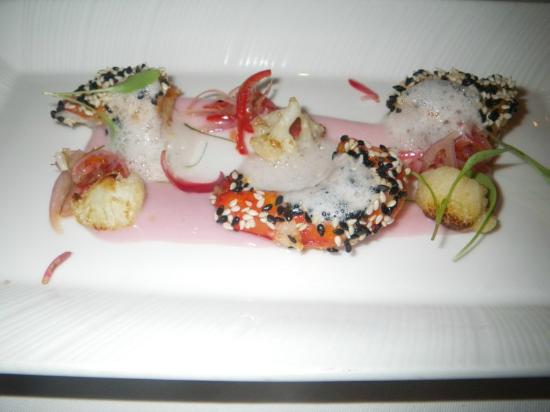 We have chosen a mix of Chef's Tasting Menu and a Discovery Menu.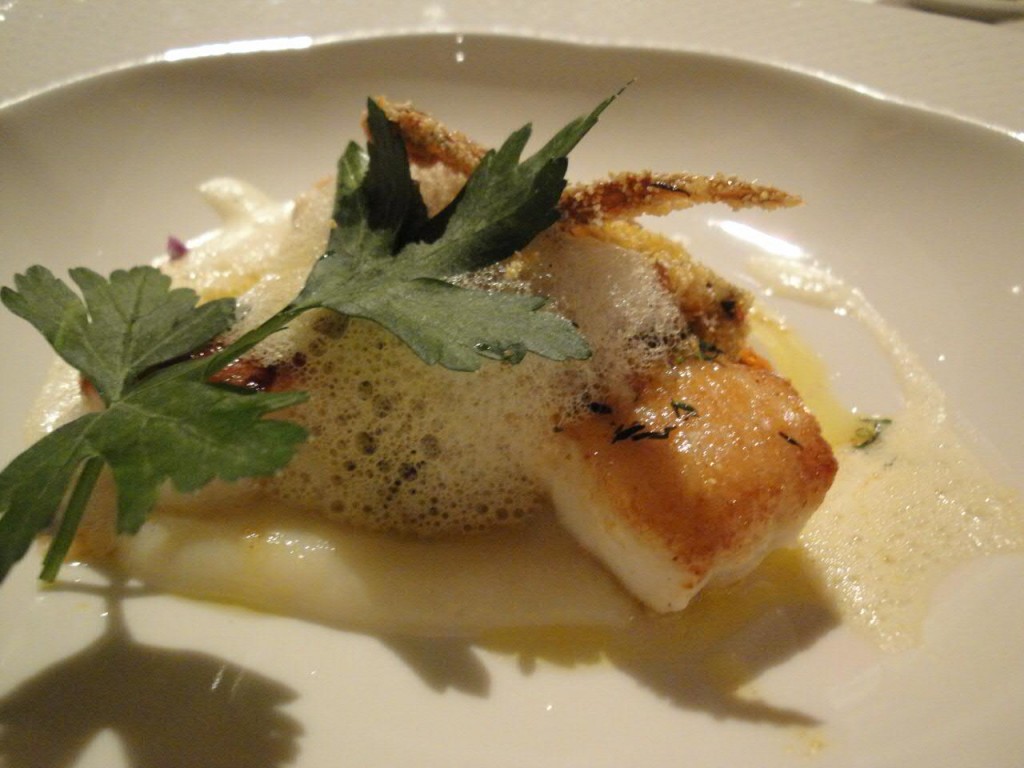 Most of the courses were amazing. However one dish was not great – Crispy Seared Foie Gras. It had a distinct Japanese feel to it and Foie Gras tasted very slimy. Most definitely not the best Foie gras I ever tried.
Nice touch – In the beginning of the meal a long plate with local spices makes an appearance on the table. It represents local ingredients that will be used in the dishes to come – turmeric, coconut, ginger.
Pricing
Our dinner has set The Lux Traveller by about $800.00. However if you don't go for champagne and caviar experience, expect to spend at least $400.00 per couple inclusive of a bottle of wine.
Discovery menu starts from $70 pp, Chef's tasting Menu from $110 pp, Surprise Menu from $150pp
All In All
Presentation of all dishes was superb – every dish was a little piece of art.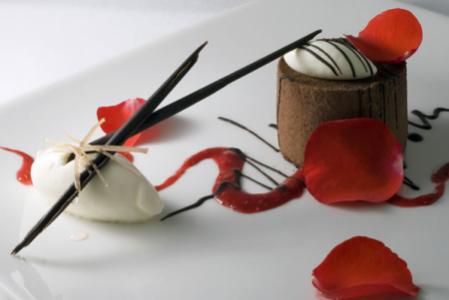 Quality of food – Excellent.
Style – Modern European with a touch of Bali.
Wine list – One of the better ones in Bali.
We had a wonderful and memorable romantic dinner in Mozaic. It is definitely worth trying at least once! But we would suggest to move smoking outside and teach the front staff some manners.