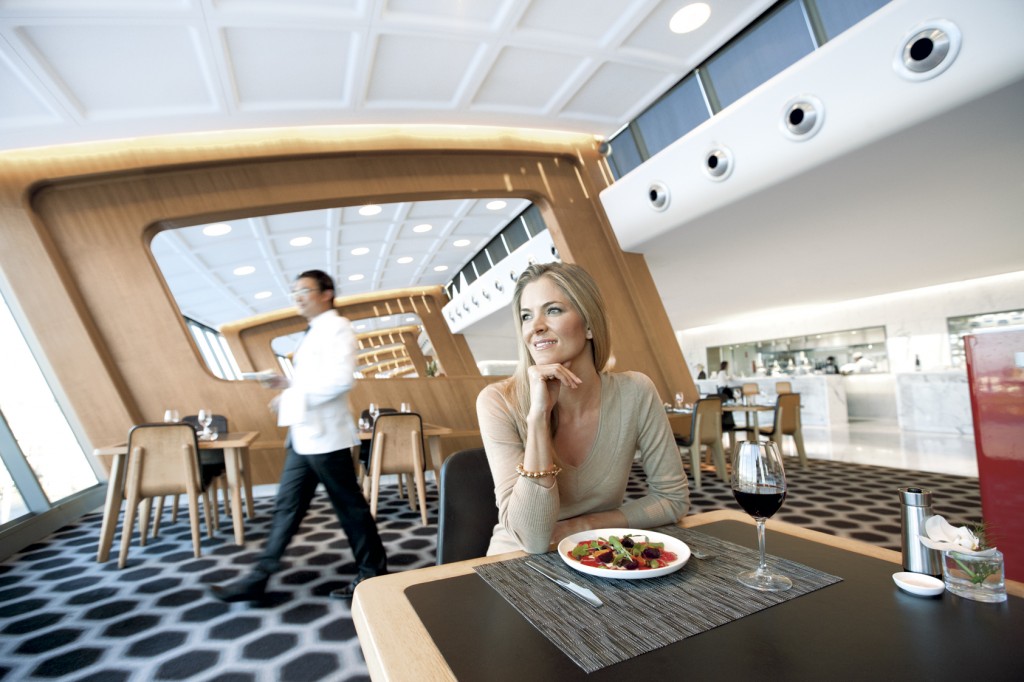 This week Qantas has launched a sensational new summer menu at their First Class Sydney and Melbourne lounges. We had a pleasure of reviewing the new menu and I have to say that it truly deserves at least one chef's hat. Who would've thought that dining at the airport could be more exquisite than going to a nice restaurant. Well, if you are flying First Class on Qantas it truly can be.
The lounge is set up as an all day fine dining establishment and features a menu designed by the famous Rockpool restaurant team. Guests who have access to the lounge are advised to arrive a couple of hours before the flight to truly enjoy their experience that includes a gourmet, silver service breakfast, lunch or dinner, a glass (or few) of premium champagne of your choice (champagne choices get updated on a regular basis) and even a spa treatment.
Seasonal menu changes 4 times a year. The team sources fresh local ingredients whenever possible to make sure that every dish served in the lounge looks amazing and tastes wonderful.
Here are a few specials from the new Summer Menu.
From Breakfast choices (served until 12pm):
The Shaw River buffalo milk yoghurt – it is a standard item on the menu but the garnishes change depending on what fruit is in season. For summer, the chefs have chosen coconut shavings and fresh mango.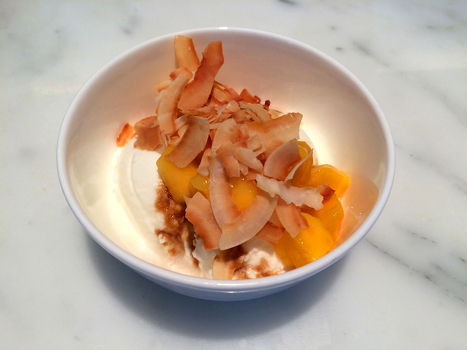 Buttermilk pancakes are now served with fresh blueberries and honey lemon yogurt.
These are so tasty that we have asked the chef for a recipe. If you'd like to try making them at home we have the tips from the Rockpool chef Alexander Woolley here.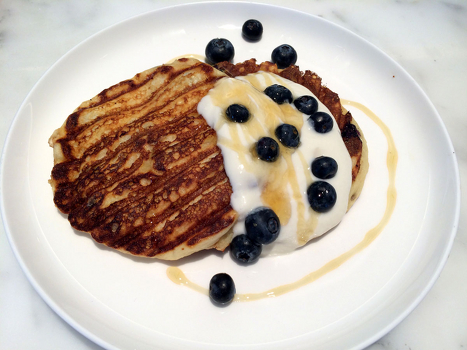 From All Day Menu (served from 12pm onwards):
Australian Buffalo Mozzarella with heirloom tomatoes is an extremely popular dish in the lounge and thankfully it is still here. One of my definite favourites.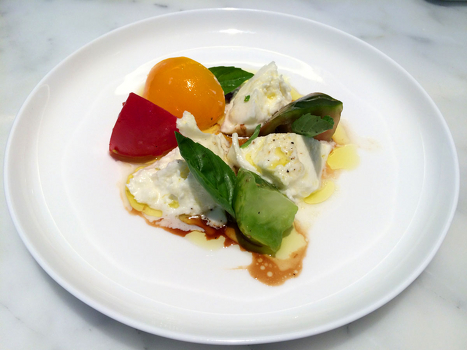 Another delectable dish for vegetarians or salad lovers is a Summer Salad with zucchini, squash, goat's feta and white beans. Fresh summer herbs and sourdough crumbs give it a beautiful texture.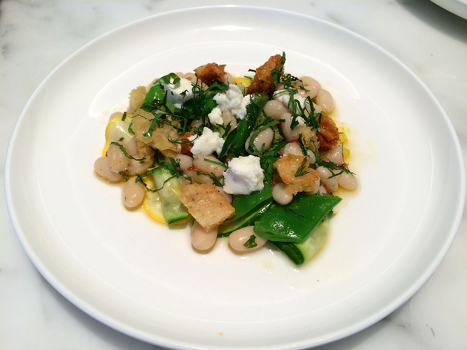 Another one of my favourites is Smoked Salmon with kipfler potatoes and salmon roe. It is a feast for the eyes as well as for the taste buds.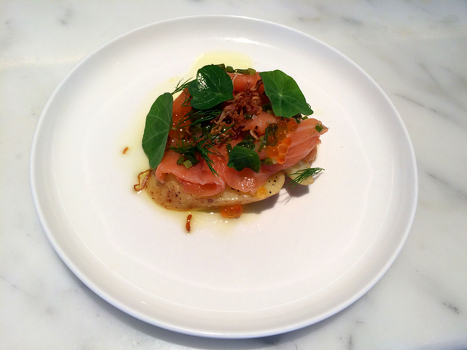 As for the larger, main size dishes there is an excellent selection of Summer pasta with peas, asparagus and Morton Bay bugs, Veal schnitzel, Grilled blue eye trevalla served with 'tandoori roasted carrots' and Chicken stir fry with snow peas.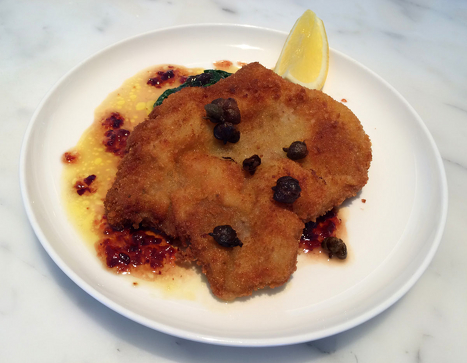 There truly is something for every taste. Pasta was my first choice but I have to say that crumbed veal was also to die for.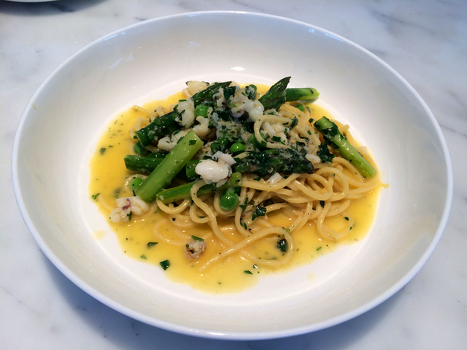 Regular visitors to the lounge will probably know that there are a few dishes that never come off the menu – minute steak, club sandwich, salt & pepper squid and pavlova. Don't worry those dishes are still on the menu!
However 'Deconstructed' pavlova has a new summer twist to it – it is served with seasonal summer fruit which was peaches for us.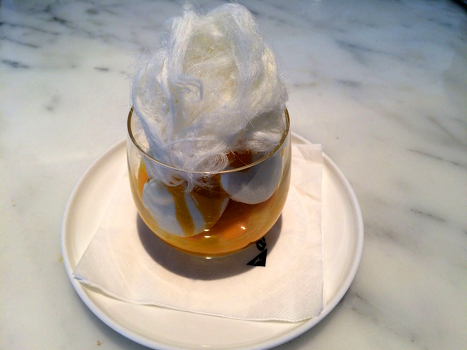 Other desert additions are Nectarines with croissant pudding slice and a very light treat that won't leave you feeling guilty Buttermilk pannacotta with marinated melon. Melon is almost see through and very tender, marinated overnight in Noble One desert wine.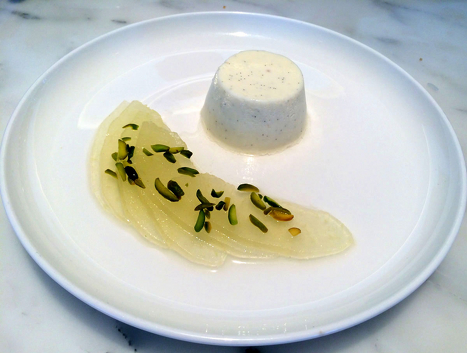 Pair these dishes with an ice cold glass of champagne (current menu has a choice of Perrier-Jouët Grand Brut. Taittinger Brut Reserve, Veuve Clicquot Ponsardin) and save a glass of G.H. Mumm Brut Rosé for your desert. Does lunch get any better than this?
Rockpool Chefs in charge of the lounge might come up with other seasons inspirations and even after reading this article you might be in for a surprise when you get to the lounge for lunch. Enjoy! Qantas First Class Lounge is truly one of the best lounges in the world. You are in for a treat!