the lux score
99
the lux score explained
Service 10
Rooms 10
Food & Beverage 9
Ambience 10
Attention to Detail 10
Generosity & Value 10
Wow / Hip Factor 10
Facilities 10
Location 10
Fit to Promise 10
Palais Namaskar is a destination in Marrakesh unto itself.  True to its name Namaskar, which means "I welcome you with all of my heart," this resort delivers a pinnacle level of world-class service that exceeds the expectations of the most discerning traveler.  It strikes the perfect balance between tranquility and liveliness making it easy to relax during the day and to enjoy a magical and romantic ambiance at night.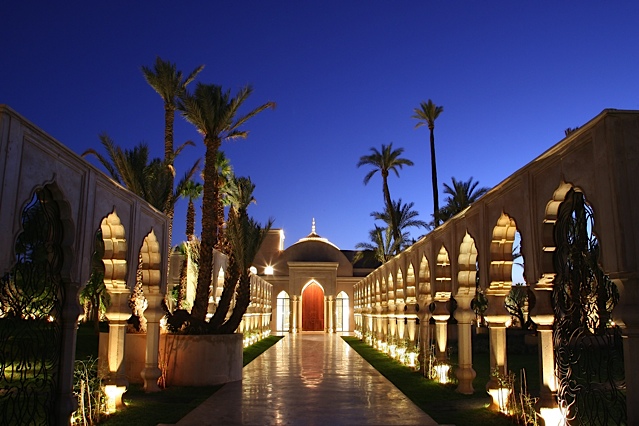 Located in the Palmeraie, the newer and more rapidly developing area of Marrakesh, Palais Namaskar is just a twenty-minute ride from the ancient and walled part of the city, a UNESCO Heritage site, called the Medina. This is where the famed Jemaa el-Fnaa market place is located and where most tourists gather 24/7.  When we wanted to venture into the Medina, we found it hassle free to hire one of the resort's chauffeured luxury cars or to taxi there safely.
Palais Namaskar opened in April 2012 and is the newest addition to the Oetker Collection, whose portfolio of uber-luxury properties feature some of the best hotels in the world such as Le Bristol in Paris, Brenners Park Hotel & Spa in Baden-Baden and Hotel du Cap-Eden-Roc of the Cote D'Azur. Palais Namaskar fits beautifully into this stellar collection.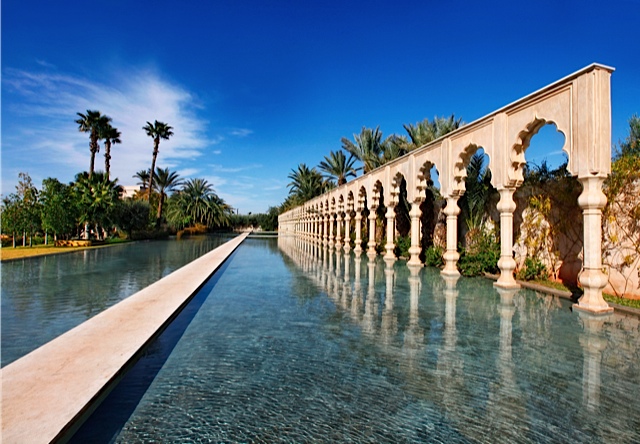 Set upon 12 acres of lush landscape, the resort has a grid-based series of water gardens with various paths to access different parts of the property.  Some walkways are graced with arches of blooming flowers, others are lined with soaring palm trees, while the rest simply stretch barren across still ponds that beautifully reflect the rich detail of the resort's Moorish architectural style.  It is simply delightful and easily navigable to stroll the property by day or night.
Accommodation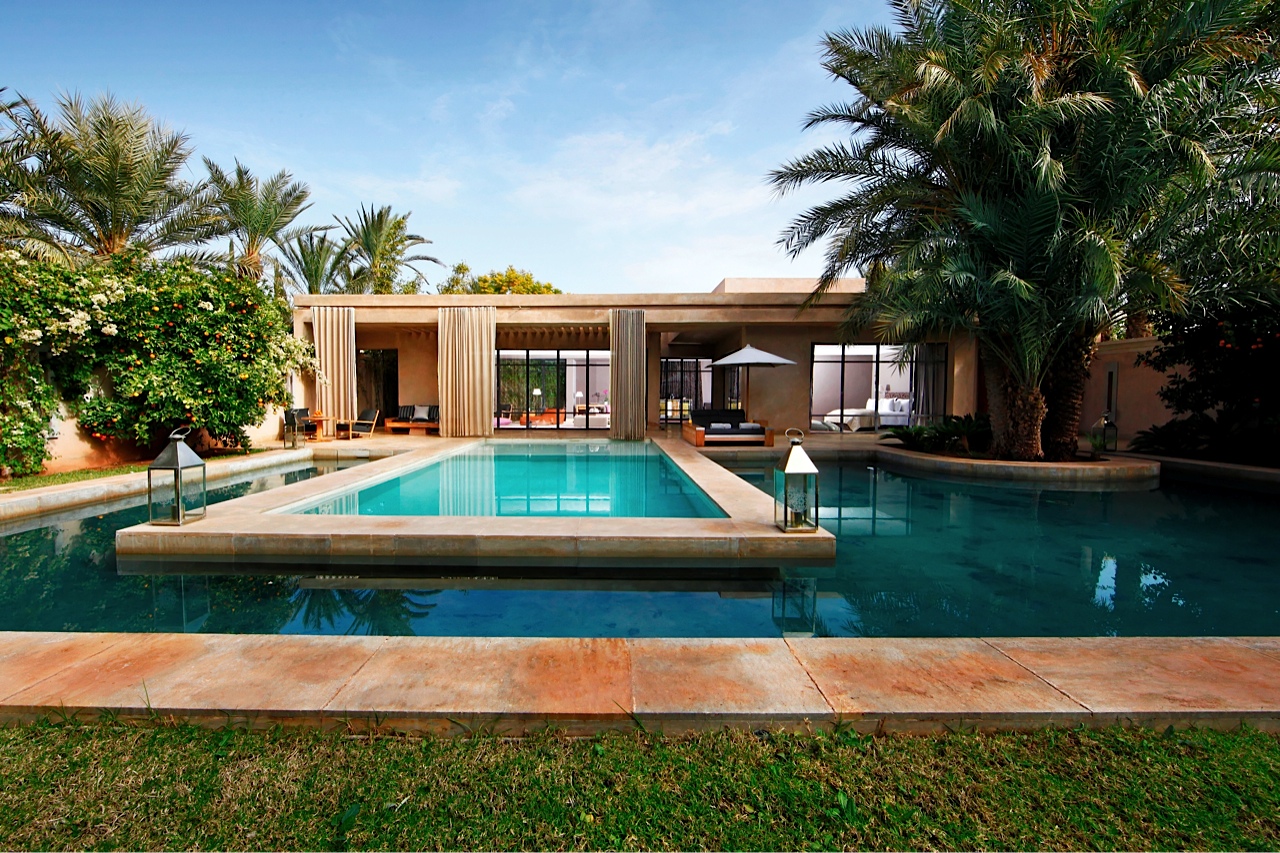 Palais Namaskar has 41 rooms, suites and villas as well as three palaces. All of the resort's luxurious guest areas are appointed with exquisite fabrics and are arranged by the fundamentals of the Chinese based energy orientation philosophy of Feung Shui.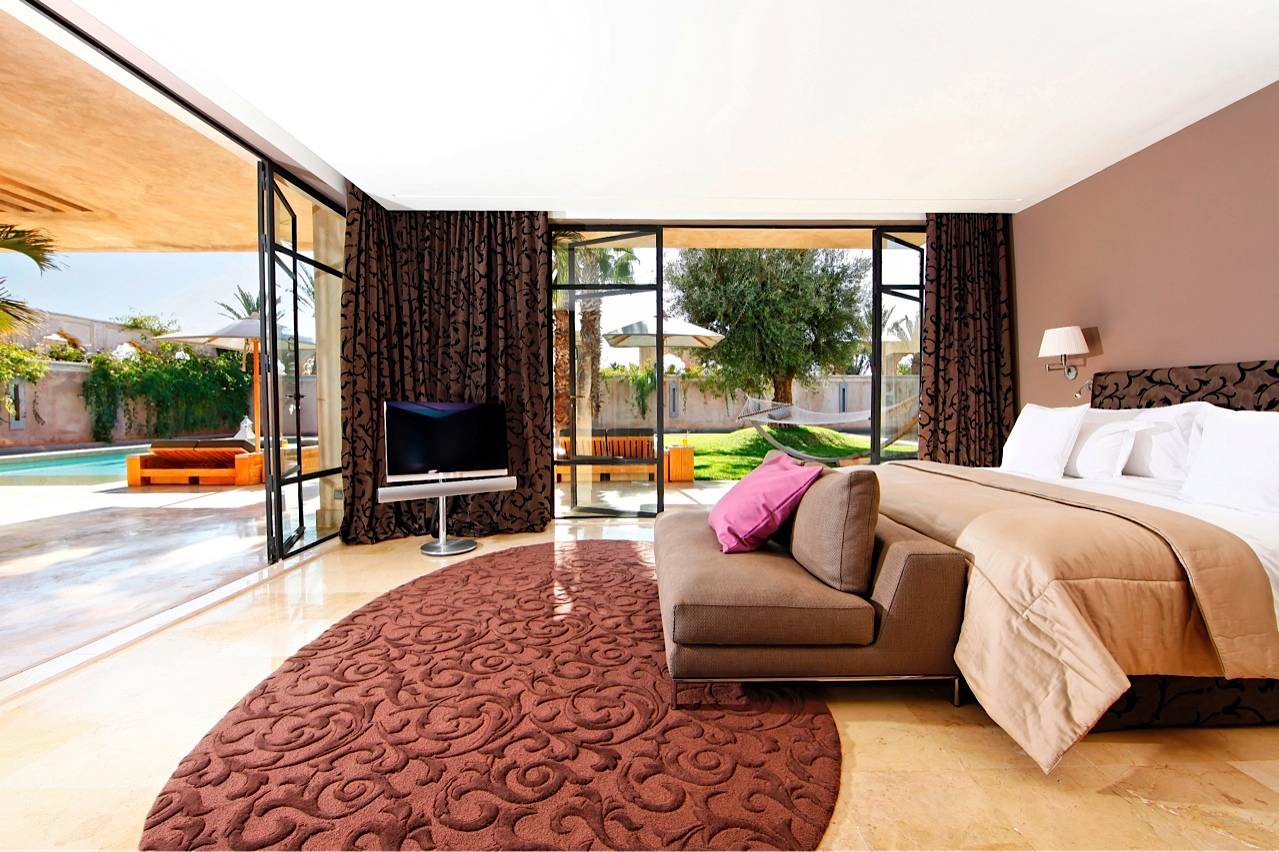 That being said, the complete range of Palais Namaskar accommodations all have some kind of 'water element', be it a communal pond accessible from a room's terrace or a private pool that is part of villa or palace compound.  Also noteworthy are the extraordinary size of the bathrooms and their respective spacious shower stalls and bathing basins.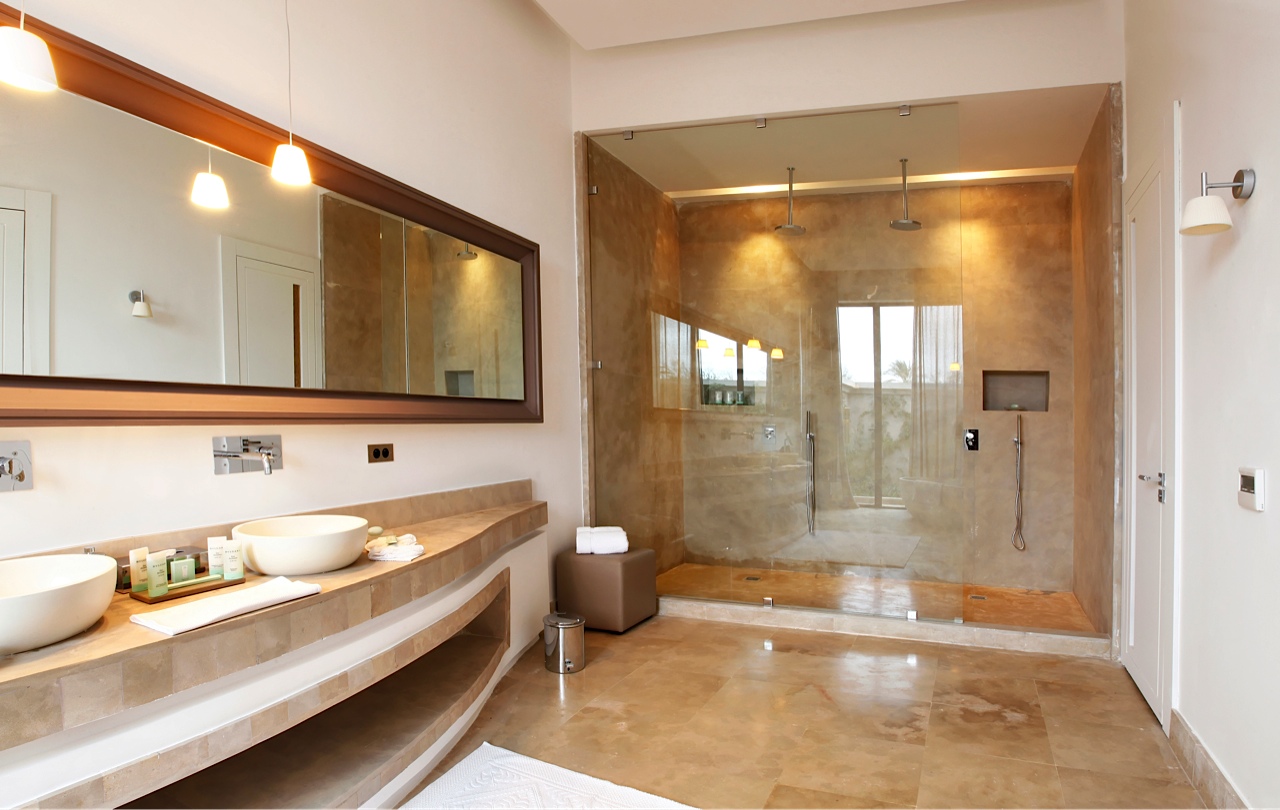 Dining
There are several dining options to enjoy, from outdoor poolside, indoor traditional as well as the must see rooftop Bar, No Mad.  Sitting there watching the sunset was a true luxury experience and we really loved the panoramic views of the Atlas mountains and the expansive Palmerai desert valley.
Regardless of where you dine at Palais Namaskar, each dining area serves a comprehensive menu, be it International, Moroccan and even traditional Thai style cuisines.  Ambiance is taken just as seriously as the food and beverage.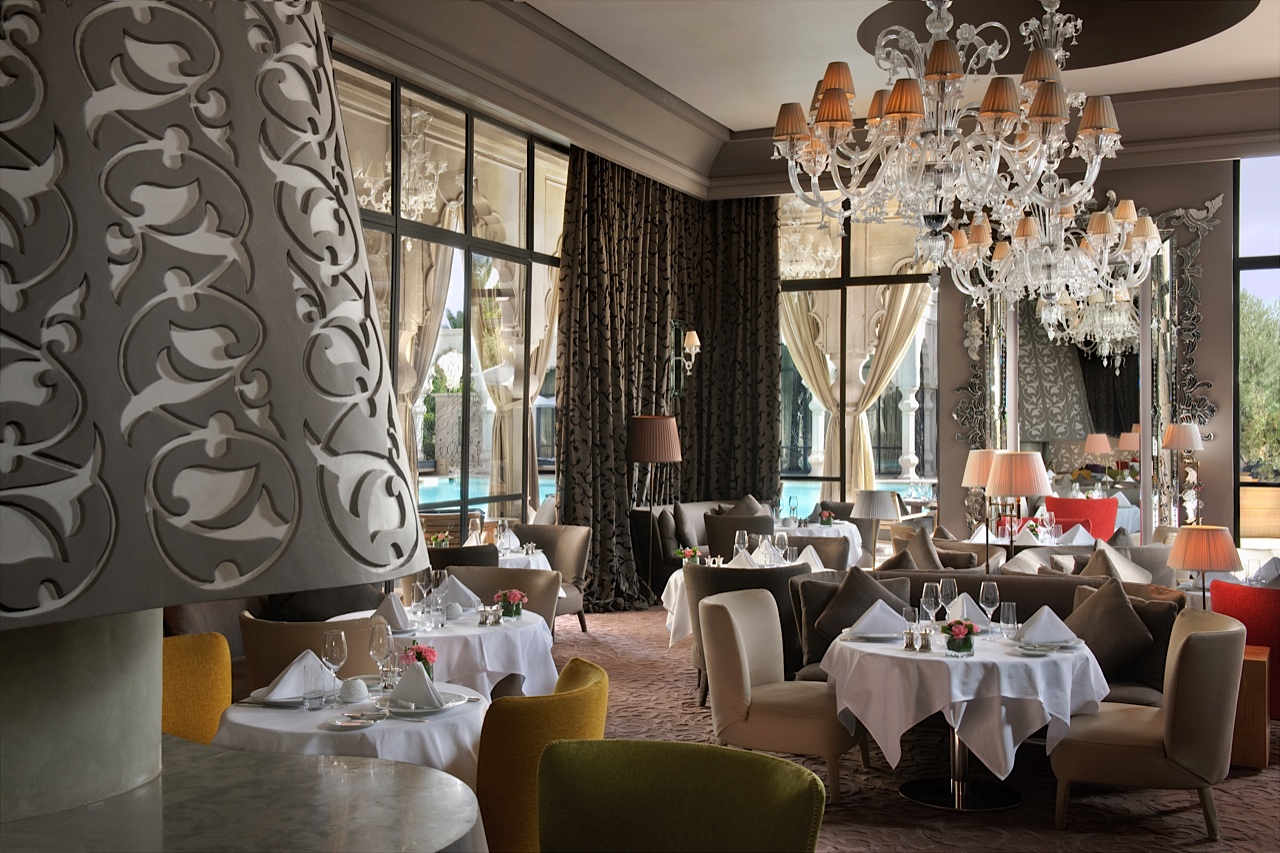 One of our favourite and most memorable dining experiences was at Le Namaskar Restaurant where we were seated outside by the pool around dusk time – simply magnificent.
Wellness & Spa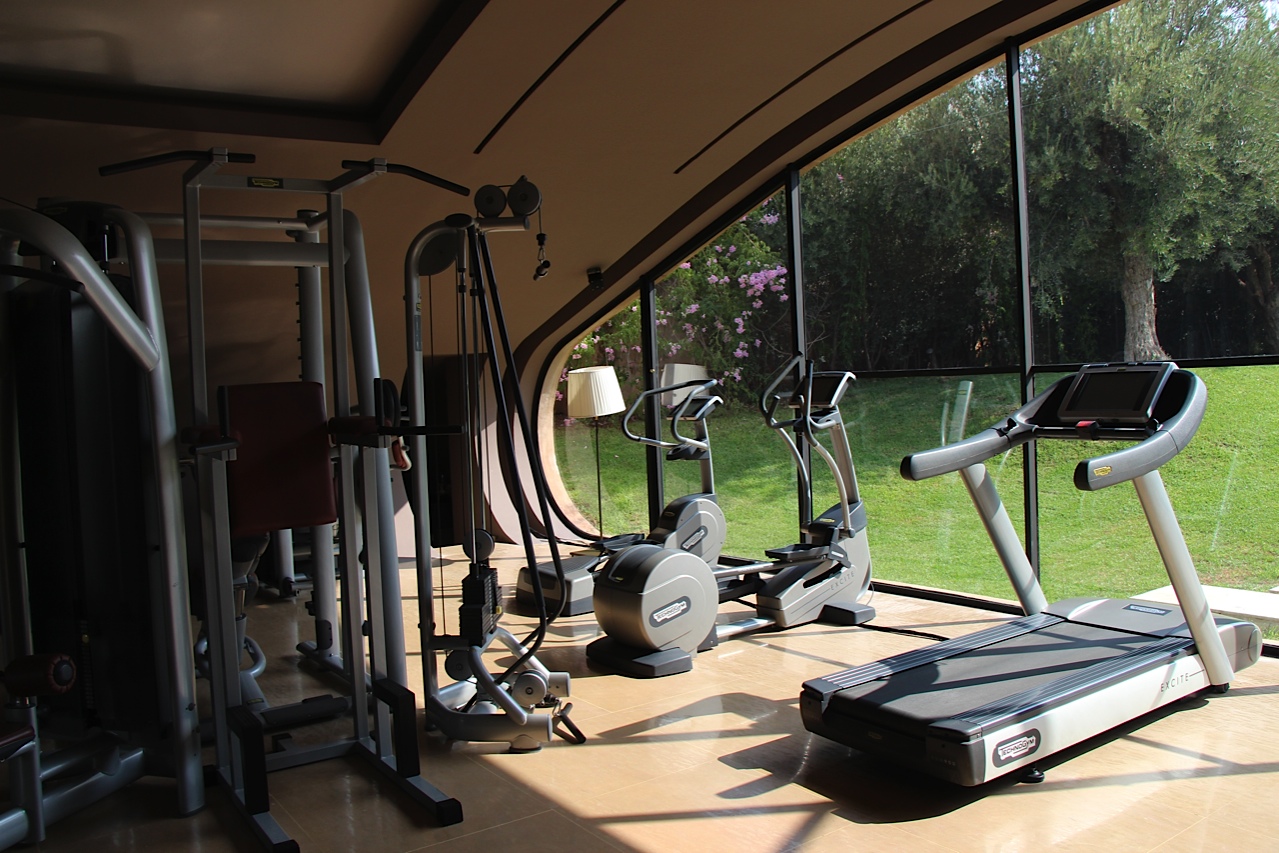 I loved working out at the their fitness studio.  It has with floor to ceiling windows allowing for a perfect view of nature.  There is also a 1 km jogging path on the property, in addition to guided yoga and meditation sessions with Resident Coach Leo.  These sessions are held throughout the properties many scenic areas. And there are so many from which to choose!
Le Spa Namaskar, located adjacent to the fitness area, is directed by ila and Guerlain, and offers a deep relaxation experience based on purity, energy and balance.  There is a selection of both individual and couples treatment rooms equipped with private terraces and/or a hammam or Jacuzzi.  My favorite room has an intimate fireplace.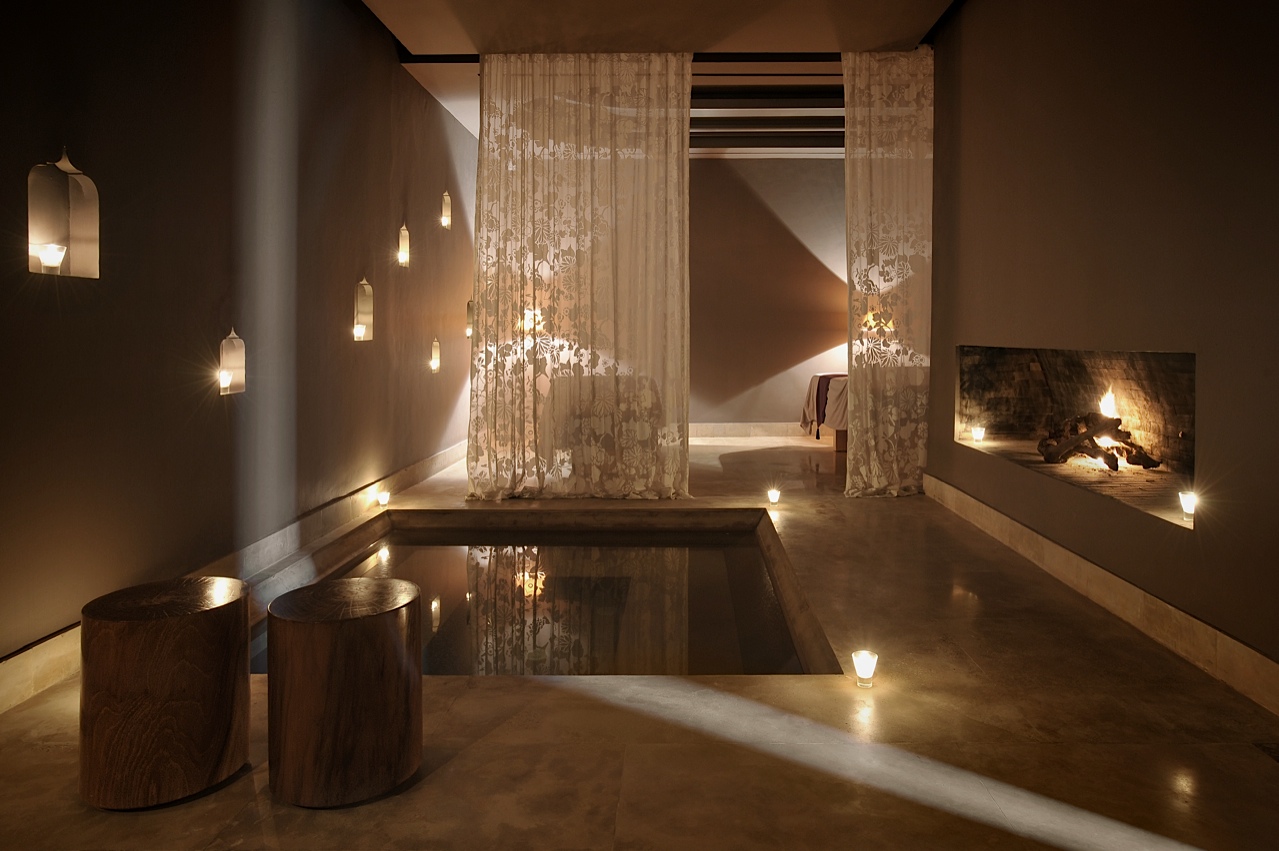 Excursions
For the adventure minded traveler, Palais Namaskar offers an array of custom styled excursions to hotel guests ranging from desert, cultural, culinary and coastal explorations.   You will never be bored here, unless of course, you want to be.
The Lux Traveler Loves: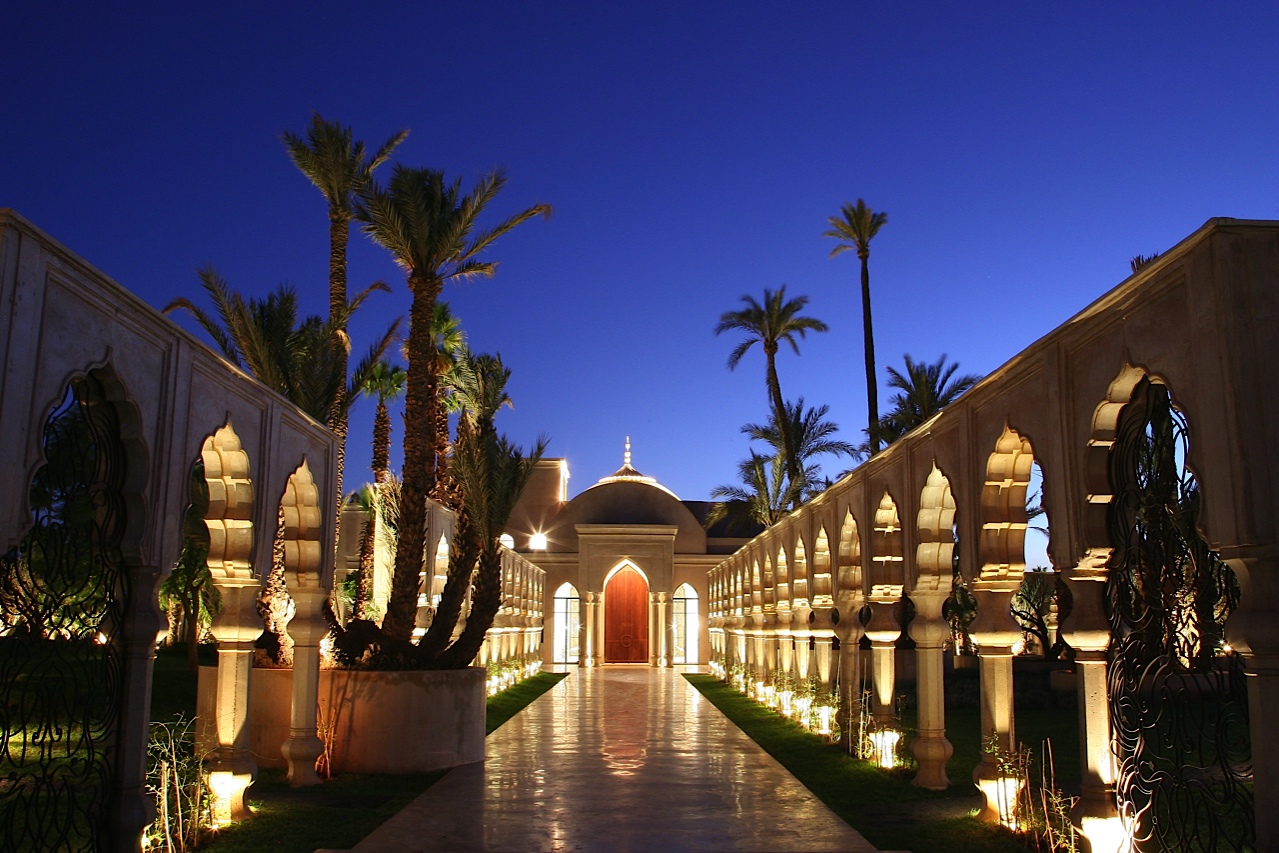 The magical nocturnal ambiance of Palais Namaskar – it feels exotic and romantic.
Private pools and gardens in the Villas and Palaces
The No Mad Bar for pre-diner drinks
Their Resident DJ masterfully creating a sexy vibe in the Namaskar Restaurant & Lounge
Outdoor guided yoga and meditation sessions
Splitting Hairs:
When seated in the outdoor area at lunch-time at La Table d'Antoine, we found it challenging to receive good service as we had a very private table.  It was nice to have the exclusive setting, but would have been optimal if the service staff remembered more often that we were seated there.
Stick with the traditional drinks throughout the resort's bars.  As of this writing, their mixology is not quite up to international capital city standards.
If you are not a fan of Philippe Stark design, don't visit Le Namaskar Restaurant Lounge during day light hours.  It is not the best time for the space to shine.  It feels more like walking into a nightclub during the day.  To visit there at night…well that's a different story.