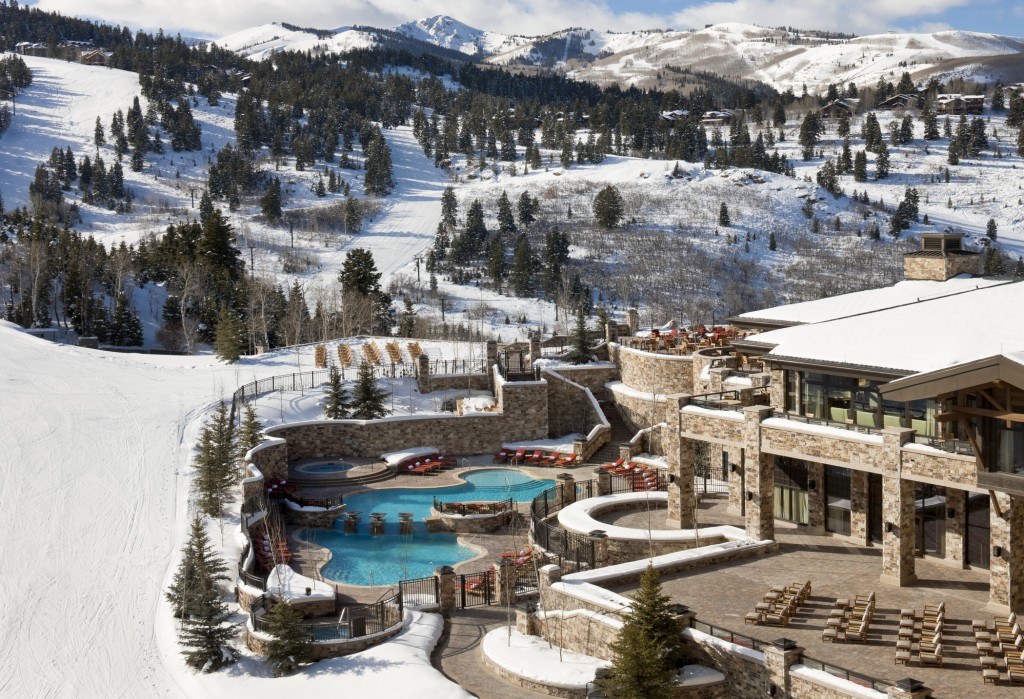 Park City in Utah, USA, is a happening place, with three major ski resorts within a ten-minute drive, as well as plenty of off-snow activities. No wonder Australians love it…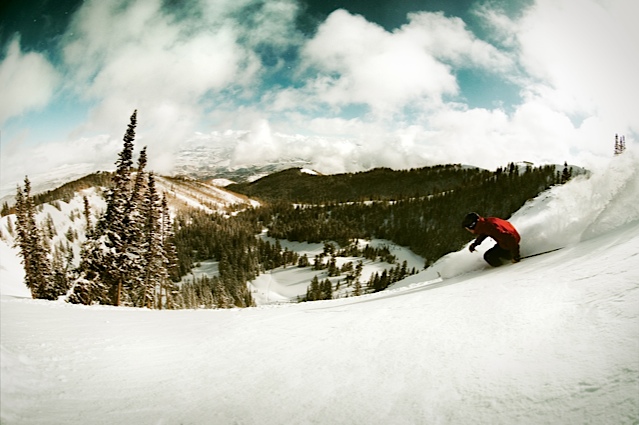 Park City was once a silver mining town but almost became a ghost town once gold took over and the demand for silver was gonski. Some very smart miners put forward a proposal to turn it into a ski resort, establishing the Treasure Mountain ski resort not long after. It saved the town. The mining heritage is not forgotten, with the Old Town's historic Main Street boasting 64 Victorian buildings that are listed in the National Register of Historic Places. The buildings now house boutiques, restaurants, art galleries, cafes and real estate companies. There are other reminders of the mining days, with picture boards around Park City Mountain Resort and Deer Valley, showing where the mines used to be and what they looked like.  It's a great way of tying in the old with the new.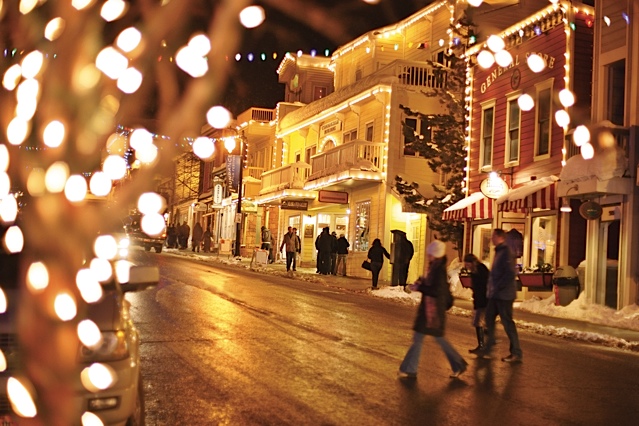 The best thing about Park City is that it is close – very close – to three amazing ski resorts. One of them, Park City Mountain Resort is accessed by the Town Lift that goes up the mountain direct from the Town Plaza in the Old Town. Easy! Deer Valley, the first five star ski resort is five minutes away with The Canyons about five minutes in the other direction. All three resorts have their own character, and all three are well worth exploring. One thing they all have in common is what the locals call "The Greatest Snow on Earth". Hey, who's arguing?
Gear up – If you dislike wasting time organising hire gear, standing in queues and fiddling with sizes etc, SkiButlers is just what you need. Before you leave home, go to SkiButlers.com. Simply fill in the online form detailing ski ability, height and weight and the type of sking you want to do. Book a time for them to come to your hotel when you arrive and off you go. As soon as we arrived in Deer Valley they came knocking carrying bags full of gear. Within half an hour we had excellent skis and boots – most of them brand new. That's service. www.skibutlers.com 
Deer Valley – was the first ski resort that was designed to deliver five-star service and it most definitely does that. It offers free ski storage, ski valets help you from the car, the staff-guest ratio is very high, there are ten restaurants and three lodges on mountain, and everywhere you go, nothing is a problem. It was been named the Number One Ski Resort in North America an unprecedented five years in a row by the readers of Ski Magazine in the USA. Now that's impressive!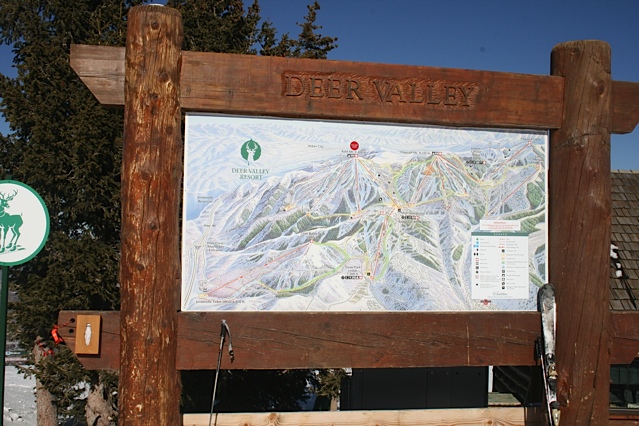 Another difference is that it is a ski-only mountain, with no snowboarding. Just quietly, I liked that! Deer Valley has six mountains – Bald Eagle, Little Baldy Peak, Bald Mountain (9400ft), Flagstaff, Empire (9570 ft) and Lady Morgan – with 100 ski runs and six bowls, accessed by 21 chairlifts. We explore the runs on Little Baldy Peak, Flagstaff and Bald Eagle Mountain, and can't stop raving about how well groomed they are and how good the snow is.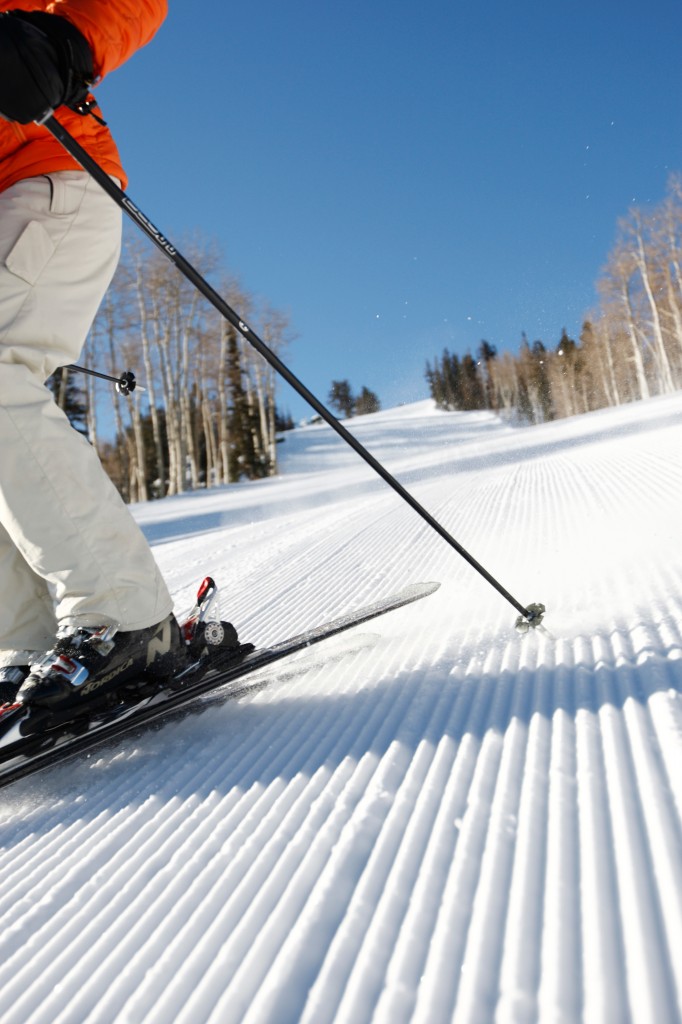 A sneaky highlight is engaging our inner teen and doing the NASTAR racetrack, set up on Bald Eagle Mountain and open to the public. We start in proper gates and race down through the poles to the finish line, complete with race commentary and electronic timing. It does make you feel a bit like Lindsey Vonn, well, maybe for a second.
Must do: Do a free guided mountain tour so you get the hang of the mountain, see where to go and which runs suit you. Very handy! Dine at: Daly's Pub at The Montage. Be warned, you might end up staying way, way longer than you planned!
Best moment: Speeding down the NASTAR race track. Woohooooooo!
Park City Mountain Resort – With eight peaks, nine bowls, 114 trails, three terrain parks and the huge Eagle Superpipe, Park City Mountain Resort is the whole package. If you like to ski smooth, groomed runs, there are over 50 of them to choose from, as well as a swathe of blacks and double blacks, glades and tree runs to keep the thrill seekers happy.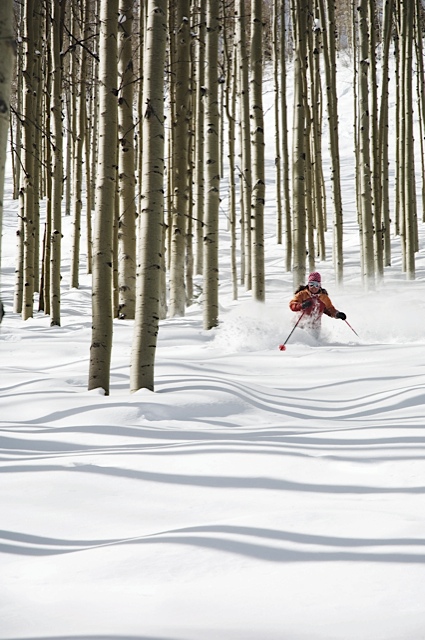 The base is abuzz with activity with Legacy Lodge the place to purchase lift tickets plus ski or snowboard lessons and ski gear. From here, you can head up Payday or Crescent chair lifts, or beginners can mosey over to the First Timers lift. The Three Kings lift accesses the terrain park of the same name, while Eagle, a little further over leads to the King Con area with a huge amount of blue runs. We loved exploring the runs off the Silverlode chair, the King Con chair, Payday and Bonanza, and even though some of the mountain was not open while we were there because it was very early in the season, there was more than enough to keep us busy.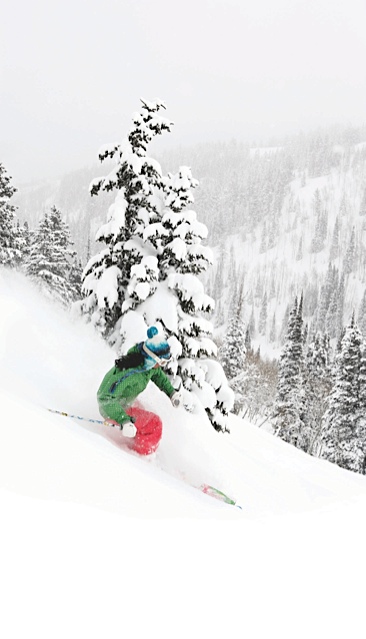 Must do: The Alpine Coaster is a gravity-propelled, rider-controlled thrill ride that banks, turns and drops through a track in excess of a mile long and at speeds of up to 30 mph. It is wicked! Dine at: Have a quick snack at Kristi's Coffee Café so you don't waste too much time off the snow. It has good coffee too, which is always a bonus.  Best moment: Just chilling with a local ale in the deck chairs up near Tombstone.
Canyons Resort – Canyons Resort has enjoyed a massive investment on facilities and infrastructure over the past few years, is now finding its feet and competing with the big boys. The thing that we notice about Canyons is its fun vibe – very cool for school. At the base, which has a chairlift from the carpark, there are plenty of restaurants and bars, shops selling all the gear you could need, the ticket office for lift tickets, first tracks experiences and so on and ski and snowboard lessons.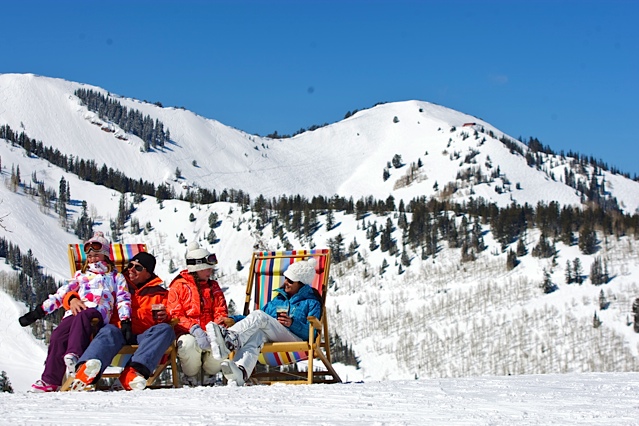 A big open central area is often used for movie nights, fun snowman building, snowball throwing or just sitting by the firepits and thawing out. The Canyons is massive in terms of terrain, with 182 trails on nine mountains, as well as five bowls, six halfpipes, terrain parks and a ski beach. Yes – this place has a ski beach. Sit back in a deck chair in the sun at the end of the day. Perfect! One of the best things about The Canyons is the Orange Bubble Chairlift.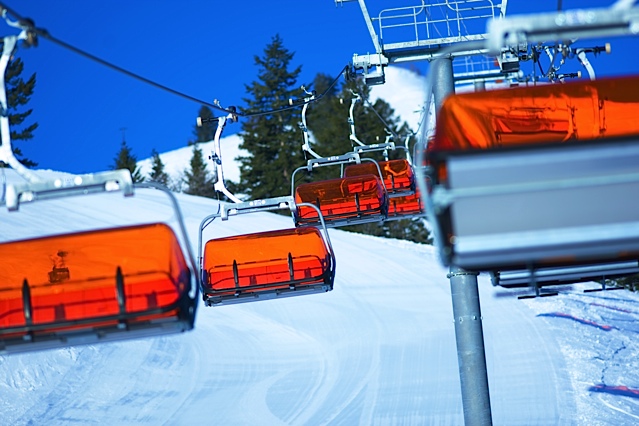 It has heated seats and a bubble that you can pull down to keep the wind out. It is so bright and cheerful it makes you want to ride it just for the sake of it.  We love the runs off the Tombstone Express, the Sun Peak chair, the Orange Bubble and the Saddleback Express, especially taking Another World to The Drop, the terrain park on Transitions, and Doc's Run to the base. We had an incredible lunch at the aptly-named Lookout Cabin and watch as some thrillseekers went ziplining over the valley to Red Pine Lodge. It looked so much fun that we sign up. We did a test line first, then tackled two lines, zipping down over the snow.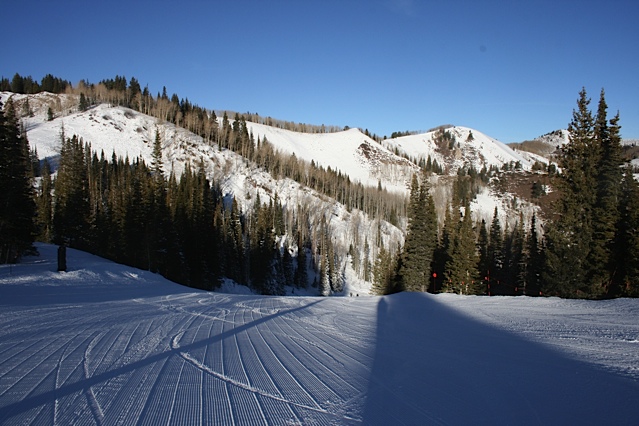 The last one is the longest and the most terrifying, heading down from the Lookout Cabin over the valley hundreds of metres below, over to the finish. As there were two lines, we could race each other!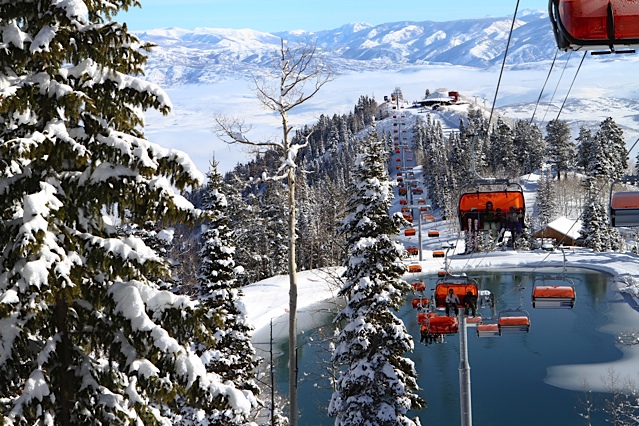 Must do: The run called The Drop. We were like kids, doing it again and again. Dine at: Lookout Cabin. The food here is divine. Best moment: Skiing with all the Santas during Santa Ski Free day. Very bizarre! Next time I must remember to pack my Mrs Klaus suit!
Shopping – Take time out from skiing and pick up some fantastic bargains at the Tanger Outlet Mall. All the big names are there including Calvin Klein, Ann Taylor, Coach, Nike, Oakley, Abercrombie and Fitch, Volcom, GAP, GAP Kids and Polo Ralph Lauren.
Apres ski – To see and be seen, cruise to The Bar at the St Regis, or Troll Hallen Lounge at Stein Eriksen Lodge.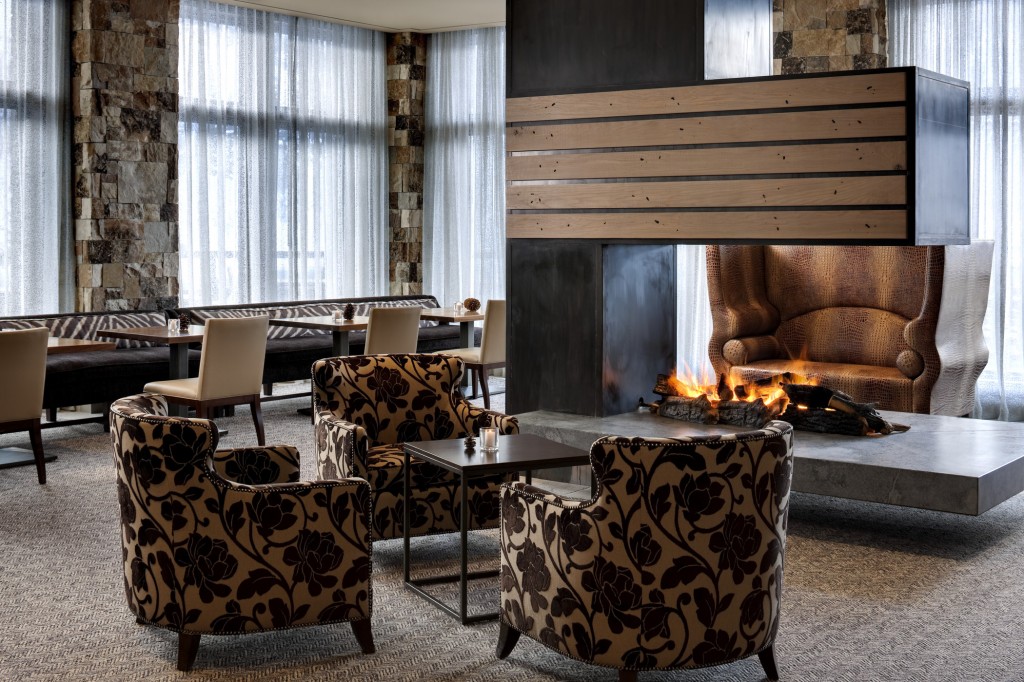 Daly's Pub at The Montage is always a hit as well.
Dining out – In Park City Bandits Grill and Bar and Butchers Chophouse are good, with the ribs at Bandits very messy but very moreish. The cookies baked in a skillet and served with ice cream were also amazing. For adults over 21, make a beeline for No Names Saloon, it is party central. Some more upmarket places include The Farm at Canyons Resort, Zoom – the restaurant owned by Robert Redford in Main Street, Talisker on Main and Silver.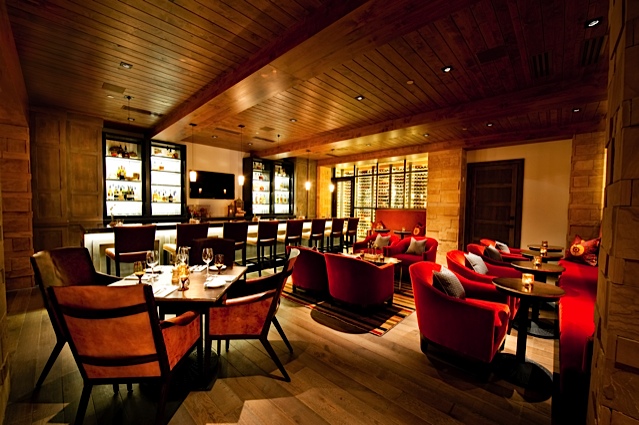 For something really special book in for the Seafood Buffet at Deer Valley. This experience is on the top 100 restaurants in the Zagat Survey and deservedly so. The buffet tables are groaning under the weight of fresh seafood, beautiful cooked meats, delicious canapés and unbelievable desserts. I don't eat seafood, but that didn't matter in the slightest. Fireside Dining at Empire Canyon Lodge is another treat, with chefs cooking a variety of treats at separate fireplaces. At one, rich fondues are produced with various treats to dip in. At another, different meats are roasted by the fire and sliced while you wait. At the last fireplace, it's dessert heaven. After the meal, we went for a sleigh ride in the snow. Dreamy or what.
Tips – Leave plenty of room for the shopping you will do at the Outlet mall! 
Getting there: Fly to Los Angeles then fly to Salt Lake City – about two hours – and then hire a car or arrange a transfer for the 35-minute drive from Salt Lake to Park City.
Stay at: The Lodges of Deer Valley, The St Regis – where they even have a butler – or The Montage in Deer Valley.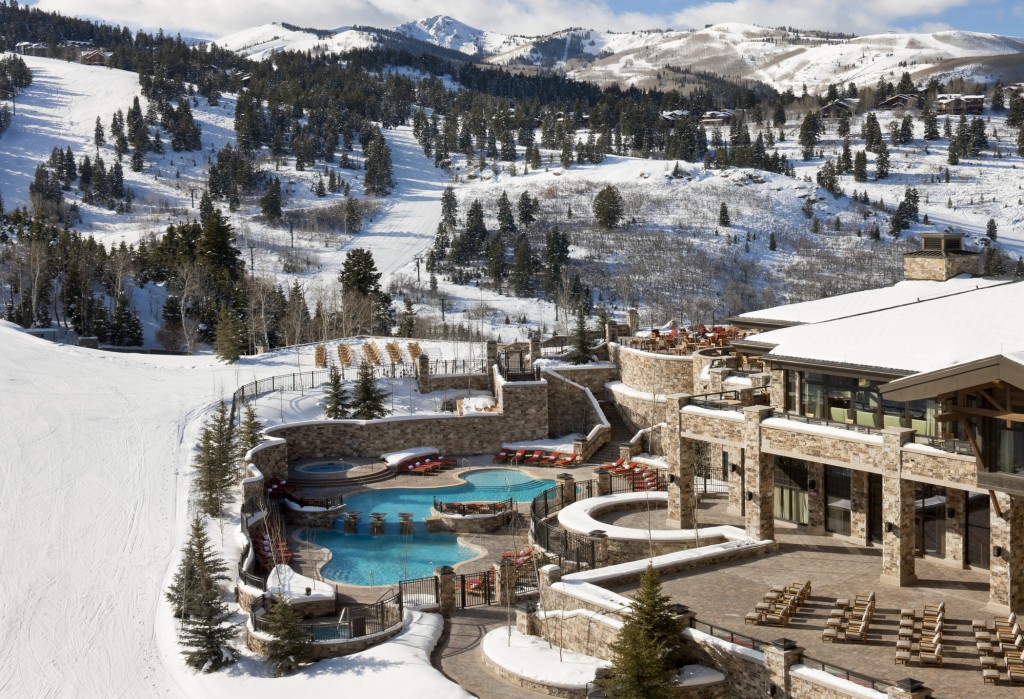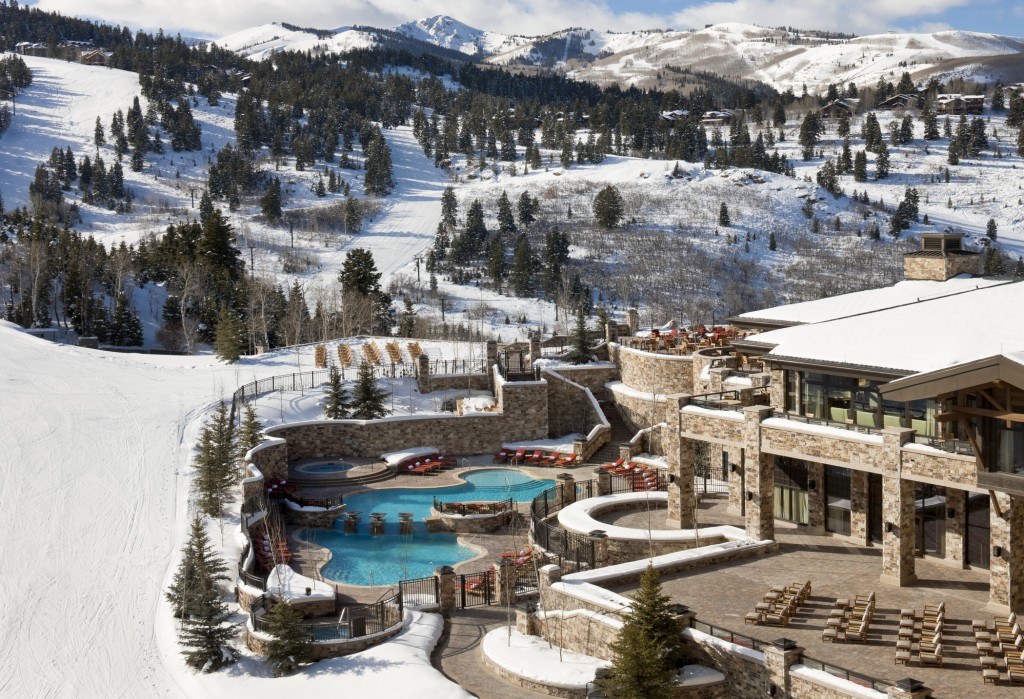 At Canyons Resort, stay at Hyatt Escala Lodge or the Waldorf Astoria.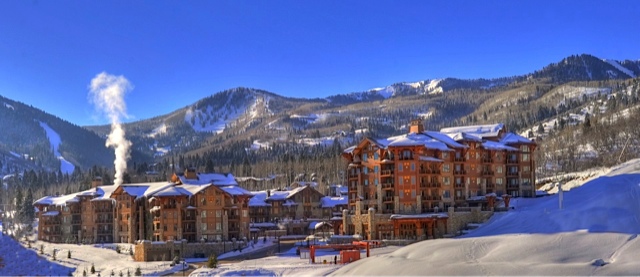 The Golden Door Spa at the Waldorf is excellent. Salt Lake City is well worth visiting before or after your ski holiday. We stayed at the Grand America Hotel, which was extremely grand and almost a destination in itself. It has a French patisserie with pastries to die for and the most incredible toy shop. Frock up and enjoy the high tea!
Park City: More information:
Park City Chamber; www.parkcityinfo.com
Deer Valley – www.deervalley.com
Park City Mountain Resort – www.parkcitymountain.com
The Canyons – www.canyonsresort.com
Ski Butlers – www.skibutlers.com