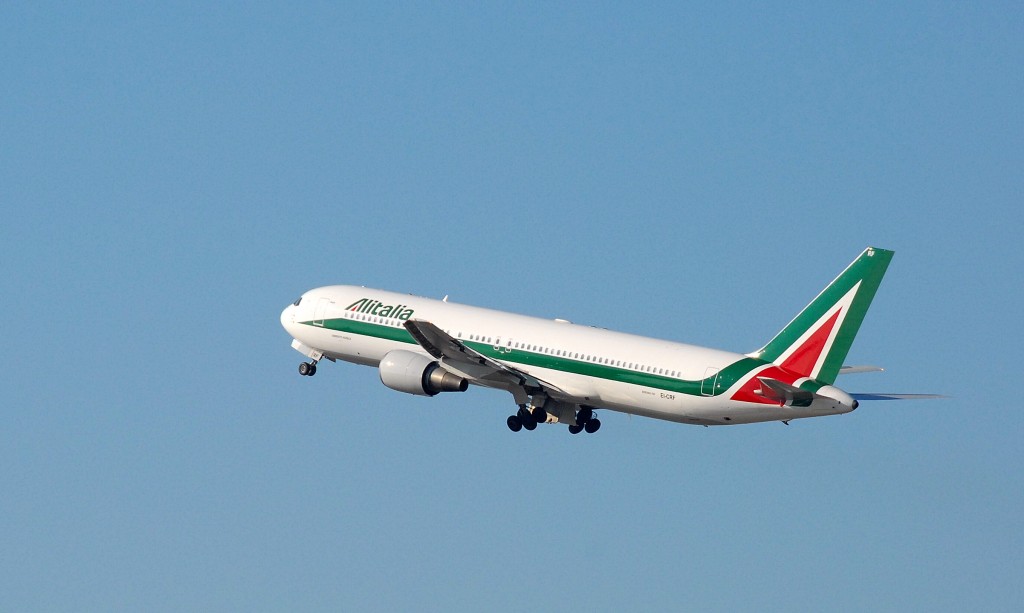 It was a real pleasure to fly with Alitalia for my very first time. My overall experience was excellent. I am a frequent flyer of Delta Airlines, so it was wonderful to experience yet another one of their Sky Team partners.
I found the service of Alitalia Business Class to actually surprise me with a few memorable details that I have not encountered with other air carriers. These discoveries make the airline a standout in my mind as I always enjoy being pleasantly surprised. I really liked the fact that the flight had a certain Italian style and flair to it, from its sleek installations to its outstanding food, as well as the attentive style of service.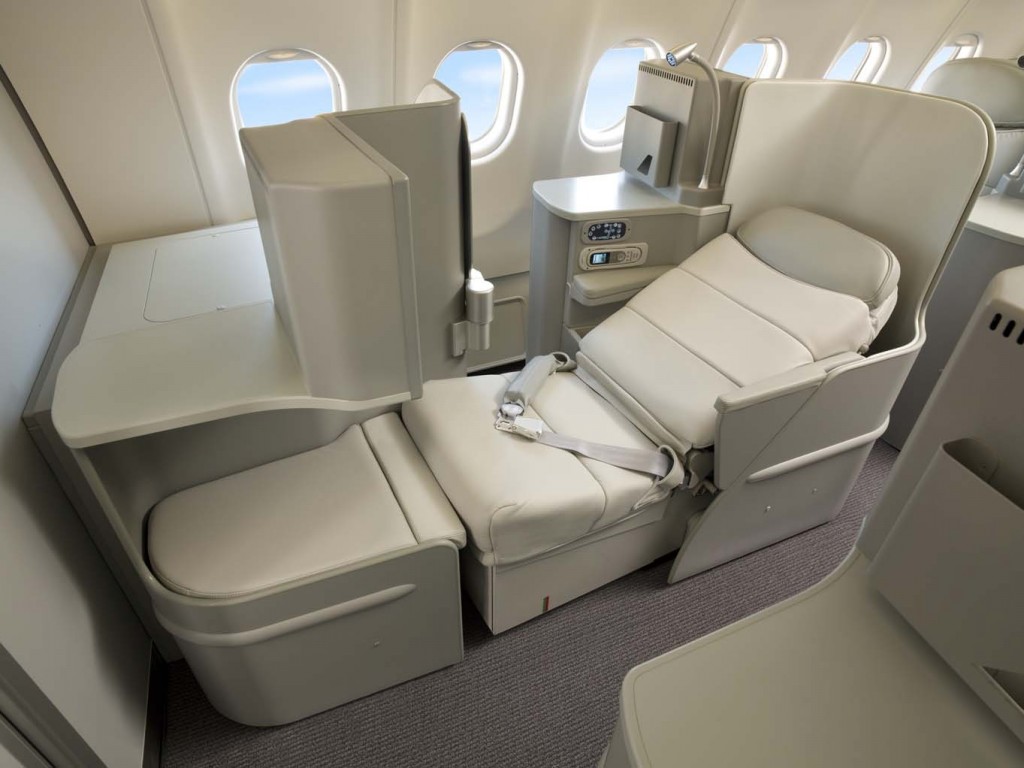 New Discoveries
I will start with the sleek tray table. On this flight and particular aircraft, it was attached to the back of the seat in front of me as opposed to being concealed in the armrest. I liked the way it was designed. It was a rounded silver titanium design and something you might expect to see perhaps in the Apple computer store. I enjoyed the ease of pulling it down in front of me, as opposed to having to dig into the armrest and pull it up. I often find the armrest pits of the chairs to be quite unsanitary and unappealing.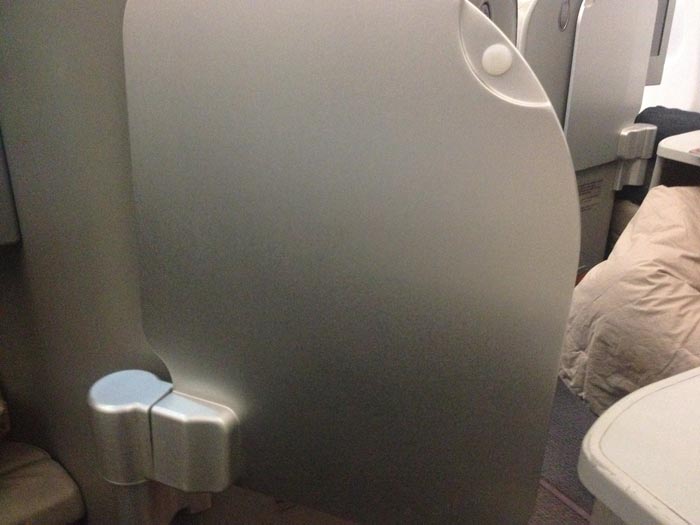 Another nice feature I liked as a standout was the sign language explanation of the safety features in the pre-flight video. I have never seen this before, but then again I do not usually focus on these videos unless they immediately grab my attention. This one did. Overall, I think it shows some great consideration to hearing impaired passengers on the part of the airline.
In step with Italian fashion and design, each of the ladies in the cabin received a Ferragamo perfume clutch amenity bag. The men were given a different Ferragamo perfume branded amenity. Inside there were the standard items you would expect to find like a toothbrush, hand crème and the like, but there was also a little sample of Ferragamo perfume. How lovely! I have never before discovered such a fun little addition to an airline amenity bag.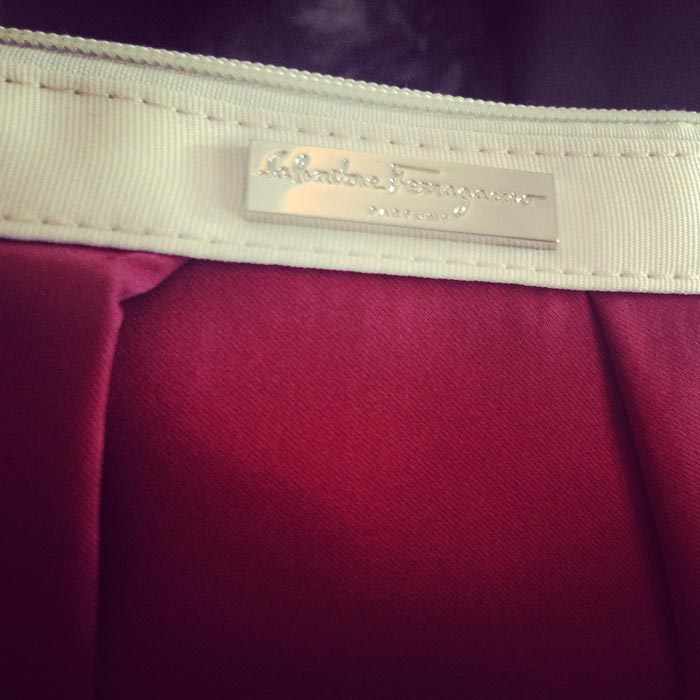 As you may imagine, dining is taken very seriously on board. But after consideration of the fact that its an Italian airline, this made sense to me. It has been my experience with my travels throughout Italy as well as patronizing many Italian restaurants around the world, that food takes center stage in Italian living. This flight exemplified well this beautiful aspect of Italian culture.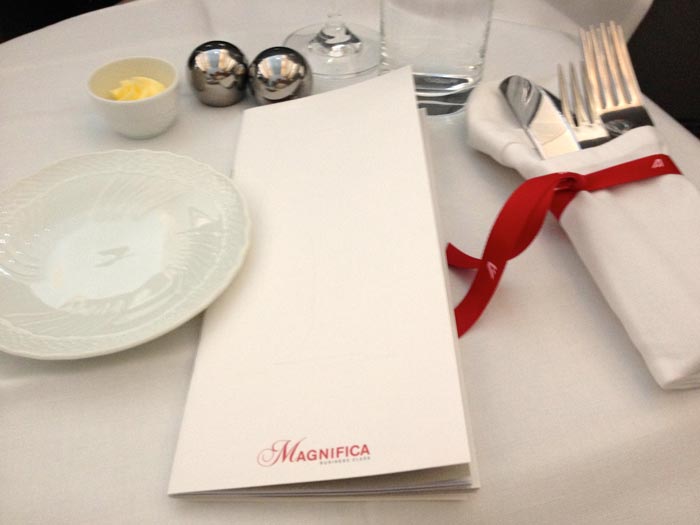 Food
We were given two menus, one for food and one for wine. After reading the food menu, I flipped the pages and found both a recipe and two additional blank pages for 'tasting notes'. Again, a nice new surprise and something I have not seen before in other airline menus. Frankly I wonder if anyone actually utilizes the tasting notes pages, or the recipe for that matter, but the fact that they considered its inclusion in the menu for the inspired foodie traveller, is very charming.
I particularly liked the pasta cart that served a choice of two pastas 'seat-side.' I opted to try both – the Durum wheat pasta with diced eggplant, smoked prawn and fresh basil sauce and a sprinkle of slated ricotta as well as the pasta with PDo San Marzano tomatoes and basil. I only really enjoyed the one with tomatoes and basil because it was simple, savory and straightforward.
A main course was served after the pasta. Then several choices for dessert followed.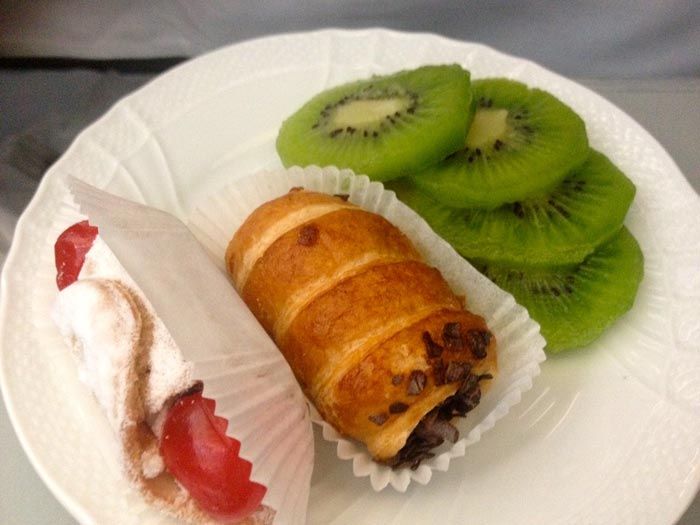 The Flight attendants also gracefully served an Italian desert wine.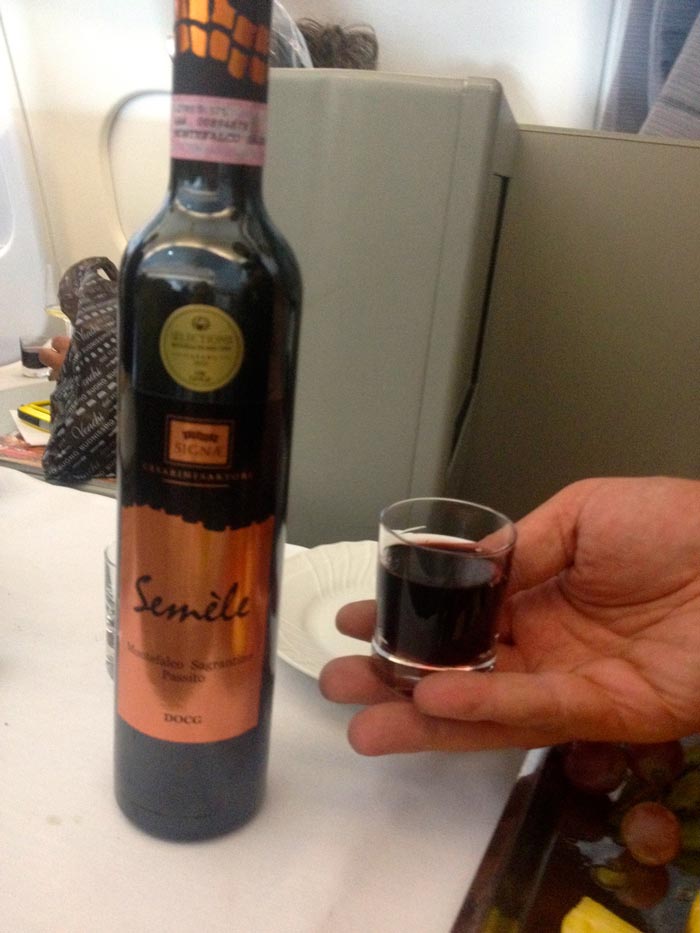 The Lux Traveller Loves
The superb Italian style and flair that is executed by the flight crew.
The details that delight a seasoned traveler…just when you think you have seen it all….you have not. Something new is presented. It is so great to be pleasantly surprised.
Splitting Hairs
The menus were so lovely that I actually wanted to keep them. But upon returning home I found the included recipe for smoked sturgeon with minty cucumber to be completely useless. Maybe it is just me, but I personally would have much preferred a more practical recipe. The menu could be a great marketing tool for the airline if given a lasting value in the hands of a customer.