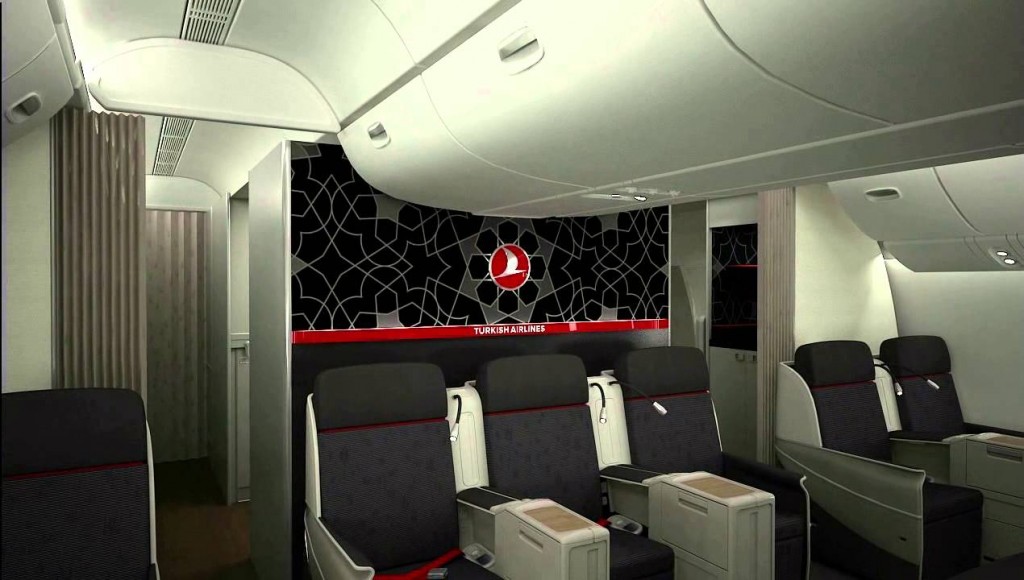 On a recent flight to Istanbul, I had the pleasure of flying in the celebrated Business Class section of Turkish Air. According to the Airline's website, they have been honored with several accolades by Skytrax, "The Passenger's Choice Awards," one of which was 'Best Airline Europe.' I was very curious to discover their service. My expectations were high.
DEPARTURE
Unfortunately Turkish Airlines does not have a lounge at JFK. They share it with Alitalia. This is not a disappointment because the Alitalia lounge at JFK is sufficient and comfortable to make any passenger content. It was just not until I flew a week later from Istanbul to Warsaw in Business Class that I realized what I was missing by not having a Turkish Airlines lounge in my home city. The lounge in Istanbul is amazing and I could easily spend hours there with no issue. It was very spacious and even though it was quite full of people, there was plenty of room to move around without feeling crowded.
Our check-in process went smoothly. We were traveling with quite a few bags and one oversized package. Unfortunately Turkish Air lost two of the bags. In case you are wondering, one has been recovered and the other remains missing.
THE CABIN
The cabin was clean and well organized. Each seat contained a plastic wrapped pillow blanket as well as a seat cover to pad the chair. There was also an extra pillow for lower back support.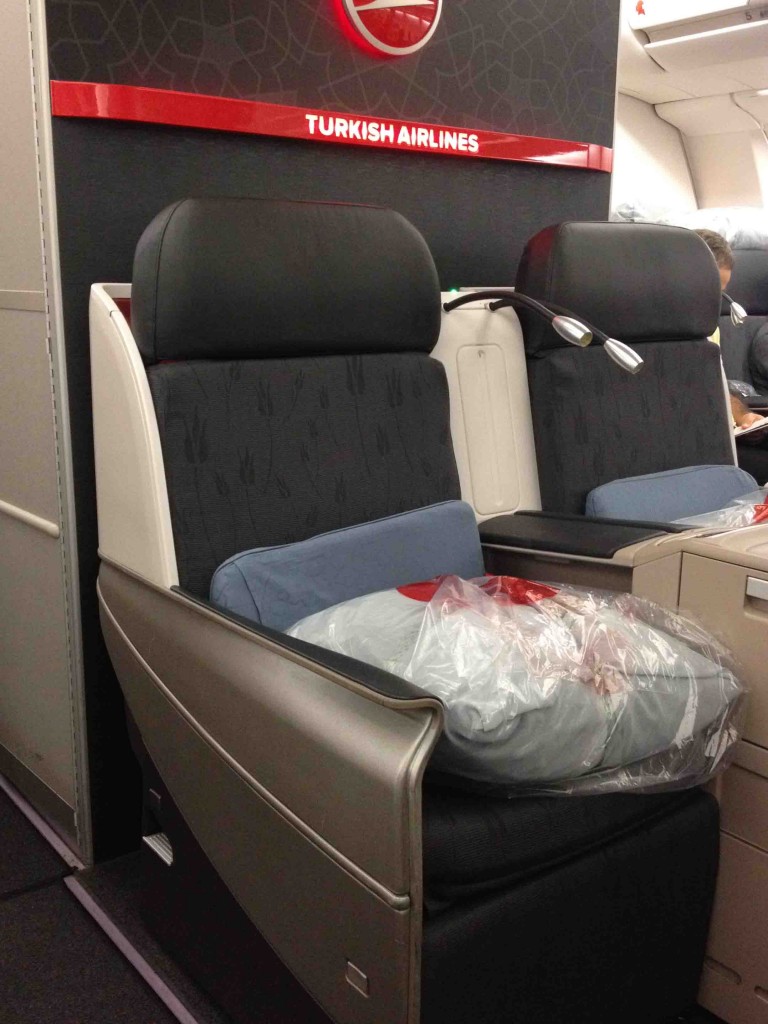 I typically travel with my own blanket for both quality and sanitary reasons. I used the one that Turkish Air provided as an additional cushion for my seat and it worked very well.
FOOD & DRINKS
Before take-off, as is typical in Premium class service, the Flight Attendant circulated with a tray of different beverage choices. There were a few different juice offerings and I was pleasantly surprised to see a strawberry drink as one of the options.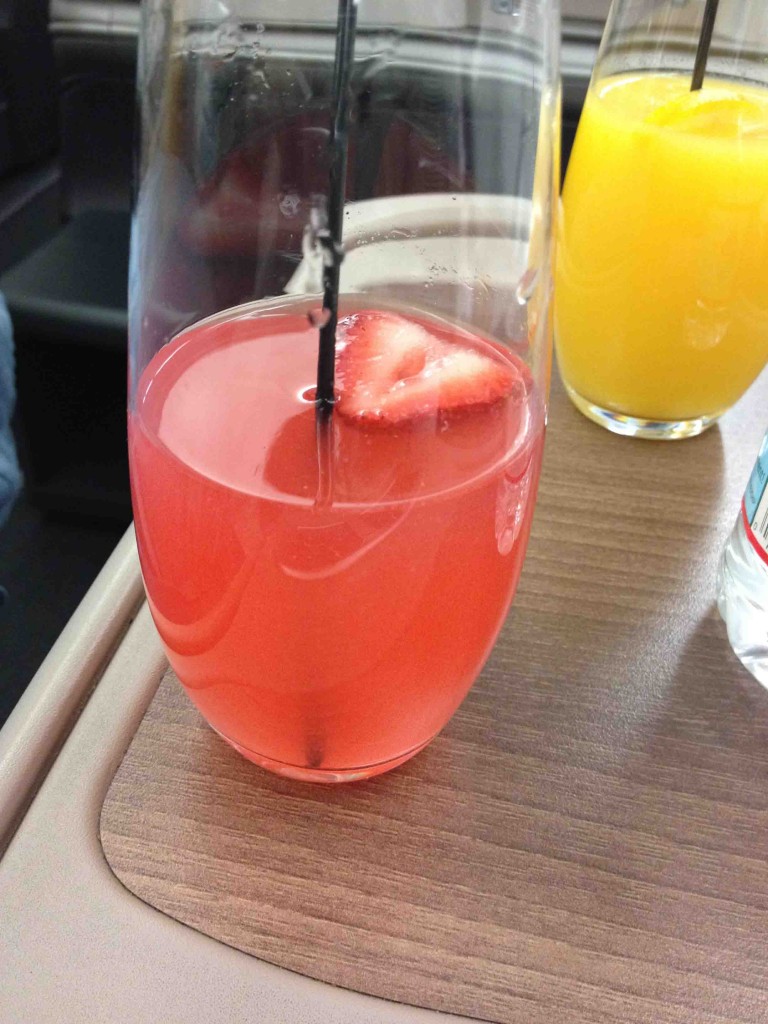 Once in flight, the service began and continued to consistently deliver throughout the flight. One area where I think Turkish Airlines really shines is in their in-flight food & beverage services. The food quality and selection was excellent. I love that they served Turkish style mezze that remained on my tray table throughout the entire dinner service. At some point during the flight every passenger was given a little box of Godiva Chocolate.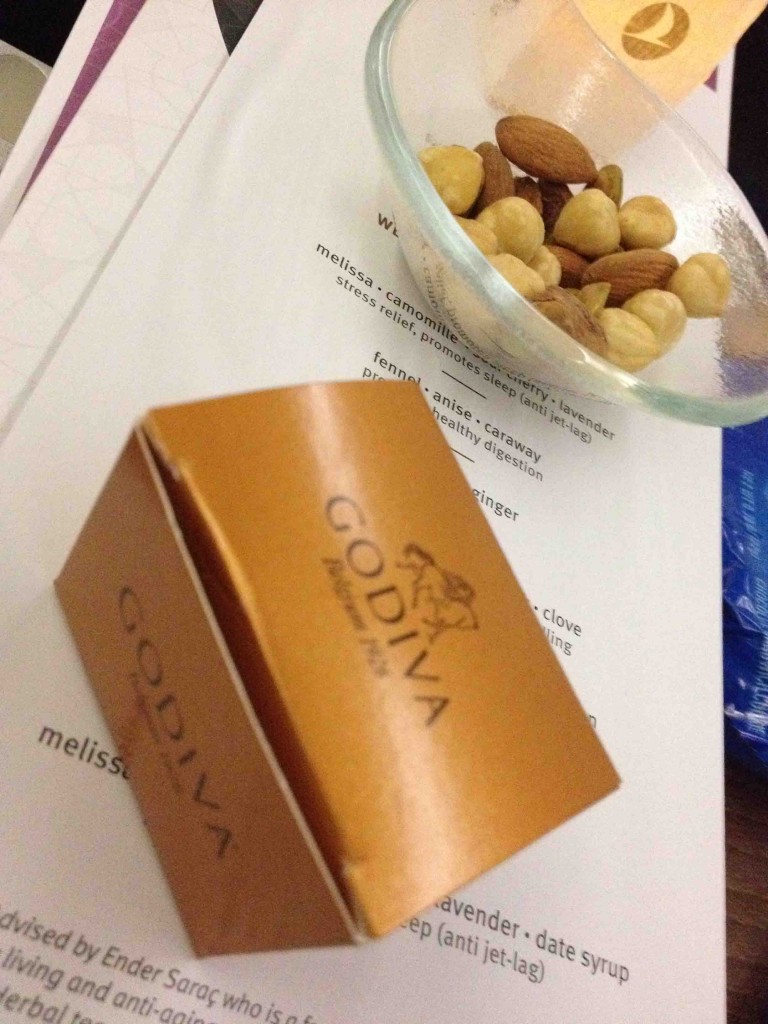 The wine menu was extensive and even enjoyable to read. The Flight Attendants encouraged passengers to try the different Turkish varietals and their command of the English language was excellent. They even had a Chef take the dinner order from each passenger and personally explain each dish. The Chef, along with the Flight Attendant, also served each passenger the entrée.
My favorite touch, and definitely 'award worthy' is the creativity they applied to the in-flight dining by placing a battery lit candle in a paper enclosure on every passenger tray table. The enclosure read "Candlelight dinner high above the clouds" The cabin looked so nice with all the glowing candles.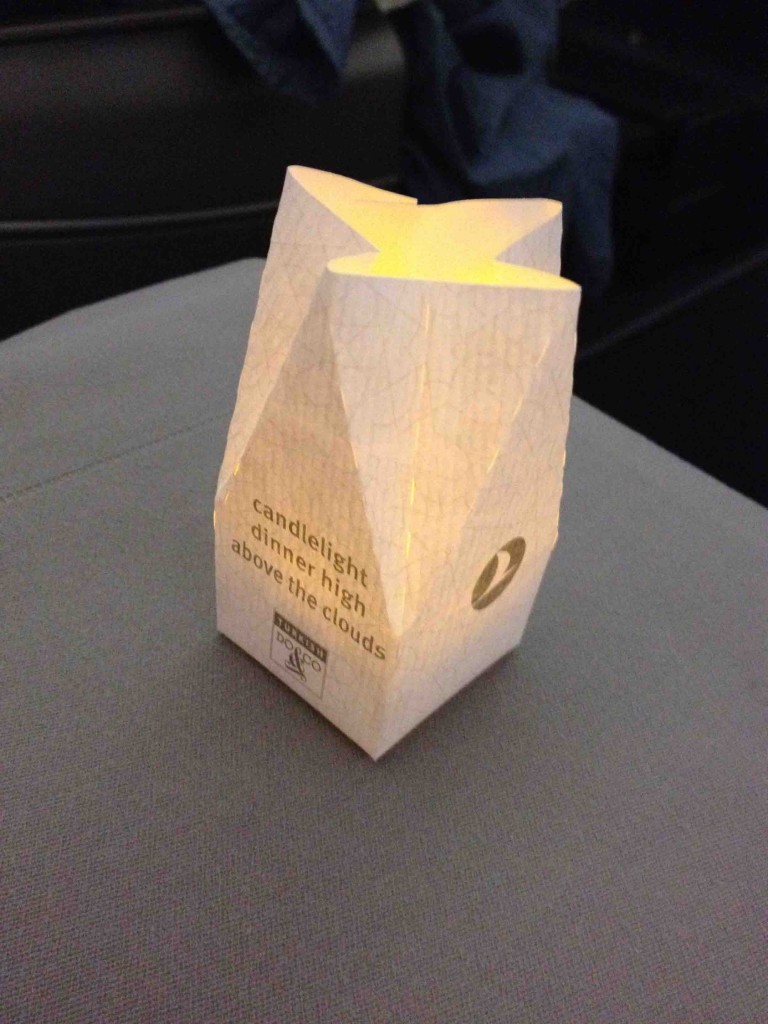 The drink menu had a good selection of herbal teas and I liked the added effort given to explaining how the teas may benefit the passenger's wellness.
There were several delicious options for dessert and I chose the Baklava. I was pleasantly surprised when the Chef then returned 1 minute later and also added a pistachio flavored baklava to my dish. The entire flight staff was so enthusiastic about making every passenger happy.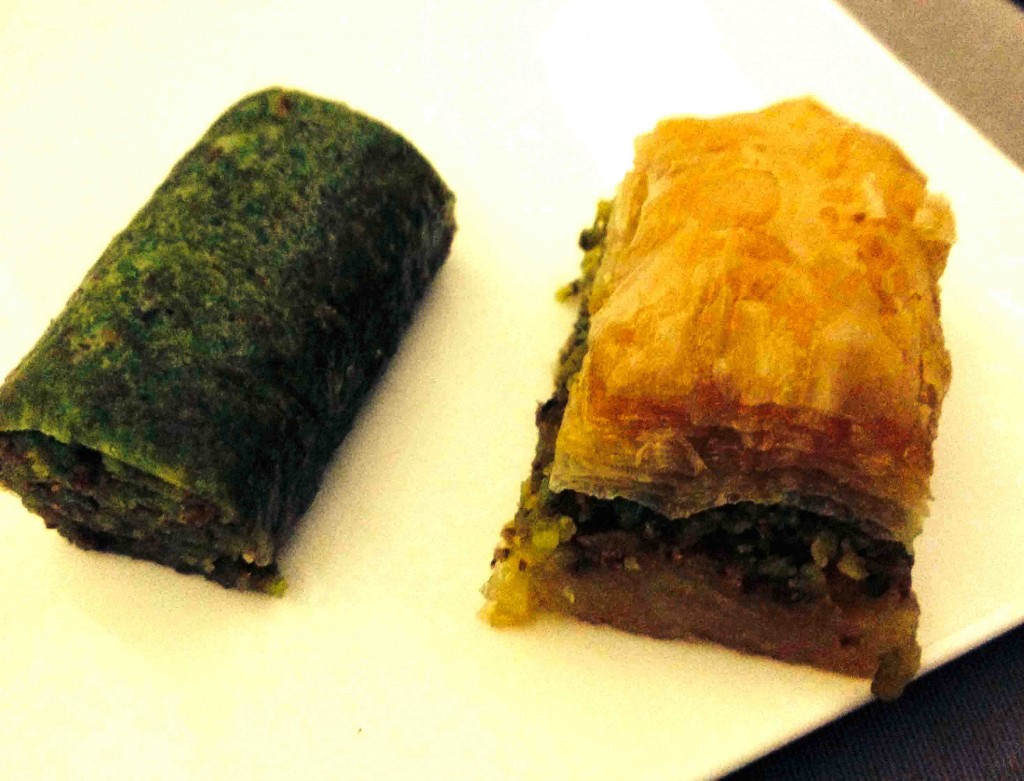 IN FLIGHT AMENITIES
The Crabtree & Evelyn branded amenity case resembles a clutch type handbag.   Inside the case, one can find a mini pouch that contained a toothbrush and toothpaste as well as earplugs. There was also a crème, a shoe-horn and a jojoba lip balm.
Even though this is the typical amenity offering in these bags, I liked the little extra touch of the earplugs contained in a plastic pill shaped container.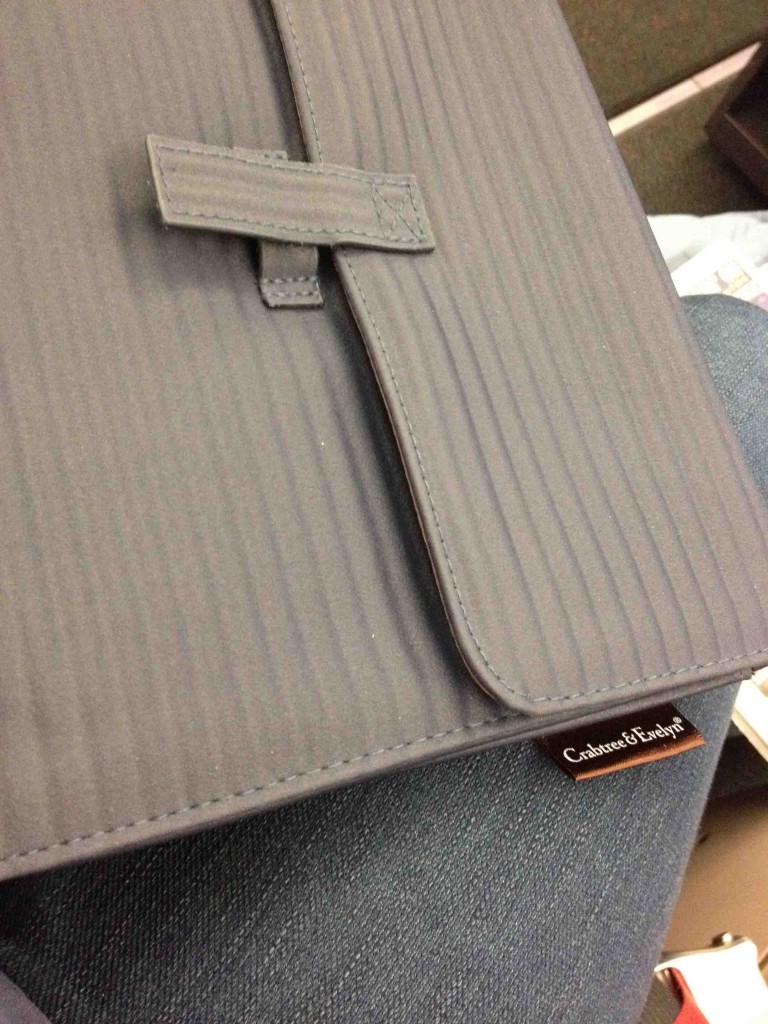 BATHROOMS
Very clean and stocked with liquid soap and hand crème.
ENTERTAINMENT
The entertainment system was east to use and provided access to a fair selection of movies, games, tv shows and music. I was flying in the middle of the night so I only watched one movie and then fully reclined back in my extra padded seat for s good night sleep.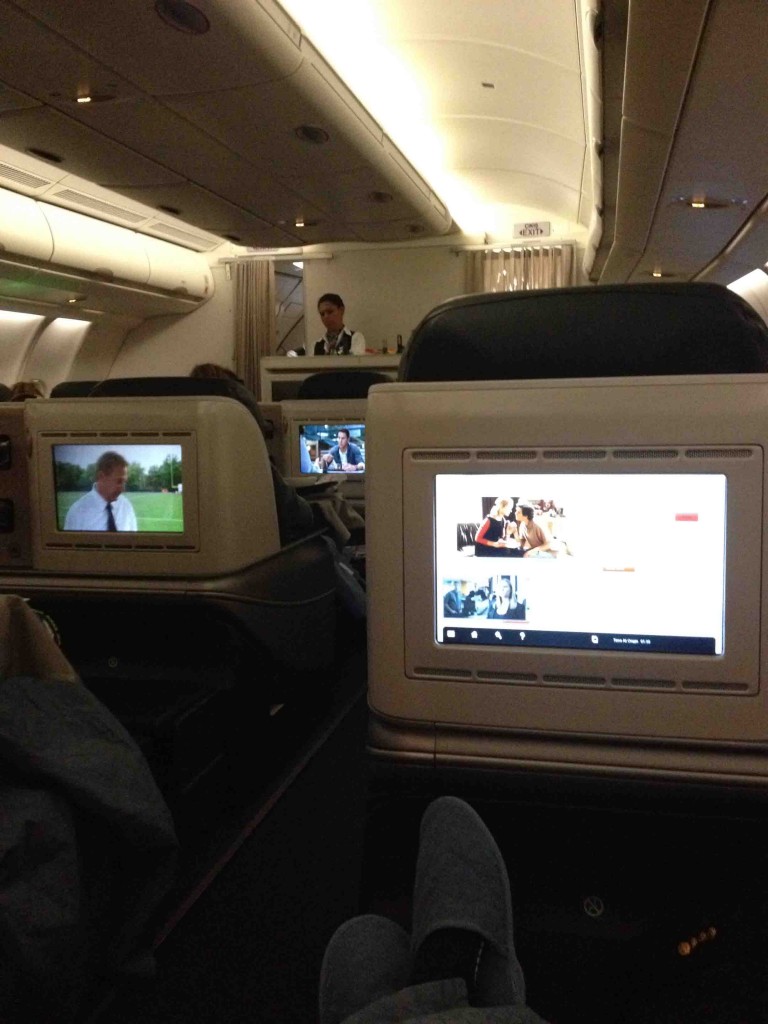 THE LUX TRAVELLER LOVES
The 'Candlelight dinner in the clouds' concept because its such a nice touch and brings a warm glow to the cabin.
The multiple choice of Wellness teas available to the passenger
The quality of the food and wine selection offered aboard.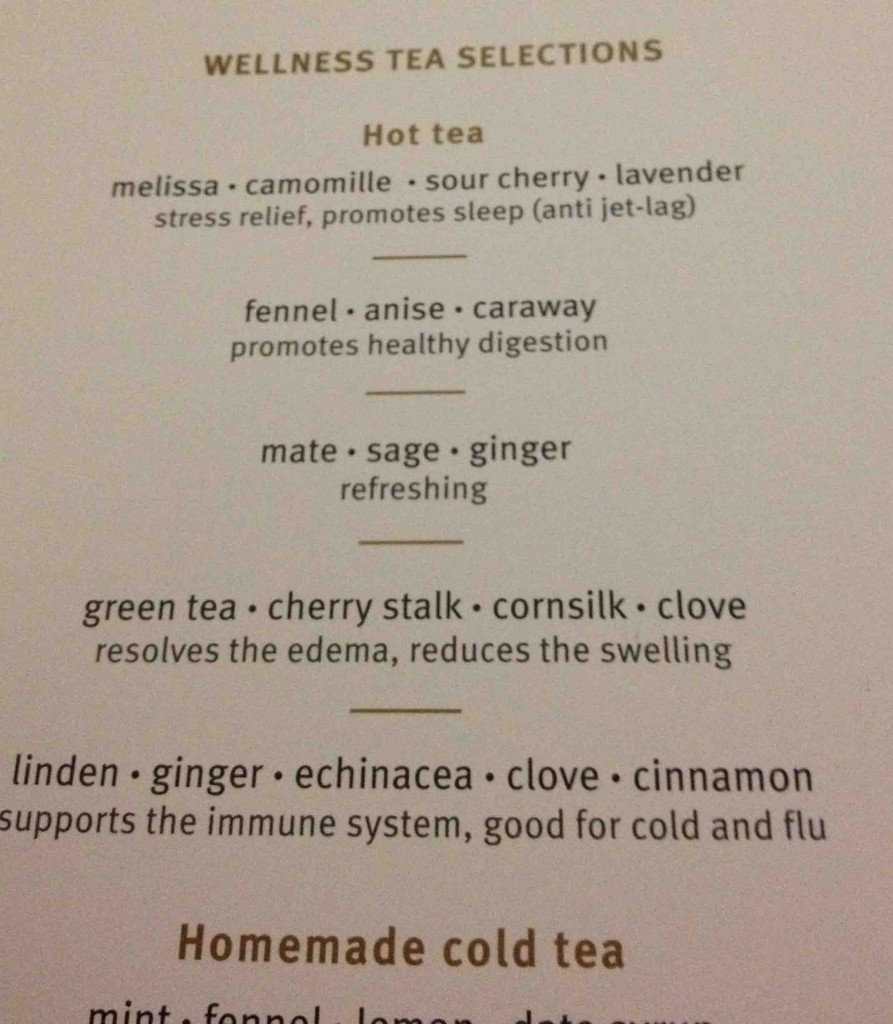 SPLITTING HAIRS
After flying with Turkish Air, I can understand why the Airline would be worthy of receiving so many awards. It has excellent quality and its execution is almost flawless. However there is always room for improvement and in this case I would suggest providing a different pillow and blanket. The pillow was not that comfy and I have seen a much higher quality on other European and Asian carriers.