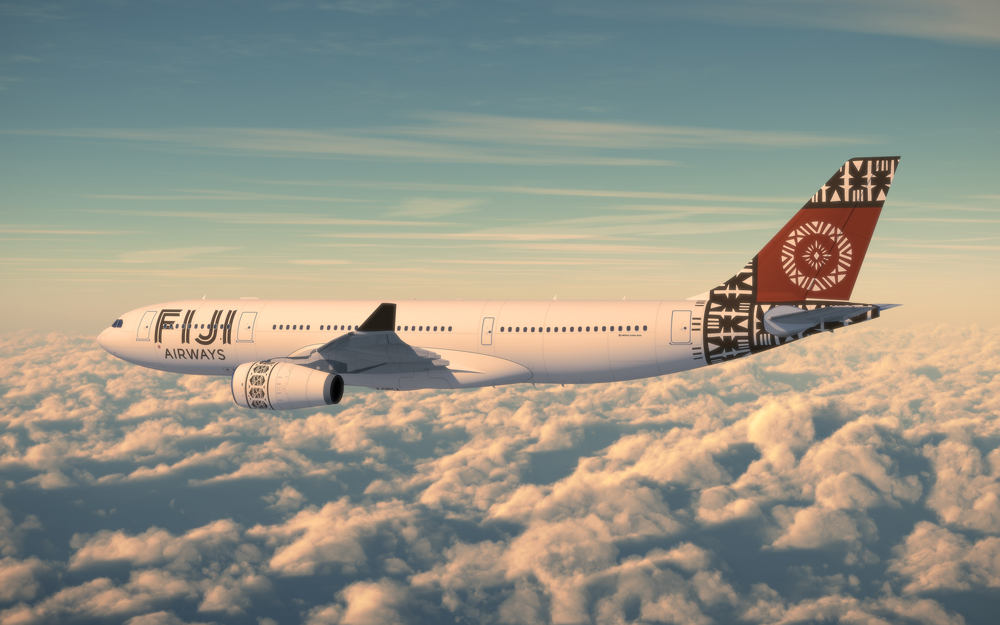 Fiji Airways have recently renovated a number of their A330 aircrafts. We had a pleasure to experience a business class service on an afternoon flight between Sydney and Nadi.
Lounge
Fiji is a partner airline of Qantas so prior to the flight we went to the Qantas Business Class lounge. Lounge is available only to Business Class passengers, not to Qantas Club members flying in economy.
Seeing that we were on a lunch time flight Qantas lounge was serving one hot dish (flied rice) with a selection of salads. After a quick snack and a cup of peppermint tea we walked straight to the gate and boarded the plane amongst the first passengers.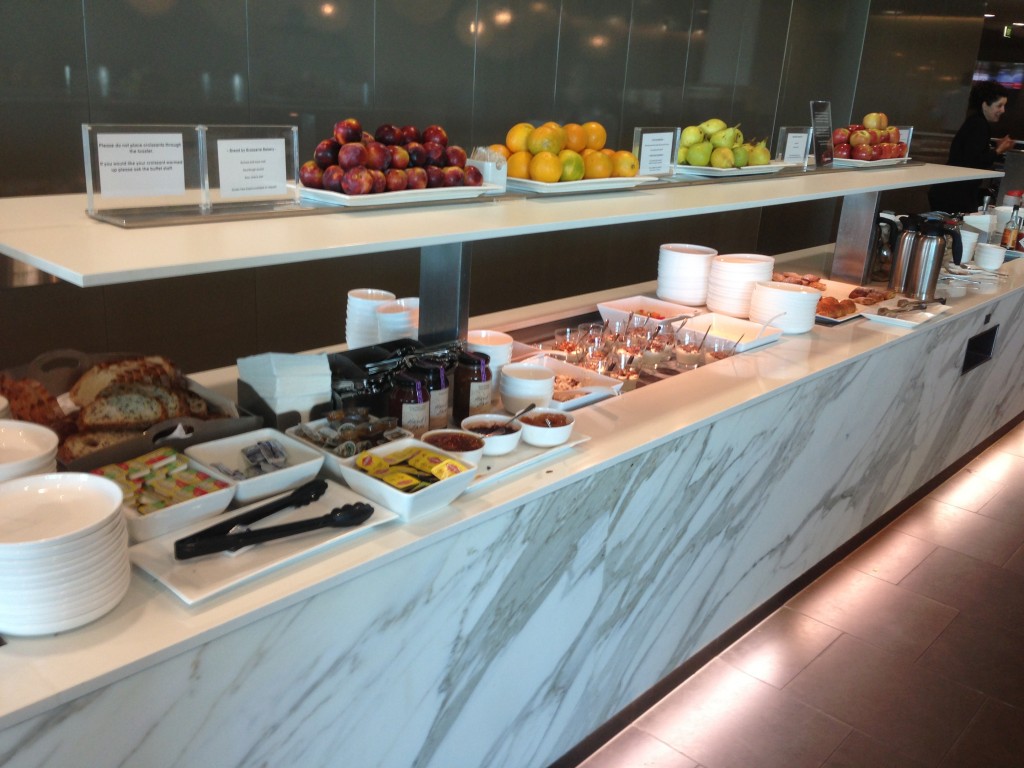 Cabin
New cream leather salon is a very welcoming sight. A point of reference for frequent travellers – the seats are exactly the same as old business class seats on Singapore airlines just with a fresher look and feel.
Business Class configuration is 2-2-2, four rows in total – quite a large Business Class cabin.
We had the first row, two middle seats, and even though we lacked the windows we had extra room for the long legs and handbags.
When we got on board the air-conditioning in the cabin was on a very low temperature setting, so the salon was freezing. We had to ask a number of times for the crew to turn it up and eventually they did, after about an hour.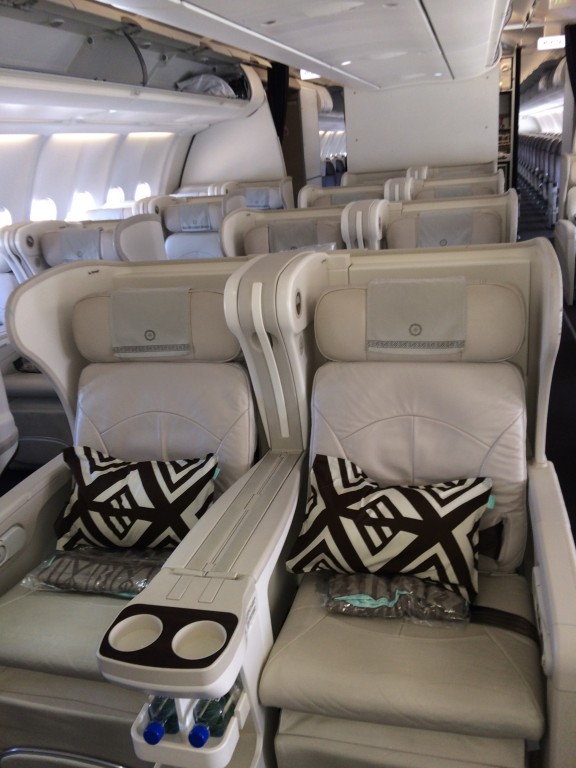 Aircraft Specifications
Total capacity: 273
Saleable configuration: 24 Business Class | 249 Economy Class
Business Class seating: 60″ pitch, lie flat 8 degree bed, in-seat video with 15.4" monitors, in-seat power and entertainment on demand
The Seat
New Business Class seats are very comfortable. I had a quick nap before my lunch and was lying nearly flat. The pillows and blankets feel nice to touch. Even though blanket could be a little thicker. I was quiet cold for the first half of the flight and had to use two blankets to stay warm.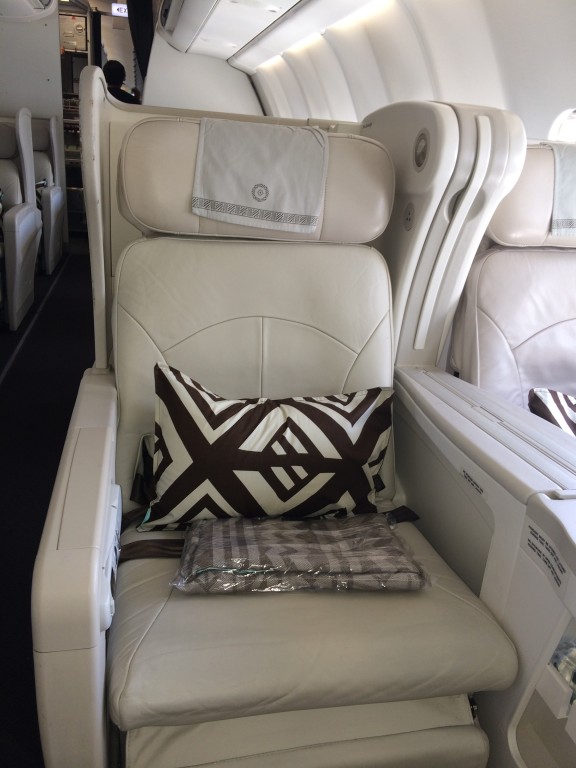 Here is a control panel – you can adjust everything through a self explanatory touch pad that is easy to navigate.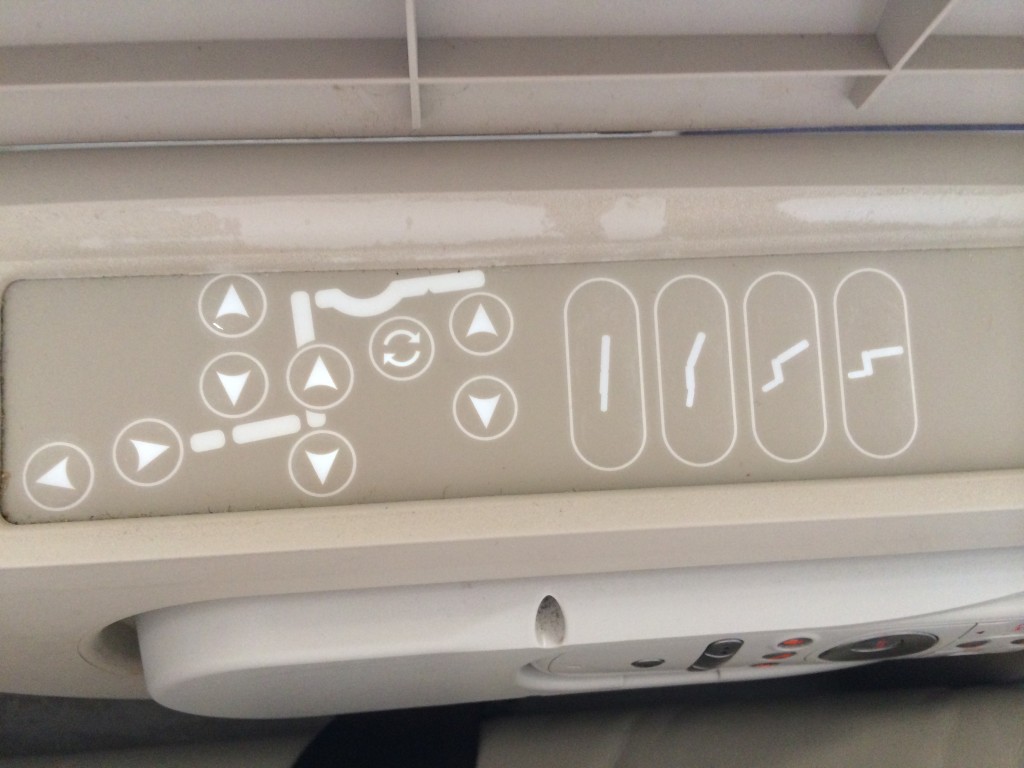 Meal
For a pre-departure drink we were served water, no champagne on offer.
Between this and lunch there were no nibbles or drinks offered. When lunch menu was offered to me to choose my main meal I was pleasantly surprised with a selection from an a la carte menu.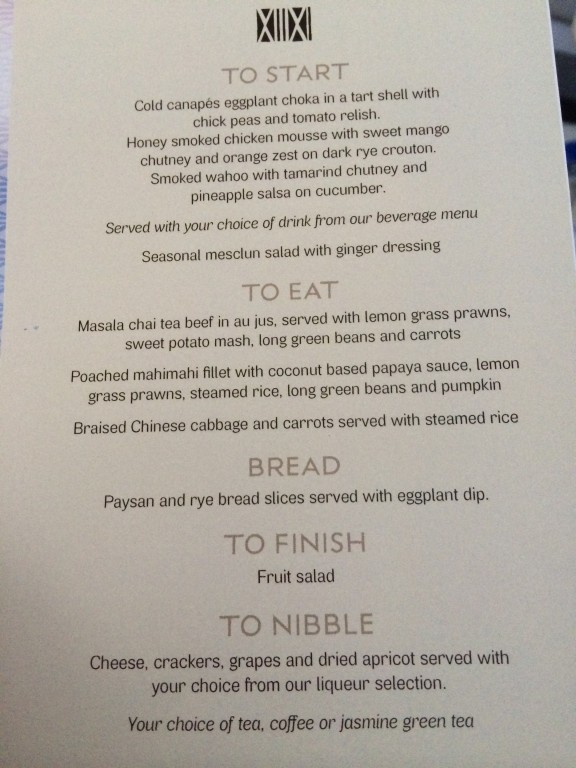 Not being overly hungry I skipped the entrée and had a garden salad instead which was fresh and crisp, served with warm rye bread.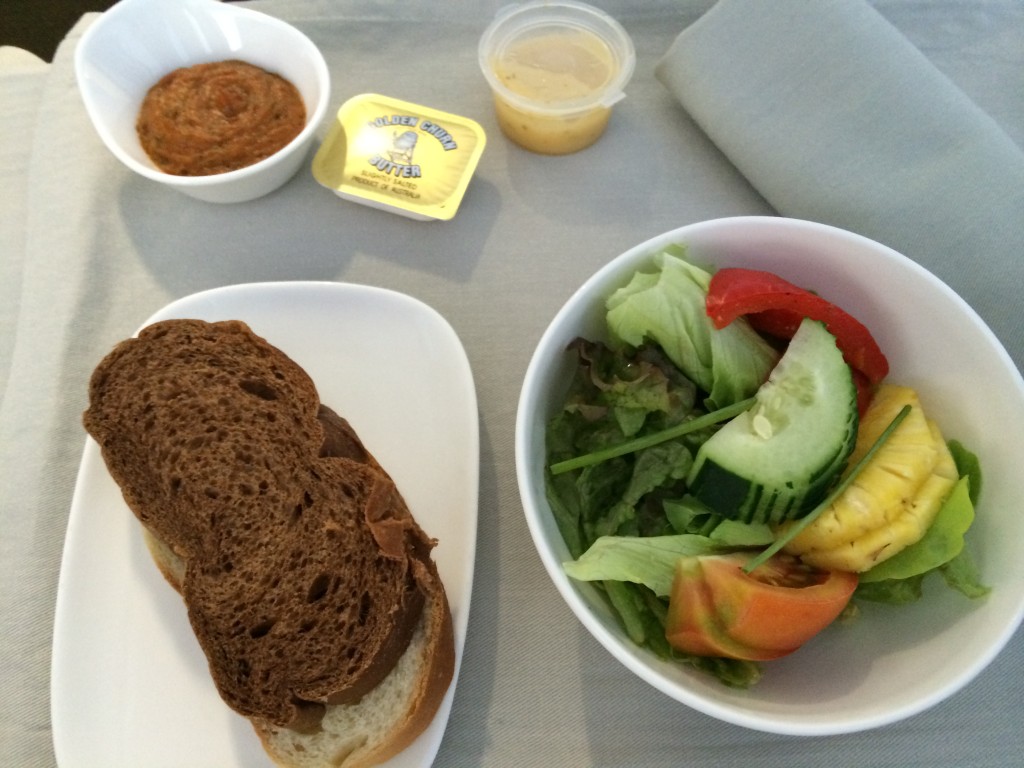 The mains all looked mouth watering – I opted for a poached mahimahi fillet (white fish) and it was both well presented and tasty. Drinks were served with the main meal and were offered afterwards during the remainder of the flight.
The only criticism is that Fiji Airways doesn't provide any kids' meals. So my 4 year old was starving by the end of the flight. Bread and fruit salad was the only suitable food on board for his 'simple food loving' taste buds.
Entertainment and Service
New Business Class cabin offers an excellent entertainment system with big TV screens and multiple movies to choose from.
The service was consistently good throughout the flight even though not personal – the crew don't use passenger's names when addressing them.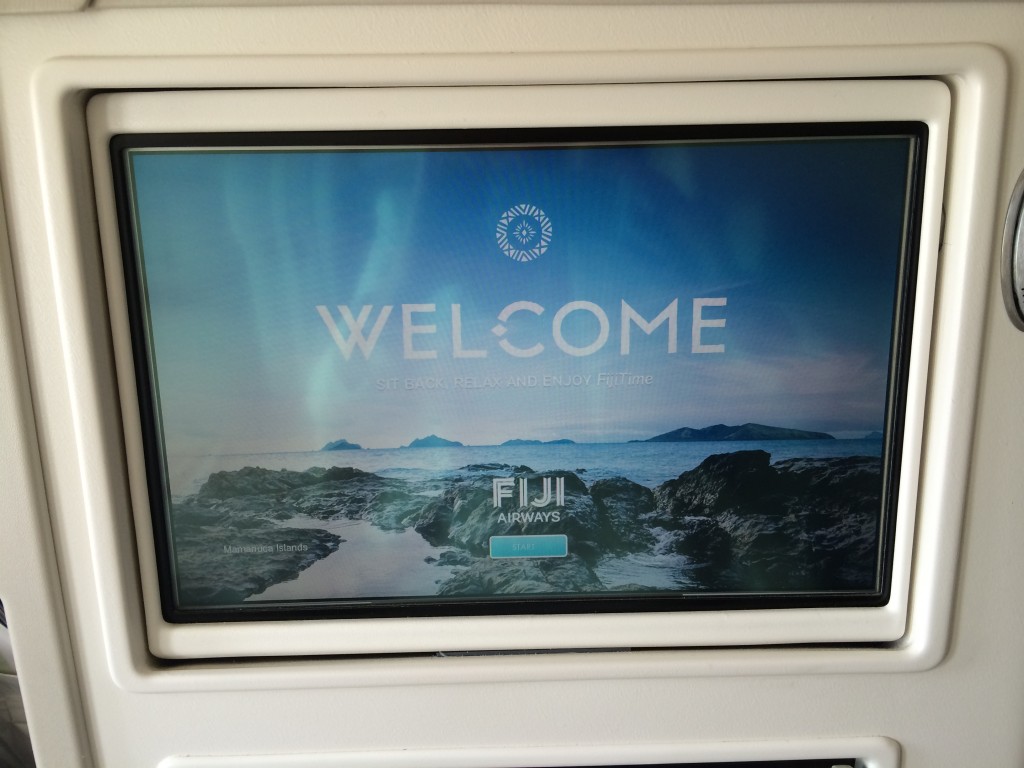 Tips
For a discounted business class seat ask for a paid upgrade at the airport – they offer 'last minute' upgrade rate when seats are available in the Business Class cabin.
Pack snacks for the little passengers – no child meals on board will potentially be a problem for fussy eaters.
Seats at bulkhead are very comfortable – my first choice in the cabin.
Ask prior to making a booking what aircraft is scheduled for your flight. Older 747 planes don't have the upgraded cabin and are nearly not as comfortable.
Arrive at the airport early – Fiji Airways is one of the only airlines I have flown with lately that oversell the seats and passengers are accommodated on 'first in, best dressed'. Hence if you arrive last you might be bumped off the full flight and put on a flight next day. Not an ideal start to your holiday.
The Lux Traveller Loves
Cream interiors look very fresh
New seats are very comfortable, and go nearly flat
Tasty food on board
Signature Fiji water bottle in each seat
Extra storage shelves underneath the TV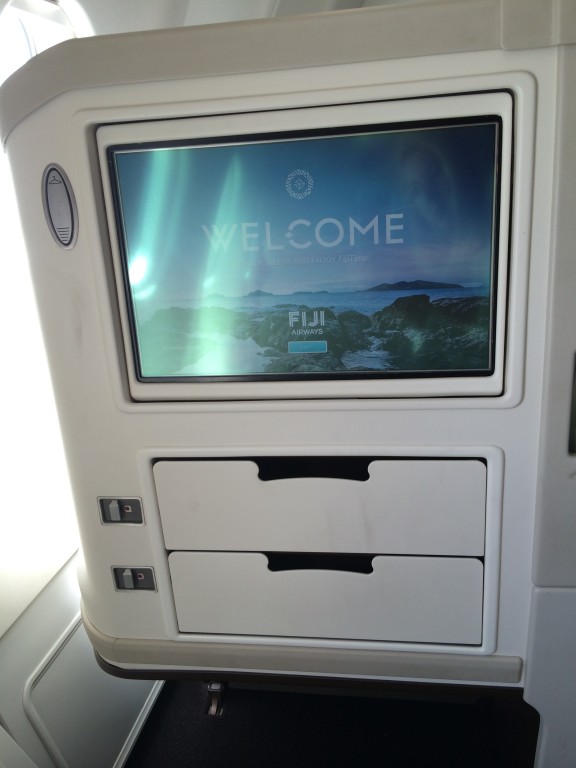 Summary
All in all a very comfortable flight in beautiful cream leather seats that offer a very good quality sleep if one is tired, a tasty lunch if one is hungry and pleasant service overall.