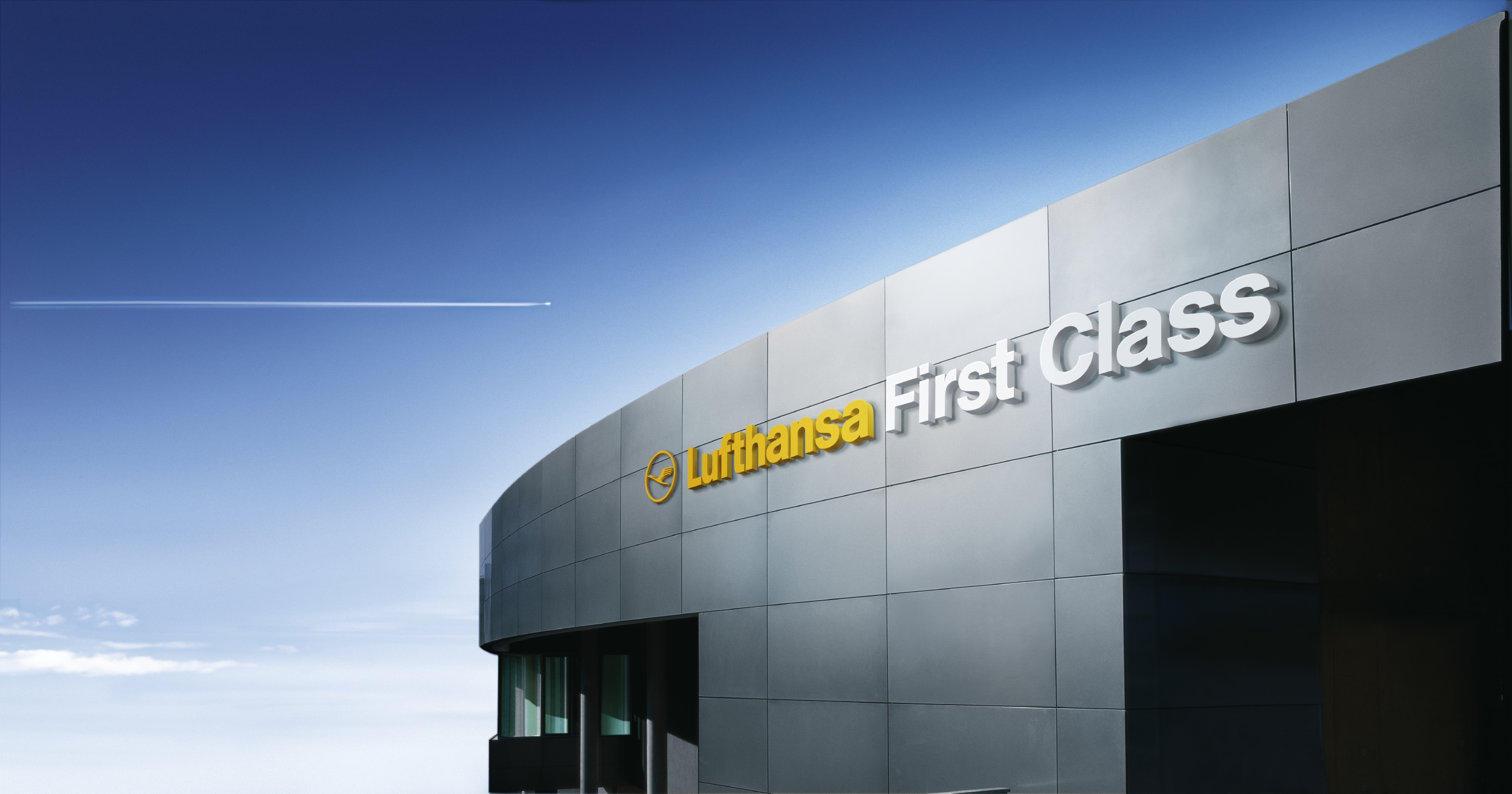 Lufthansa Airlines is definitely one of my favorite first class lounge and flight experiences.  They consistently deliver a full service that provides unparalleled comfort, attentive service and even a twist of playful innovation.
This review if for Lufthansa First Class service, Frankfurt-New York, LH 405.
My favorite Lufthansa experience was when I accompanied The American Academy of Hospitality Sciences to Frankfurt last year to bestow a Six Star Diamond Award to their Lufthansa First Class Terminal in Frankfurt's International Airport.  This terminal is very impressive, designed for the exclusive use of Lufthansa first class passengers.  Lufthansa staff have effectively removed all of the hiccups and obstacles that prevent day journeys from flowing easily.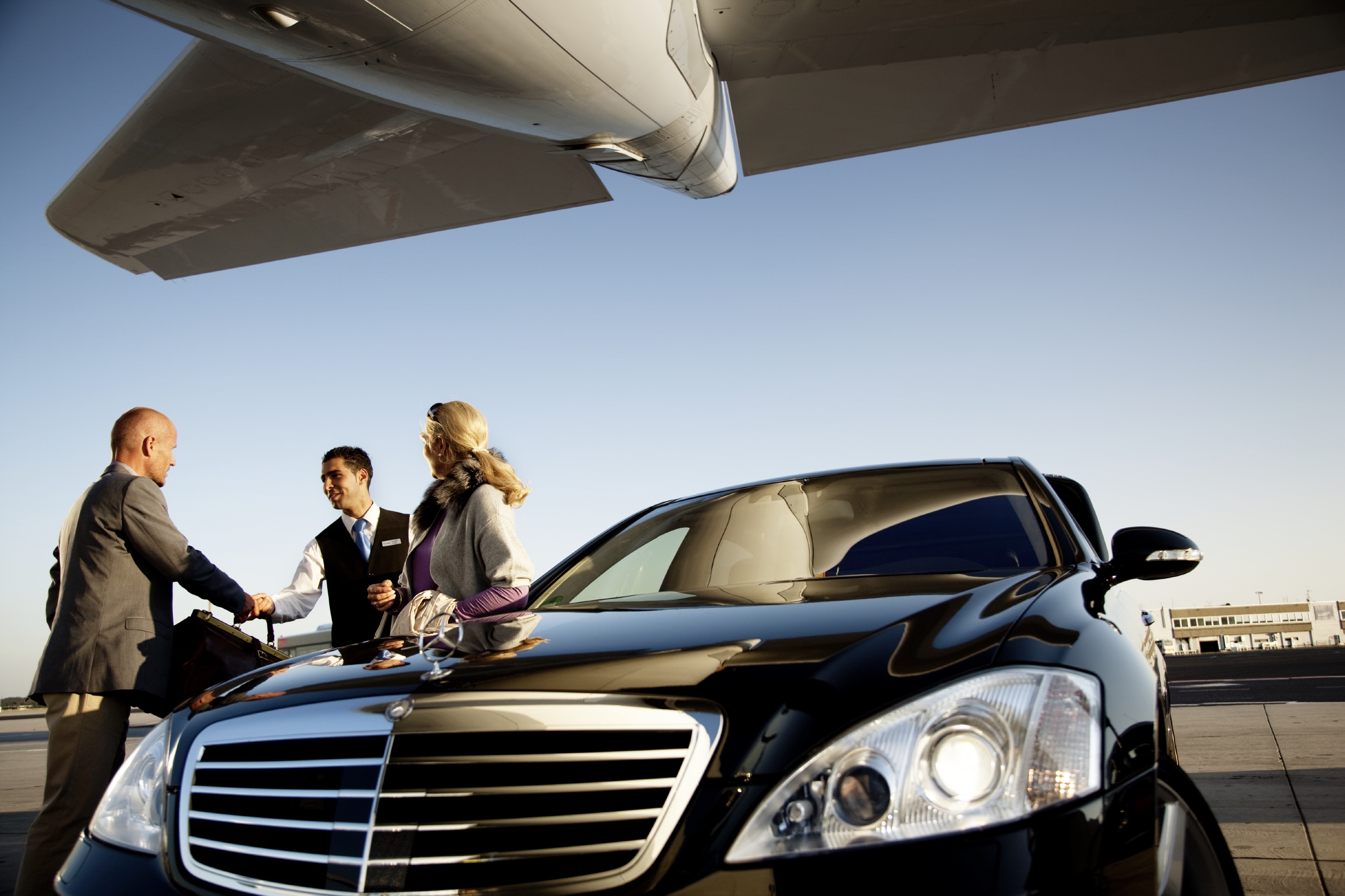 ARRIVAL
The Lufthansa First Class terminal is self-contained, private and luxurious.  Upon arrival, a Lufthansa Personal Assistant immediately greeted us at the curb-side.  Their job is to skillfully orchestrate the rest of your journey through the terminal with professionalism and grace.
Our baggage was quickly removed from the hotel car and seamlessly transferred to the lobby area of the terminal right through to the check in process.  Happily I did not see those bags again until I arrived in NYC, with the exception of my carry on.  The lobby area is large and has a nice seating area that is comfortable to meet, greet or perhaps bid farewell to others, if necessary.  This tranquil space provided a nice transition from the outside world to the airport facility.
PRIVATE SECURITY
Our Personal Assistant has escorted us through the private security area.  I really loved that there were no queues, that it was sparkling clean and of course very efficient.  For frequent travellers, these little things make us so happy.  The lounge area is assessable immediately from the corridor after clearing security.
THE LOUNGE
There is a lovely dining area that resembles an elegant restaurant setting.  Servers scurried about laying down cutlery on the crisp linen tablecloths while others diligently polished glasses.  It was obvious that attention to detail is important and that the staff was focused on excellence. We sat down for a delicious breakfast.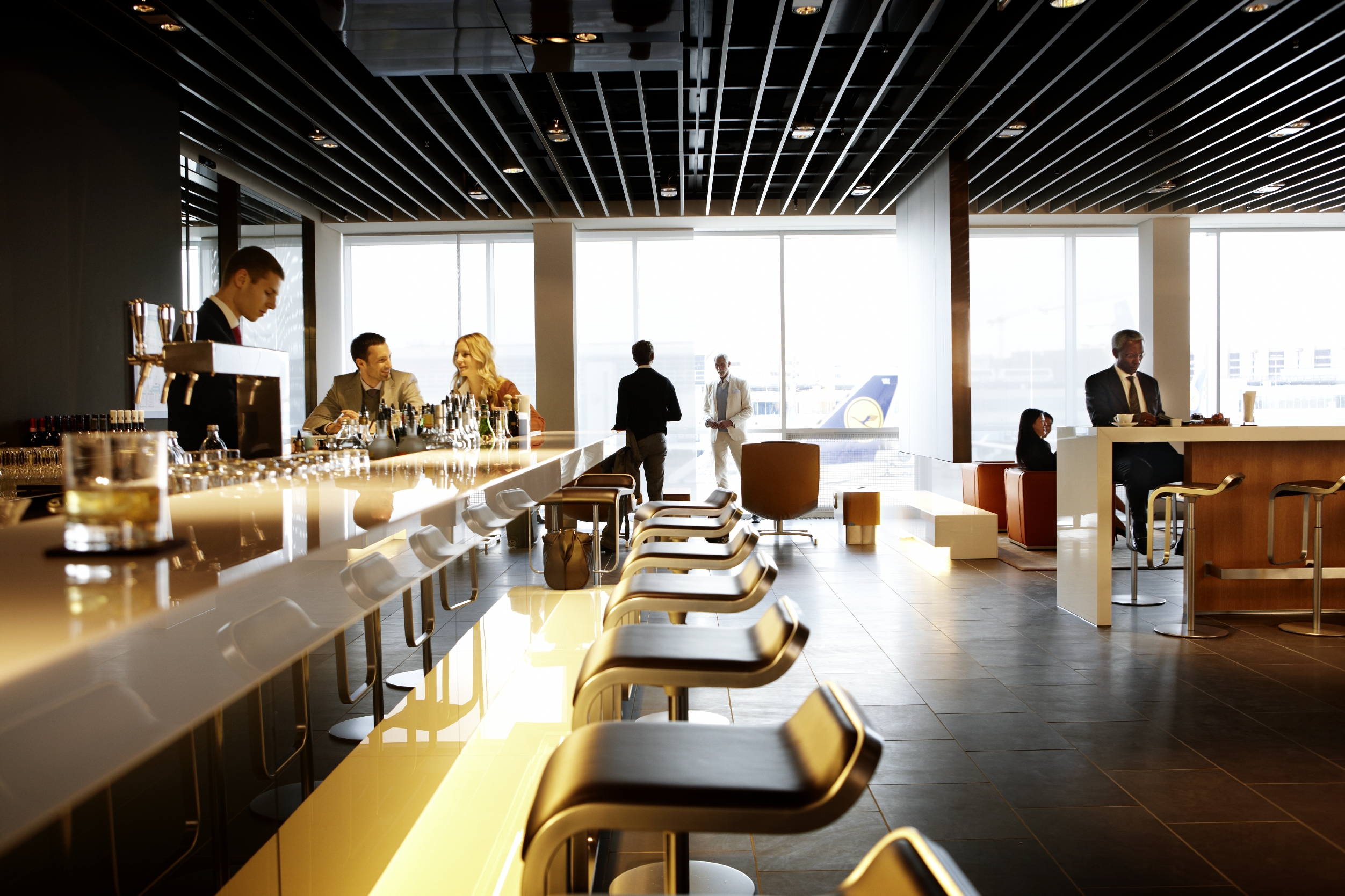 Other generous seating areas allow for a more casual dining experience and there are multiple buffets, all of which offer a variety of fresh food.   I was impressed with the fresh ham cutting and really adored the large glass containers filed with all sorts of colorful candies and sweets.  I admit to grabbing a few, it felt like I was a kid all over again.  I saw a Chef pop his head out every now and then to check the display and to bring out the new food options.
Just like the other Lufthansa lounges in Germany, there is a comfy cigar lounge, an elegant bar as well as ample size bathrooms, many of which had bathing and shower facilities.Overall, the lounge has a very inviting ambiance.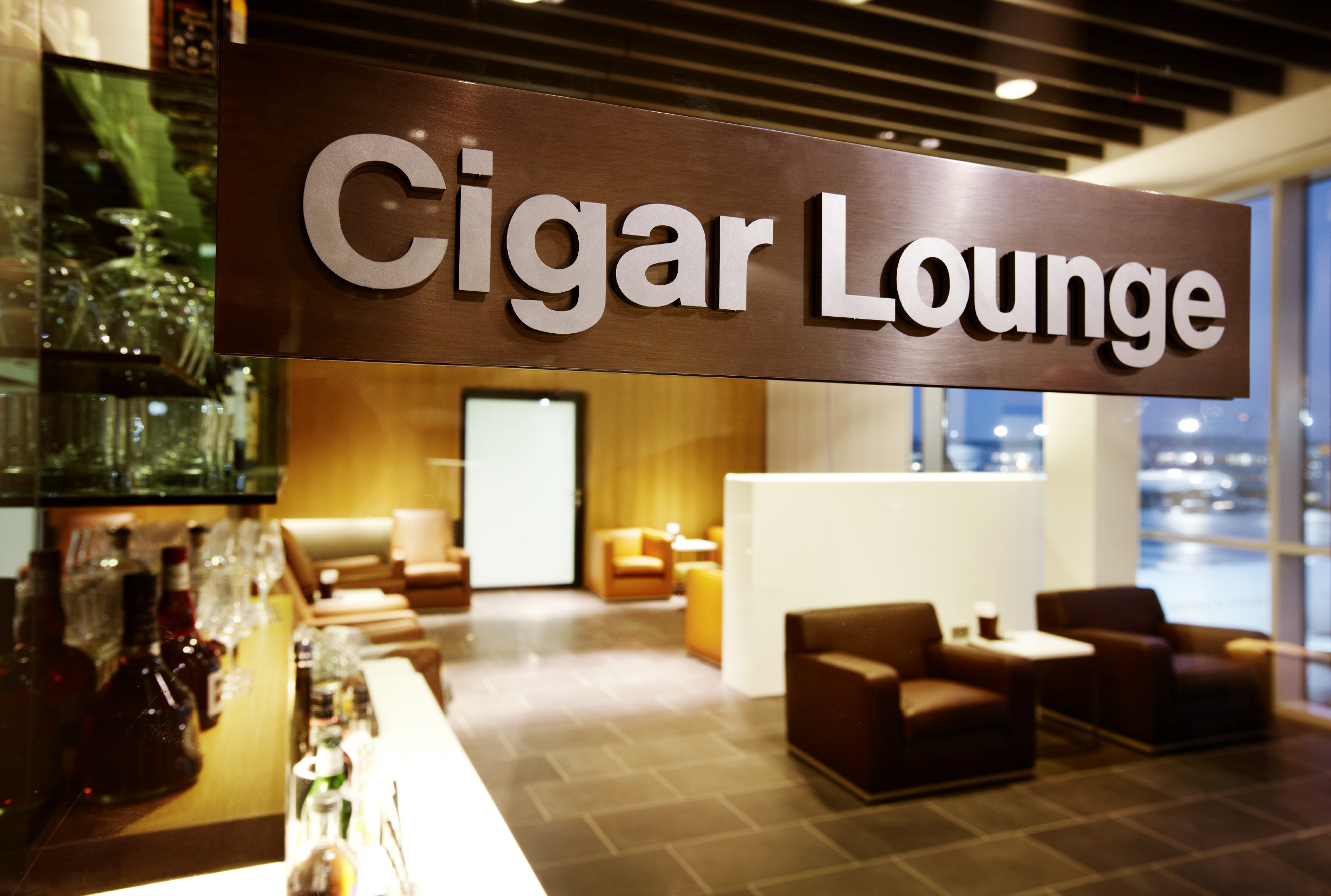 Passengers looked relaxed and many, no doubt, have arrived very early before their respective flights to enjoy this pre-flight experience.  Mental note to self: good idea!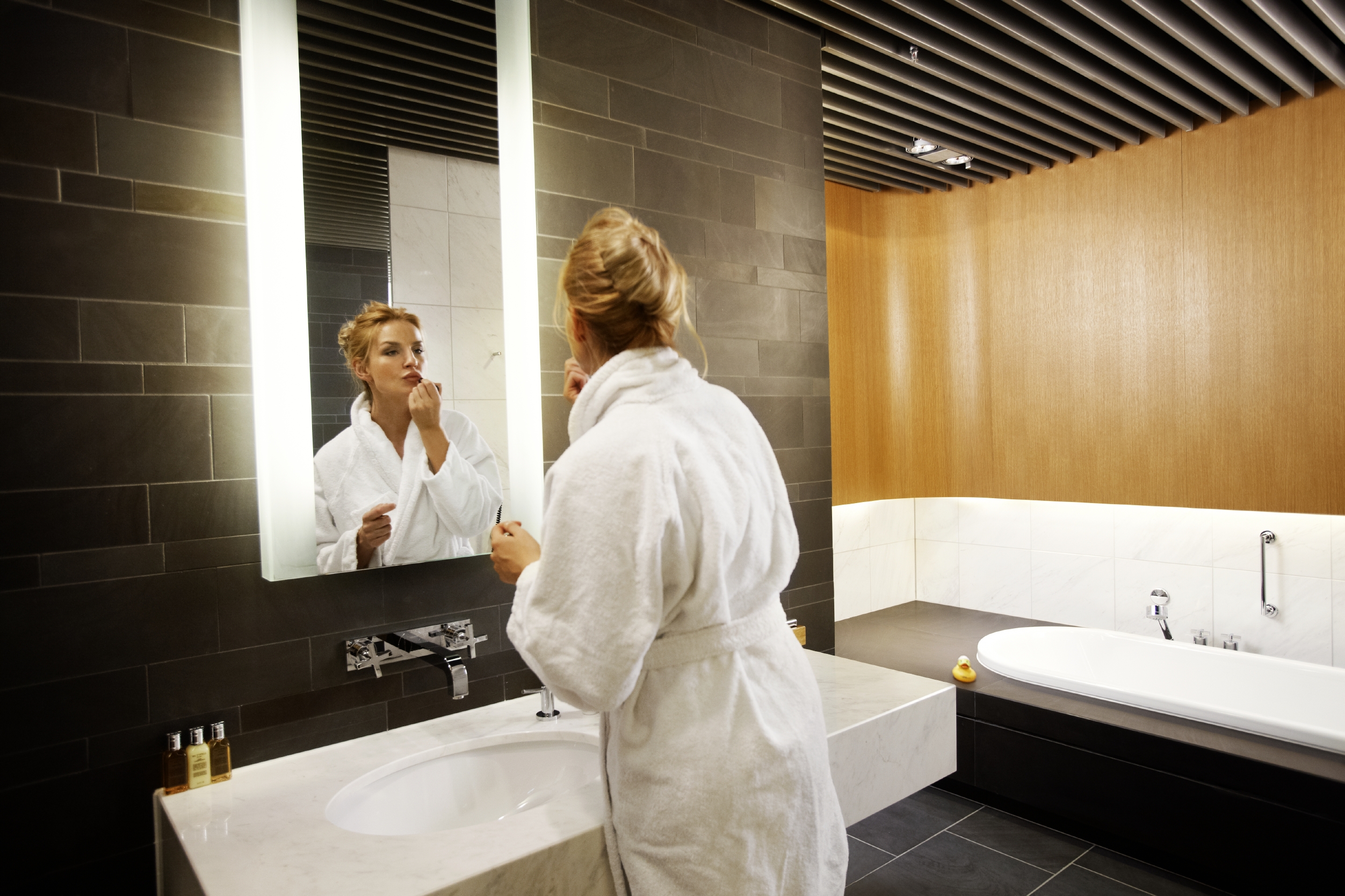 BOARDING
When it came time to board the 747-400 aircraft, our Personal Assistant escorted us to the private customs area where our passports were stamped in no time at all. Everything should be this easy.
Next, we stepped outside to a row of beautiful German made luxury vehicles, one of which was a Porsche Cayenne waiting for us with trunk and doors open and a driver to take us directly to the plane.  This was my favorite part of the pre-flight experience as it was so stress free and easy to access the aircraft.  When we arrived at the tarmac, we entered a hallway with an elevator to take us directly to the aircraft door, to then ascend a small staircase to reach the top level of the plane and enter the First Class Cabin.
THE CABIN
With only eight seats, this cabin is quite intimate and extremely well serviced.  At times it felt as if we had our own personal flight attendant.  The set up is such that each guest receives not only their own seat, which is a nice high tech chair that is moved by 7 different engines, but an accompanying bed as well.  The bed measures 31" wide and 81" long and is very comfortable.  I found it to be so much better than the standard reclined seat that is usually "comfort-ized" with an overlay duvet cover.  A nice little touch seat-side is the single bud vase with a beautiful full -bloomed rose in each one and a glass of quality champagne before takeoff.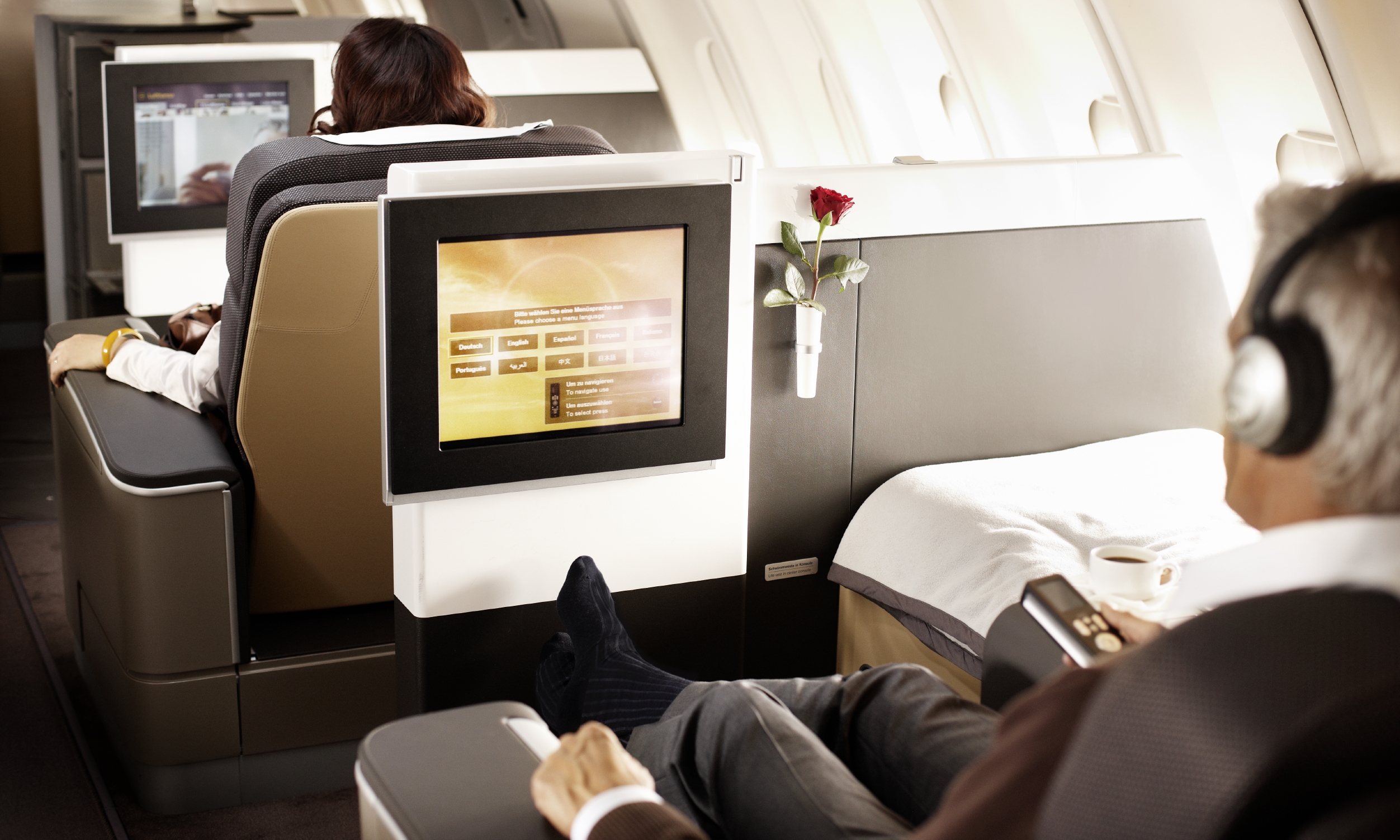 FOOD & DRINKS
Lufthansa utilizes a Star Chef program where guest chefs create a special monthly menu. If you enjoy discovering new chefs while flying, Lufthansa does do a good job on attracting top culinary talent. Currently, in the month of April, you can experience the culinary creations of Chef Christoph Rainer of Villa Rothschild, Kempinski, Konigstein, Frankfurt and next month, 3 Star Michelin Chef Thomas Buhner of Restaurant of La Vie in Osnabruck.
As always, the signature Lufthansa caviar cart is a fabulous touch.  They have definitely perfected this service to the tee.  The presentation and the quality are excellent.  It is satisfyingly indulgent.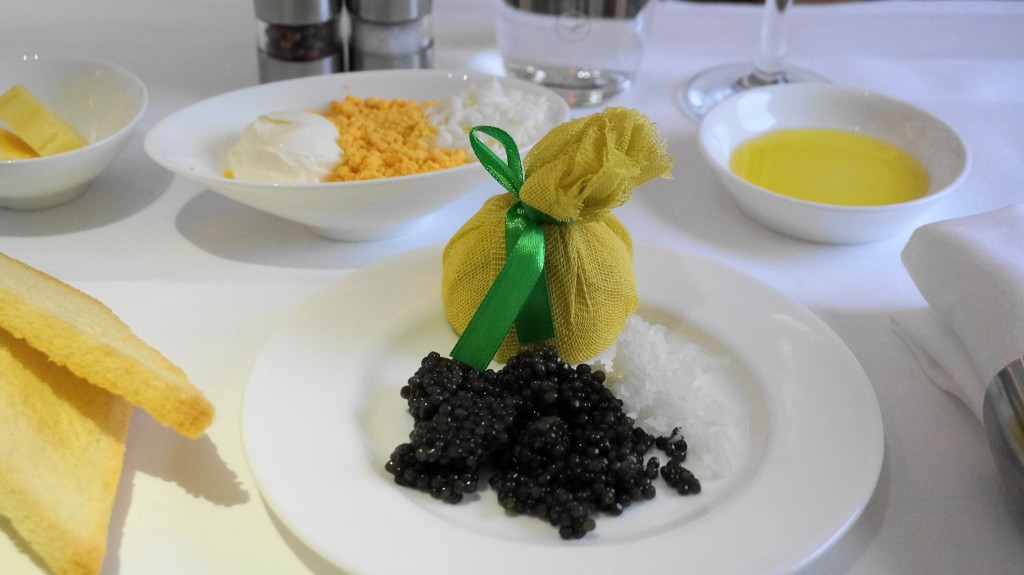 CREATIVITY
I do love the way Lufthansa utilizes the Food & Beverage area of their flights to feature themed specials each month called "A Special Moment."  In December they featured delights from the German Christmas Market.  This month it is "Omas Kaffeetafel" or "Afternoon Coffee at Grandma's."  In June they will feature "Summer in the Mountains." The Special Moment is served after the first dish on certain long haul day flights.  For those of us who fly the route often, there is always something new to discover.
IN FLIGHT AMENITIES
We both received a pair of Van Laack branded pajamas that were gender differentiated, very soft and ones that I actually wanted to keep after the flight.  They also gave us slippers and a Rimowa case amenity.  The only difference between the male and female versions was that mine had a lip balm.  They both supplied socks, a sleep mask, Uvex earplugs, headphone protectors (for the Bose QC15 headphones that are also provided), a comb, a dental set, shoehorn and Le Mer branded facial crème, which I did not think was all that unique.  Starting in May, I am told that they will switch over to an Escada Kit.  I sure hope they don't get rid of the mini Rimowa suitcases.  They are so cute!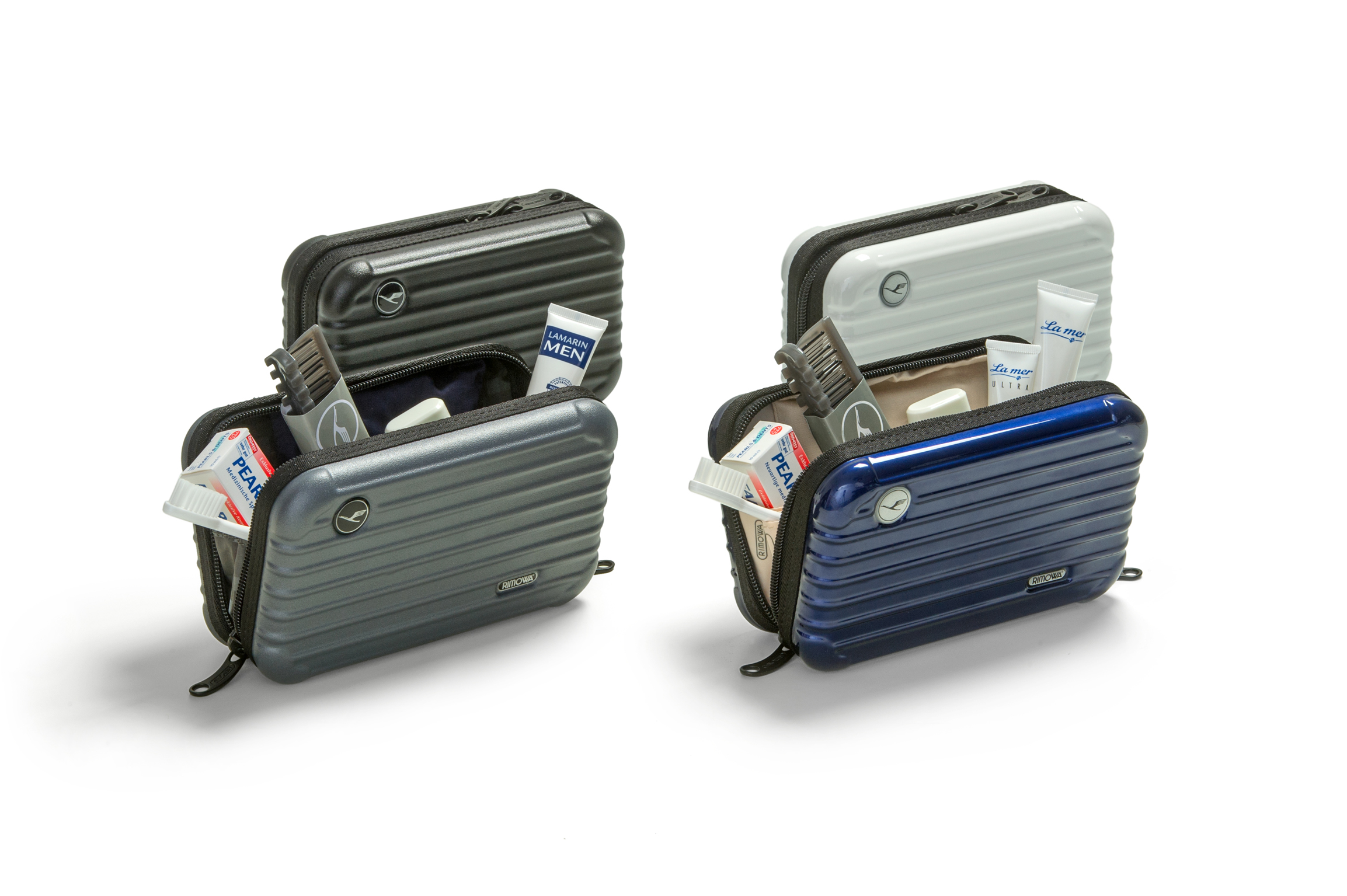 BATHROOMS
Very clean, spacious enough to change comfortably into the pajamas and stocked with high quality amenities like shaving kits, facial soap and cleansing cloths.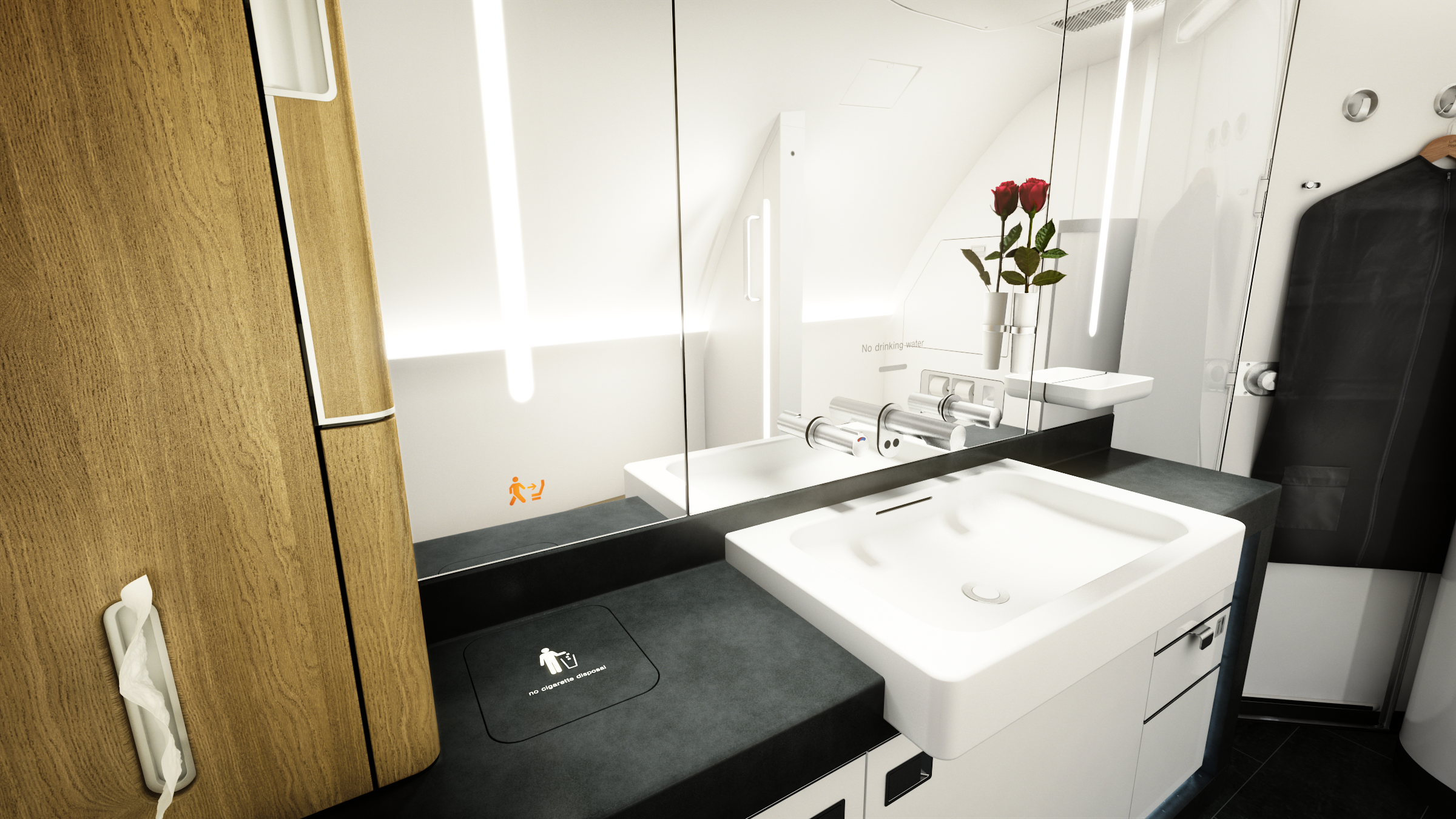 ENTERTAINMENT
The entertainment system is easy to navigate and filled with a decent variety of movies. I hear now that in May, there will be 100 movies (twice than what is currently available) and offered in up to 8 different languages.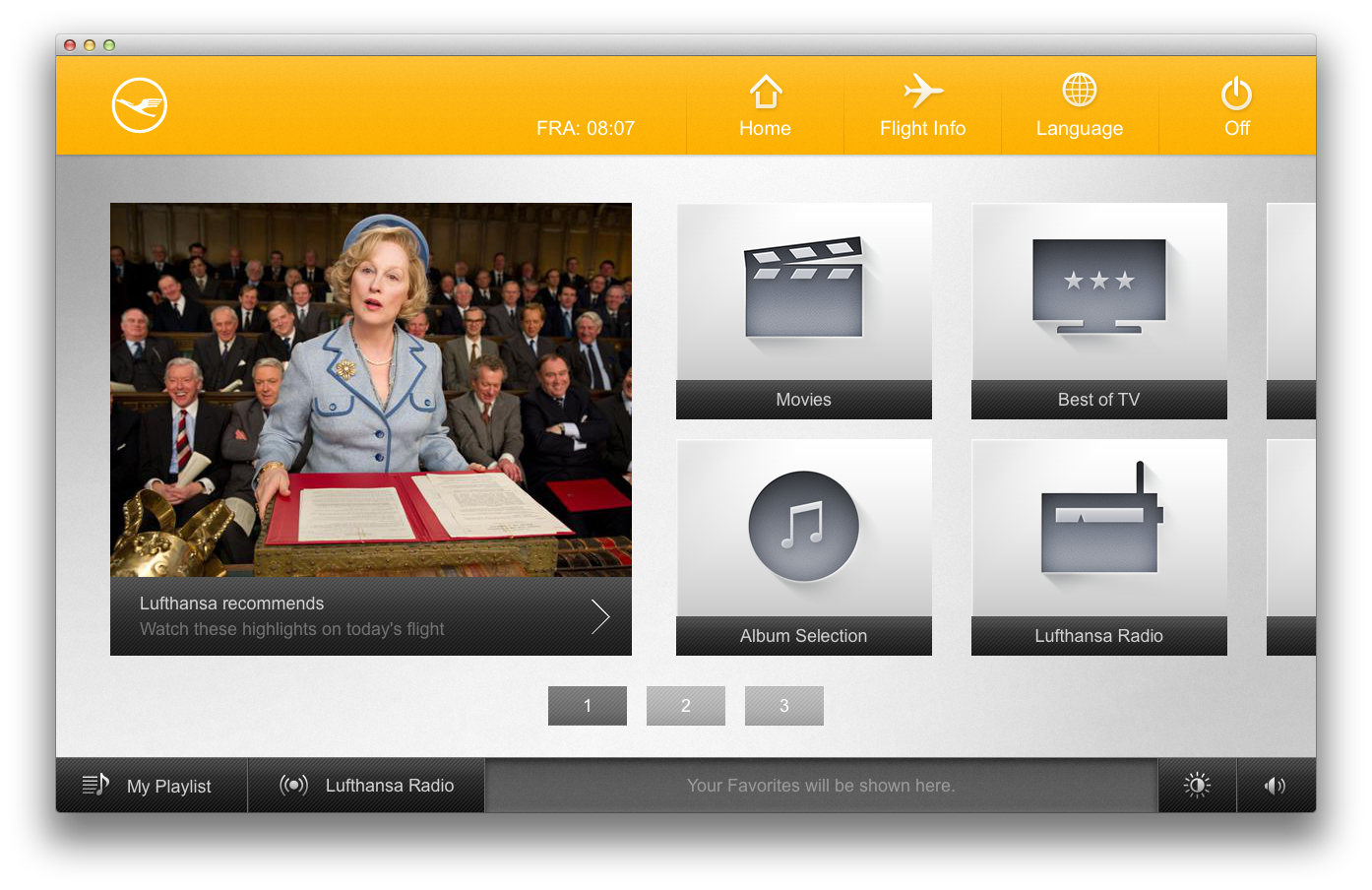 THE LUX TRAVELLER LOVES
The Lufthansa Rubber Duck.  Lufthansa First Class lounges provide guests with themed rubber duck collectibles. These are not just for kids, but for the kids in each of us.  I love this playful aspect of their marketing brand and have managed to build quite a fun collection.  Lufthansa guests apparently post photos of these ducks and their travels all over the world to social media.  What a great concept –so fun and creative.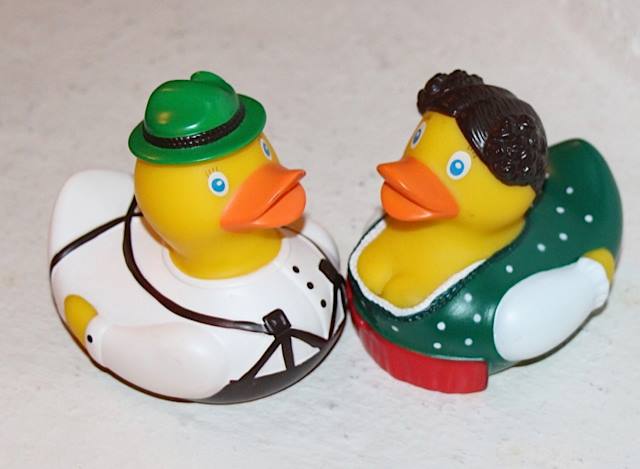 The Lounge Guest Book.  There is a guest book in this lounge filled with nice messages and signatures of people praising their experience, sharing bits of wisdom and sometimes even little whimsical sketches.  I love this personal touch.
The Chauffeured Car Service to the aircraft.  Superb!  My favorite part of the entire experience.
The spacious guest quarters of the cabin – A seat to sit and a bed to sleep – truly the very best of both worlds.
SPLITTING HAIRS
It's a little challenging to watch TV while lying down in bed.  It is great that it is totally flat all of the time, but with no option to slightly raise any part if it, the only option is to raise yourself by propping up pillows. All fine and good, but the screen is still further away from you than if you were sitting in a reclining seat.  So the bed really is best for just sleeping.
Lufthansa currently has 107 long haul aircrafts in service, 70% of which have first class service. So there is a chance that even if you book this class, you may not fly an aircraft that has this type of renovated cabin.  For instance my JFK to Munich flight was a business class only.
For certainty, please do note that the LH405 and LH401 first class from Frankfurt to New York City will be a treat that you will treasure for sure!