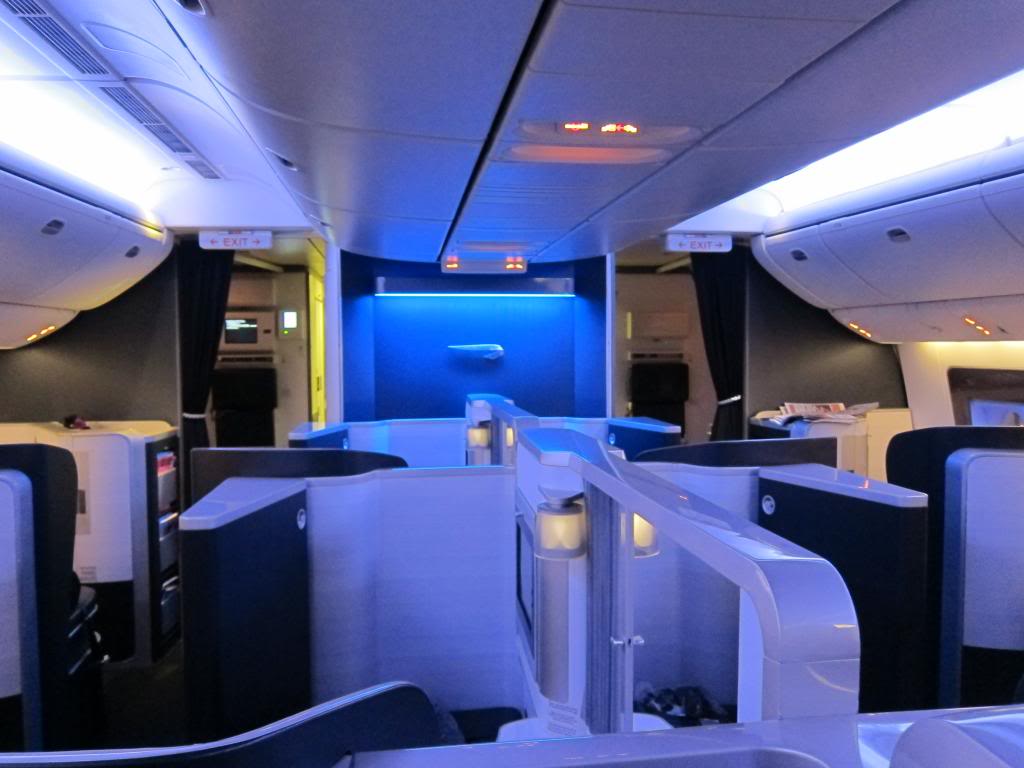 British Airways First Class is always a real treat at the start and end of a holiday! As holders of the BA Black Amex card and from accumulating airmiles through business travel and John Lewis shopping, we've been able to enjoy the experience a number of times. There is absolutely nothing wrong with Club World (and I'm tall and I still sleep well) and so flying First class should only ever be a rare treat – I think if we flew First Class more often then the novelty would wear off, and that would be a shame!
ARRIVAL
Flying outbound from the UK to ensure you get the best of the experience, it is necessary to fly from London Heathrow Terminal 5 because this is where BA have their most luxurious of first class lounges – the Concorde Lounge! At Gatwick and at other London terminals, there is not such complete decadence, just a first class or shared lounge!! On arrival at T5, there is a separate check in area for first class, behind screens, there are even some sofas if you need to relax (but I'd recommend you head airside as quickly as you can!)! Check in isn't actually any different, but the BA staff are just that little bit less hurried and flustered and it is nice and quiet and relaxed and the location of check in does mean that you are right next to the fast track security lane. I don't think BA offer the chauffeur service as part of the ticket purchase in the same way that Virgin Upper do transfer arrangements, but I may be wrong. Happily the baggage tags are now yellow to distinguish from the business orange ones thus increasing the chance that the bags will come out of the hold first at the other end!
LOUNGE
Once through security there is a plain white door immediately on the right, very unassuming! Yet very helpful – as it means quick access to the lounge without having to traipse around the terminal in the same way that would be necessary if going to any of the other lounges! Once through those plain white doors, the scenery is very much nicer! On the occasions we have been (morning, afternoon and evening) the lounge has never been busy or hectic in the way that the business class lounges always seem to be. There is always a good choice of seating – sofa's, high stools, or seats on the indoor balcony area overlooking the rest of the terminal. There is a bar, and you can just sit here and enjoy the choice of drinks, but there is waited service throughout the lounge.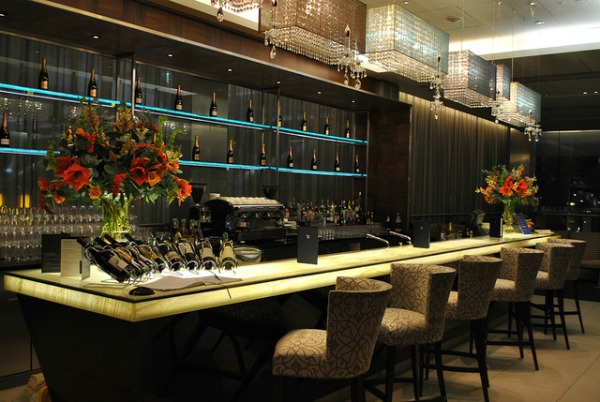 As a keen drinker of champagne the choice is good and all options are very nice, of course! On our last trip we heard a famous US movie star order, and then snub, the house tequila – so perhaps not all drinks are of the same high quality!! In the end he plumped for fizz, a safe choice! You can enjoy all day dining in the lounge and I can confirm that the eggs benedict are fantastic! On the most recent occasion we visited I was following my annoying dairy free diet and the kitchen was able to rustle up food of my choice instead! Better still the bar staff decanted soya milk into an empty water bottle for me to take on the plane (never carried on the plane – quite surprising, definitely something BA should address!). One of the highlights of the lounge, especially if you are on a night flight, is the ability to dine in private booths before your flight. The quality of food is of course very high and there is a sufficient level of choice. Service is also very efficient which is helpful, meaning no wasted time. As a first passenger, you are able to pre-book a treatment at the Elemis spa in the terminal.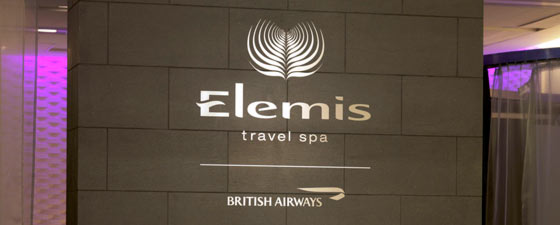 These are only 15 minute treatments, but from experience they have been a good addition to the relaxing time spent at the lounge! It never feels busy in there which aids the relaxation! There is plenty of art work to take in and a selection of quite esoteric magazines that I don't think you will see anywhere apart from an airport lounge, but a better choice than the business class lounge though. There is a board room that is a good place to use for a conference call so as not to disturb others in the lounge – the seats are all from Concorde! All in all a very nice place – returning on this occasion it was just as relaxing and exclusive as we remembered – always a good sign when something delivers on multiple occasions!
BOARDING
We weren't told by lounge staff when our flight was called – this was surprising as at many business class lounges that is typical (in Jamaica flying business we were taken right to the plane door!). On arriving at the gate, the fast track lane is always very efficient. Last time we flew there was a separate air bridge over to first class which was a nice touch! However this time it wasn't the case, so there was a little queue at the door. However, everything was very smooth. This time our steed was a Boeing 777, the treat of the new A380 is yet to come (I hope!)!! We were greeted by name and led to our seats. The service is very attentive. All of the cabin crew knew our names and we were addressed as Mr and Mrs Parker for the remainder of the flight. The cabin services director made himself known to us both which, whilst standard in first, is a nice touch. There is ample space in the overhead lockers which makes a change from the normal scrum to manage to stow roll-on luggage near one's seat!
THE CABIN
I had been worried that we'd get old first again, but thankfully not – and new first is very nice looking. The old wood-effect cabins were tired so it was extra-specially nice to be in an upgraded cabin on this occasion. I think that most have now been upgraded, so it would be disappointing to be in an old one as the quality of the decor and seating isn't the same!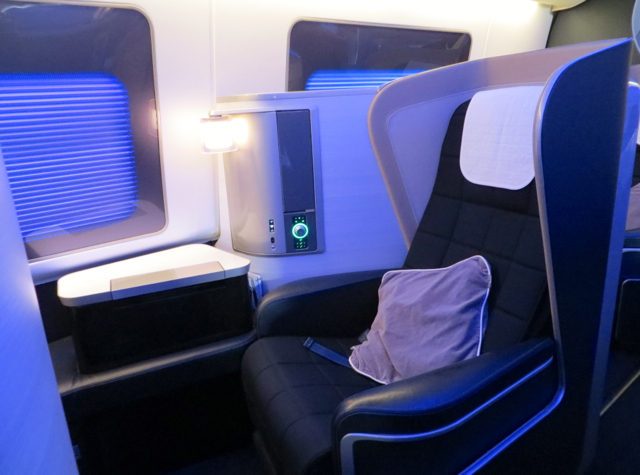 Soon after boarding the obligatory glass of champagne appeared – there was of course a choice of fizz and my husband was able to choose a whisky instead for his aperitif. As you unpack you are also provided with pyjama's, socks, a sleep mask and amenity bag. The amenity bags have very recently been changed and there is now a "his and hers" rather than the former solid Anya Hindmarch bag that was a bit clumpy and sadly had limited options for re-use!
The new bags aren't necessarily such high quality, but the amenities they come with are! Now that the socks and sleep mask are provided separately there is more space in the bags for goodies! For ladies – Aromatherapy Associates (happy days – I use this at home anyway so this is a good upgrade from REN) and for men – Refinery. Clearly BA have listened to feedback – and now there is a pen in the bag too! Surprisingly it is quite good quality, definitely one for the handbag! Toothbrushes are also now 'first' branded and there is enough toothpaste for a small holiday rather than those silly little tubes normally provided!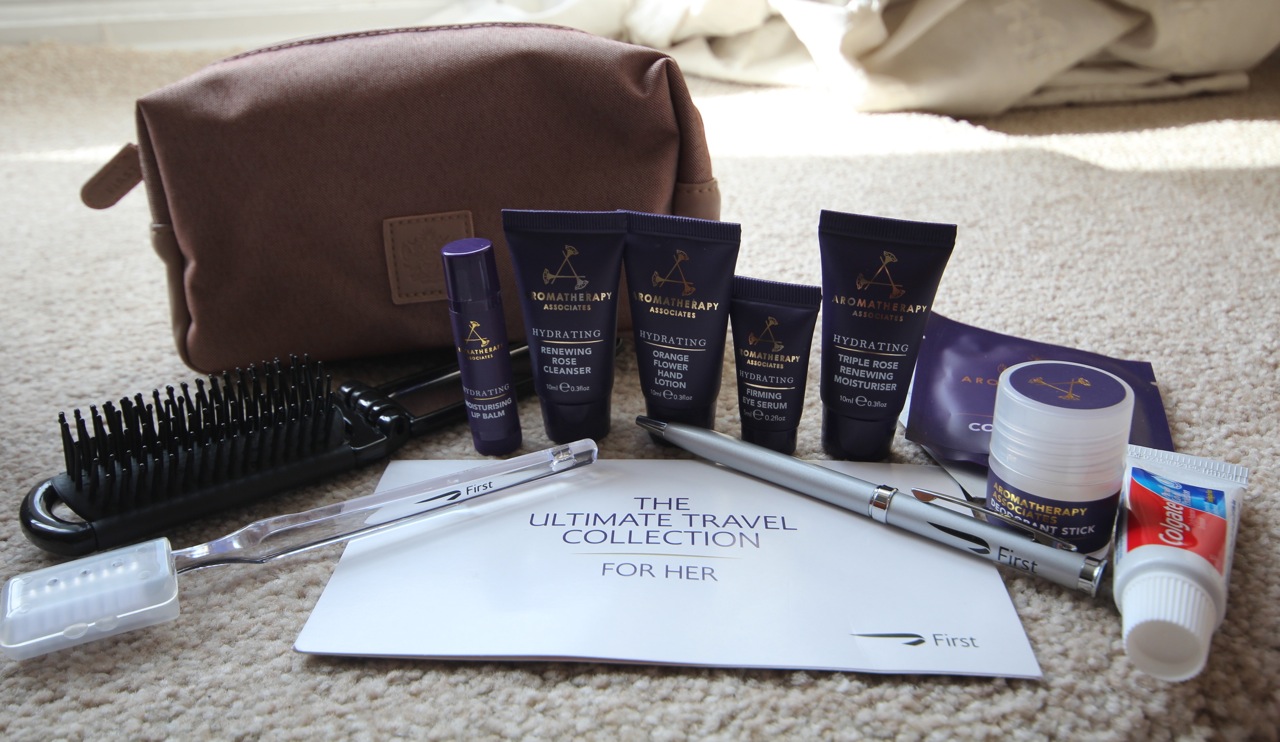 There is a plug socket just next to the seat back which is clever spot for charging iphone or ipad during the flight. Your seat feels much more like a cabin than in the old set up. It felt much more enclosed but also felt more spacious as well. We sat in the second row, in the middle. It was possible to close off the space between the 2 seats for privacy but the seating is also well set up for conversation between us. I noticed that when sat or lieing the shape of the seat meant that I could not see my neighbour across the aisle and vice versa – I am sure this is better than the old model. There also seemed to be more space around the seat to put a book, or a glass etc – far less cramped! There is also a little wardrobe and a jacket hook – I tend to forget about jackets if I lose sight of them, so I like being able to hang my jacket up in my own space. The toilets have not changed at all – I had wondered whether they might be any larger, but the spec has not changed.
THE FLIGHT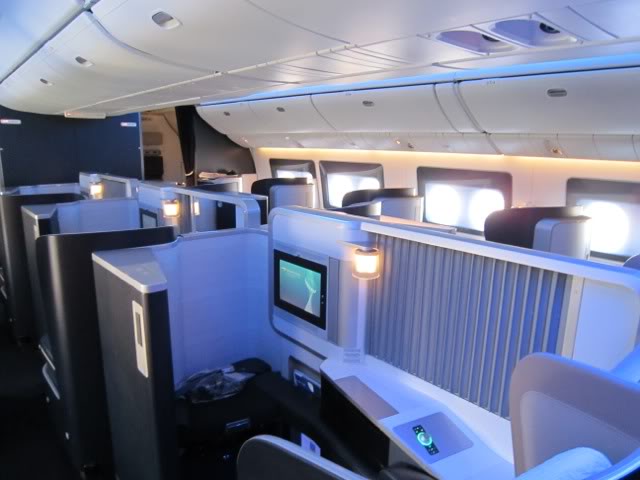 This was the first flight with BA that I had taken since December and notably there was no need to turn off electronic devices anymore – I assume this is now standard across the fleet. At any time after take off the cabin crew can convert your seat to a bed. This is very quick and will certainly be done in less time than it takes to change into the pyjamas. The bed is comfortable – I don't tend to sleep that well on a plane, even is business – but I was very cosy and slept well on this brief flight. The new eye masks are dark blue which adds to the blackout – I'm sure that helped. The cabin lights were dimmed shortly after take off and not switched back on again until very near landing. The aisles also feel wider than the old cabins – perhaps this is just the clever lighting and elegant décor – but I certainly didn't notice any comings and goings during the flight. My husband was pondering whether it is better to fly first at night or in the daytime – I would have to say that night is best – for the bed and the peace and quiet and because what you do and when is planned around you rather than the rest of the cabin. Throughout the flight it was very apparent that cabin crew were always available, watching out for when you might need them – ever-present but not in anyway of a hassle. Being addressed by name throughout (and without the need of a prompt card) is always a good sign of personal service. At the end of the flight we were bade goodbye and the crew had remembered where we were going and that it was my husbands birthday! Sadly at Dubai, the moment you leave the air bridge you are in the hands of the airport – and there is no such thing as an arrivals lounge at Dubai, and as for hire car – well, allow plenty of time to find Avis… Fortunately those yellow bag tags do indeed work and the first class bags were first on the conveyor!
FOOD AND DRINKS
The menu of both food and drink and this flight was good. All service is by tray, there are no trolleys in this cabin. I had requested a dairy-free meal and I was also able to choose from the main menu where I was able. This was good as it is nice to have options! For breakfast it was possible to craft a good meal for me picking out certain items from the menu. The main menu choices were more sumptuous than my meal (aren't they always) but BA hadn't taken the easy option and provided bland grilled food – there was a sauce and so it was enjoyable. Much as the wines in the lounge were well selected, the ones on the plane were too – good quality and a good choice.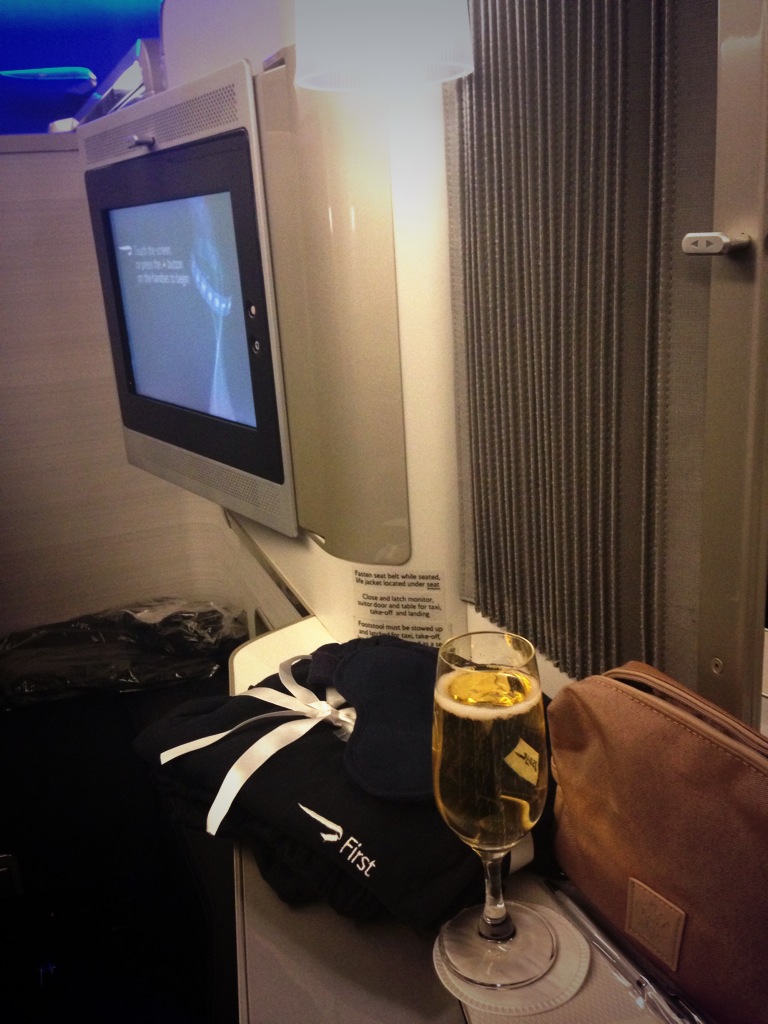 LOVES – the whole experience! BA have a good product that feels very plush and exclusive and built around your needs by attentive cabin crew, and definitely benefits from recent upgrades to the cabin, entertainment and amenity bags. Perhaps the set up isn't as swanky as Singapore or Emirates, but I very much felt refreshed and spoiled arriving at the start of our holiday – in fact, we felt like our holiday started the moment we got to the airport – and I think that is key, the whole experience should be first class!
HATES – nothing really, we had a very enjoyable flight that set us up well for the rest of our holiday. Perhaps next time we should